A blue drink recipe is a must in our lineup of Smurf-inspired treats.
In honor of the new Smurfs movie releasing in April, Shelley and I planned a recipe day at my Gram's house.
Our mission was to whip up blue goodies for families to celebrate the new flick.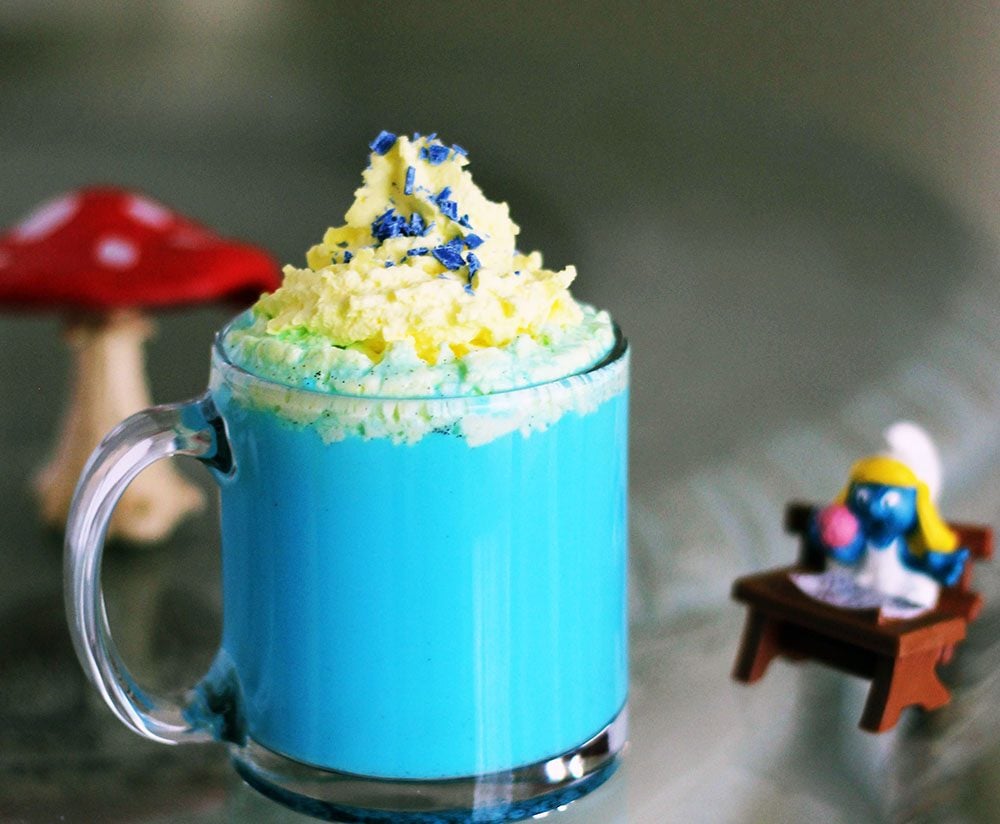 The new Smurfs movie looks adorable and enjoyable for the entire family.
The visuals alone have me super excited to see it. Read more about Smurfs: The Lost Village and watch the trailer in our Smurfberry Bark recipe post.
Looks like our girl, Smurfette, leads the adventure in this new movie.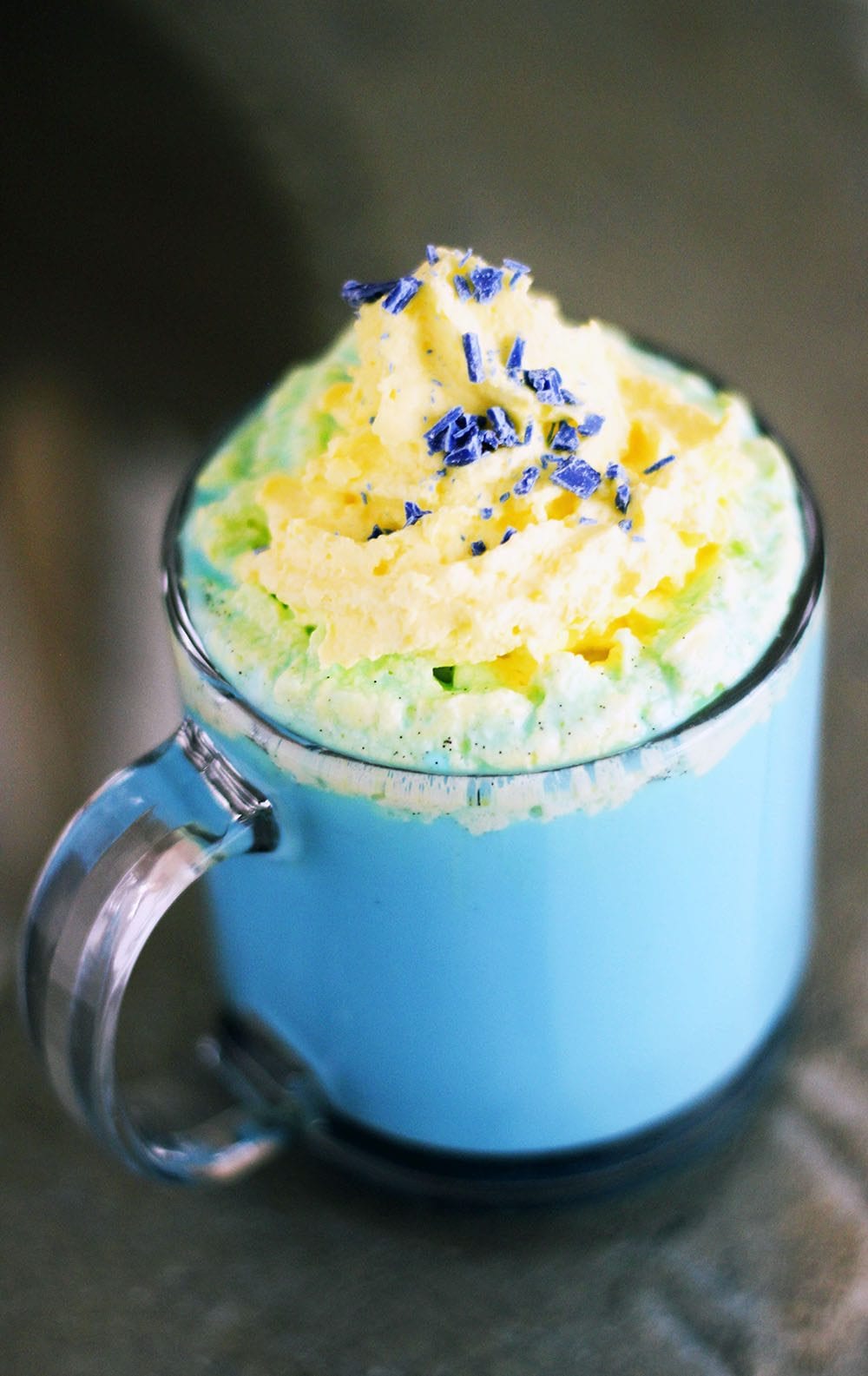 Our original plan was to create a blue hot chocolate recipe using white chocolate.
After some trial and error, we ended up using a vanilla mixture instead.
Shelley grabbed her favorite Ghirardelli Vanilla powder base, and that turned out to be the winner.
It provides the tasty flavor we were looking for, and it's great hot or cold. This mixture is made with pure Madagascar vanilla beans.
The Vanilla Smurfette is a frappe but contains no caffeine. Drink it hot, or add some ice and blend it into a slushy drink.
The way this creation went down, I feel wrong calling it a recipe. It's more like a cute creation that's fun for the movie.
In any case, it's quick, easy, and can put a smile on a Smurf fan's face.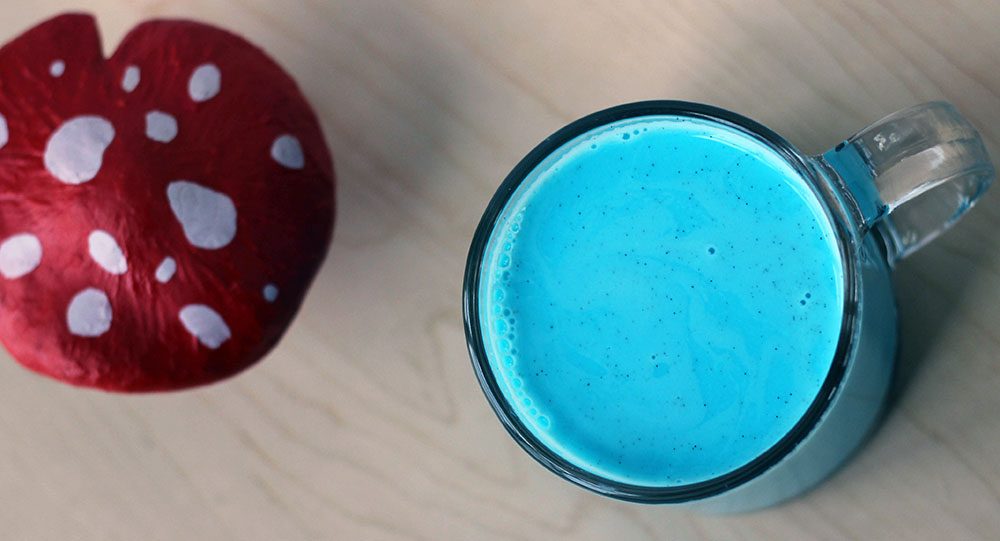 Vanilla Smurfette Blue Drink Recipe
What you need for the blue drink recipe: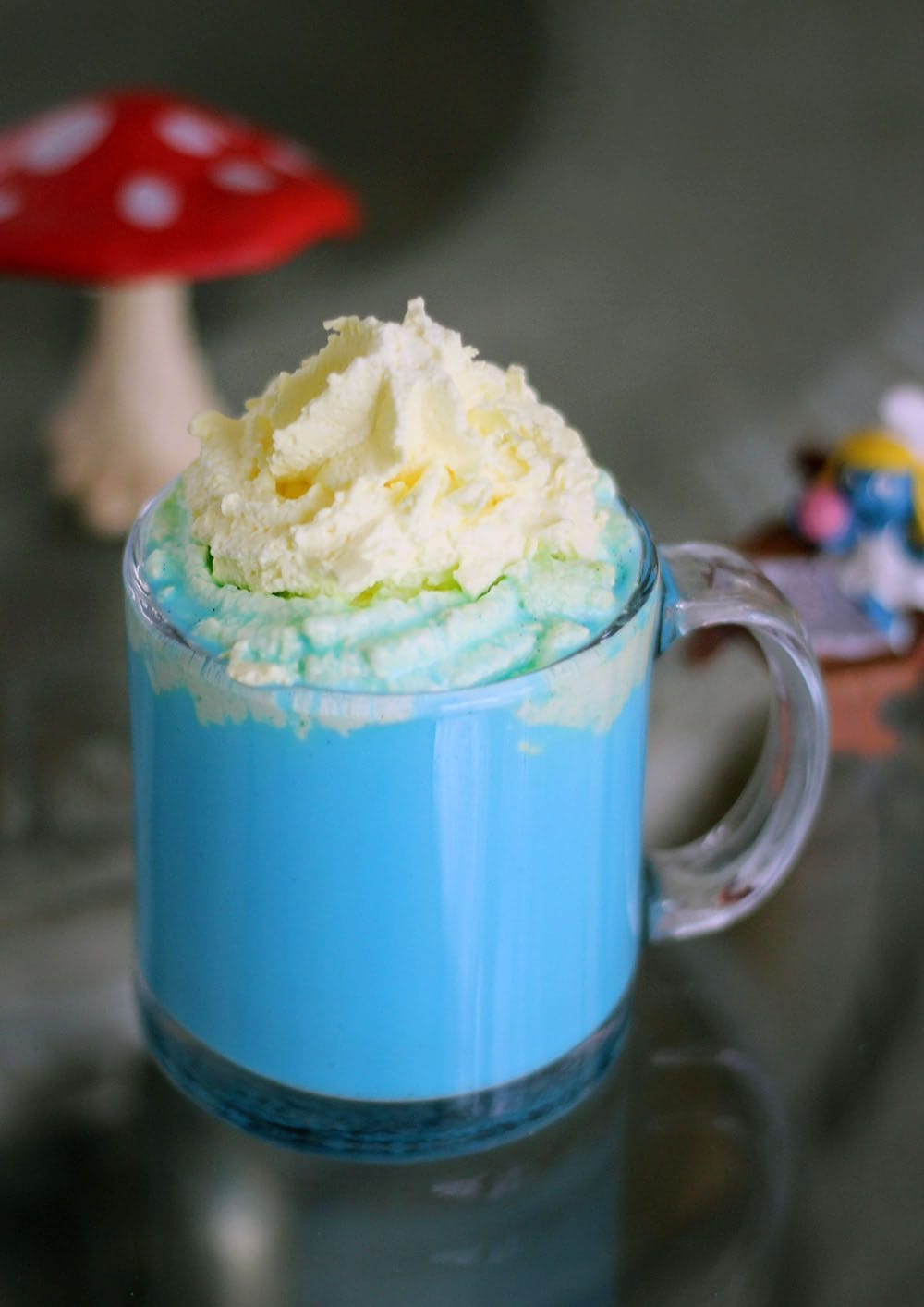 Top with yellow whipped cream. Find the recipe for whipped cream here. Simply add yellow food coloring until you get the color you want.
Optional: Top with royal blue candy melts shavings.
Ingredients
3 tbsp nonfat dry milk
1 package Ghirardelli Vanilla powder base (1/3 cup if you have the tub of powder)
Blue food coloring
Instructions
Add nonfat milk powder, Ghirardelli Vanilla powder base and hot water to a mug.
Stir to dissolve the powder.
Drop in blue food coloring until you achieve desired color.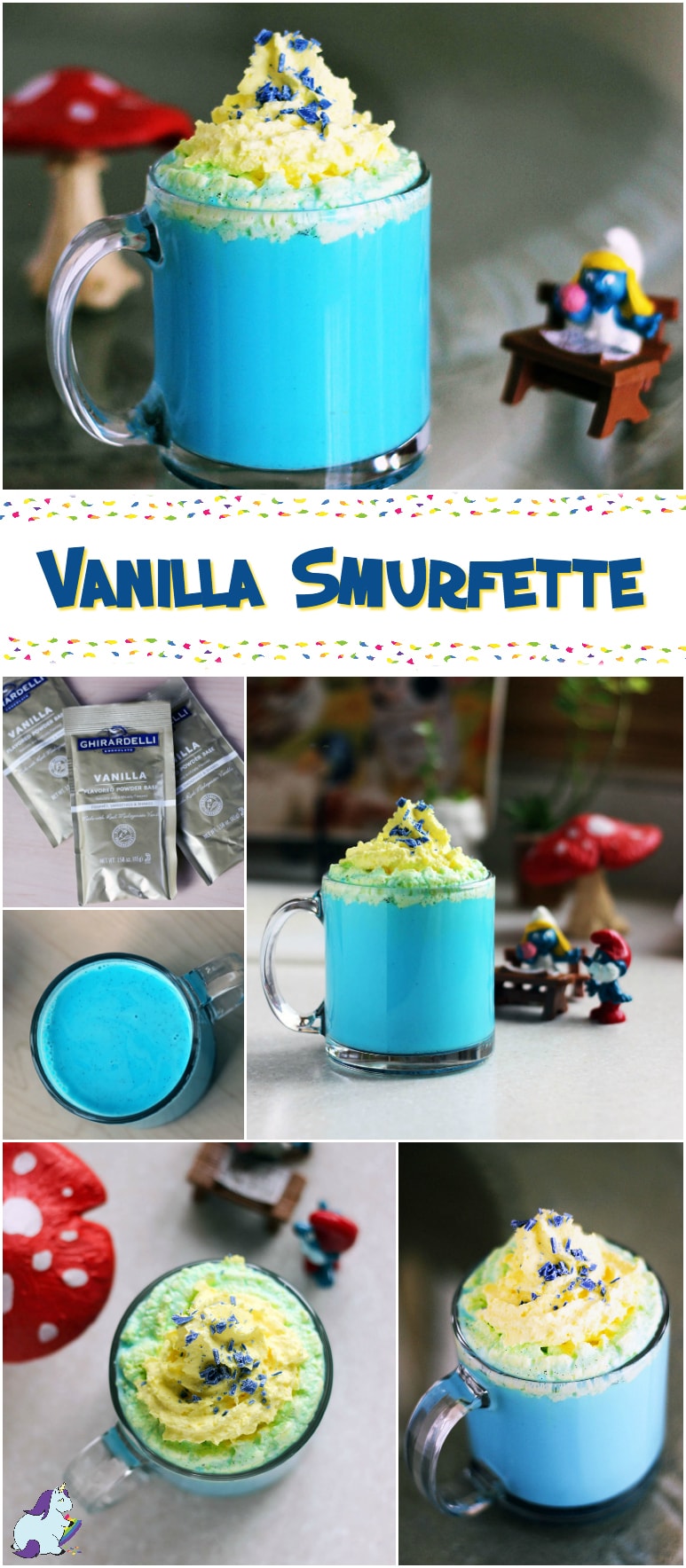 Parents, I am sure I don't have to suggest how to make this an adult beverage.
There are plenty of ways to make this into a smurftini or the smurfect nightcap once the kiddos are asleep.
Hmmm… we might just be back with that. Stay tuned. 😉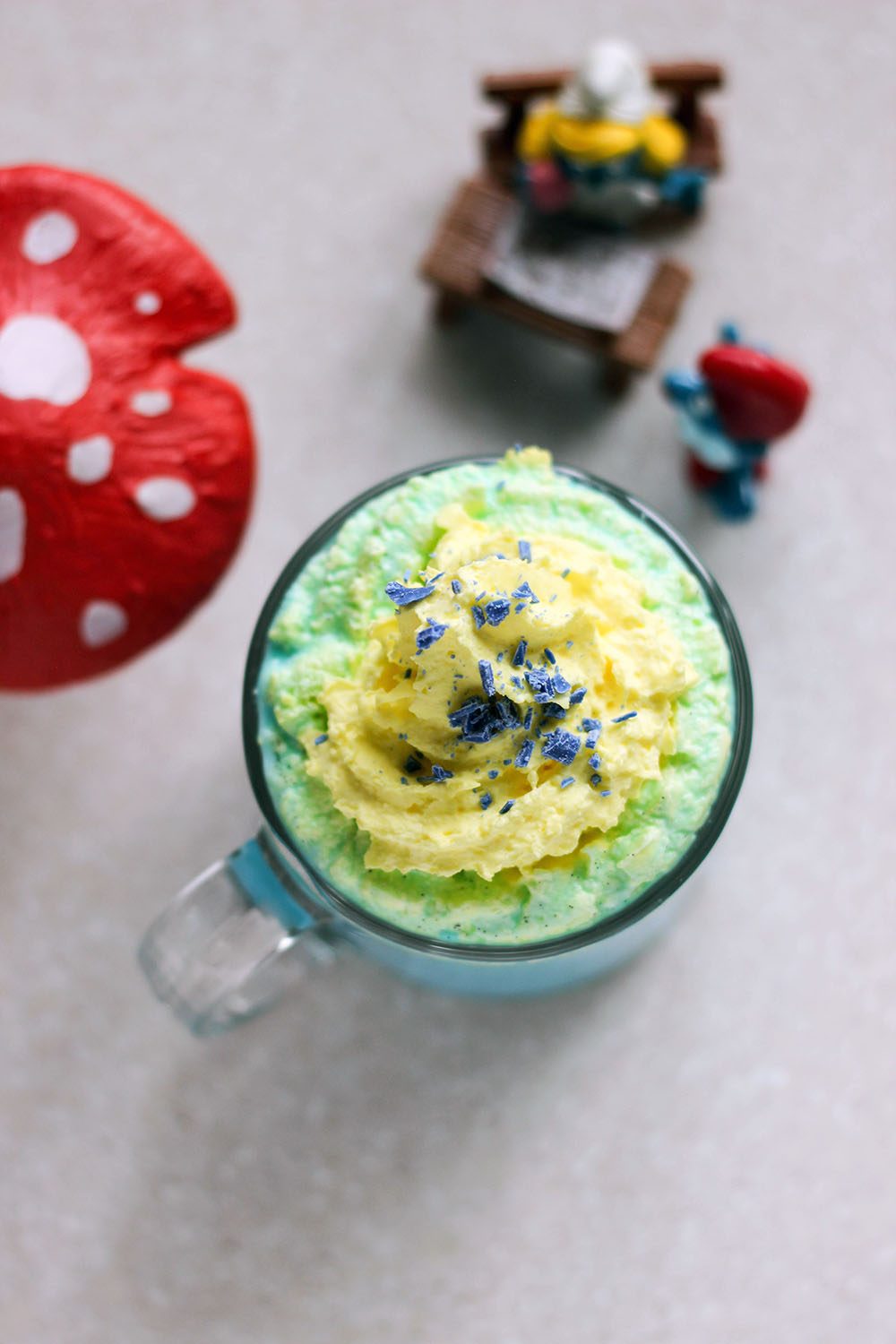 Is your family looking forward to the new Smurfs movie?
Who would enjoy this Smurfette-inspired blue drink recipe?