In honor of our adorable, chubby, and indulgent logo, we've decided to incorporate more magical recipes into our content.
After all, Jen and I rebranded with the main goal of finding magic in life–but we can also create it.
So, if life is feeling unbearably messy, or you're just in the mood for fun and whimsy, whip up this irresistible melting unicorn hot chocolate recipe.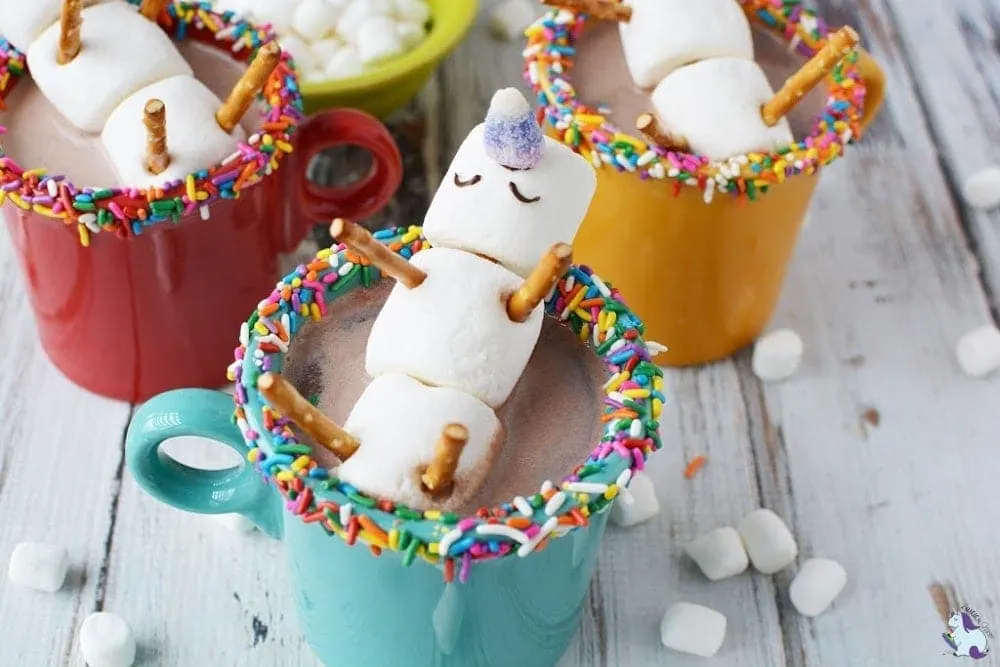 Who could resist the charm of a cute, rather paunchy creature bathing in delight?
Making this treat is just as much fun as consuming it. Get everyone involved in the process!
Melting Unicorn Hot Cocoa
Birthday parties, coffee gatherings, holiday celebrations, and dessert tables will be more magical, memorable, and mouthwatering with the simple addition of 7 ingredients and a few minutes of preparation.
Elusive Unicorn Horns
Arguably, the most important ingredient here is the unicorn horn. Without it, you'll have a horse or an awkward, lanky snowman.
For the horn, we used a Sour Patch Candy Corn. It's just our luck that they're a limited edition item.
That said, I've purchased more bags than I'd care to admit. Naturally, I suggest you do the same.
However, I am working on more easy and edible unicorn horn ideas. A full post on that is coming soon.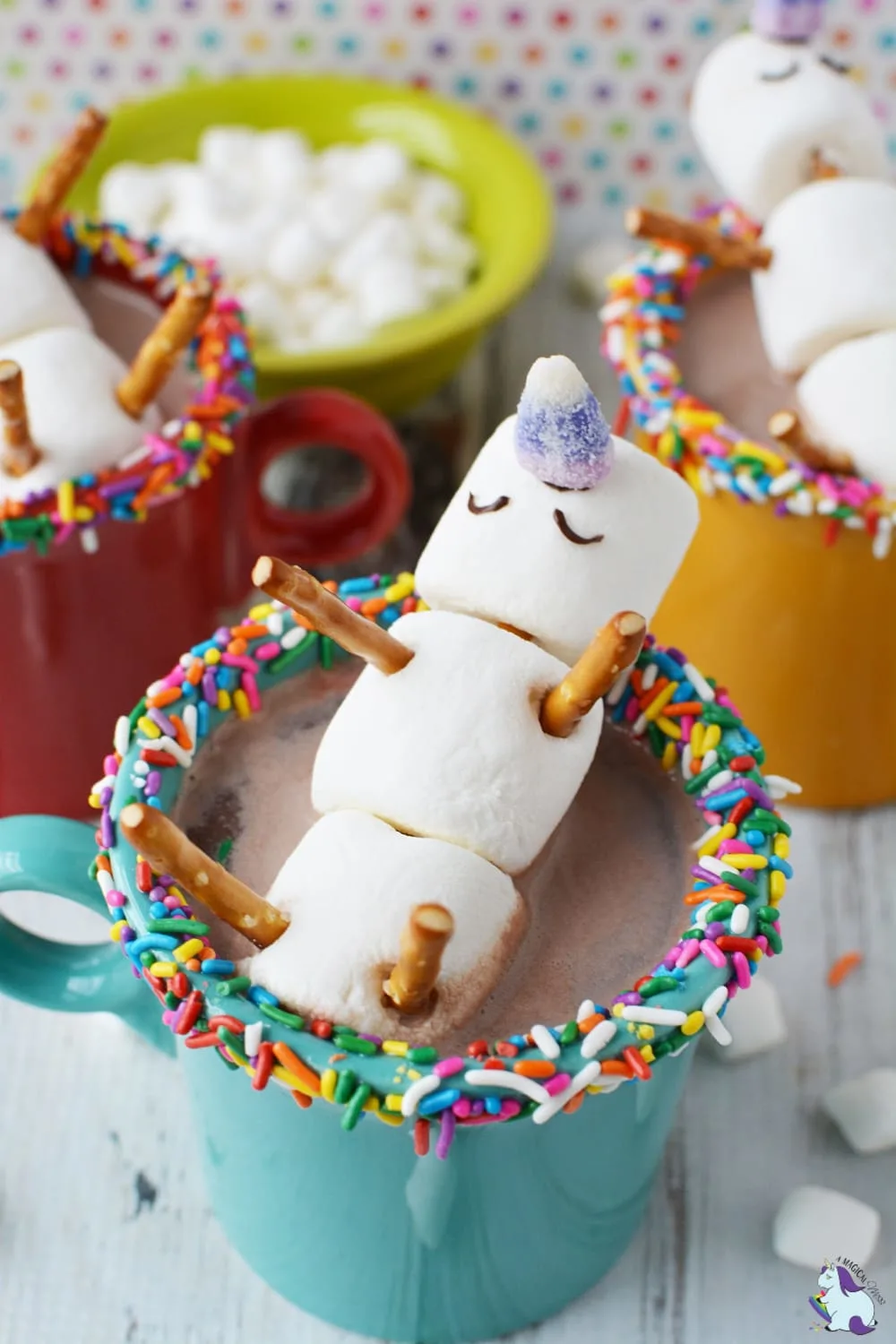 For now, capture as many of these yummy Sour Patch Candy Corn candies as you can.
Or, get creative and come up with your own horn idea–please share it in a comment if you come up with something brilliant.
We'll send you magical rays of gratitude from our hearts and bellies–like slightly creepy human Care Bears. It'll be great.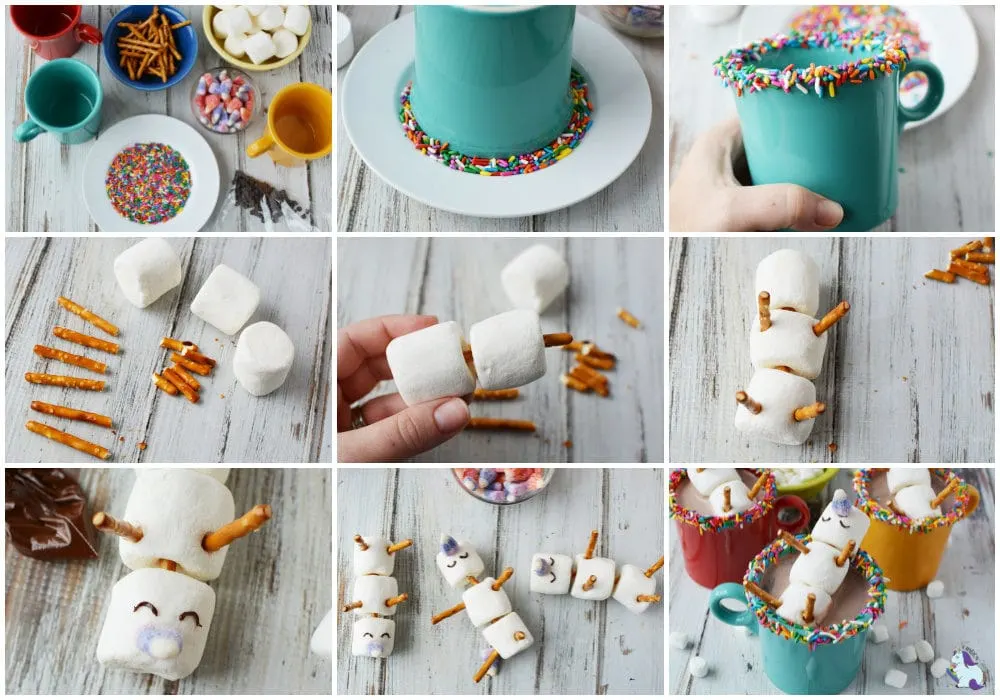 Other Majestic Adaptations
For a more adult version, swap the hot chocolate for coffee–add a shot of Bailey's if the occasion calls for it.
Express yourself! Let your mood translate onto the unicorn's face.
If the bleak winter months are dragging your mood into the pits, paint an angry face on your marshmallow and laugh, maniacally of course, as you devour your creation.
It's not weird; it's healthy, I promise. (The behavior – not the drink.)
Use different sprinkles depending on the event. Sparkles, solid colors, or edible stars can make these a fit for any theme.
Yield: 1 person
Melting Unicorn Hot Chocolate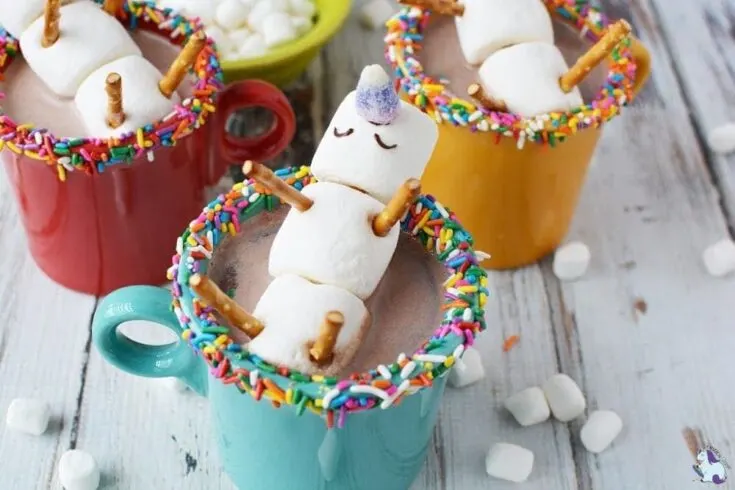 Everyone in the house loved these! They're the perfect treat for any occasion.
Ingredients
1 packet hot chocolate, prepared in a dish with a pour spout
1 tsp corn syrup
1 tbsp rainbow sprinkles
3 large marshmallows
6 small pretzel sticks
1 tsp mini chocolate chips
1 Sour Patch Kids Candy Corn
Instructions
Pour the rainbow sprinkles onto a flat plate.
Rim a mug with corn syrup. You can do this by dipping your finger into the corn syrup and spreading on the rim or you can add corn syrup to paper towel and spread it onto the rim.
Place the rim onto the rainbow sprinkle covered plate until the edge of the mug is coated with sprinkles. Repeat for the desired number of mugs.
To make the unicorn, break about 1/2" off of each pretzel stick. Use a stick to connect two marshmallows together and another stick to connect the third marshmallow. Add remaining pretzels as legs.
Place mini chocolate chips into a resealable bag and microwave on high power for 15 seconds. Knead and return to microwave in 5 second increments until melted.
Cut a very small tip into the corner of the bag. Add chocolate to the bottom of a piece of candy corn and affix to the top of the head.
Use the melted chocolate to pipe eyes onto the head.
Fill the mug with hot cocoa. (This is where the container with a spout comes into play as it will not disturb the sprinkles on the rim).
Add the unicorn to the top of the cocoa and enjoy.
Notes
The trick for the eyes is to make sure you cut a teeny tiny tip into the sandwich bag. If it's too big the eyes won't look right.
Recommended Products
As an Amazon Associate and member of other affiliate programs, I earn from qualifying purchases.
Nutrition Information:
Yield:
1
Serving Size:
1 person
Amount Per Serving:
Calories:

1354
Total Fat:

11g
Saturated Fat:

2g
Trans Fat:

0g
Unsaturated Fat:

7g
Cholesterol:

0mg
Sodium:

2344mg
Carbohydrates:

298g
Fiber:

7g
Sugar:

145g
Protein:

20g
Nutrition facts are an estimate only.
Pin to save!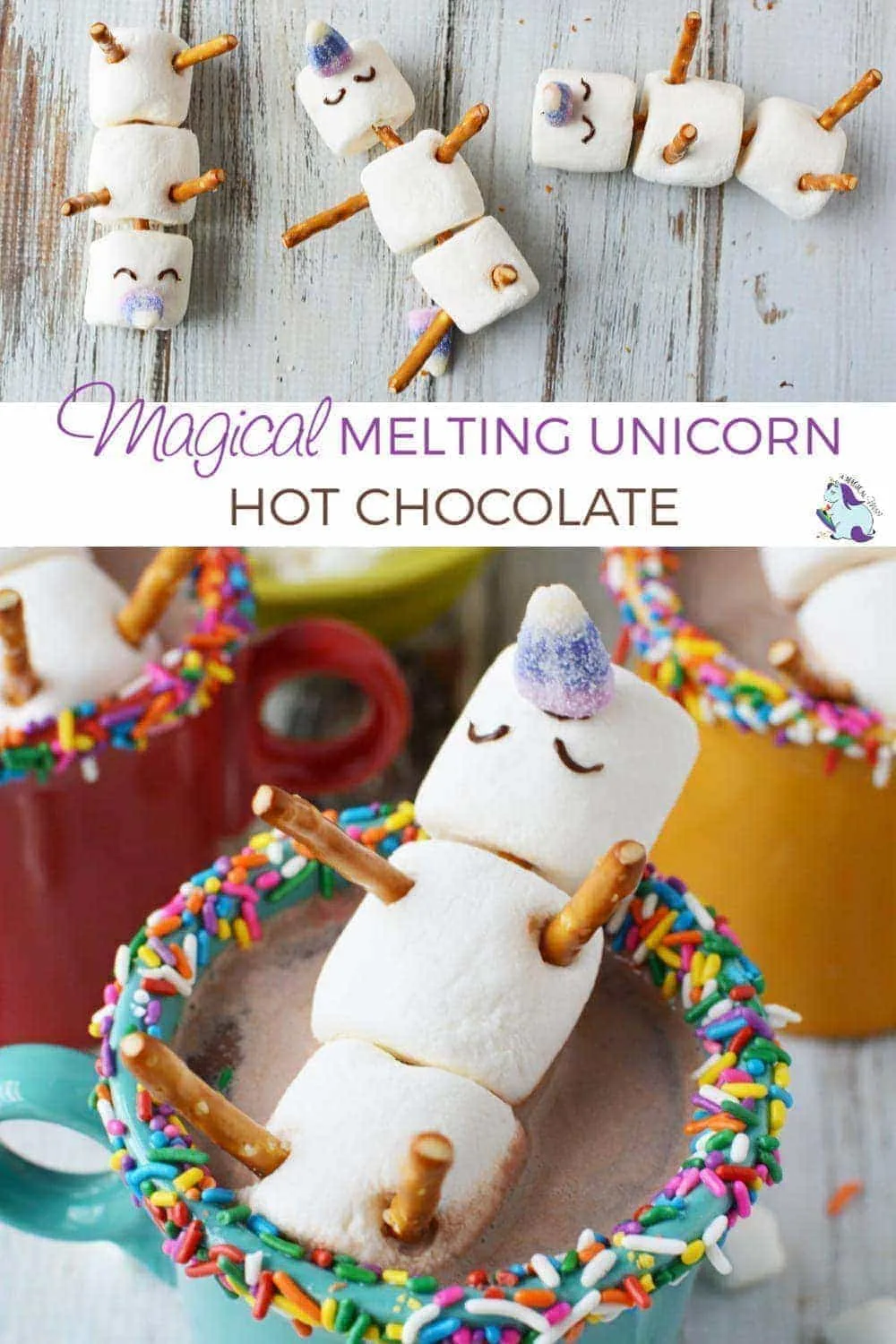 More Warm Drinks to Make for Winter
Subscribe to the blog so you can color your free printable coloring pages while you sip your hot chocolate!
Share this post with someone who loves unicorns and magic!