Move over, golden milk, there's a new showstopper that's twinkling up our nighttime routine! Fairy Flower Moon Milk, the warm drink that's all about adding a dash of enchantment to your evening. You've probably seen moon milk lighting up your Pinterest and Instagram feeds, but this version is all about the fairy-tale vibes. This post contains affiliate links.
While traditional moon milk often leans into ancient Ayurvedic tradition for health benefits, our version is all about the 'wow' factor. It's the perfect addition to our fairy recipe section on the blog. Simple, stunning, and oh-so-shareable—just the way we like to keep things around here!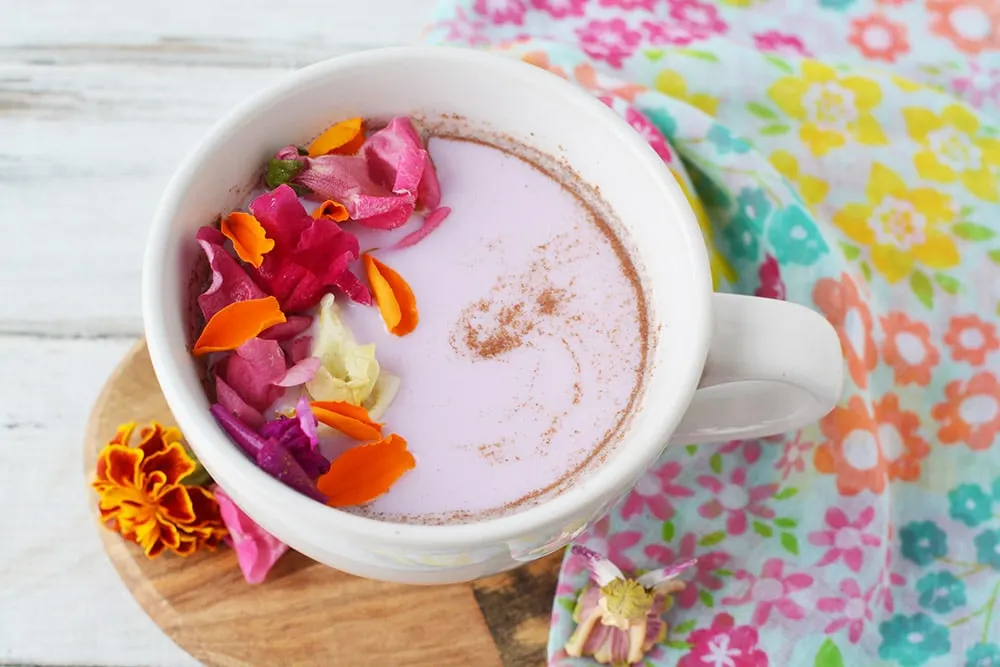 What is Moon Milk?
Moon Milk is not just a cup of warm milk with a celestial name! In Ayurvedic medicine, Moon Milk is a warm beverage traditionally crafted with a blend of honey, cinnamon, and milk. This ancient concoction is a common remedy designed to help you achieve a restful sleep by soothing your nervous system.
While the classic recipe often includes cow's milk, these days you'll find a galaxy of non-dairy milks like almond milk, oat milk, and coconut milk taking the stage, making it adaptable to various taste preferences and dietary needs.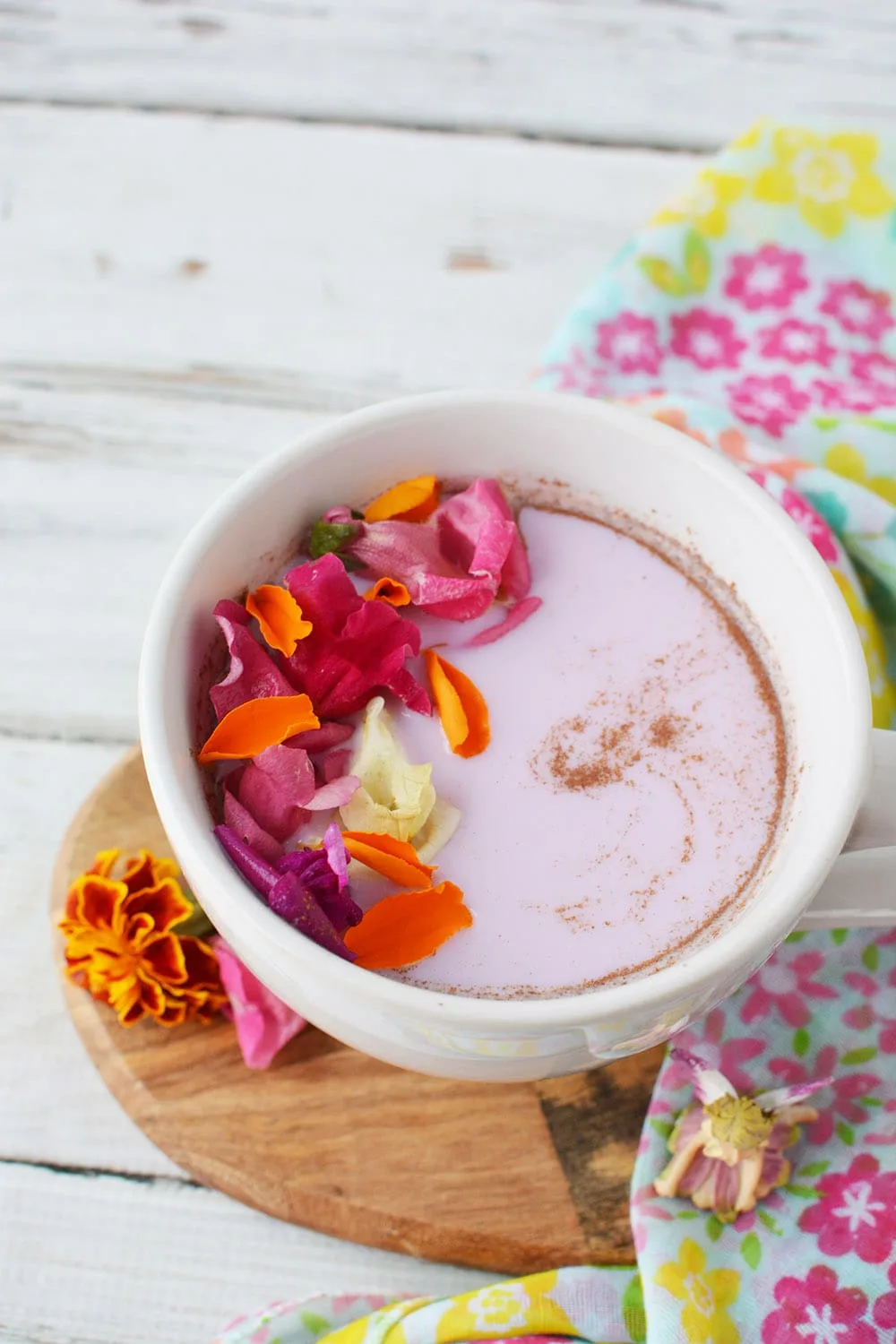 Easy and Cozy Pink Flower Milk
Okay, let's get real for a sec. While traditional moon milk is all about those adaptogenic herbs and health benefits, this Fairy Flower Moon Milk is a cozy hug in a mug, made from pantry staples. And if you know me, you know I'm all about that woodland fairy theme and staying warm and cozy. It's like this recipe was tailor-made for my soul!
Feel free to put your own spin on it. This is the bare-bones version, super easy to tweak. Want to keep it ultra-simple? Go for it! A splash of milk and a dash of cinnamon can be magically relaxing in their own right.
Reasons to Love Fairy Flower Milk
Instagram-Worthy: This Fairy Flower Moon Milk is super pretty, making it perfect for your social media feed.
Easy-Peasy: With simple ingredients and a 10-minute prep time, this recipe is a breeze to make.
Customizable: Choose from a variety of non-dairy milks and sweeteners to suit your taste buds.
Magical Vibes: One sip and you'll feel like you're in an enchanted forest. It's more than a drink; it's an experience.
What you need to make Fairy Flower Moon Milk
Exact measurements in the printable recipe card below
Steps to make fairy moon milk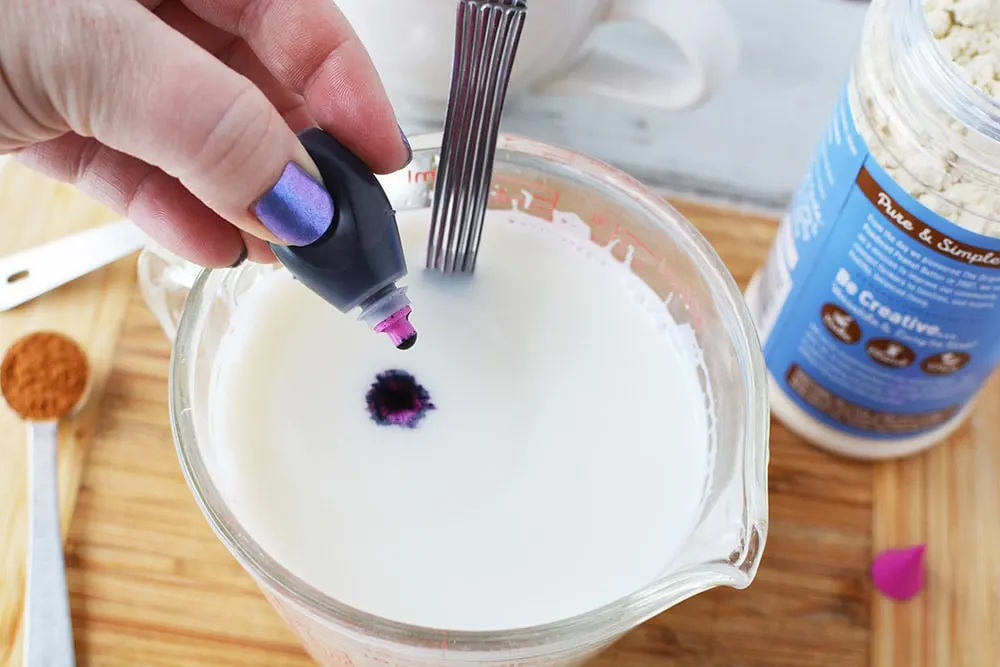 Add the milk to a microwave-safe bowl and heat for 60 seconds on 50% power.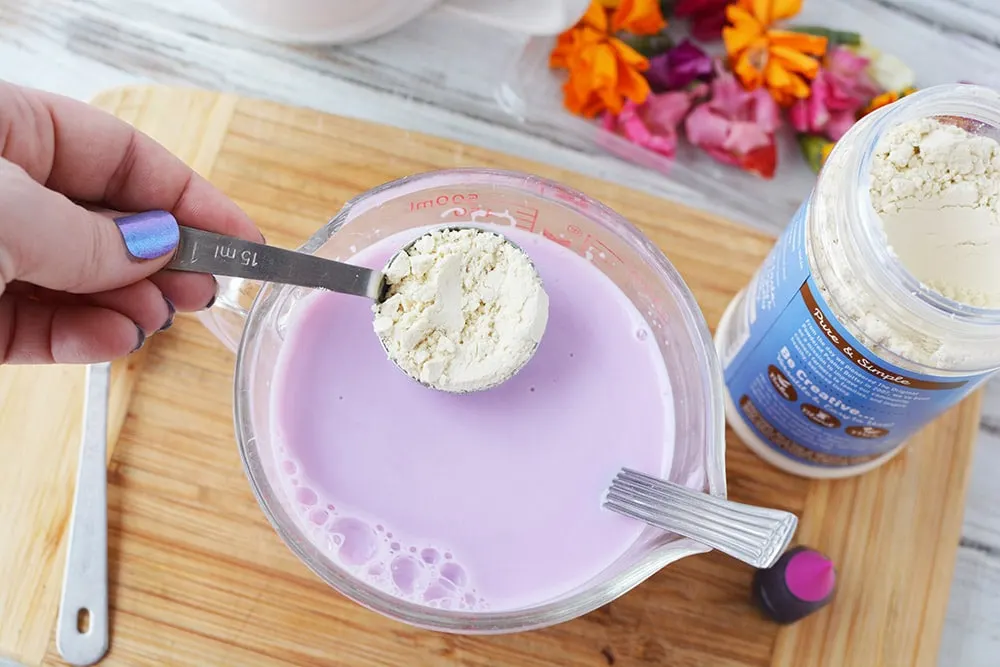 Stir and return to the microwave and repeat this step two more times or until your milk is warm enough.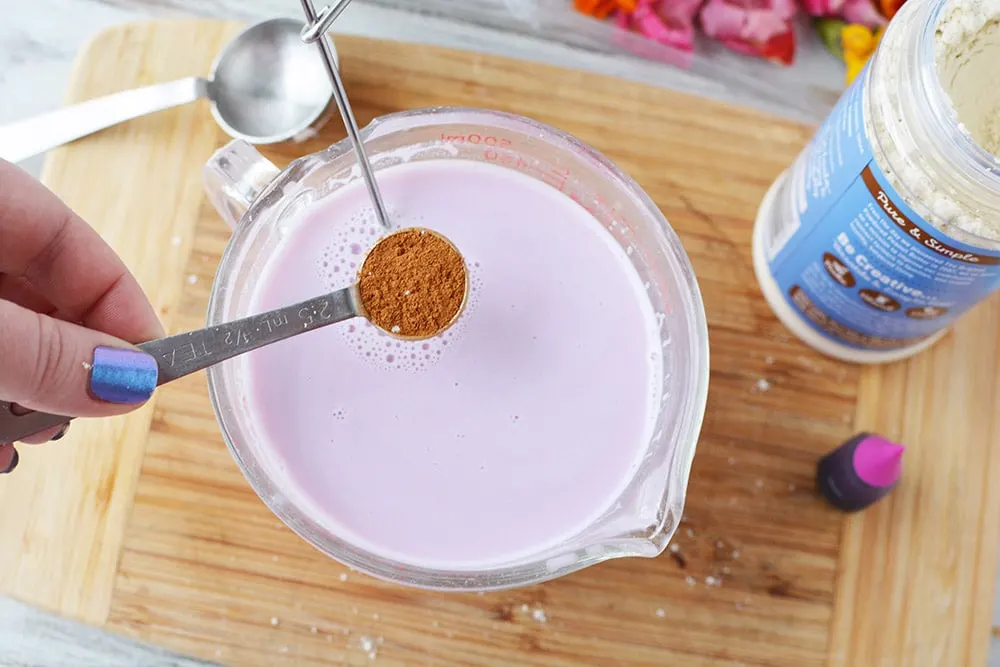 Stir in food coloring or beet powder.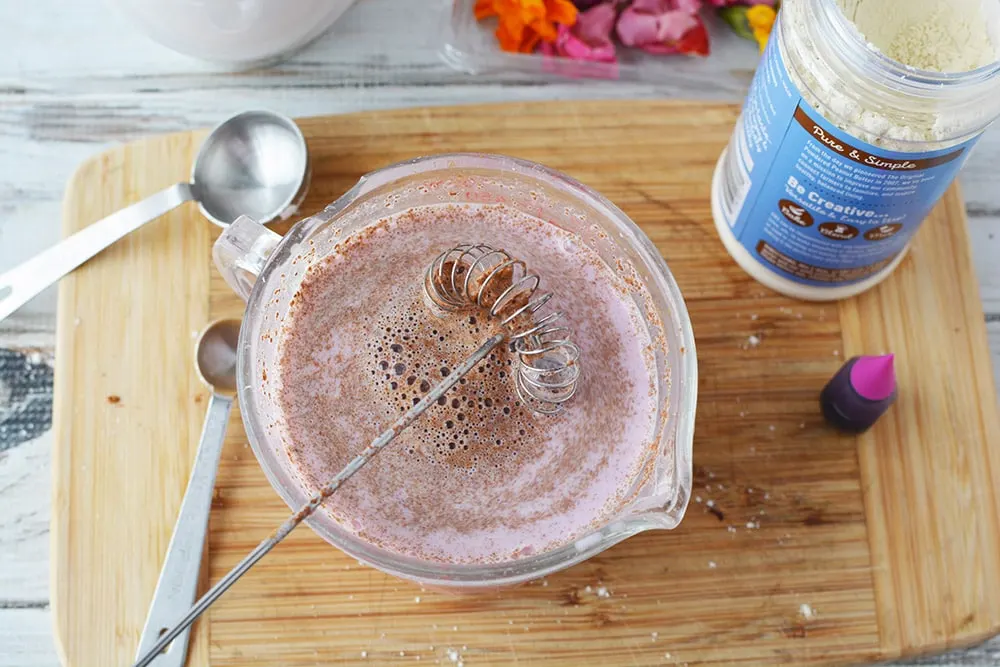 Whisk in almond powder and cinnamon.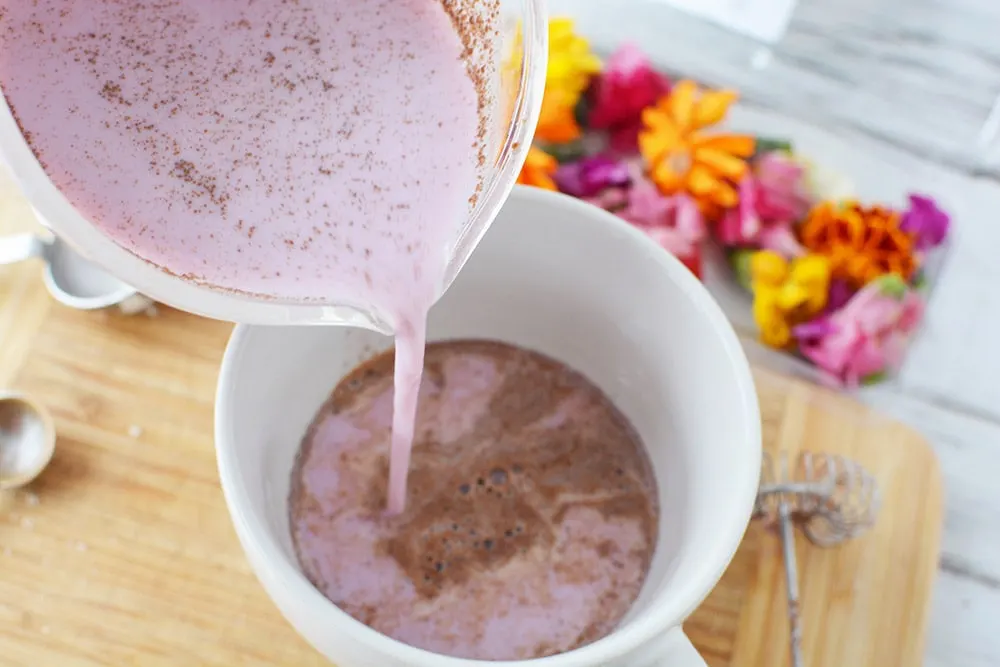 Pour into a mug and top with edible flowers.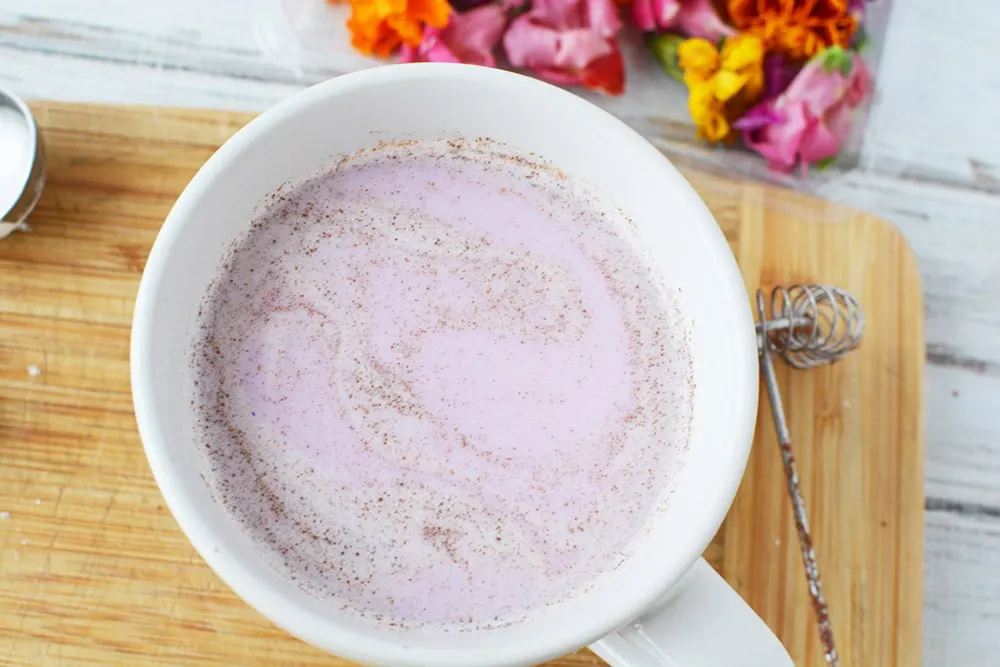 This easy moon milk recipe will have you sipping your way to a good night's sleep in no time at all!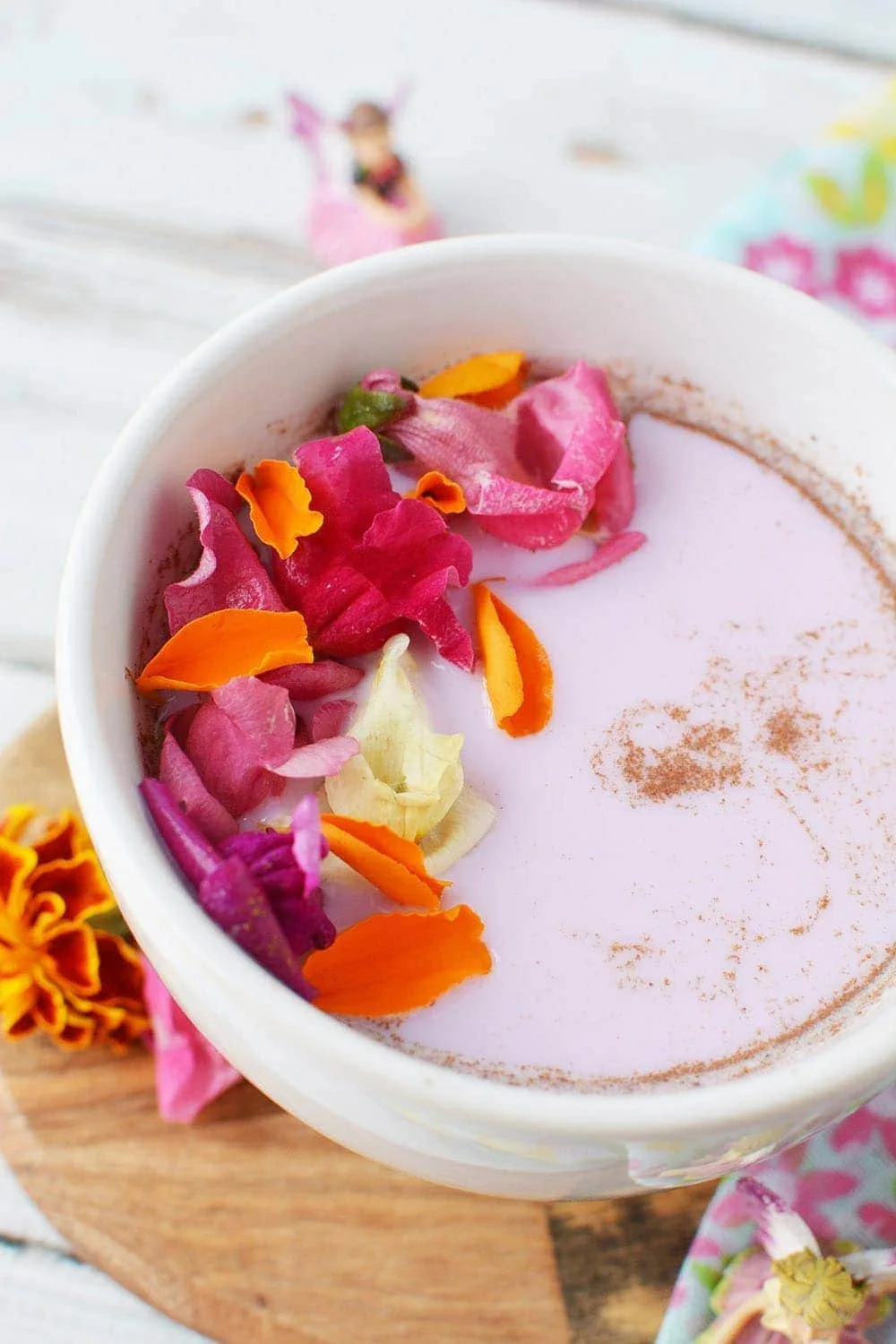 What Goes with Fairy Milk?
Planning to serve this Fairy Flower Moon Milk at your next enchanted tea party? Perfect! Pair it with fairy shortbread bites, mini cakes, and mini donuts for a magical spread.
And don't forget to round out the menu with Fairy Cupcakes with Wings, Fairy Bread, Fairy Door Cookies, Fairy Toadstool Cupcakes, and a Woodland Toadstool Trifle. It's sure to be one enchanting evening!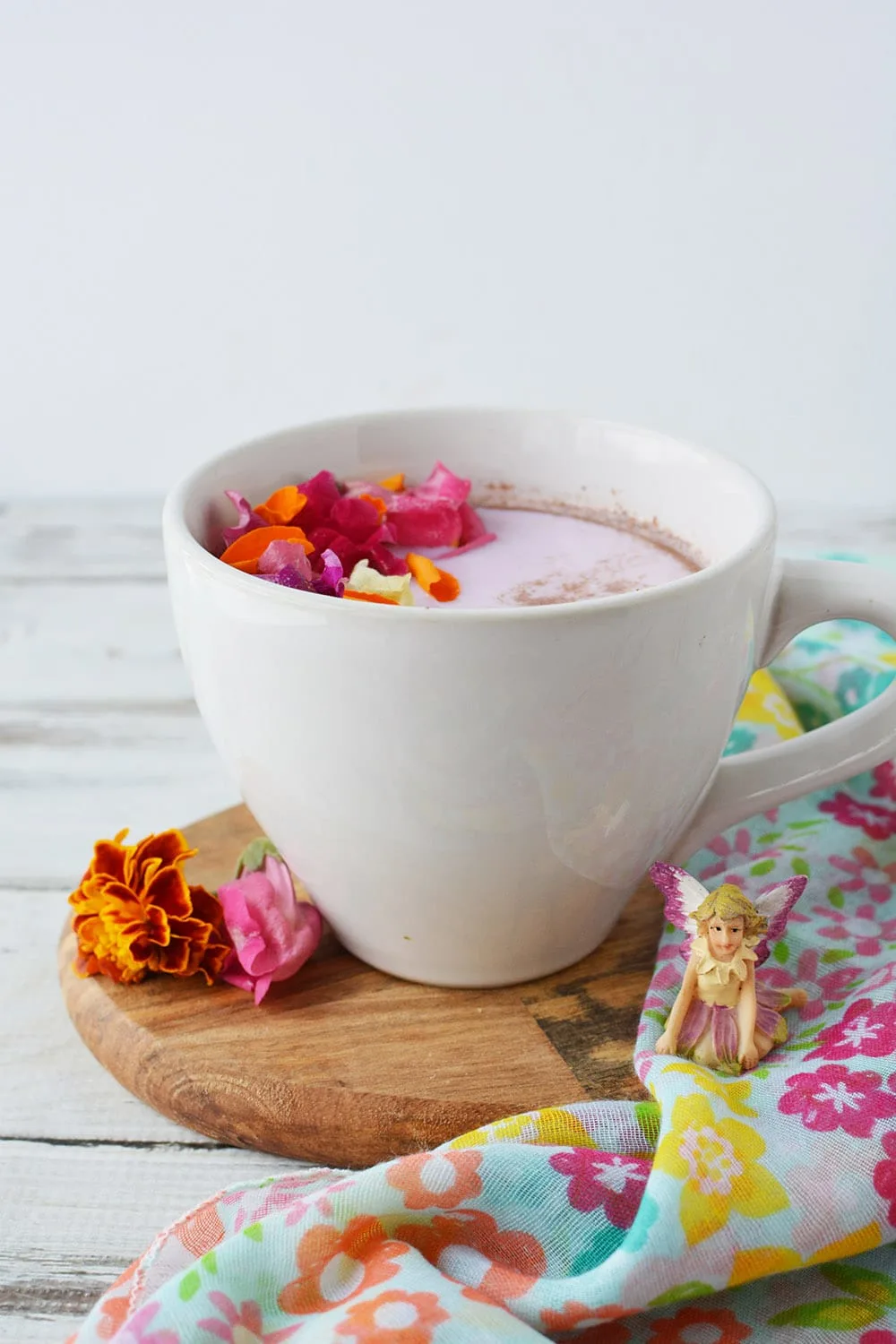 Recipe Swaps and Variations
Milk Used: If traditional dairy milk isn't your choice, almond milk, oat milk, and coconut milk are all great non-dairy alternatives. Any of the nut milks should work!
Coloring: Don't want to use neon pink food coloring? You can also opt for natural powder colorings like beet powder for a more earthy vibe. For a berry-like hue and flavor, hibiscus powder is a fun swap.
Protein Punch: The almond powder is optional but adds a nice texture and a bit of protein, which can help you feel fuller if you're sipping this before bed.
Spices: Cinnamon is the classic choice here, but feel free to experiment with cardamom or even a cinnamon stick for a different aromatic experience.
Flower Power: Edible flowers add the magic to this moon milk. Search online or visit a local farmers market in season to find food-safe options. You can also buy seeds to grow your own!
Sweeten the Deal: Want it sweeter? Consider raw honey, maple syrup, Manuka honey, or agave syrup to match your sweet tooth.
Herbal Boost: Interested in adaptogenic herbs? Ashwagandha powder can be a great addition for those looking to incorporate more wellness benefits.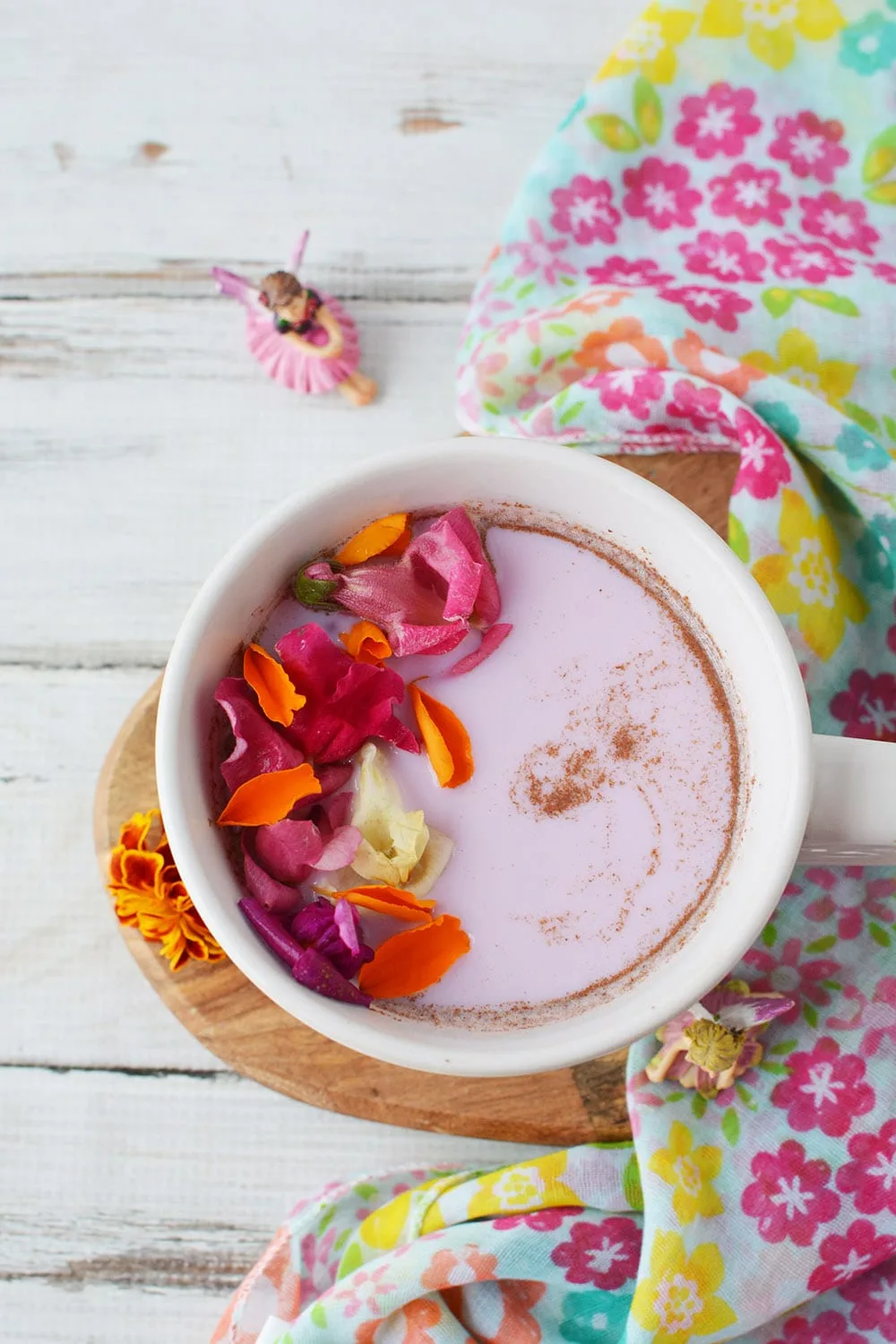 FAQ
Q: Can I use any milk?
A: Yes, almond, oat, and coconut milk are great non-dairy options.
Q: Is the almond powder necessary?
A: No, it's optional but adds texture and may help you feel fuller.
Q: What are some edible flower options?
A: Search online or check local farmers markets for food-safe blooms. Also check your local grocery store. Sometimes edible flowers can be found near the herbs depending on the season.
Q: Can I skip the food coloring?
A: Absolutely, natural powders like beet or hibiscus can be used for color. Keep in mind that beet powder may give you an energy boost if consumed before bed.
Yield: 1 drink
Fairy Moon Milk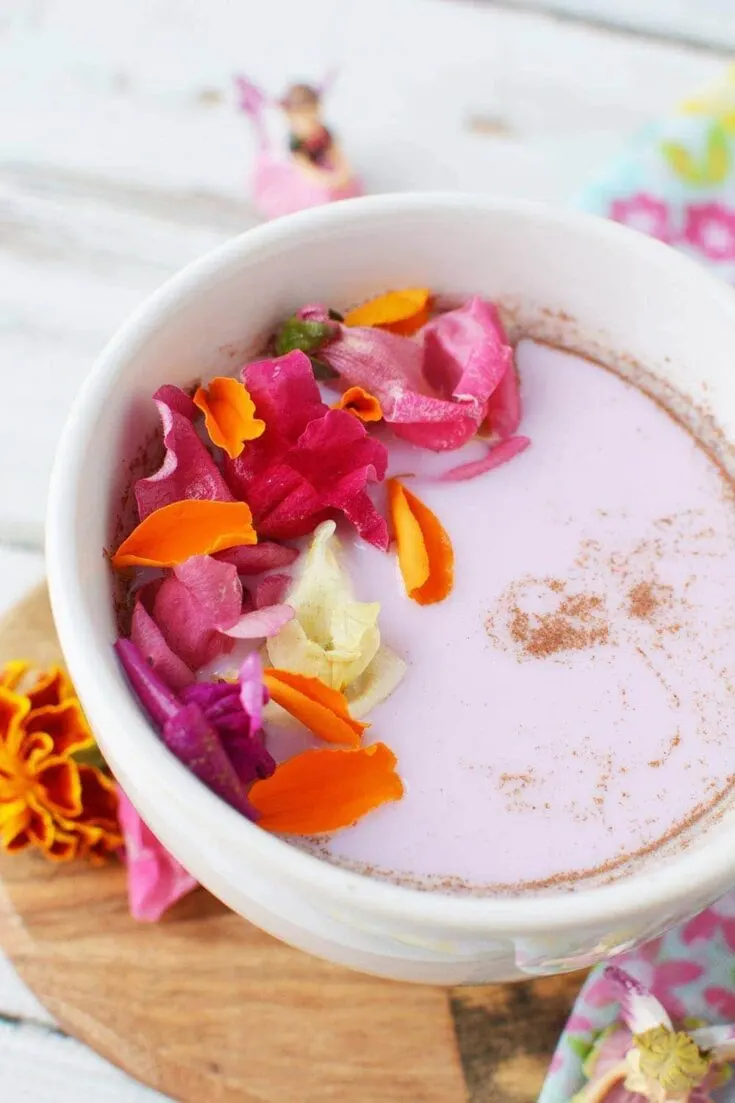 A cozy, warm drink adorned with edible flowers, perfect for adding a touch of fairy-tale magic to your evening.
Ingredients
1 1/2 cups milk
3 drops neon pink food coloring
2 tablespoons almond powder
1/4 teaspoon cinnamon
edible flowers
Instructions
Add your milk to a microwave-safe bowl and heat for 60 seconds on 50% power.
Stir and return to the microwave and repeat this procedure 2 more times or until your milk is warm, but not scalding hot.
Stir in food coloring. Whisk in almond powder and cinnamon.
Pour into a mug and top with edible flowers.
Notes
Optional almond powder adds texture and fullness.
Beet powder is a natural color alternative but may boost energy.
Choose any food-safe edible flowers for garnish.
Recommended Products
As an Amazon Associate and member of other affiliate programs, I earn from qualifying purchases.
Nutrition Information:
Yield:
1
Serving Size:
1 drink
Amount Per Serving:
Calories:

292
Total Fat:

16g
Saturated Fat:

5g
Trans Fat:

0g
Unsaturated Fat:

10g
Cholesterol:

29mg
Sodium:

277mg
Carbohydrates:

22g
Fiber:

2g
Sugar:

1g
Protein:

16g
Nutrition facts are an estimate only.
Pin this image to your cozy drink board to save for later or for the cooler months!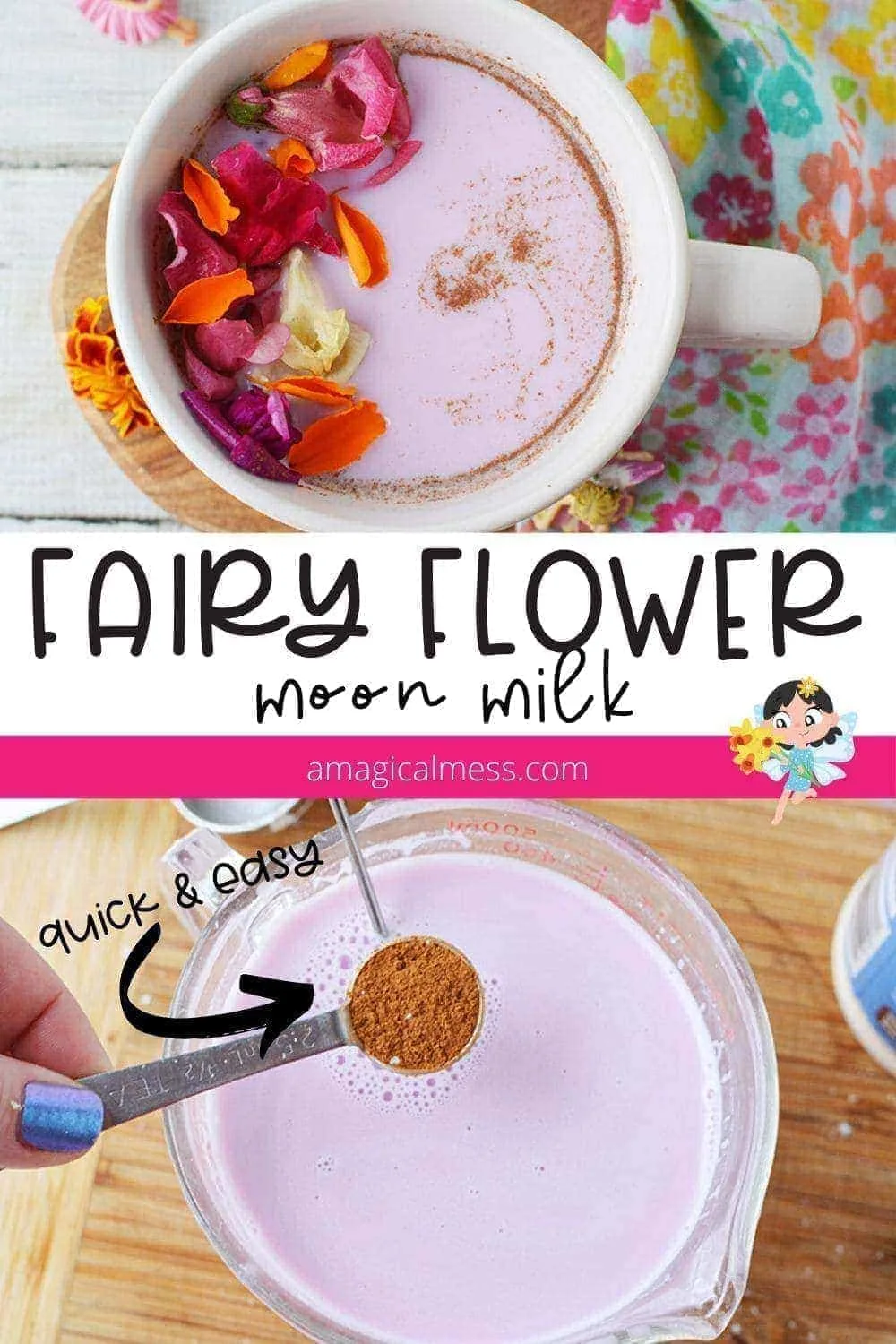 Ready to sprinkle more magic into your life? Subscribe to the blog for more enchanting recipes like this one!
Know someone who's fairy-obsessed? Share this recipe with family and friends who could use a little extra sparkle.
And if you've ventured into the world of moon milk before, I'd love to hear your thoughts! Give this Fairy Flower Moon Milk a try and let me know how your magical journey goes.