I'm a total sap for all things relating to fairies, like fairy door cookies. On the wall of my childhood bedroom hung a beautiful poster of flower fairies with colorful wings, dancing around a pond.
Frogs, dragonflies, and beetles joined the magical scene, and this was my mental escape throughout my youth.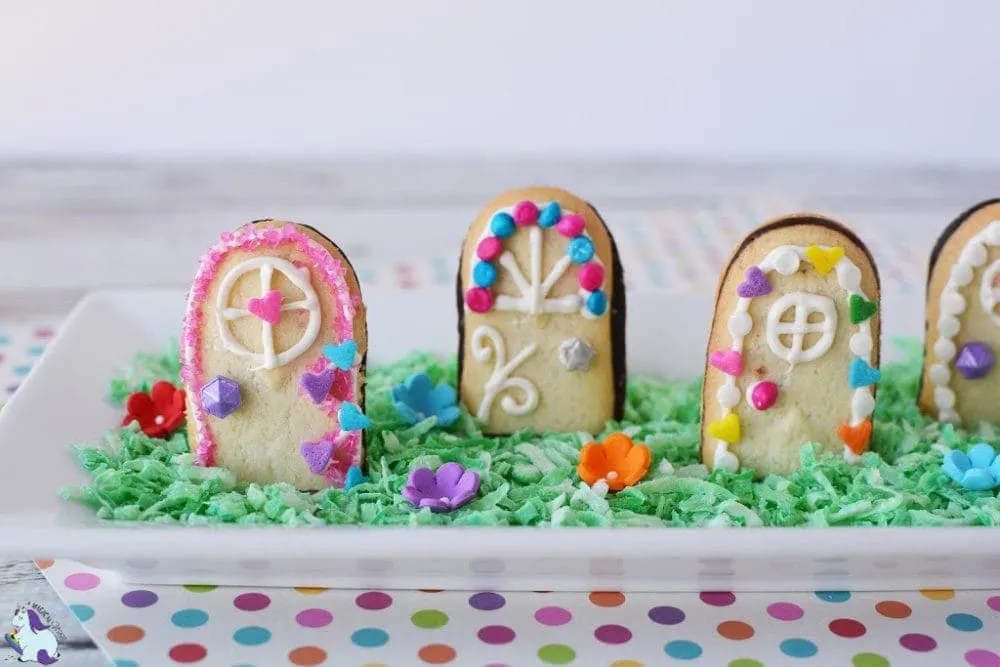 Happiness, Fairies, and Magic
I used to wish for wings before falling asleep or the opportunity to meet a fairy, if only in a dream. Perhaps, this was the origin of my love for bugs and nature.
My kids were then privy to all my favorite magical movies and shows, alongside new additions like Barbie Fairytopia–the love for fairies and the creatures of their realm was effectively passed down.
Magical Fairy Door Cookies
Are you looking for a fun treat or dessert for a themed party? Or, do you want to create something magical for the kiddos–better yet, with the kiddos?
If so, these fairy door cookies are super easy and tons of fun to decorate.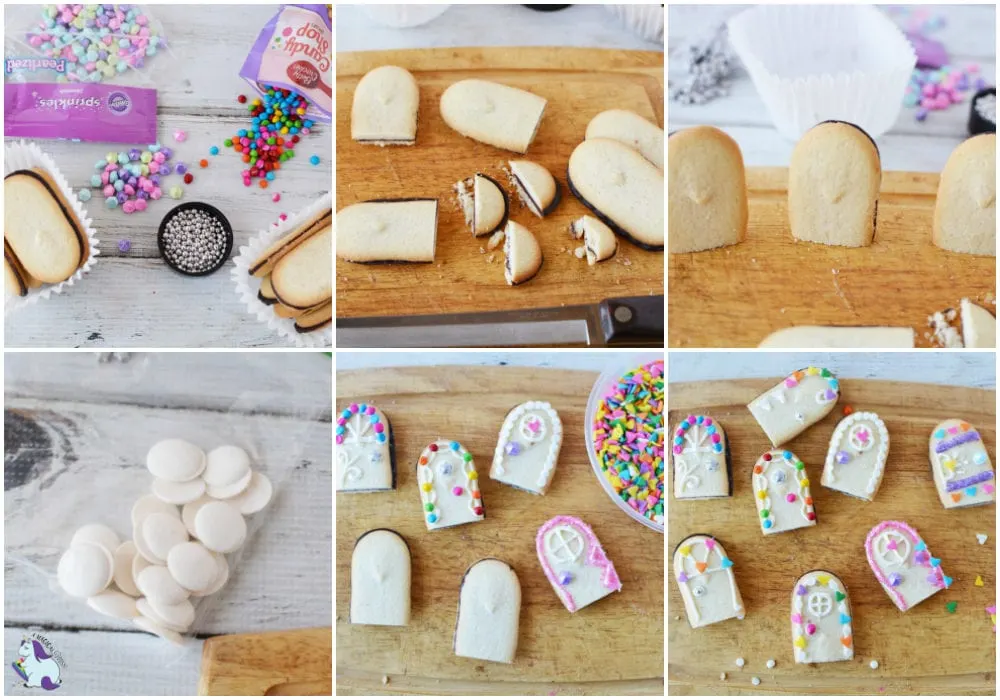 How To Make Fairy Door Cookies
Cut the bottoms off of your Milano cookies so they're flat and able to stand on their own. Don't waste the scraps! Either snack on the remnants or save them to go with tomorrow morning's coffee.
Add the candy melts to a resealable bag and leave it open. Microwave it at 50% power for 30 seconds and knead with your fingers. Repeat this process until it's fully melted.
Seal the bag and snip a tiny bit off of one corner.
Pipe your designs onto the cookies and add your sprinkles! You've been given a full creative license!
To make your grass, simply mix the water and food coloring and add it to a bag of shredded coconut. Mix until it is all green.
Be sure to check out our magical door cupcakes which feature these cookies on top of adorable cakes.
Decorating and eating fairy door cookies is a wonderful way for all ages to enjoy a bit of magic.
You can set up a sprinkle station and let everyone decorate their own.
Yield: 12 cookies
Fairy Door Cookies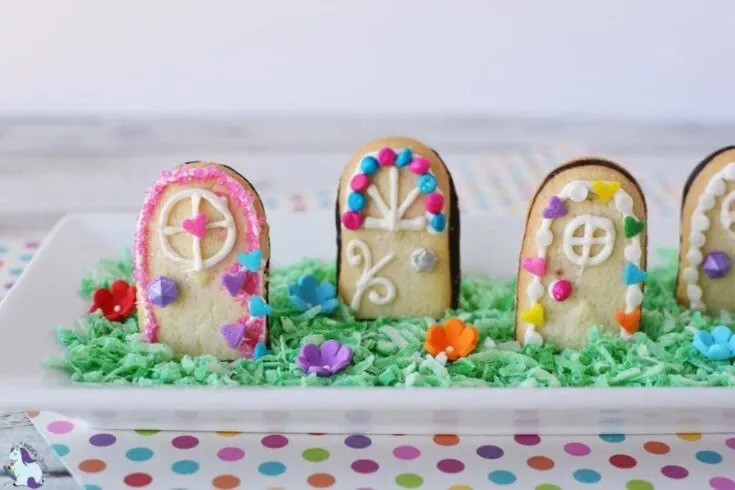 Care to open the door--the magical fairy door that is, to a world of sweet deliciousness? Then make these whimsical and fun fairy door cookies!
Ingredients
12 Milano cookies
25 bright white candy melts
resealable sandwich bag
sprinkles, variety
Optional for Serving
1/2 cup coconut
1 tsp water
5 drops green food coloring
Wilton icing decoration flowers
Instructions
Use a bread knife to saw the bottom off of the cookies. Snack on the scraps! Lay the cookies on a flat surface.
In a small resealable plastic bag, add candy melts but do not seal.
Microwave at 50% power for 30 seconds and knead with your fingers. Continue to microwave and knead until completely melted.
Seal the bag and snip a small tip into the corner of the bag.
Pipe melted candy onto the cookies to look like doors.
Add sprinkles and decorations to create fairy doors.
Repeat until you have the desired number of fairy door cookies.
To serve on coconut grass:
Place coconut into a a resealable plastic bag. Add water and food coloring together and pour onto coconut.
Knead bag until the coconut is colored green.
Sprinkle coconut on a plate and place doors on coconut. Add flower icing decorations.
Notes
Sprinkles Used:
Wilton diamonds pearlized
Wilton silver stars
Wilton white confetti
Betty Crocker Candy Shop Rainbow Chips
heart sprinkles
Silver Dragees
Recommended Products
As an Amazon Associate and member of other affiliate programs, I earn from qualifying purchases.
Nutrition Information:
Yield:
12
Serving Size:
1 cookie
Amount Per Serving:
Calories:

153
Total Fat:

5g
Saturated Fat:

3g
Trans Fat:

0g
Unsaturated Fat:

2g
Cholesterol:

0mg
Sodium:

70mg
Carbohydrates:

26g
Fiber:

1g
Sugar:

15g
Protein:

1g
Nutrition facts are an estimate only.
Serve with our toadstool cupcakes, mini toadstool bites, fairy cakes, fairy cupcakes with wings, colorful mini donuts, and fairy moon milk for a whimsical flavor feast. You can even place them ON this fairy toadstool trifle!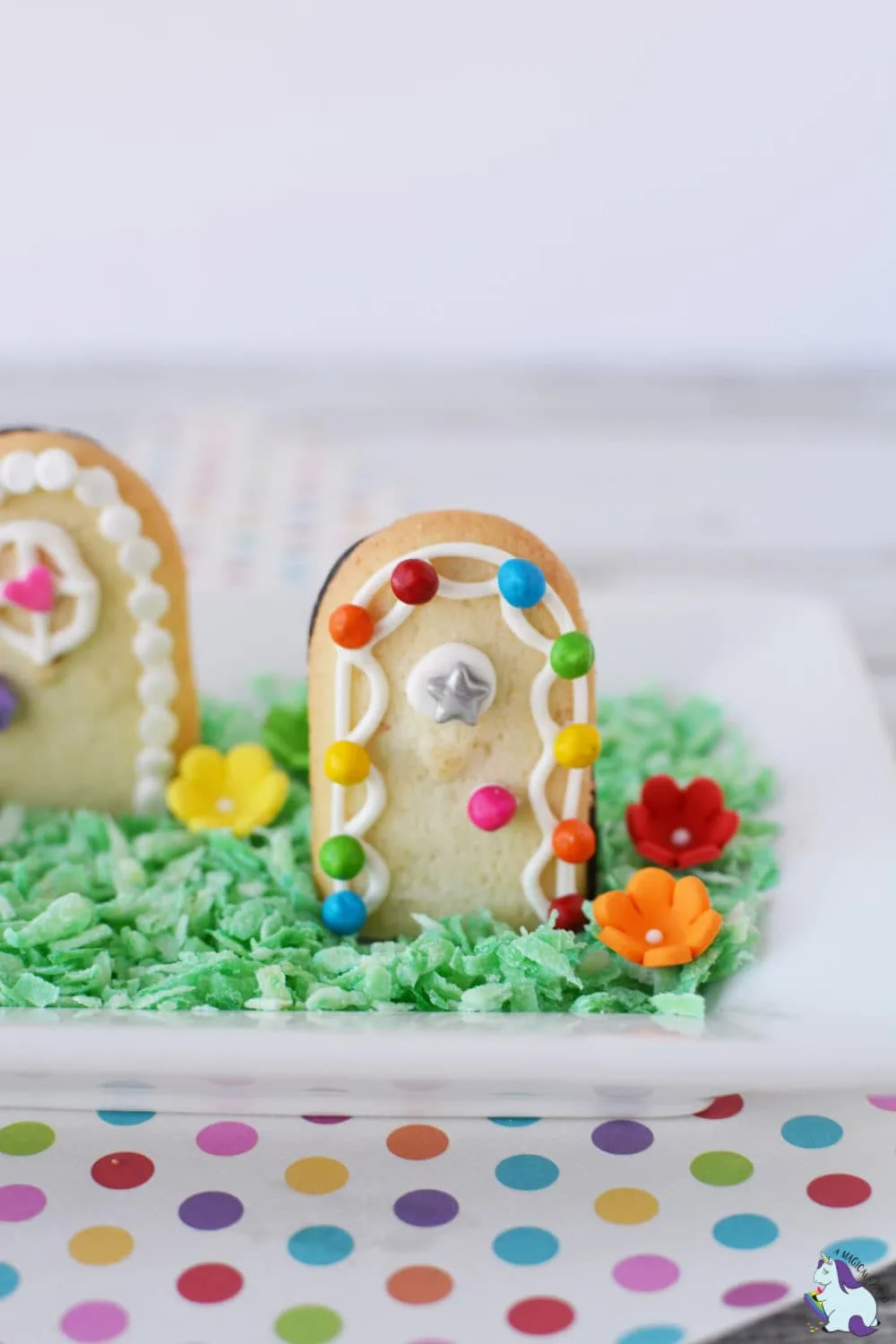 Subscribe to the blog to get free printable fairy activity sheets to use while you eat your magical cookies!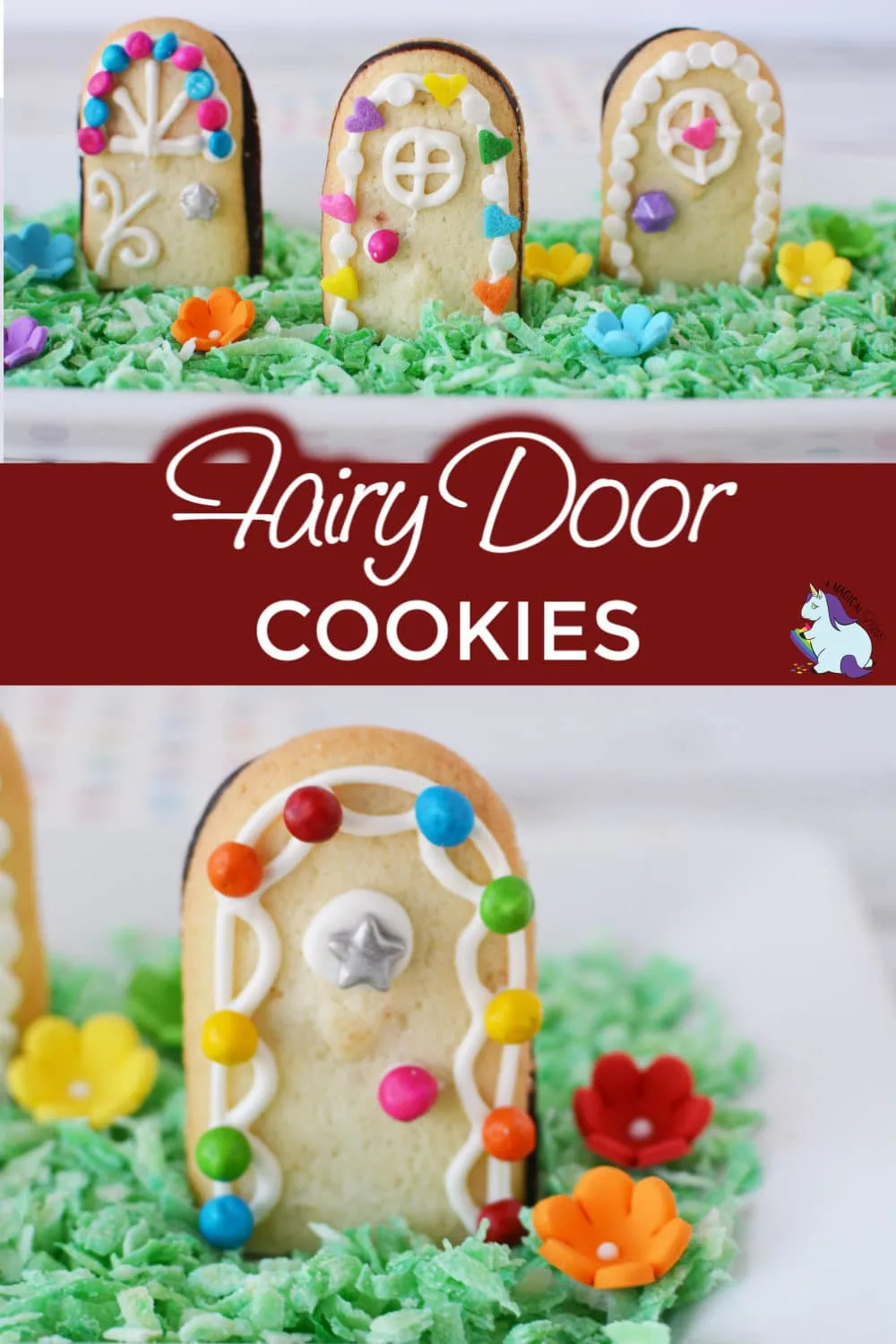 The next time you're in charge of hosting a themed party or it rains throughout your slumber party, consider making these fun fairy door treats!