Magical people of the land, it's time to gather. I'm beyond excited to present to you this enchanting woodland fairy toadstool recipe! This adorable and whimsical little fairy garden is completely edible and ready to wow the guests of your next celebration. This post contains affiliate links.
With layers of creamy chocolate pudding, whipped topping, fluffy cake, and crunchy cookies, this trifle is as delicious as it gets. But, the real magic comes from the adorable toadstool mushrooms on the top of the trifle. With red and white cookie caps and wafer stems, they are as fun to eat as they are to look at.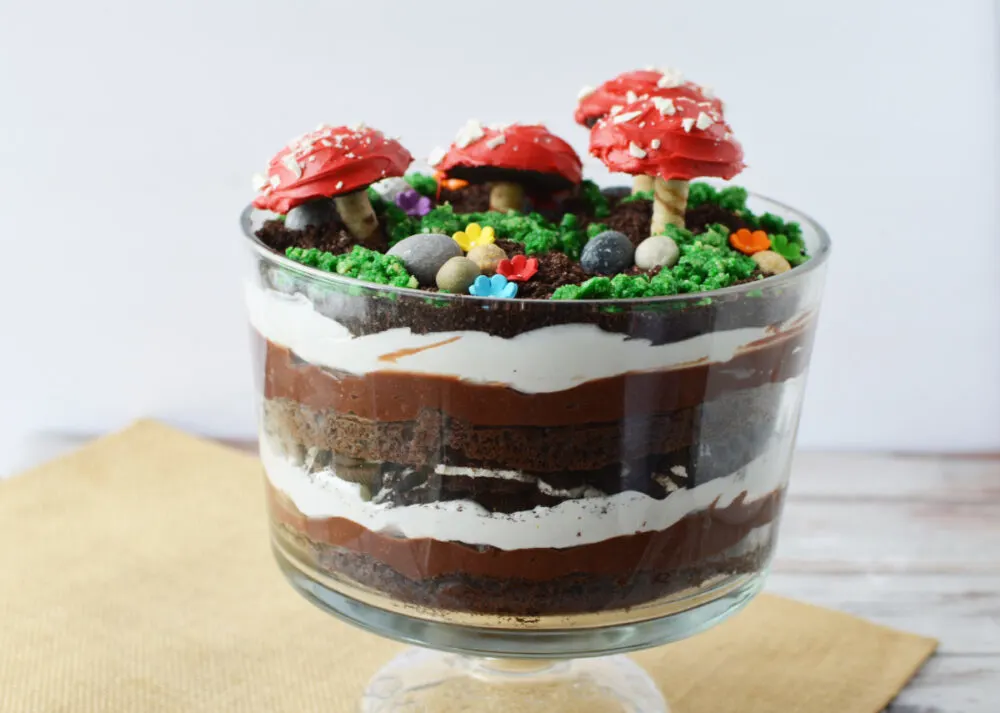 Magical Fairy Mushroom Trifle
The woodland fairy theme is one of my absolute favorites. It's fitting for any kind of celebration at all. You can make it work for little kid birthday parties, whimsical wedding showers, and so much more. Creating desserts for a fairy garden party is the perfect opportunity to unleash your creativity.
Don't let the details of this magical mushroom trifle intimidate you. Take it step by step, and you will see how easy it is to create an edible fairy garden of your own. If you just want the delicious layers, feel free to make an easy chocolate trifle recipe.
Things to Love about this Dessert
Here are a few reasons to fall in love with this fairy toadstool trifle.
Unique: The toadstools and enchanted forest look of the top of this trifle is surely something people don't see every day.

Delicious: Even without the magical topping, the layers of pudding, whipped cream, cookies, and cake are a winning flavor combo loved by most. In fact, simply leave the top off for a chocolate Oreo trifle.

Customizable: Use your imagination to customize your fairy toadstool realm. Add details to fit an additional theme, decorate it for the holidays, or make all the toadstools different colors. The options are endless!

Whimsical: A fairy garden trifle is an easy way to add some whimsy to your dessert table. The colorful toadstools and flower details are sure to draw the eye of people of all ages.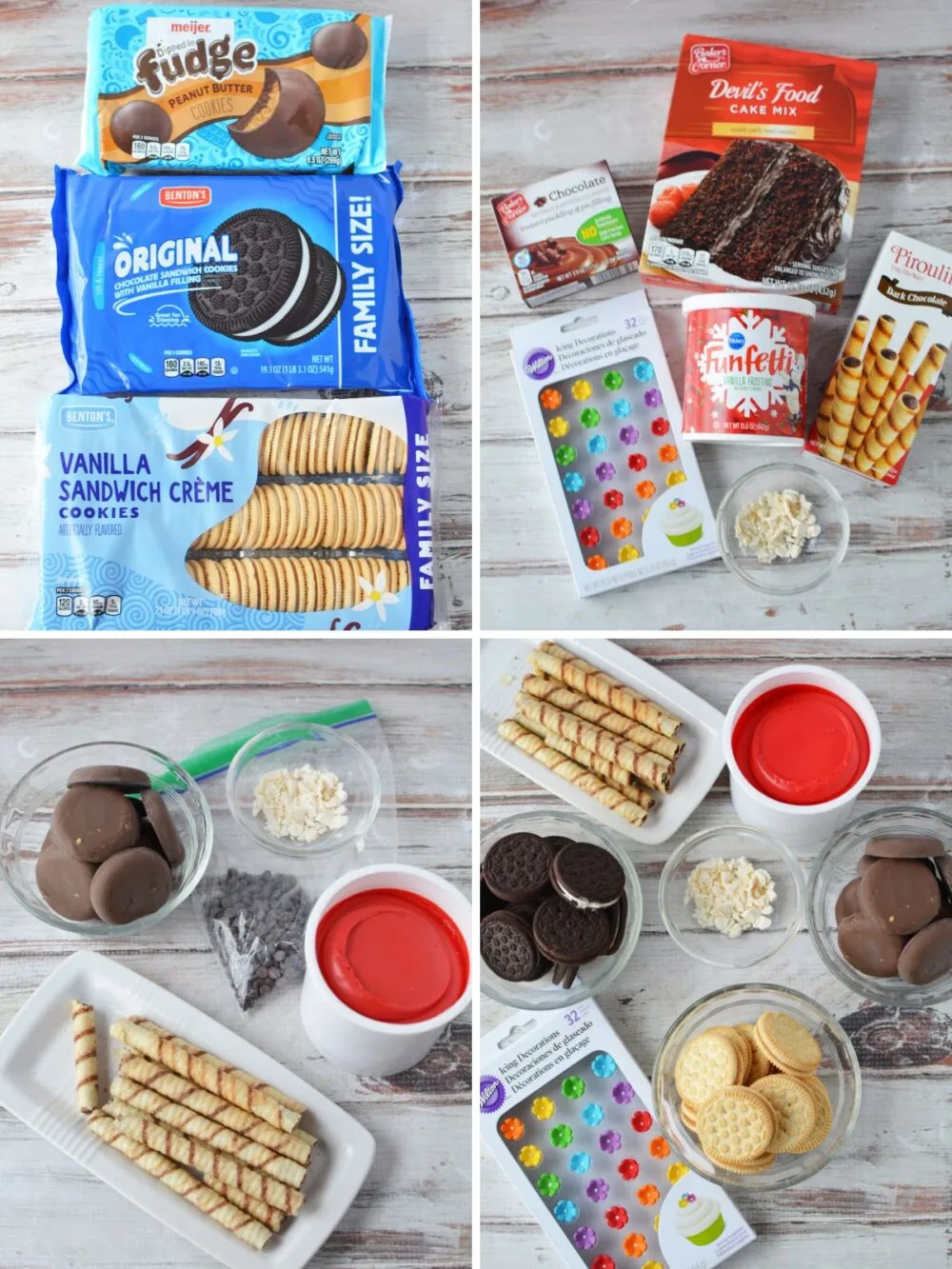 Enchanted Fairy Garden Trifle Ingredients
Here's what you need to make this magical trifle recipe. The measurements are in the recipe card below.
Chocolate cake round – baked and cooled
Instant chocolate pudding
Milk
Whipped topping
Chocolate sandwich cookies
Vanilla sandwich cookies
Green food coloring
Fudge-dipped peanut butter cookies
Cream-filled wafers
Red frosting
Mini chocolate chips
White candy melts
Candy rocks
Flower icing decorations
Fairy Toadstool Trifle Directions
Make the chocolate pudding by whisking the milk and pudding mix together for at least 2 minutes. Refrigerate it for at least 5 minutes or until firm.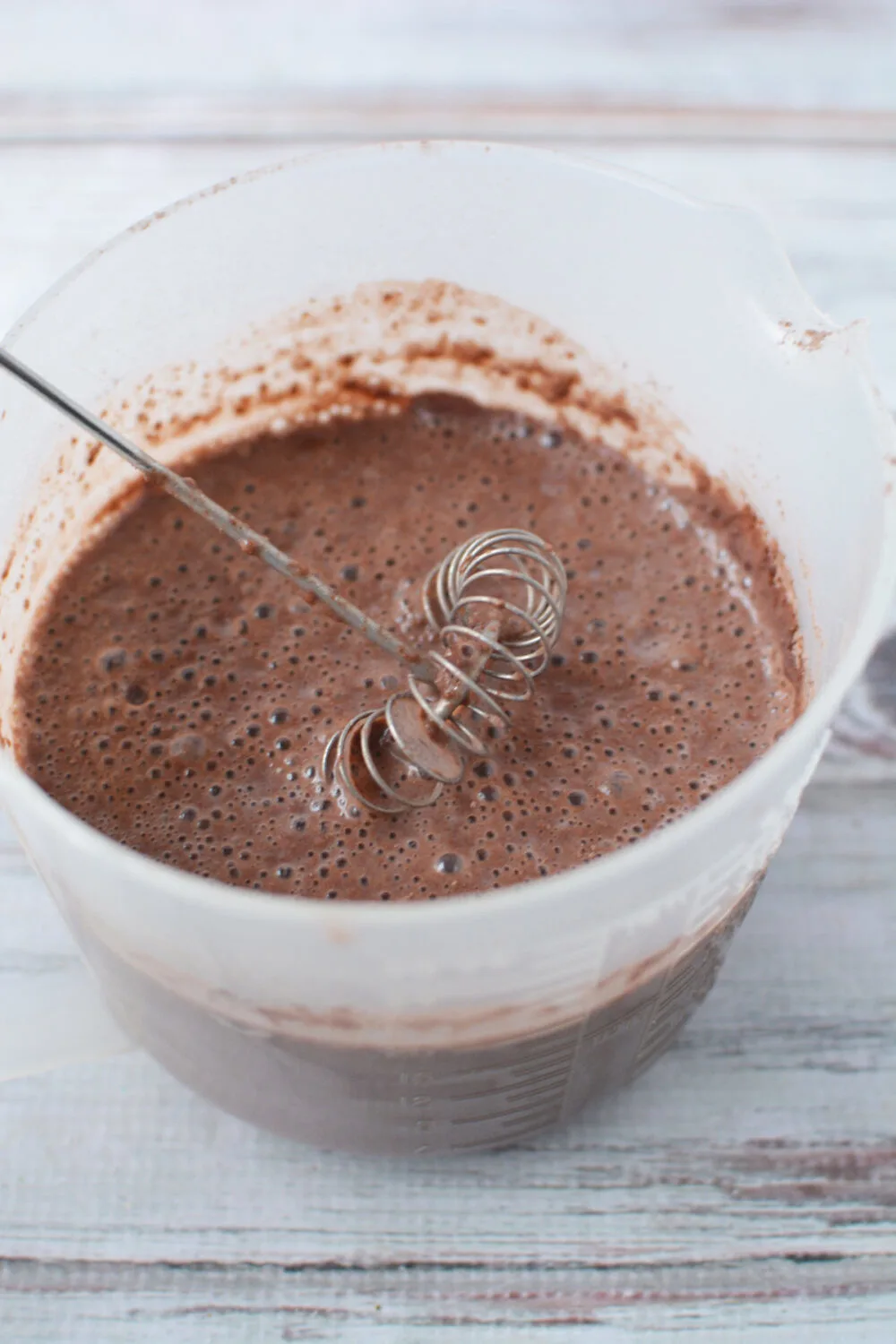 Use a food processor to finely crush 15 chocolate sandwich cookies and set them aside. This is for the "dirt" topping, so you want the consistency to be fine.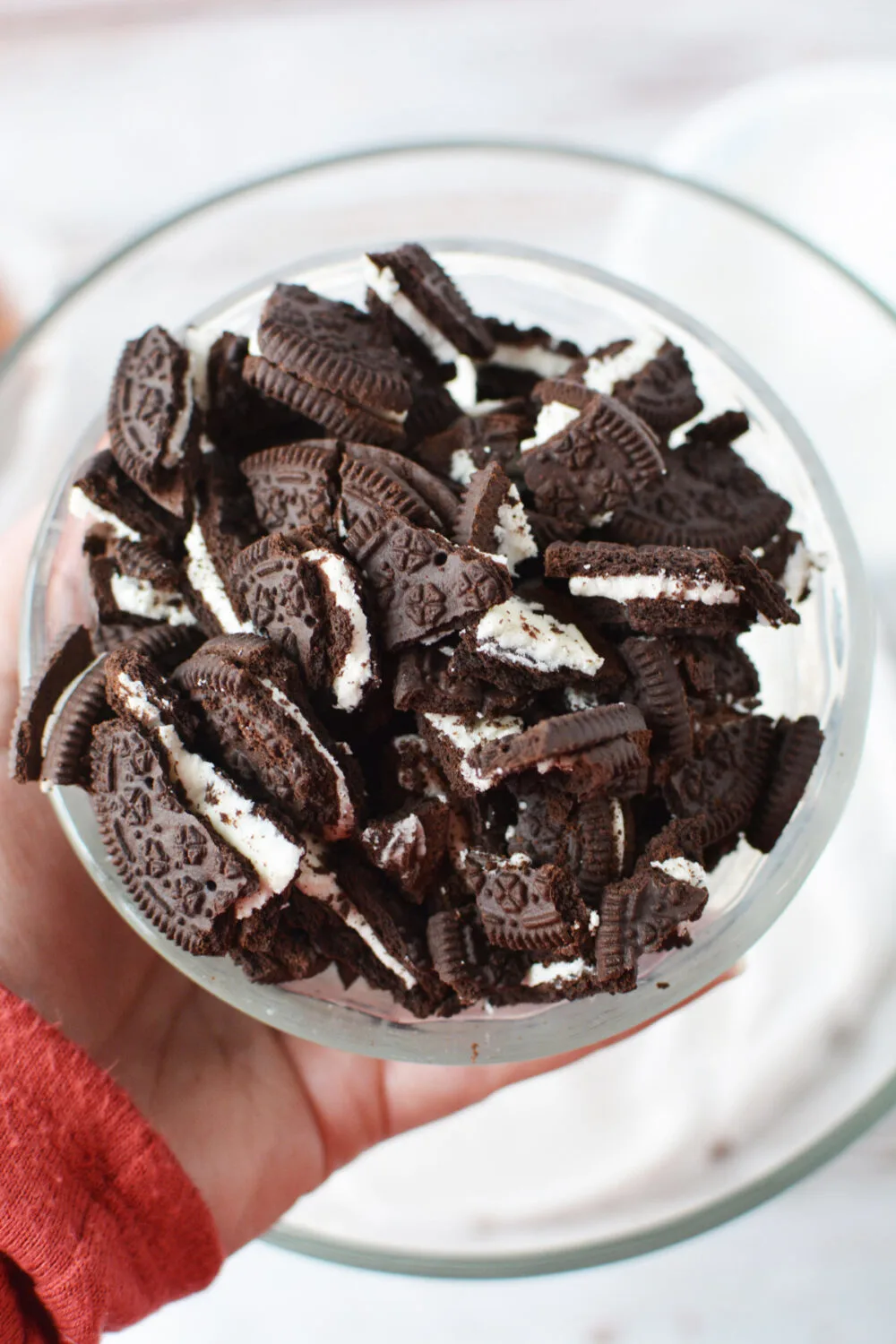 Break apart the rest of the chocolate sandwich cookies into chunks. This is for the cookie layer of the trifle, so they just need to be bite-sized.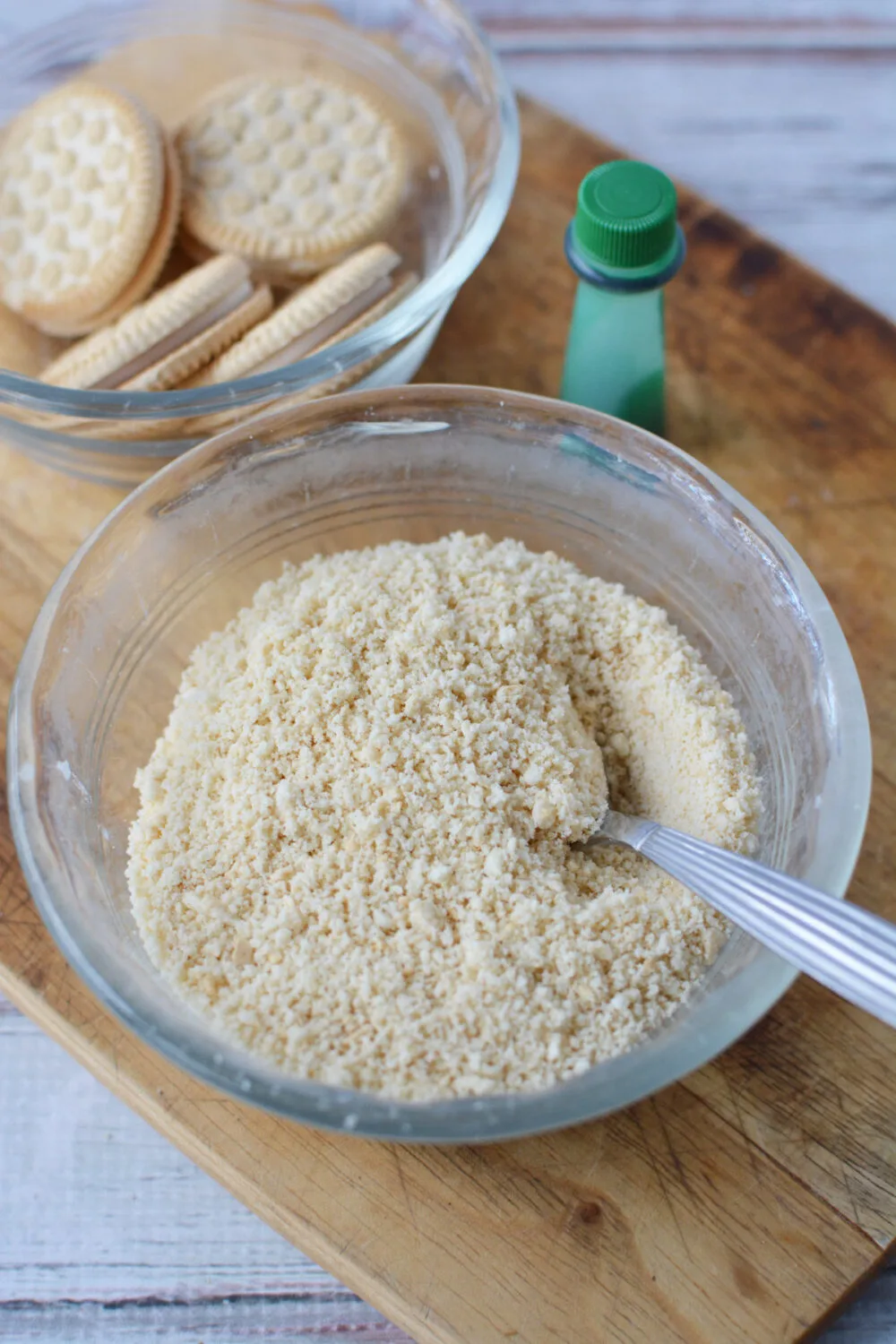 To make the "moss," finely crush the vanilla sandwich cookies into fine crumbs. Place them into a resealable sandwich bag.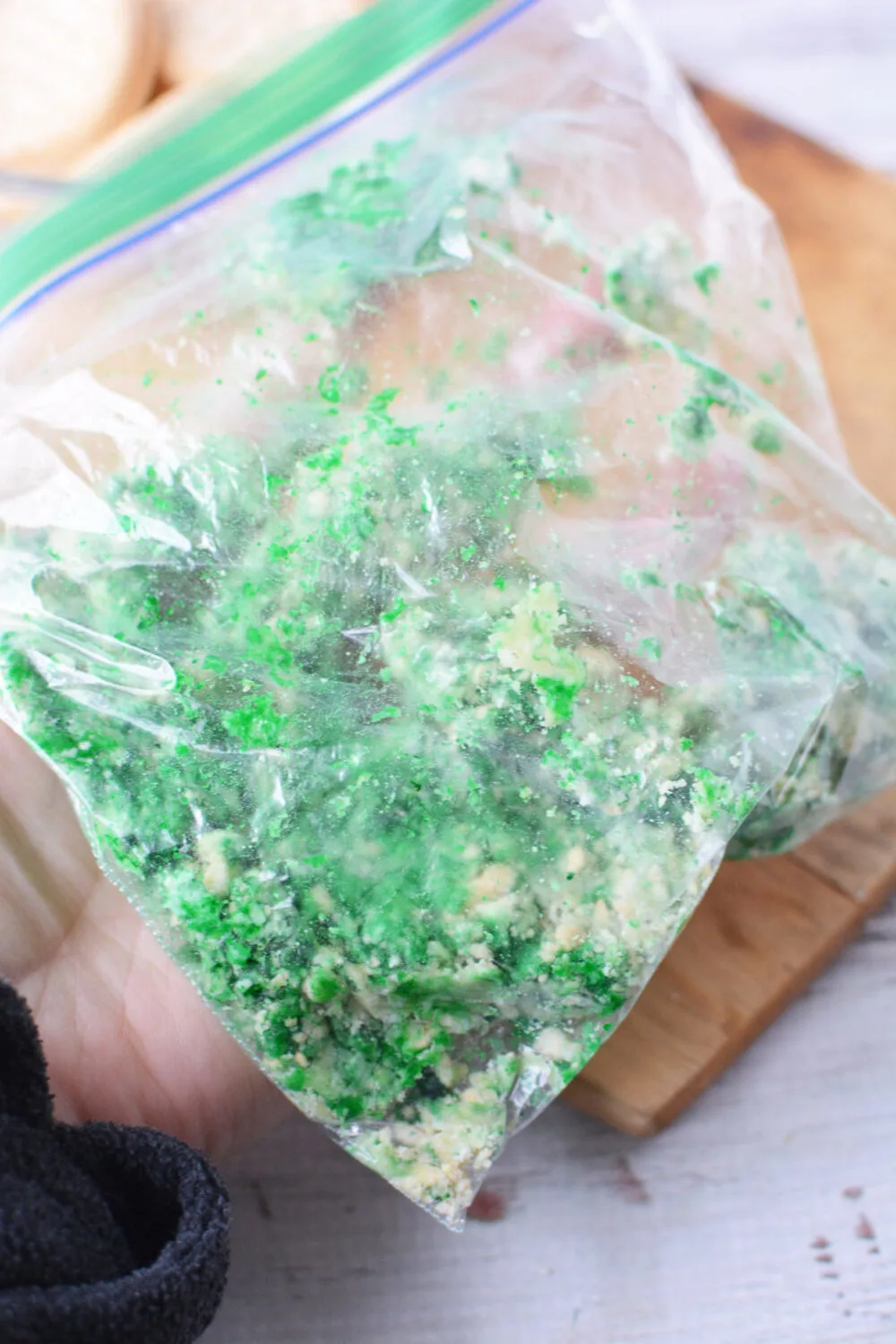 Add 1/2 teaspoon of water and several drops of green food coloring to the cookie crumbs. Seal the bag and knead it until the mixture is the desired shade of green.
Note: This moss mixture ends up a bit wet. If you don't like that texture, feel free to make the moss the day before to let it sit and dry a bit.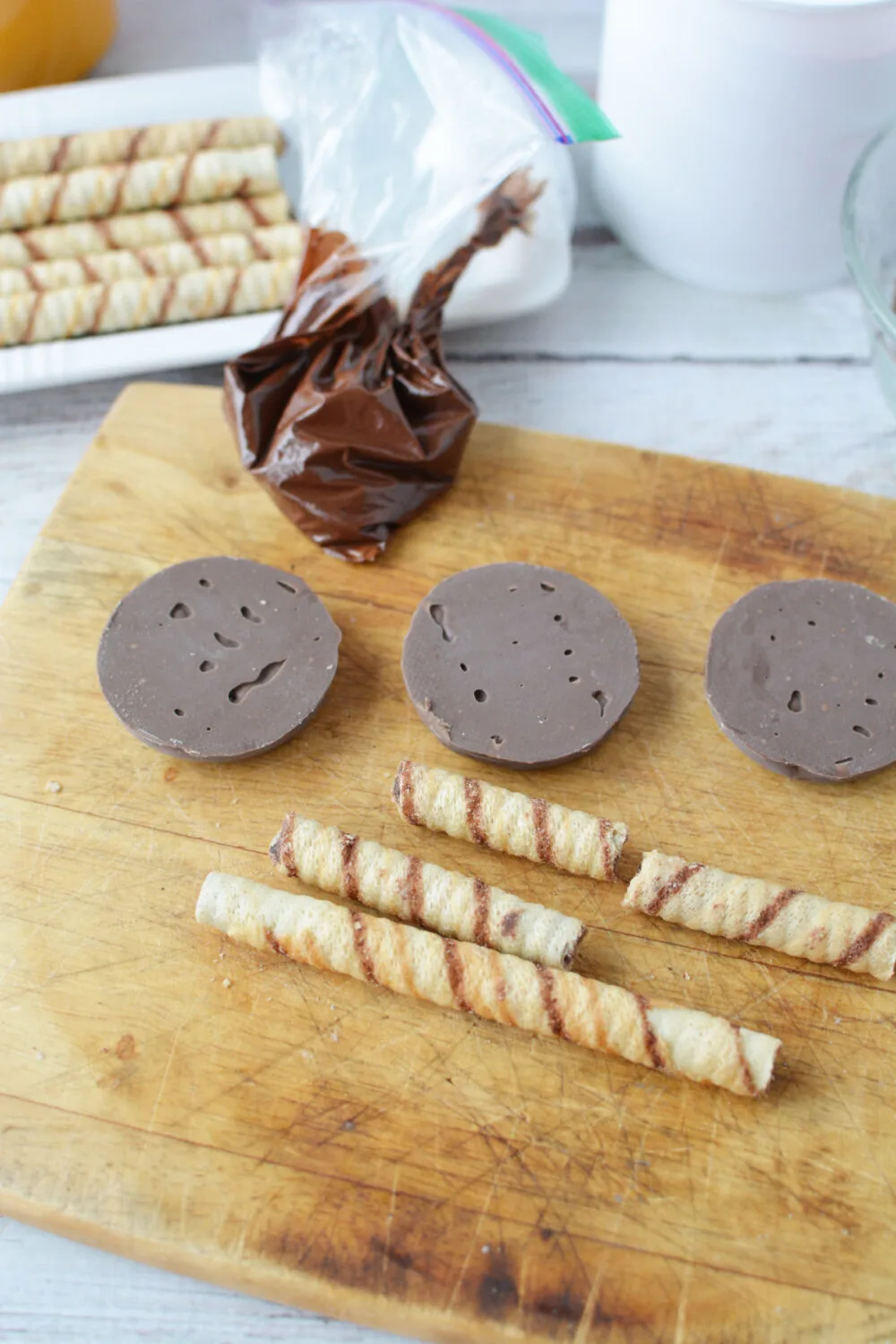 To make the toadstool mushrooms, place the chocolate-covered peanut butter cookies onto a flat surface, face down.
Melt the mini chocolate chips in a sandwich bag in the microwave at 50% power for 30 seconds. Knead the chocolate in the bag, and repeat the process until it's fully melted, about 2 minutes total.
Cut a small tip into the corner of the bag and pipe some melted chocolate onto the center of a cookie.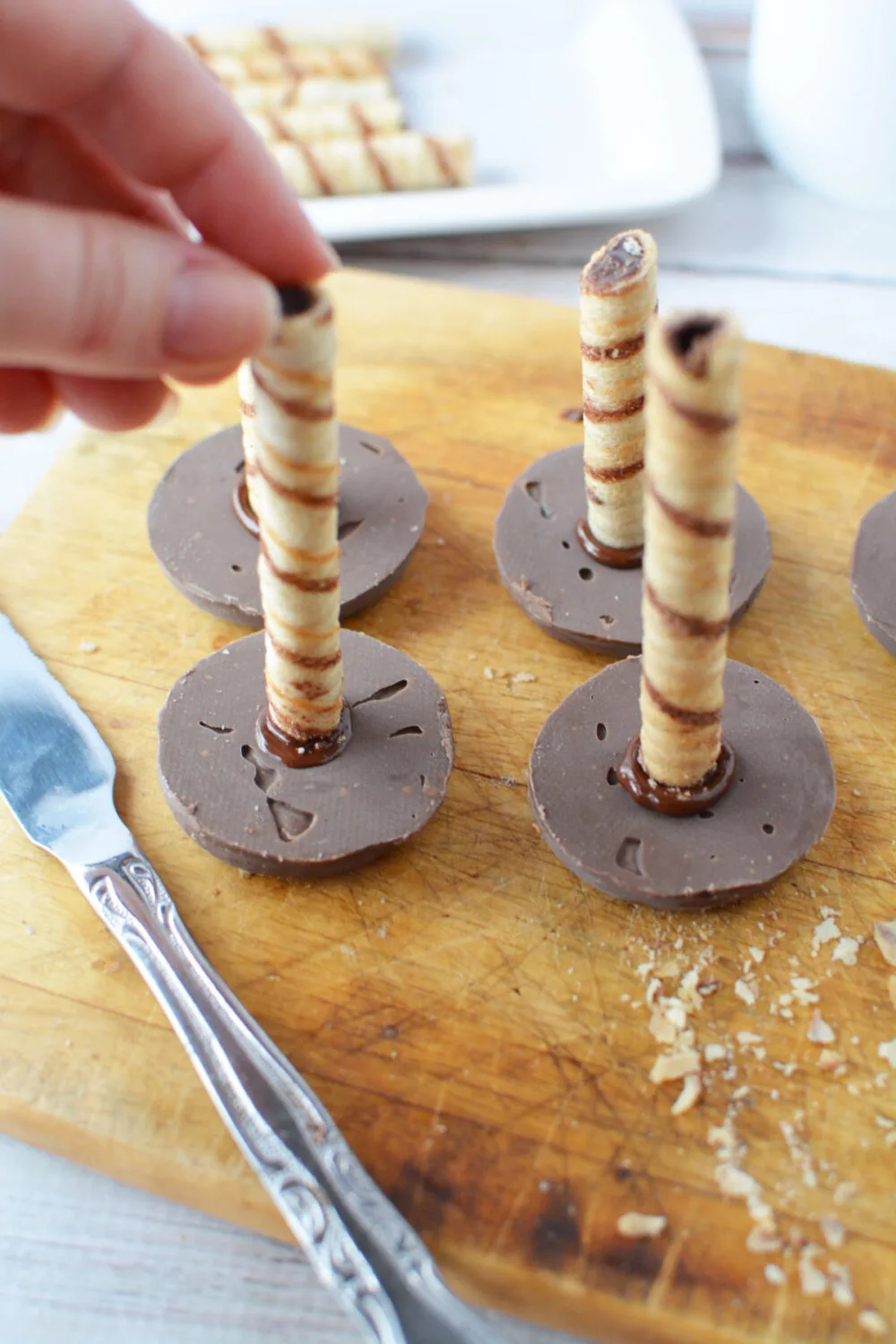 Carefully place a full-sized wafer (don't cut) onto the chocolate and hold it until it's set. Repeat with each cookie until you have the desired amount of mushrooms. Let them stand to let the chocolate harden completely.
Note: Do not cut the wafers as shown above. It's best to keep them long. The toadstool is a lot more stable when it is inserted deeper into the trifle layers.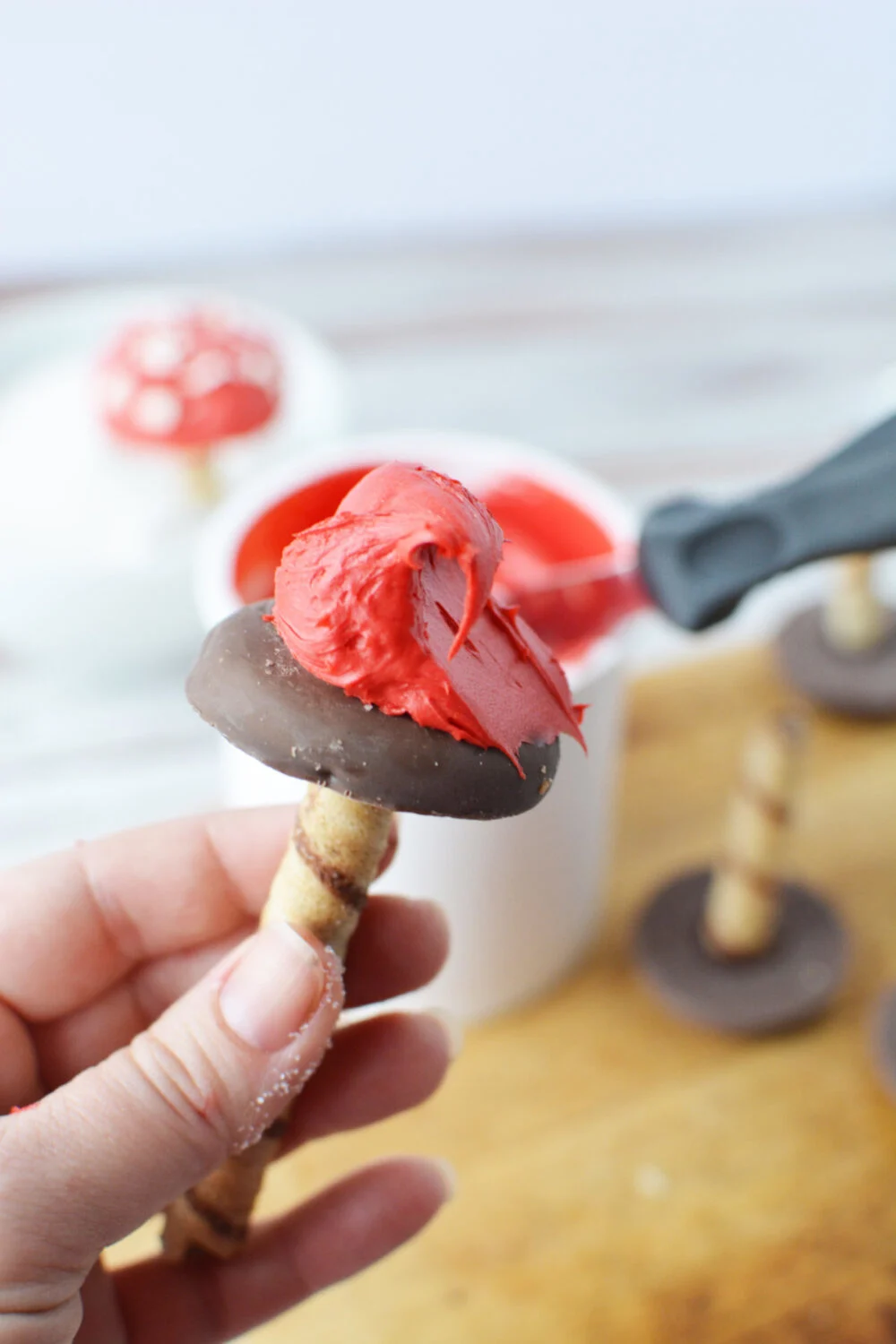 Once the chocolate hardens and the wafers feel securely attached to the cookies, use the red frosting to cover the tops.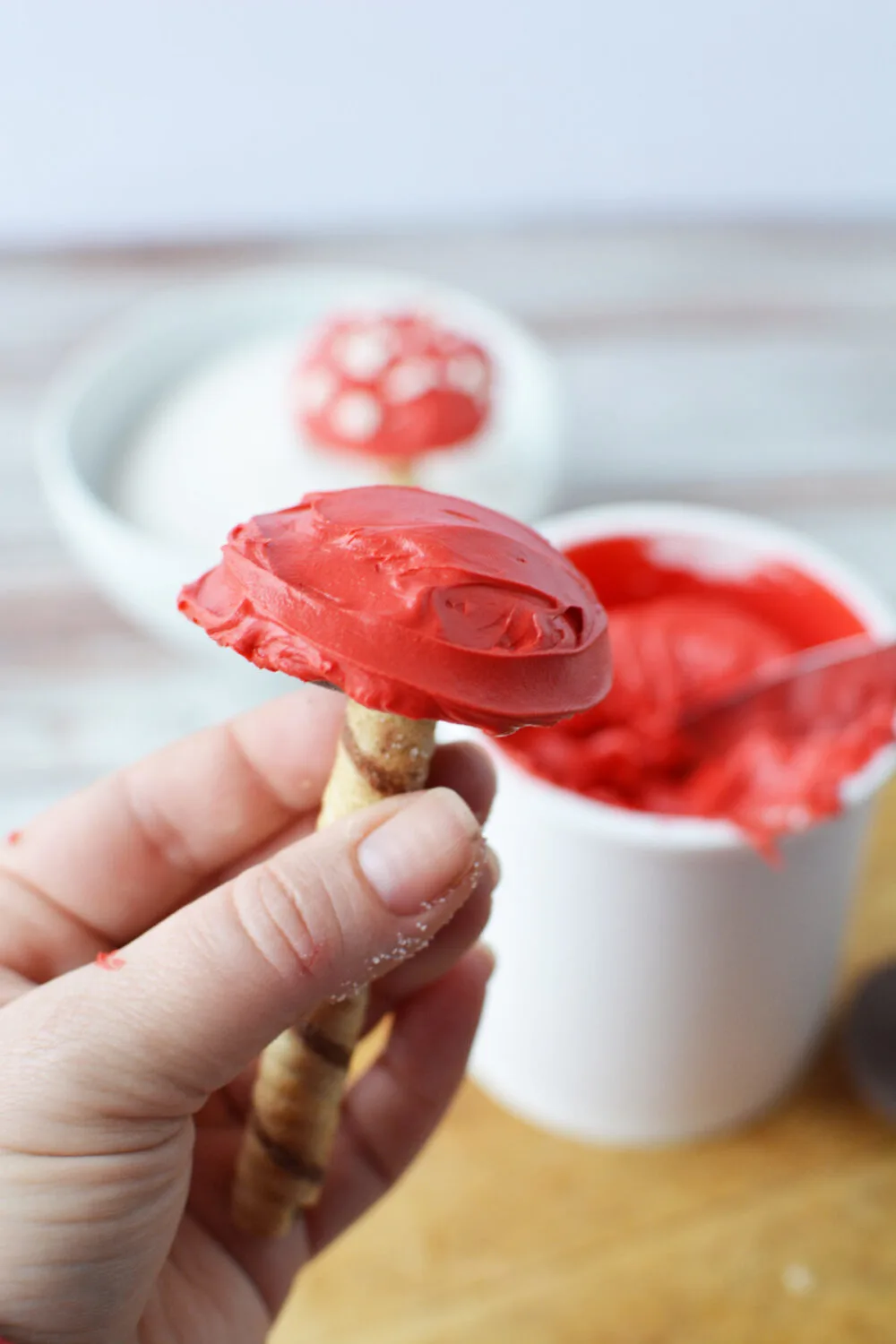 Let the toadstools stand. Filling a cup or a bowl with sugar is a great way to keep them steady until you are ready to assemble the trifle.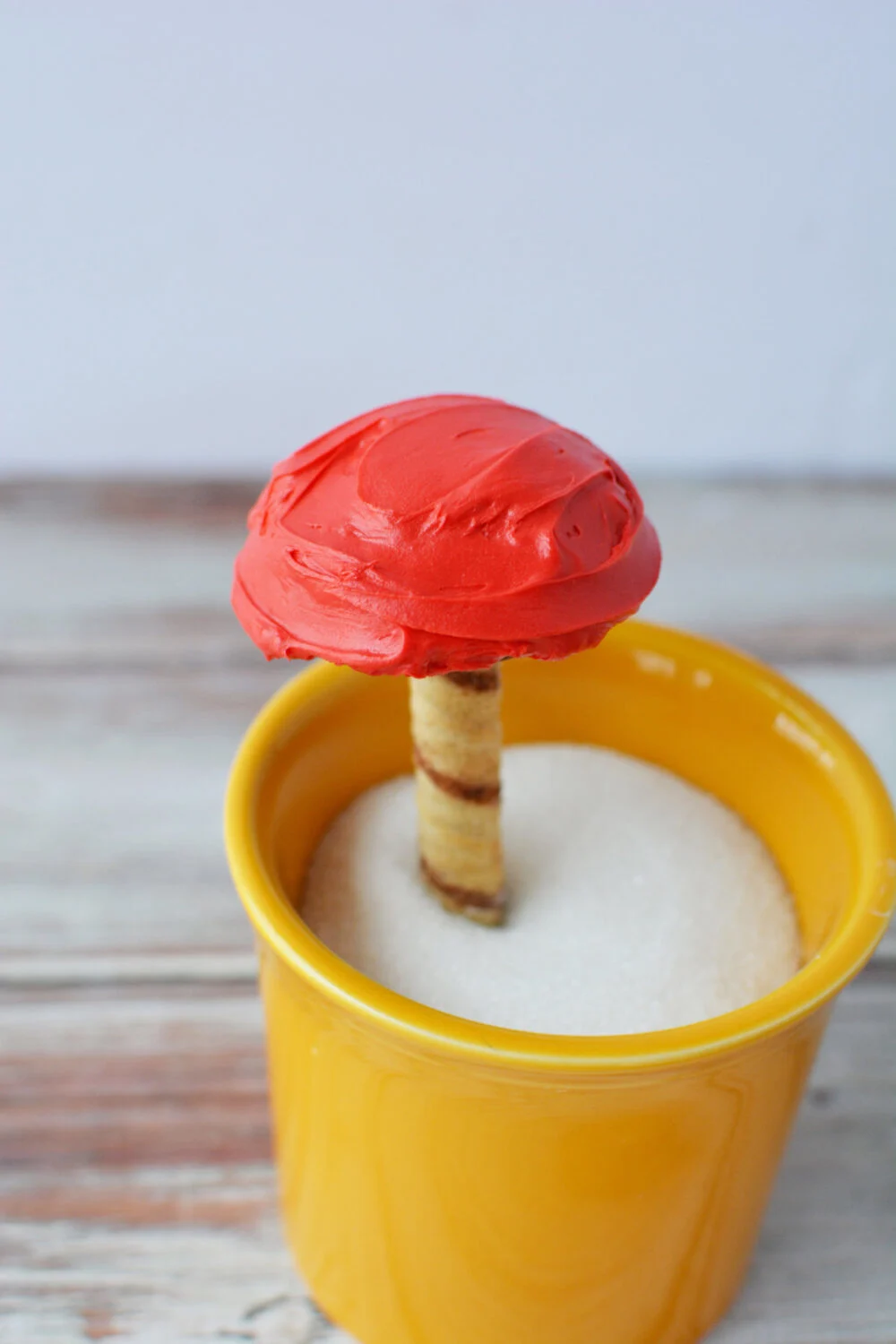 Sprinkle the frosted toadstools with crushed white candy melts. You can do this now, or wait until you are topping the trifle.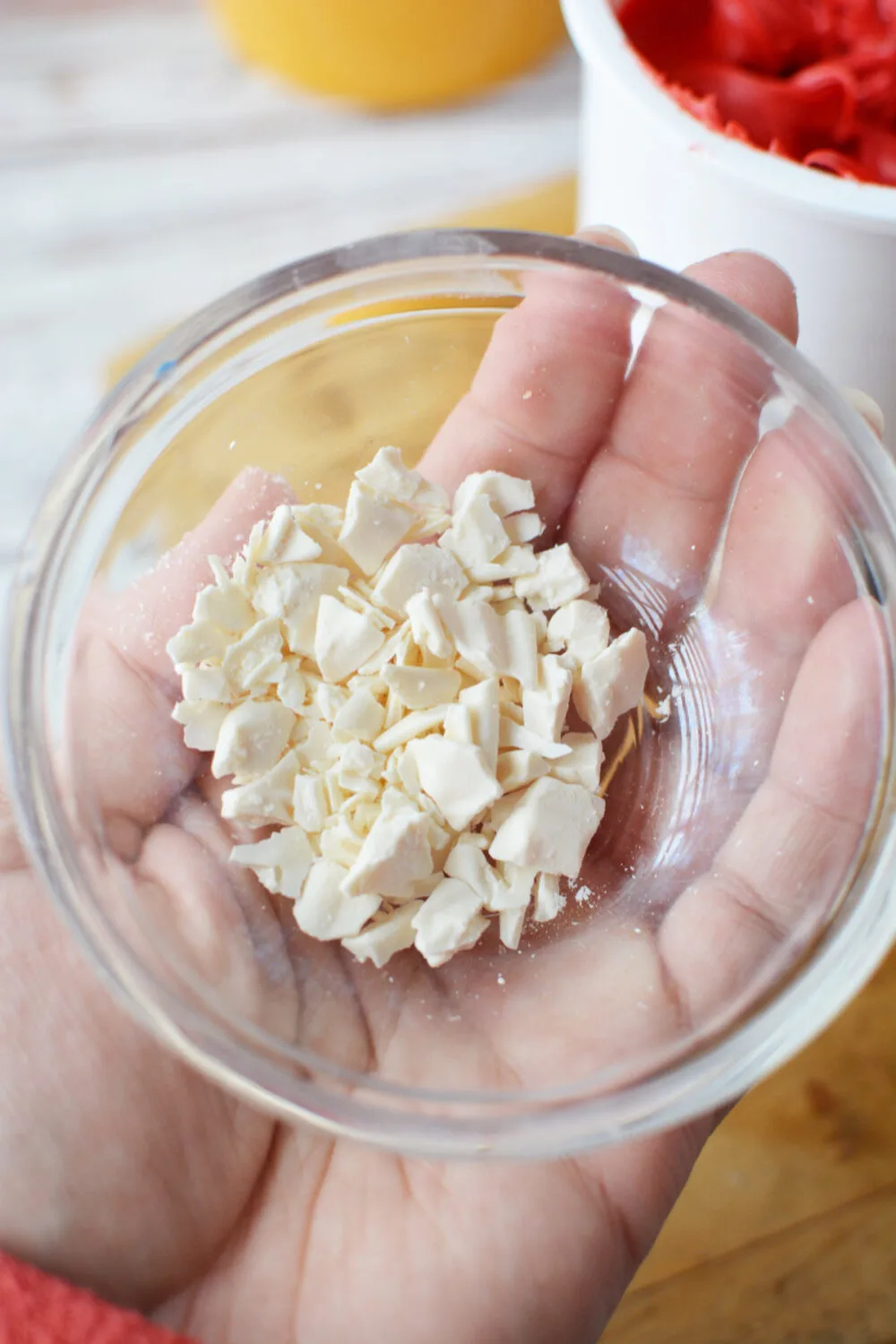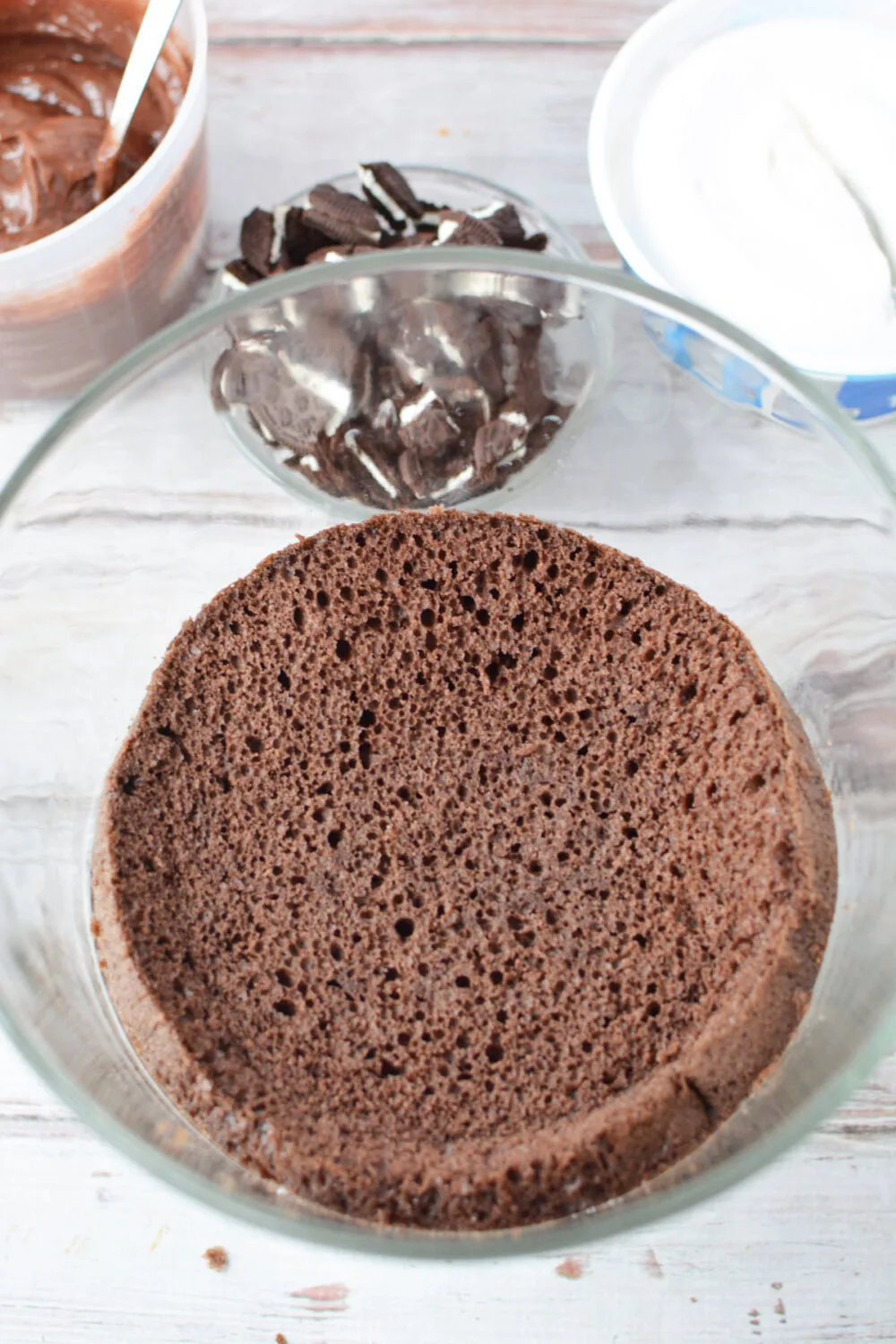 Slice your chocolate cake round in half to create two rounds. Place one of the rounds into your trifle dish.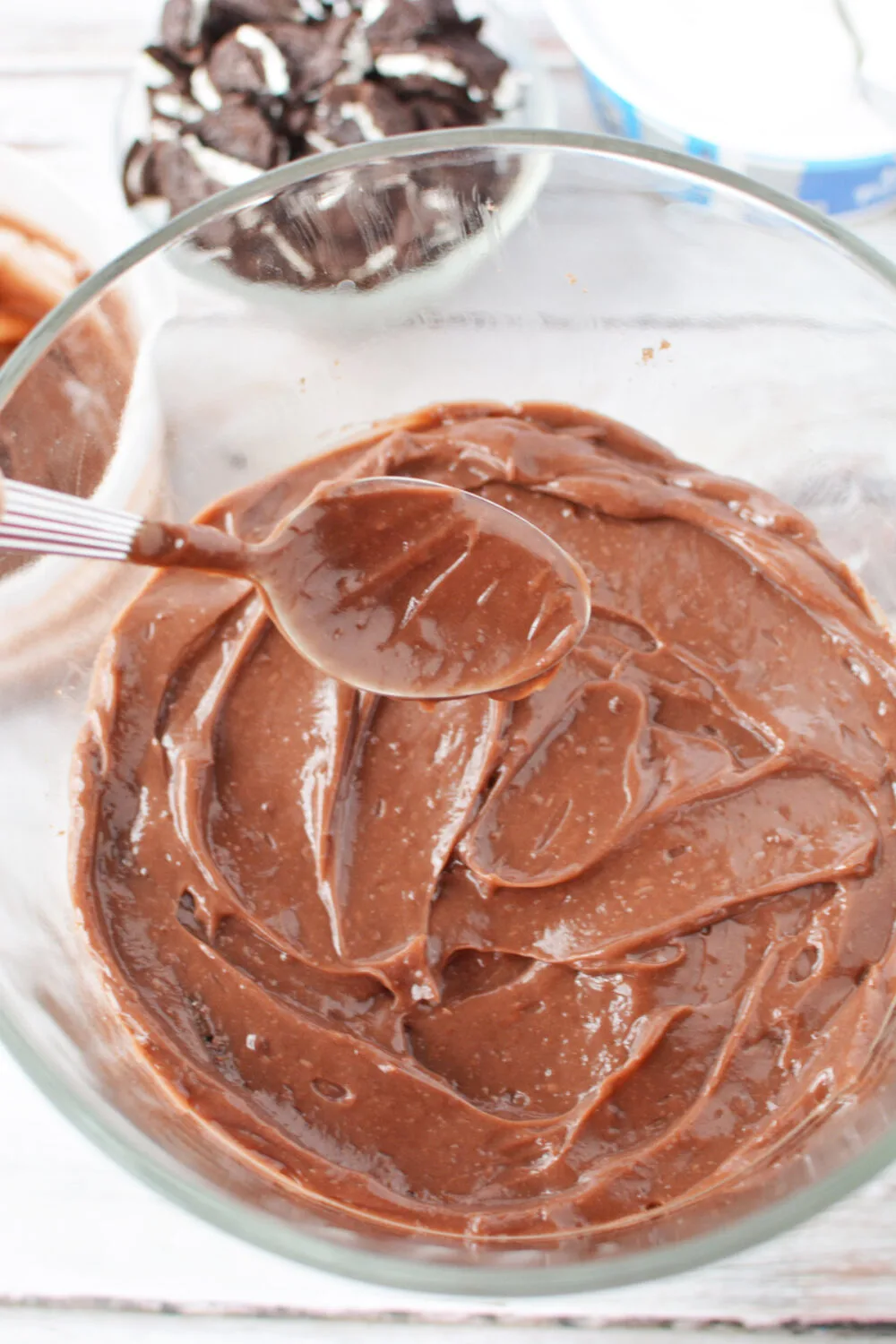 Top the cake with half of the chocolate pudding.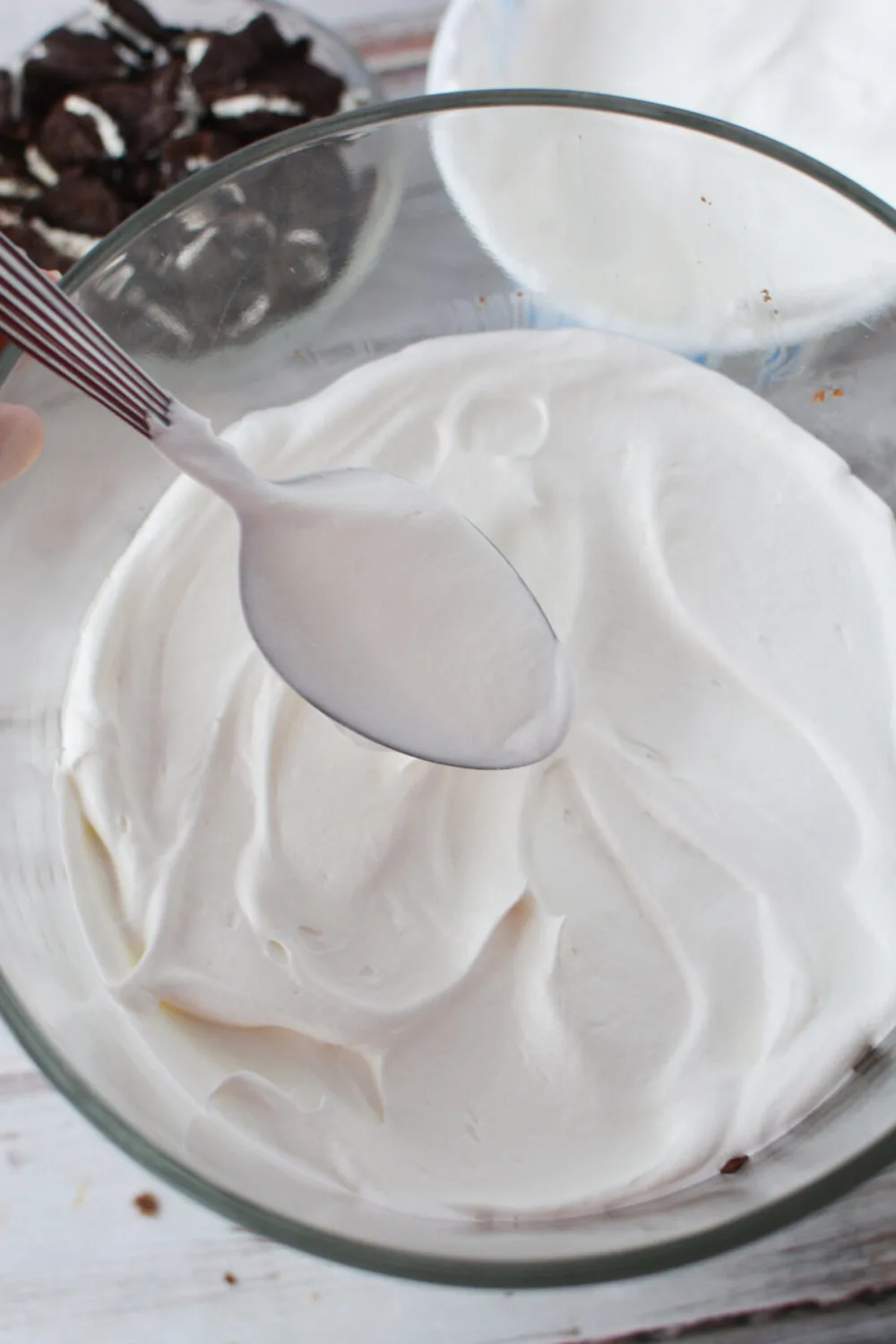 Follow up with half of the whipped topping.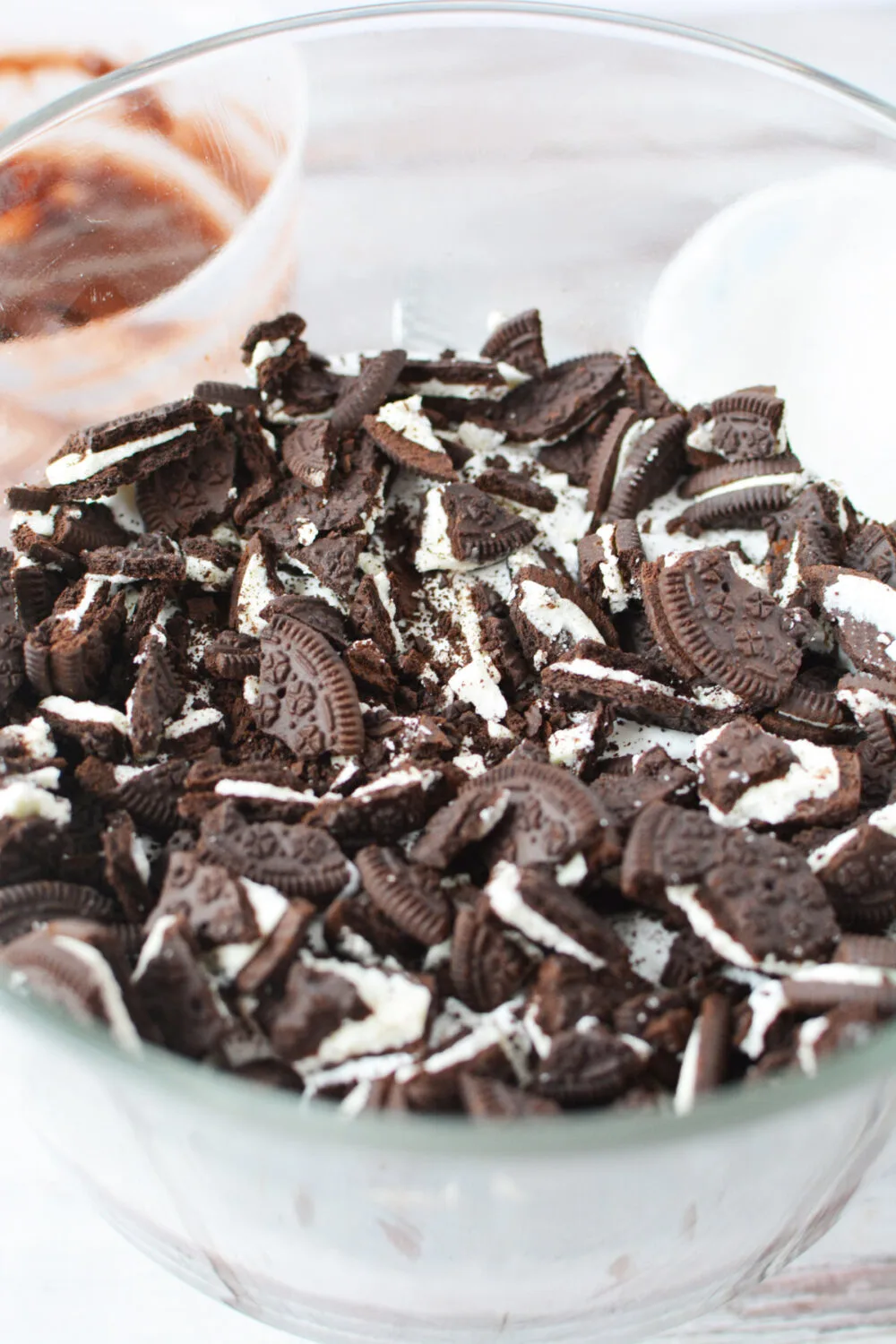 For the next layer, sprinkle on the crushed chocolate sandwich cookies.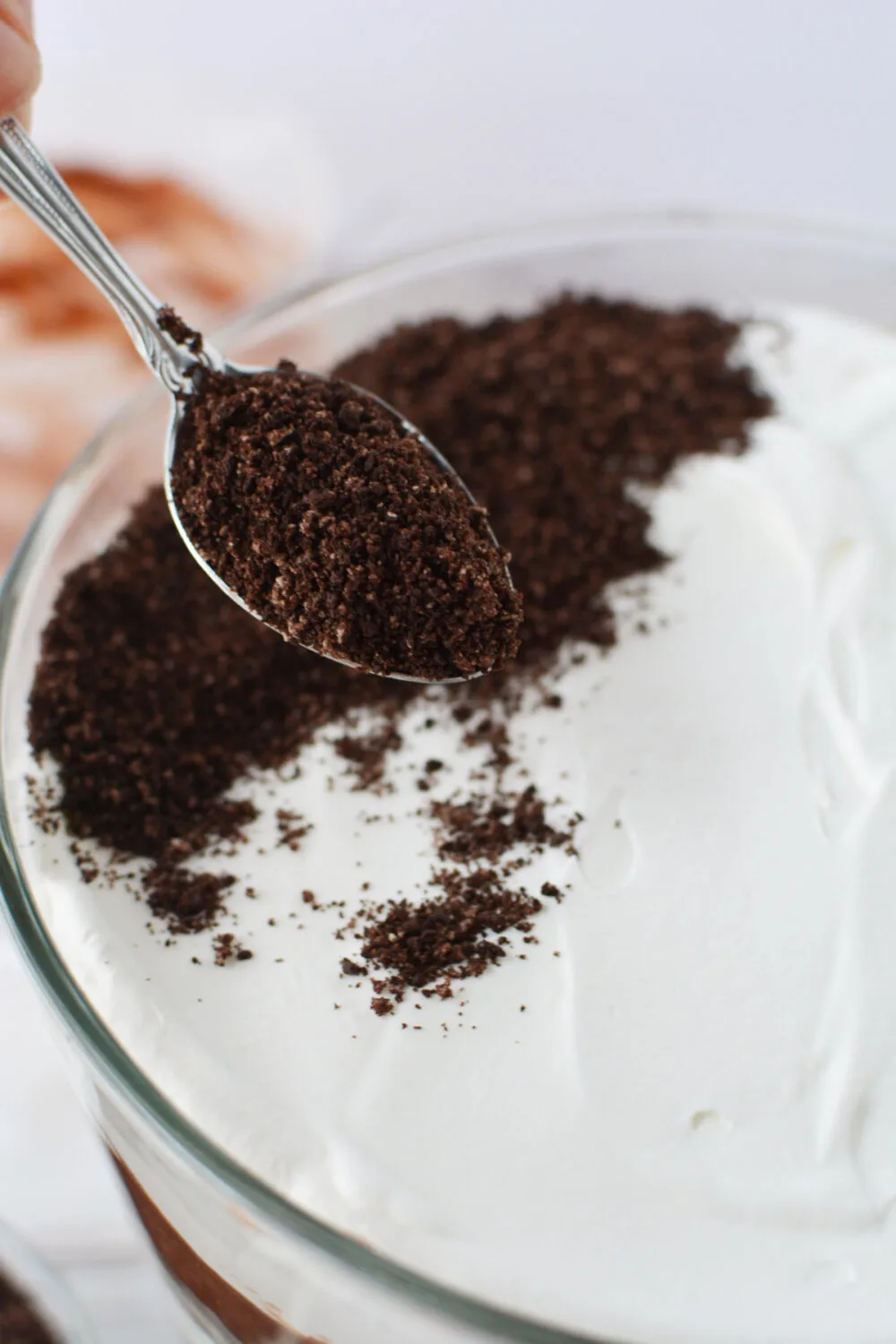 Repeat each layer, ending with a layer of cookies, but use the finely crushed OREOs that you created earlier.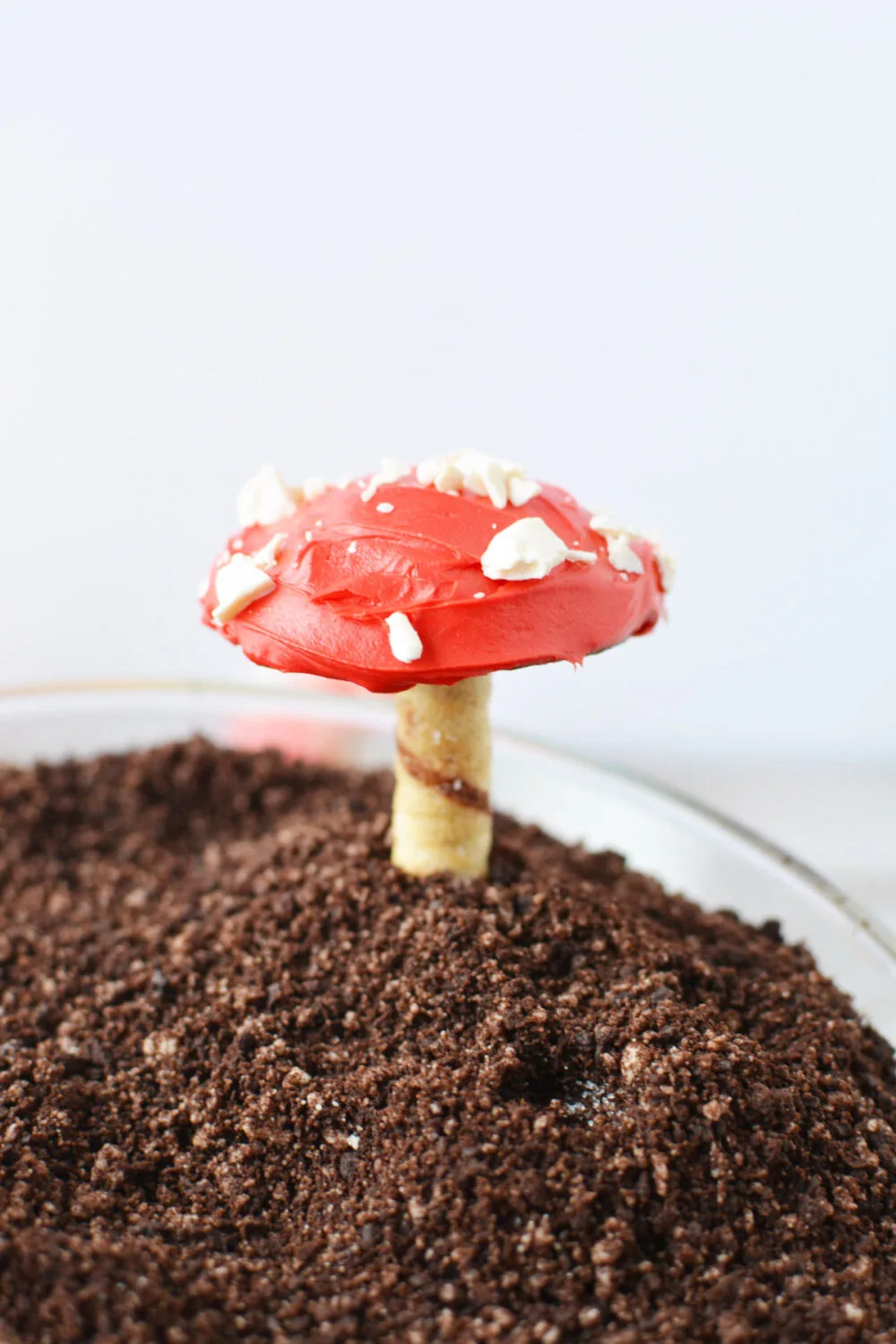 To decorate the top, place some piles or mounds of the finely crushed chocolate cookies throughout. These are like little piles of dirt to hold the toadstool cookies.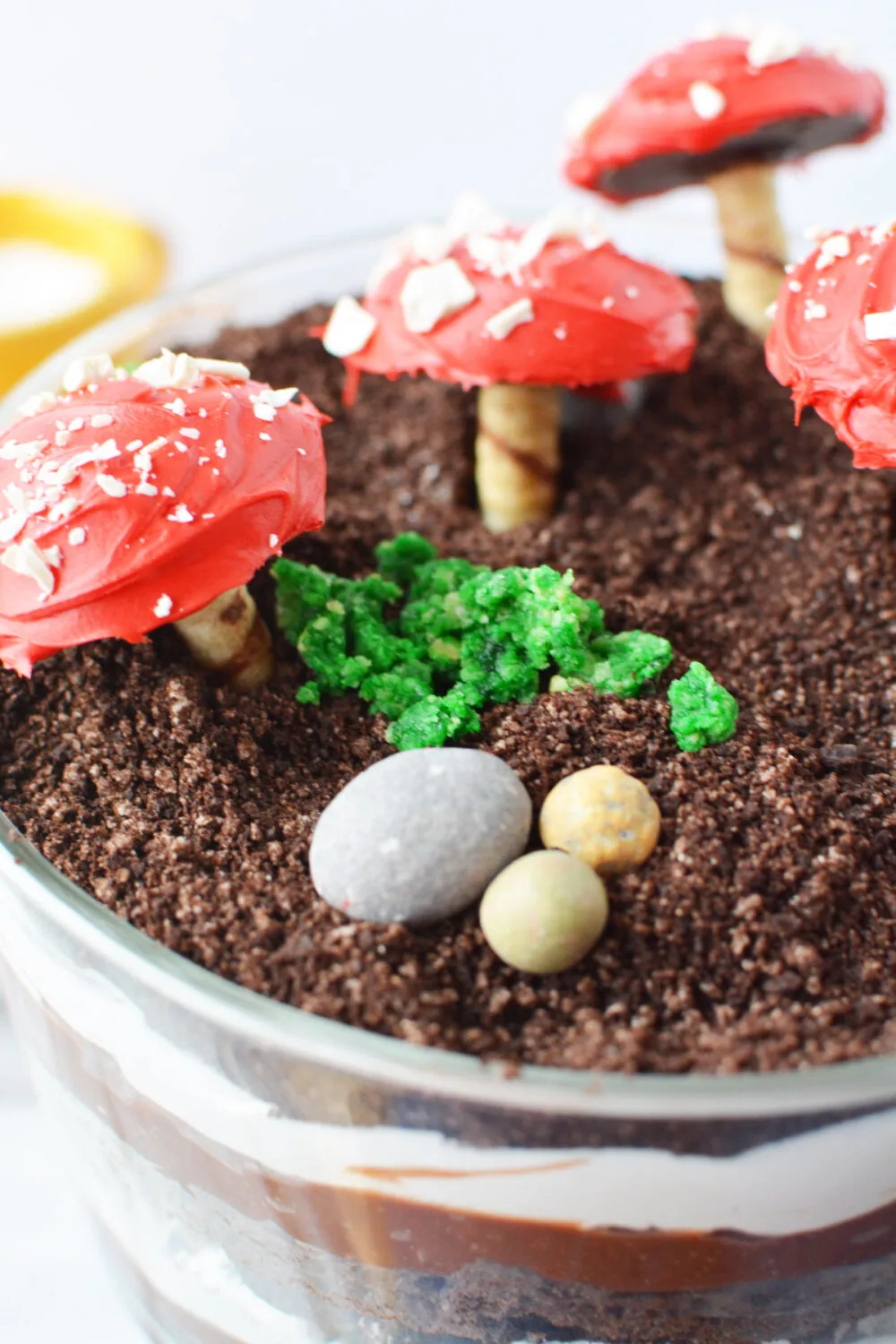 Push the toadstool mushrooms into the trifle, add the candy rocks, the candy flowers, and pieces of the green "moss" to decorate the top.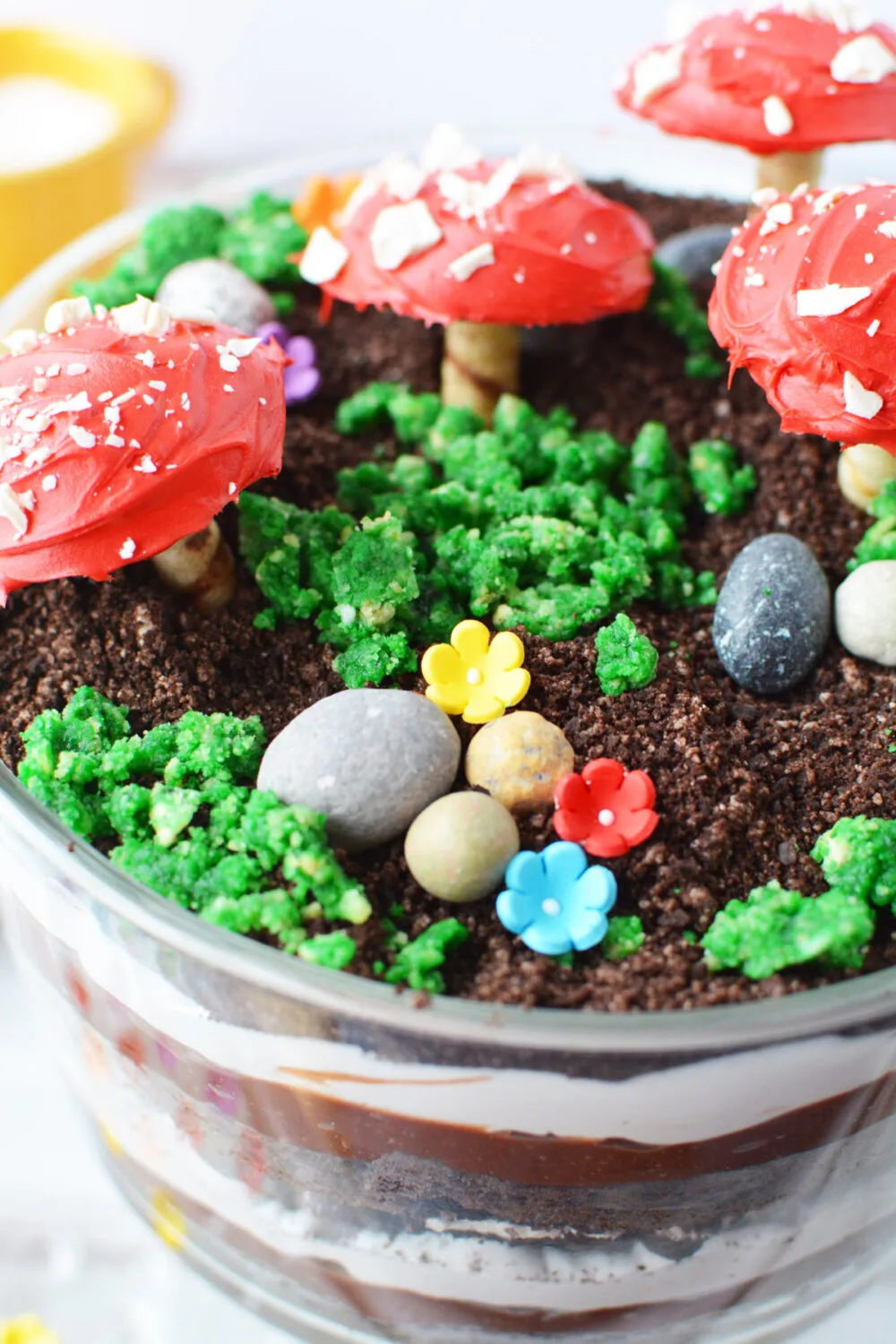 Decorate the top however you like. This is the fun part so get creative with it!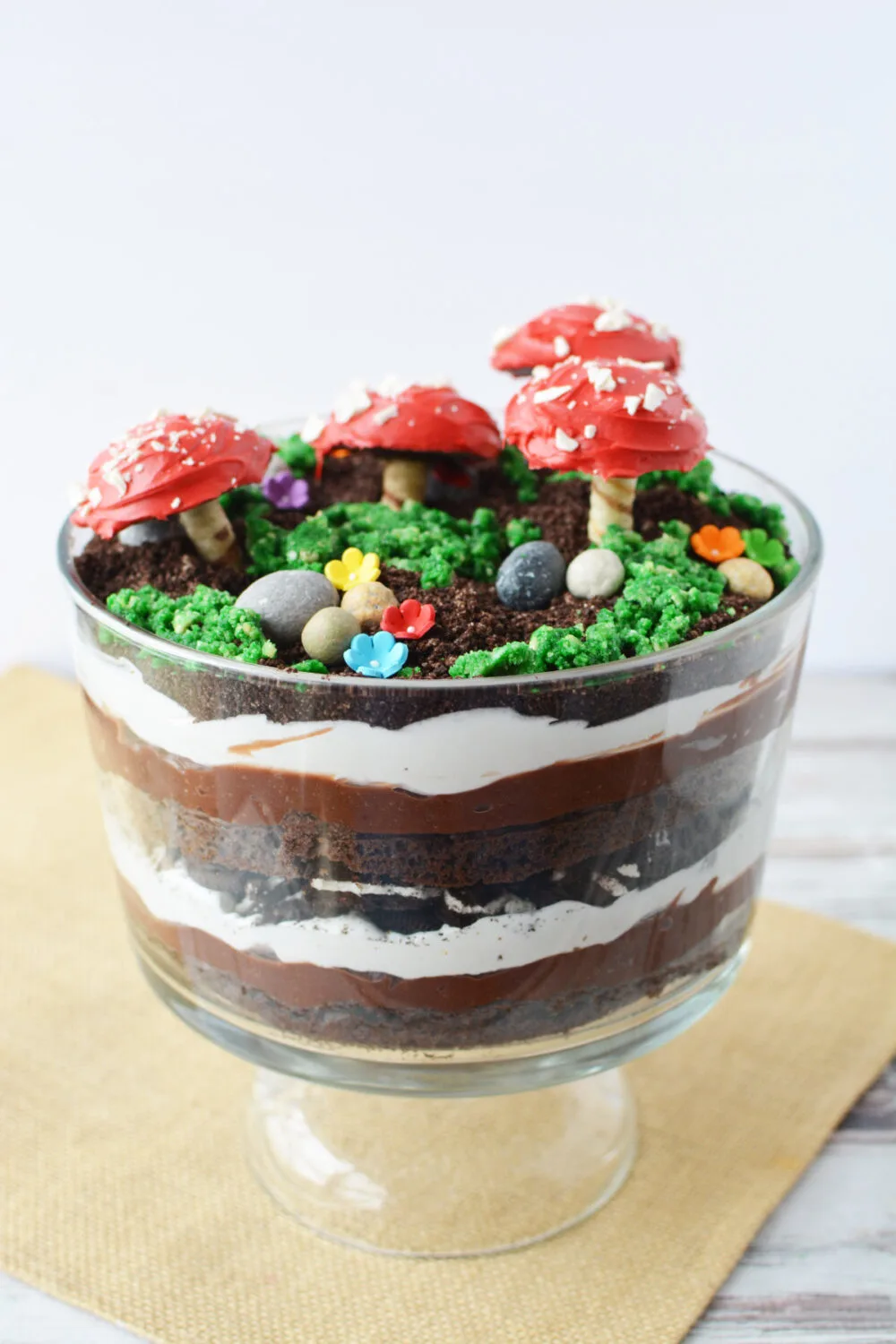 It's best to serve this trifle right away. If you need to refrigerate for later, be sure to loosely cover it first.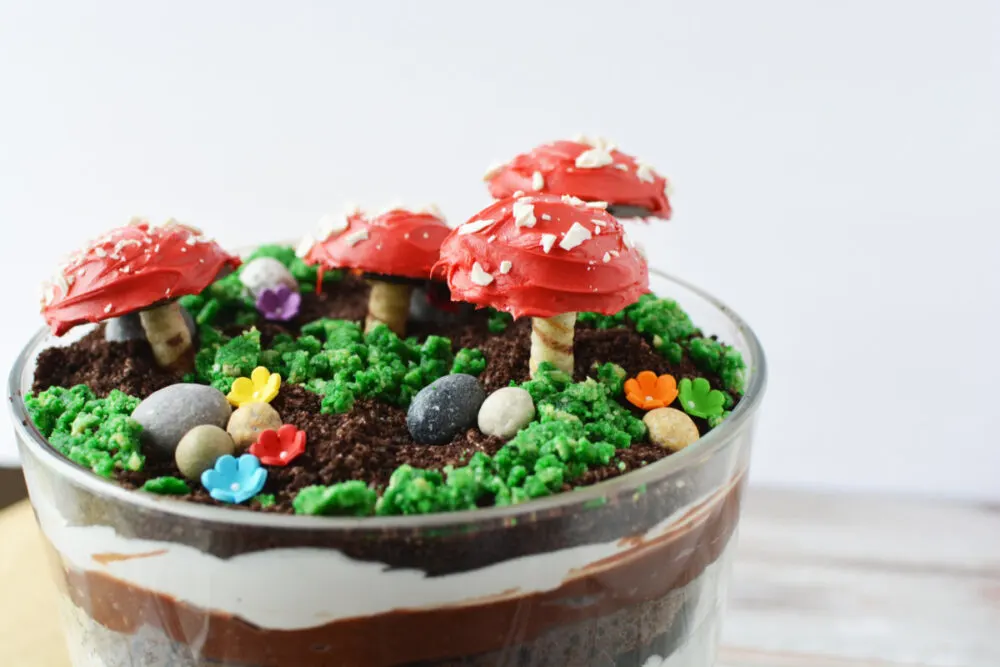 Serves 12-14 people.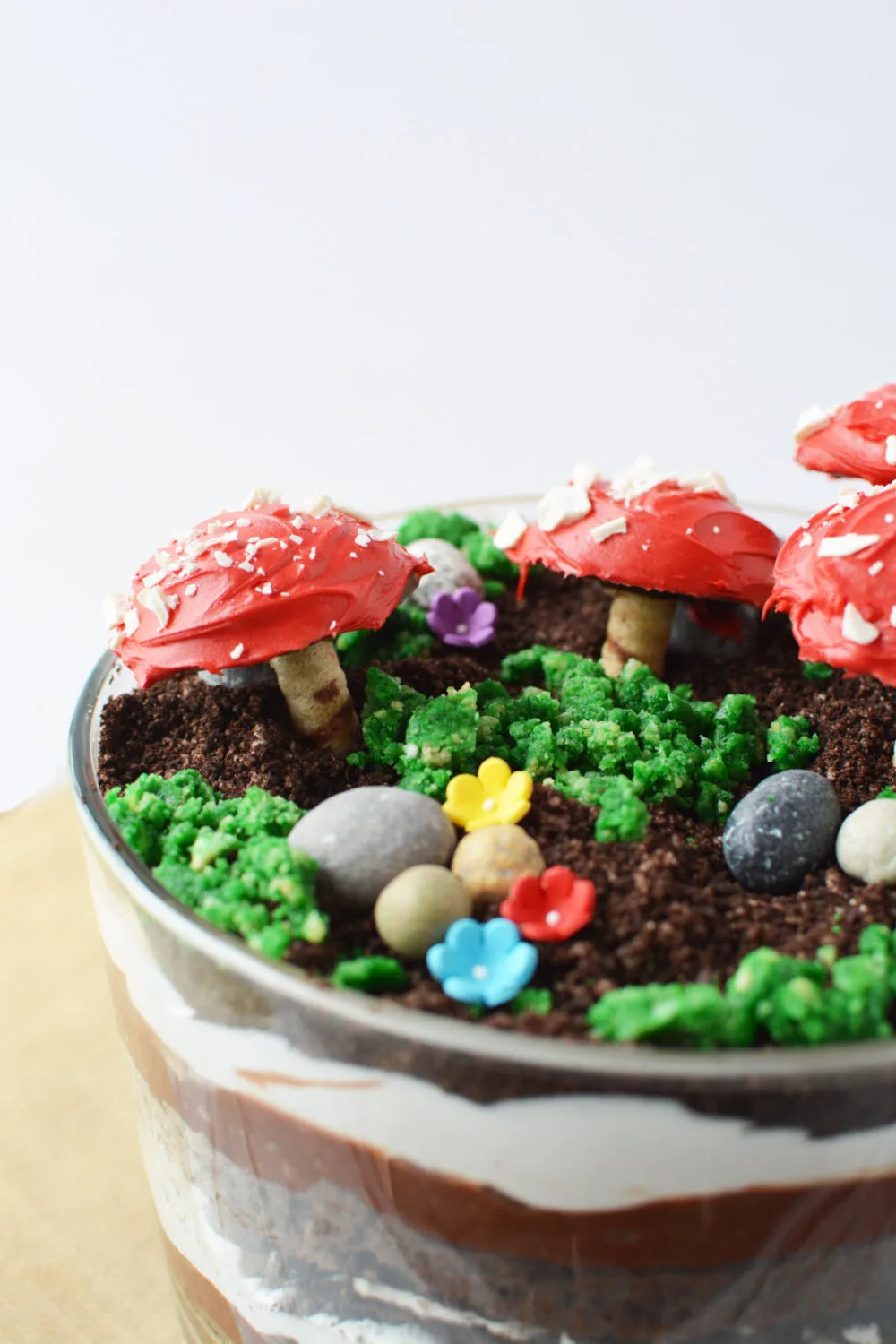 What Else to Serve at your Woodland Fairy Party
If you're looking to load up the dessert table at a fairy party, here are some more suggestions: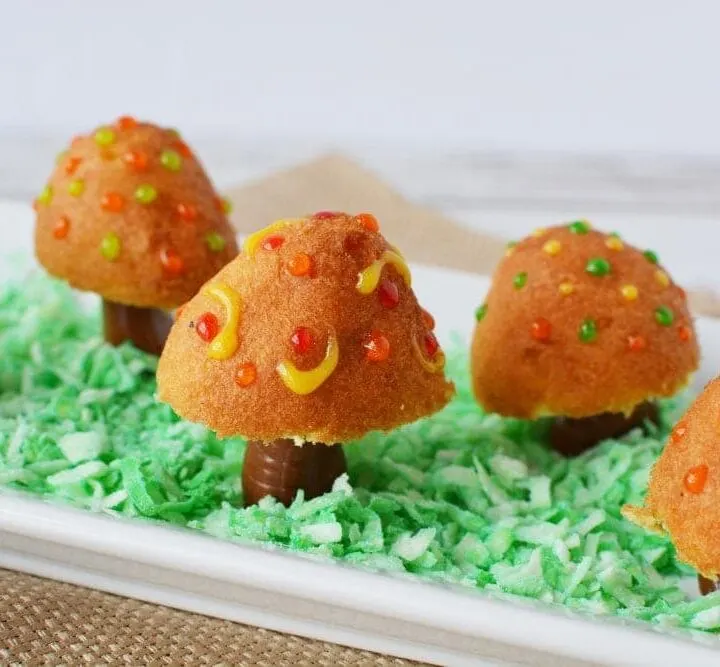 Magical toadstool cupcakes keep the mushroom theme going. They also look like Super Mario Bros mushrooms or Smurf toadstools, so they work for gamer parties or a Smurfs theme.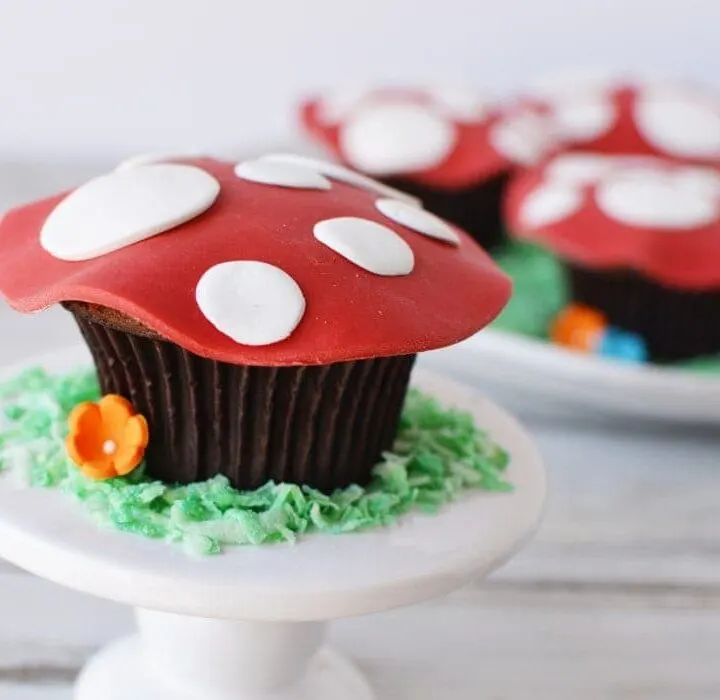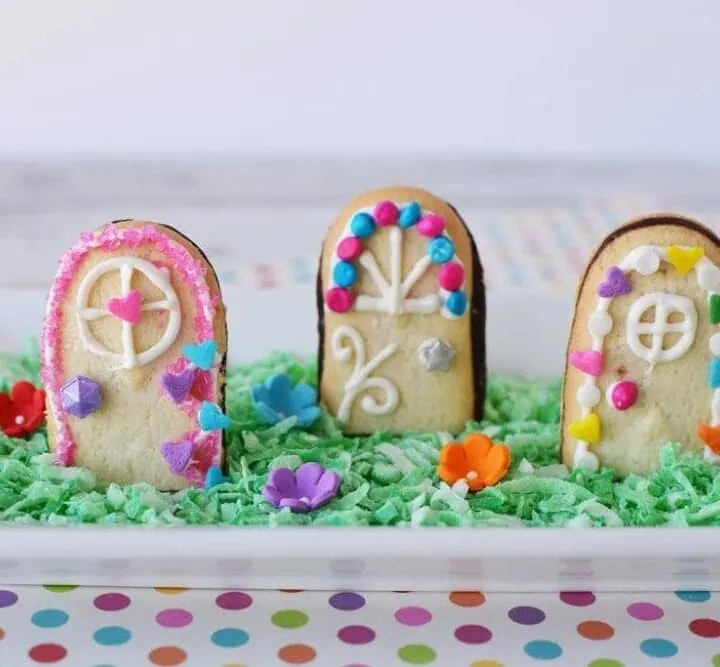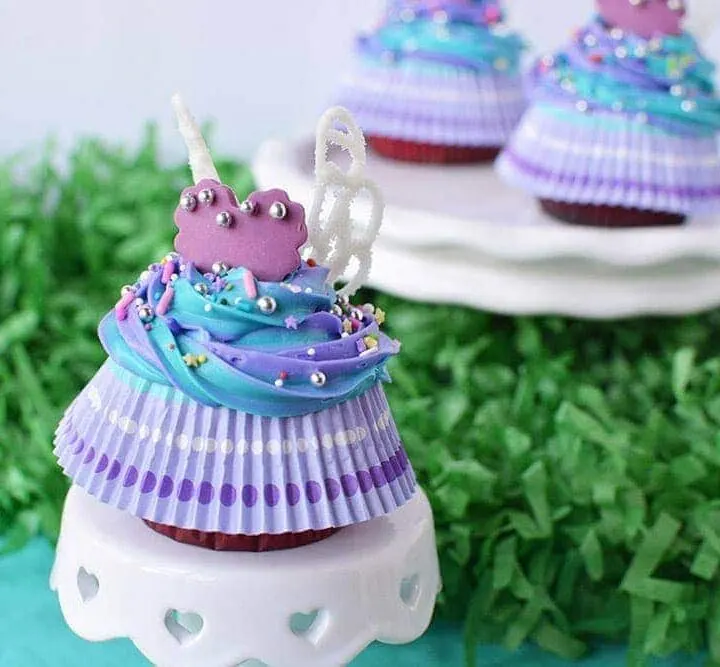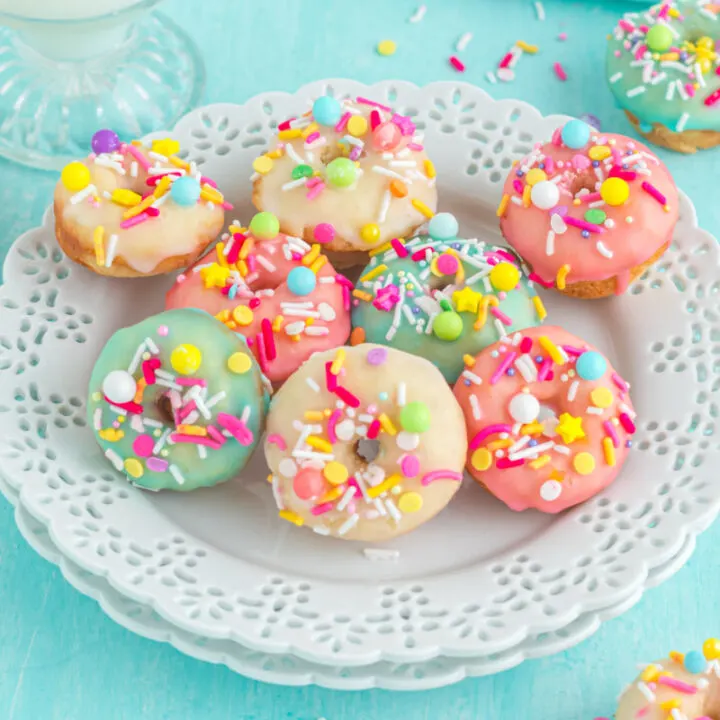 Toadstool Trifle Recipe Swaps and Variations
Here are a few suggestions for swaps and tweaks.
Cake: If you don't want to bake a chocolate cake, you can buy one from the bakery or your local grocery store. If it's not a round cake, simply break up pieces to add to the trifle.

Flavors: You can use any type of cake and cookies in this recipe. Chocolate cookies and cake are used here to look like "dirt" for the garden. Since this is a magical land, make it any color and flavor of your dreams!

Cookies: If you can't find chocolate covered peanut butter cookies, just try to find another cookie with a similar shape. You want something with a slightly rounded top for that toadstool look.

Frosting: Red frosting is easy to find during the holiday season, but you can easily color your own if you need to. Make or buy white frosting and color it with red food coloring.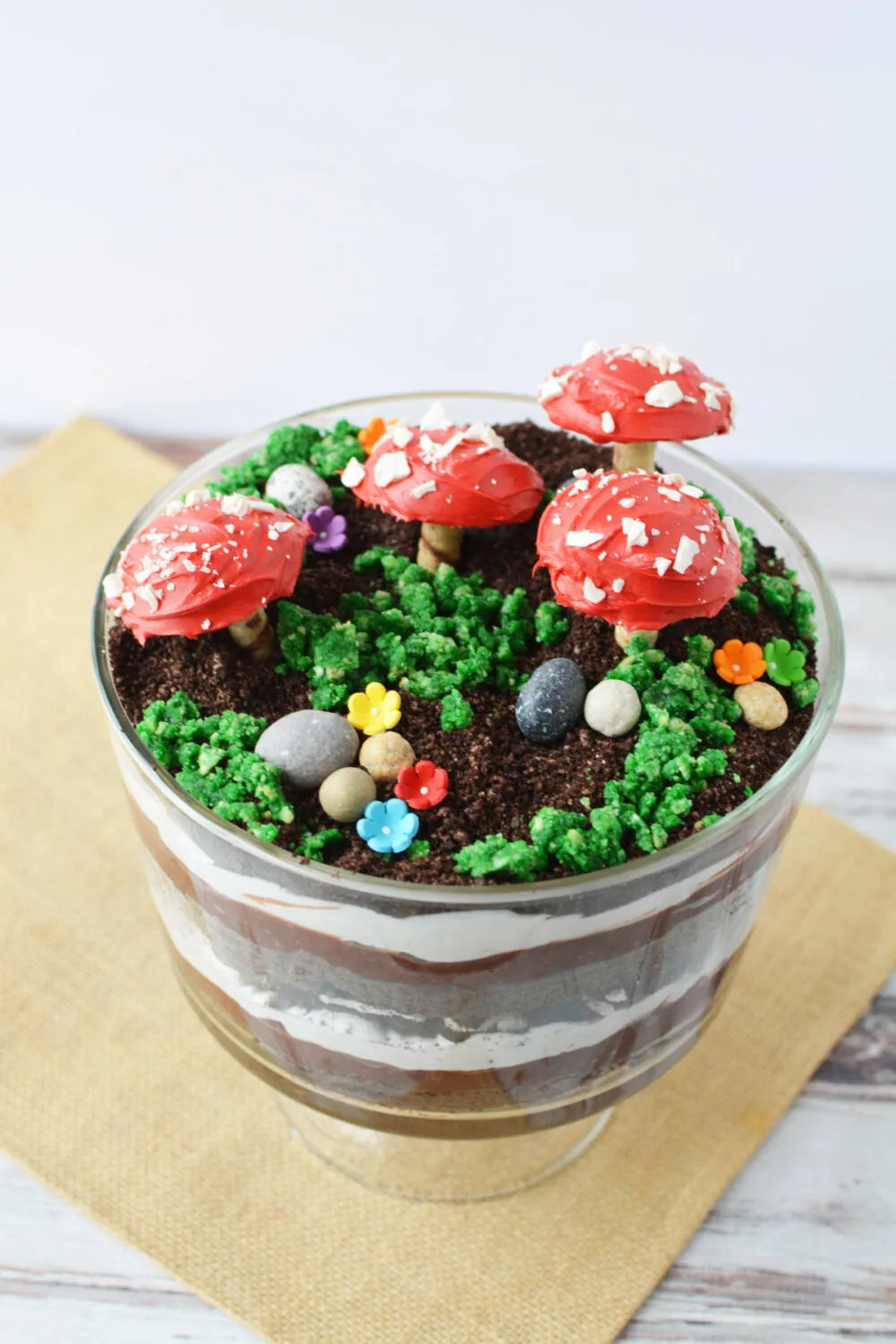 Kitchen Tools Needed
Here is a list of equipment that you will need to make this woodland fairy toadstool trifle recipe:
8″ round cake pan: If you plan to bake the cake, you will need an 8″ round cake pan and other basic tools like measuring cups and spoons.

Whisk or hand mixer: For baking the cake and whisking the pudding.

Food processor: For finely crushing the chocolate cookies to create a "dirt" consistency for the top of the fairy garden trifle.

Ziploc bags: Used for coloring the cookie crumbs for moss and for piping on the melted chocolate.

Microwave-safe bowl or small saucepan: To melt the chocolate chips.

Trifle dish: You can use any kind of bowl or container, but a nice trifle bowl displays it best.
Trifle Bowl
Make those trifles look fancy even though they are impossibly easy to make! Display all the layers in this gorgeous trifle bowl.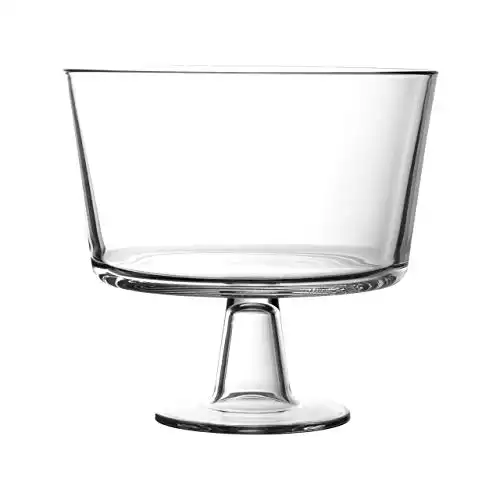 We earn a commission if you make a purchase, at no additional cost to you.
How to Store Leftovers
Store any woodland toadstool trifle leftovers in an airtight container in the refrigerator. It should last for 2-3 days.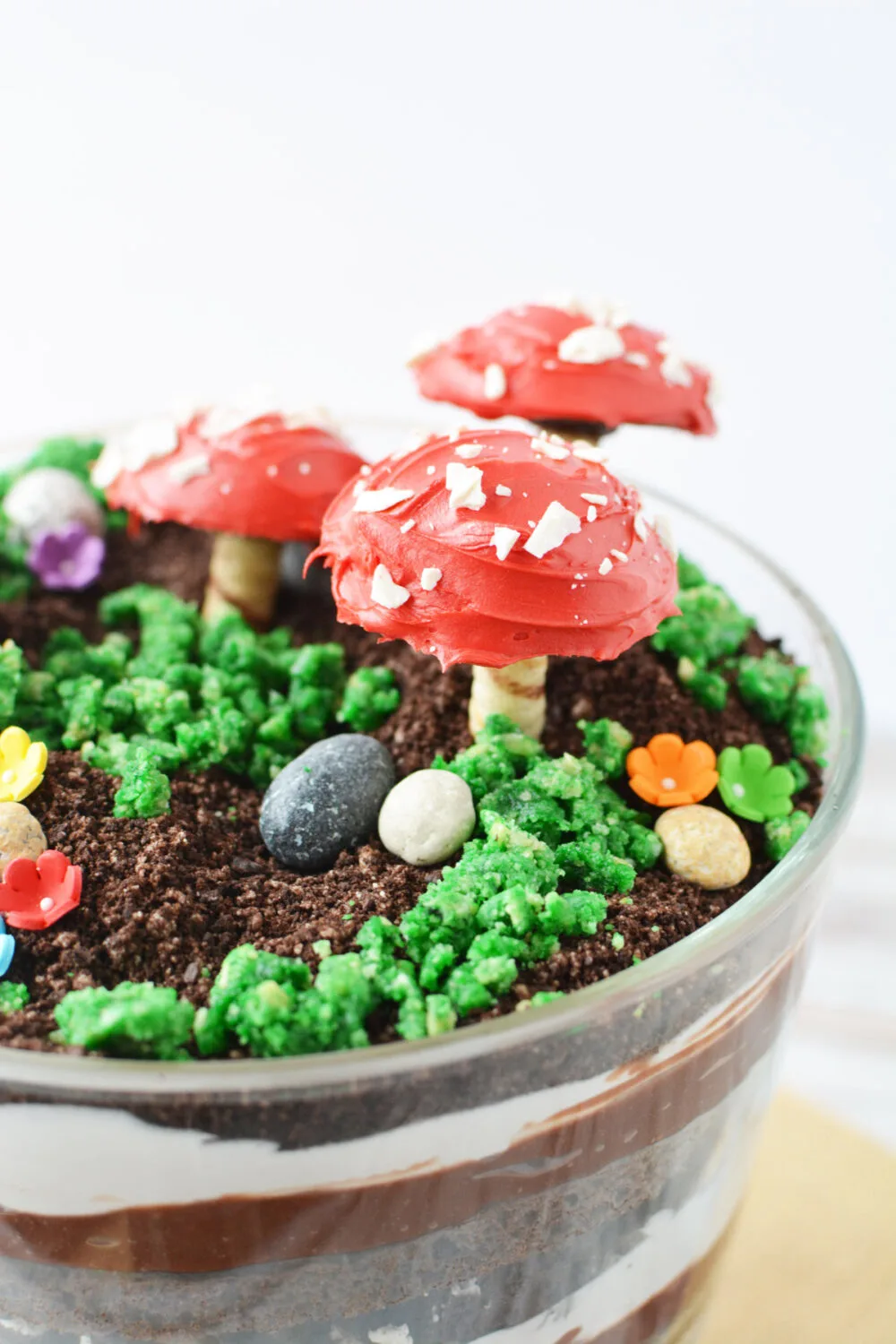 Fairy Garden Trifle Recipe Notes and FAQ
Can I make this trifle the day before?
The trifle is best if it's assembled right before serving, but you can get most of the ingredients ready for the layers. Make the cake, pudding, crush the cookies, color the moss, and have it all ready to go to add to the bowl. Making the "moss" the day before is ideal, so it can dry out a little.
Should I cut the Pirouline wafers?
No, some of the wafers were cut here, but we found it's best to leave them long. The toadstools are more stable if the stem can stick deep into the trifle layers.
Can I add birthday candles to the top of the trifle?
If you are making this trifle for a birthday party, please note that when the birthday person blows out the candles, the Oreo cookie "dirt" may go flying. It doesn't hurt the trifle, but it does make a little mess!
Yield: 14
Enchanted Fairy Garden Trifle Recipe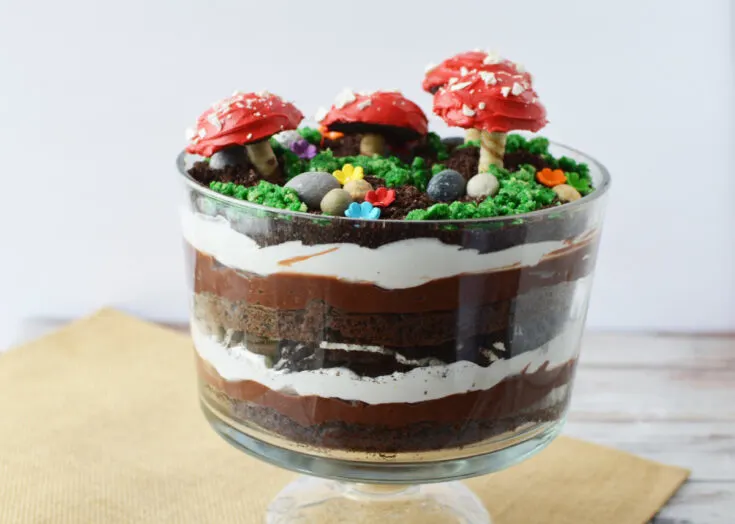 A magical fairy garden in the form of a delicious trifle. Everything is edible, but it looks like an enchanted fairy garden. Enjoy the rich Oreo cookie flavor combined with creamy pudding and whipped cream. So good!
Ingredients
1, 8" round cake, baked and cooled completely
1 package, 3.4 oz, instant chocolate pudding
2 cups milk
1 tub, 8 oz, whipped topping, thawed
30 chocolate sandwich cookies, divided
6 vanilla sandwich cookies
green food coloring
peanut butter cookies dipped in fudge
cream filled wafers (Pirouline)
red frosting
2 tablespoons mini chocolate chips
6-8 white candy melts, crushed
candy rocks
flower icing decorations
Instructions
Mix together pudding and milk and whisk for 2 minutes. Refrigerate for 5 minutes until firm.
Finely crush 15 chocolate sandwich cookies with a food processor and set aside. Coarsely crush, or break apart the remaining 15 chocolate cookies. Set aside.
Place vanilla cookies into a food processor and process until fine crumbs. Place into a resealable sandwich bag. Add 1/2 teaspoon water and lots of green food coloring. Seal the bag and knead until the cookies are green.
To make mushrooms, place peanut butter chocolate covered cookies onto a flat surface, face down. Place mini chocolate chips into a resealable bag but do not seal. Microwave on 50% power for 30 seconds and knead the chocolate. Repeat until the chocolate is completely melted, about 2 minutes total. Cut a small tip into the corner of the bag and pipe onto the center of the cookie. Carefully place a wafer onto the chocolate and hold until set. Repeat until you have the desired number of mushrooms. Let stand for chocolate to harden completely.
Once chocolate is hard and stems are attached, use red frosting to cover the tops. Sprinkle with crushed white candy melts. Let stand, ideally in a bowl, or a cup filled with sugar, until ready to assemble.
Slice round cake in half, creating 2 rounds. Place one round into the trifle dish and top with half of the pudding, half of the whipped topping and the crushed chocolate cookies. Repeat layers, ending with a layer of finely crushed chocolate cookies.
To assemble the top, place some "piles or mounds" of finely crushed cookies in places. Push mushrooms into the trifle, add candy rocks, and candy flowers as well as green moss to decorate and complete the top.
Serve immediately or refrigerate, loosely covered until ready to serve.
Notes
The "moss" ends up a bit wet. If you think that texture will bother you, make it the day before to let it sit out and dry.
Leave the wafer "stems" long. Do not cut the wafers in half, so more can stick into the layers.
Recommended Products
As an Amazon Associate and member of other affiliate programs, I earn from qualifying purchases.
Nutrition Information:
Yield:
14
Serving Size:
1
Amount Per Serving:
Calories:

429
Total Fat:

21g
Saturated Fat:

10g
Trans Fat:

0g
Unsaturated Fat:

10g
Cholesterol:

40mg
Sodium:

234mg
Carbohydrates:

56g
Fiber:

1g
Sugar:

41g
Protein:

5g
Nutrition facts are an estimate only.
Trifle Dessert Recipes
Pin this image to your dessert board to save and share!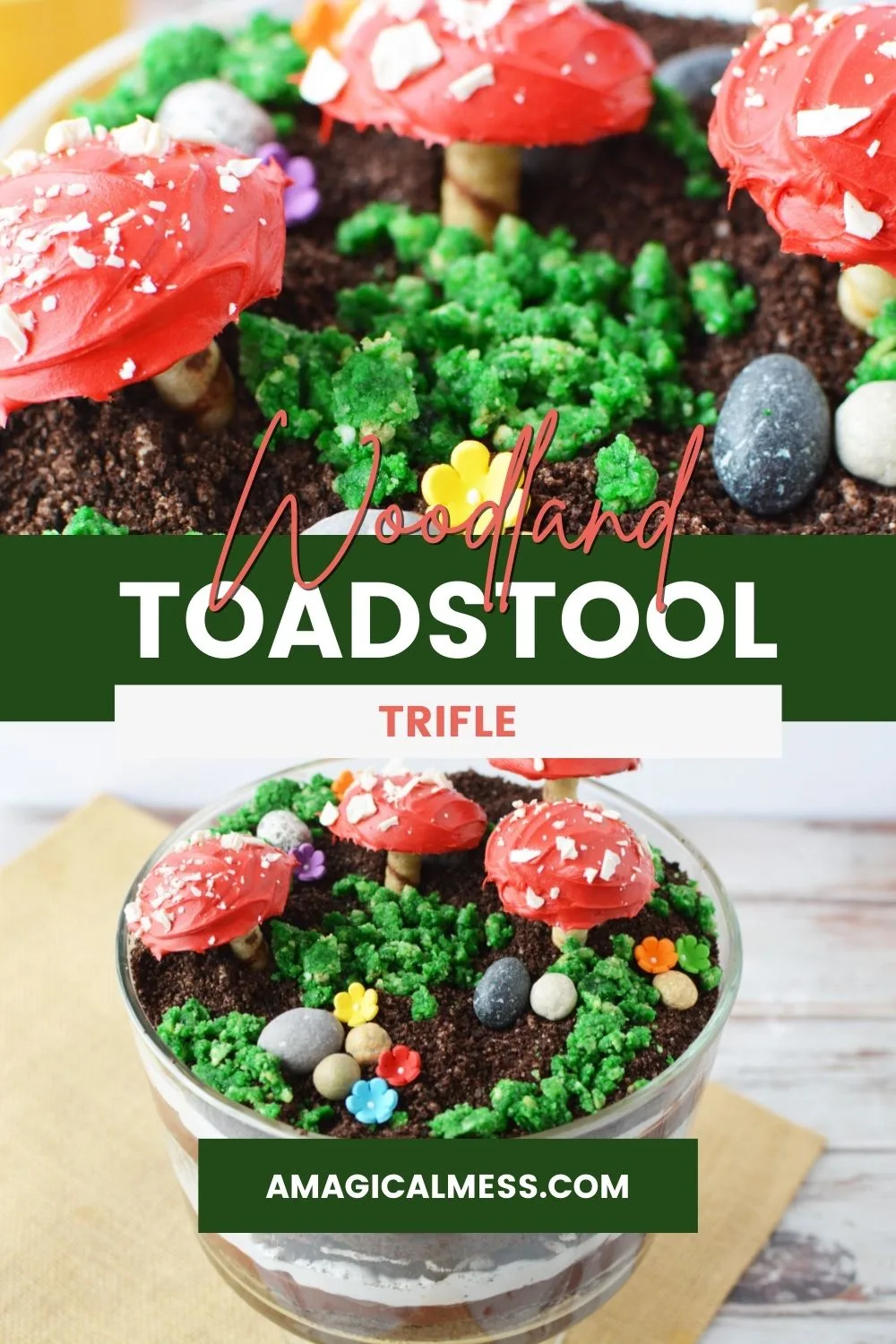 If you enjoy whimsical recipes like this one, please subscribe to the blog. Receive magical recipes and more in your inbox.
Please share this fairy toadstool trifle recipe with your friends and family, and let me know if you make it!