Cookies and cream edible cookie dough is good enough to eat with a tiny spoon.
You can use it as a cookie dough dip, but the treat is delicious on its own.
One of the biggest perks of being an adult is you're allowed to eat cookie dough with a spoon.
Thankfully, we have safe recipes for edible cookie dough.
OREO Cookie Dough Dip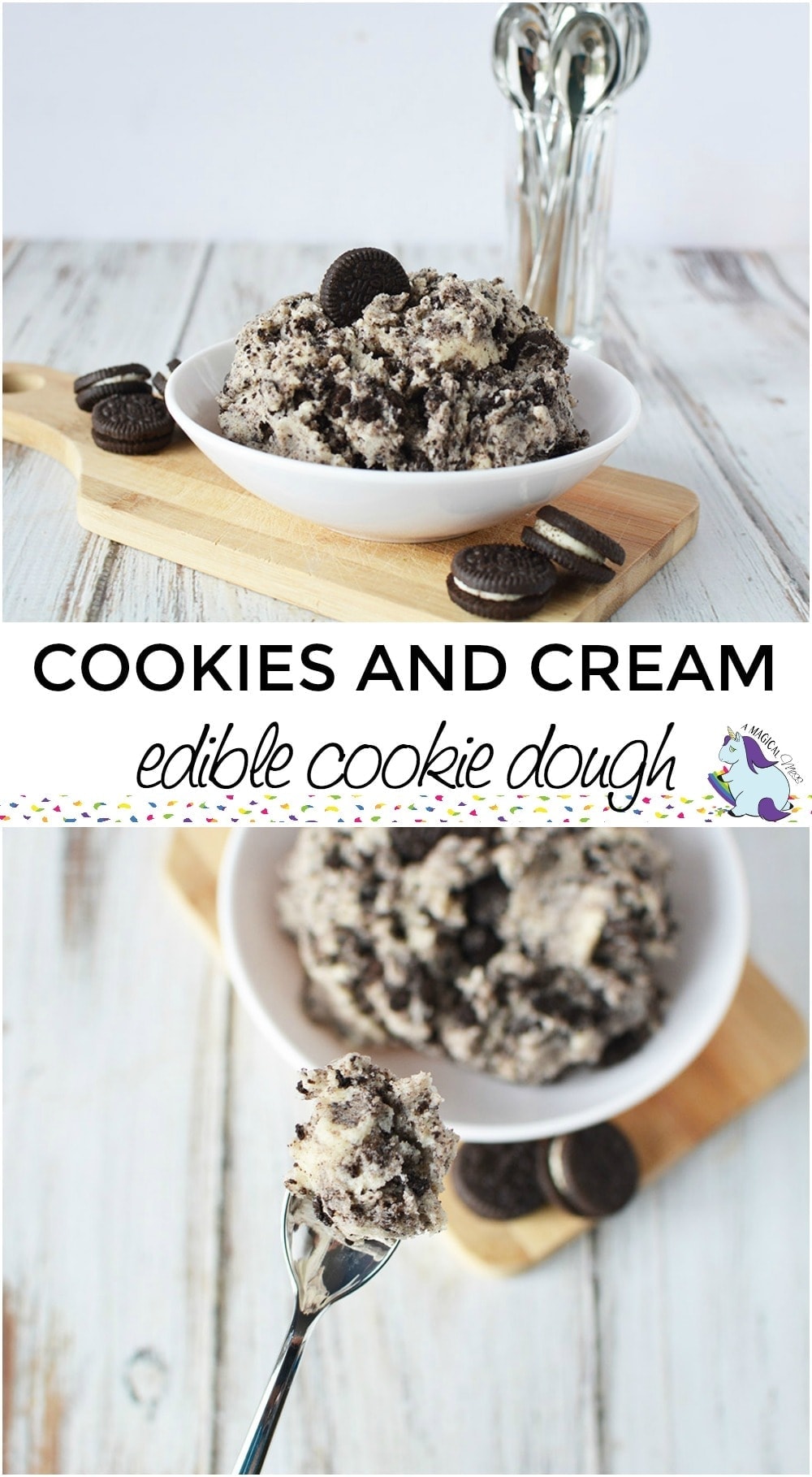 Chocolate lovers, we're looking at you with this recipe.
Cookies and cream cookie dough is a chocolaty delight.
Use the dough as a dip, toss it into ice cream, or just grab a spoon.
The dessert is versatile as an ingredient or standalone.
The small tasting spoons are found at the Dollar Tree. Or, here are tasting spoons on Amazon.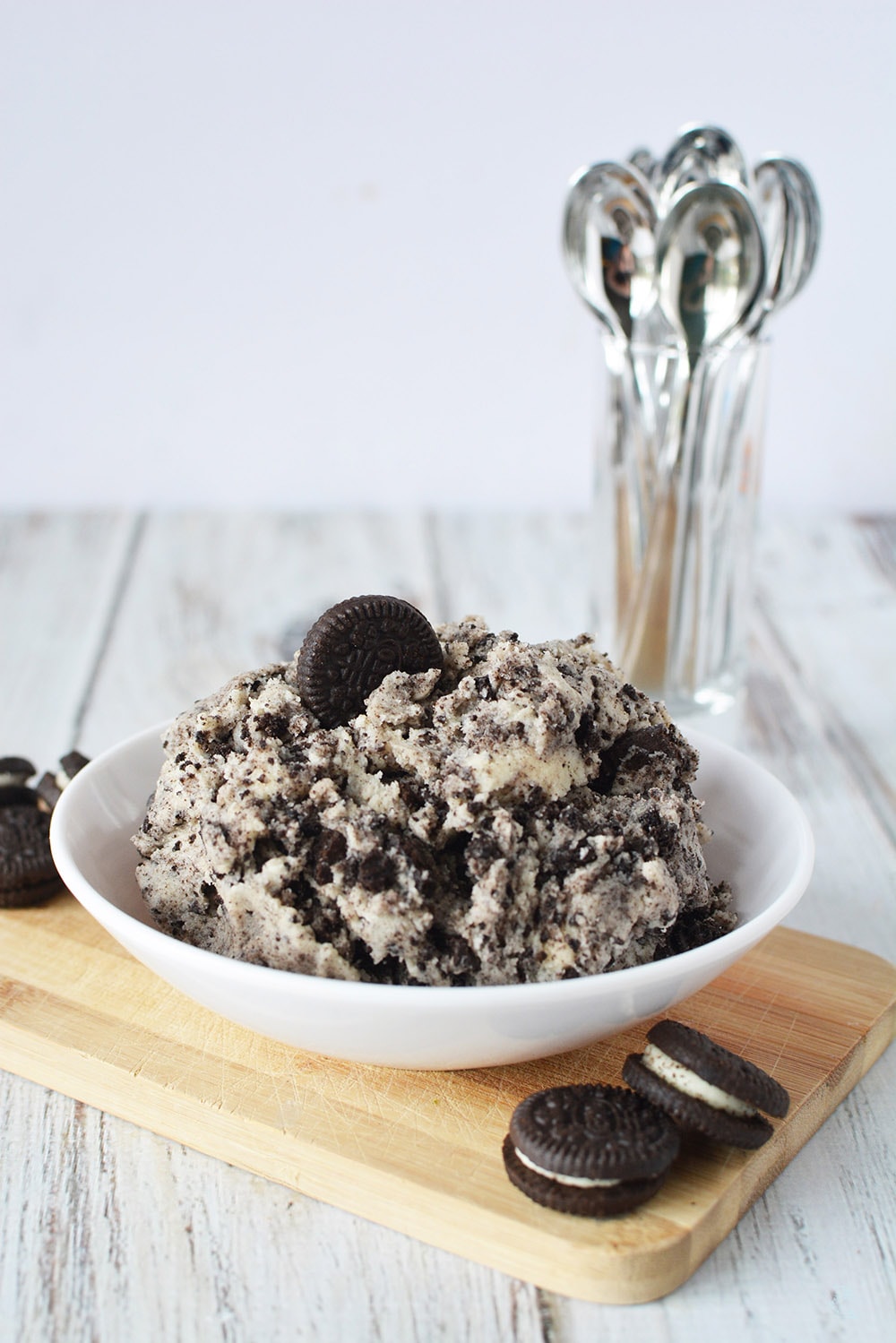 This recipe is ideal for an at-home treat, or bring it to a party as a dip.
If you're craving cookie dough, no need to go through the whole cookie-making process when all you want is the unbaked part.
Just whip up a batch of dough that's meant to eat raw.
No eggs to worry about (not that I ever did, to be honest).
As a child of the '80's, no one blinked an eye while I ate more cookie dough than baked cookies. 😉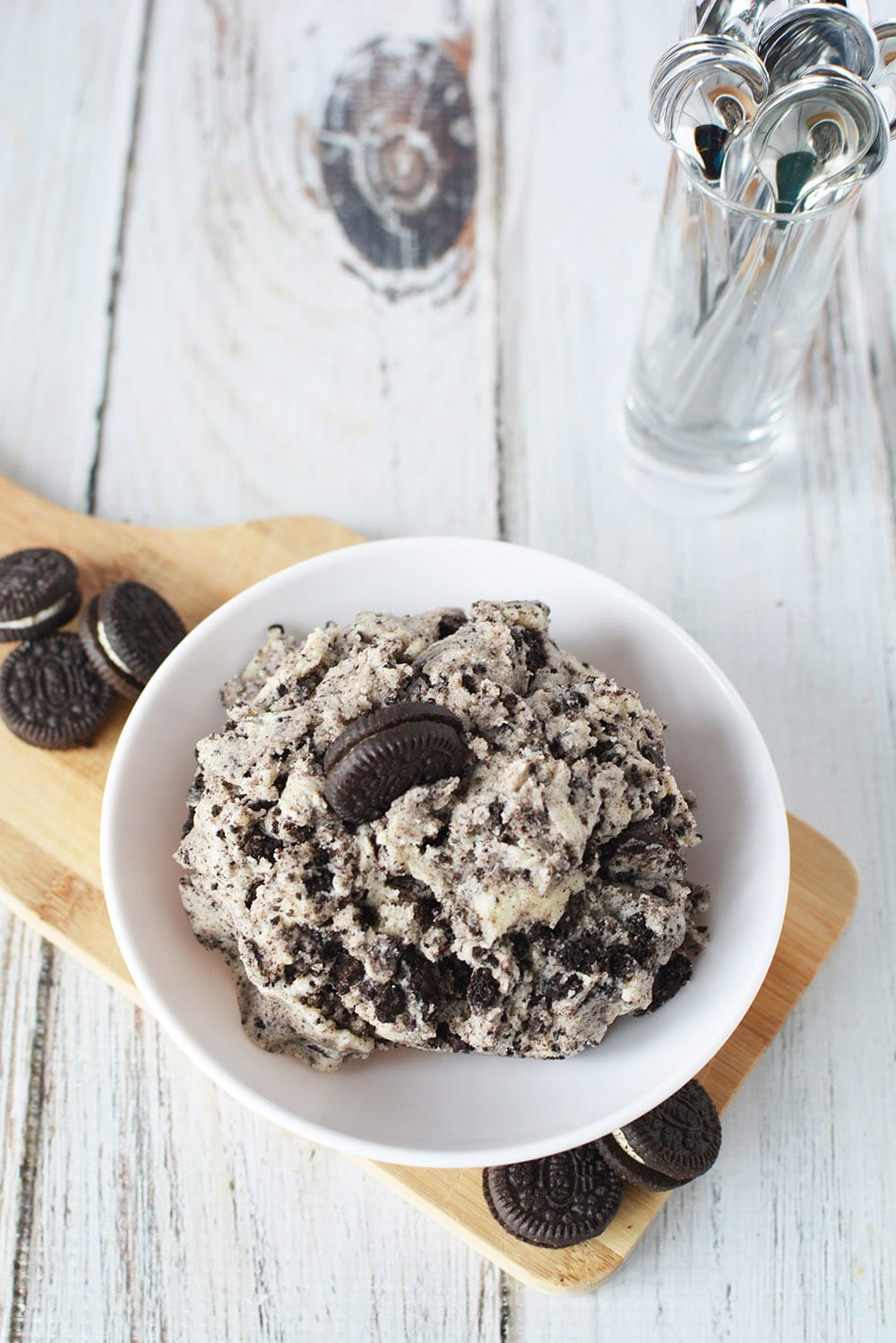 If you like edible cookie dough or cookies and cream, here are more recipes you might enjoy:
Yield: 4 servings
Cookies and Cream Edible Cookie Dough Recipe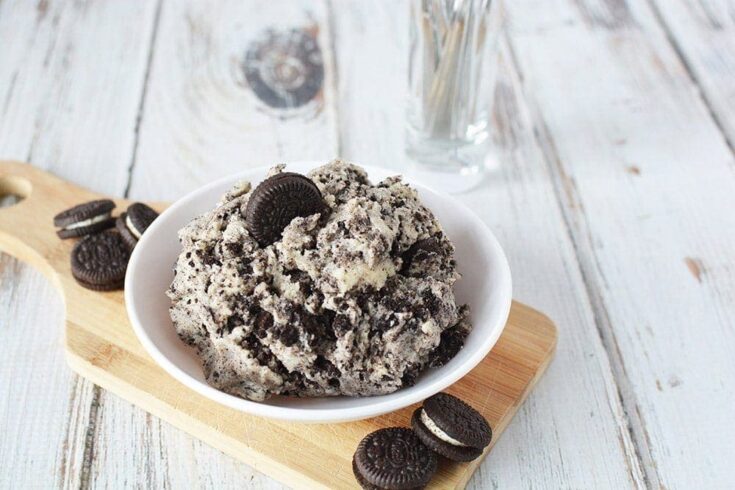 Forget the cookies. This cookies & cream edible cookie dough dip is a delicious dessert experience.
Ingredients
4 tablespoons butter, softened
1/4 cup white sugar
1 teaspoon vanilla
1/2 cup flour, Spread flour on a baking sheet. Bake at 350 degrees for 5 mins to kill off any harmful bacteria. Let cool before adding to the ingredients.
1/4 teaspoon salt
1 tablespoon milk
5 sandwich cookies, crumbled
Instructions
Beat butter, sugar, and vanilla with a mixer until fluffy, about 3 minutes.
Add toasted flour (see above - important for safety), salt, and milk and beat well until combined.
The mixture will most likely crumble apart. Keep beating as it will come together.
Fold in crushed cookies.
Enjoy with a spoon!
Nutrition Information:
Yield:
4
Serving Size:
1/4
Amount Per Serving:
Calories:

460
Total Fat:

15g
Saturated Fat:

8g
Trans Fat:

1g
Unsaturated Fat:

6g
Cholesterol:

31mg
Sodium:

434mg
Carbohydrates:

71g
Fiber:

3g
Sugar:

17g
Protein:

9g
Nutrition facts are an estimate only.
Do you like cookies and cream?
Who do you know that would love this edible cookie dough?