Raw cookie dough is the best part about making cookies if you ask me. As a child, I was always told that it was unsafe to eat too much raw cookie dough. Of course, I rebelled against this nonsense at every chance that I got.
Pretty sure I never got sick from eating it, and I do believe it's a myth. But, just to be on the safe side, there are recipes out there for edible cookie batter. Dough you can sit and eat raw to your heart's content. 😉 I received the book Cookie Doughlicious for review. This post contains affiliate links.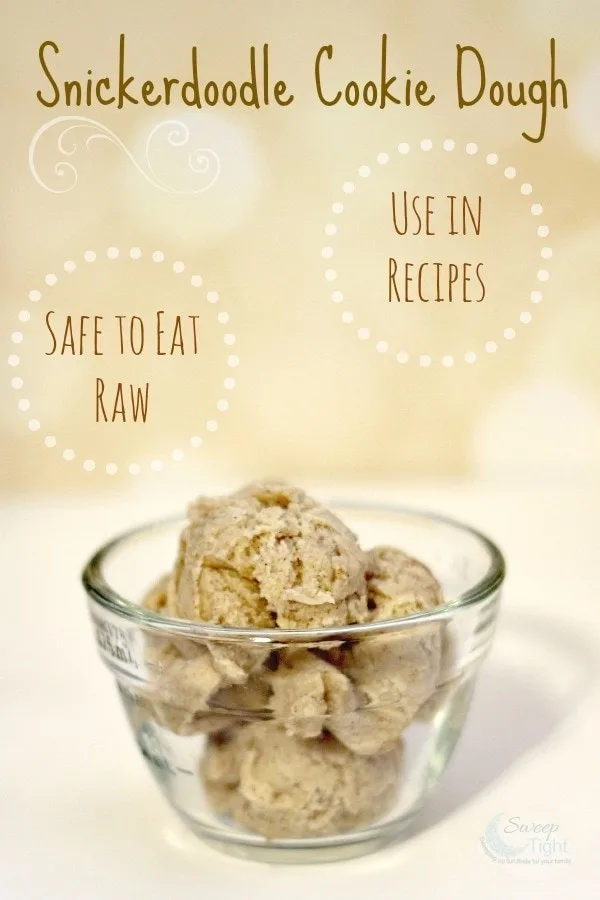 Cookie Doughlicious contains 50 cookie dough recipes for candies, cakes, and more. The pages are filled with delicious pictures and tasty recipes. All of the recipes are easy to follow. Each cookie dough recipe also lists pages with other recipes where the dough can be used. For example, if you make Butterscotch Cookie Dough, at the bottom of the page it will suggest pages for related recipes.
Snickerdoodle Cookie Dough Recipe
For starters, I decided to make Snickerdoodle Cookie Dough. Snickerdoodles are scrumptious and one of the forbidden doughs from my childhood.
Yield: 4 people
Snickerdoodle Edible Cookie Dough Batter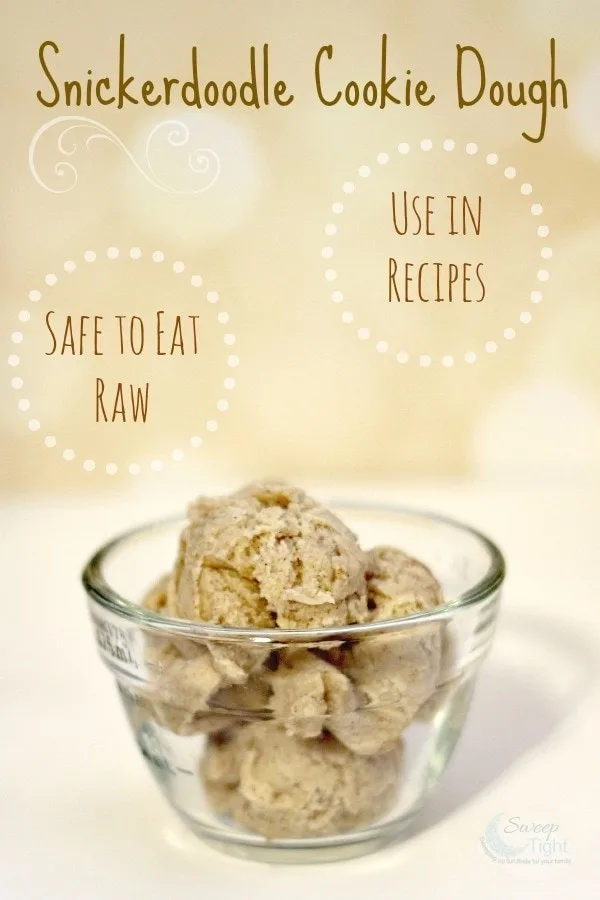 Raise your hand if you love cookie dough more than baked cookies! This cookie dough is safe to eat raw.
Ingredients
4 tablespoons butter, 1/2 stick unsalted butter, at room temperature
1/4 cup sugar, calls for superfine sugar, I used regular sugar
1/2 teaspoon vanilla
1 tablespoon milk
1/2 cup all-purpose flour, Spread flour on a baking sheet. Bake at 350 degrees for 5 mins to kill off any harmful bacteria. Let cool before adding to the ingredients.
1/4 teaspoon salt
1/2 teaspoon ground cinnamon, divided
Instructions
Beat the butter and sugar in a medium bowl for 3 minutes.
Stir in the vanilla and milk.
Add the toasted flour (see above - important for safety), salt, and 1/4 teaspoon of the cinnamon and mix. Blend well.
Sprinkle the rest of the cinnamon over the dough and fold it in, leaving some cinnamon streaks.
Notes
Note: Several people have said this recipe is too salty. You may want to start with 1/4 teaspoon and adjust to your taste.
Nutrition Information:
Yield:
4
Serving Size:
1/4
Amount Per Serving:
Calories:

434
Total Fat:

24g
Saturated Fat:

15g
Trans Fat:

0g
Unsaturated Fat:

7g
Cholesterol:

61mg
Sodium:

228mg
Carbohydrates:

51g
Fiber:

1g
Sugar:

15g
Protein:

5g
Nutrition facts are an estimate only.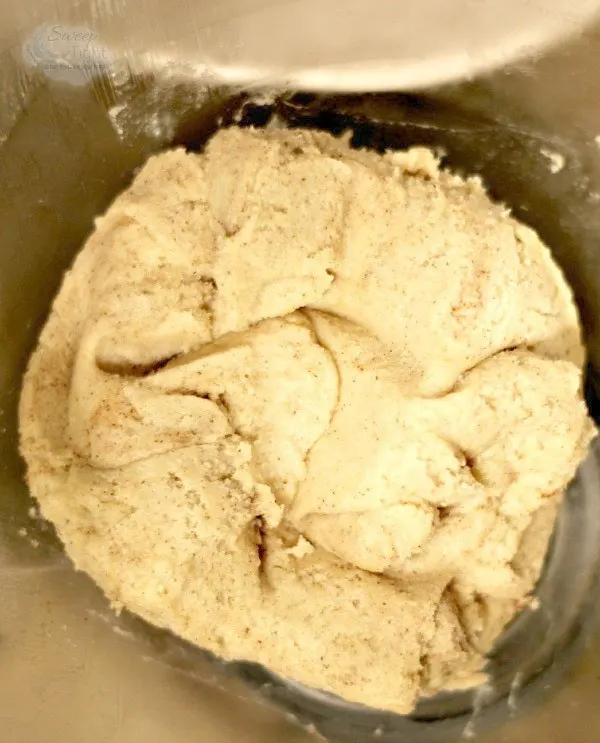 Once you have your dough, you can use it in recipes or just eat it raw. I am not saying it's healthy; only that it is safe to eat because it does not contain raw eggs. With my batch of Snickerdoodle Cookie Dough, I made cookie dough truffles.