If you're a fan of both pumpkin pie and cookies, then you're in for a treat. Imagine the creamy pumpkin pie filling you adore, nestled in a chewy cookie crust. It's like mini pumpkin pies but in cookie form!
This pumpkin cookie recipe is a huge hit every holiday season, offering the perfect amount of pumpkin spice in each bite. Whether you're planning your Thanksgiving cookie lineup or just craving some fall cookies, these Pumpkin Pie Cookies are a must-try.
See how you can make these easy pumpkin pie sugar cookies using pre-made cookie dough and canned pie filling for a speedy and simple dessert option.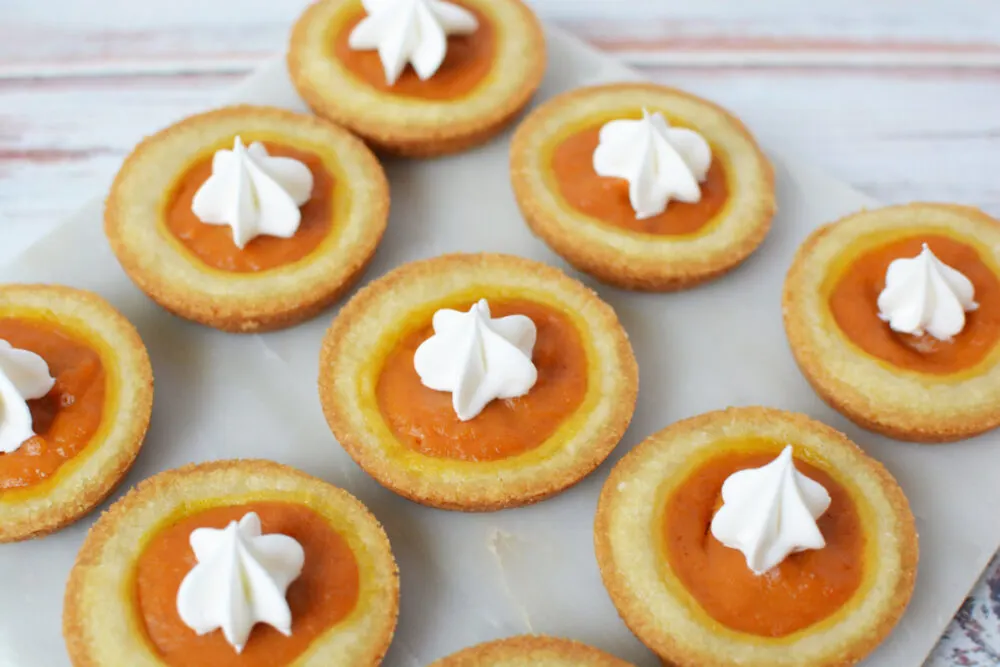 Pumpkin Pie Cookies with Whipped Cream
I've always had a soft spot for pumpkin season, from pumpkin bread to pumpkin spice lattes. But these Pumpkin Pie Cookies? They might just be number one in our collection of pie-as-cookie recipes.
If you've been following along, you know we've already ventured into the scrumptious worlds of Apple Pie Cookies, Pecan Pie Cookies, Blueberry Pie Cookies, and Cherry Pie Cookies. Well, we can't leave out the creamier variety of pies, like pumpkin with whipped cream.
Reasons to Love Pumpkin Pie Sugar Cookies
Chewy Centers, Crispy Edges: The sugar cookie crust offers the best of both worlds with its chewy centers and crispy edges.
Creamy Pumpkin Pie Filling: Forget about dry or cakey texture; this filling is as creamy as actual pumpkin pie.
Quick and Easy: Using break-and-bake sugar cookie dough as the base, you're already halfway there. Just mix, scoop, and bake!
Perfect for the Holiday Season: These cookies are not just a fall treat; they're a hit at any holiday gathering.
Customizable: Feel like adding a dollop of homemade cream cheese frosting or whipped cream? Go for it!
Kid-Friendly: The little ones can help with everything from rolling the cookie dough balls to adding the pumpkin filling.
Make-Ahead Magic: These cookies store well, so you can make them in advance for any event.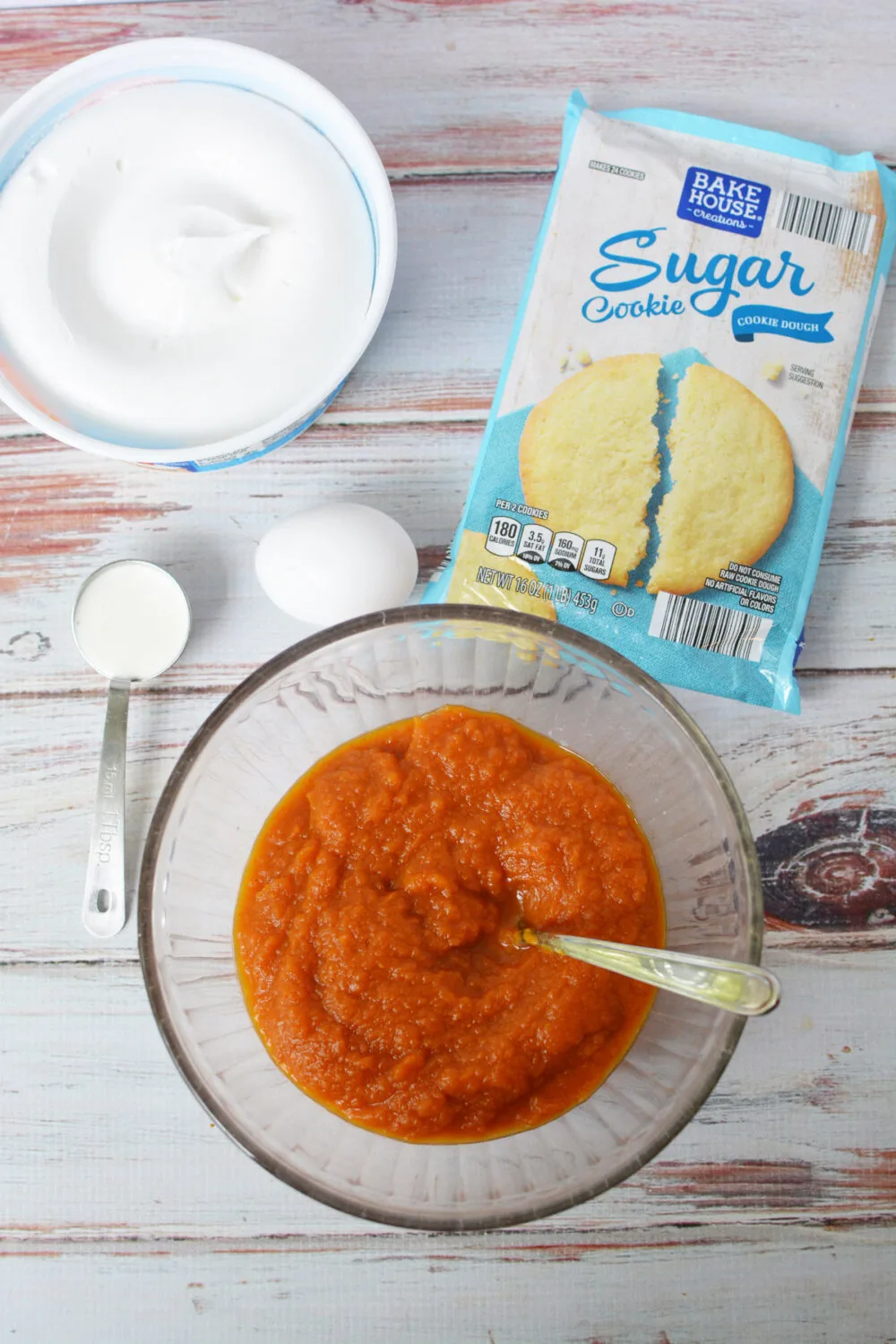 Pumpkin Pie Cookies Ingredients
Here's what you need to make this pumpkin pie cookie recipe. The measurements are in the recipe card below.
Refrigerated sugar cookie dough (break and bake cookies)
Pumpkin pie filling (not puree)
Egg
Heavy whipping cream
Whipped topping for serving
Steps to Make Pumpkin Pie Cookies
Step 1: Prep Your Oven and Muffin Tins
Preheat the oven to 350°F. While it's warming up, grab two regular-sized muffin tins (each with 12 cups) and give them a good spritz with nonstick cooking spray.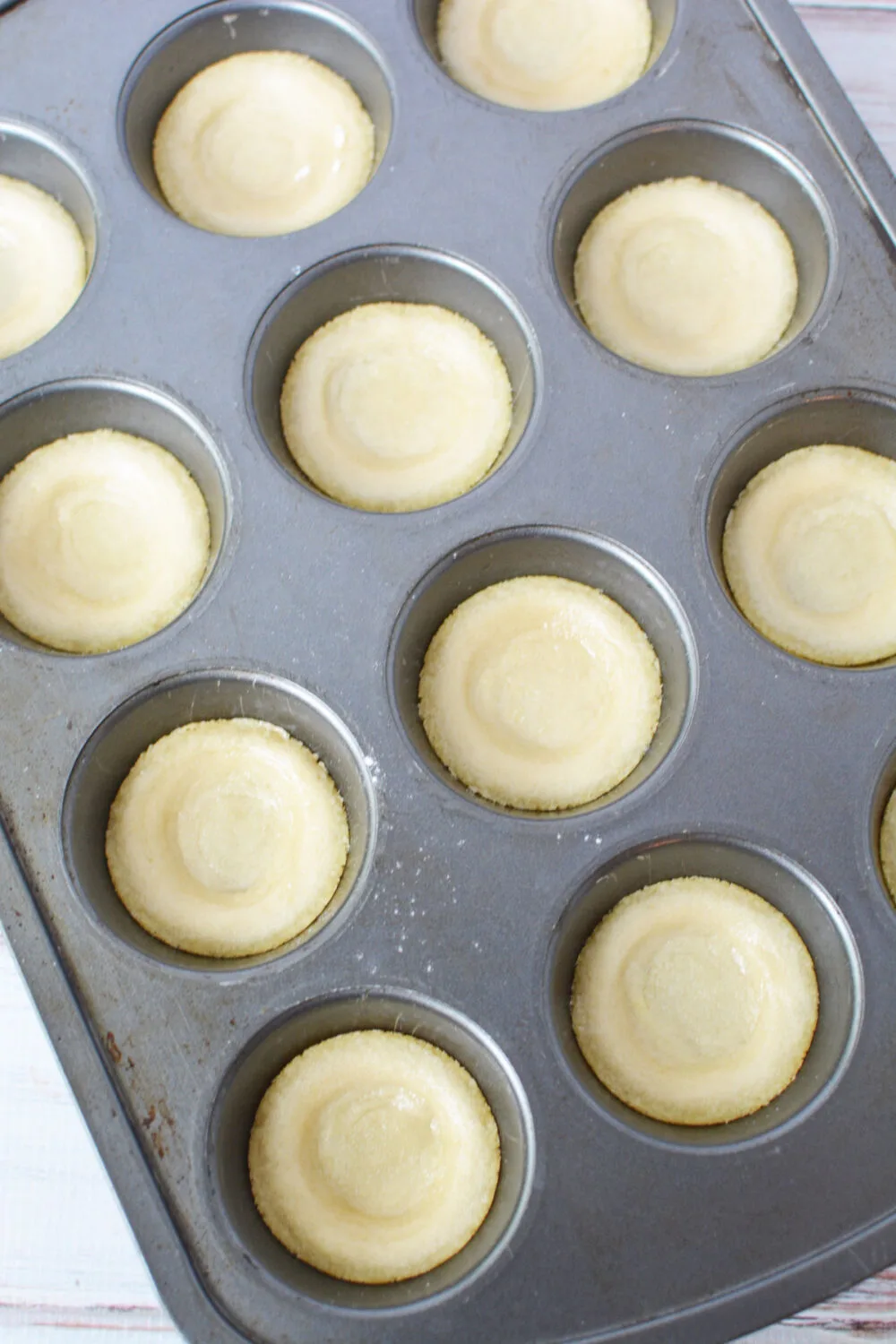 Step 2: Shape the Cookie Crust
Take each break-and-bake sugar cookie and roll it into a little ball. Pop them into the muffin tin cups. Now, using a tart shaper dipped in flour—or even the back of a spoon—gently press the dough into the pan and up the sides. Be careful not to press too hard; you want a thicker edge to hold the pumpkin filling.
Step 3: Pre-Bake
Once your muffin tins are filled with cookie dough balls, slide them into the oven for a quick 4-minute bake. Don't worry, the crust won't be fully cooked yet, and that's exactly what you want.
Step 4: Mix the Filling
In a mixing bowl, blend together the pumpkin pie mix, an egg, and the heavy whipping cream. Stir it up until it's smooth and creamy.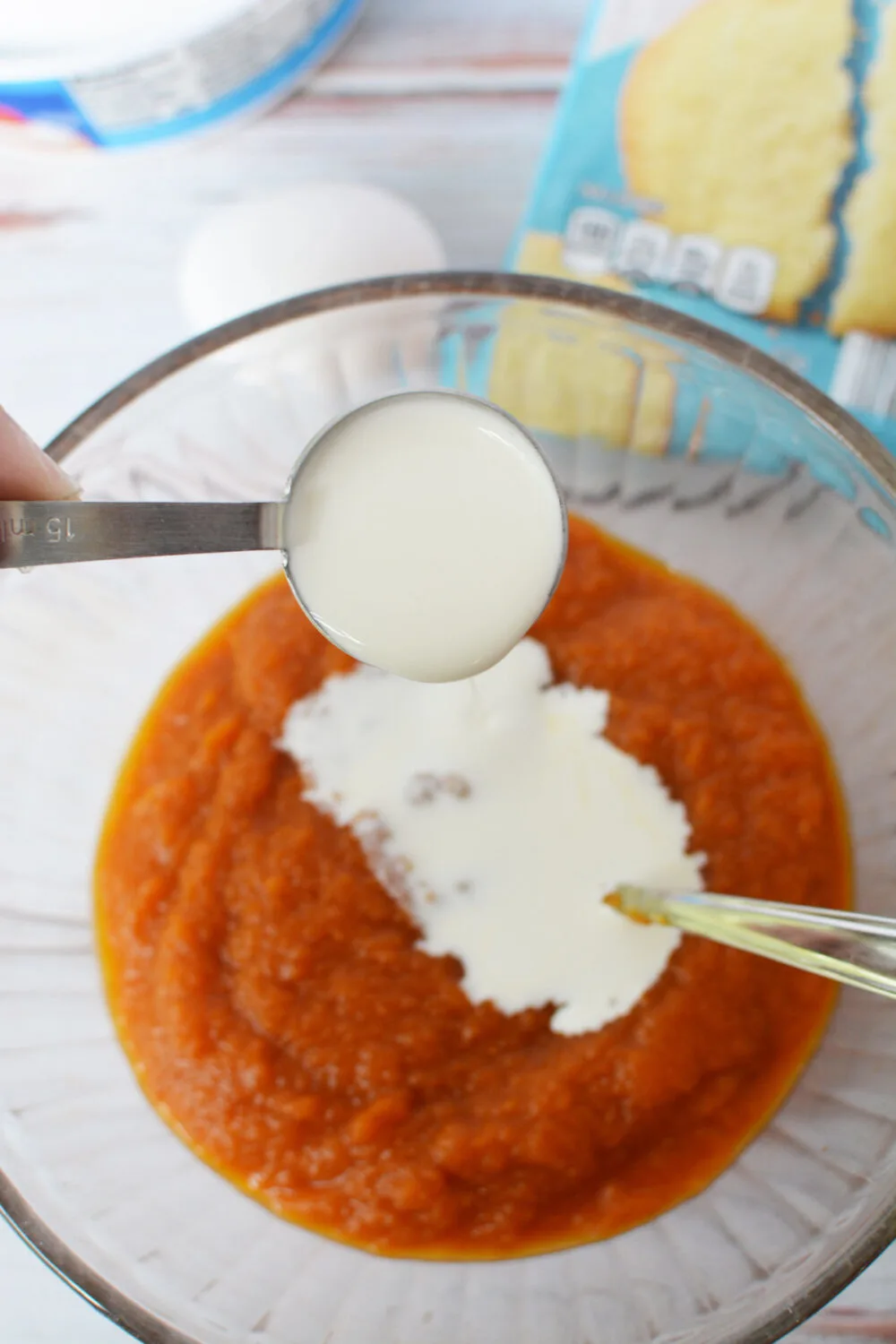 Step 5: Fill 'Em Up!
Grab a teaspoon and carefully scoop your pumpkin filling into each cookie crust. Make sure each one gets a generous dollop.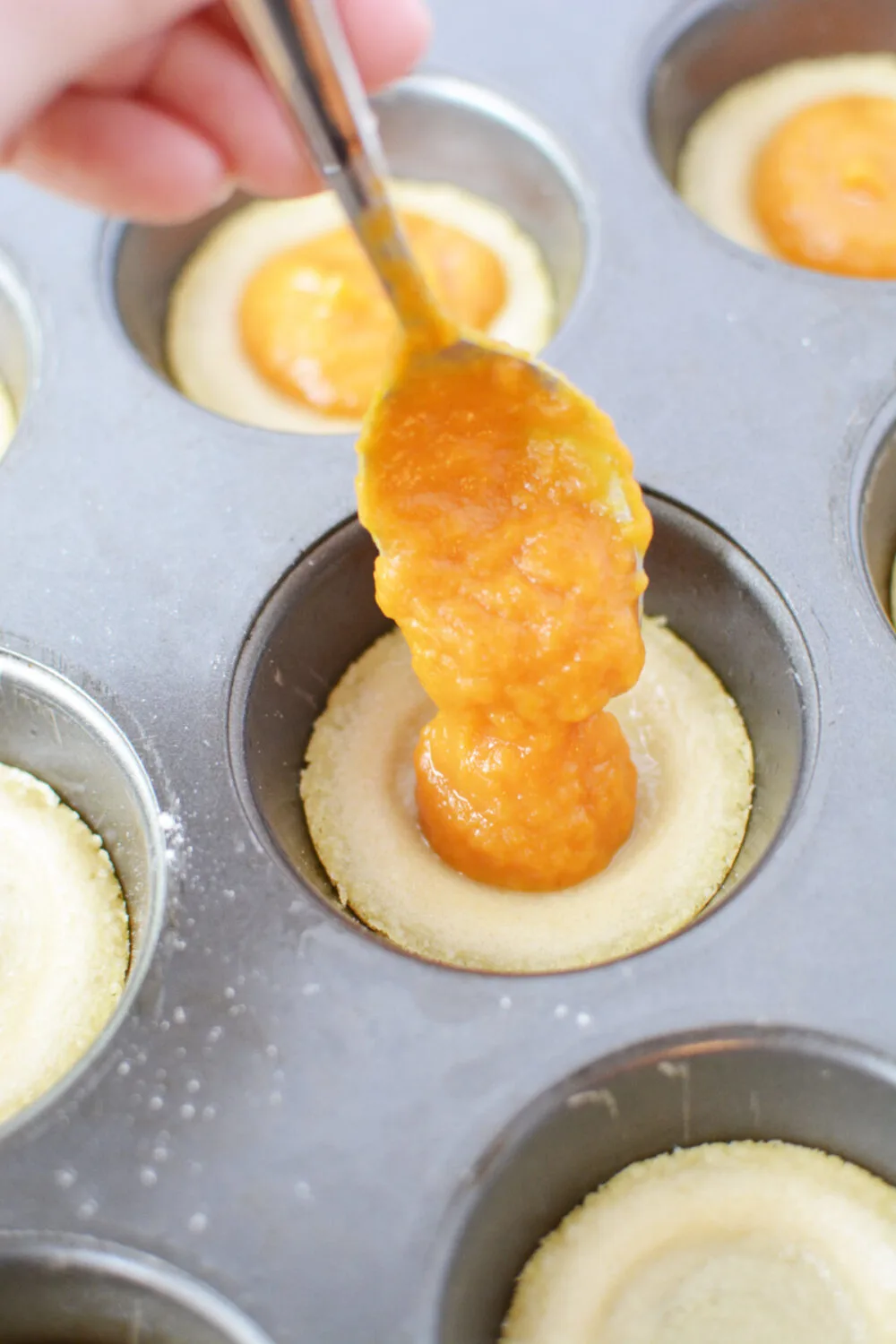 Step 6: The Final Bake
Return the filled muffin tins to the oven for another 8 minutes. You'll know they're ready when the tops are set and the edges of the cookie crust turn a lovely golden brown.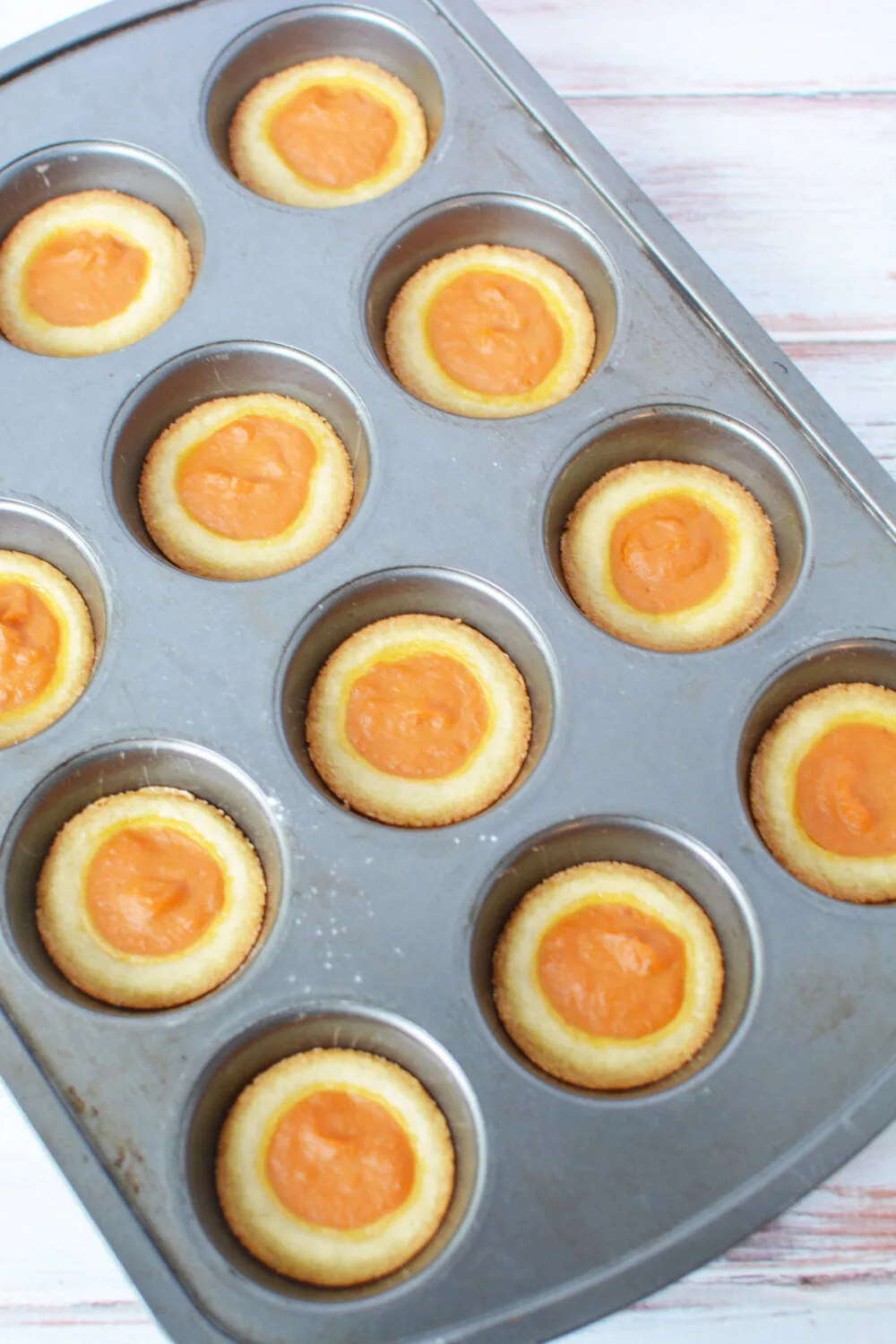 Step 7: Cool and Top
Once out of the oven, let these beauties cool completely before you try to remove them from the pan. If you're feeling extra fancy, pipe some whipped topping onto each cookie using a pastry bag fitted with a large star tip.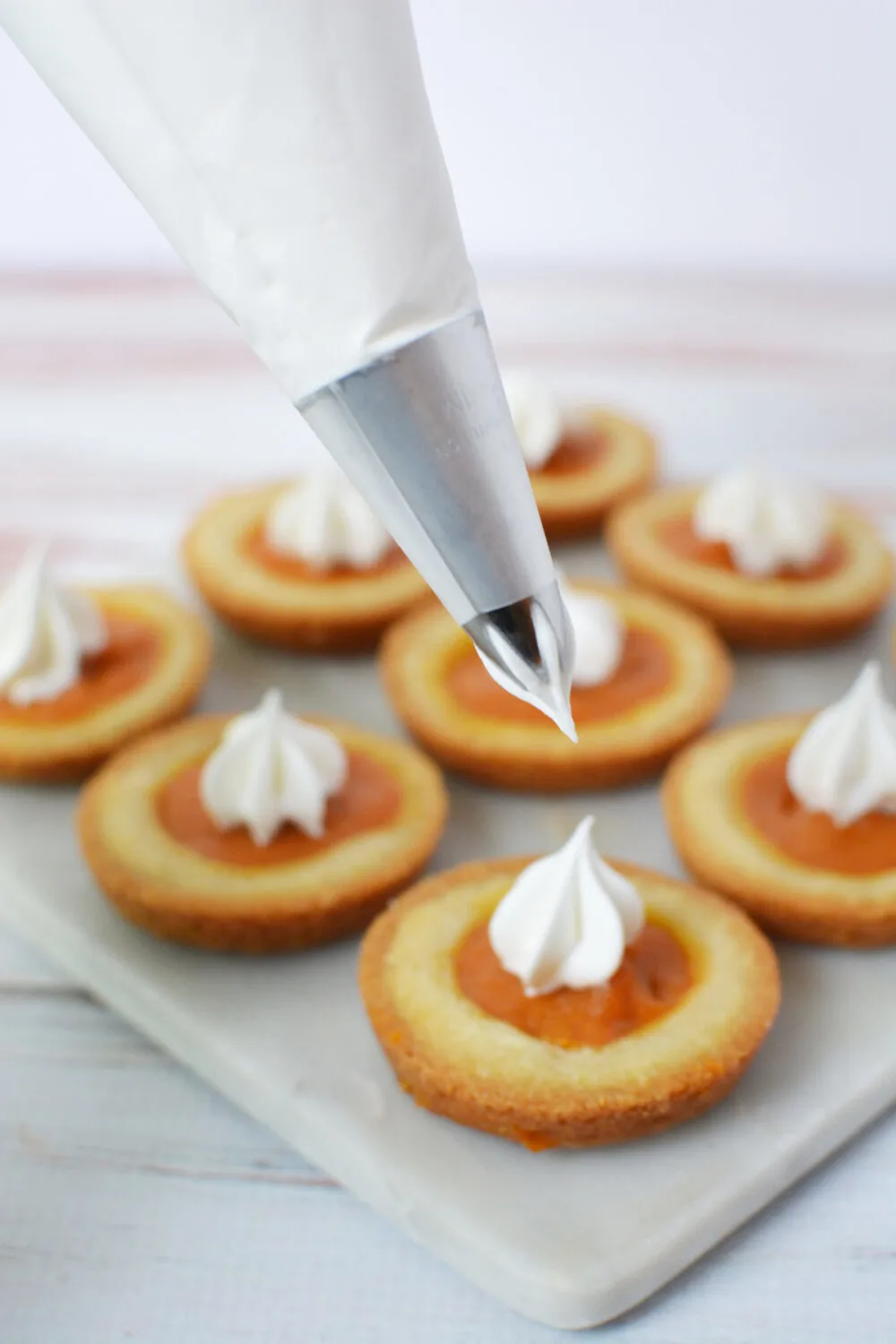 What to Serve with Pumpkin Pie Cookies
Looking to create the ultimate pumpkin-themed spread? Let's do this! These Pumpkin Pie Cookies pair fabulously with other treats and drinks. Here are some tasty fall recipes from the blog to consider:
Chewy Brown Butter Pumpkin Cookies: If you're all about that pumpkin flavor, these chewy pumpkin cookies are a must. The brown butter adds a nutty richness that's downright irresistible.
Pumpkin Spice Latte Trifle: This trifle is like a pumpkin spice latte but in dessert form. Layers of cake, whipped cream, and that iconic pumpkin spice make this a showstopper.
Pumpkin Crepe Cake: Imagine delicate pumpkin crepes layered with a creamy cream cheese filling. It's a sophisticated twist on pumpkin desserts that's sure to impress.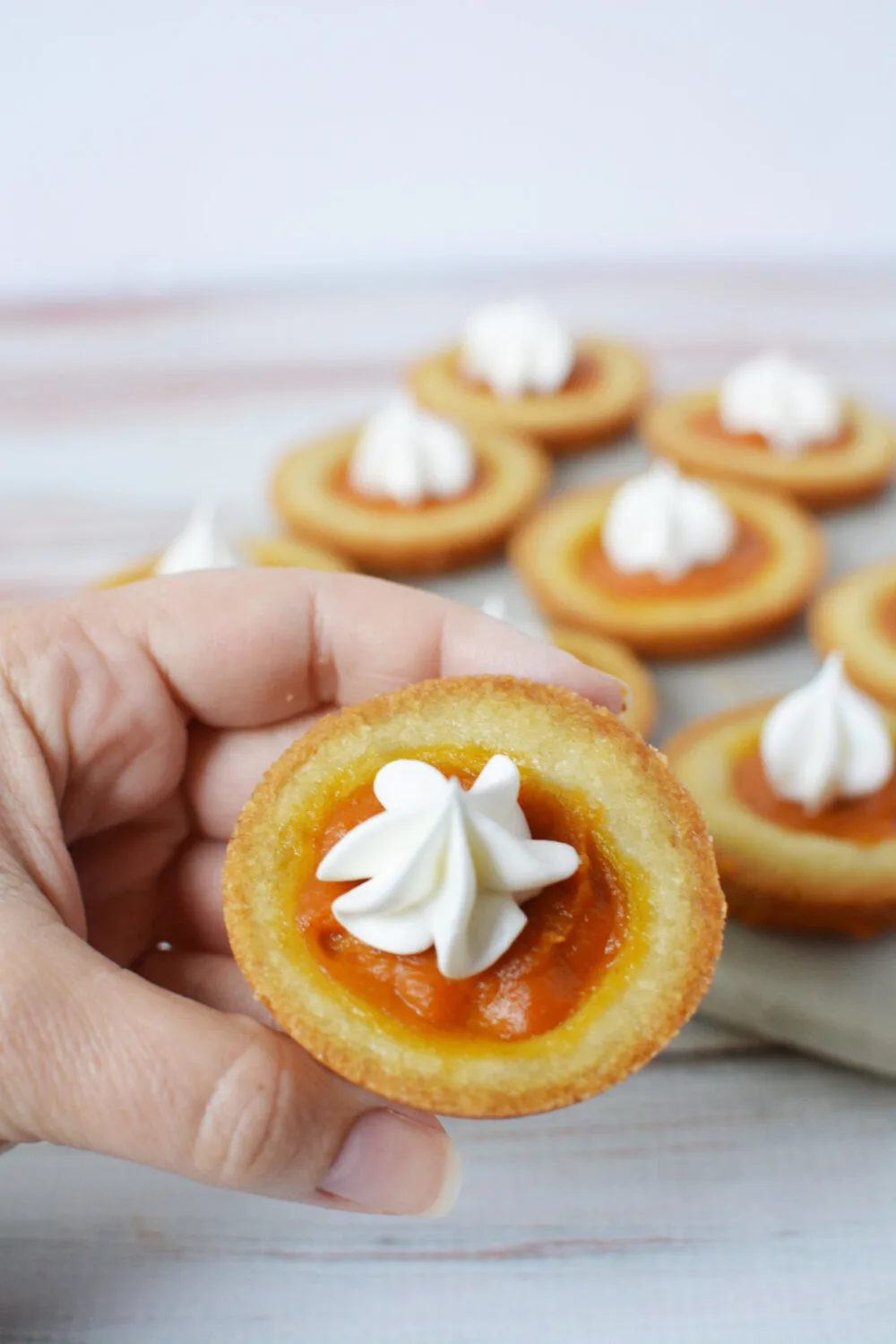 Substitutions and Variations: Make It Your Own
Want to put your own spin on these Pumpkin Pie Cookies? Here are some easy tweaks and swaps to consider:
Cookie Base: Not a fan of sugar cookies? Swap them out for a different cookie dough like snickerdoodle or even a gingerbread base for a holiday twist.
Pumpkin Filling: If you're out of pumpkin pie filling, you can use pureed pumpkin mixed with a dash of pumpkin spice and a spoonful of sugar.
Egg-Free: For an egg-free version, try using a flax egg or a commercial egg replacer.
Dairy-Free: Swap out the heavy whipping cream for coconut cream and use a dairy-free whipped topping.
Spice It Up: Add a pinch of cinnamon or nutmeg to the pumpkin filling for an extra kick of spice.
Nutty Twist: Sprinkle some chopped pecans or walnuts on top of the filling before the final bake.
Frosting: Instead of whipped topping, consider using homemade cream cheese frosting for a richer finish.
Fresh Pumpkin: Feeling adventurous? Make your own homemade pumpkin puree instead of using canned.
Toppings: Drizzle with caramel sauce or sprinkle with powdered sugar for a sweet finishing touch.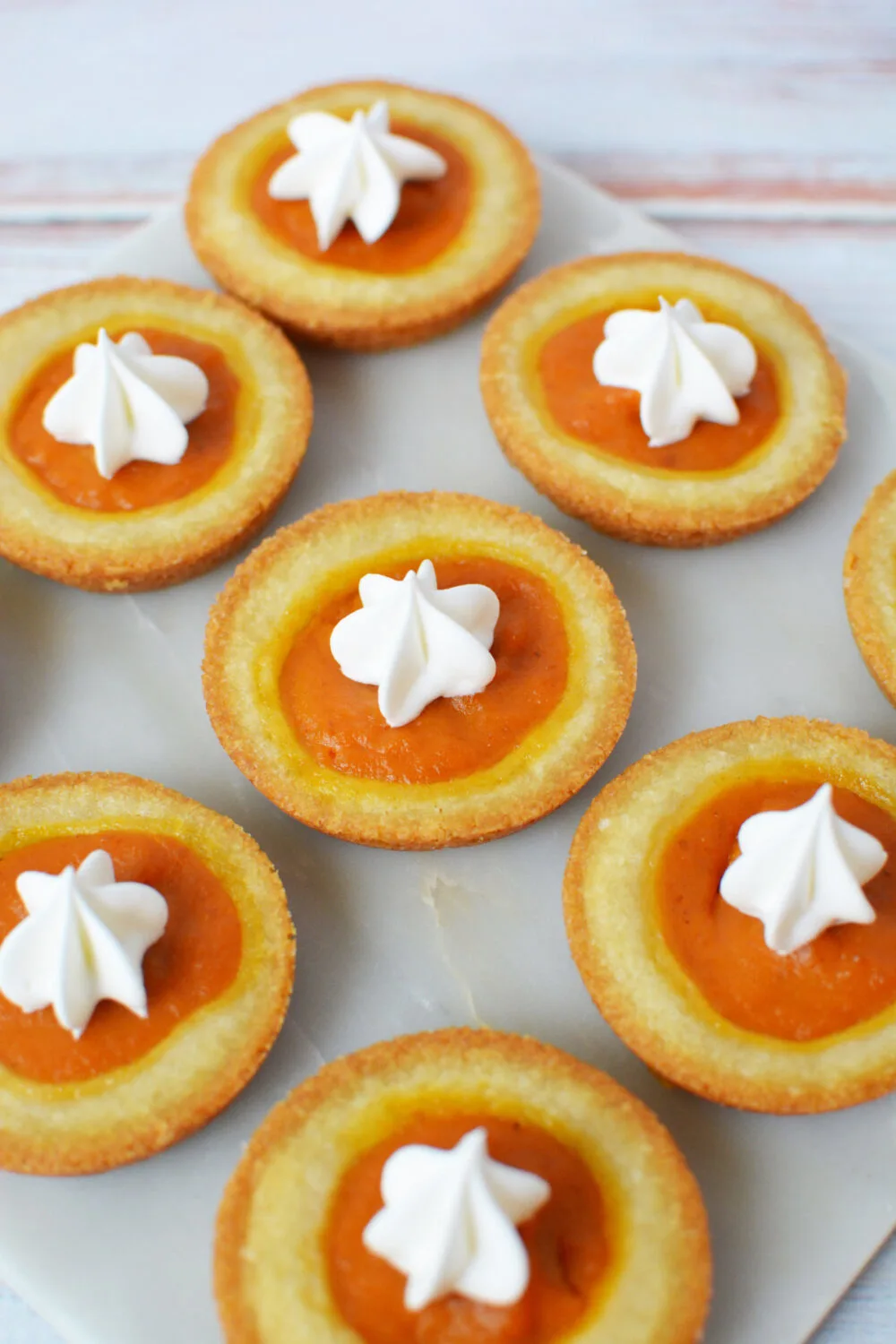 Storage
Once the cookies have completely cooled, place them in an airtight container and store at room temperature for up to 3 days. Do not add the topping until ready to serve.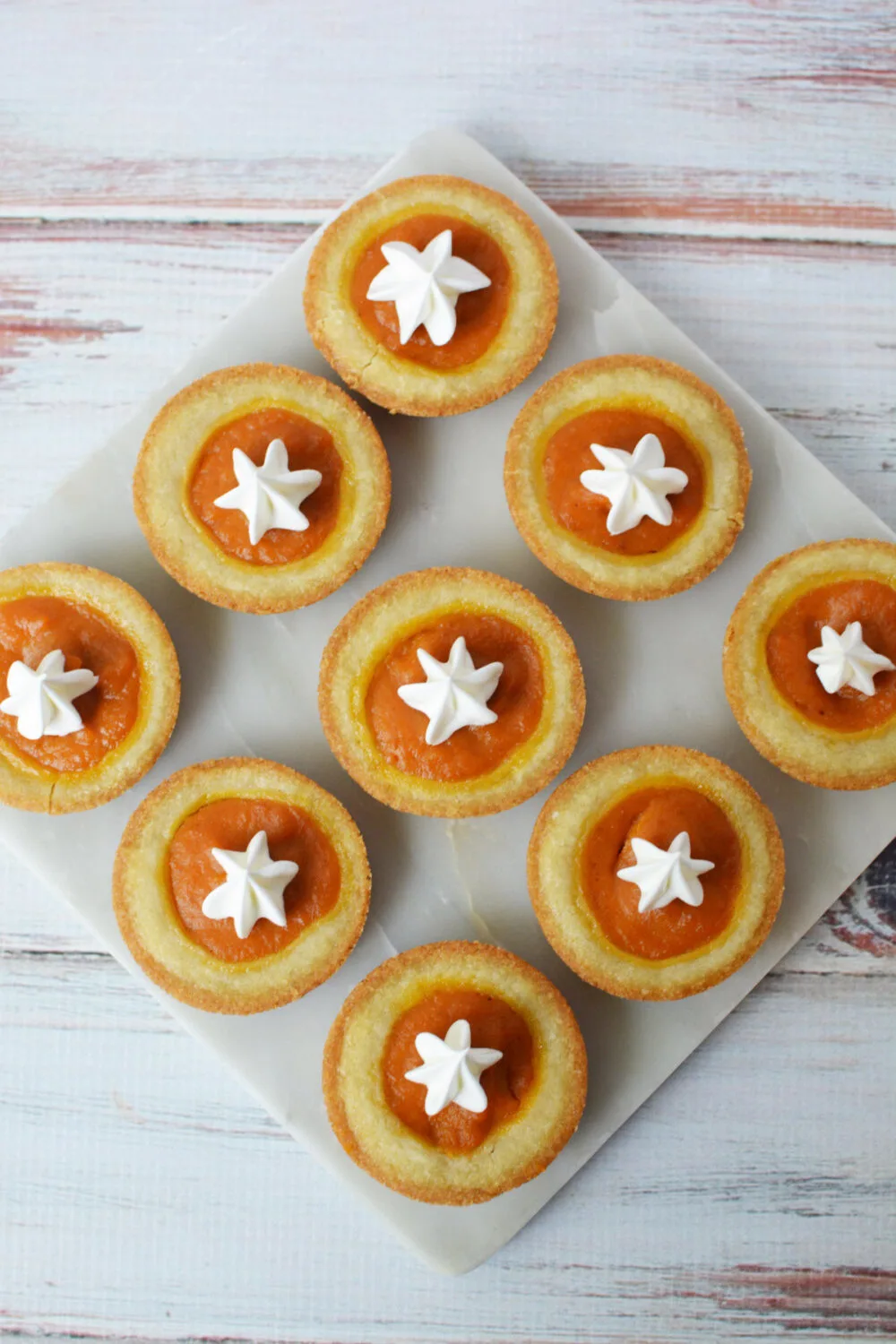 Recipe Notes and FAQs
Q. Why "Half-Bake" the Cookie Crust?
A. You might be wondering why the recipe calls for a 4-minute pre-bake of the cookie crust. This step ensures that the pumpkin filling remains prominent in the final product. If you bake the cookie and filling together, the cookie tends to swell and encroach on the filling, altering the presentation. The flavor remains the same; it's just a matter of how you want your cookies to look.
Q. Can I Use Pure Pumpkin Purée Instead of Pumpkin Pie Filling?
A. Yes, you can! Just be sure to add some pumpkin pie spice and a bit of sugar to mimic the flavor of pumpkin pie filling.
Q. Can I Make These Cookies in Advance?
A. Absolutely! These cookies store well at room temperature for up to 3 days, and they're also freezer-friendly for up to a month. Just don't add the topping until right before serving.
Q. Can I Use Homemade Whipped Cream?
A. Of course! If you prefer homemade over store-bought, feel free to whip up some cream and use it as a topping. Here is the way we make homemade whipped cream.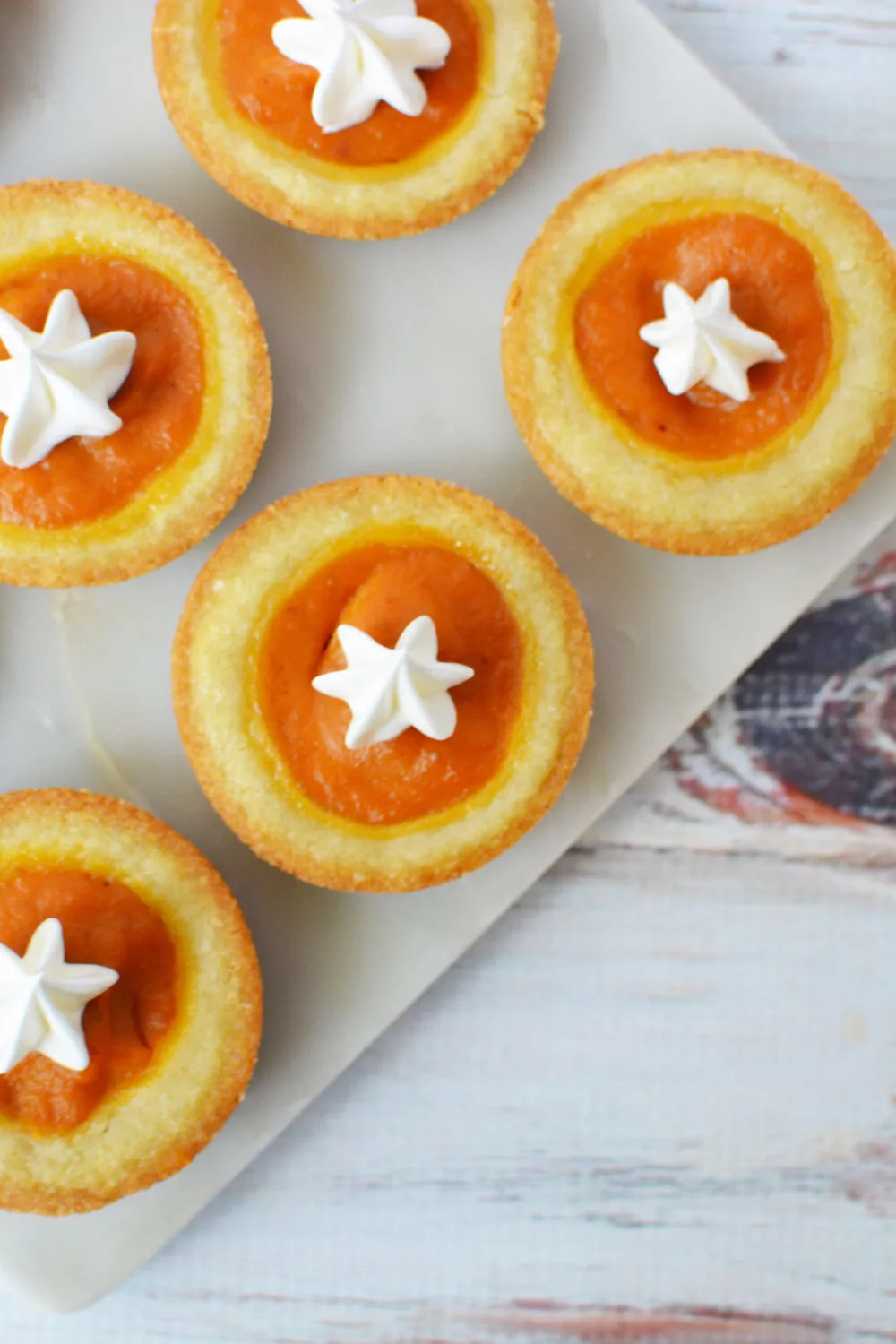 Yield: 24 Pie Cookies
Pumpkin Pie Cookies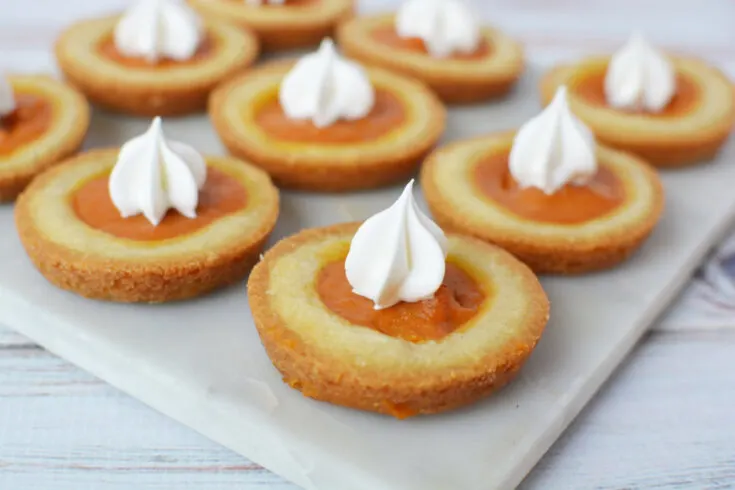 Combine the best of both worlds with these Pumpkin Pie Cookies. A chewy cookie crust holds a creamy pumpkin pie filling, making for a delightful treat that's perfect for the holiday season or any cozy fall day.
Ingredients
1 package (16 oz) refrigerated break-and-bake sugar cookies
1 cup pumpkin pie filling (not puree)
1 egg
2 tablespoons heavy whipping cream
Whipped topping, for serving
Instructions
Preheat oven to 350°F. Grease two regular-sized (12-cup) muffin tins with nonstick cooking spray.
Roll each sugar cookie into a ball and place it into a muffin tin cup. Using a tart shaper dipped in flour, or the back of a spoon, gently press the dough into the pan and up the sides. Make sure not to press too hard, keeping the bottom thin and the sides higher to create an edge on the crust.
Once all muffin tins are filled, bake for 4 minutes. The crust will not be fully cooked at this point.
In a mixing bowl, combine the pumpkin pie mix, egg, and heavy whipping cream. Mix well. Using a teaspoon, scoop the filling into each cookie crust.
Return the filled muffin tins to the oven and bake for an additional 8 minutes, or until the top is set and the edges of the crust are browned. Remove from the oven and allow to cool completely before removing from the pan.
If desired, place about 1 cup of whipped topping into a pastry bag fitted with a large star tip. Top each pie cookie with whipped topping before serving.
Notes
Pre-baking the cookie crust for 4 minutes ensures a more prominent pumpkin filling in the final cookie. If baked together, the cookie may swell into the filling, altering the presentation but not the flavor.
Recommended Products
As an Amazon Associate and member of other affiliate programs, I earn from qualifying purchases.
Nutrition Information:
Yield:
24
Serving Size:
1
Amount Per Serving:
Calories:

26
Total Fat:

1g
Saturated Fat:

1g
Trans Fat:

0g
Unsaturated Fat:

0g
Cholesterol:

10mg
Sodium:

31mg
Carbohydrates:

4g
Fiber:

1g
Sugar:

1g
Protein:

0g
Nutrition facts are an estimate only.
Pin this image to your fall dessert board to save and share!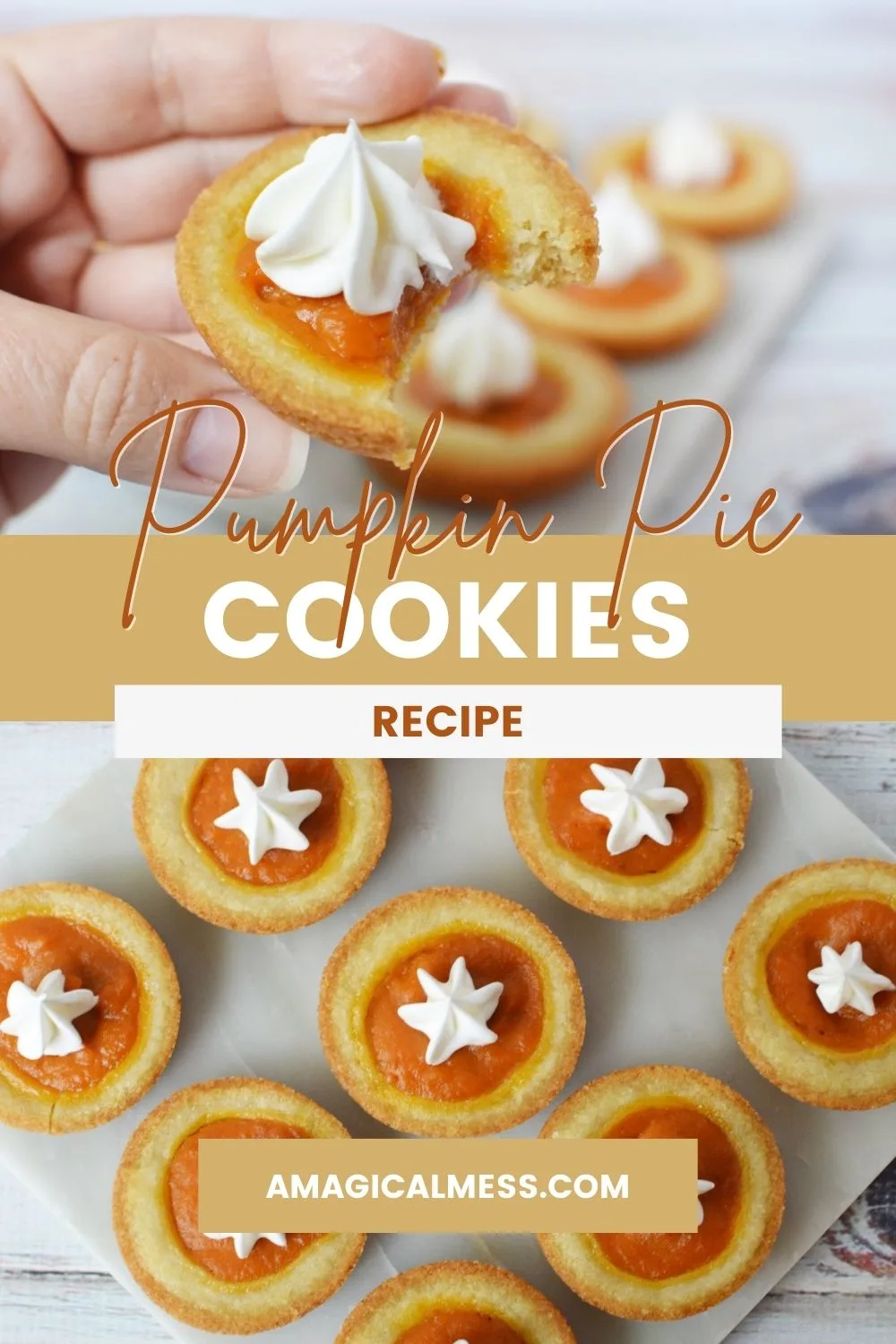 If you try out this recipe for Pumpkin Pie Cookies, I'd love to see how they turn out. Feel free to tag me on Instagram @jensoltys. If you find these recipes and tips useful, consider subscribing for more straight to your inbox. And of course, if you have any questions or feedback, don't hesitate to leave a comment below.