Looking for a unique addition to your holiday cookie platter? We got you! Today we're whipping up a Pecan Pie Cookies recipe that's truly a gem. Picture the warm, nutty richness of traditional pecan pie, but as delicious little cookies.
In the midst of cookie exchanges and holiday season feasting, it's good to have a mix of traditional and new recipes. This Pecan Pie Cookies recipe delivers the nostalgic taste of classic pecan pie, but in a delectable cookie form that will leave you craving for more.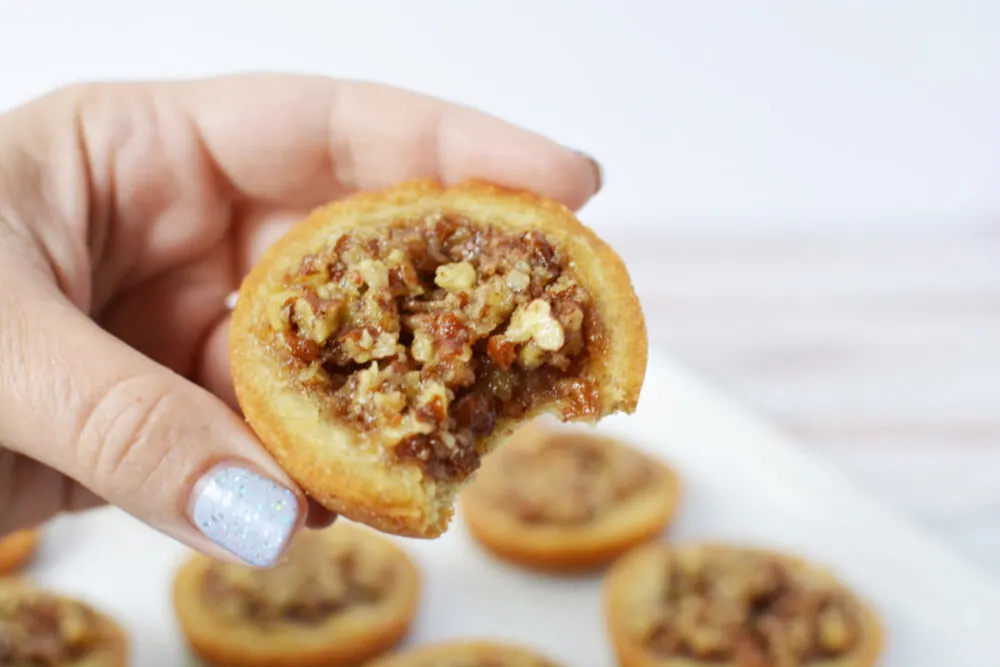 Tiny Pecan Pies in Cookie Form
If you've been around for a while, you know I have a thing for all things mini—especially when it comes to desserts. Mini pies are cute, sure, but little pies as cookies are even better in my opinion!
I'm on a mission to turn all of our favorite pies into delicious cookies. So far, we have cherry pie cookies, apple pie cookies, pumpkin pie cookies, and the list is growing of upcoming recipe plans.
Reasons to Love Pecan Pie Cookies
Flavor Blast: These cookies capture the essence of a traditional pecan pie, offering layers of buttery cookie base and sweet pecan pie filling.
Miniature Marvels: If you're a fan of all things mini like me, then these cookies are perfect for you. They are essentially mini pies that fit right into the palm of your hand.
Quick and Easy: This is an easy cookie recipe that doesn't require any complicated steps or obscure ingredients. Even baking novices can whip up a batch in no time.
Versatility: These cookies aren't just for the holiday season; they make a scrumptious addition to any event or get-together.
Perfect for Sharing: Whether it's a cookie exchange or simply surprising a friend, these cookies are sure to impress and delight anyone lucky enough to try them.
Built-in Portion Control: Each cookie is a perfect bite-sized treat, making it easier to enjoy without going overboard.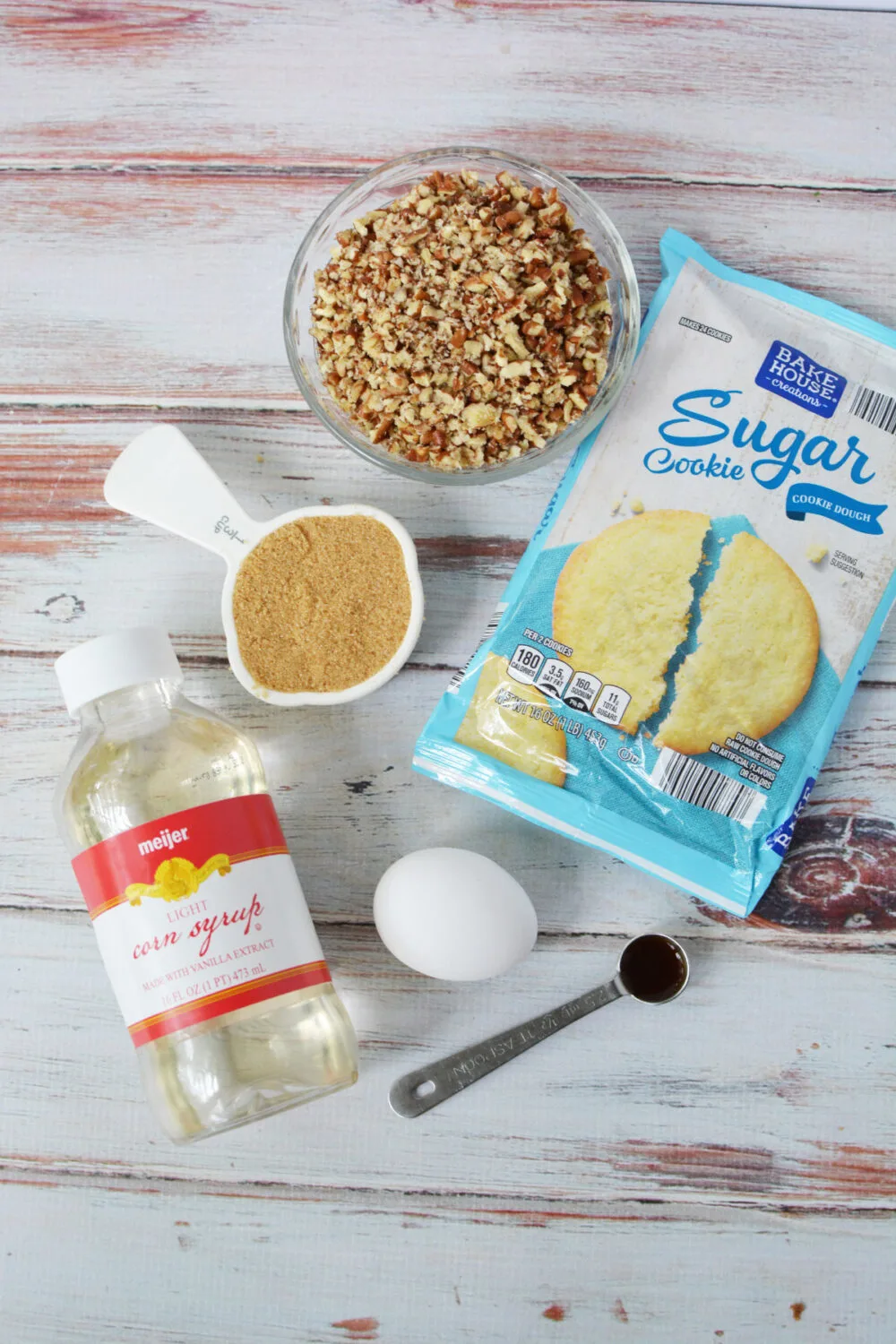 Pecan Pie Cookies Ingredients
Here's what you need to make this pie cookie recipe. The measurements are in the recipe card below.
Refrigerated sugar cookie (break and bake cookies)
Chopped pecans
Brown sugar
Light corn syrup
Vanilla extract
Egg
Easy-to-Follow Steps for Pecan Pie Cookies
Preheat and Prep:
Preheat your oven to 350°F. While it's heating up, grab two regular-sized (12 cup) muffin tins and spray with nonstick cooking spray.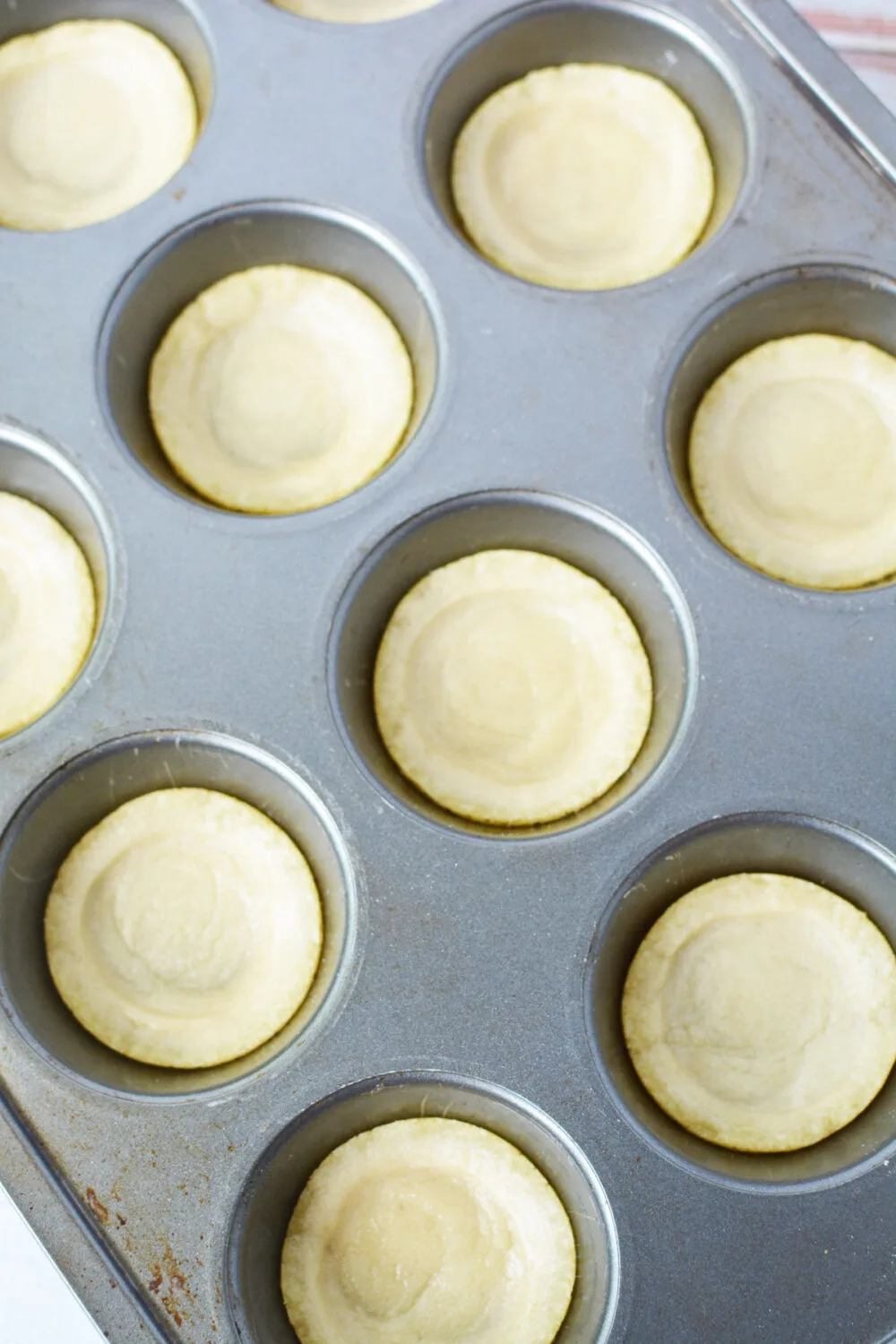 Cookie Base Formation:
Take each break-and-bake sugar cookie and roll it into a little ball. Place each ball into the muffin tin slots.
Now, using a tart shaper dipped in enough flour to prevent sticking—or the back of a spoon—gently press the dough into the pan to form the crust.
Make sure the sides are a bit higher than the bottom. But be gentle; you don't want the base to be too thin.
Initial Baking:
Once your muffin tins are all decked out with cookie dough, pop them into the oven for a quick 4-minute bake. Don't expect the crust to be fully cooked; this is just the first act.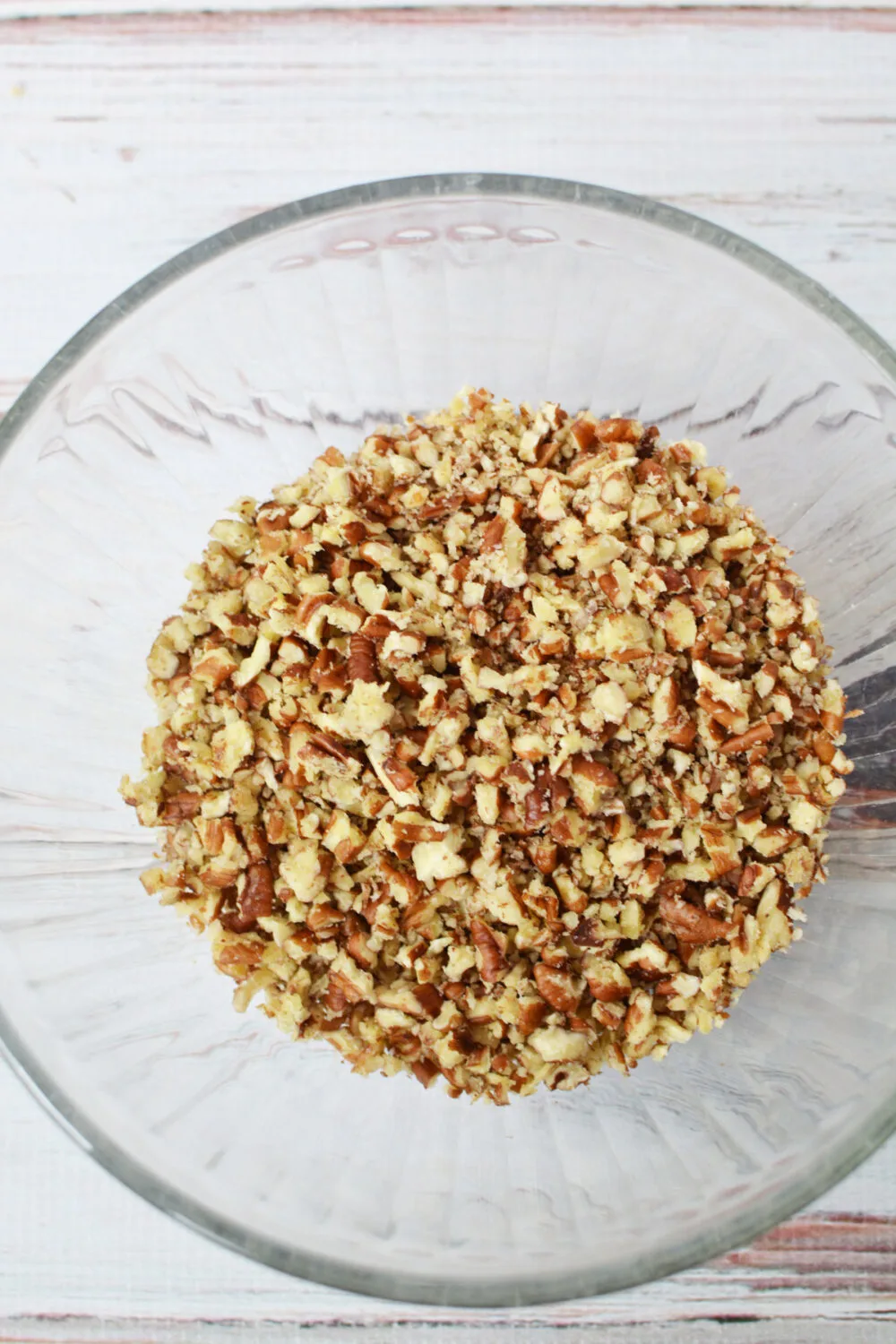 Prepare the Filling:
While the crusts are crusting, grab a large mixing bowl and combine the filling ingredients– chopped pecans, brown sugar, light corn syrup, vanilla, and egg. Give it a good mix until it looks like the perfect pecan pie filling.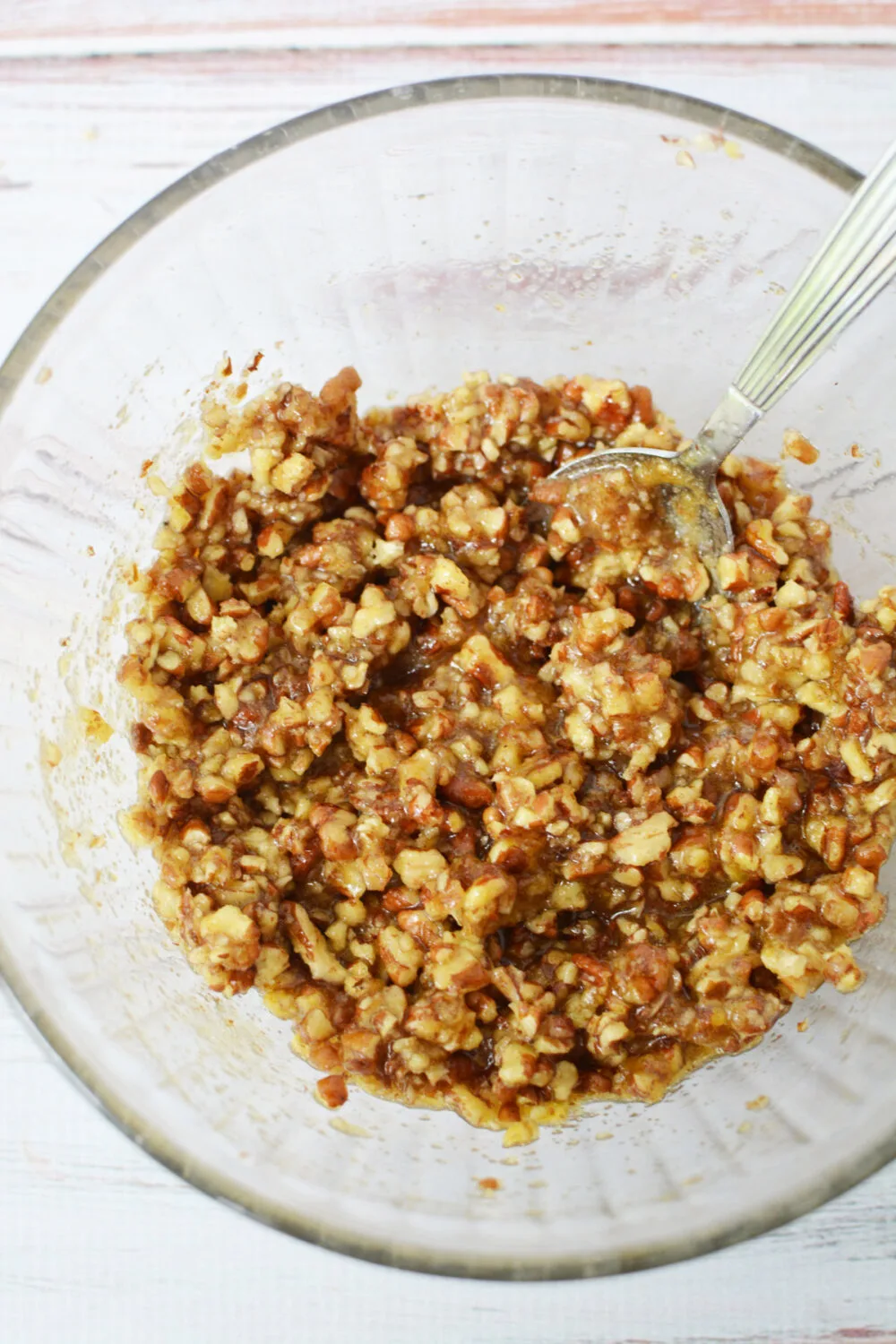 Fill 'Em Up:
Using a tablespoon portion scoop, or just a good ol' tablespoon, carefully scoop your pecan mixture into each cookie crust. Aim for a happy medium; you don't want to overfill or underfill.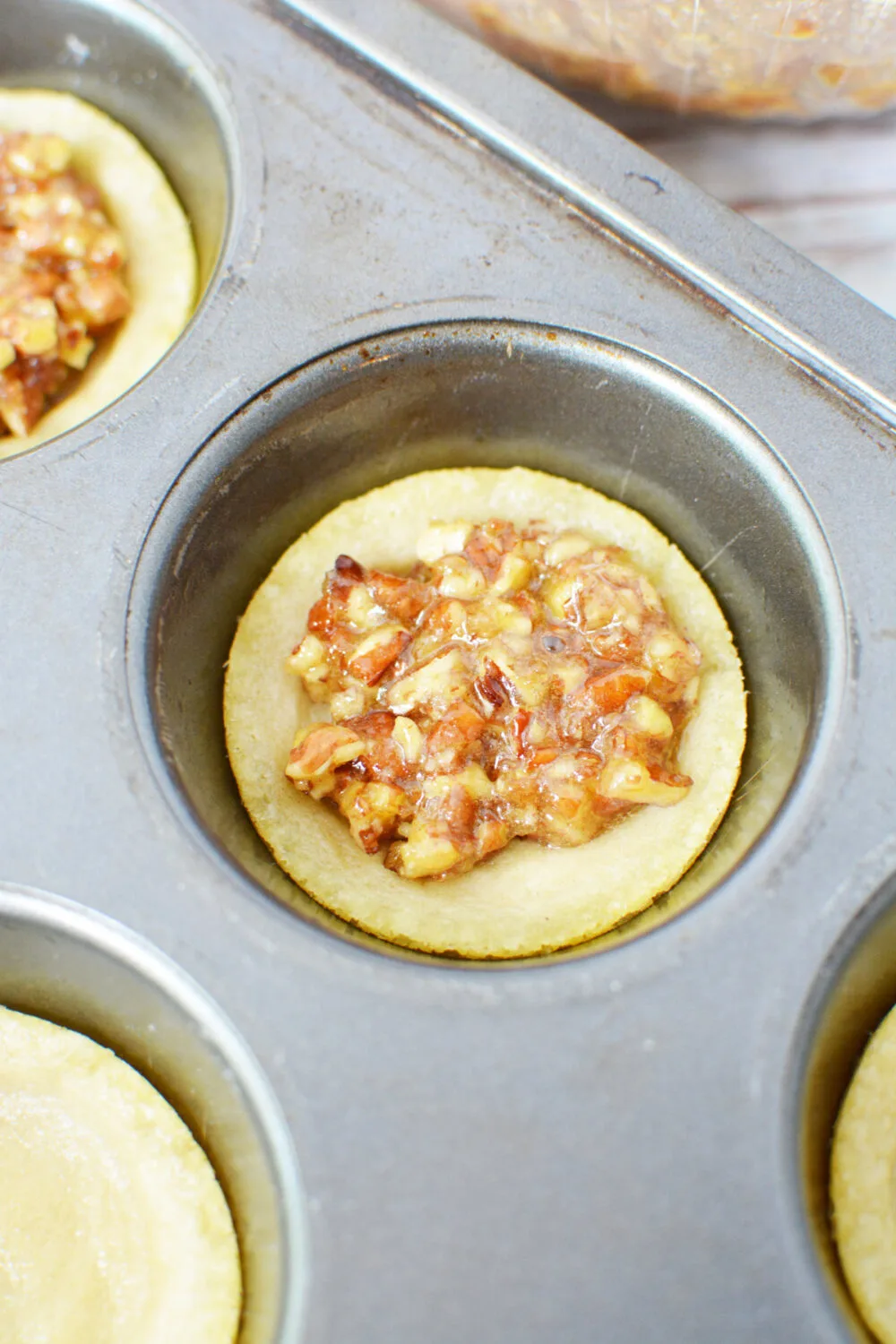 Final Bake:
Put those almost-ready cookies back in the oven for another 8 minutes. You'll know they're done when the tops are set, and the edges have turned a lovely shade of brown.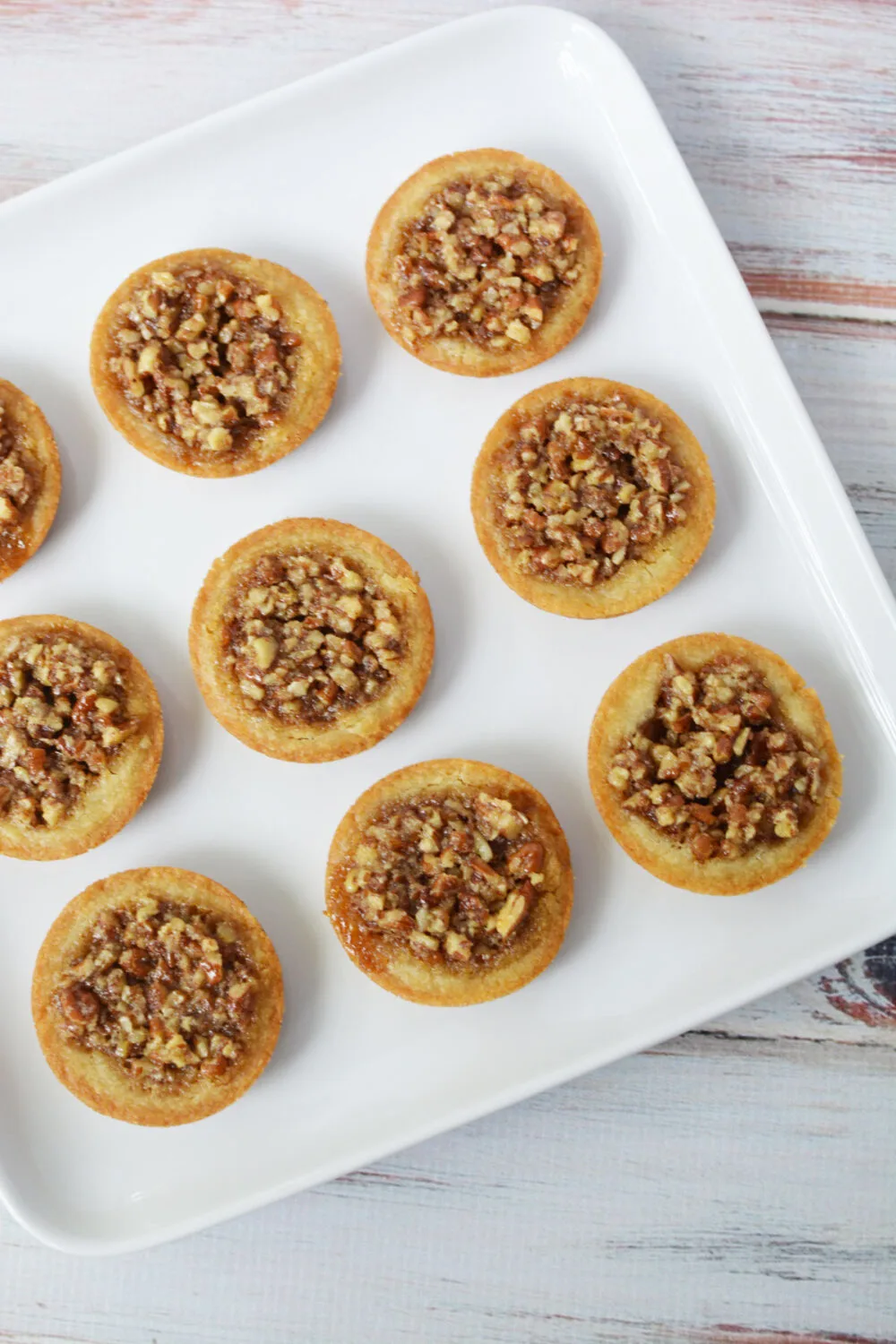 Cooling Time:
Let those delectable bites of joy cool down completely in the muffin tins before attempting to remove them to transfer to a wire rack. Patience is a virtue, and it will pay off with a cookie that holds its shape beautifully.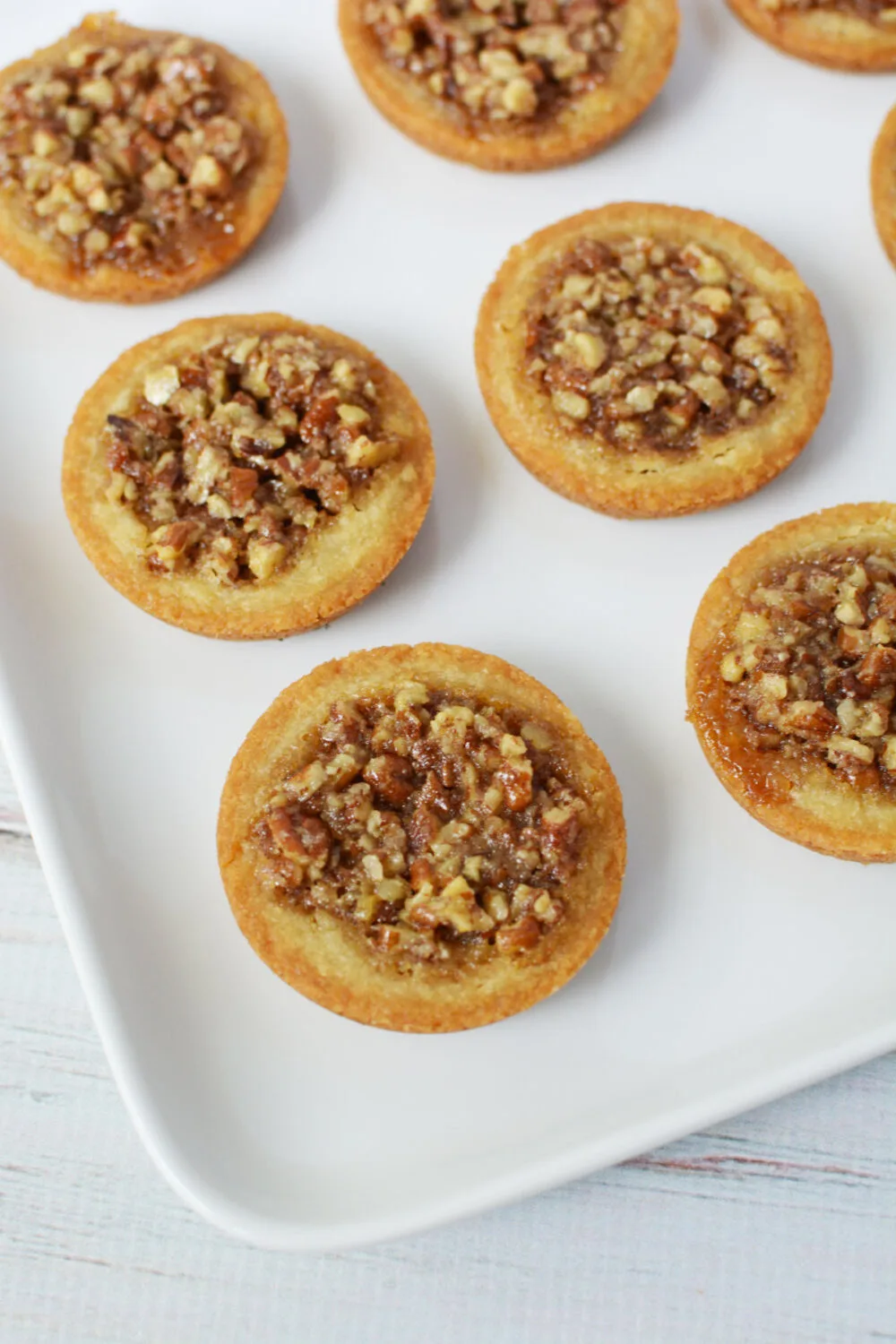 What to Serve with Pecan Pie Cookies
If you can't get enough of pecans, here are more pecan recipes from the blog that you might want to include in your feast.
Butter Pecan Cookie Dough Dip: Want to double down on the pecan love? This dip is creamy, dreamy, and makes the perfect companion for fresh fruit slices or graham crackers.
Brown Butter Bourbon Pecan Cookies: If you're feeling like going on a full pecan spree, then you absolutely must try these cookies. They have a rich, nutty flavor heightened by the bourbon, making them a more adult-oriented delight.
Slow Cooker Sweet Potatoes with Maple Pecan Topping: Looking for something a bit more substantial to serve at a gathering? This slow-cooked sweet potato is a tasty fall side dish, offering a balance of natural sweetness and nutty crunch.
Recipe Substitutions and Variations
Love the core idea but want to make it your own? Or maybe you're dealing with some dietary restrictions? No worries! Here are some substitutions and variations that still let you enjoy these tasty morsels:
Cookie Base Alternatives: Instead of break-and-bake sugar cookies, you can use a homemade buttery sugar cookie dough or even a gluten-free cookie dough if you're avoiding gluten.
Nut Variations: Not a pecan fan? Substitute with walnuts or almonds for a fun twist on the traditional recipe.
Sweetener Swaps: If light corn syrup isn't your jam, feel free to swap it out for maple syrup for a more natural sweetness.
Vegan Version: To make this recipe vegan, use a plant-based egg substitute and vegan sugar cookies for the base.
Spice it Up: Add a dash of cinnamon sugar to the pecan filling for an extra layer of flavor.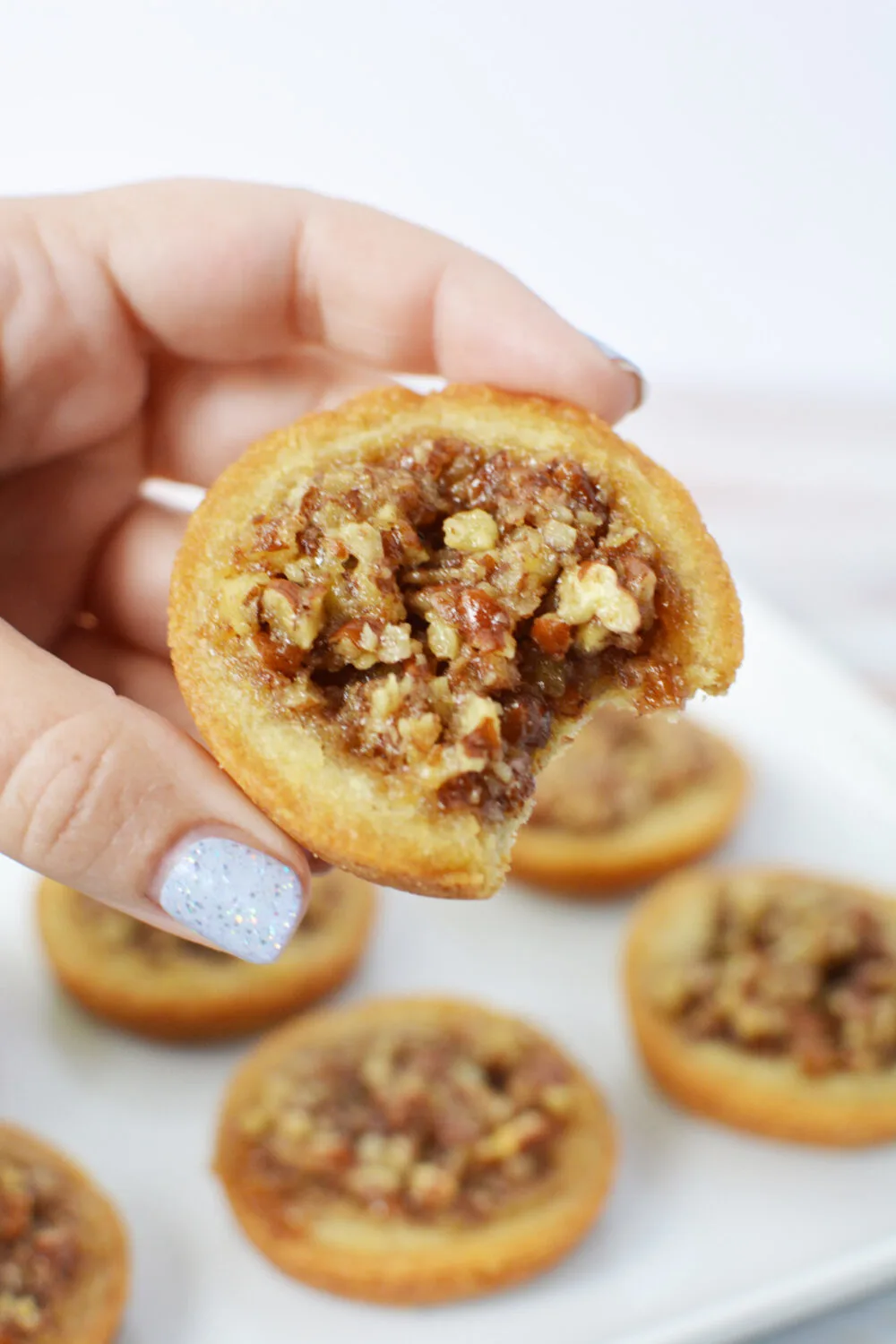 How to Store Pecan Pie Cookies
Keeping these delicious little morsels fresh is a cinch! Once they've cooled down completely, just slide them into an airtight container and stash them in the fridge. They'll stay scrumptious for up to a week.
Notes:
Pie Crust Thickness: Be mindful not to press the cookie dough balls too hard into the muffin tin. You want to maintain some thickness for a luscious, buttery crust.
Optional Drizzle: Want to amp up the aesthetics? Drizzle some melted chocolate or caramel over the top after they've cooled. It makes these cookies look as good as they taste!
Yield: 24 Cookies
Pecan Pie Cookies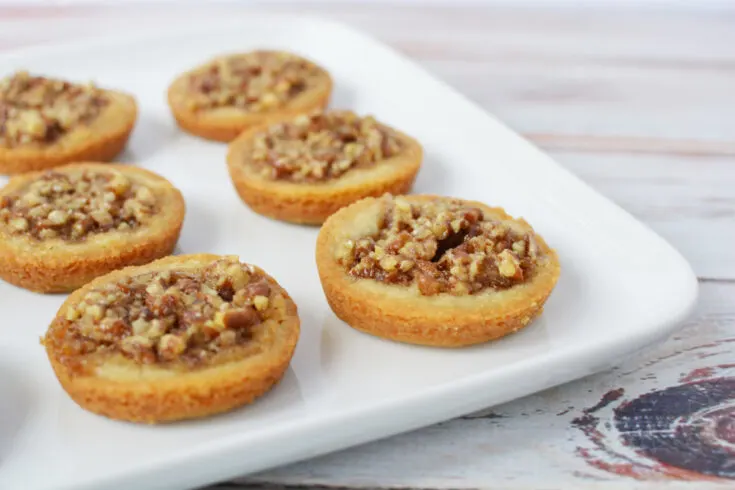 Transform your favorite holiday pie into bite-sized magic with these Pecan Pie Cookies! Featuring a buttery sugar cookie crust and a rich pecan filling, these cookies are a delightful addition to any holiday cookie platter.
Ingredients
1 package, 16 oz, refrigerated sugar cookie, break and bake cookies
1 1/2 cups chopped pecans
1/3 cup brown sugar
1/4 cup light corn syrup
1/2 teaspoon vanilla
1 egg
Instructions
Preheat oven to 350°F. Grease two regular size (12 cup) muffin tins with nonstick cooking spray.
Roll each sugar cookie into a ball and place into the muffin tin. Using a tart shaper dipped in flour, or the back of a spoon, gently press the dough into the pan and onto the sides. Avoid pressing too hard to keep the bottom from becoming too thin; aim for higher sides to create an edge on the crust.
Once all muffin tins are full, bake for 4 minutes. The crust will not be fully cooked at this stage.
In a mixing bowl, combine pecans, brown sugar, corn syrup, vanilla, and egg. Mix well. Use a tablespoon to scoop the filling into each cookie cup.
Return to the oven and bake for an additional 8 minutes, or until the top is set and the edges of the crust are browned. Remove from oven and allow to cool completely before removing from pan.
Notes
These cookies mimic the delicious flavors of traditional pecan pie, baked right into a cookie crust.
They may taste a bit sweeter due to the cookie base, but they're a hit with friends and family alike!
Perfect for those who love the essence of pecan pie but want it in a convenient cookie form.
Recommended Products
As an Amazon Associate and member of other affiliate programs, I earn from qualifying purchases.
Nutrition Information:
Yield:
24
Serving Size:
1
Amount Per Serving:
Calories:

168
Total Fat:

10g
Saturated Fat:

2g
Trans Fat:

0g
Unsaturated Fat:

8g
Cholesterol:

14mg
Sodium:

78mg
Carbohydrates:

19g
Fiber:

1g
Sugar:

13g
Protein:

2g
Nutrition facts are an estimate only.
Pin this image to your cookie dessert board to save and share!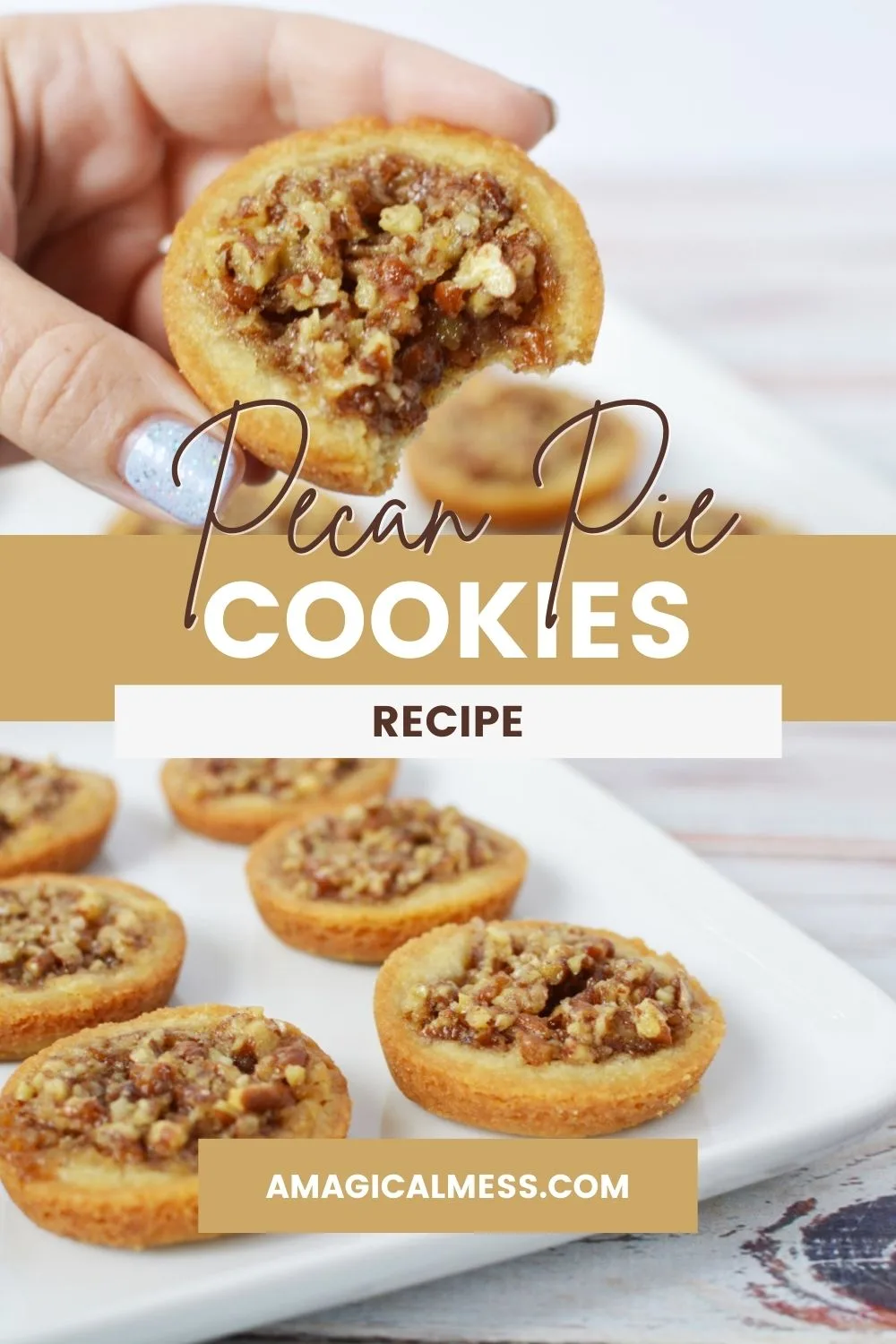 If you like this pecan pie cookie recipe, be sure to subscribe to the blog. The pie cookie quest has just begun! Stay up to date so you don't miss a recipe. Also, if you have a favorite pie that you'd like to see turned into a cookie, please let me know in the comments.
If you know a cookie lover that would enjoy the nutty filling of these buttery cookies, please share this post with them! If you make this pecan cookie recipe, tag me on social media so I can see your creations!