In Italian, Tiramisu means "pick me up" and this dessert does just that. Made with plenty of espresso coffee and chocolate, this one will hit the spot with both your chocolate and coffee cravings.
Delicious Italian custard called zabaglione is easier than you think to make, taking just a few minutes to whisk in a pan over water on the cooktop. Blended with mascarpone cheese, it is both fluffy and rich. I like to add tiny chocolate drops to each layer for a bit more texture and crunch.
This dessert can be served individually in small dessert glasses, created in a loaf pan (shown in following recipe), or in a larger pan that can be scooped out to feed a crowd. This recipe is easily doubled. Go ahead and double it. You may be sorry if you don't, it's just that good!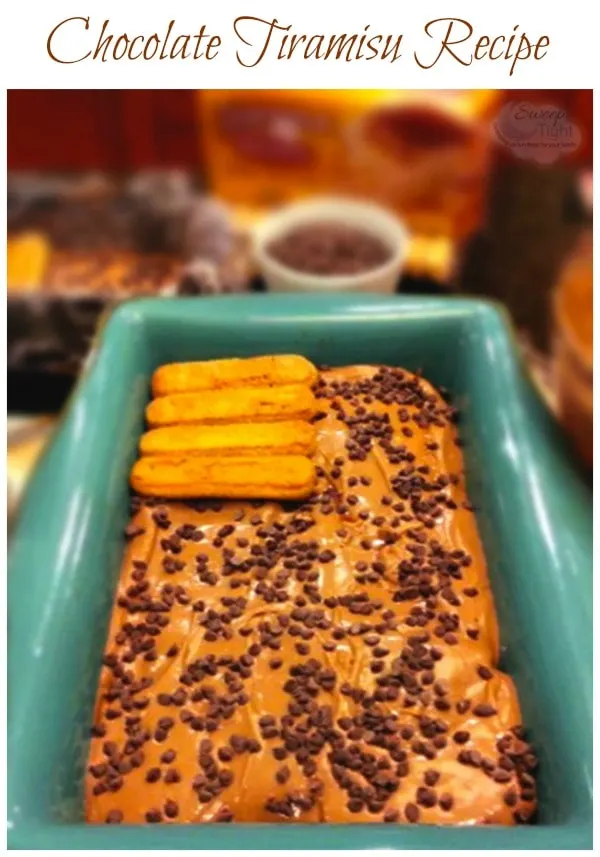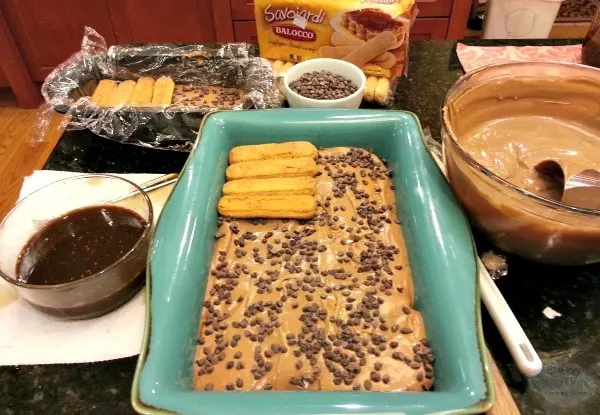 Chocolate Tiramisu Recipe
Adapted from the book Everyday Italian by Giada De Laurentiis
Zabaglione Ingredients:
1/4 cup whipping cream
1/2 cup semisweet chocolate chips (regular size, use the tiny chips for assembly as seen below)
2/3 cup granulated sugar
2/3 cup dry Marsala wine
8 large egg yolks
Pinch of salt
Zabaglione Instructions:
In a small heavy sauce pan, bring the cream to just a simmer over medium-high heat.
Remove from heat and add the chocolate chips. Stir until chocolate is melted. Set aside.
Fill a large saucepan with enough water to come to two inches up the sides of the pan and bring to a simmer.
In a large metal or heat resistant (Pyrex) bowl, whisk the sugar, Marsala, egg yolks, and salt to blend.
Set the bowl over the saucepan of simmering water. Do not allow the bottom of the bowl to touch the water.
Whisk the egg mixture constantly until it is thick and creamy.
Use a thermometer to insert into the mixture and wait until it reads 160 degrees F (about 4 minutes).
Remove from heat. Using a large rubber spatula, fold the chocolate mixture into the egg mixture.
Cover the bowl using plastic wrap, pressing gently until it just touches the surface of the zabaglione.
Chill thoroughly for at least 6 hours.
Chocolate Tiramisu Ingredients:
1 (8 ounce) container of mascarpone cheese
3/4 cup whipping cream
2/3 cup sugar
Chocolate zabaglione (recipe above) cold
2 1/2 cups espresso coffee, cold
32 Savoiardi (crisp ladyfinger cookies; from two 7 ounce packages)
Unsweetened cocoa powder, for sifting
Chocolate Tiramisu Instructions:
In a large bowl stir the mascarpone cheese two times or just until smooth. Do not overmix or it will become stiff.
In a medium bowl beat the cream and 1/3 cup of sugar with an electric mixer until soft peaks form.
Fold the sweetened whipped cream into the mascarpone, then fold in the chocolate zabaglione.
Cover tightly and refrigerate.
Line a 9 1/4 x 5 x 2 3/4 inch metal loaf pan with plastic wrap, allowing the plastic to extend over the sides.
In another medium bowl, whisk the espresso and the remaining 1/3 cup sugar to blend.
*note, if you have your own espresso pot, you can make your own. Or, you can use instant espresso powder, sold in most grocery or specialty stores. Either way, I find that it is easiest to incorporate sugar into the espresso while it is still warm. Just make sure the espresso is cold for this next step.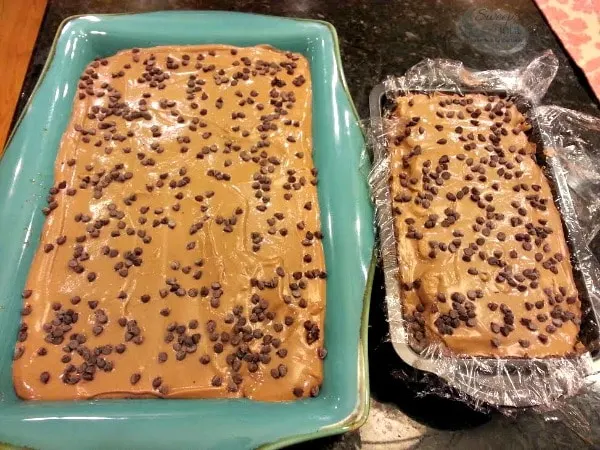 Working with one cookie at a time, dip 8 cookies into the espresso.
Arrange in a single layer side by side in the bottom of the prepared pan.
Spoon one third of the mascarpone mixture over the cookies to cover.
Sprinkle a third of the mini chocolate chips on top.
Repeat the dipping and layering of the cookies, remaining mascarpone mixture and mini chocolate chips two more times.
Dip the rest of the 8 cookies in the expresso and line up side by side on top of the tiramisu.
Sprinkle the last third of the mini chocolate chips on top. Press lightly to compact slightly (the last layer will extend above the pan sides).
Cover the tiramisu with plastic and refrigerate for at least 2 hours and up to a day.
Unwrap the plastic from the tiramisu. Invert the tiramisu on to a platter and remove plastic. Sift cocoa powder over the top and serve.