Ever struggle to choose between a warm apple pie and a chewy cookie? Well, today I'm sharing a game-changer: Delicious Apple Pie Cookies. Picture the rich flavor of apple pie, wrapped up in a golden-brown, flaky pie crust, but in the easy-to-eat form of a cookie. These aren't your traditional apple pies; they come with a heavenly crumble topping for an added crispy crunch.
We are also using a sugar cookie crust for a shortcut to make that baking life a smidge easier. Ready to experience the cozy charm of apple pie, but in a no-fuss cookie form? See how these Apple Pie Cookies blend the best of two dessert worlds, giving you an unforgettable bite that's both crunchy and oozing with delicious apple goodness.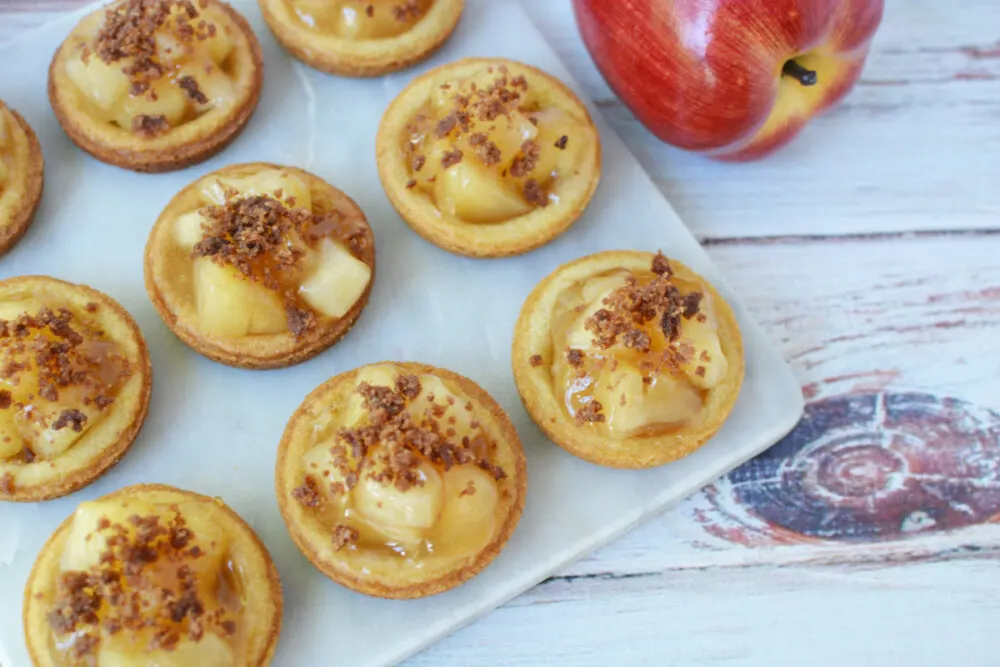 Mini Apple Pies in Cookie Form
Fall is hands-down my favorite season, and it's not just for the pumpkin spice lattes and cozy sweaters. It's apple and peach season, baby! Every year, I look forward to apple picking like a kid counting down to Christmas.
Of course, it's also pumpkin season, so we also have these delicious little pumpkin pie sugar cookies.
But what to do with that bushel of fresh apples? Get creative with desserts, that's what! These mini apple pies are one of the many options to use up orchard apples. In the spirit of keeping things simple, we used a can of apple pie filling here in this recipe.
Reasons to Love these Mini Apple Pie Cookies
Easy to Make: Seriously, you don't need to be a pastry chef to pull these off. They're straightforward, and you can even take some short cuts with store-bought pie crust and apple filling.
Perfect for Apple Season: Got a haul of Granny Smith apples from apple picking? You can use them in apple recipes like this one instead of the apple pie filling.
Unique Twist: The crumble topping adds an extra layer of flavor and texture. It's a different topping than the typical lattice crust commonly seen on many pie cookies or the glaze, like you see on these cherry pie cookies.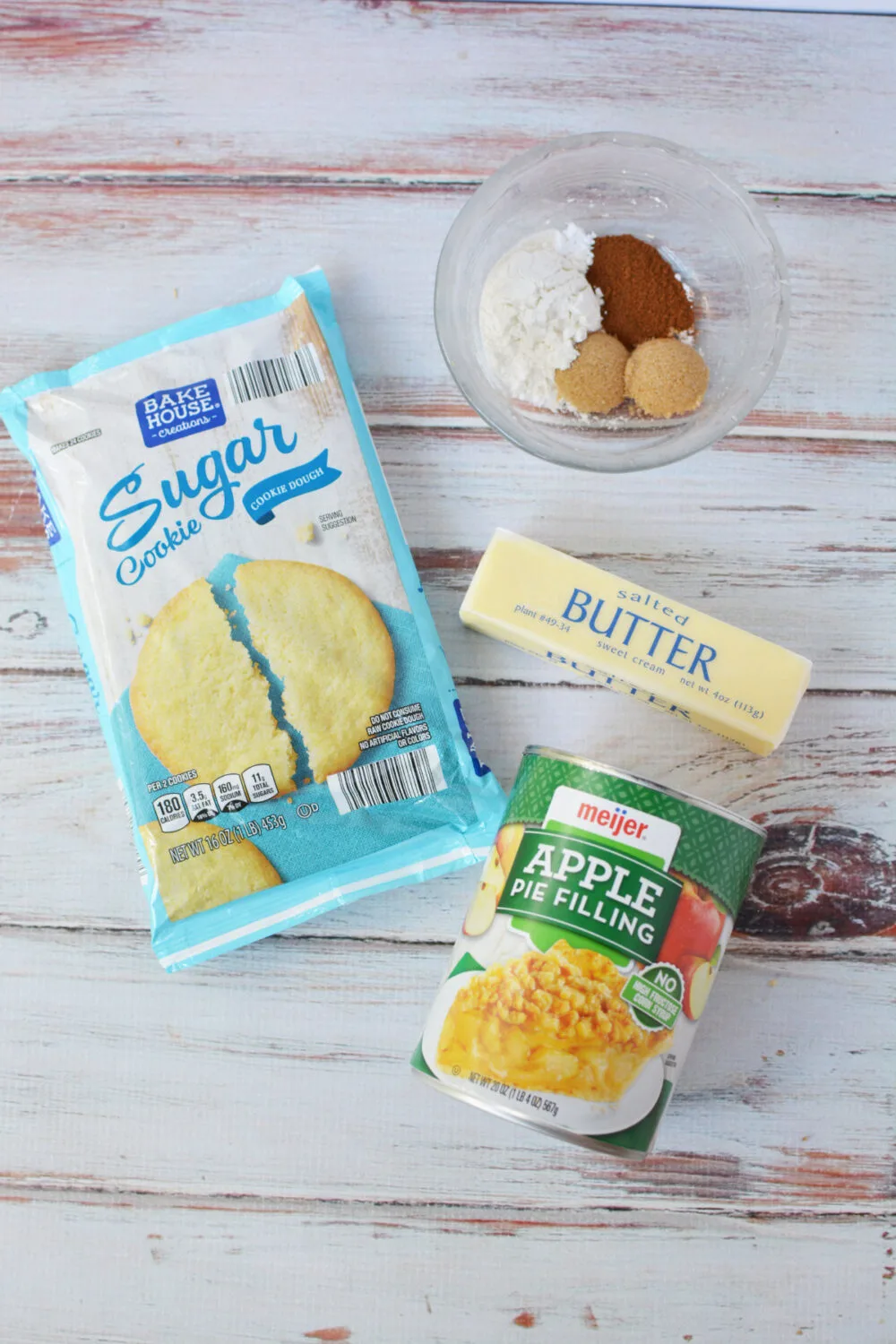 Apple Pie Cookies Ingredients
Here's what you need to make this cookie recipe. The measurements are in the recipe card below.
All-purpose flour
Brown sugar
Ground cinnamon
Butter
Refrigerated sugar cookie (break and bake cookies)
Apple pie filling
Apple Pie Cookie Recipe Directions
Step 1: Preheat and Prep
First things first, preheat your oven to 350°F. While it's warming up, give your muffin tins a good spritz with nonstick cooking spray. Also, line a baking sheet with parchment paper and set it aside for later use.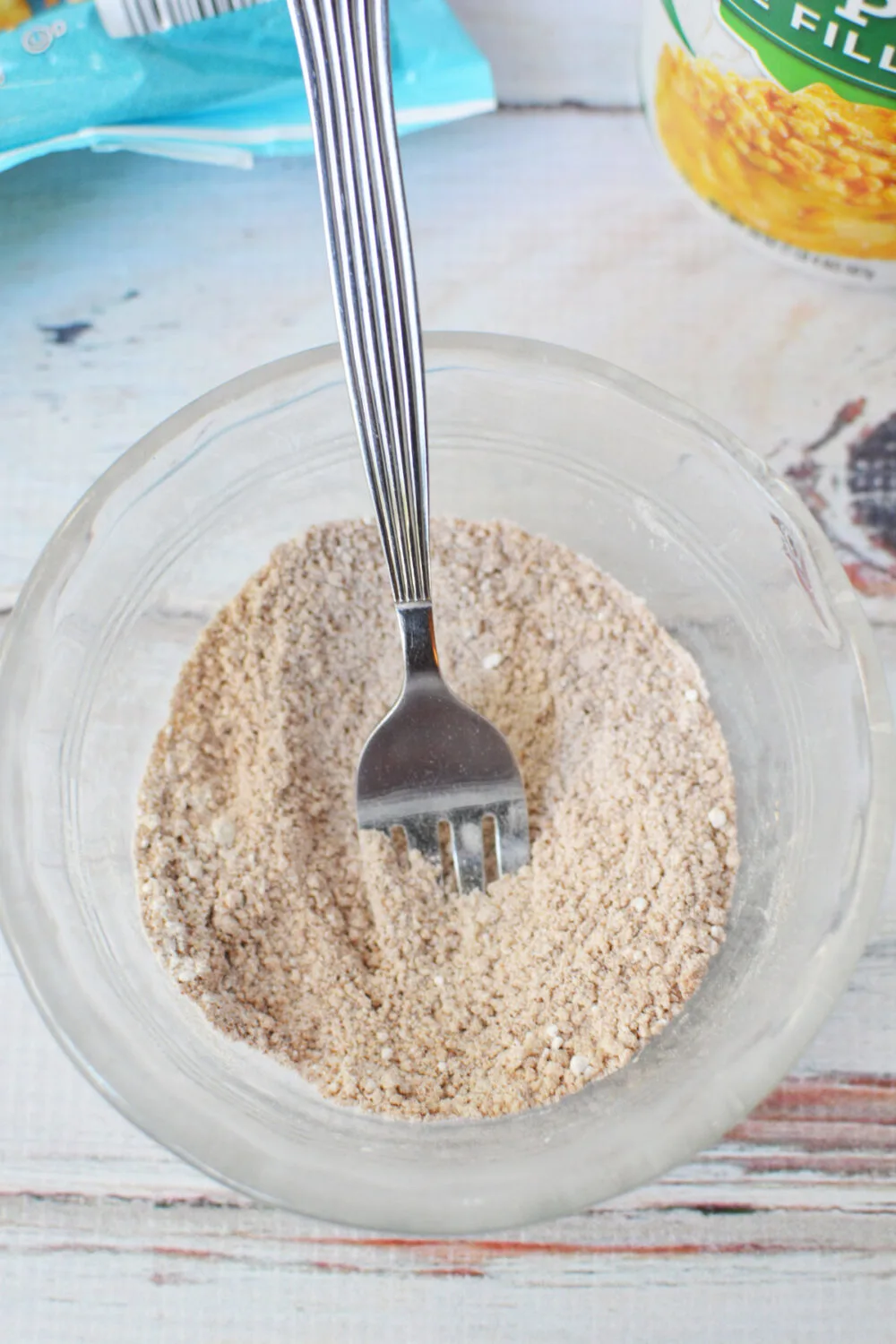 Step 2: Create the Crumble
In a small bowl, whisk together the all-purpose flour, brown sugar, and ground cinnamon. Then add your butter and use a fork to blend it in until the mixture gets all crumbly.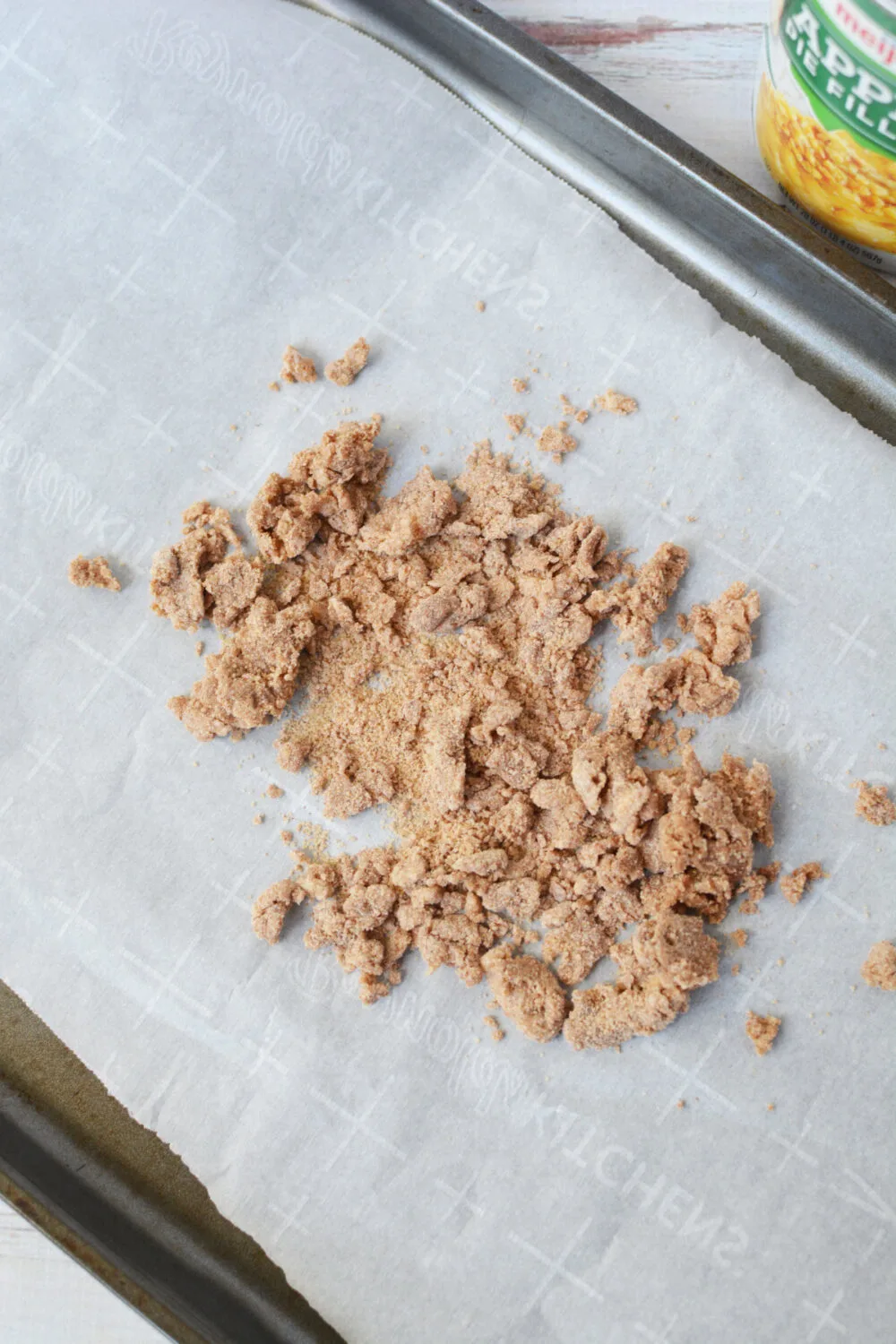 Sprinkle these crumbs on your prepared cookie sheet, giving them a little room to breathe. Pop it into the oven for about 5 minutes. After baking, let them cool and crumble into smaller pieces. Set aside for that extra crunch later!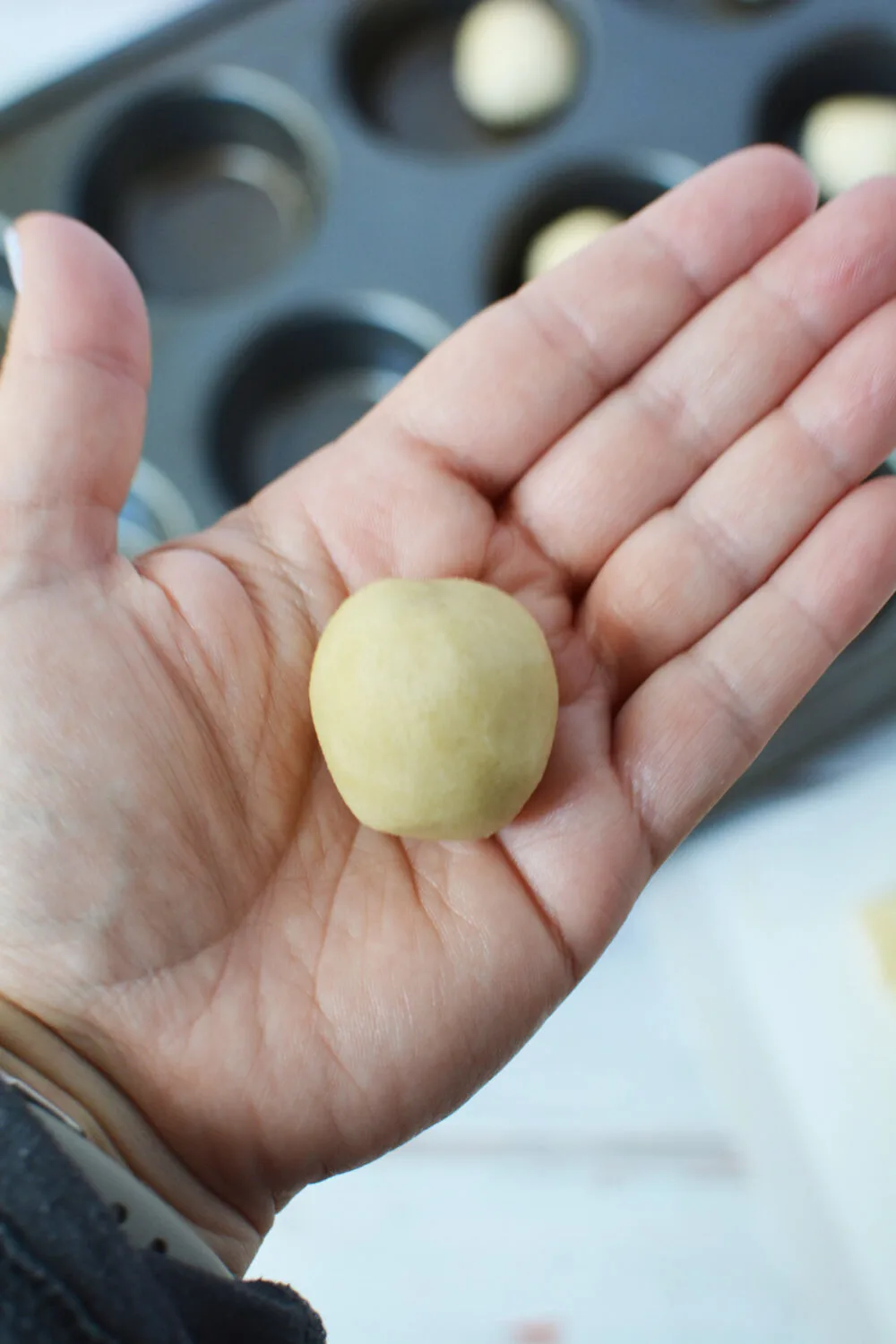 Step 3: Shape the Cookie Crusts
Now, roll your break-and-bake sugar cookies into balls and place them in the muffin tins. Use a tart shaper dipped in flour—or the back of a spoon—to gently mold the cookie dough balls into the pan. Make sure to keep those edges slightly higher than the base to give your mini pies a perfect crust.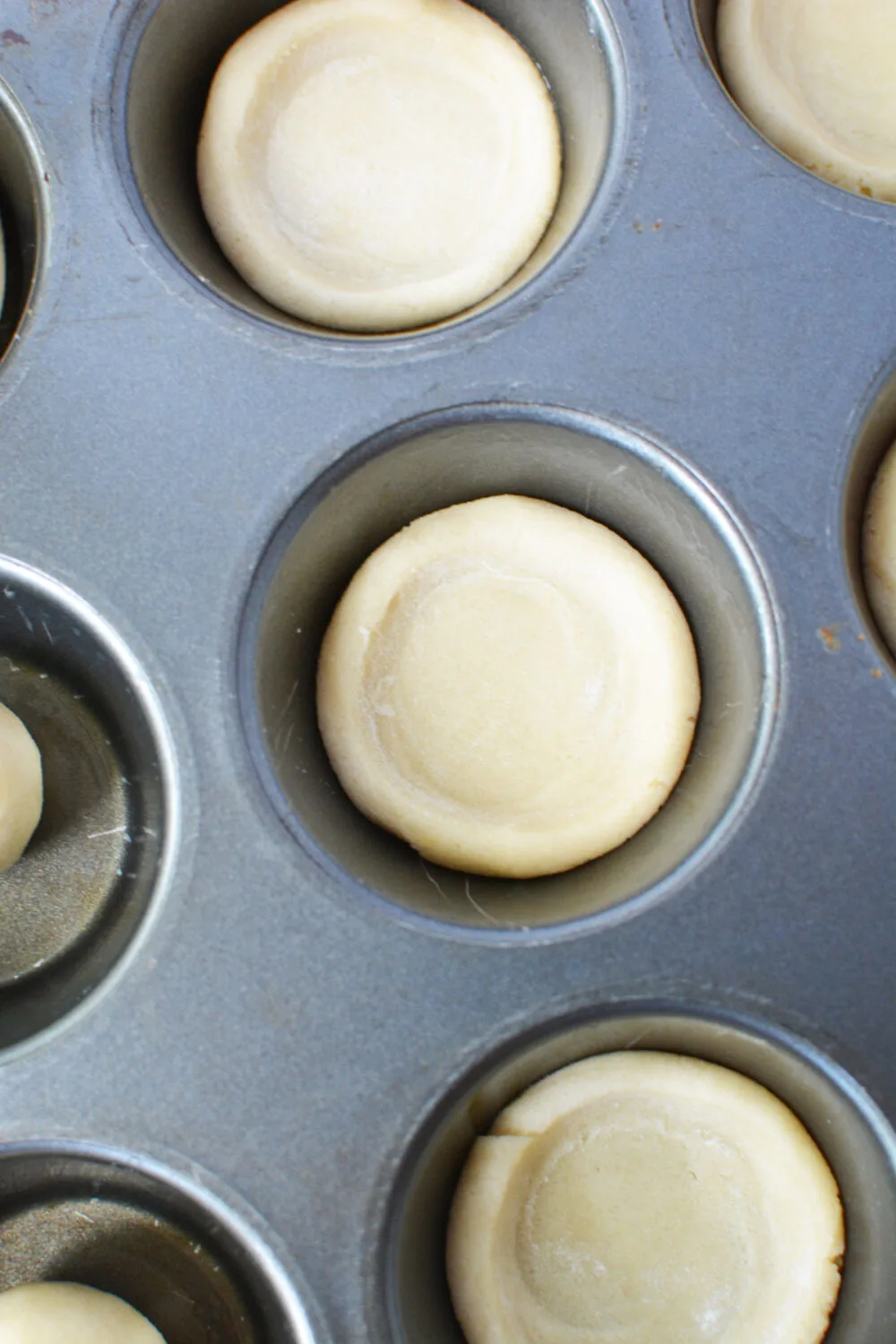 Step 4: Bake the Crusts
With your muffin tins all filled up, slide them into the oven for 10-13 minutes or until they reach that beautiful golden-brown hue.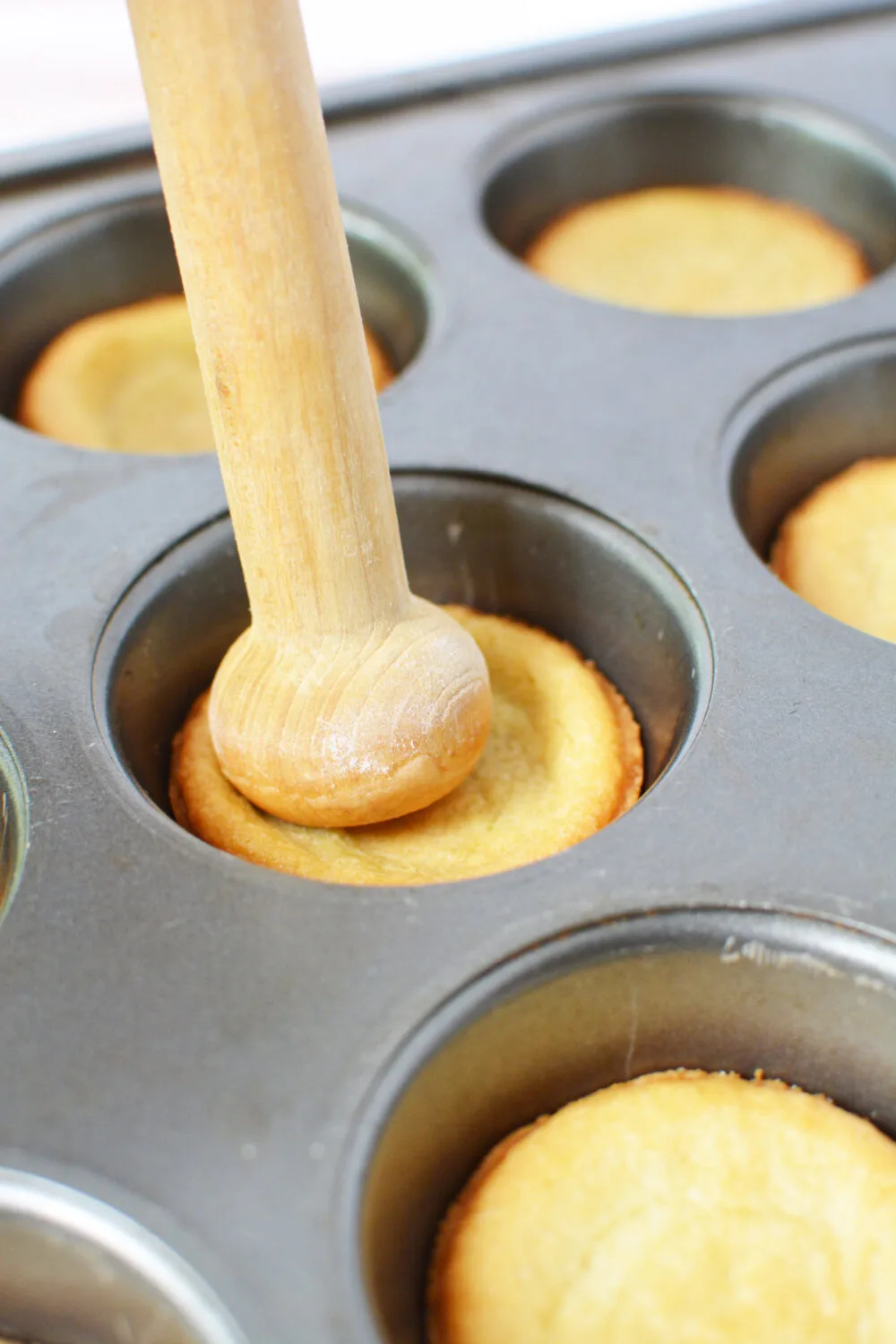 Once they're out, use your tart shaper or spoon to deepen the divot in the center of each cookie. Let them cool completely before moving on.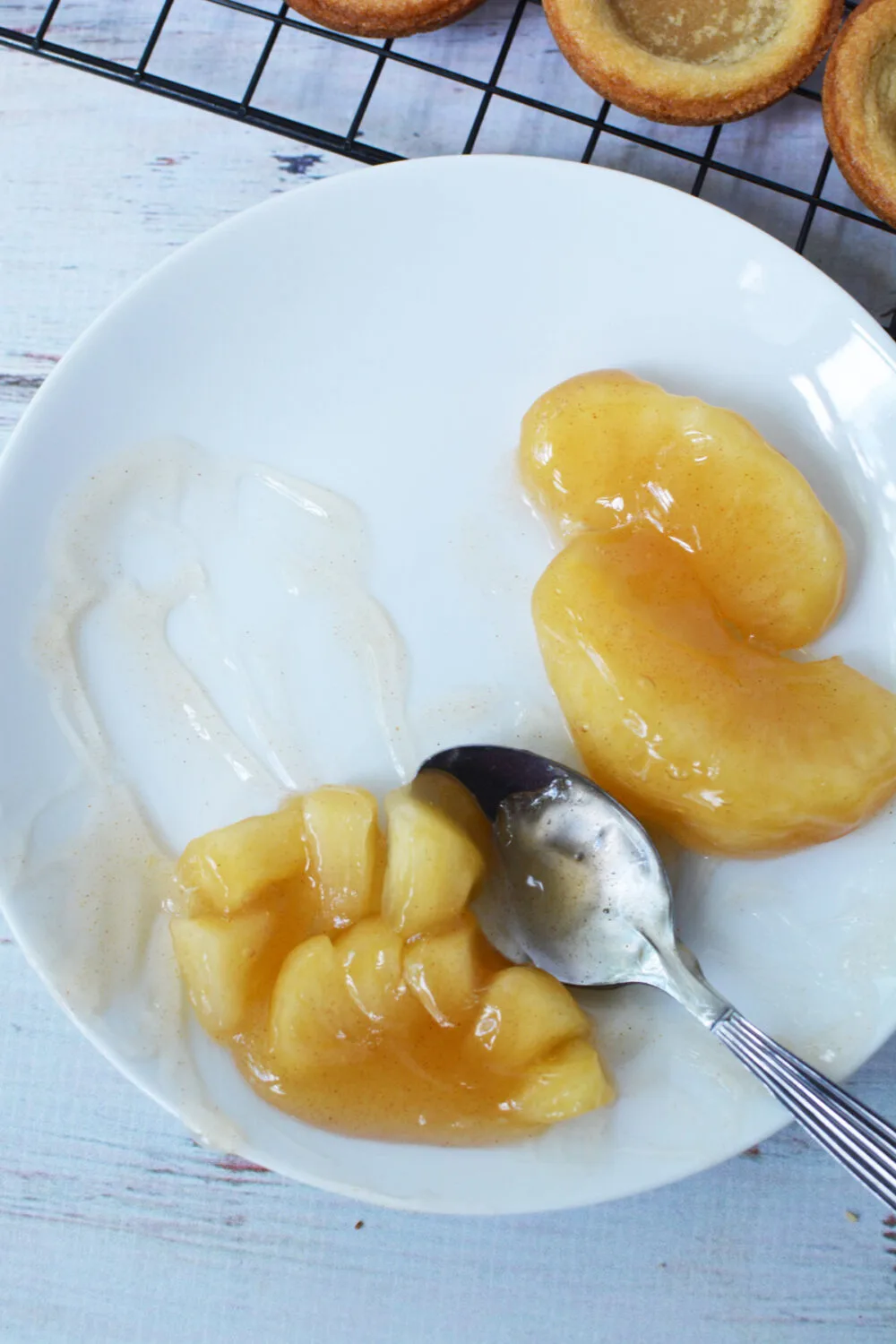 Step 5: Fill 'em Up!
Time to fill the crusts with the good stuff! Cut up your apples into small pieces that'll nestle perfectly into the cookie crusts. Spoon in about a tablespoon of apple into each crust.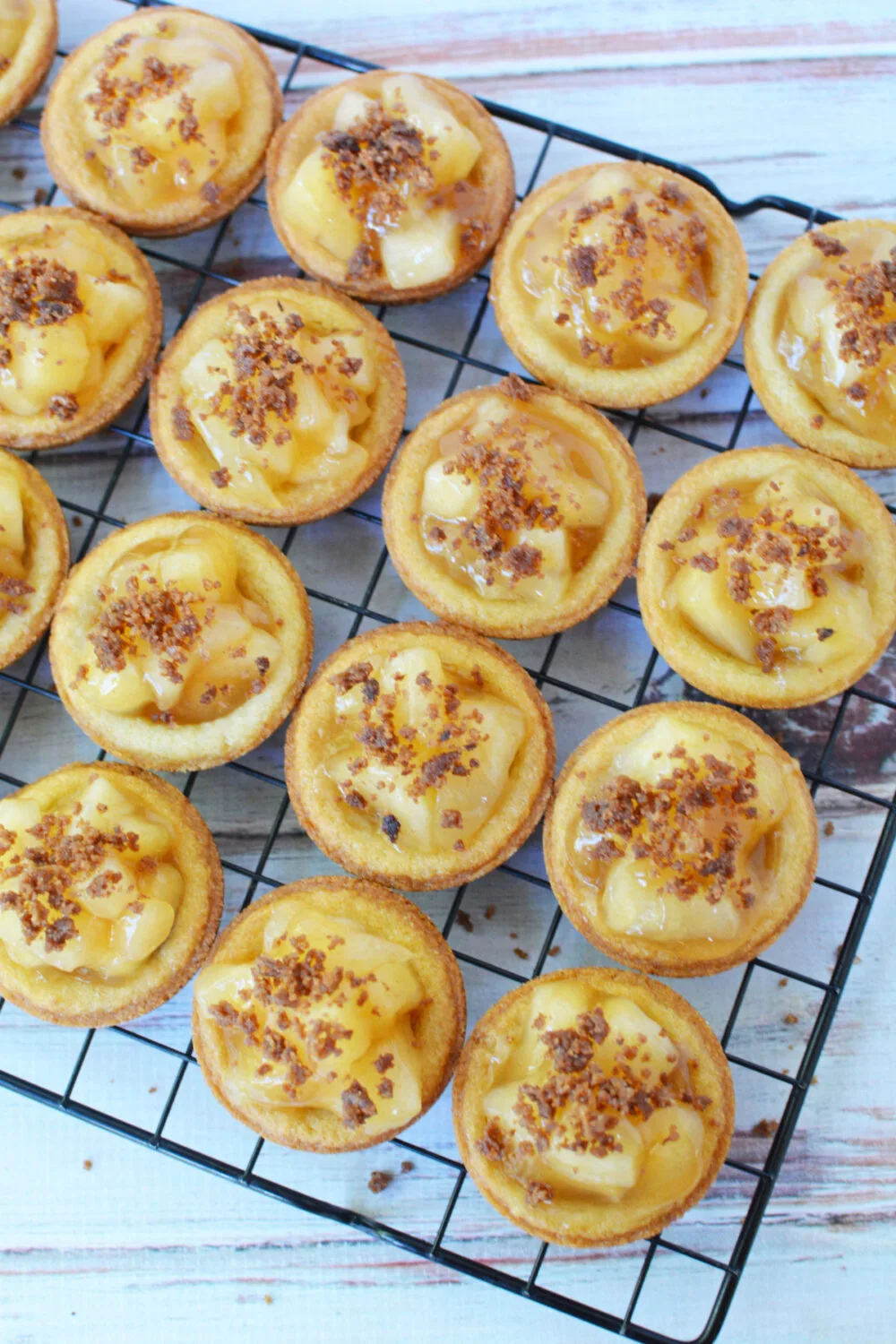 Step 6: The Grand Finale
Ready to serve? Top each cookie with the crumble you made earlier. If you're not serving immediately, just refrigerate the cookies and add the crumble right before you're ready to wow your guests.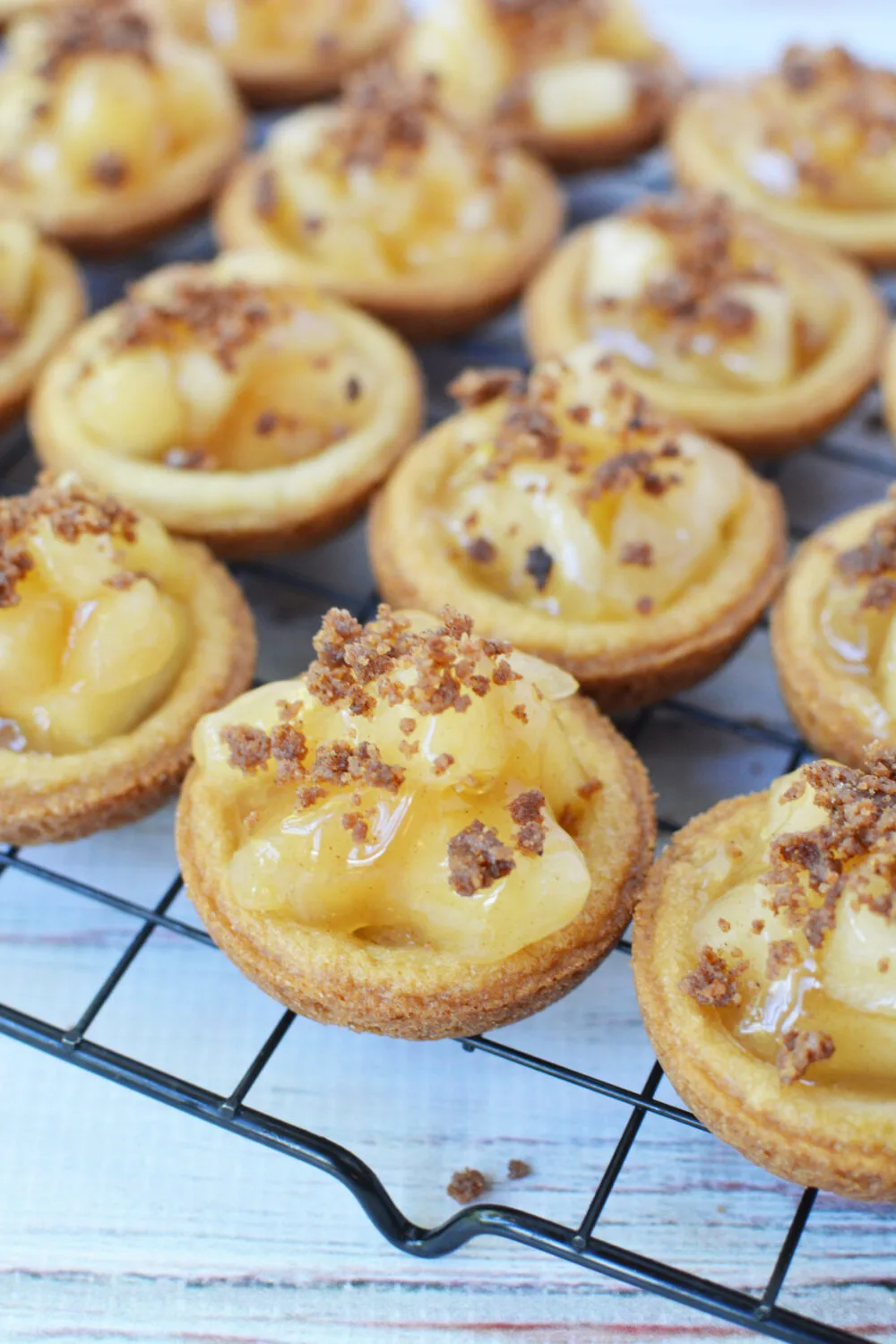 What to Serve With Them:
Feeling the apple vibes and craving more? You're in luck! Here are some other recipes for apple desserts from the blog that'll make your apple-themed gathering the toast of the town:
Apple Nachos: Sliced apples meet a drizzle of caramel sauce, a sprinkle of cinnamon, and a handful of pumpkin seeds and chips. It's like a party on a plate!
Soft Apple Cookies with a Maple Glaze: These beauties are soft, chewy, and brimming with apple goodness. Topped off with a heavenly maple glaze, they're autumn in cookie form.
Mini Caramel Apples: Bite-sized delights coated in luscious caramel and dipped in crushed nuts or sprinkles. They're the adorable treat you never knew you needed.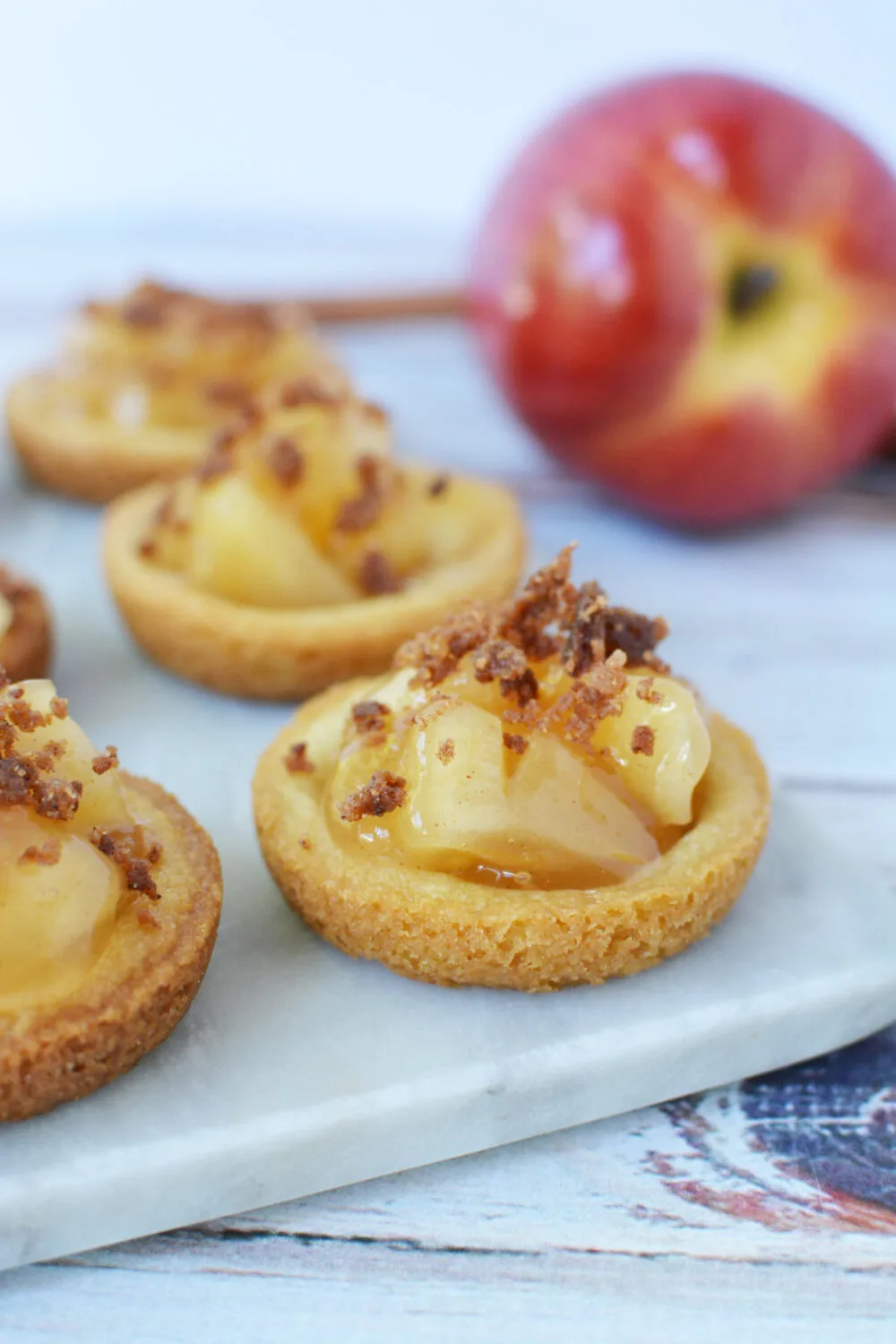 Recipe Variations:
Toppings Galore: Skip the crumble and top with a scoop of vanilla ice cream or a drizzle of caramel sauce.
Spice it Up: Add a sprinkle of nutmeg or a dash of allspice to the crumble for more flavor depth.
Nutty Crunch: Add some chopped pecans or walnuts to your crumble for an added bonus of texture. See these pecan pie cookies for another recipe!
Double Fruit: Feeling fruity? Add a dollop of blueberry or cherry filling along with the apple for a multi-fruit experience.
Mini Pie Delight: Convert these into mini pies by adding lattice tops for that traditional apple pie look. You can also make your own pie crust if you choose.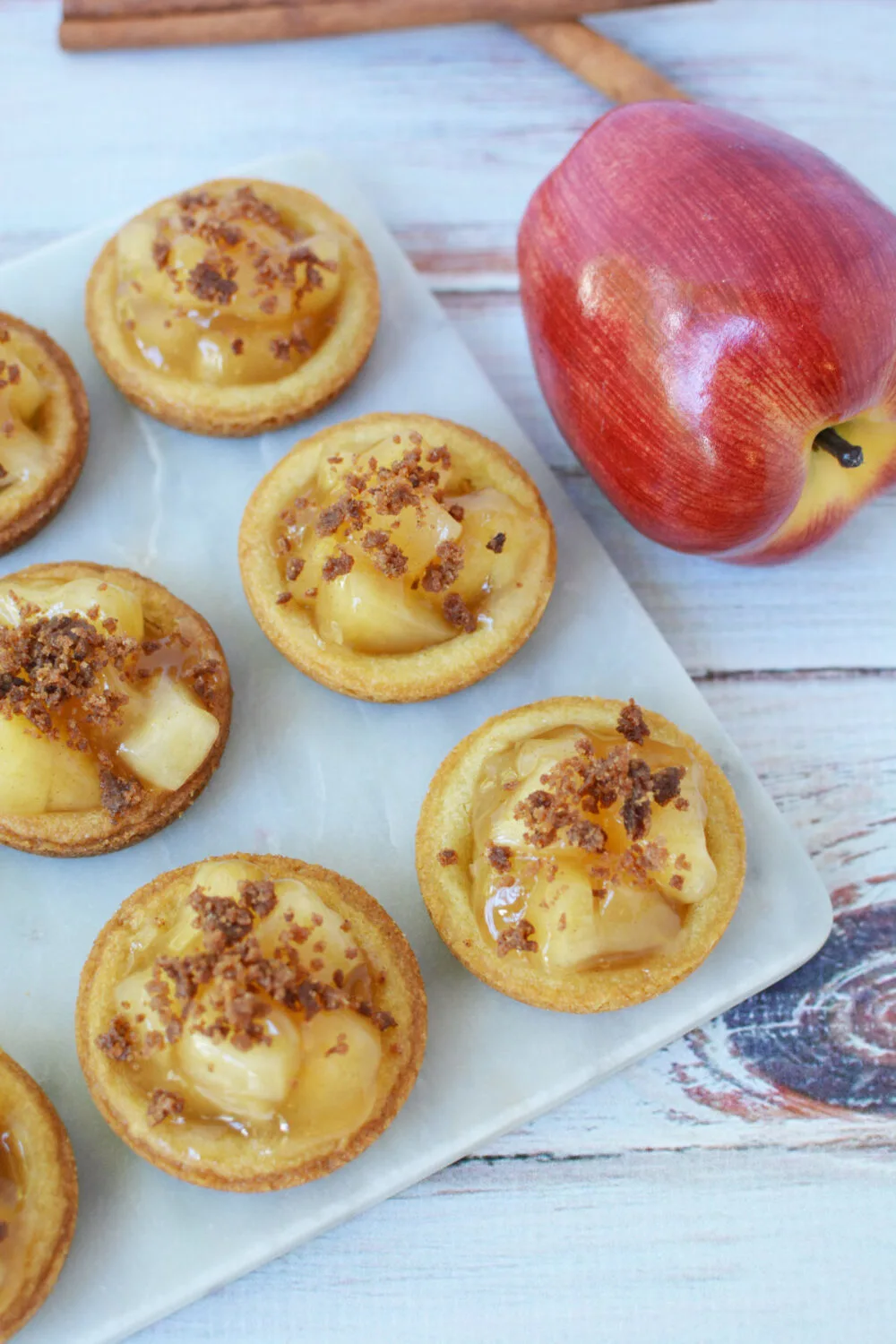 Equipment Needed:
Muffin Tins: Regular-sized, 12-cup tins work like a charm.
Baking Sheet: To make the irresistible crumble.
Parchment Paper: For a mess-free baking experience.
Small Bowl: Perfect for mixing your crumble ingredients.
Fork: To blend in the butter into your crumble.
Tart Shaper or Spoon: To mold your cookie crusts.
Measuring Cups and Spoons: For precise ingredient amounts.
Wire Rack: Handy for cooling the cookies.
Tablespoon Portion Scoop: To fill your cookie crusts to perfection.
Storage
Storing these apple pie cookies is a breeze. Just pop them into an airtight container and slide them into the fridge. They'll keep their scrumptious goodness for up to 5 days.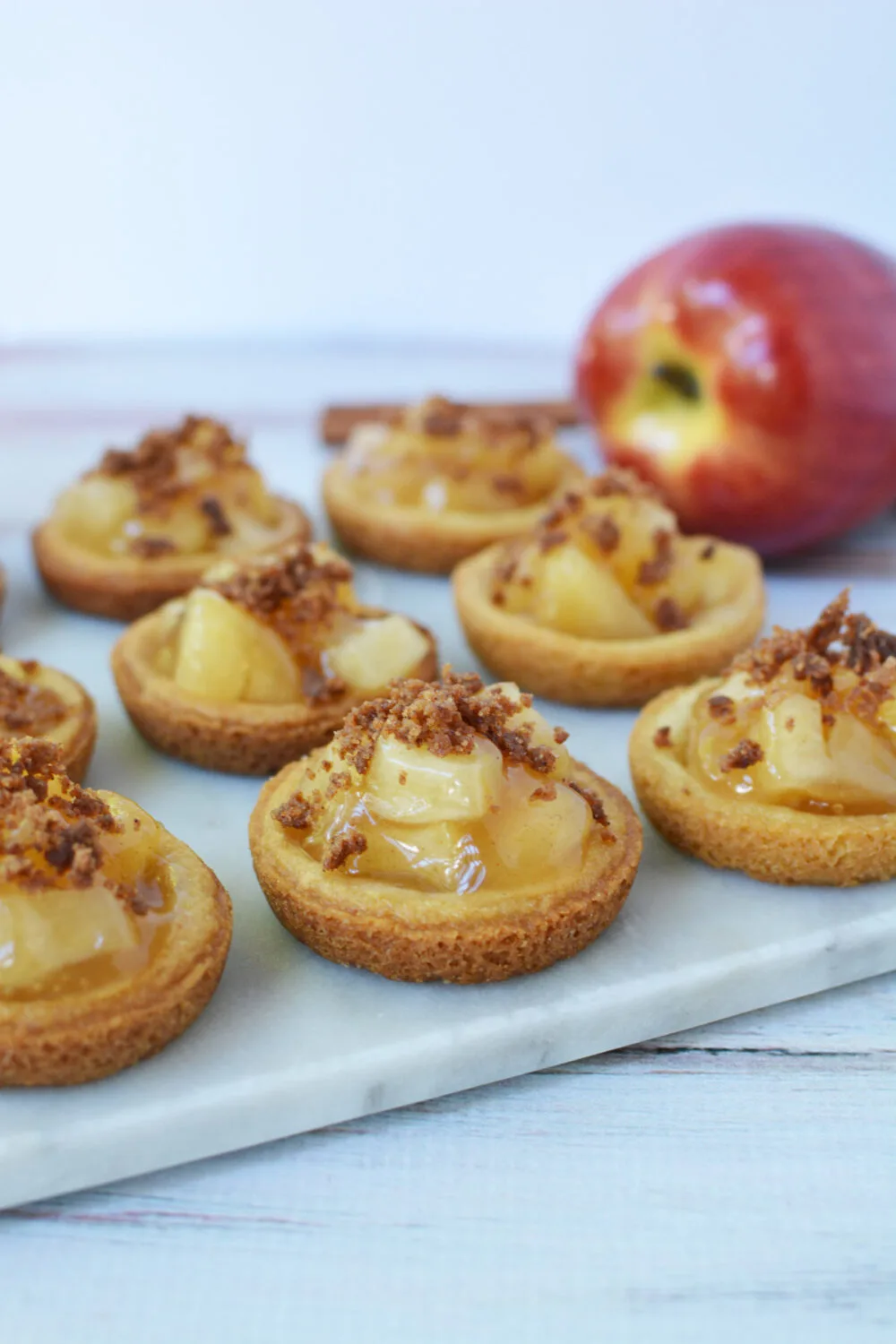 Recipe Notes and FAQ
Notes:
The Crumble: If you want to keep the crumble topping crunchy, add it just before serving.
Apple Variety: For the best results, use Granny Smith apples if you are using fresh apples. They offer a tart contrast to the sweetness. However, any kind of apples will work.
Dough Thickness: Be mindful when pressing the cookie dough into the muffin tin. You don't want a crust that's too thin or too thick.
Serving Size: This recipe makes 24 pie cookies, perfect for gatherings or just to treat yourself over several days.
Frequently Asked Questions:
Can I use homemade apple pie filling?
Absolutely! Making homemade apple pie filling can take the flavor to the next level.
How do I know when the cookies are done?
When they're golden brown and smell like a dream, it's time to pull them out!
Can I add other fruits to this recipe?
Totally! Feel free to toss in some blueberries or even cherries for a multi-fruit treat.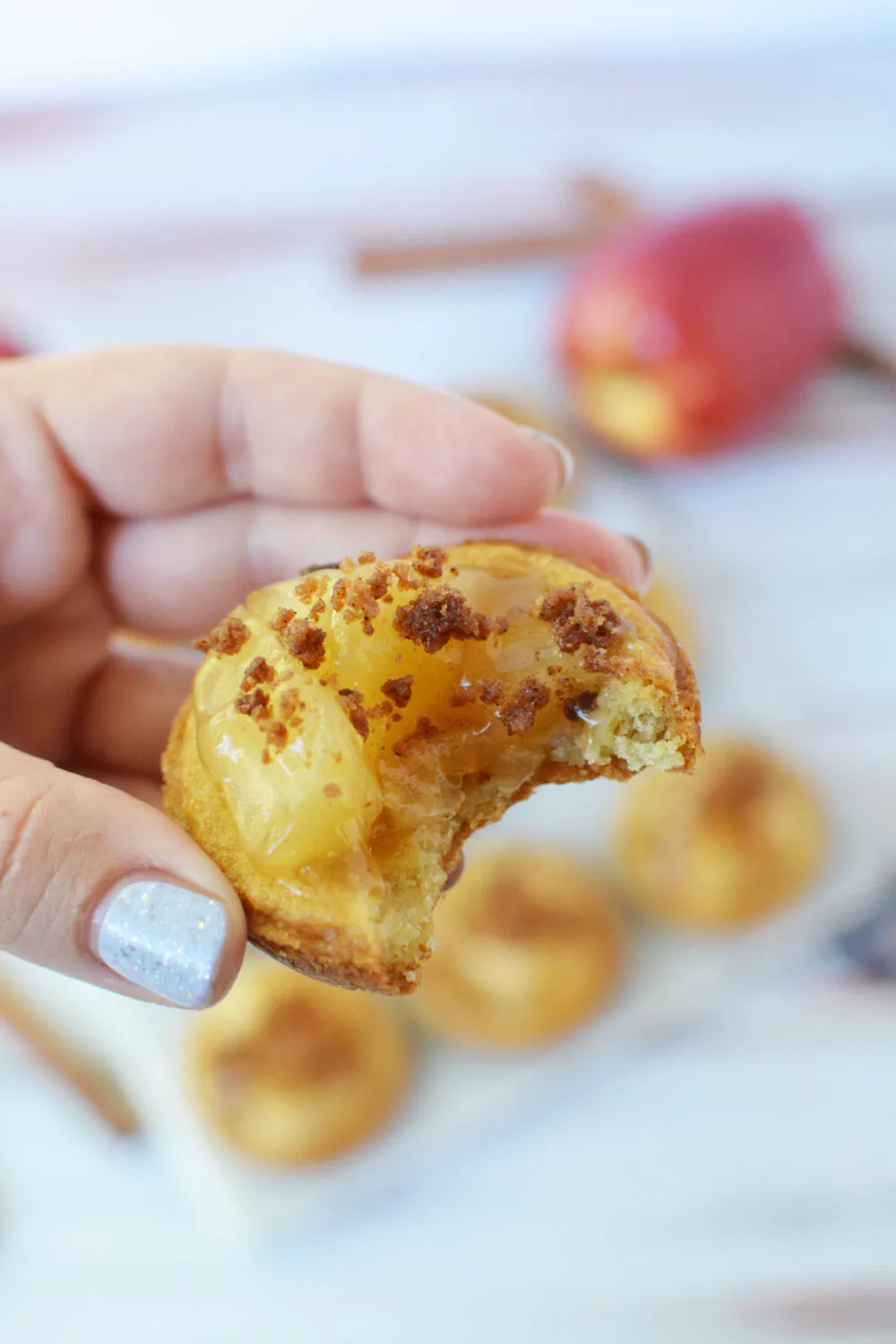 Yield: 24 Cookies
Apple Pie Cookies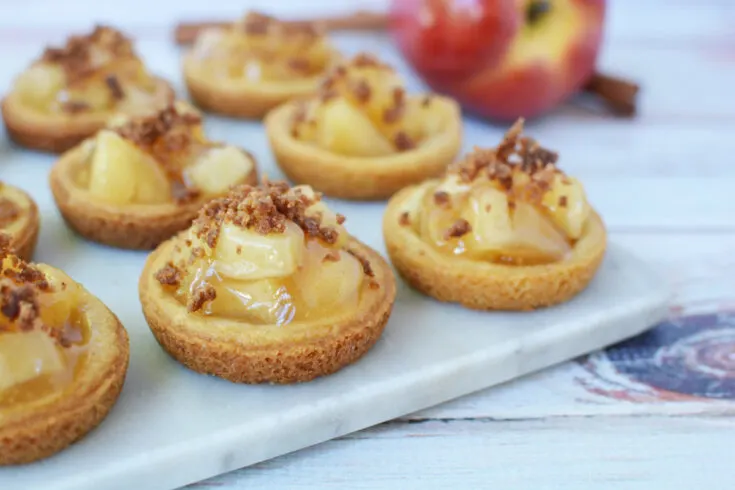 Transform the comforting flavors of traditional apple pie into these delightful Apple Pie Cookies! Complete with a unique crunchy crumble topping, these cookies are perfect for fall gatherings or as a treat alongside your favorite cozy beverage.
Ingredients
1 tablespoon all-purpose flour
2 teaspoons brown sugar
1/2 teaspoon ground cinnamon
2 tablespoons butter
1 package, 16 oz, refrigerated sugar cookie, break and bake cookies
1 can, 20 oz, apple pie filling
Instructions
Preheat your oven to 350°F. Coat two 12-cup muffin tins with nonstick spray. Also, line a baking sheet with parchment paper.
In a small bowl, blend together the flour, brown sugar, and cinnamon. Cut in the butter using a fork until the mixture is crumbly. Scatter this crumble mix on the lined baking sheet, breaking up larger clumps. Bake for 5 minutes, then set aside to cool. Once cool, crumble into smaller pieces.
Shape each break-and-bake sugar cookie into a ball and place it in a muffin tin cup. If you have a tart shaper, dip it in flour; otherwise, use the back of a spoon to gently press the dough into the tin, forming a crust. Make sure the sides are slightly higher than the base.
Bake the cookie crusts for 10-13 minutes until they turn a lovely golden brown. Once out of the oven, use a tart shaper or the back of a spoon to deepen the indent in the center of each cookie. Allow them to cool entirely before transferring to a wire rack.
Cut the canned apple pie filling into smaller pieces so they fit neatly into the cookie crusts. Use about 1 tablespoon of the chopped apples for each cookie.
When ready to serve, sprinkle the crunchy crumble on top of the apple filling in each cookie. If not serving immediately, store the crumble separately and sprinkle just before serving to maintain its crunch.
Notes
For a unique twist, this recipe features a crumble topping instead of the traditional glaze you might find on cherry or blueberry pies.
To keep the crumble topping crunchy, add it just before serving.
If you prefer a "Dutch apple pie" vibe, this crumble is a close second to the traditional streusel topping.
Canned apple pie filling can vary. If you find one that's "diced," it'll save you a step, but fresh apples work just as well.
Recommended Products
As an Amazon Associate and member of other affiliate programs, I earn from qualifying purchases.
Nutrition Information:
Yield:
24
Serving Size:
1
Amount Per Serving:
Calories:

131
Total Fat:

6g
Saturated Fat:

2g
Trans Fat:

0g
Unsaturated Fat:

3g
Cholesterol:

9mg
Sodium:

91mg
Carbohydrates:

19g
Fiber:

0g
Sugar:

13g
Protein:

1g
Nutrition facts are an estimate only.
Pin this image to your cookie board to save and share!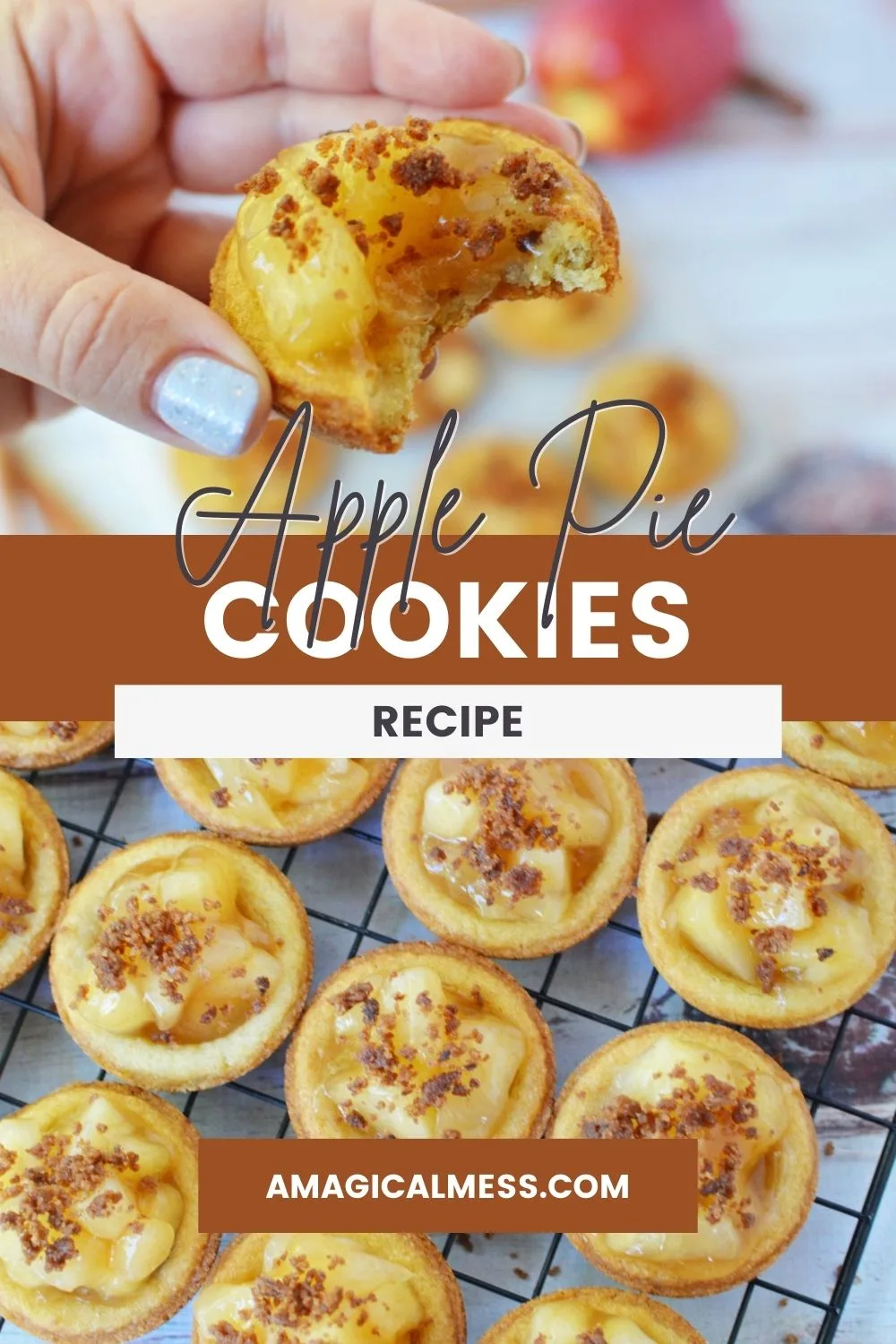 If you've fallen in love with these apple pie cookies, you won't want to miss what's coming up next. Subscribe to the newsletter for more delectable recipes and kitchen hacks that make everyday life just a little more magical.
Feel free to share your own cookie adventures in the comments section; I'd love to hear how your treats turned out!