Oh my gourd, this Graveyard Frosting Board is the Halloween treat we've all been secretly wishing for! Imagine walking into your next holiday party and being greeted by this creepy crawly dessert board.
It's like a traditional charcuterie board got a sweet twist and dressed up for Halloween! Picture a luscious layer of chocolate frosting as the base, topped with crushed OREO cookies that look just like dirt. This post contains affiliate links.
From Fudge Rounds and Cosmic Brownies to mini cupcakes and gummy worms, this dirt and worms board is a treasure trove of your favorite treats. It's not just a dessert; it's an experience that'll tickle your taste buds and make your holiday season extra magical.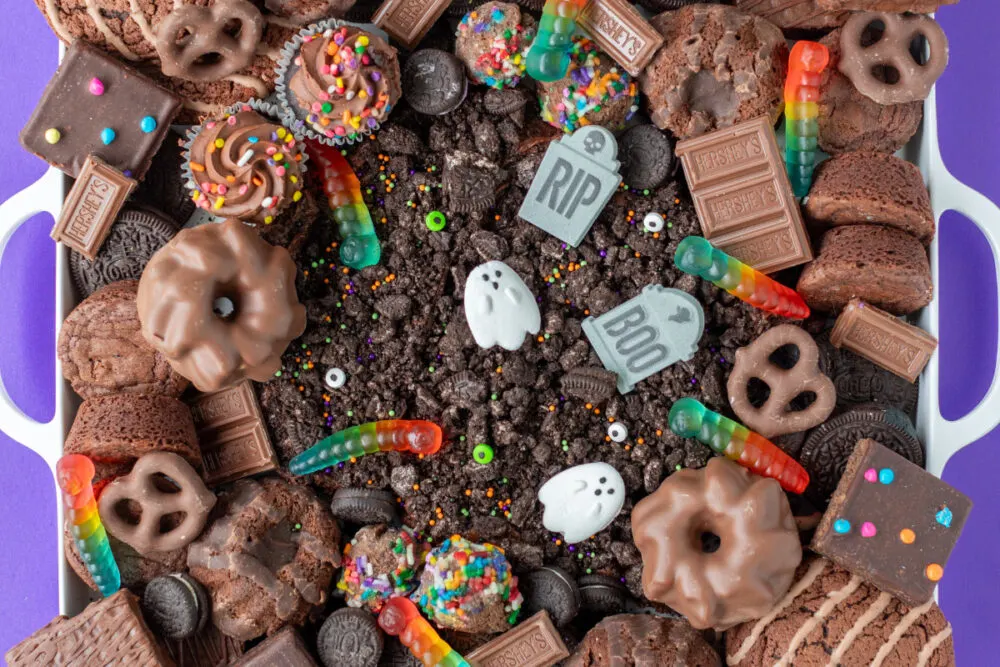 Dirty Worm Graveyard Frosting Board for Halloween
This Graveyard Frosting Board really reminds me of the fairy garden trifle we made a while back. Both are like edible landscapes, but while one is whimsical and magical, the other is deliciously eerie.
That means you can easily morph this Halloween-themed board into an enchanted garden frosting board for any other celebration. Just swap out those gummy worms for some rainbow sprinkles and replace the tombstone and ghost icing decorations with adorable fairy or flower accents.
It's a versatile dessert that can go from spooky to enchanting with just a few simple tweaks. Don't miss the pumpkin icing board, bat frosting board, or skull buttercream board for more Halloween desserts.
Reasons to Love this Dirt Buttercream Board
Versatile: Perfect for any party and easy to adapt for different themes.
Easy to Make: No special skills or equipment needed, just a serving tray and some basic ingredients.
Eye-Catching: It's a dessert and a centerpiece in one, sure to wow your guests.
Flavorful: A mix of sweet treats that offers something for every taste bud.
Crowd-Pleaser: Who can resist a board full of their favorite cookies and snacks?
Trendy: It's a twist on the viral butter board trend, making it a hit on social media.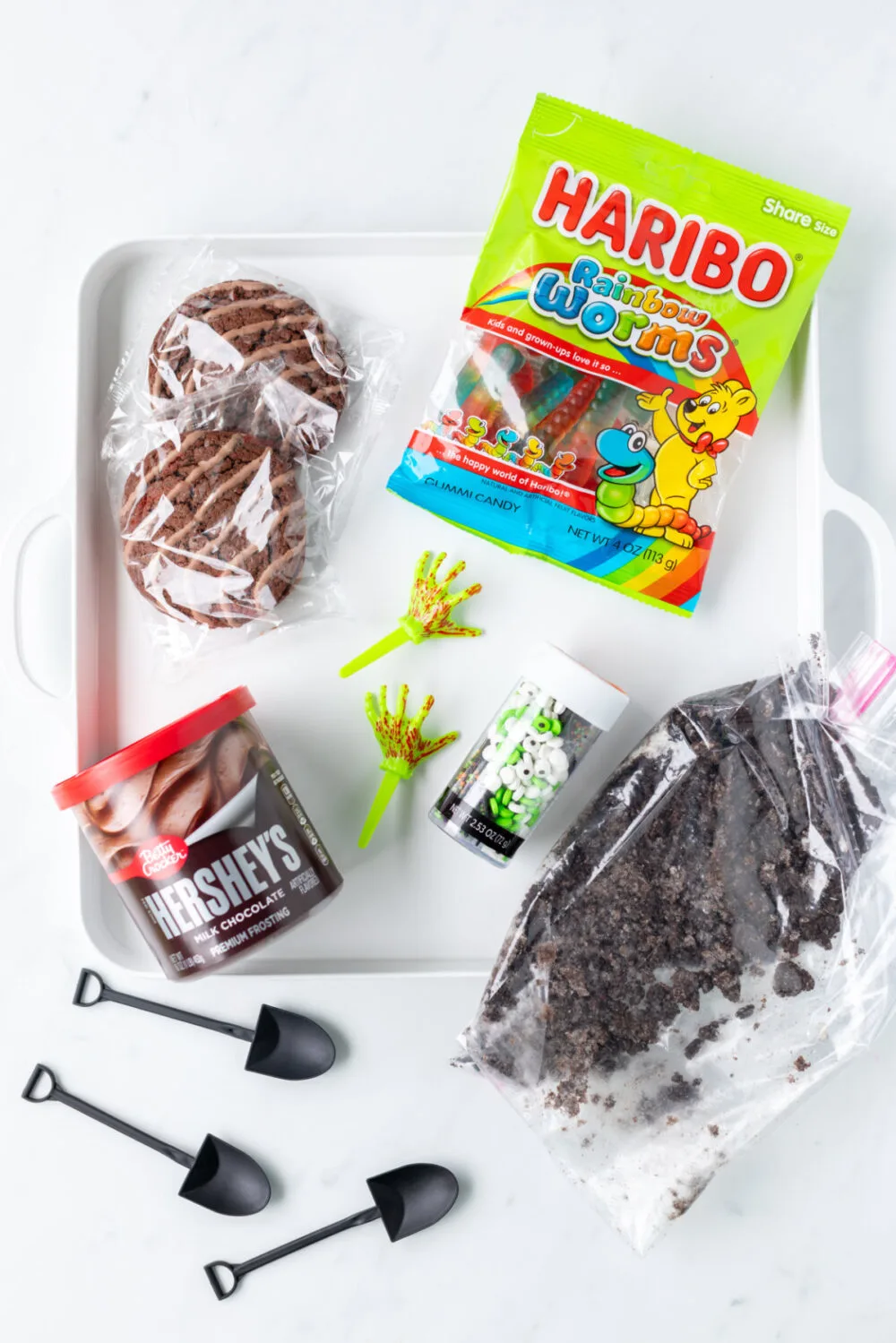 Worms and Dirt Icing Board Ingredients
Here's what you need to make this creeptastic recipe. The measurements are in the recipe card below.
OREO Cookies
Chocolate Donut Holes
Chocolate Covered Pretzels
Mini Chocolate Cupcakes
Hershey Chocolate Bar
Mini OREO Cookies
Nonpareil Halloween Sprinkles
Mini Candy Eyes
Supplies Needed
How to Make the Graveyard Buttercream Board
Prep the OREOs: Start by roughly crushing 10 OREO cookies. You'll want them crumbled but not pulverized. Set these aside for later.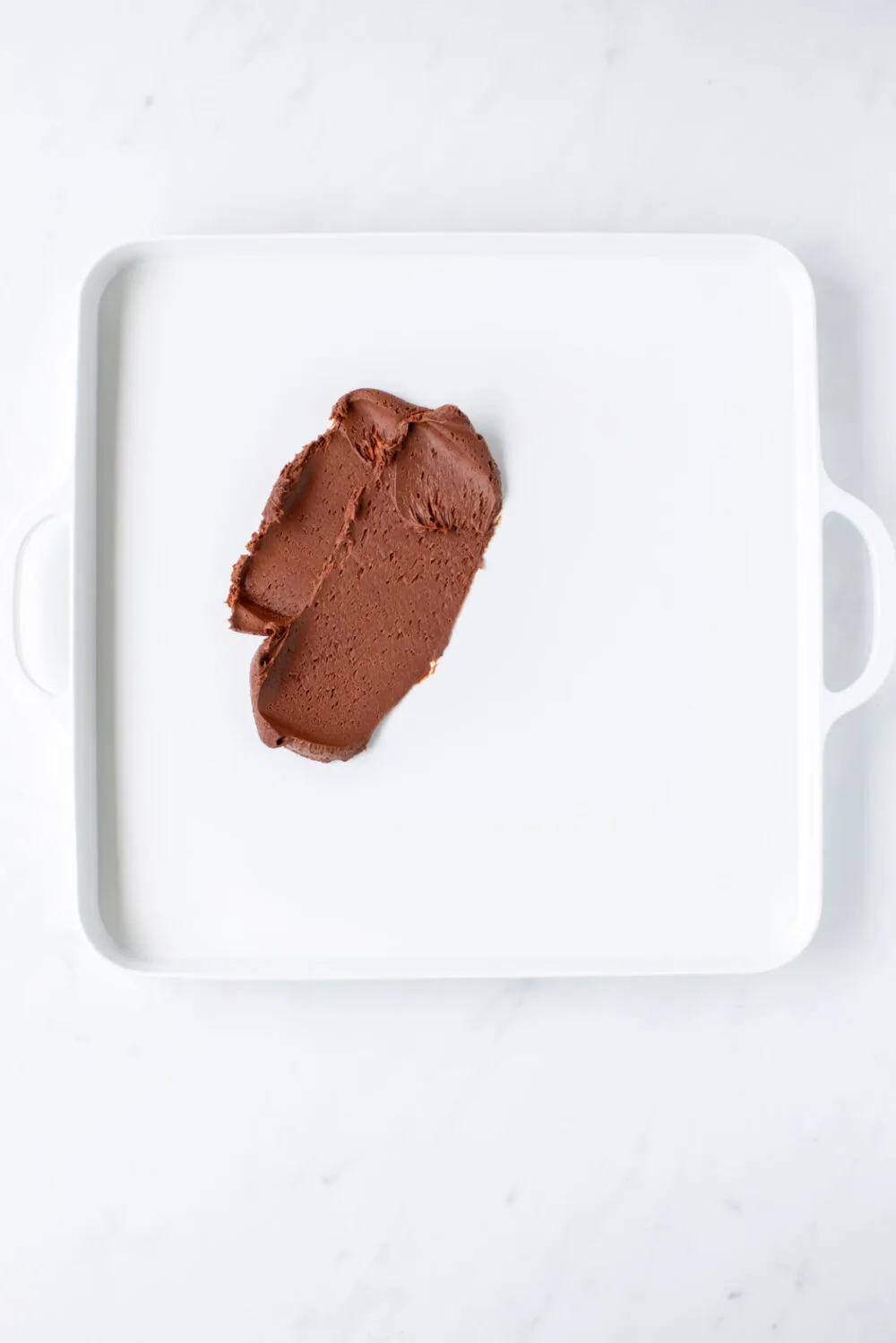 Lay the Frosting Foundation: Grab your offset spatula and spread the entire container of chocolate frosting onto the center of a clean serving tray. Think of this as your canvas!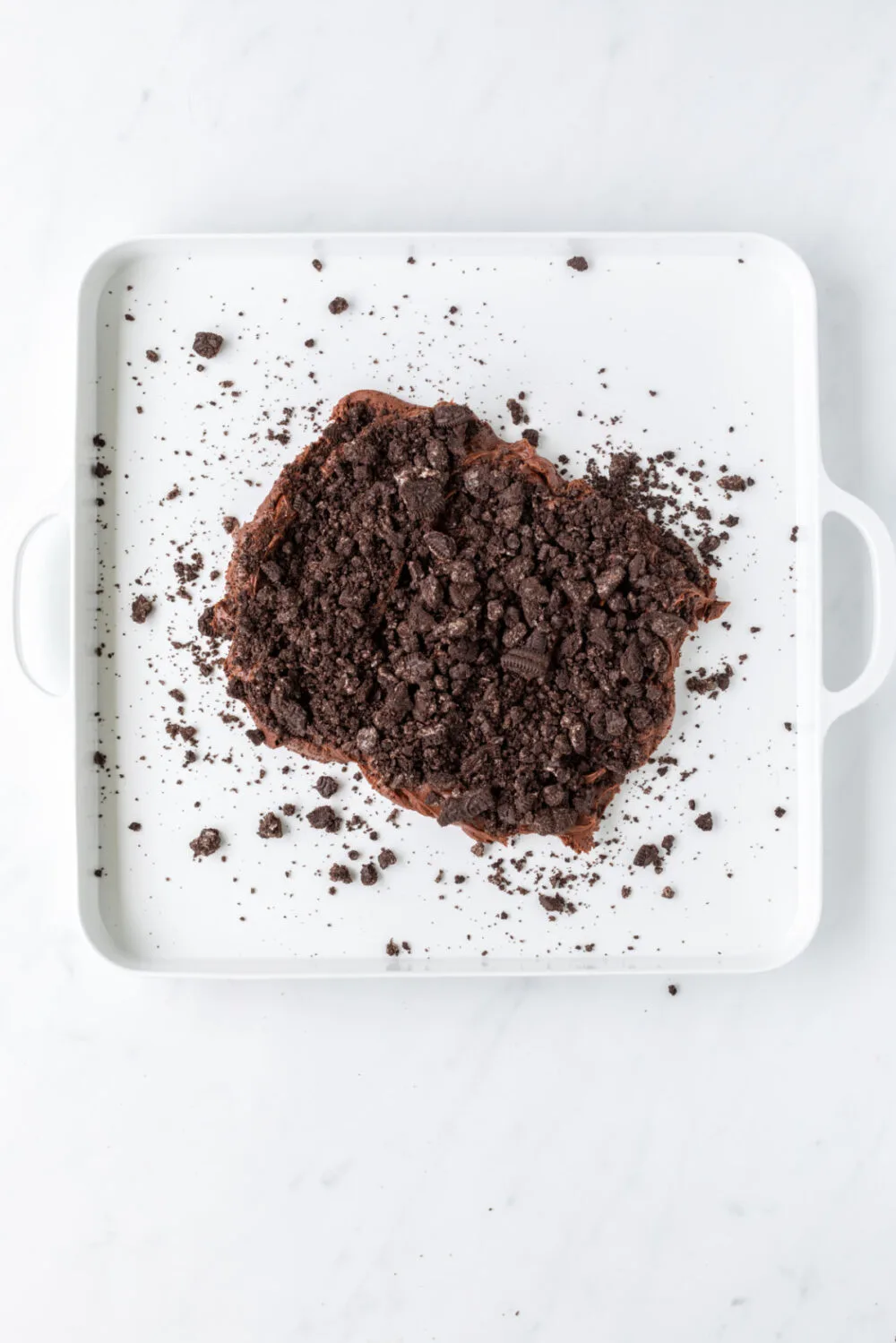 Add the "Dirt": Sprinkle the crushed OREO cookies you set aside earlier all over the frosting. This will act as your "graveyard dirt."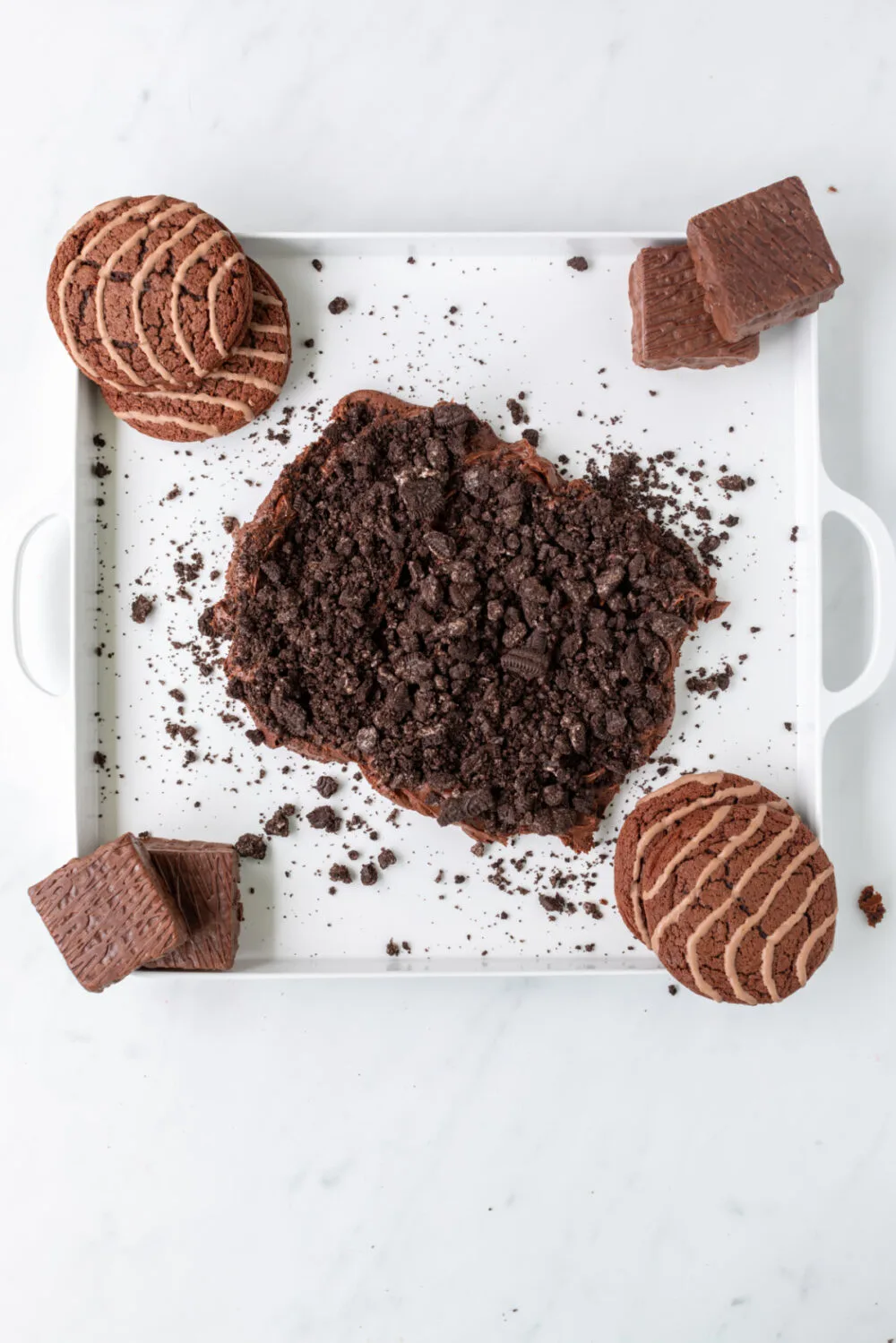 Corner Treats: Place Fudge Rounds in the top left and bottom right corners of the tray. Do the same with Little Debbie Frosted Fudge Cakes but in the top right and bottom left corners.
OREO Border: Arrange the remaining OREO cookies around the top and bottom edges of the serving tray, and then fill in the sides.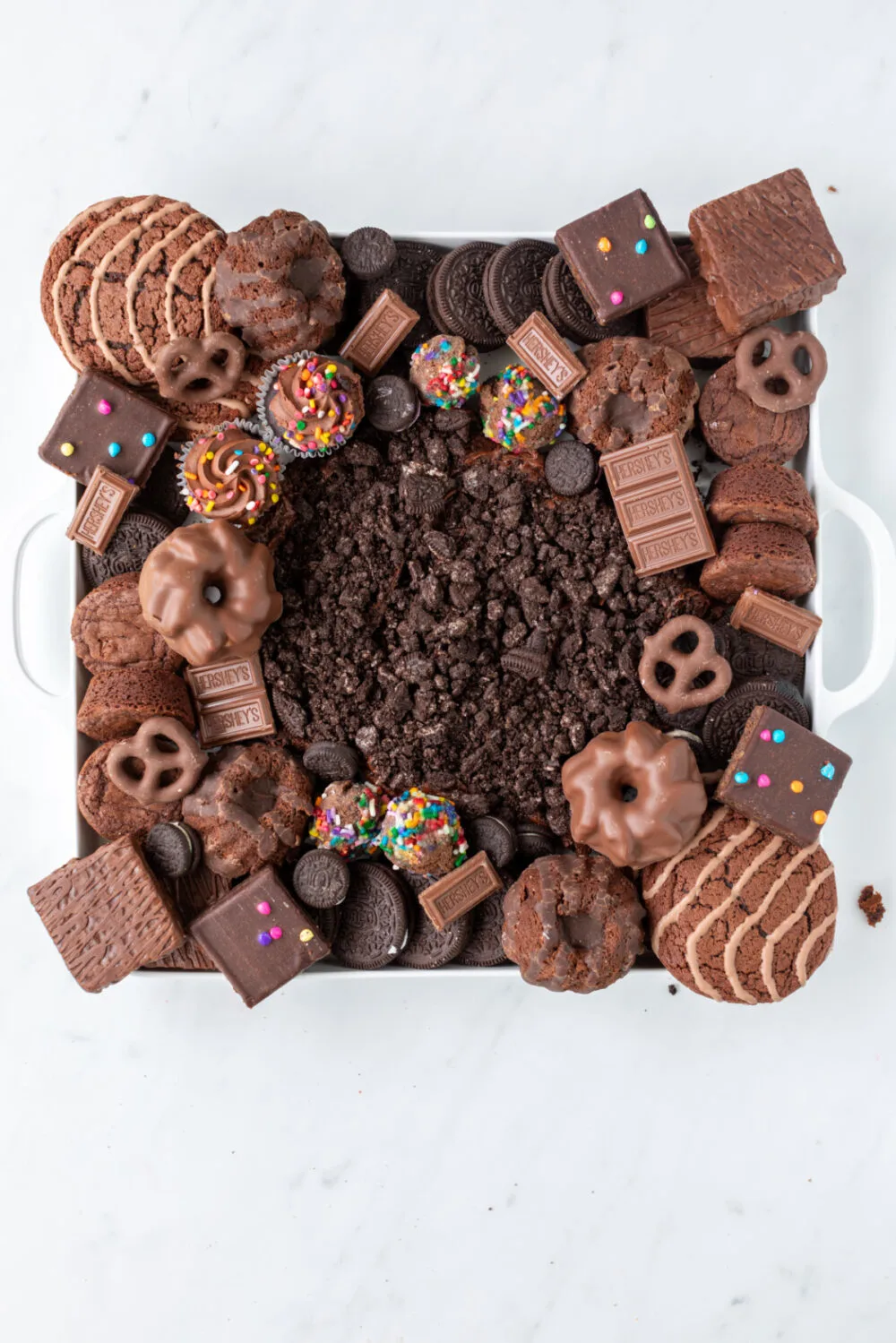 Edge Fillers: Now, fill in the rest of the outside edges with brownie bites, cosmic brownies, and mini bundt cakes. These add different textures and flavors to your board.
Centerpieces: Fill the remaining gaps with mini cupcakes, donut holes, chocolate bars, and Pinwheel cookies.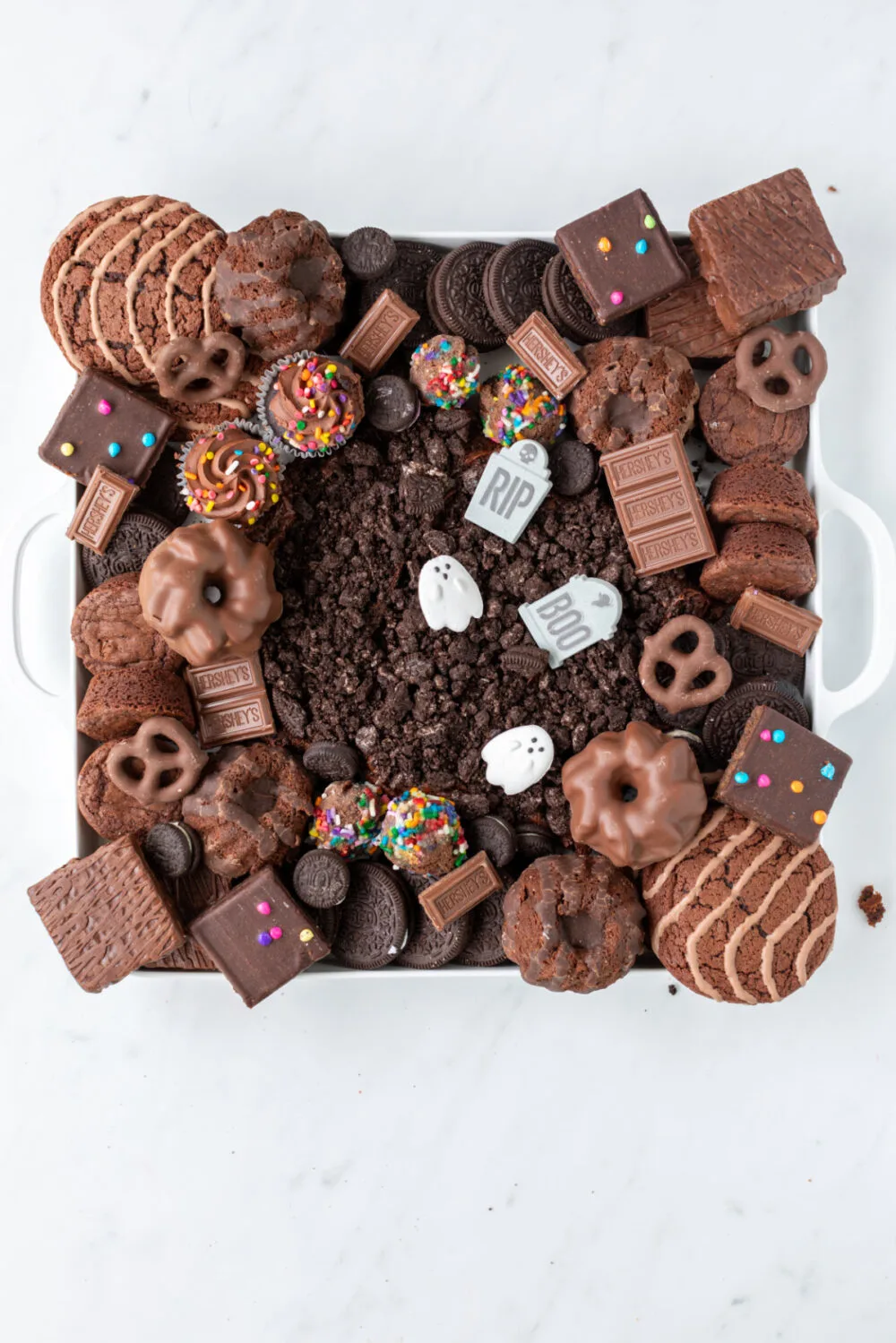 Tiny Gap Fillers: Any remaining small gaps can be filled with mini OREO cookies. These little guys are great for filling in the nooks and crannies.
Decorative Touches: Add a few pinches of Halloween sprinkles over the crushed OREO in the center. Then place ghost and tomb icing decorations to give it that haunted vibe.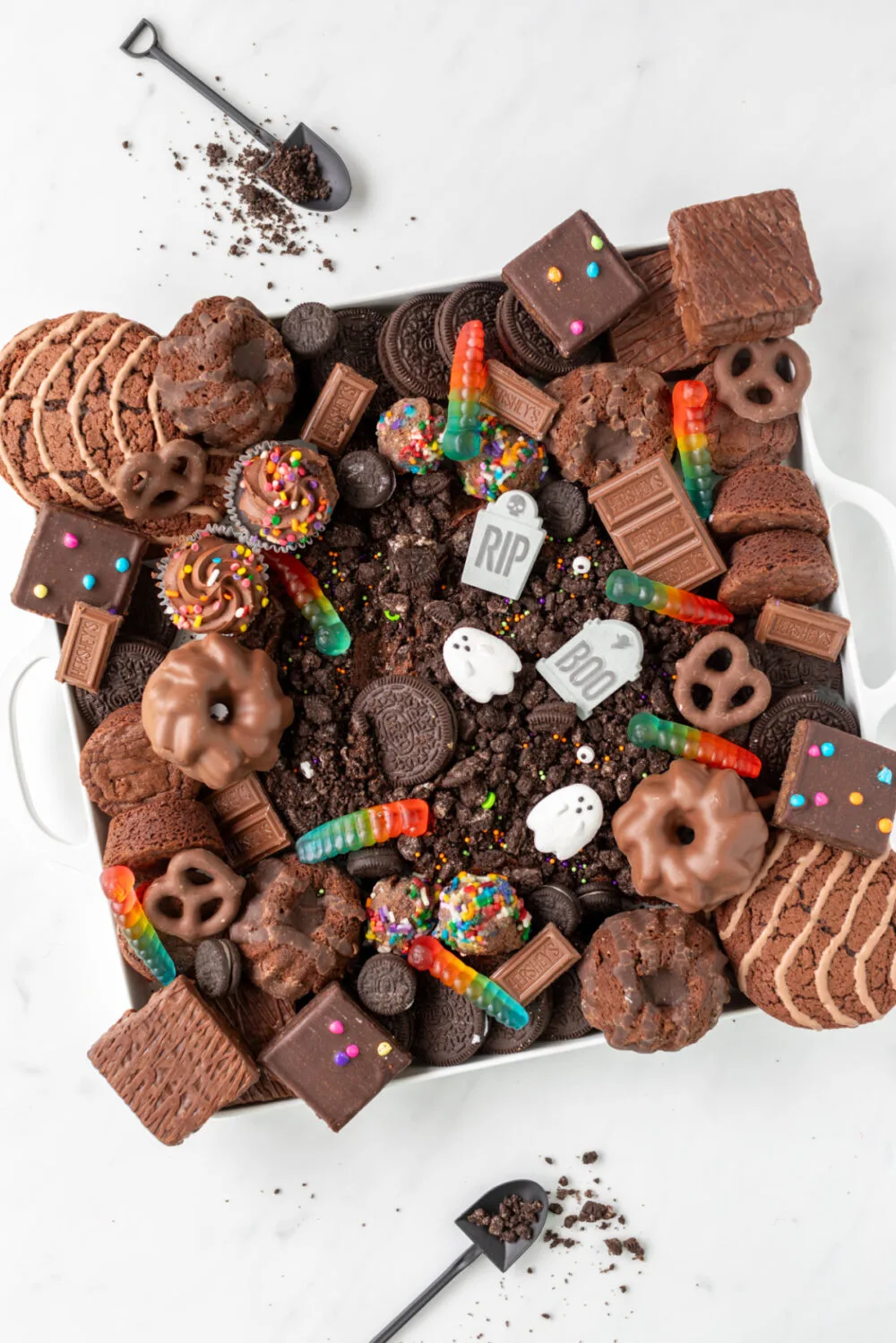 Final Creepy Touch: Spread gummy worms all over the board for that ultimate creepy crawly effect.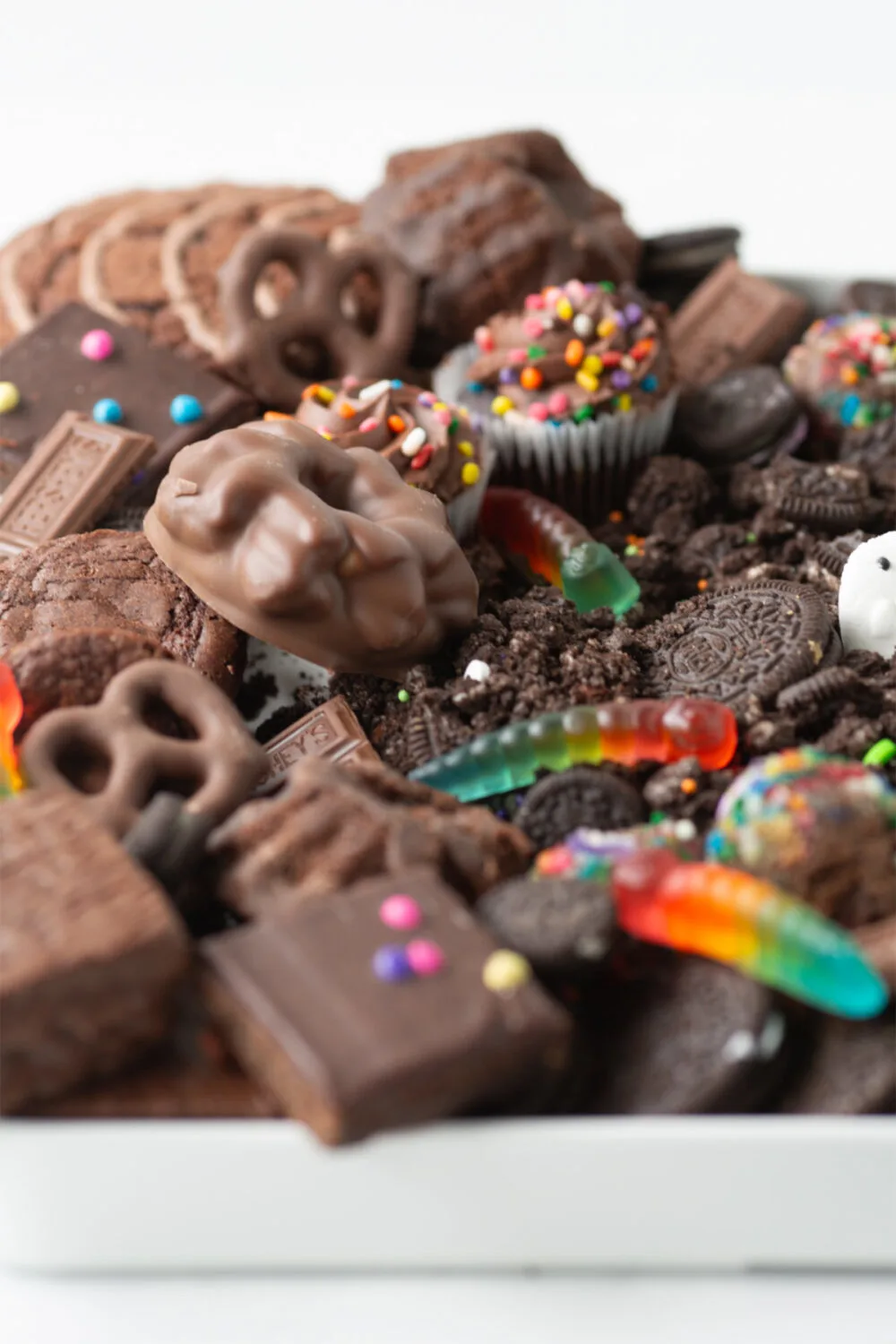 Serving Time: Grab some tiny shovels and plates, and you're ready to dig into your masterpiece!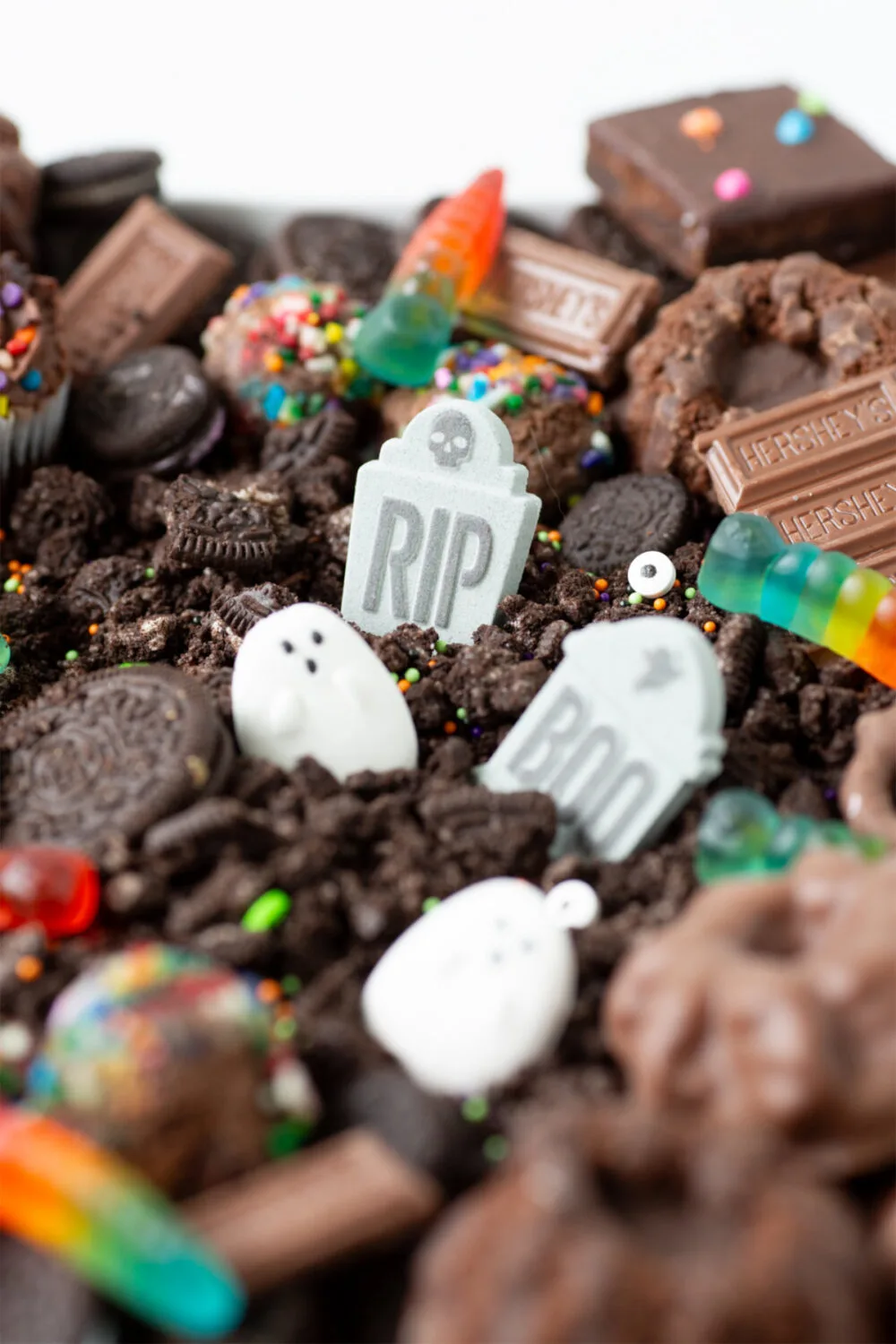 What Else to Serve
If you still have room on the dessert table, here are some more Halloween treats to consider:
Vampire Trifle: This red velvet trifle is a grotesquely delicious layered dessert that's always a hit.
Halloween Punch: For a slimy good drink, make goblin goo green punch. If you want something for the adult crowd, try this espresso martini with a candy corn rim.
Clown Cupcakes: Inspired by the IT movie, these Pennywise cupcakes are fun to serve. Or, explore a whole roundup post of Halloween cakes and cupcakes.
Side Dish: This bat wing pasta salad is one of our most popular recipes. Get warm and cozy with this butternut squash soup with pasta bats.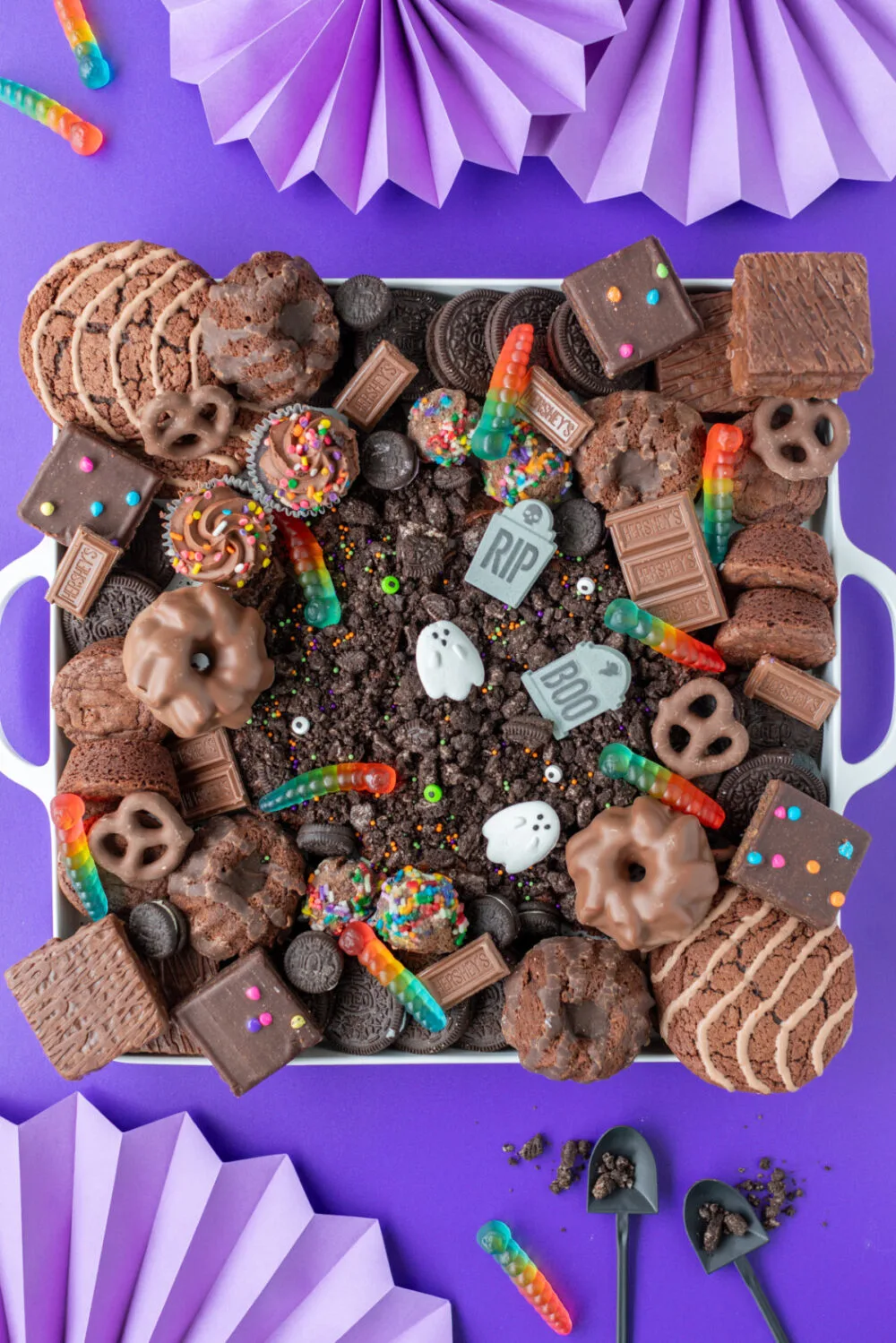 Recipes Substitutions and Variations
Frosting: Swap chocolate frosting for vanilla or cream cheese frosting for a different base flavor.
Cookies: Use shortbread or sugar cookies instead of OREOs for a lighter touch. You can change the colors in these galaxy shortbread bites for a fun twist.
Brownies: Replace Cosmic Brownies with homemade brownie bites or even cake pieces.
Cakes: Instead of mini bundt cakes, try slices of pound cake or angel food cake.
Pretzels: Use white chocolate-covered pretzels if you like.
Cupcakes: Mini red velvet or lemon cupcakes can add color and flavor variety.
Chocolate Bar: Use dark chocolate or butterscotch chips instead of a Hershey bar.
Sprinkles: Choose seasonal or themed sprinkles to match the occasion.
Icing Decorations: Swap out tombstones and ghosts for seasonal or event-specific decorations.
Gummy Worms: Replace with gummy bears or fruit slices for a less spooky vibe.
Storage
Simply place any remaining treats in an airtight container to keep them fresh. If you've got leftover frosting, that can go in a separate airtight container in the fridge. Just remember, this board is best enjoyed the day it's made for peak deliciousness.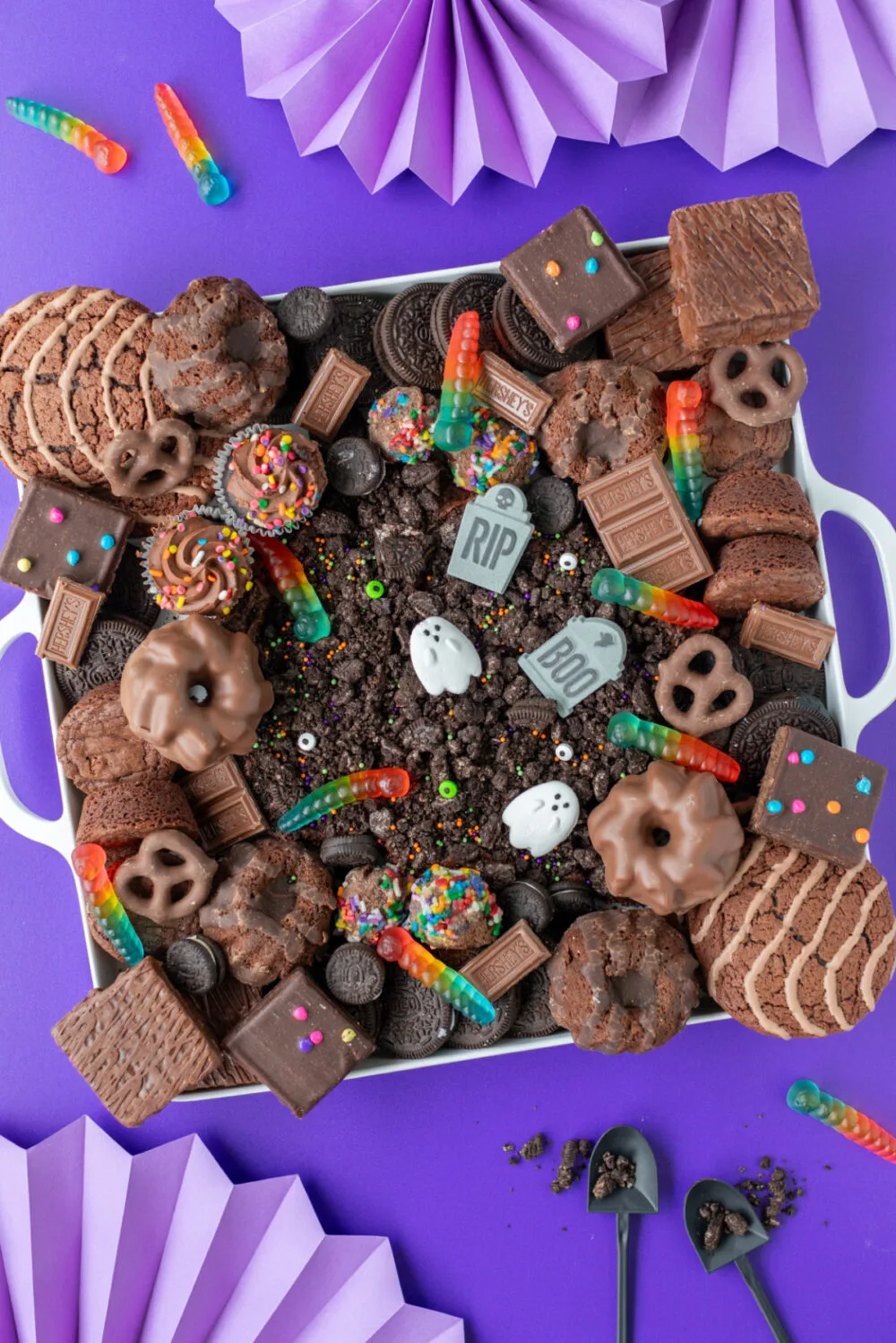 Recipe Notes and FAQ
FAQ:
Q: Can I prepare the board a day in advance?
A: It's best to assemble and enjoy the board on the same day to ensure all the treats stay fresh.
Q: What can I use if I don't have an offset spatula?
A: A rubber spatula or the back of a spoon can work in a pinch for spreading the frosting.
Q: Can I use homemade buttercream frosting instead of store-bought?
A: Absolutely, feel free to use your favorite frosting recipes.
Yield: 14 Servings
Spooky Graveyard Frosting Board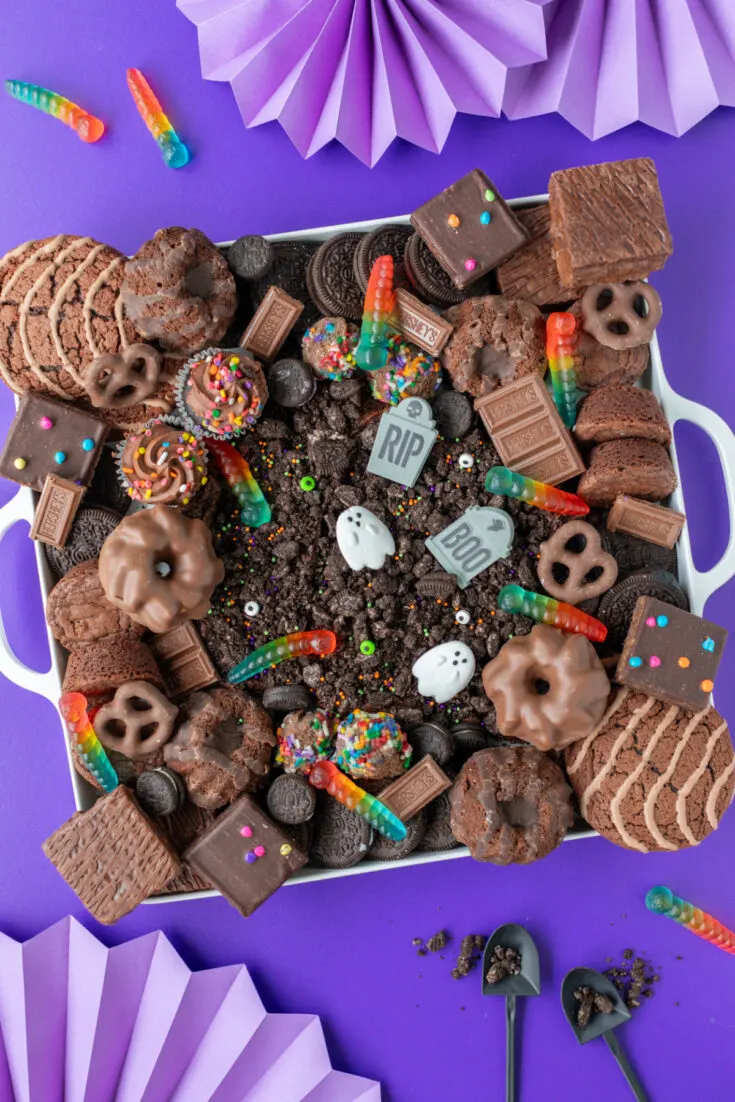 This Creepy Crawly Graveyard Frosting Board is the ultimate Halloween dessert that doubles as a party centerpiece. Loaded with a variety of cookies, brownies, and other sweet treats, it's a fun and festive way to celebrate the spooky season.
Materials
Chocolate Frosting Tub, 16 oz
24 OREO Cookies, divided
4 Little Debbie Fudge Rounds
4 Little Debbie Frosted Fudge Cakes
4 Hostess Chocolate Bundt Cakes
2 Little Debbie Cosmic Brownies, halved
6 Brownie Bites
4 Chocolate Donut Holes
6 Chocolate Covered Pretzels
2 Mini Chocolate Cupcakes
2 Pinwheel Cookies
1 Hershey Chocolate Bar, 1.55 oz, divided
12 Mini OREO Cookies
Nonpareil Halloween Sprinkles
6 Mini Candy Eyes
2 Tombstone Icing Decorations
2 Ghost Icing Decorations
8 Gummy Worms
Tools
Square Serving Tray
Offset Spatula
Black Shovel Spoons
Instructions
Crumble 10 OREO cookies coarsely and keep them aside for later.
Evenly smear the entire tub of chocolate frosting onto a spotless serving tray using an offset spatula.
Scatter the coarsely crumbled OREOs over the frosting layer.
Situate Fudge Rounds at the upper left and lower right corners of the tray.
Place Little Debbie Frosted Fudge Cakes in the opposite corners, upper right and lower left.
Line the top and bottom edges of the tray with the remaining OREO cookies, then add some to the sides.
Populate the outer edges of the tray with brownie bites, cosmic brownies, and mini bundt cakes.
Fill any leftover spaces with mini cupcakes, donut holes, chocolate bars, and Pinwheel cookies.
Use mini OREO cookies to fill in any remaining small gaps on the tray.
Sprinkle a small amount of Halloween sprinkles over the center, where the crushed OREOs are, and add ghost and tombstone icing decorations.
Finally, distribute gummy worms evenly across the entire tray.
Grab some tiny shovels and plates and get ready to dig in!
Recommended Products
As an Amazon Associate and member of other affiliate programs, I earn from qualifying purchases.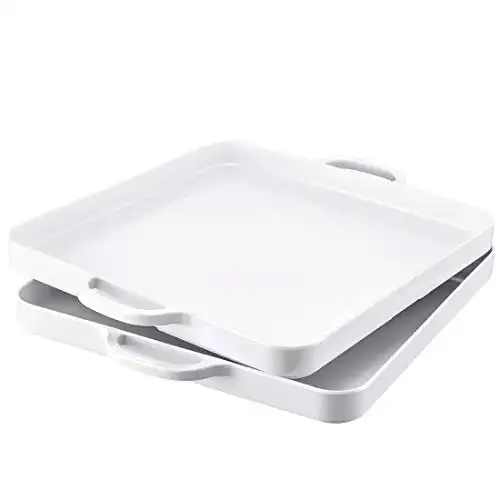 We earn a commission if you make a purchase, at no additional cost to you.
Pin this image to your Halloween party board to save and share!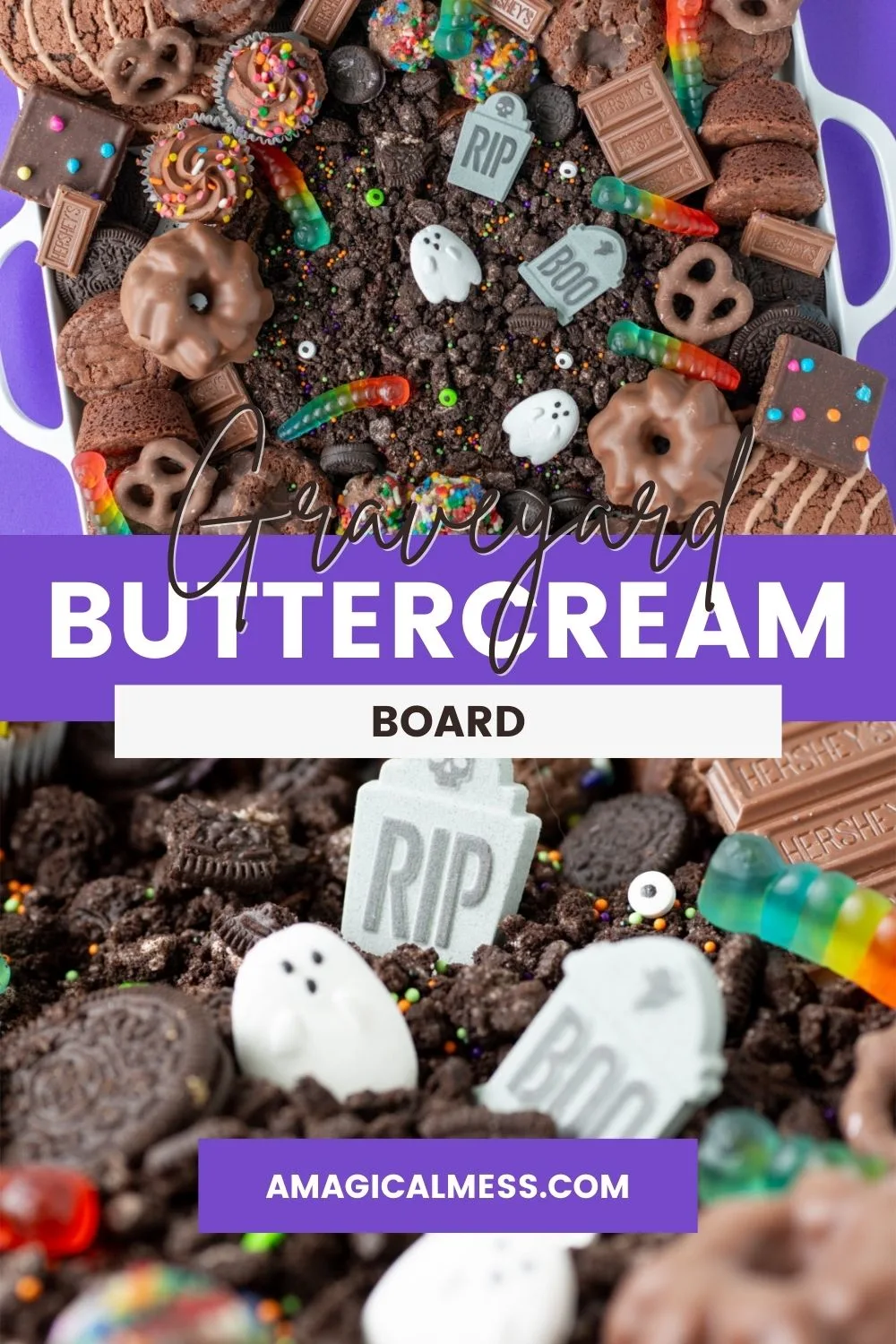 If you give this graveyard frosting board recipe a whirl, I'd love to hear all about it. Drop a comment below to let me know how it turned out. And hey, if you're sharing your spooktacular creation on social media, don't forget to tag me so I can see how you've made this board your own.
Subscribe to the blog for more sweet treats!