This adorable pumpkin icing board is here to sweeten up your fall season. Create this cute little frosting pumpkin to display on your dessert tables all throughout autumn.
Grab your sweet tooth and hop on board the board trend. See how to make this sweet pumpkin buttercream board loaded with all your favorite dessert treats! This post contains affiliate links.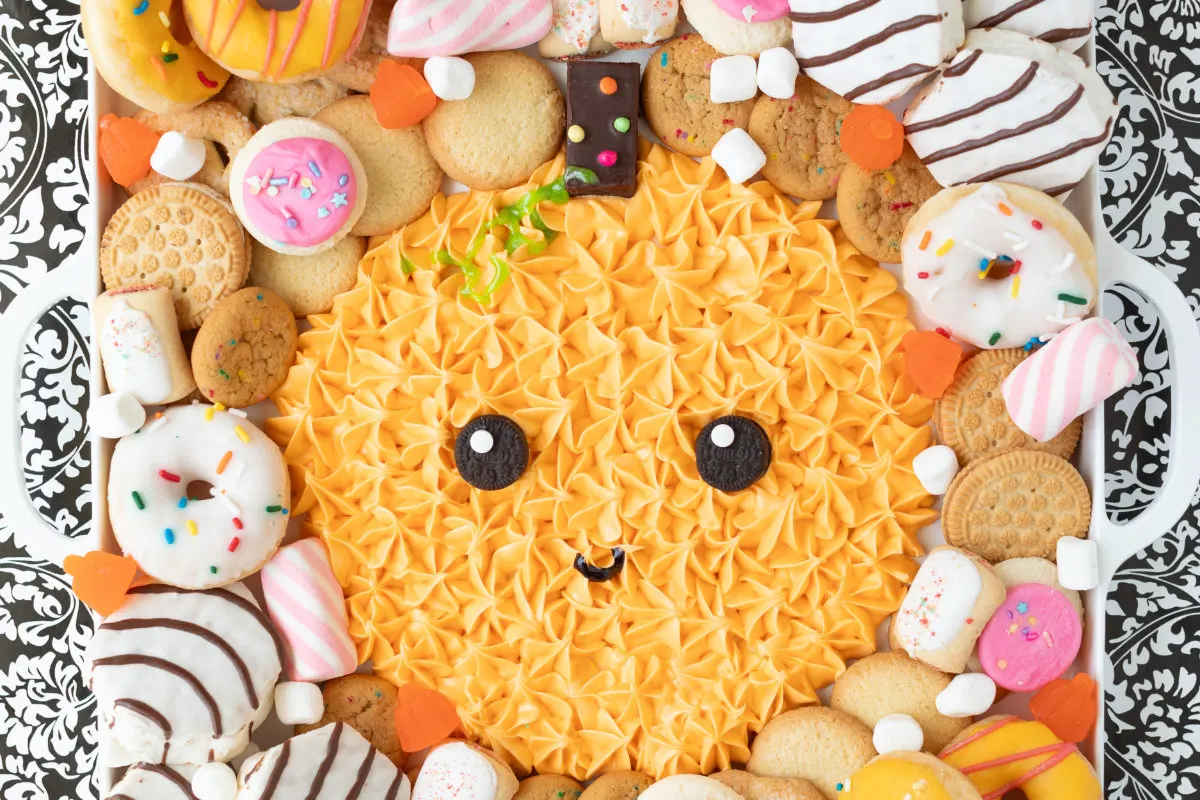 What is a Pumpkin Icing Board?
The boards are boarding this year. You don't have to scroll too far down any social media feed to see a charcuterie board, butter board, and a variety of other grazing boards.
So, what about dessert boards? My friend Dawn at Cutefetti made sure that dessert lovers did not feel left out of this trend with her candy boards and more. I do believe she started the sweets on a board trend, so let's keep it going!
Ever since butter boards made an appearance, it only seems right to turn that butter into frosting. If that's not how your brain works, you might want to avert your eyes. We're about to get sweeter than sweet up in here!
This fall icing board features the cutest little pumpkin with all sorts of cookies, cakes, and desserts for dipping. It's a unique dessert perfect for Thanksgiving and Halloween dessert tables. Don't miss this skull frosting board, too!
Reasons to Love this Pumpkin Buttercream Board
Seasonal Treat: Once pumpkin season arrives, it's time to fully embrace all the colors and flavors of fall! Personally, I look forward to this all year, so bring on everything fall-themed.

Versatile: Just like other food boards, this frosting board is easy to tweak to fit your tastes and match your theme.

Pretty: This buttercream board is eye-catching and sure to impress guests as they graze the dessert table.

Interactive: Serving desserts on a board turns it into a whole experience. Let your guests get involved as they mix and match their sweets off of the board.

Party Pleaser: Whether you are hosting a fall gathering or bringing this dessert board to a party, its uniqueness is sure to be a conversation starter.
Pumpkin Icing Board Ingredients
Here's what you need to make this cute pumpkin frosting board. The measurements are in the recipe card below.
Pumpkin Icing Board Supplies
Here are the supplies you need to make this dessert.
Square Serving Tray
1M Open Star Piping Tip
Disposable Decorating Bags, Celebrate It
Parchment Paper Sheet, Optional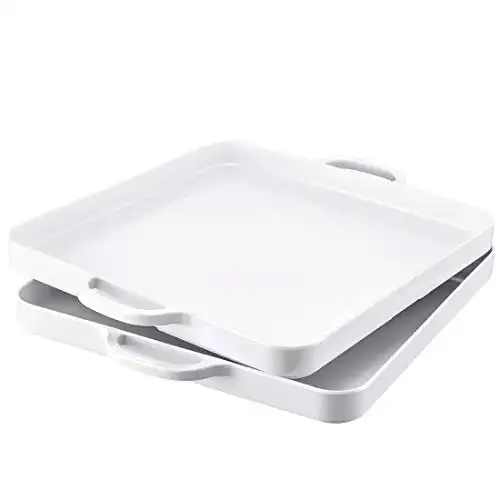 We earn a commission if you make a purchase, at no additional cost to you.
Steps to Make this Little Pumpkin Buttercream Board
Add orange food coloring to your icing to make it the desired shade of pumpkin orange.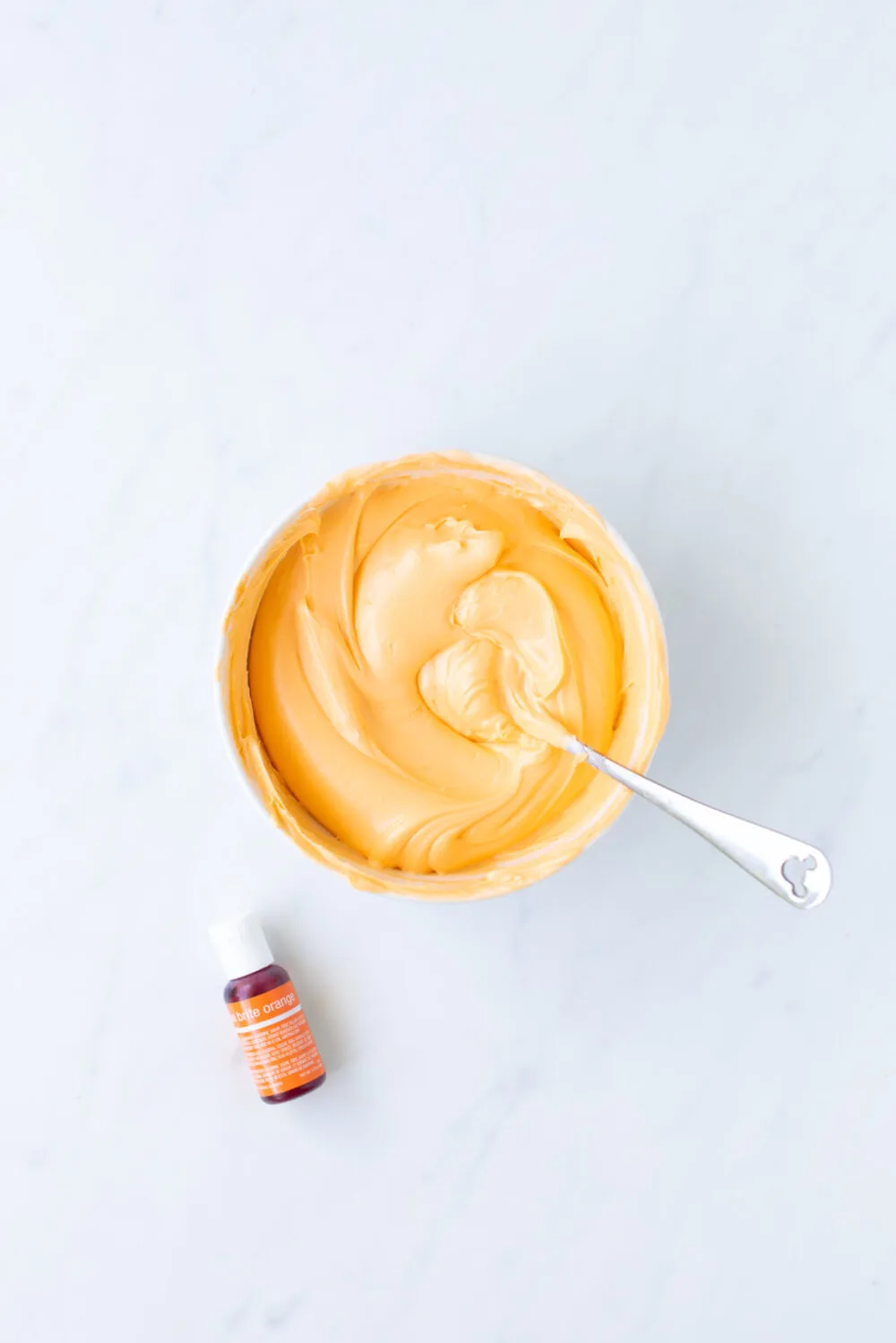 Equip a pastry bag with a 1M pastry tip and load it up with the icing.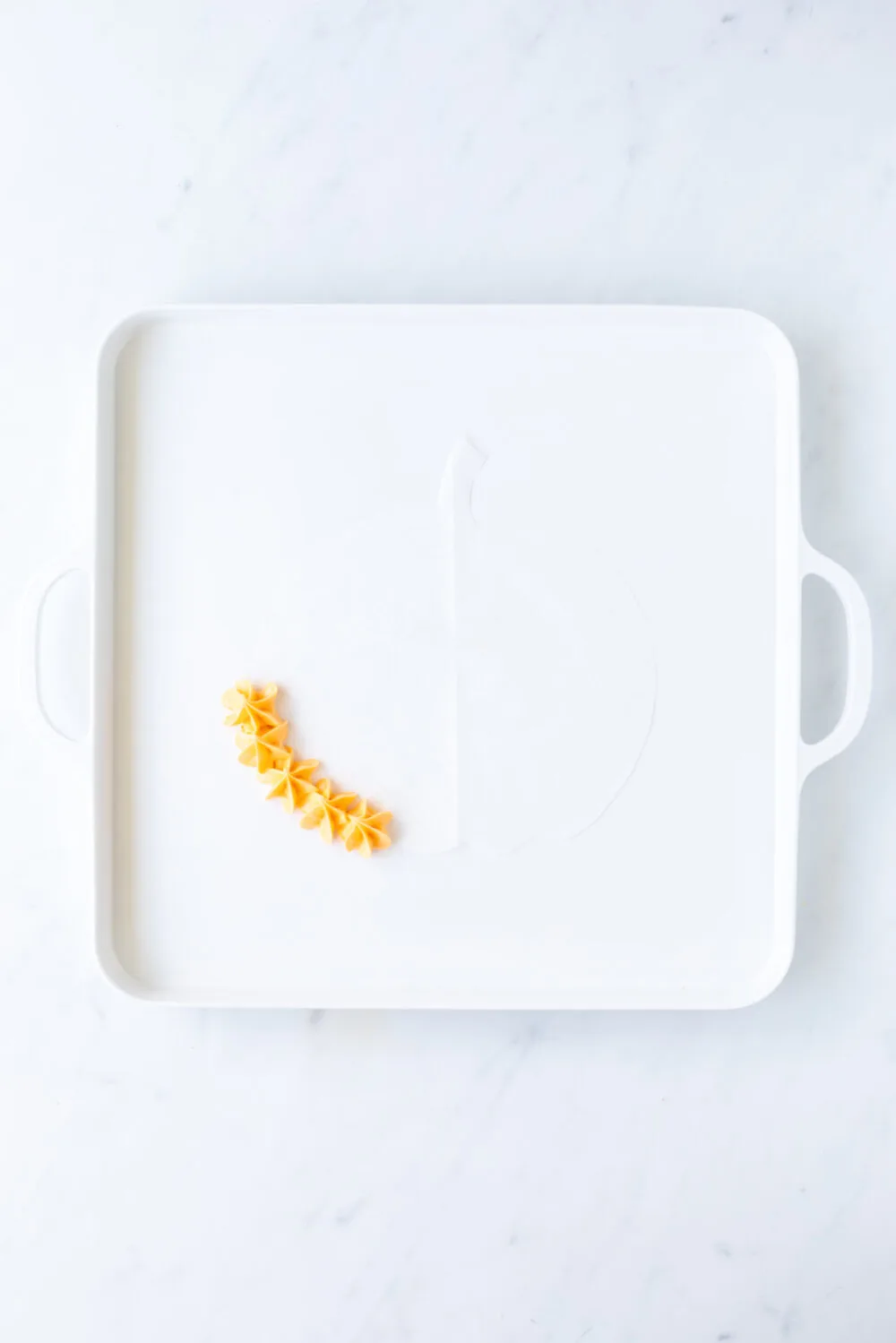 For optional guidance, trace a pumpkin shape onto parchment paper and place it in the center of your serving board.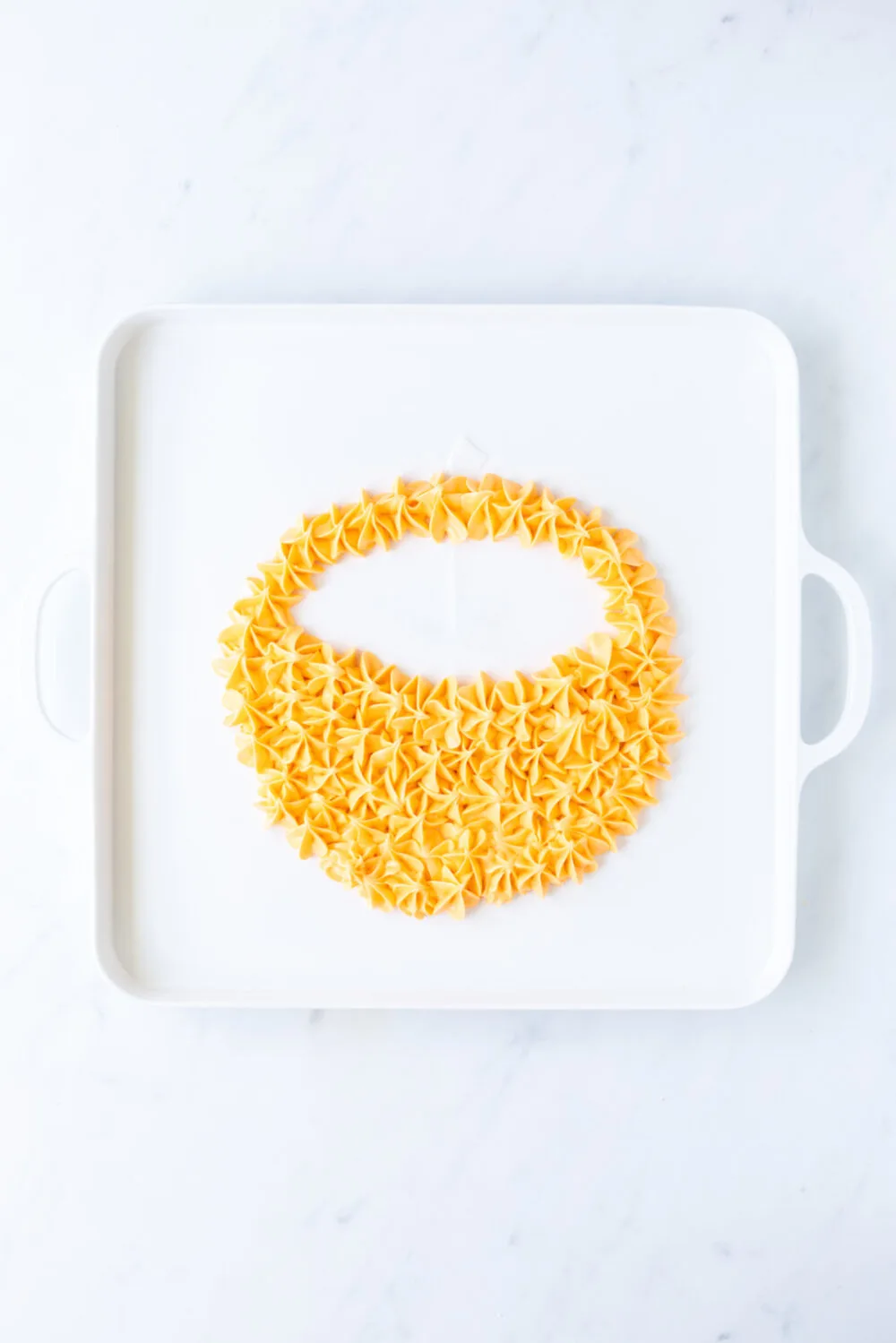 Using the icing, create a pumpkin shape on the board with small, consistent dollops, filling in the entire shape.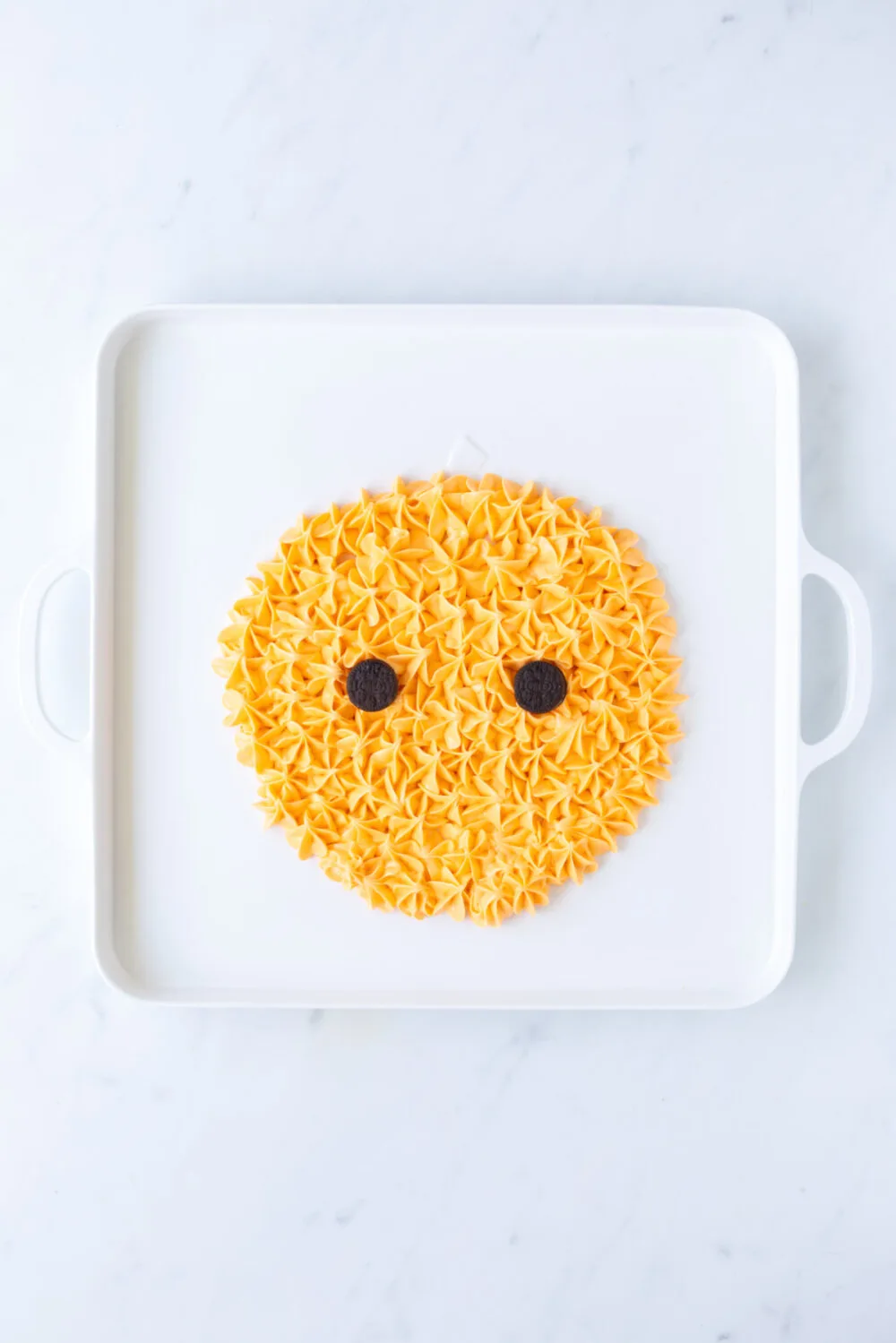 Secure 2 Mini OREO cookies as the eyes using a touch of icing, then attach mini candy eyes to them.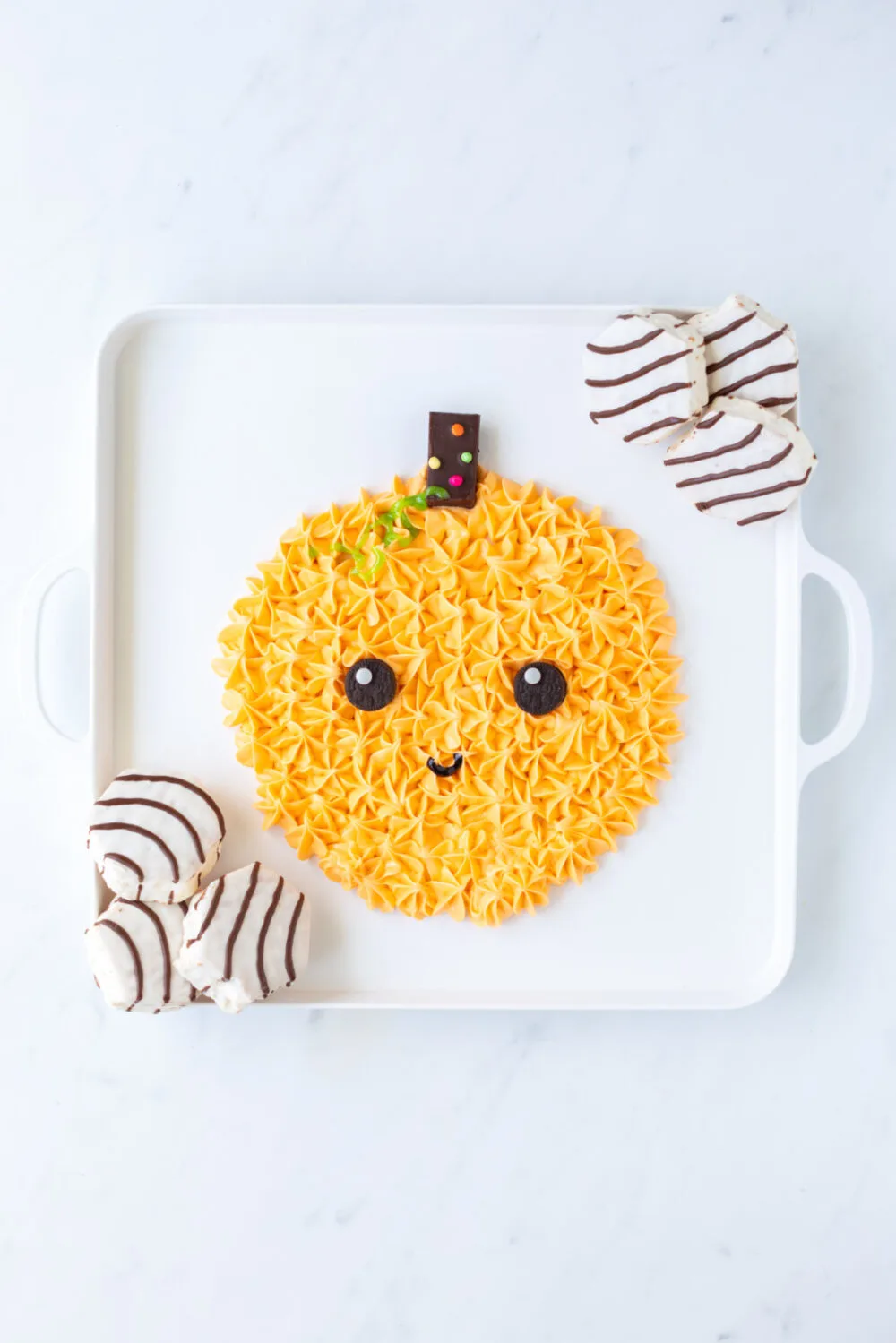 Draw on a cute subtle smile using black sparkle gel.
For the pumpkin's stem, cut a rectangle from a Cosmic Brownie and place it at the top of the pumpkin.
Draw vines around the brownie stem using green sparkle gel.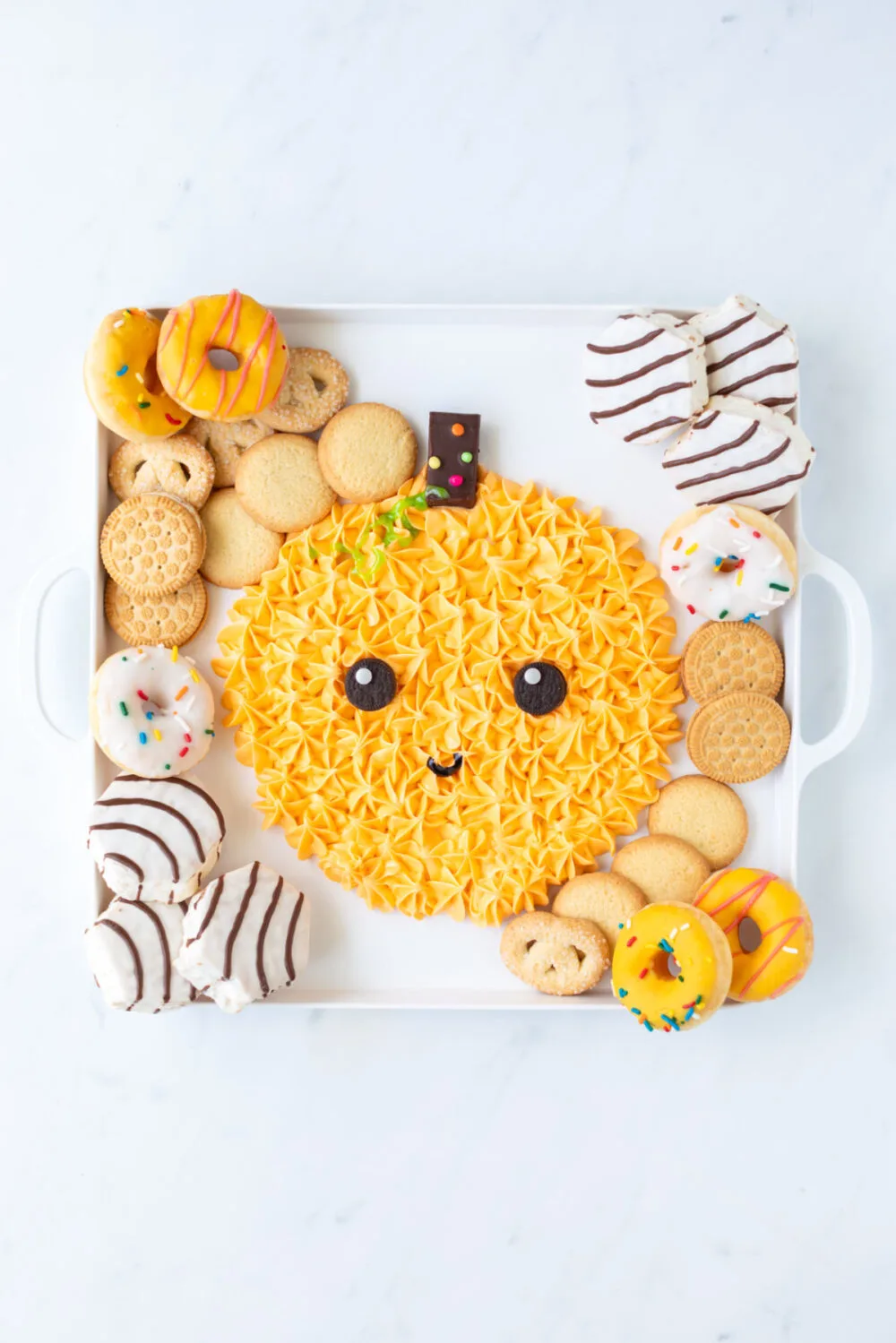 Position Zebra cakes a the top right and bottom left corners of the board.
Arrange mini donuts, vanilla sandwich cookies, and butter cookies at the top left and bottom right corners.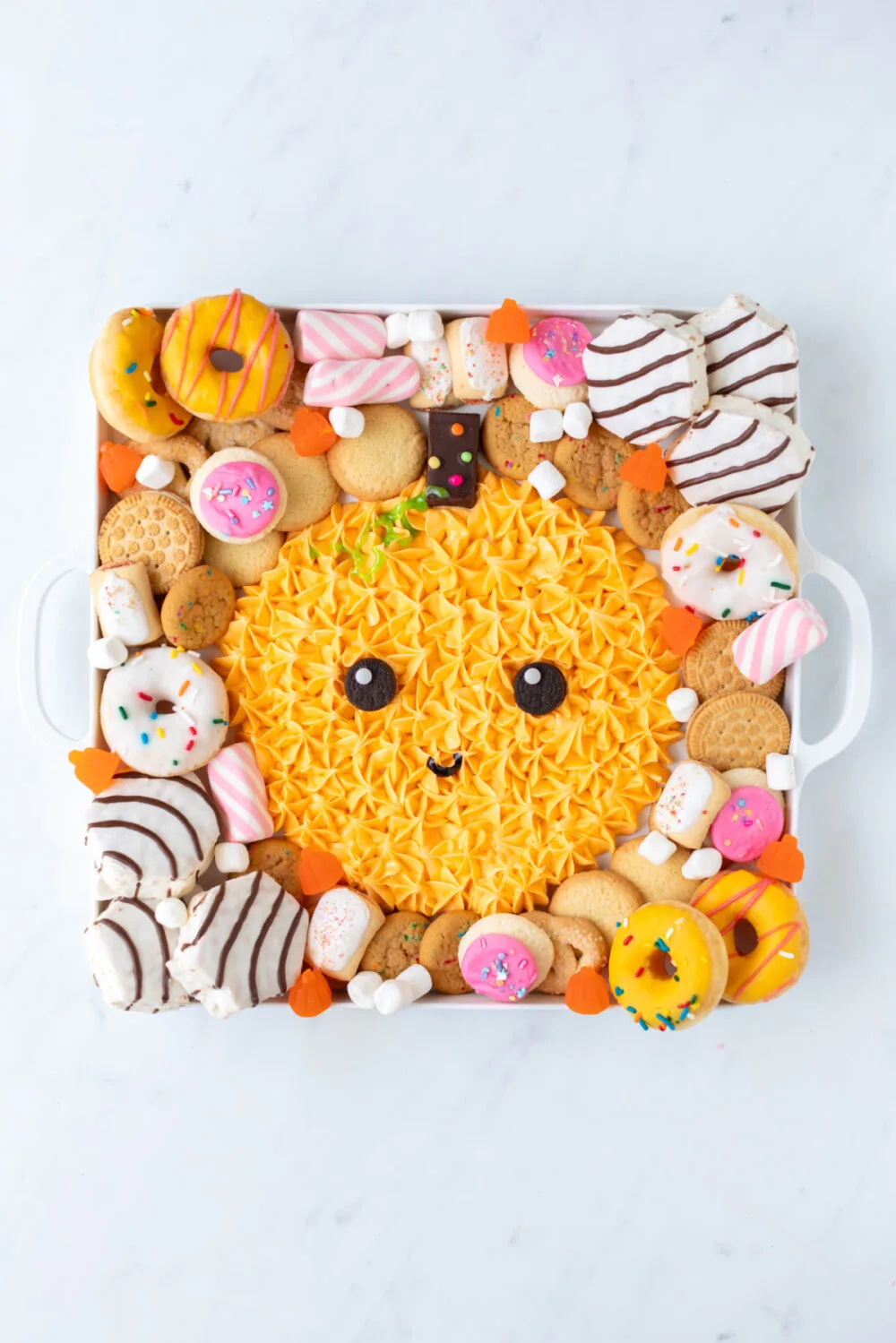 Fill in the remaining space with assorted cookies and striped marshmallows.
Fill in any gaps with gummy pumpkins and additional marshmallows. Get creative and have fun with it!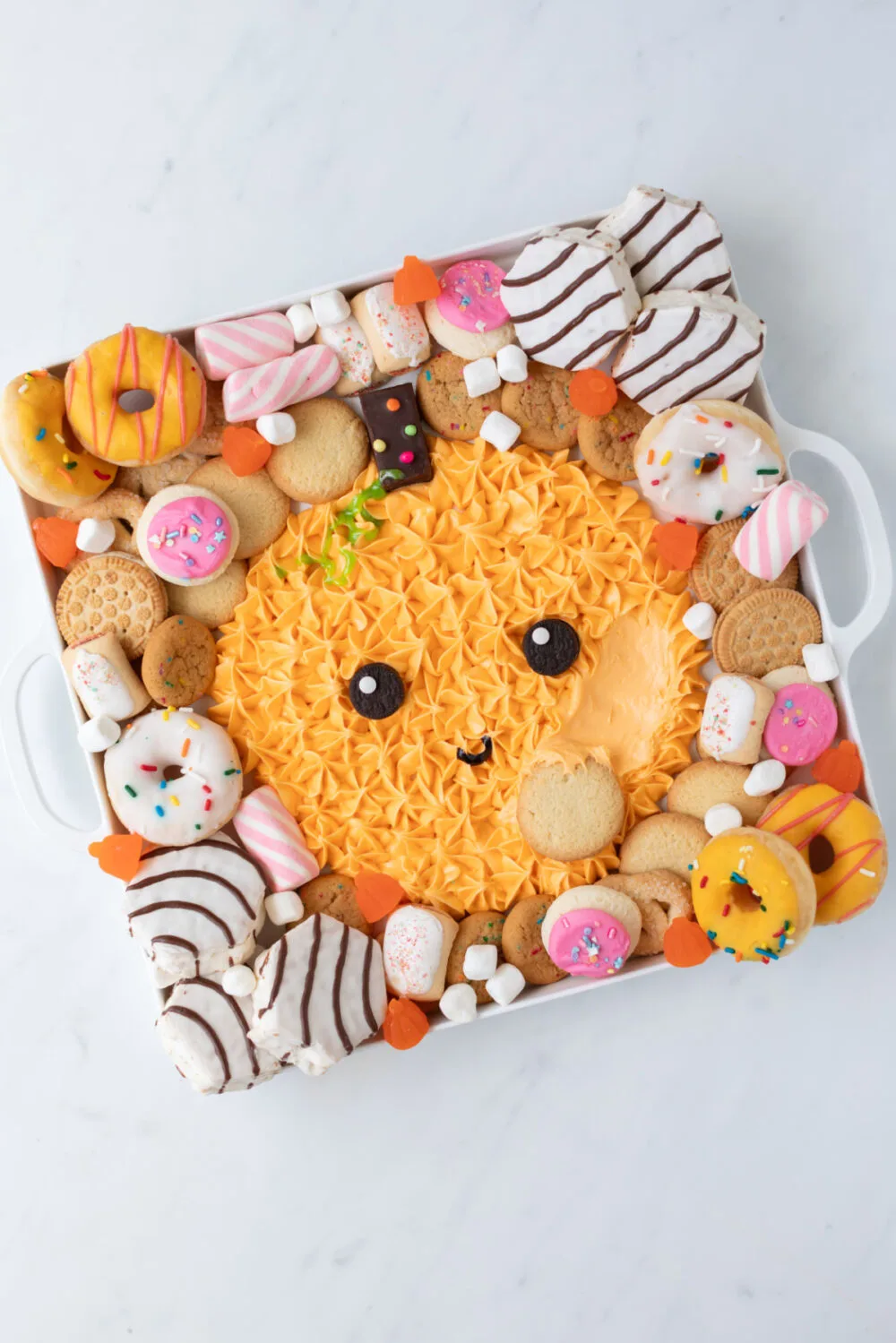 Get your frosting charcuterie board ready to serve by adding serving spoons and plates for guests.
What else to Serve
If you are looking for more fall party ideas, here are other things you can serve along with the sweets board.
Spiced Apple Cider: The warm flavors of apple cider complement the pumpkin theme, making it a perfect drink pairing. This cranberry and cinnamon punch is another tasty option.

Pumpkin Spice Latte: Every dessert table needs a coffee station, so might as well embrace the season and serve up some good PSLs!

Pumpkin Spice Granola: This homemade granola's crunchy texture and tasty flavor is great to add to bowls or even add it to the board.
Recipe Substitutions and Variations
Pastry Tip: If you don't have a 1M Pastry Tip, any large star or round tip can be used to create a similar effect with the icing.
Mini OREO Cookies: Substitute with any small chocolate cookie or even chocolate chips for the pumpkin's eyes.
Cosmic Brownie Stem: Replace with a chocolate wafer, a piece of chocolate bar, or even a pretzel stick for a salty twist.
Black Sparkle Gel: Use chocolate icing or melted dark chocolate for the smile if sparkle gel isn't available.
Green Sparkle Gel: Green icing, melted green candy, or even thinly sliced green fruit roll-ups can be used for the vines.
Zebra Cakes: Swap with any other small cake or pastry, like mini Swiss rolls or cream-filled pastries.
Vanilla Cookie Sandwiches: Use macarons, shortbread cookies, or even biscotti as an alternative.
Striped Marshmallows: Regular marshmallows or even flavored marshmallows (like coconut or fruit) can be used.
Gummy Pumpkins: Substitute with other gummy candies, like gummy bears or worms, or even candy corn for a festive touch.
Butter Cookies: Almond cookies, pecan sandies, or even ginger snaps can be used in place of butter cookies.
How to Store the Pumpkin Icing Board
If you plan to make this ahead of time, create the icing pumpkin and store it covered in the refrigerator. Don't add the cakes and cookies until you are ready to serve. If you have leftovers, remove any cookies and cakes and store them in airtight containers. Any remaining frosting should be stored covered in the fridge.
Yield: 12 Servings
Adorable Pumpkin Frosting Board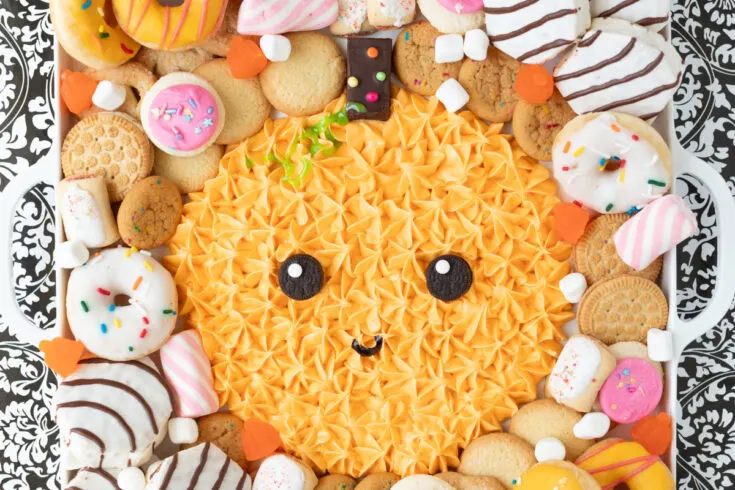 Why should savory food boards have all the fun? Create this sweetie pie pumpkin icing board to serve at your fall gatherings!
Materials
2 cups Wilton Creamy Decorator Icing, Medium, 16 oz tub
Orange Food Coloring
2 Mini OREO Cookies
Wilton Black Sparkle Gel or Black Icing Writer
Wilton Green Sparkle Gel or Green Icing Writer
2 Small Candy Eyes or White Writing Icing
1 Little Debbie Cosmic Brownie, Quartered
6 Little Debbie Zebra Cakes
6 Mini Donuts
6 Vanilla Sandwich Cookies
12 Various Butter Cookies
4 Mini Frosted Cookies
6 Pop-Tarts Baked Pastry Bites. Frosted Strawberry
8 Mini Soft Baked Funfetti Cookies
6 Pink & White Striped Marshmallows
1/2 Cup Gummy Pumpkins
1/3 Cup Mini Marshmallows
Tools
Square Serving Tray
1M Open Star Piping Tip
Disposable Decorating Bags, Celebrate It
Parchment Paper Sheet, Optional
Instructions
Color icing using orange food coloring.
Fill a pastry bag fitted with a 1M Pastry Tip with icing.
(Optional) For guidance, trace a pumpkin shape on parchment paper and position it on your serving board's center.
Create a pumpkin shape on the board using consistent icing dollops.
Attach 2 Mini OREO Cookies as eyes, securing mini candy eyes with a touch of icing.
Craft a tiny smile using black sparkle gel.
Use a Cosmic Brownie rectangle as the pumpkin's stem.
Scribble green sparkle gel vines around the stem.
Place Zebra cakes diagonally at opposite corners.
Arrange mini donuts, vanilla cookie sandwiches, and butter cookies diagonally at the remaining corners.
Populate the board with assorted cookies and striped marshmallows.
Fill gaps with gummy pumpkins and marshmallows.
Ready the board with serving spoons and plates.
Recommended Products
As an Amazon Associate and member of other affiliate programs, I earn from qualifying purchases.
Pin this image to your fall dessert board to save and share!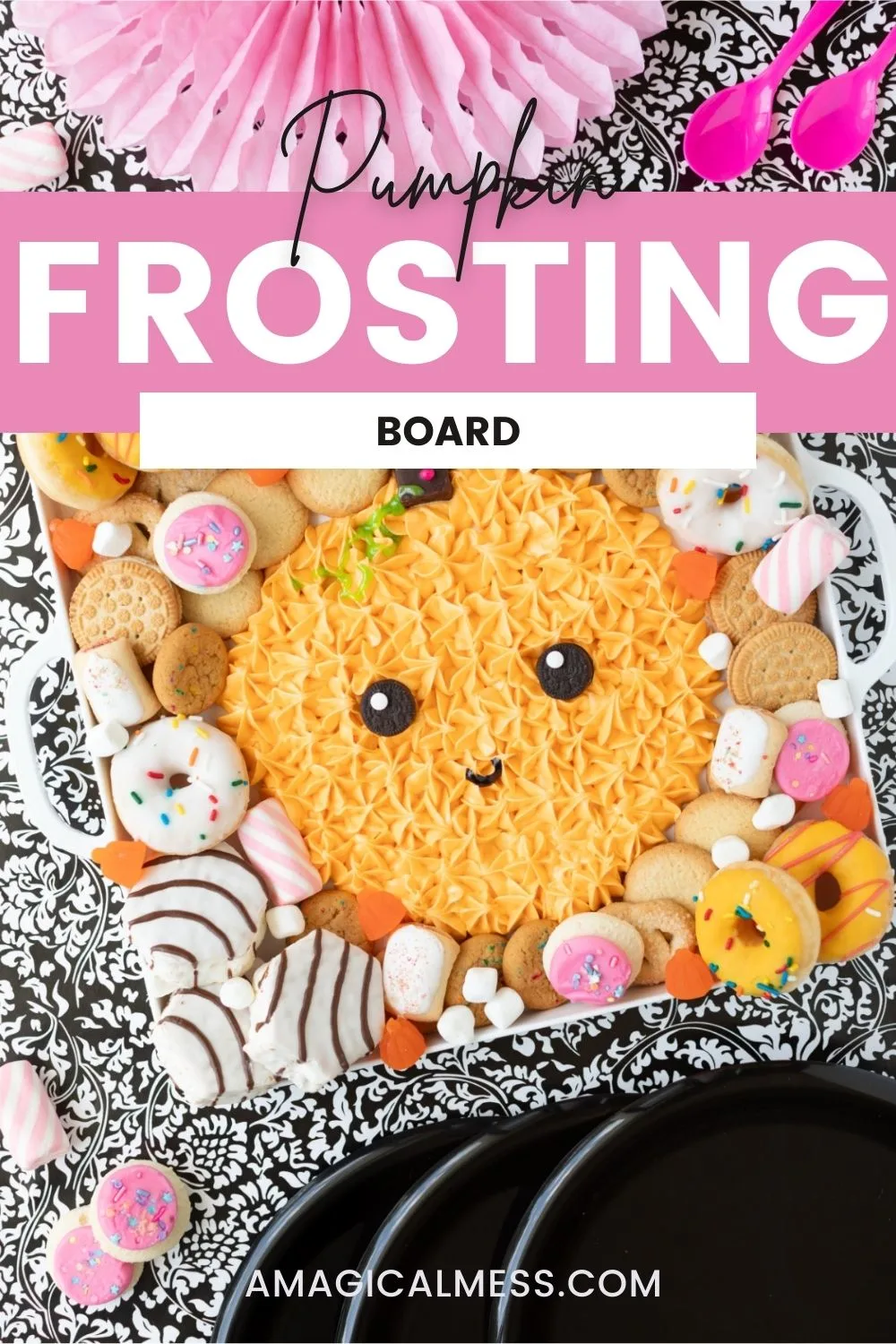 Loved this Pumpkin Icing Board recipe? Don't miss out on more cute creations! Subscribe to the blog for the latest recipes.
If you make your own Pumpkin Icing Board, I'd love to see it! Share with friends and be sure to tag @jensoltys on Instagram.