Get your fork ready to dig into the rich and creamy layers of this pumpkin crepe cake. Light and fluffy pumpkin spice crepes layered with an irresistible cream cheese filling, this dessert is sure to wow your guests this season.
If you've ever seen a crepe cake and been too intimidated to try to make it, stick with me. I felt the same way, but if you take it one step at a time, you'll see that it's not too difficult to create this impressive looking dessert.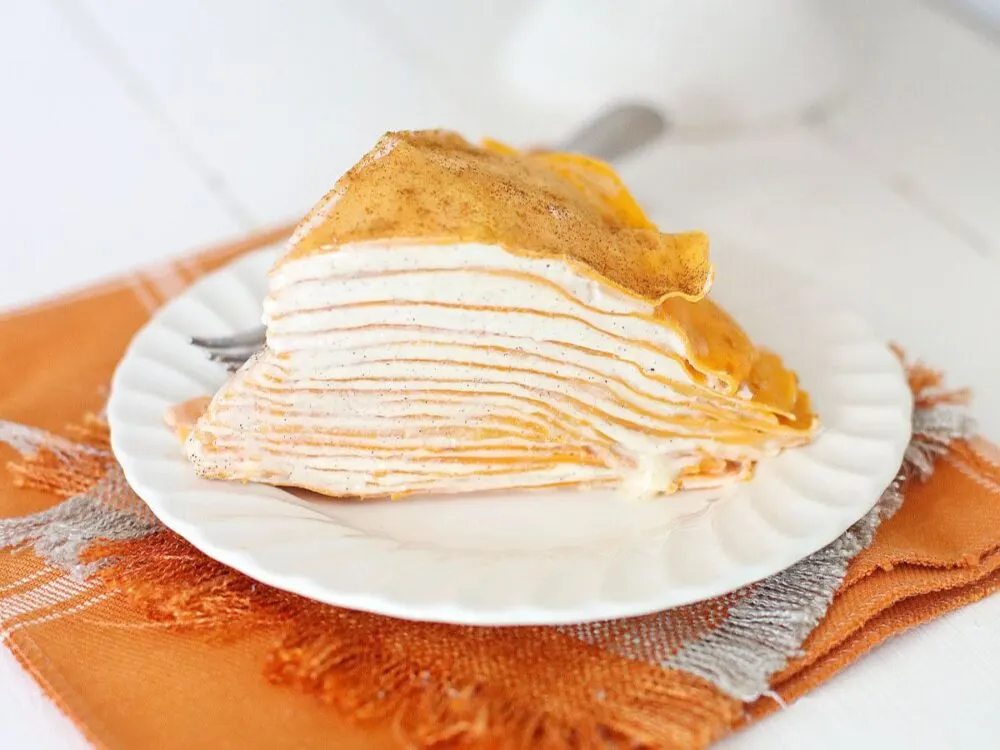 Pumpkin Crepe Cake for the Most Lucious Fall Dessert
Summoning all my pumpkin spice peeps for this one. Our time has arrived! The air is crisp, the leaves are rustling, and it's time to unleash the pumpkin goodies!
You know I'm a sucker for layered desserts and all things pumpkin spice, so let's combine the two. Is a crepe cake time consuming to make? Yes, it can be, but it's not difficult. It's actually somewhat therapeutic once you get into the swing of making the layers.
If you're looking for a new fall dessert to make this season, definitely give this pumpkin crepe cake a save. I mean, just look at that filling — how can you resist?
Reasons You'll Love Pumpkin Spice Crepe Cake
Fall Flavor: Pumpkin spice and cream cheese are two fall signature flavors if you ask me.

Tempting Textures: The soft, delicate crepes with the rich and creamy filling, create an irresistible texture with each bite.

Awesome Appearance: The layered look of this cake is pretty and sure to start some convos amongst your guests.

Totally Tweakable: This recipe is easy to change if you want different flavors or colors.
Pumpkin Spice Crepe Cake Ingredients
Here's what you need to make this pumpkin cake dessert recipe. The measurements are in the recipe card below.
Crepes:
Flour
Salt
Eggs
Sugar
Milk
Vanilla
Pumpkin Pie Spice
Butter (for the Crepe Maker)
Food Coloring Gel (Orange)
Filling:
Cream Cheese (softened)
Heavy Whipping Cream
Sugar
Powdered Sugar
Vanilla
Cinnamon
Pumpkin Spice Layered Crepe Cake Steps
Making the Crepes:
Whisking the Wet Ingredients:
In a large bowl, combine the eggs, milk, vanilla, and sugar. Whisk them together until the mixture is light and smooth.
Adding Color:
Add a few drops of the orange food coloring gel to the mixture and stir well.
Incorporating the Dry Ingredients:
Gradually add the flour and pumpkin pie spice to the wet mixture. Continue whisking until the batter is smooth and free of lumps.
Resting the Batter:
Allow the batter to sit undisturbed for about 20 minutes. It's natural for bubbles to form on the surface during this time.
Cooking the Crepes:
Preheat your crepe maker to its low setting. Once hot, melt a tablespoon of butter on its non-stick surface.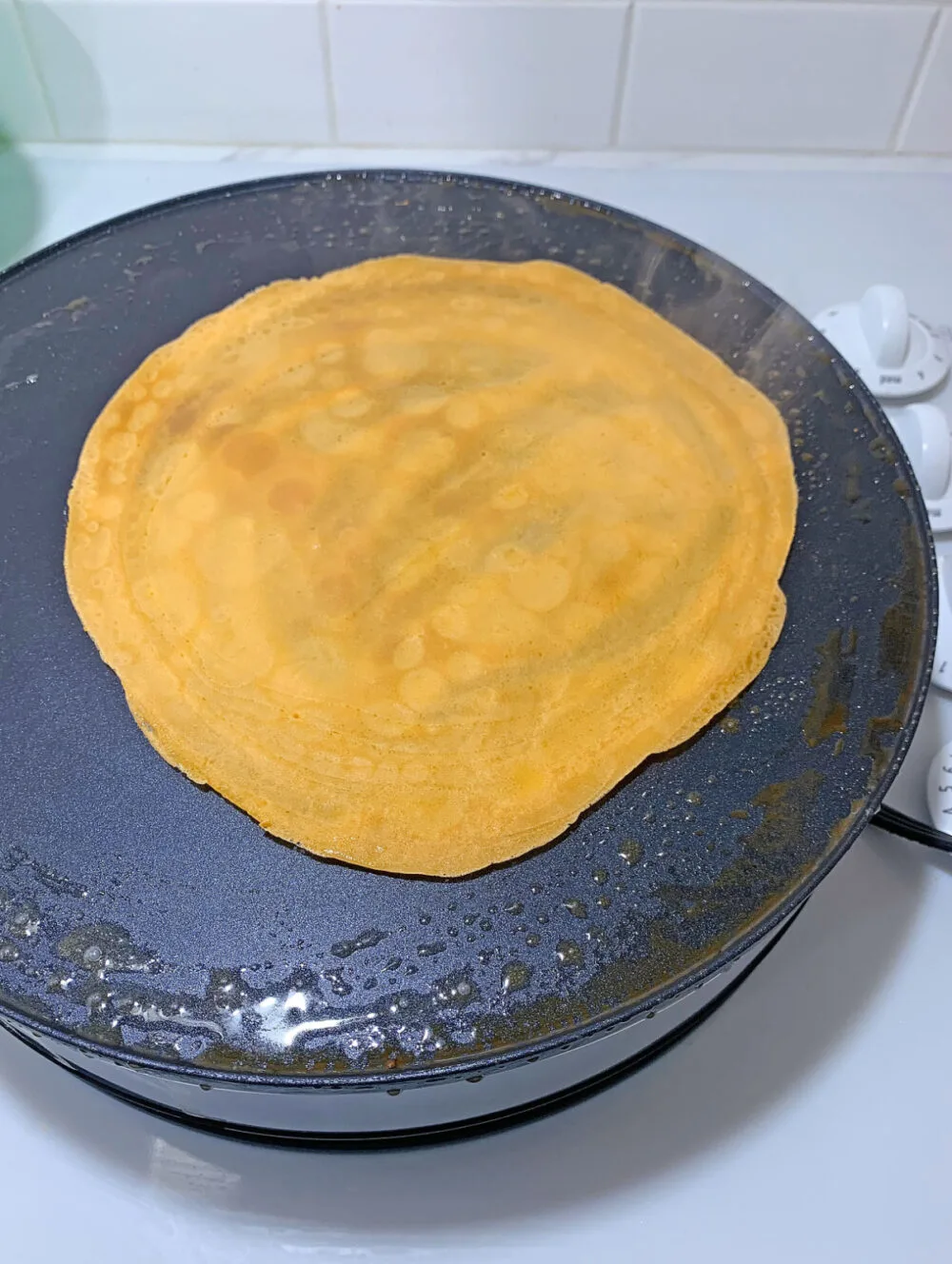 Pour 1/4 cup of the crepe batter onto the crepe maker, spreading it thinly using the crepe maker tools or the back of a spoon.
Cook the crepe for approximately 3 minutes, then flip it over and cook for an additional minute.
Transfer the cooked crepe to a plate or parchment paper. Repeat this process until all the batter is used up.
Whipping Up the Filling:
Creamy Base:
In the bowl of a stand mixer, combine the cream cheese and heavy whipping cream. Mix until the texture is thick, smooth, and creamy.
Sweetening the Mix:
Add sugar, powdered sugar, cinnamon, and vanilla to the bowl. Blend until the mixture is uniformly smooth.
Chilling:
Transfer the filling to the refrigerator to keep it cool while you prepare the crepes.
Assembling the Crepe Cake:
Layering:
Lay a crepe flat on your serving dish. Spread approximately 2 tablespoons of the filling evenly over its surface.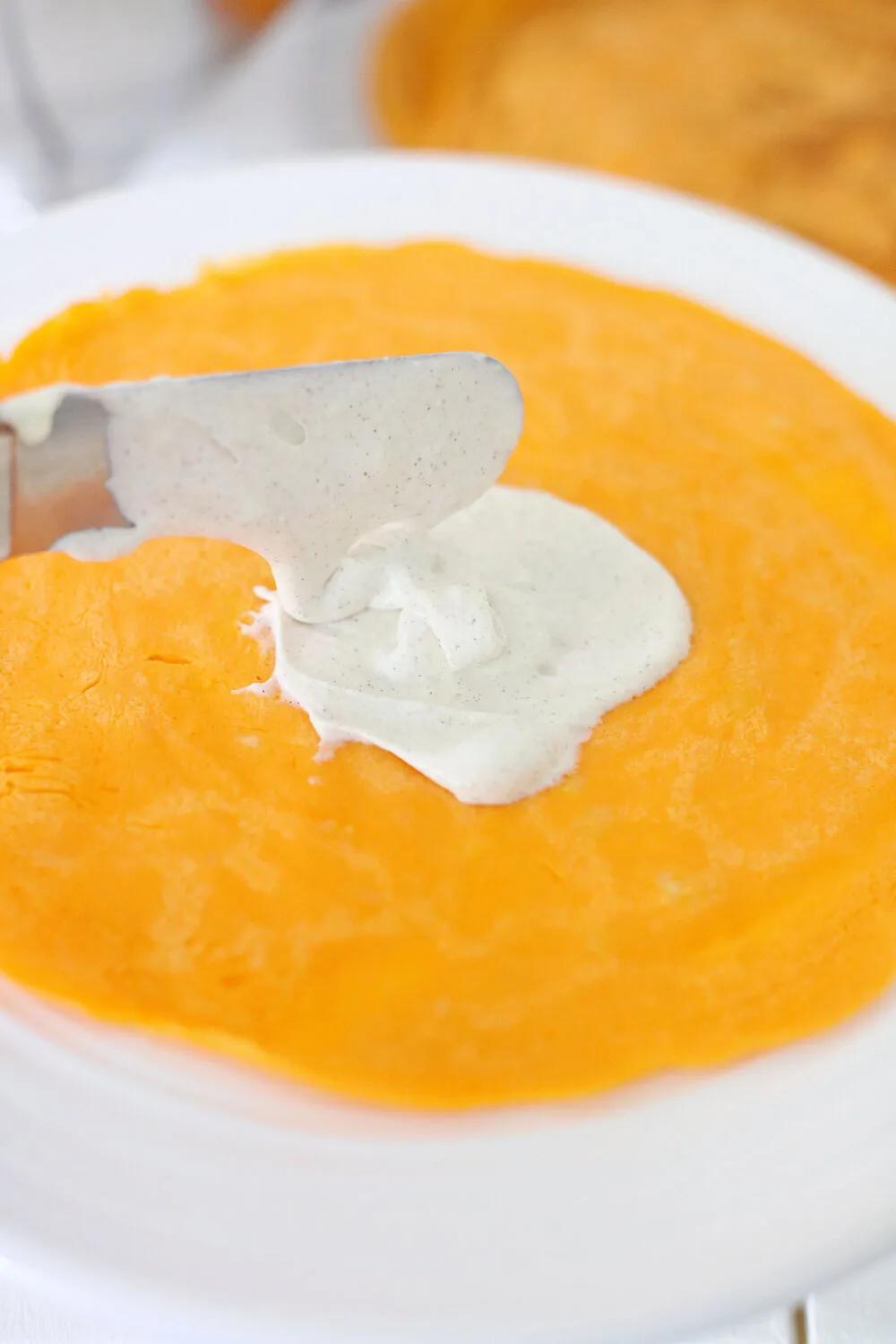 Place another crepe on top and repeat the process. Continue layering until all the crepes are stacked, resembling a cake.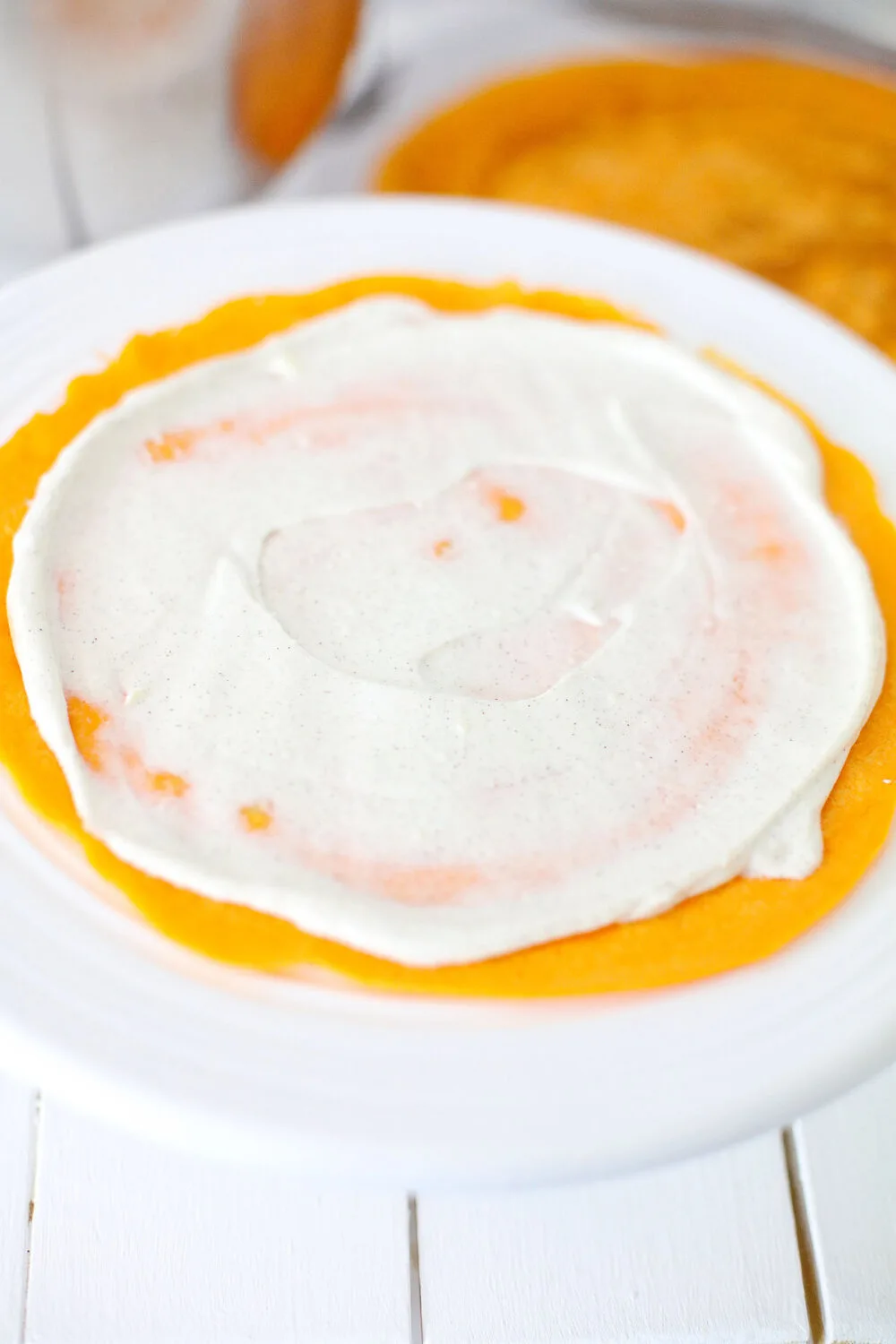 Serving:
Once assembled, your Pumpkin Crepe Cake is ready to be enjoyed!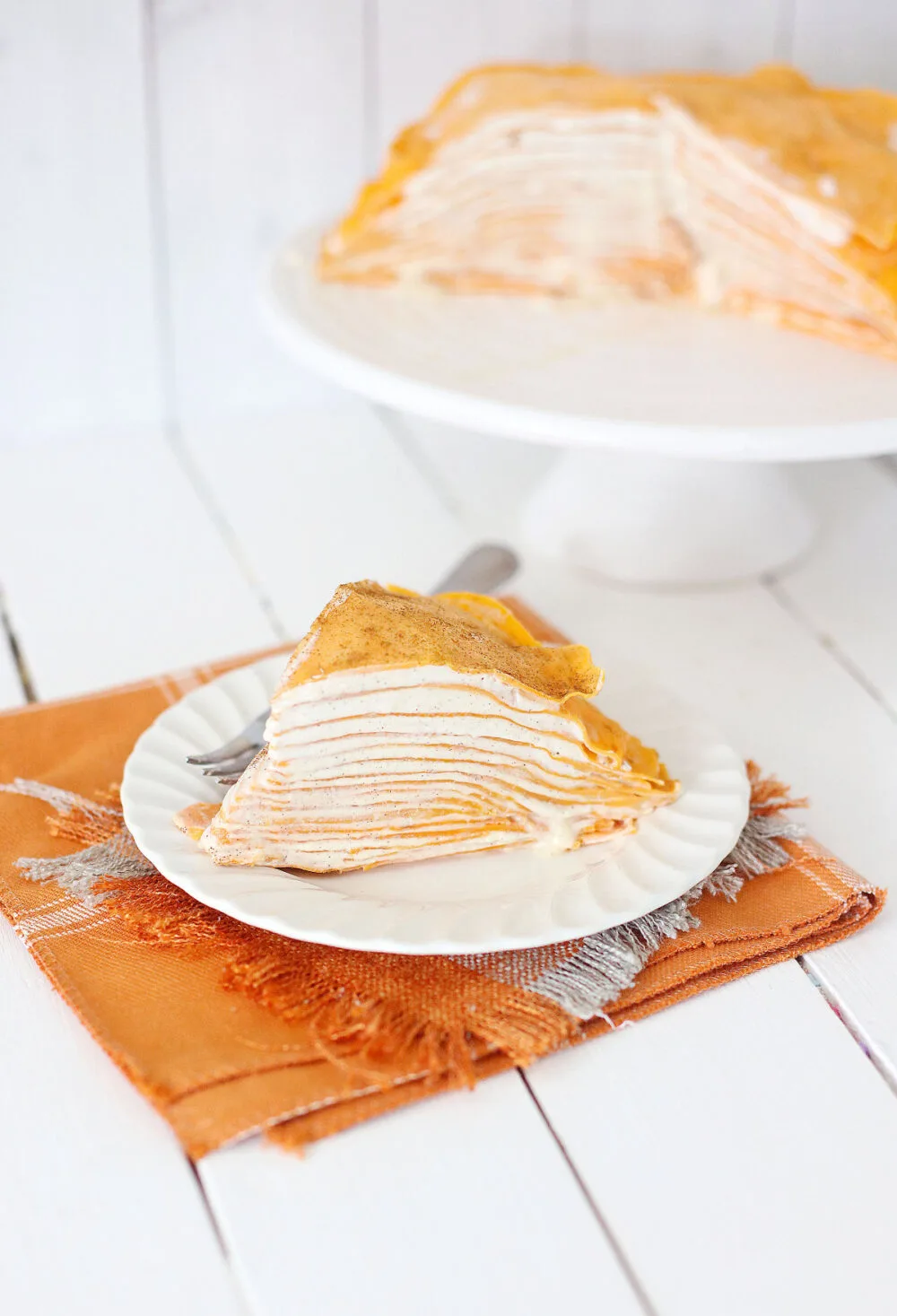 Slice, serve, and soak in the delightful fusion of flavors and textures.
Feel free to top with a dusting of powdered sugar if you'd like.
What to Serve with Pumpkin Crepe Cake
If you're looking for more fall goodies to serve on a dessert table, you've come to the right place.
Pumpkin Squares: If you want a more traditional pumpkin cake, my aunt's famous pumpkin squares are always a top request in my family.
Pumpkin Pie Slab: Even more traditional, you can go with a whole pie. This pumpkin pie slab is ideal for larger crowds since you get more slices than an average pie.
Pumpkin Spice Latte: Every party needs a coffee station, so why not make a big batch of pumpkin spice lattes?
PSL Trifle: For another layered dessert option, you can make this pumpkin spice latte trifle, which is always a crowd pleaser.
Equipment Needed
Large Mixing Bowl: For mixing the crepe batter and filling ingredients.
Whisk: Essential for ensuring a smooth batter.
Crepe Maker or Non-Stick Skillet: To cook the crepes evenly. If you don't have a crepe maker, a good non-stick skillet will work.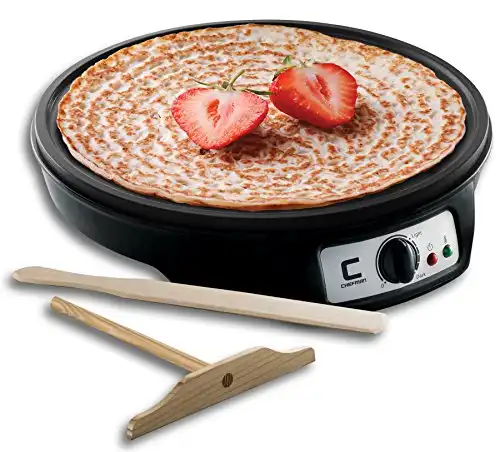 Crepe Spreader & Spatula (if using a crepe maker): Helps in spreading the batter thinly and evenly, and for flipping the crepes.
Measuring Cups & Spoons: For accurate measurements of ingredients.
Stand Mixer or Hand Mixer: Useful for achieving a smooth and creamy consistency for the filling, especially when mixing cream cheese.
Rubber Spatula: Helps in scraping down the sides of the bowl to ensure all ingredients are well-incorporated.
Parchment Paper: To place the cooked crepes on, preventing them from sticking to each other.
Palette Knife or Offset Spatula: Useful for spreading the filling evenly between the crepe layers.
Serving Plate or Cake Stand: For serving the crepe cake.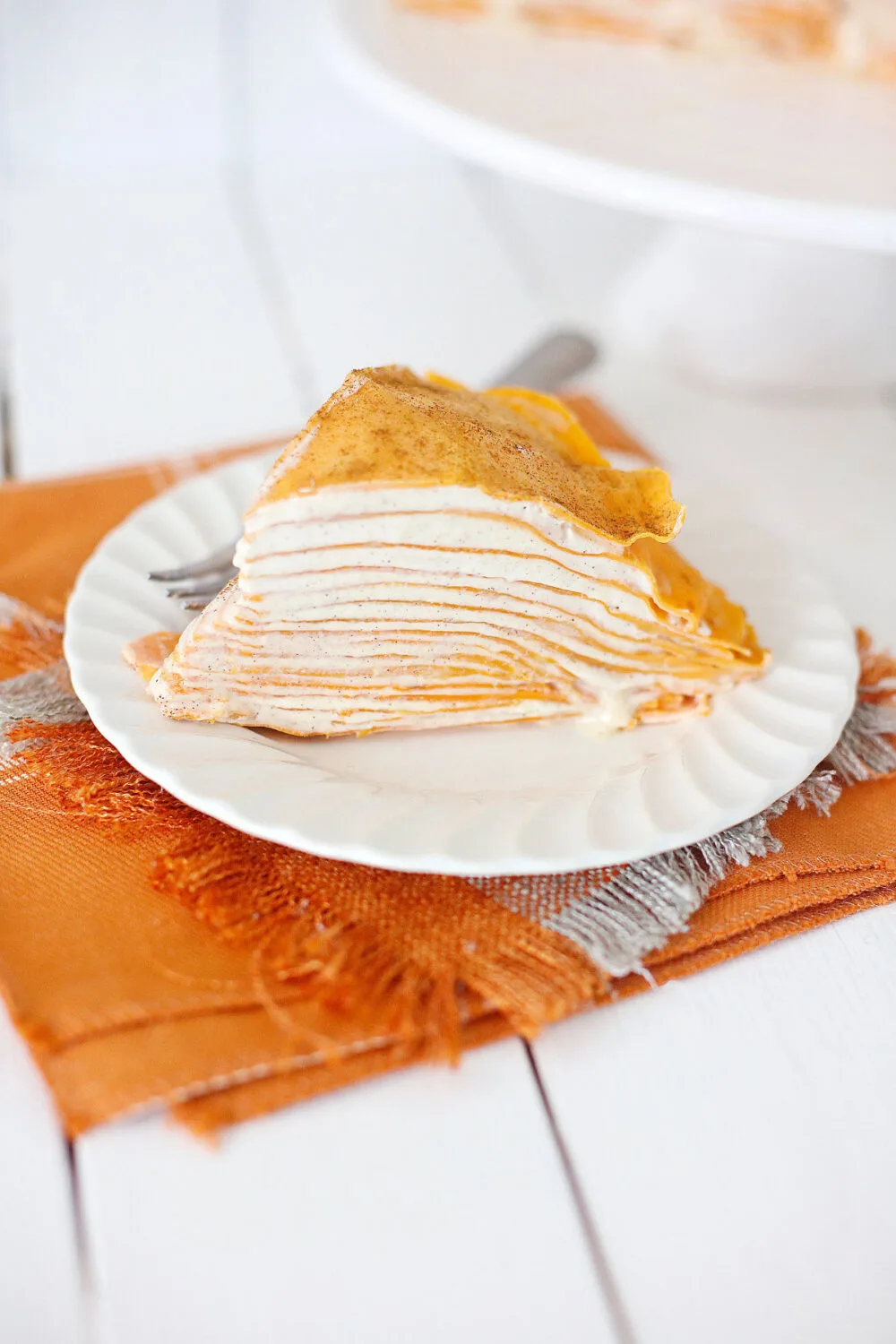 Storage
Store any leftover crepe cake in an airtight container in the refrigerator for up to 3 days. If made in advance, store crepes and filling separately and assemble before serving.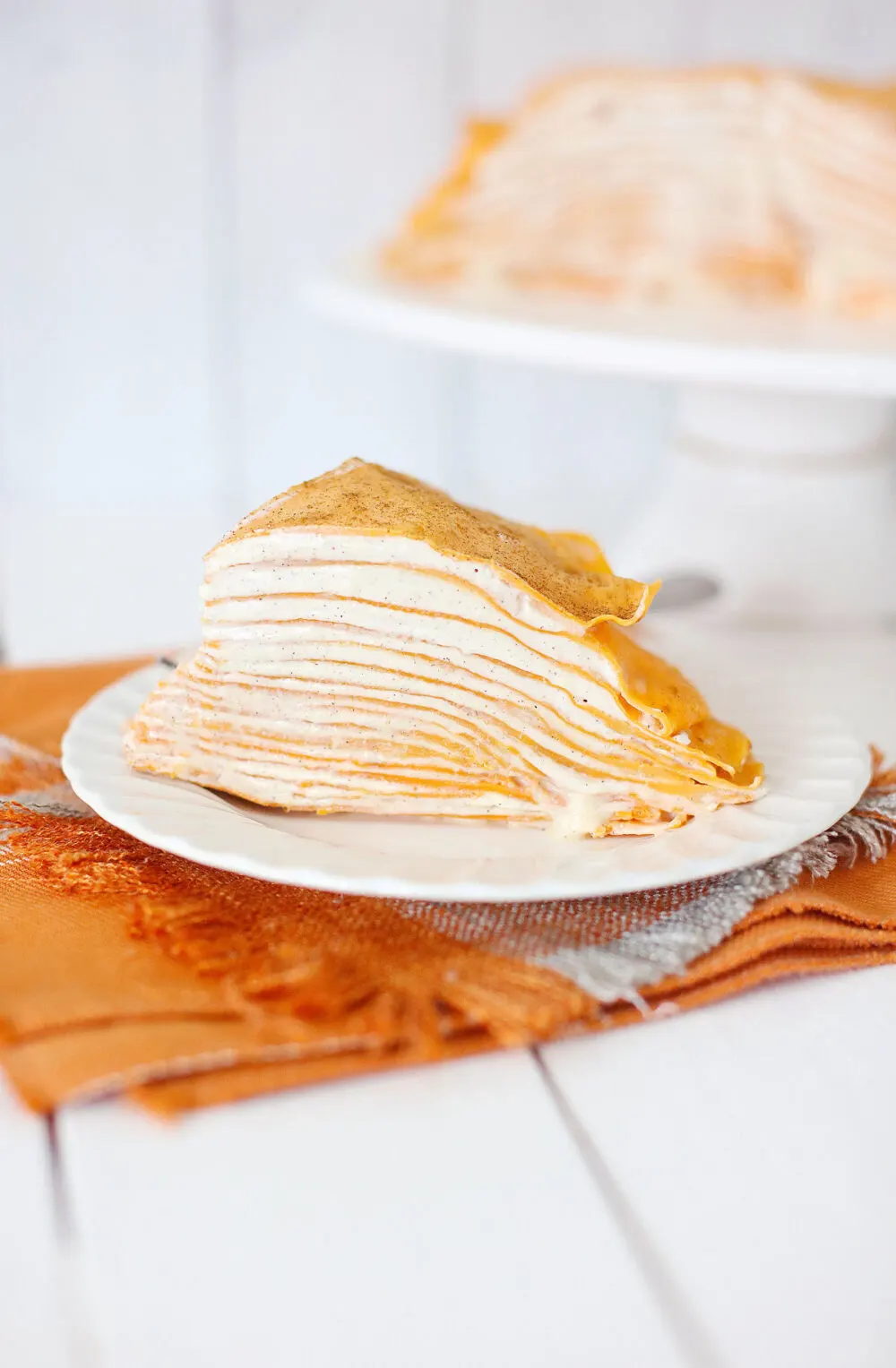 Recipe Notes and FAQ
Notes:
Batter Consistency: The crepe batter should be thinner than pancake batter. If it's too thick, add a little more milk to achieve the right consistency.
Filling Thickness: Adjust the amount of filling between layers based on your preference. Some might prefer a thicker layer, while others might opt for a lighter touch.
Spices: Feel free to adjust the amount of pumpkin pie spice or cinnamon based on your taste preference.
FAQ:
Why is my crepe batter lumpy?
Lumps can form if the wet and dry ingredients aren't mixed properly. Make sure you whisk it thoroughly, or consider using a blender for a smoother batter.
Can I add other fillings or toppings?
Definitely! Feel free to get creative. Fresh fruits, chocolate chips, or even a drizzle of caramel can be tasty additions.
Are crepe cakes worth the work?
In my opinion, crepe cakes are definitely worth the work. Of course, this is a personal preference. Many people may prefer the flavor and texture of cake over crepes. The only way to know is to try it out!
Yield: 12 Slices
Pumpkin Spice Crepe Cake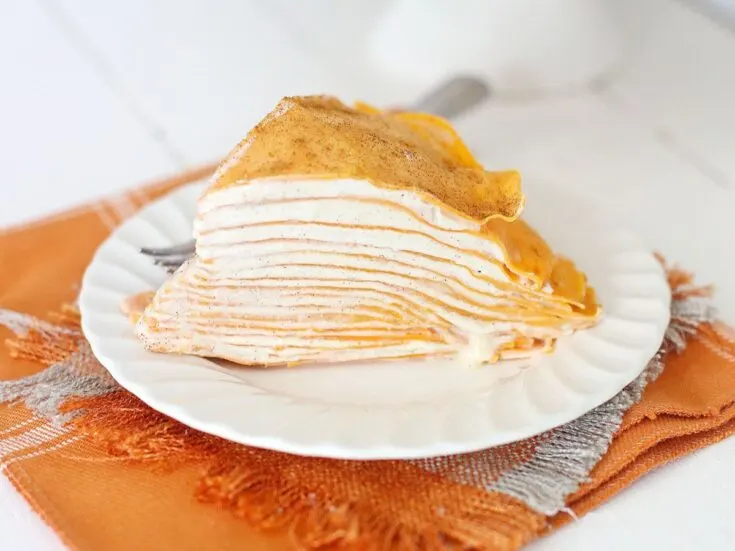 Stacks of luscious layers await. Get ready to dig into light and fluffy pumpkin spice crepes layered with velvety cream cheese filling. This dessert is as visually appealing as it is delicious.
Additional Time
30 minutes
Total Time
1 hour
25 minutes
Ingredients
Crepes
1 cup flour
Pinch of salt
2 eggs
1 Tablespoon sugar
1 1/2 cups milk
1 teaspoon vanilla extract
1 teaspoon pumpkin pie spice
1 Tablespoon butter
Orange food coloring gel
Filling
2 - 8 ounce packages of cream cheese, softened
1/2 cup heavy whipping cream
1/3 cup sugar
1/2 cup powdered sugar
1/2 teaspoon vanilla
1/2 teaspoon cinnamon
Instructions
Crepes:
Whisk eggs, milk, vanilla, and sugar in a bowl until smooth.
Stir in orange food coloring, then add flour and pumpkin pie spice; mix until lump-free.
Let batter rest 20 minutes.
Heat crepe maker on low, melt butter, then pour 1/4 cup batter, spreading thinly.
Cook crepe 3 minutes, flip, cook 1 more minute. Repeat with remaining batter.
Filling:
Mix cream cheese and whipping cream in a stand mixer until creamy.
Blend in sugar, powdered sugar, cinnamon, and vanilla.
Chill until use.
Assembly:
Spread 2 tablespoons filling on a crepe.
Layer another crepe on top. Repeat.
Serve and enjoy!
Recommended Products
As an Amazon Associate and member of other affiliate programs, I earn from qualifying purchases.
Nutrition Information:
Yield:
12
Serving Size:
1
Amount Per Serving:
Calories:

291
Total Fat:

19g
Saturated Fat:

11g
Trans Fat:

0g
Unsaturated Fat:

6g
Cholesterol:

85mg
Sodium:

167mg
Carbohydrates:

25g
Fiber:

1g
Sugar:

15g
Protein:

6g
Nutrition facts are an estimate only.
Pin this image to your pumpkin dessert board to save and share!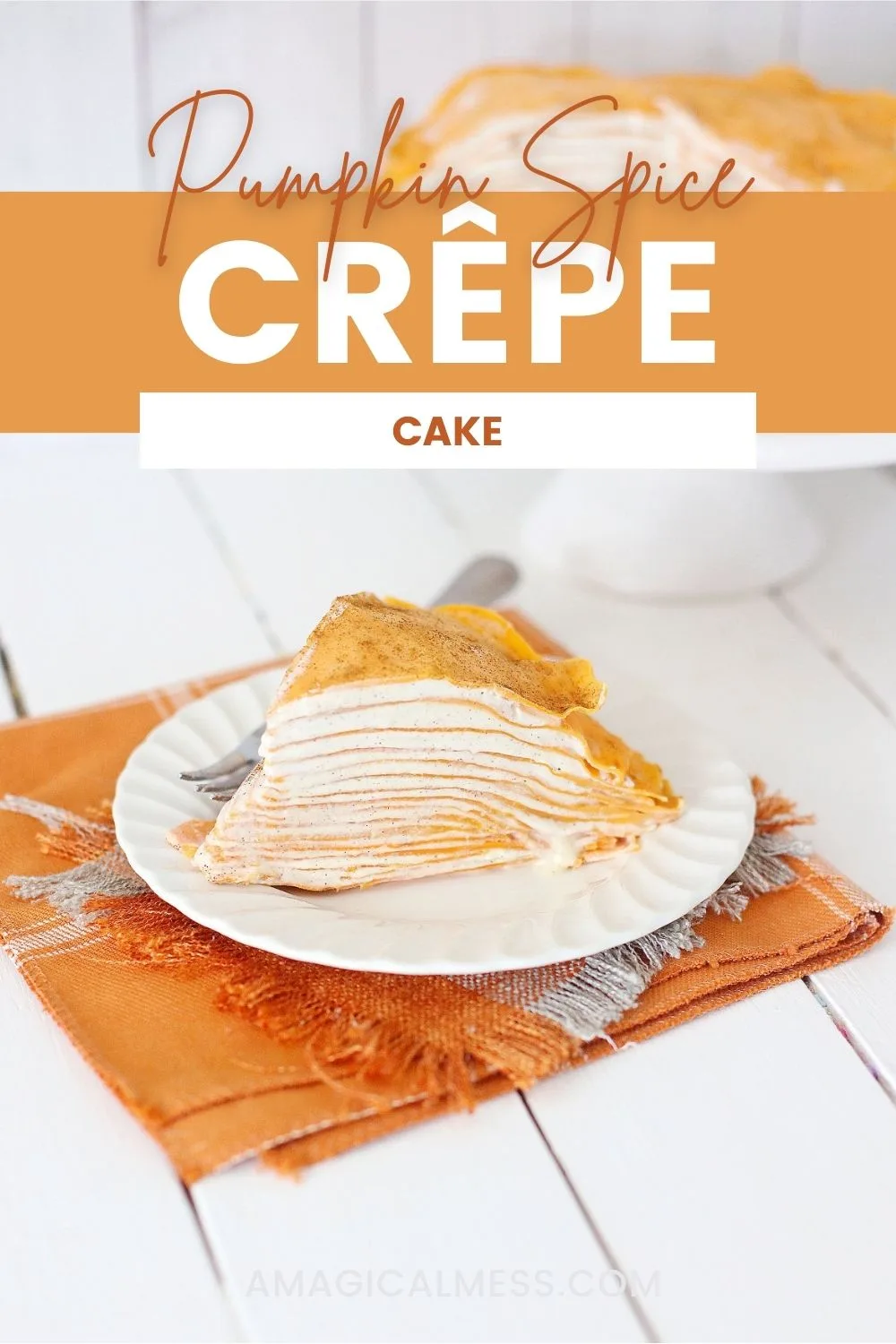 If you love tasty treats like this one, please subscribe to the blog.
If you decide to make this pumpkin crepe cake, show me by tagging @jensoltys on Instagram. Or, share this recipe with family and friends and maybe someone will make it for you! 😉