Fall themed cupcakes are fun for multiple occasions–weddings, birthdays, Thanksgiving–but with The Nut Job 2: Nutty By Nature coming out this weekend, I can't think of a better reason for acorn cupcakes. These easy chocolate cupcakes are decadent and adorable. I love movie themed desserts. They're so much fun for viewing parties and kids that like to get into character. For more amazing cupcake recipes from our friend Devon, owner of Midwestern Moms, click around here and feast your eyes on the cutest Pikachu cupcakes you'll ever see.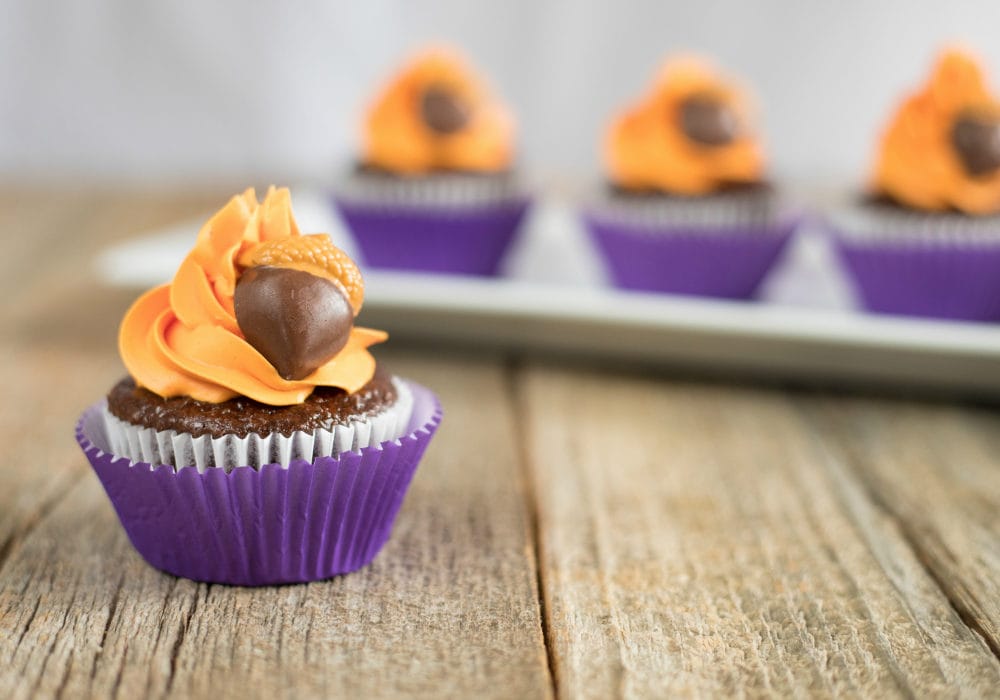 Fall Themed Cupcakes
This recipe is fairly easy and can be altered to use nut butter for those of us that love peanut-butter cup inspired treats. Just swap the butterscotch chips with peanut butter or any nut butter of your choice.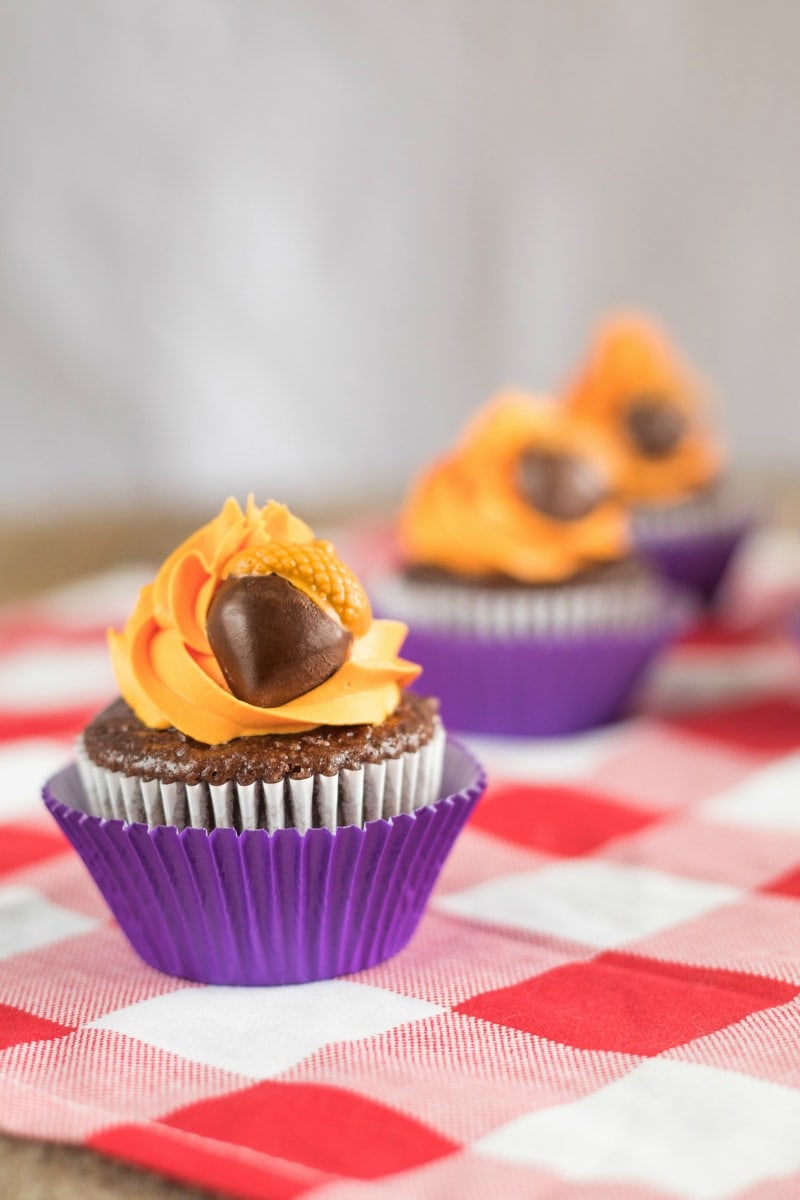 Easy Chocolate Cupcake Recipe
Makes 34 Cupcakes
1 box of chocolate cake mix
1 C. of all-purpose flour
1 C. of sugar
3/4 tsp. salt
1 1/3 C. of water
2 tbsp vegetable oil
1 tsp vanilla extract
1 C. sour cream
4 eggs
White Decorator Icing
Golden Yellow Icing Color
No Taste Red Icing Gel
Acorns & Leaves Mold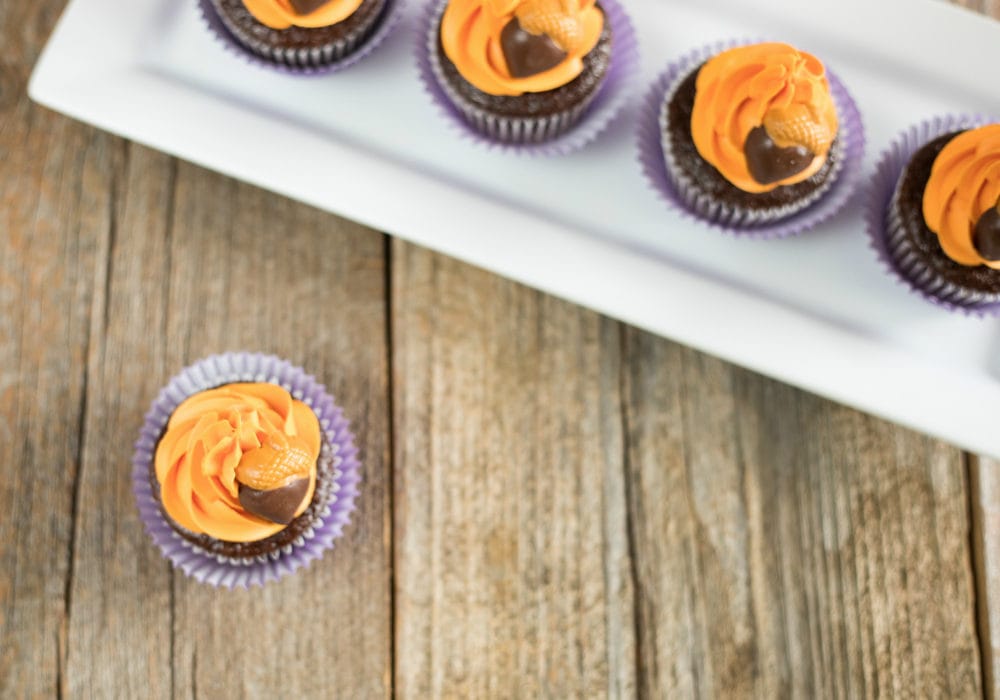 Instructions
Blend together the chocolate cake mix, flour, sugar, water, vegetable oil, vanilla, sour cream, and eggs. Mix until all ingredients are combined.
Line a cupcake tin with cupcake liners and fill with batter 3/4 full.
Bake at 325 degrees for 18 minutes.
Allow to cool before decorating.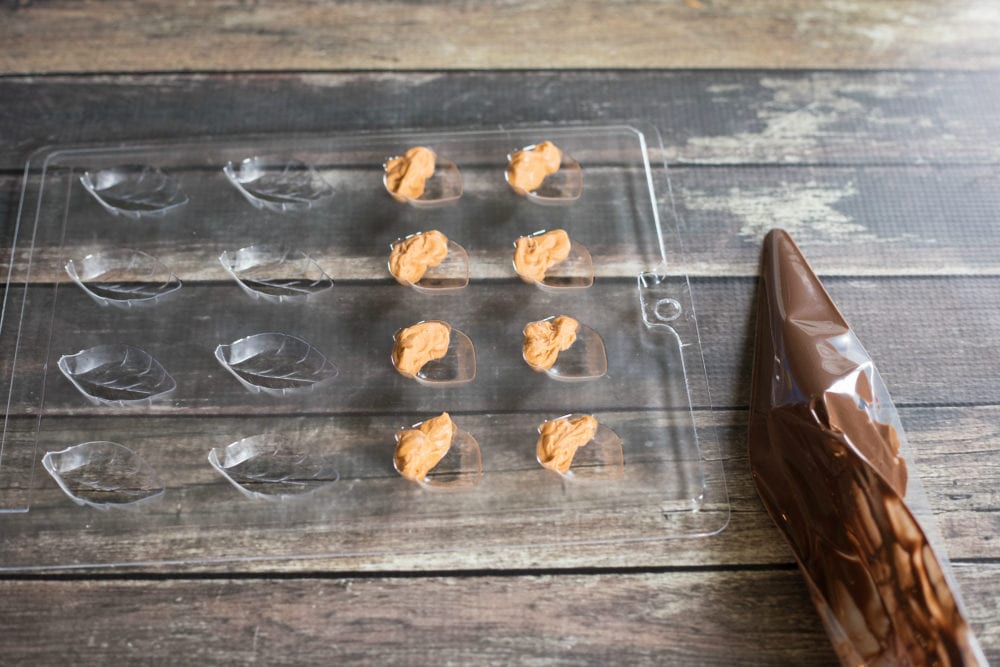 How to Make the Acorns:
Tip: I melted about 1/2 cup at a time since there are only 8 acorns in the mold. Make as many acorns as you need for cupcakes.
Melt the Butterscotch chips according to the directions. Be careful not to overheat them. Put them in a disposable piping bag and snip the end off. Pipe the butterscotch into the cap part of the acorns.
Melt the Milk Chocolate Chips according to the directions. Place in a disposable piping bag and snip the end. Pipe the chocolate into the bottom section of the acorns.
Place the mold in the fridge for at least 30 minutes or until the acorns are hard. They will easily pop out of the molds when done.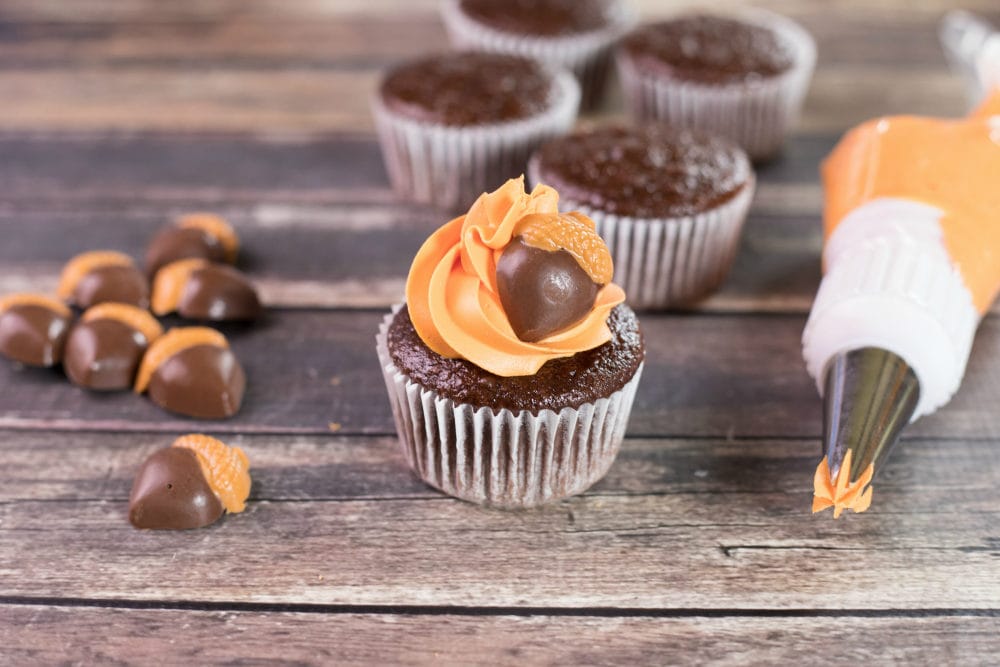 For the Icing:
Dip out some of the icing and add Golden Yellow Coloring Gel and a smidge of No-Taste Red Coloring Gel. Mix together to get an orange color.
Place the icing in a disposable piping bag with a 1M tip. Pipe the icing on to the cupcake. Place an acorn in the icing.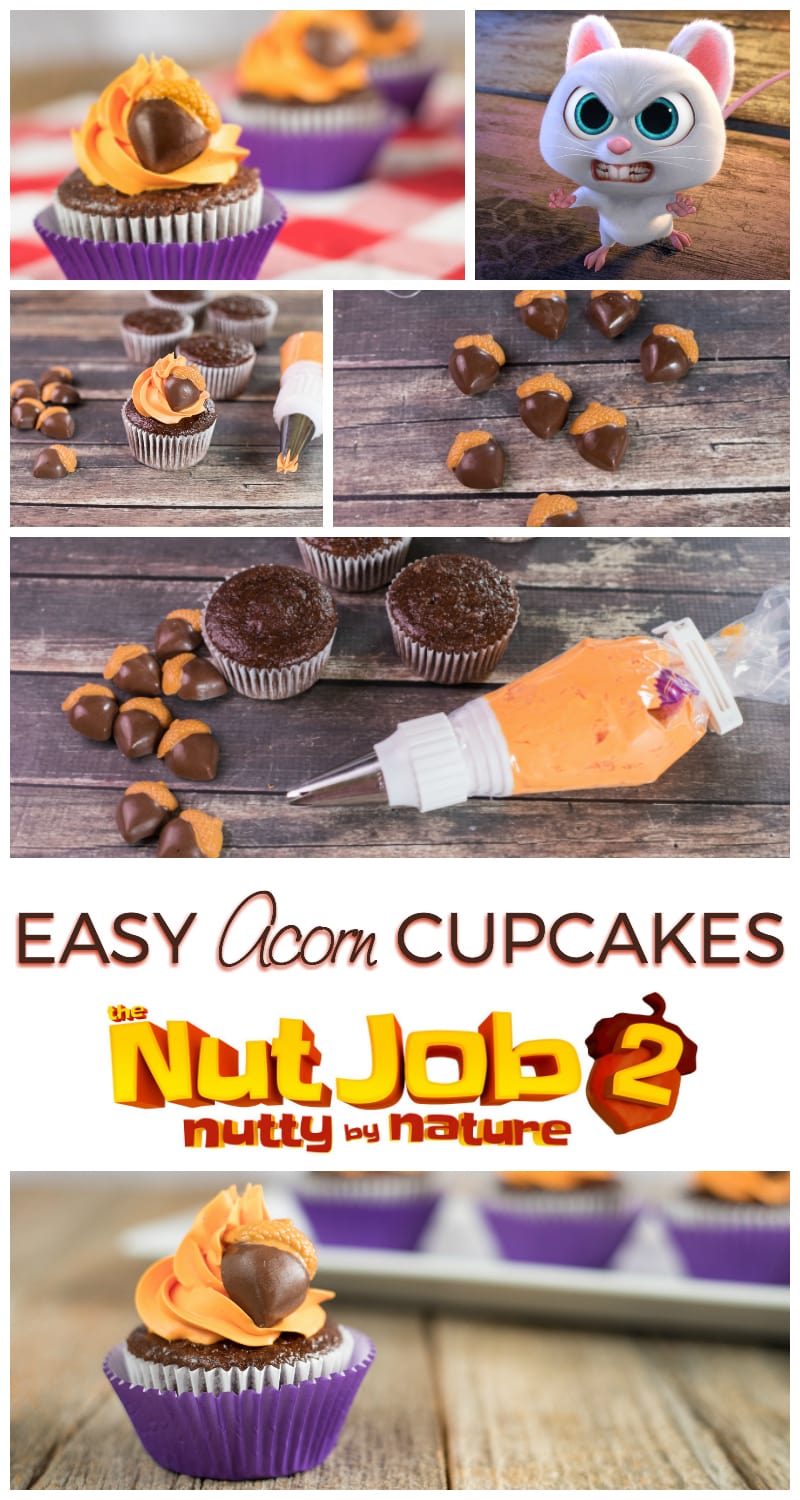 The Nut Job 2: Nutty By Nature
Starring Will Arnett, Katherine Heigl, Maya Rudolph, Bobby Moynihan, Gabriel Iglesias, Jeff Dunham, Bobby Cannavale, Isabela Moner, Sebastian Maniscalo, Peter Stormare and Jackie Chan, this comedy with have everyone going nuts with fits of laughter.
Don't miss the sequel to the 2014 animation when it hits theaters everywhere August 11! The animal characters are irresistibly cute and hysterical. Grab your tickets on Fandango.com.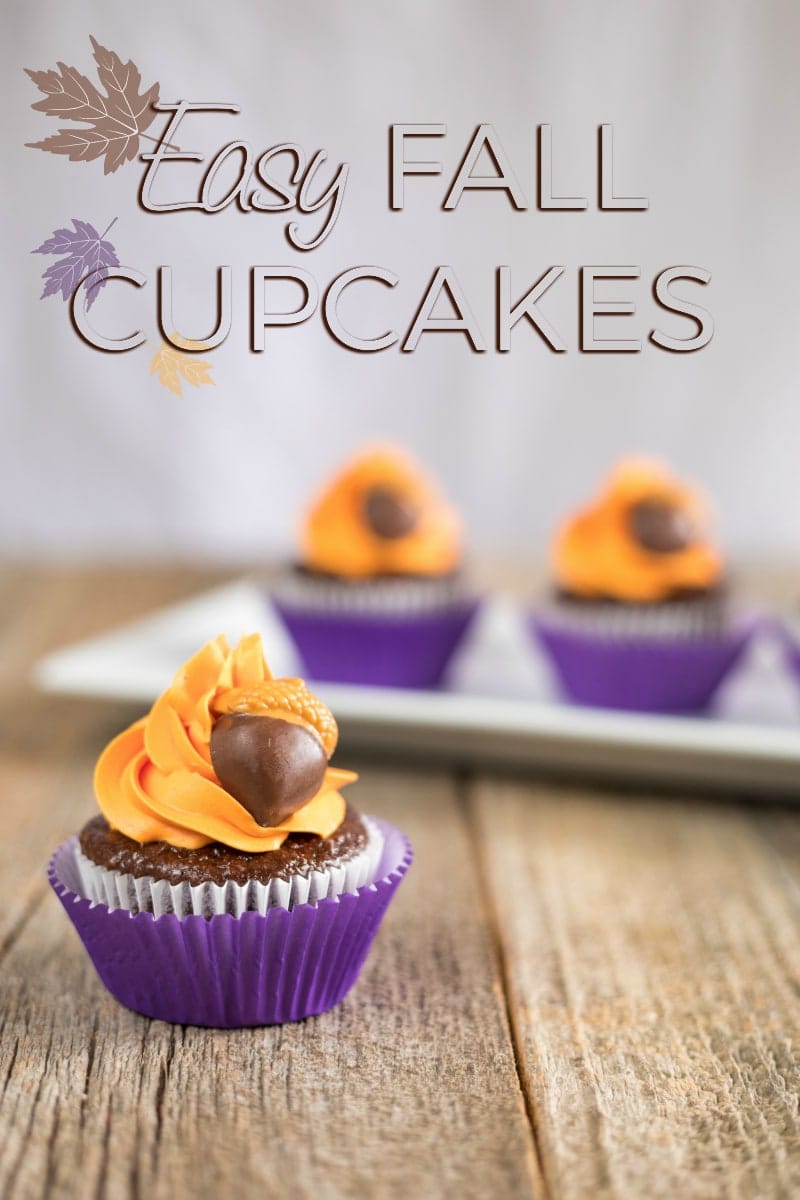 What other variations could you make to these fall themed cupcakes?
Rainbow Crumbs for You
Weekly newsletter with our latest posts and shenanigans.