Good news for all you pumpkin enthusiasts out there! Why settle for long lines at your local coffee shop when you can enjoy a seasonal drink in the comfort of your home? With this homemade pumpkin spice latte recipe, you can savor the flavors of pumpkin spice season any time you wish.
I must confess, fall is my favorite season for good reason—warm spices like cinnamon and the comforting aroma of a pumpkin latte have a lot to do with it. But the beauty of this homemade version is that you don't have to limit yourself to a few months out of the year.
With some simple ingredients and your own espresso machine or coffee maker, you can enjoy the best homemade pumpkin spice latte all year round. This post contains affiliate links.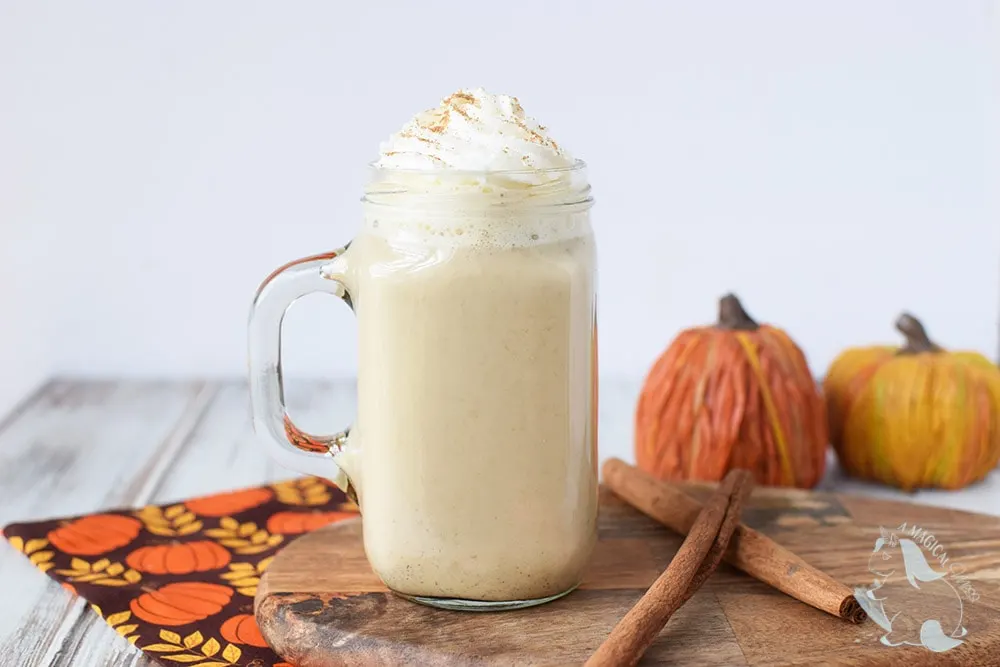 Unlocking the Secrets of Copycat Recipes
Creating your own copycat recipe, especially a Starbucks version, means you can skip the coffee shop and sip on your favorite drinks anytime you want. It's not just a win for your taste buds; it's a win for your wallet, too.
My love affair with replicating Starbucks drinks began with a green tea frappuccino obsession. Shelley and I couldn't get enough of them during our first blogging conference. This refreshing beverage acted like a special elixir, giving us the steady energy we needed to power through those busy days. Inspired, I created a homemade green tea frappuccino recipe that's not only delicious but also budget-friendly.
And who could forget the limited-time Starbucks birthday cake frappuccino? When that hit the menu for a fleeting moment, we scrambled to replicate it as well. I mean, the raspberry whipped cream alone was worth recreating!
Give this Iced Pumpkin Chai Latte a try if you like your PSL to have an extra kick of flavor. You'll even learn how to make pumpkin spice cold foam at home!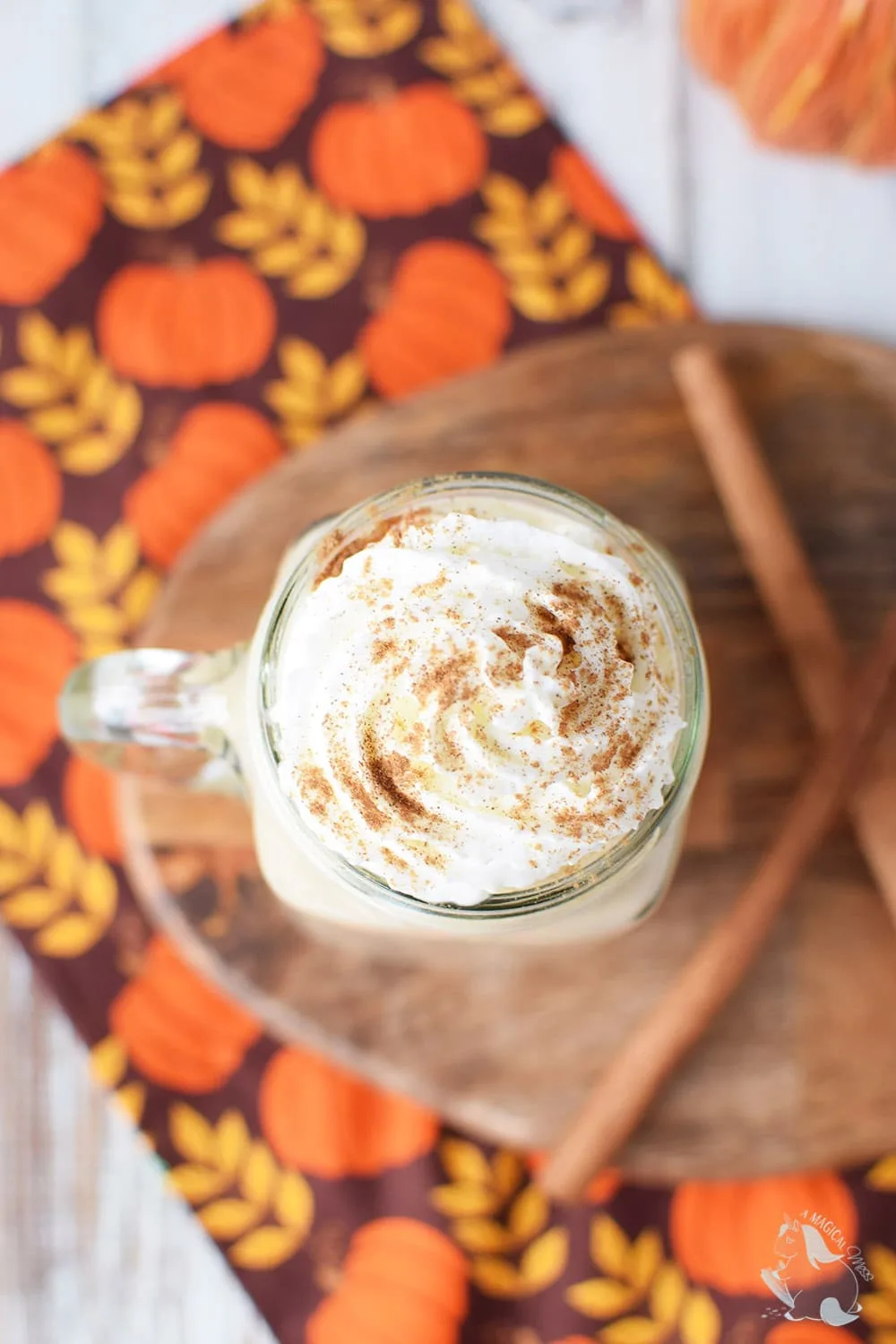 DIY Pumpkin Spice Latte
Now it's time to add another trophy to our shelf of Starbucks copycat recipes—the DIY pumpkin spice latte. Don't worry, this homemade version isn't about totally skipping our beloved coffee shop; it's about embracing the beauty of convenience.
Whipping up coffee beverages like a homemade latte at home not only saves you some hard-earned cash, but it also gives you total control over the type of milk and grams of sugar that go into your cup. Plus, you can skip the trip to the coffeehouse if it's not aligned with your day's to-do list.
When I am out and about running errands, sure, treating myself to my favorite Starbucks concoction is my go-to reward for successful adulting.
Reasons to Love this Copycat PSL
Customizable Flavor: Whether you crave a strong coffee kick or a subtle pumpkin touch, you can tweak this homemade pumpkin spice latte recipe to match your taste buds.
Milk Varieties: Choose from oat milk, coconut milk, whole milk, or other non-dairy options like soy milk and unsweetened almond milk. Your milk mixture, your rules!
No Special Equipment Needed: While an espresso machine and milk frother make the process smoother, a small saucepan and immersion blender will do just fine. No coffee maker? Instant coffee works really well.
Seasonal or Not: Who says pumpkin is only for the fall? Savor the warm spices and pumpkin flavor any time of the year.
Budget-Friendly: Skip the local coffee shop prices and make a tasty version right at home for a fraction of the cost.
Nutritional Control: Want a healthy pumpkin spice latte or a vegan pumpkin spice latte? You have complete control over the grams of sugar and type of milk, making it easier to fit this cozy drink into any diet.
Pumpkin Spice Latte Ingredients
Here's what you need to make this fall coffee drink recipe. The measurements are in the recipe card below.
100% Pure Pumpkin (not pumpkin pie filling)
Sweetened condensed milk
Pumpkin pie spice
Milk
Coffee, strong brewed
Whipped cream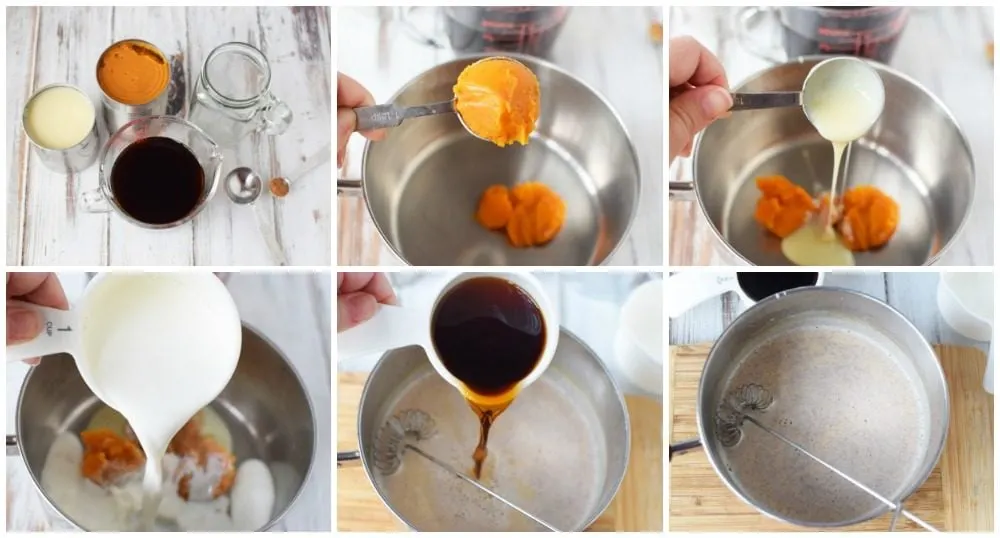 Homemade Pumpkin Spice Latte Directions
Combine Base Ingredients: In a small saucepan, combine the pumpkin puree, sweetened condensed milk, pumpkin pie spice, and your choice of milk. Turn the heat to medium-low and whisk the ingredients until they meld into a creamy milk mixture.
Heat and Add Coffee: Keep an eye out for when the milk mixture starts to show little bubbles on the surface. That's your cue to pour in your strong brewed coffee or shots of hot espresso. Dial the heat back to a simmer.
Get It Steamy: Continue to whisk your delectable concoction until it's hot and steamy. This is when all the flavors really blend together.
The Final Pour: Grab a large mug and pour your homemade pumpkin spice latte into it.
Top It Off: Top your masterpiece with a swirl of whipped cream. For that extra dash of autumnal magic, sprinkle some additional pumpkin pie spice over the top.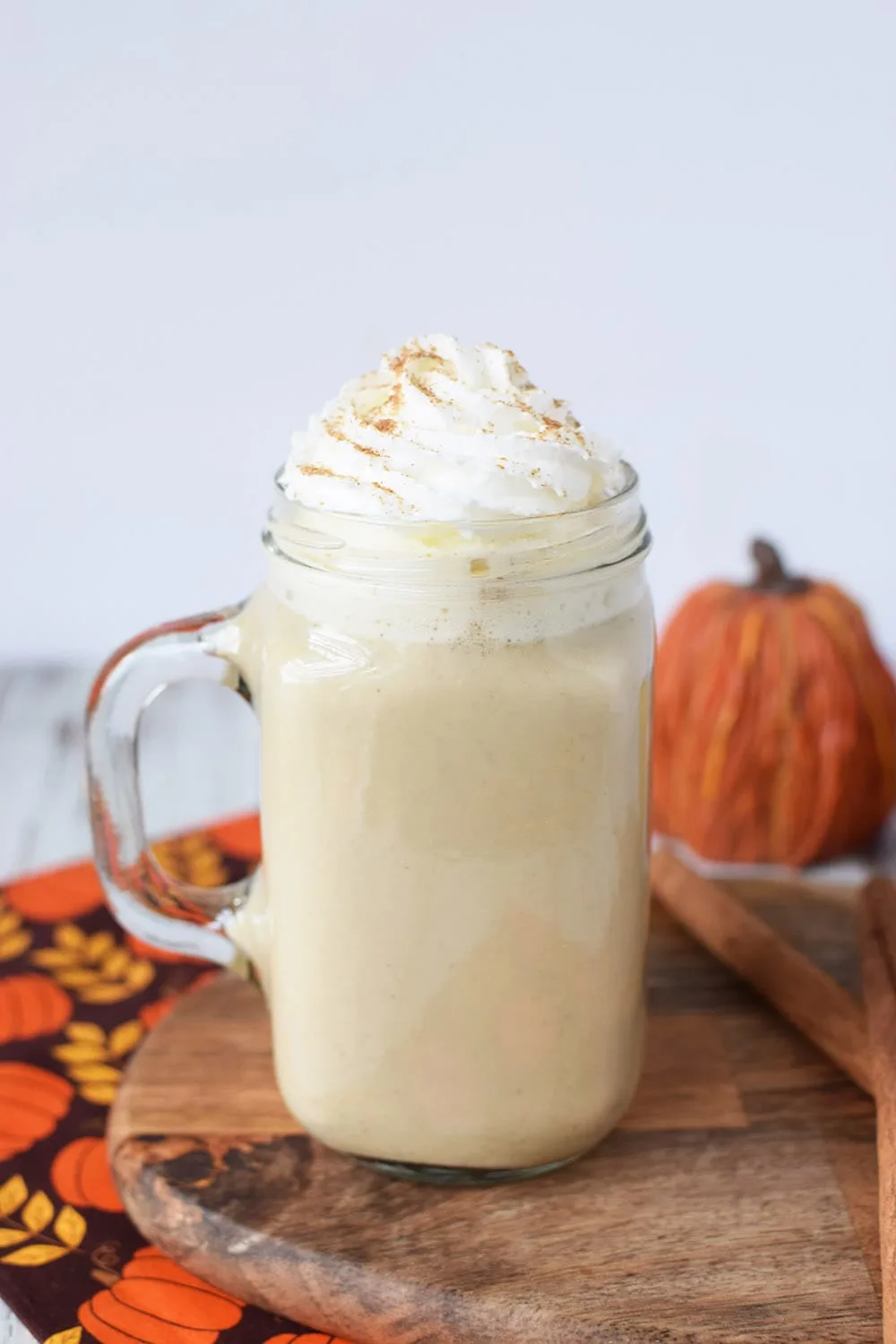 Fall Drinks to Make
If you're planning a coffee bar or just stocking up on warm and cozy drinks to make, here are some suggestions:
Mocha Cookie Crumble Cappuccino: Think chocolate, espresso, and crumbled cookies, all coming together in one heavenly cup.
Melting Unicorn Hot Chocolate: This isn't just any hot chocolate—it features a marshmallow unicorn that magically dissolves into the drink. It's as enchanting to watch as it is delicious to sip.
Vanilla Smurfette Blue Drink: A captivating, blue-hued creamy vanilla beverage that's a feast for both the eyes and the palate.
Iced Caramel Macchiato: Chill out this fall with layers of vanilla, cold milk, espresso, and a drizzle of caramel. Who said ice was just for summer?
Salted Caramel Mocha: A mouthwatering blend of sweet caramel, deep chocolate, a sprinkle of sea salt, and your choice of coffee. It's comfort in a cup, no blanket needed.
Recipe Substitutions and Variations
Milk Swap: Whether it's oat milk, soy milk, cashew milk, or classic whole milk, you've got options. Mix and match to find your perfect milk mixture!
Sweeten It Up: Brown sugar, pure maple syrup, or even simple ingredients like honey can replace the sweetened condensed milk for a different twist.
Coffee Choices: Strong coffee is the standard, but shots of espresso, cold brew coffee, or even a mocha base can switch things up.
Skip the Dairy: For a vegan pumpkin spice latte, use non-dairy milk and whipped cream alternatives.
Iced or Hot: Enjoy it as a hot espresso-based beverage, or turn it into an iced latte for those warmer fall days.
Creamy or Frothy: Use a milk frother for a frothy milk top, or blend the milk mixture with an immersion blender for a creamier texture.
Recipe Notes and FAQ
How can I make my pumpkin spice latte sweeter?
If the Starbucks version is your benchmark for sweetness, you might find 2 tablespoons of sweetened condensed milk a bit reserved. Feel free to dial it up to 1/4 cup for that extra sweetness kick.
Do I need an espresso machine?
Nope! While having an espresso machine can elevate your coffee shop version, strong coffee made in a regular coffee maker works just fine. You can even use a French press or AeroPress if that's what you have. Instant coffee tends to have that strong flavor that works in a pinch, too.
Can I make this recipe vegan?
You bet! Just opt for non-dairy milk like oat milk, almond milk, or coconut milk, and use a plant-based whipped cream.
Yield: 16 oz
Copycat Pumpkin Spice Latte Recipe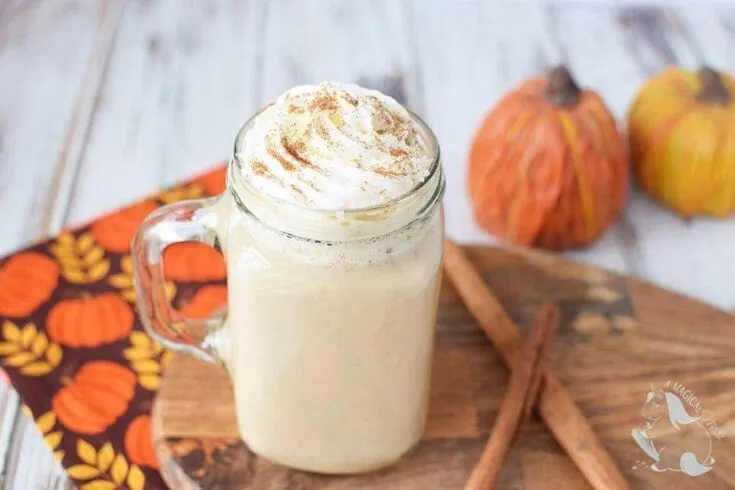 Love pumpkin spice lattes? Here's a copycat recipe for you to make at home. This recipe makes one 16 oz drink.
Ingredients
2 tablespoons 100% pure pumpkin
2 tablespoons sweetened condensed milk
1/2 teaspoon pumpkin pie spice, plus additional for topping
1 cup milk
1 cup coffee, strong brewed
1/4 cup whipped cream
Instructions
Add pumpkin, sweetened condensed milk, pumpkin pie spice, and milk to a saucepan and heat on medium-low, whisking to combine ingredients.
Once mixture begins to bubble, add coffee and reduce heat to simmer.
Continue to whisk until hot and steamy.
Pour into mug and top with whipped cream and additional pumpkin pie spice.
Notes
If you prefer your latte to be extra sweet, increase the sweetened condensed milk to 1/4 cup. Using the 2 tablespoons listed might make it a tad less sweet than a typical Starbucks PSL.
Recommended Products
As an Amazon Associate and member of other affiliate programs, I earn from qualifying purchases.
Nutrition Information:
Yield:
1
Serving Size:
1 Drink
Amount Per Serving:
Calories:

295
Total Fat:

12g
Saturated Fat:

7g
Trans Fat:

0g
Unsaturated Fat:

4g
Cholesterol:

44mg
Sodium:

170mg
Carbohydrates:

36g
Fiber:

0g
Sugar:

35g
Protein:

12g
Nutrition facts are an estimate only.
Please pin the image below to your coffee drinks board on pinterest to save and share!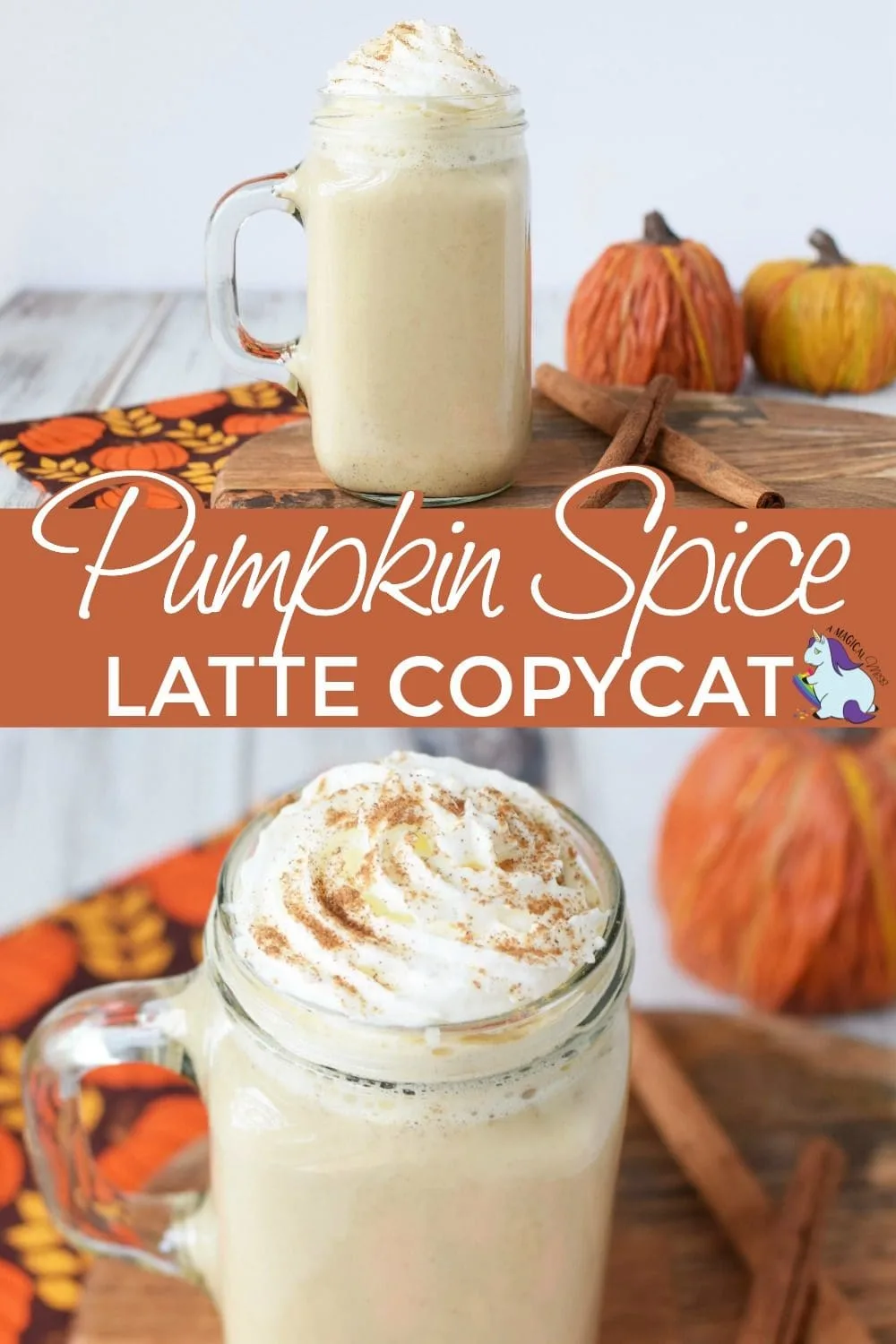 Are you a fan of Starbucks' pumpkin spice latte? Ever tried making a copycat recipe at home? Share your experiences and thoughts in the comments below!
If you enjoyed this recipe, make sure to subscribe for more magical drinks and tasty treats. Share this post on social media to spread the cozy vibes and seasonal flavors with friends and family!