This bat buttercream board is swooping in to add some delicious fun to your Halloween parties. You know we have to add some sweetness to the traditional charcuterie board and overall viral butter board trends going around, so get ready for a dessert board frenzy! This post contains affiliate links.
Similar to the little pumpkin frosting board and the graveyard icing board, this bat buttercream board is perfect for any non-scary Halloween party or fall event. It's a super cute purple frosting bat surrounded by delicious sweets and treats for dipping.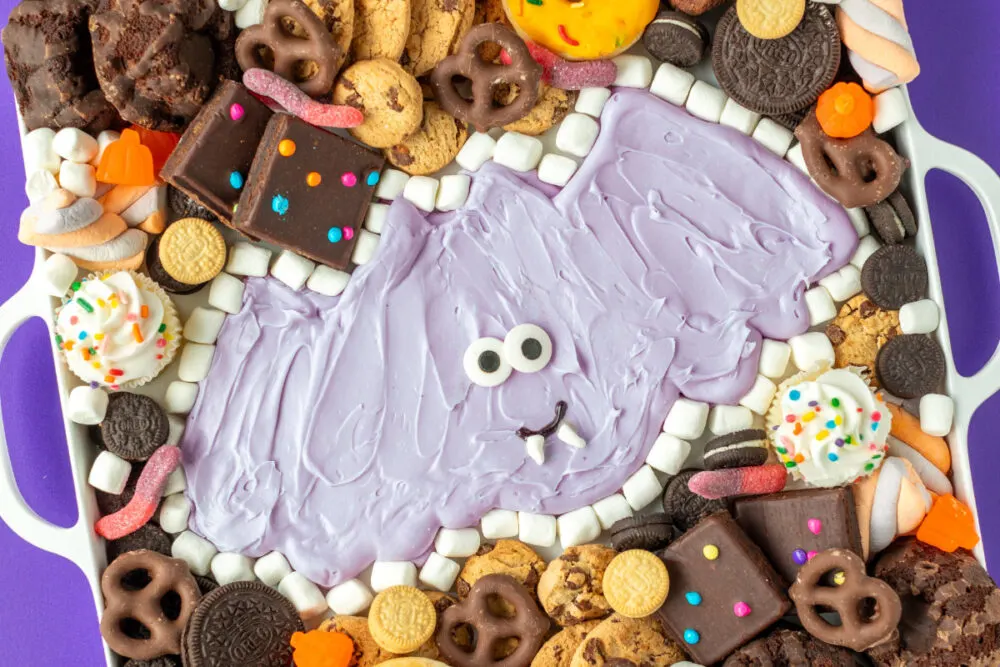 Cute Bat Buttercream Board for Halloween
Growing up, holiday recipes were a big deal in my household. My Grandma always made sure to have treats, sweets, and decorations galore around for Halloween. My goal is to share cute and easy recipes, so people can make the holidays memorable without spending eons in the kitchen.
This Bat Frosting Board is inspired by dessert charcuterie boards, combined with the viral butter boards trend. It's a fusion of tradition and modern dessert artistry, making it the perfect centerpiece for your next holiday party.
Speaking of treats, doesn't signing up for Free Samples kind of feel like the adult form of trick-or-treating? It does for me, and you can do it all year!
Oh, and we cannot forget to shoutout the icon herself, Ava Ryan for making bats extra popular on Halloween. "It's Fricken Bats, I love Halloween" forever lives in my head and I love it!
Reasons to Love this Bat Frosting Board
A gorgeous buttercream board that's the star of the show.
A delightful blend of textures, from the crusty bread-like texture of cookies to the softness of marshmallows.
Easy dessert that takes your holiday recipes to the next level.
Versatile – customize with your favorite cookies, from shortbread cookies to animal crackers.
Bat Dessert Board Ingredients
Here's what you need to make this fun Halloween dessert recipe. The measurements are in the recipe card below.
Wilton Creamy Decorator Icing, Medium
Purple Food Coloring
Large Candy Eyes
Black Wilton Sparkle Gel
Hostess Baby Bundts, Chocolate Drizzle
Brownie Bites
Mini Cupcakes
Mini Donuts
Chocolate Chip Cookies
Mini OREO Cookies
Mini Golden OREO Cookies
Mini Chocolate Chip Cookies
Mini Chocolate Pretzels
Gummy Pumpkins
Purple & Orange Striped Marshmallows
Sour Worms
Steps to Make this Batty Buttercream Board
Step 1: Prep the Icing
Begin by adding purple food coloring to the icing. Mix until the color is blended thoroughly and you get the shade of purple that you want.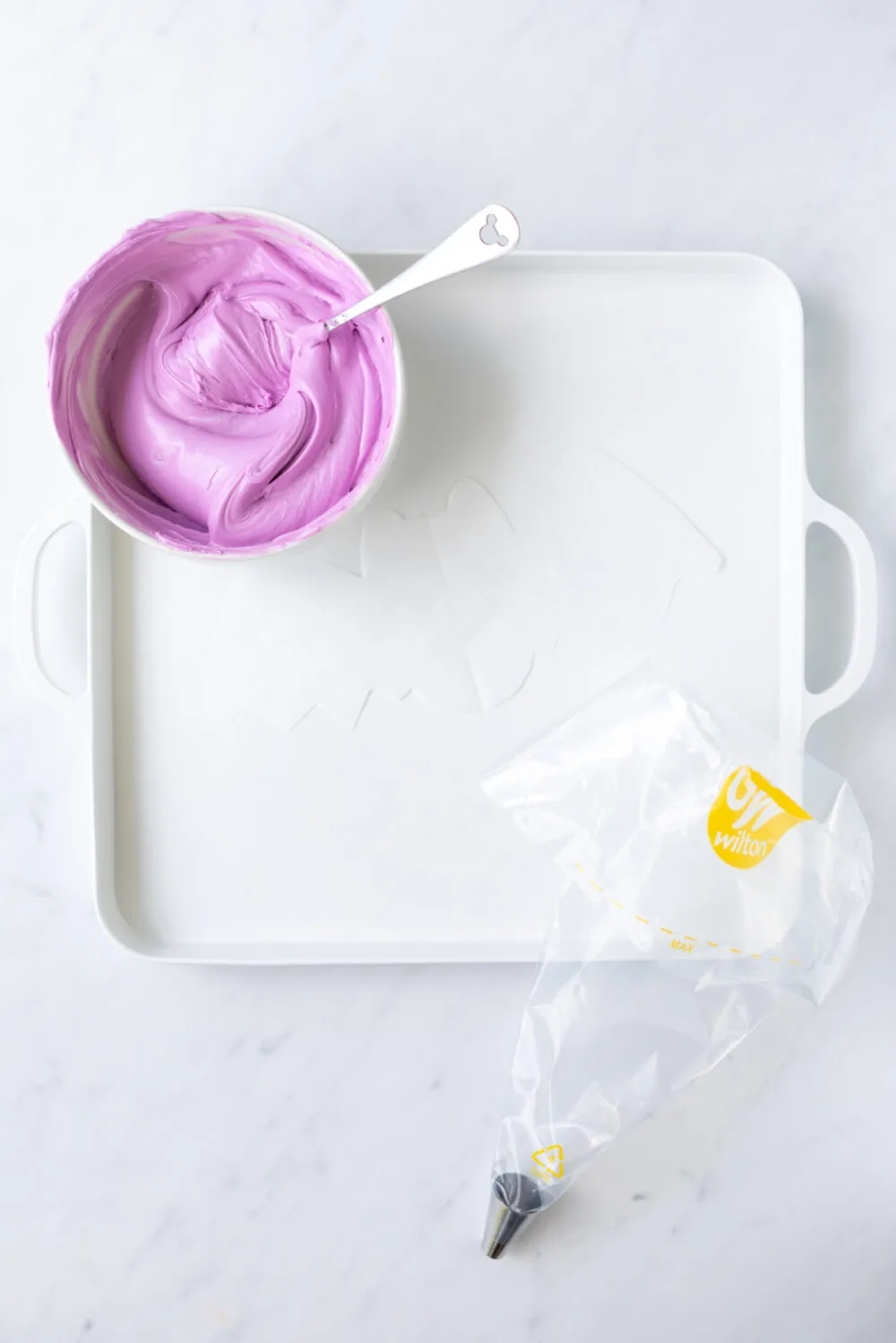 Step 2: Set Up Your Piping Bag
Fit a pastry bag with a round piping tip. Once in place, fill the bag with the purple icing.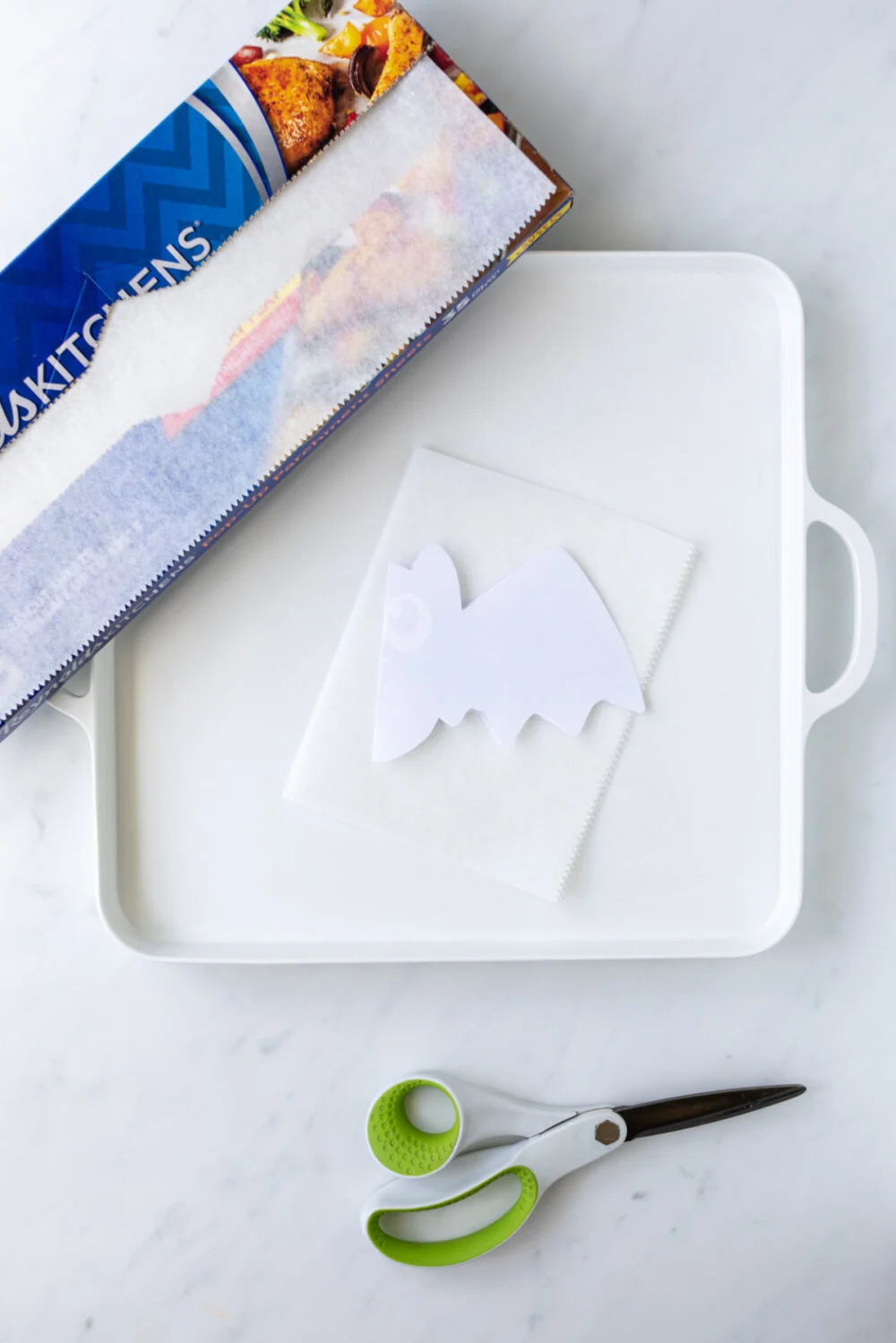 Step 3: Prepare the Bat Template
Print out the free printable bat template. Cut out the bat shape and, if you prefer, trace it onto parchment paper. Position this template at the center of your serving board.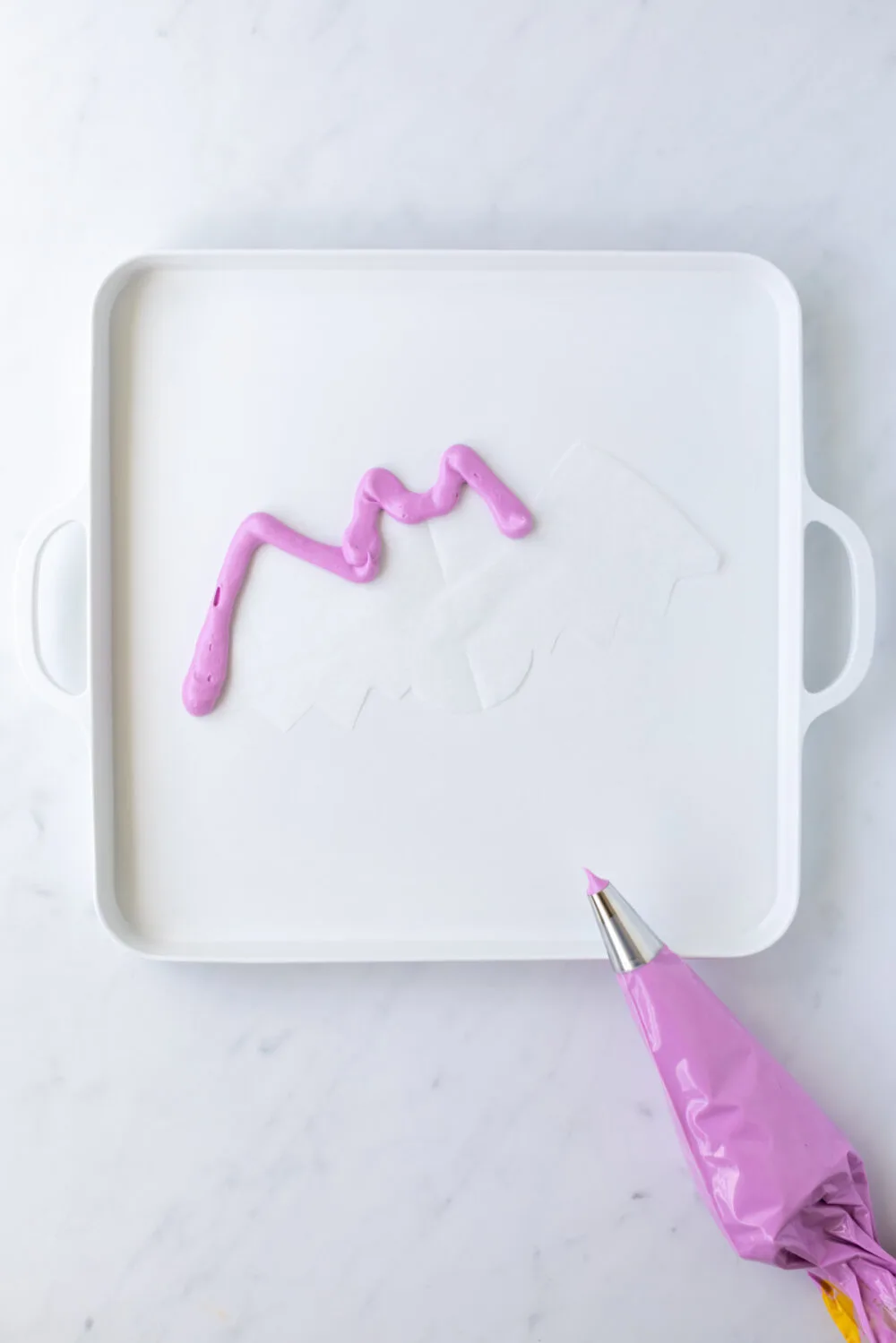 Step 4: Outline and Fill the Bat Shape
Using your piping bag, trace the outside of the bat template with the icing. If you're feeling adventurous, you can also freehand this step. Once the outline is complete, proceed to fill in the entire bat shape with the icing.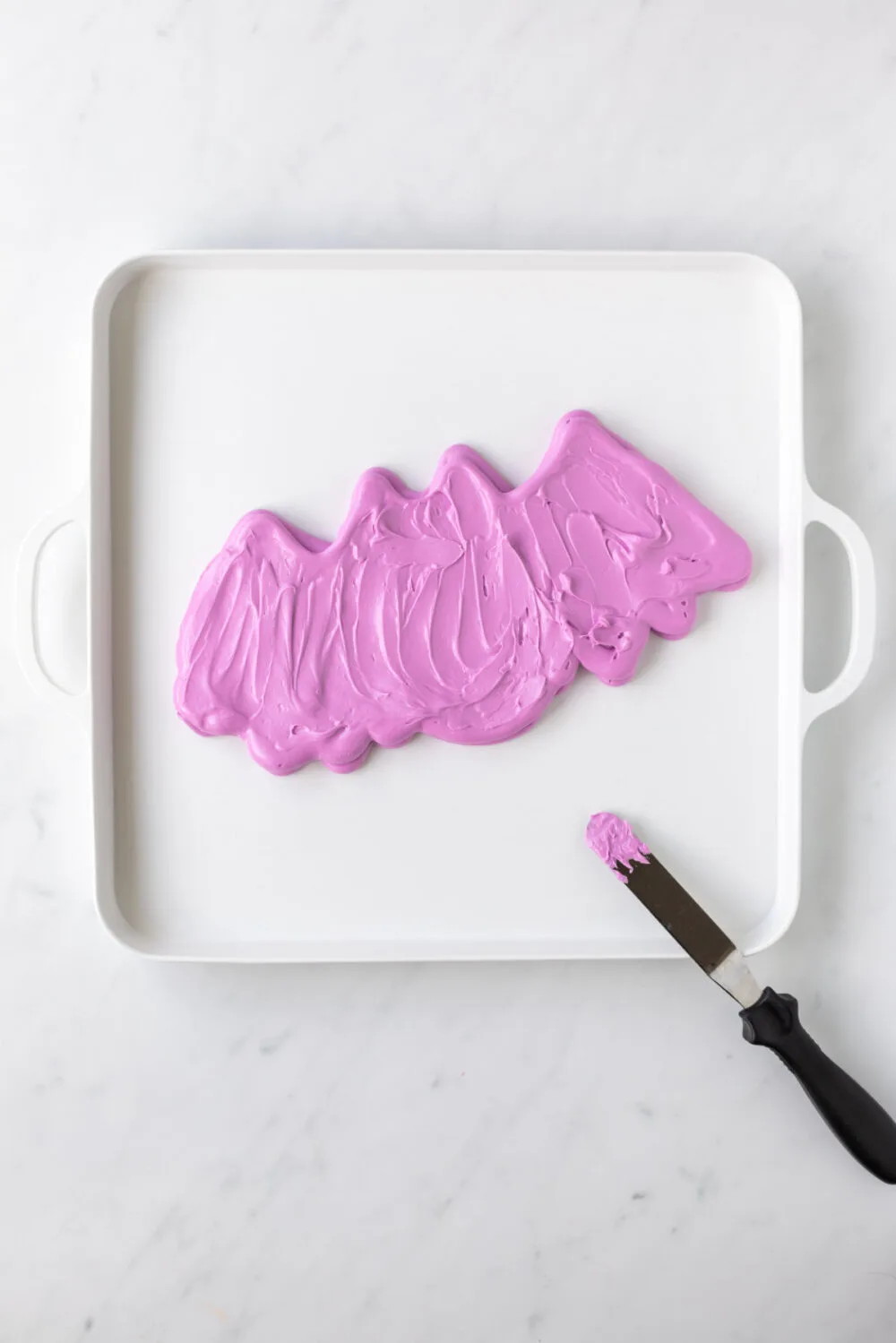 Step 5: Smooth and Perfect
With an offset spatula, smooth out the surface of the frosting. If necessary, touch up the shape of the bat to make sure it looks just right.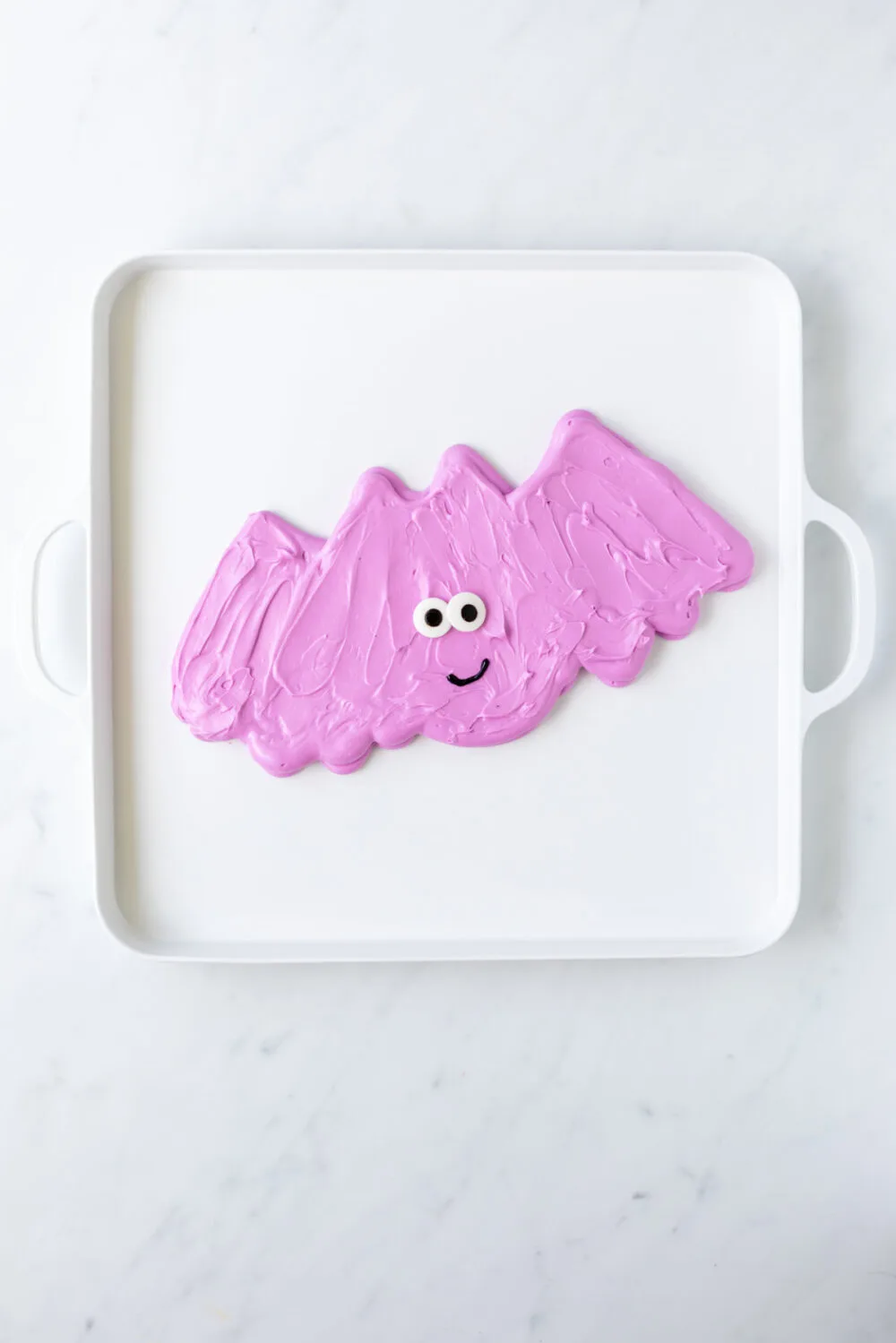 Step 6: Add Facial Features
Place two large candy eyes on the bat. Then, draw a tiny mouth using the icing. For a spooky touch, cut two fangs from a mini marshmallow and position them just below the mouth.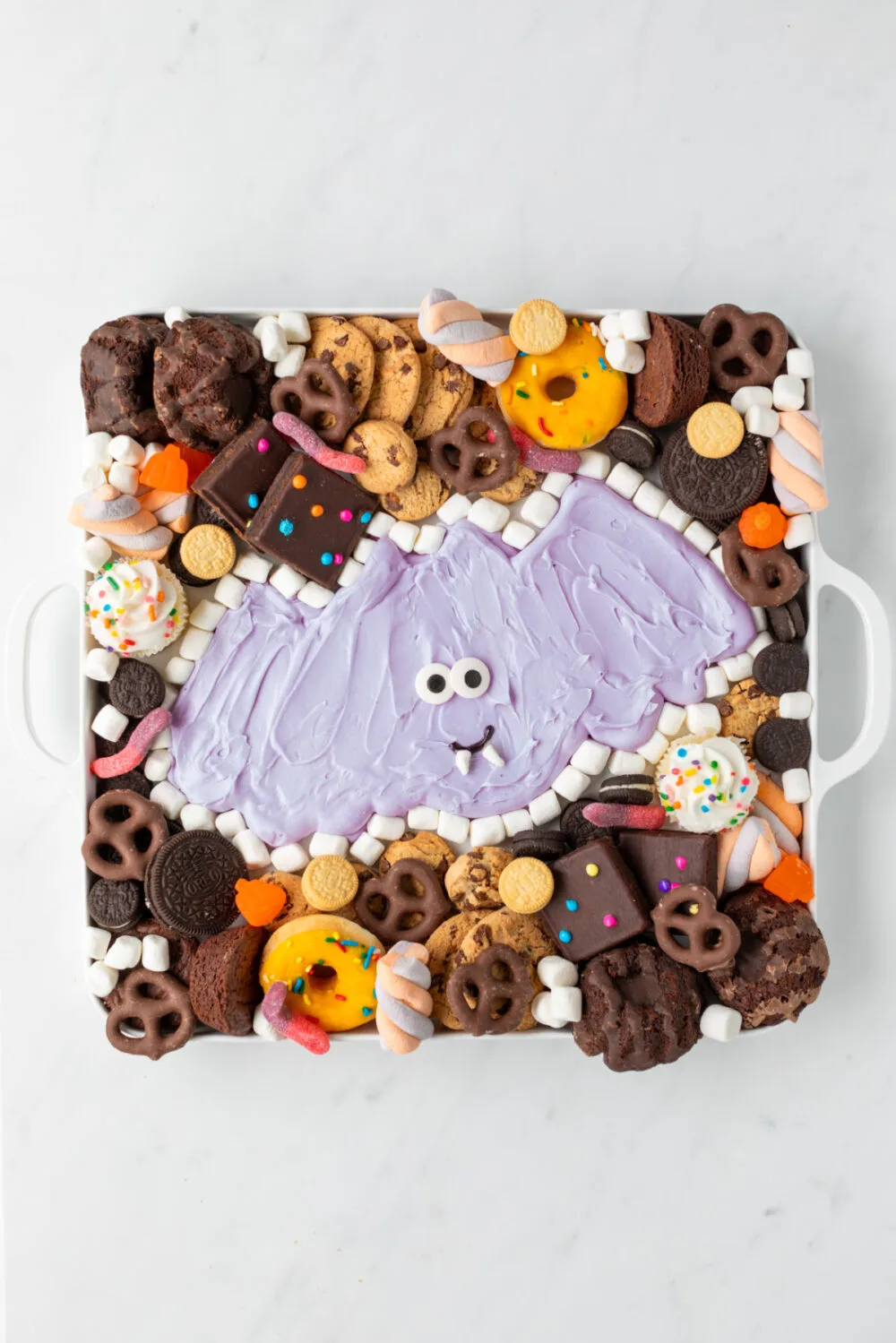 Step 7: Define the Bat
Surround the entire bat shape with mini marshmallows. This not only defines the bat but also adds a fun texture to the board.
Step 8: Corner Decorations
Place brownie bites at the top right and bottom left corners of the board. Next, position mini bundt cakes at the top left and bottom right corners.
Step 9: Fill in the Gaps
Fill the open white spaces on the board by adding a mix of cookies, mini cupcakes, and brownies. This step brings variety and depth to your dessert board.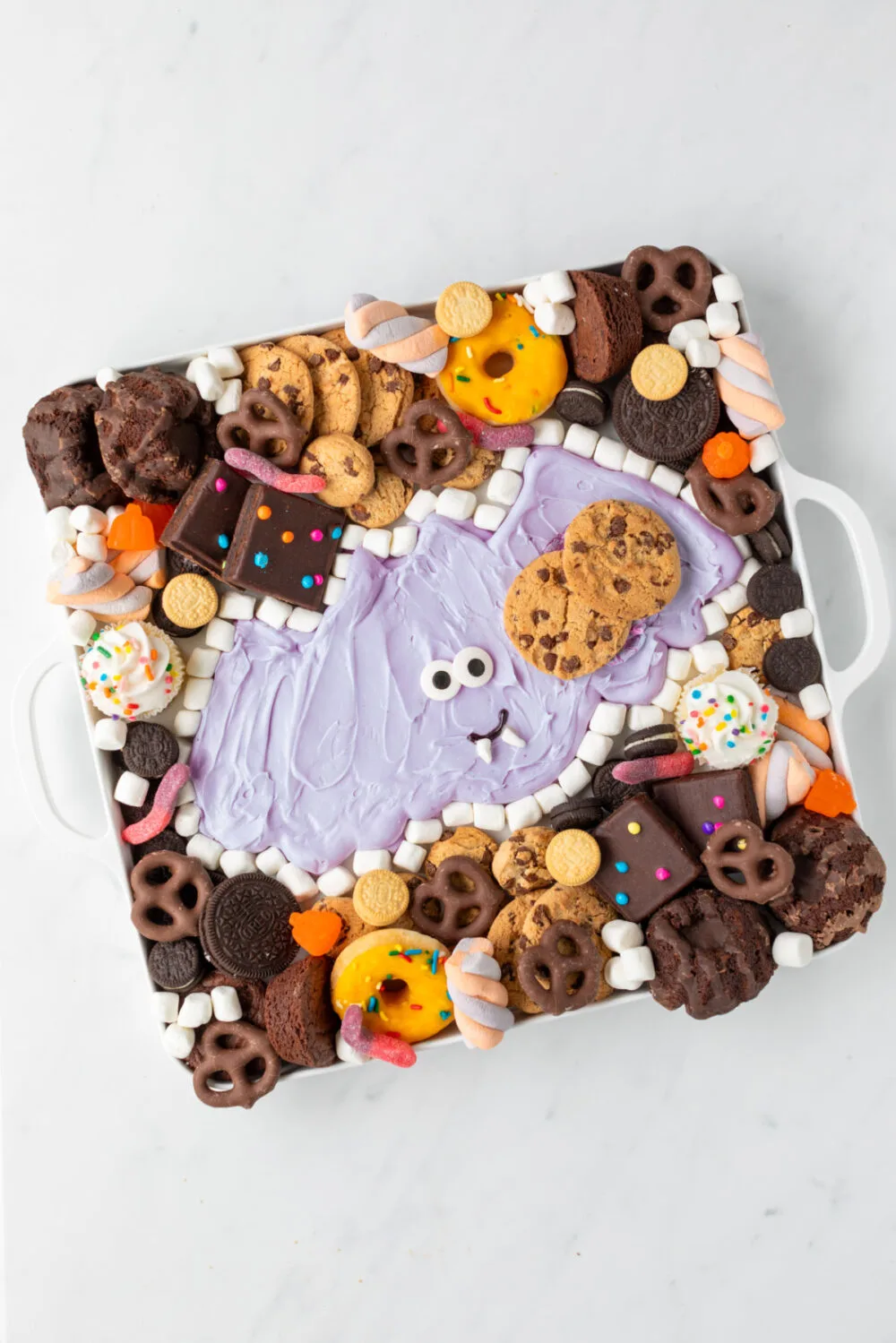 Step 10: Final Touches
Make sure there are no empty spaces left on the board. Fill in any gaps with mini cookies, gummy pumpkins, marshmallows, and sour worms.
Step 11: Serve and Enjoy
Present your Bat Frosting Board with spoons and plates, ready for your guests to dive in and enjoy!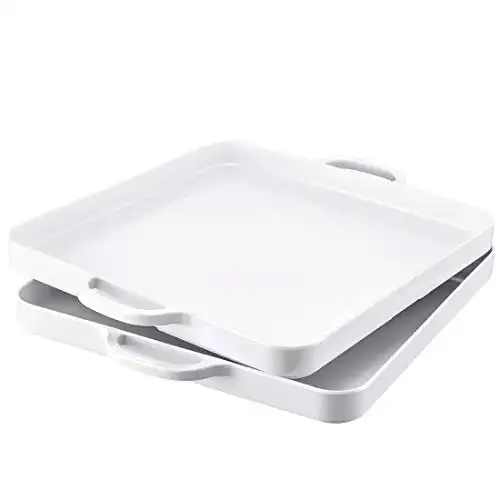 We earn a commission if you make a purchase, at no additional cost to you.
What Else to Serve
Looking for Halloween goodies to add to your party? From creepy to cute, we have several spooktacular recipes to explore:
Goblin Goo Punch: This green gooey punch is the perfect drink for your creeptastic bash.
Moldy Banana Muffins: For a trick that's also a treat, make these moldy Halloween muffins that look gross but taste delicious.
Bat Cookies: To keep the bat theme going, make these tasty bat cutout cookies.
Halloween Pasta Salad: To add some savory to the party, this creepy pasta salad is a favorite for an appetizer or side dish.
Butternut Squash Bat Soup: More bats! If you're serving a full dinner, consider adding this creamy and delcious butternut squash soup with pasta bats.
Recipe Swaps and Variations
Swap the creamy decorator icing for homemade cream cheese frosting.
Add confectioners' sugar or icing sugar for a different texture.
Experiment with new variations like a peanut butter board or a chocolate buttercream board.
You can also fill in empty spaces on the tray with chocolate chips, your favorite sprinkles, nuts, graham crackers, apple slices, other fresh fruit, or chunks of pound cake.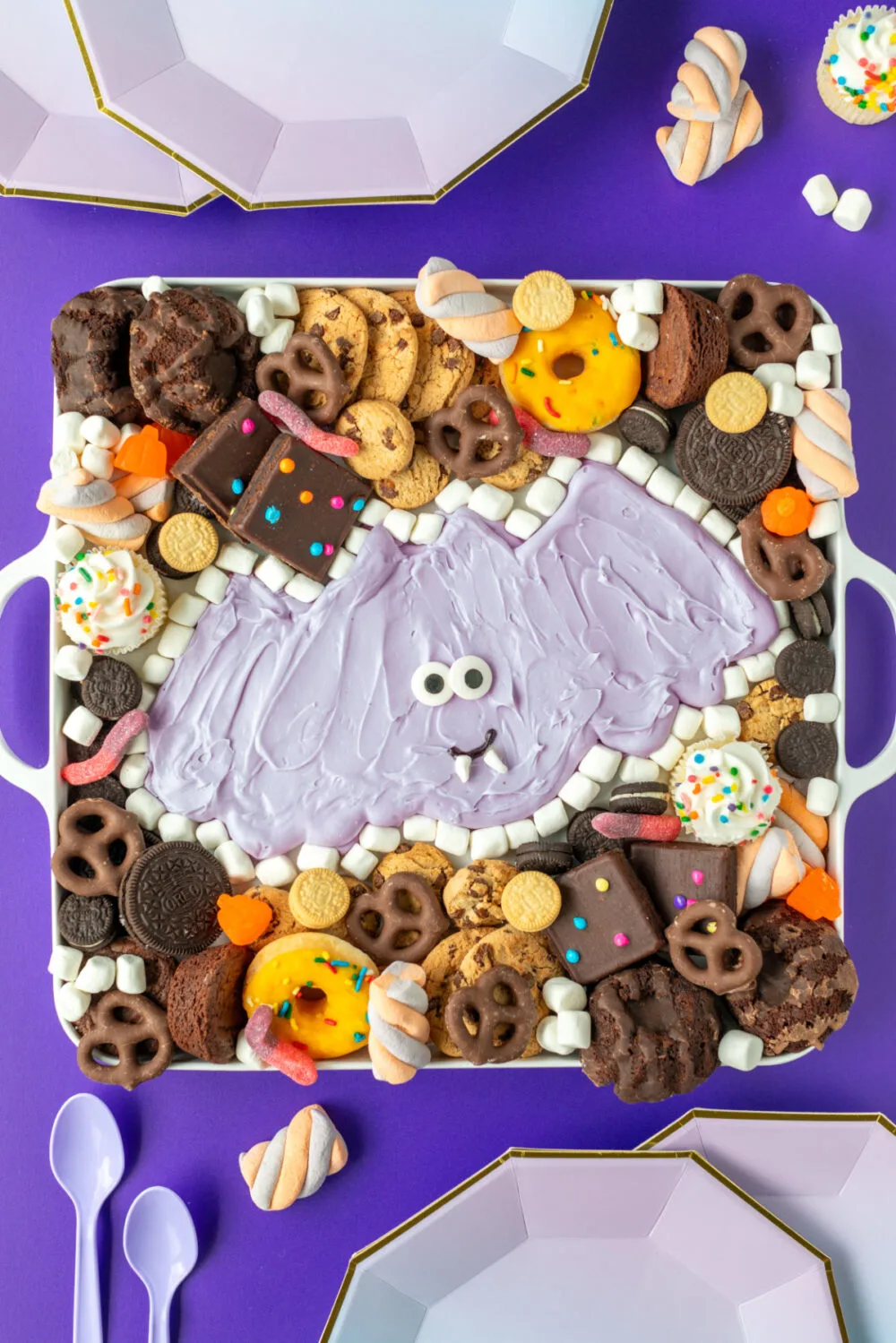 Equipment Needed
Round Piping Tip
Disposable Decorating Bags, Celebrate It
Parchment Paper Sheet
Offset Spatula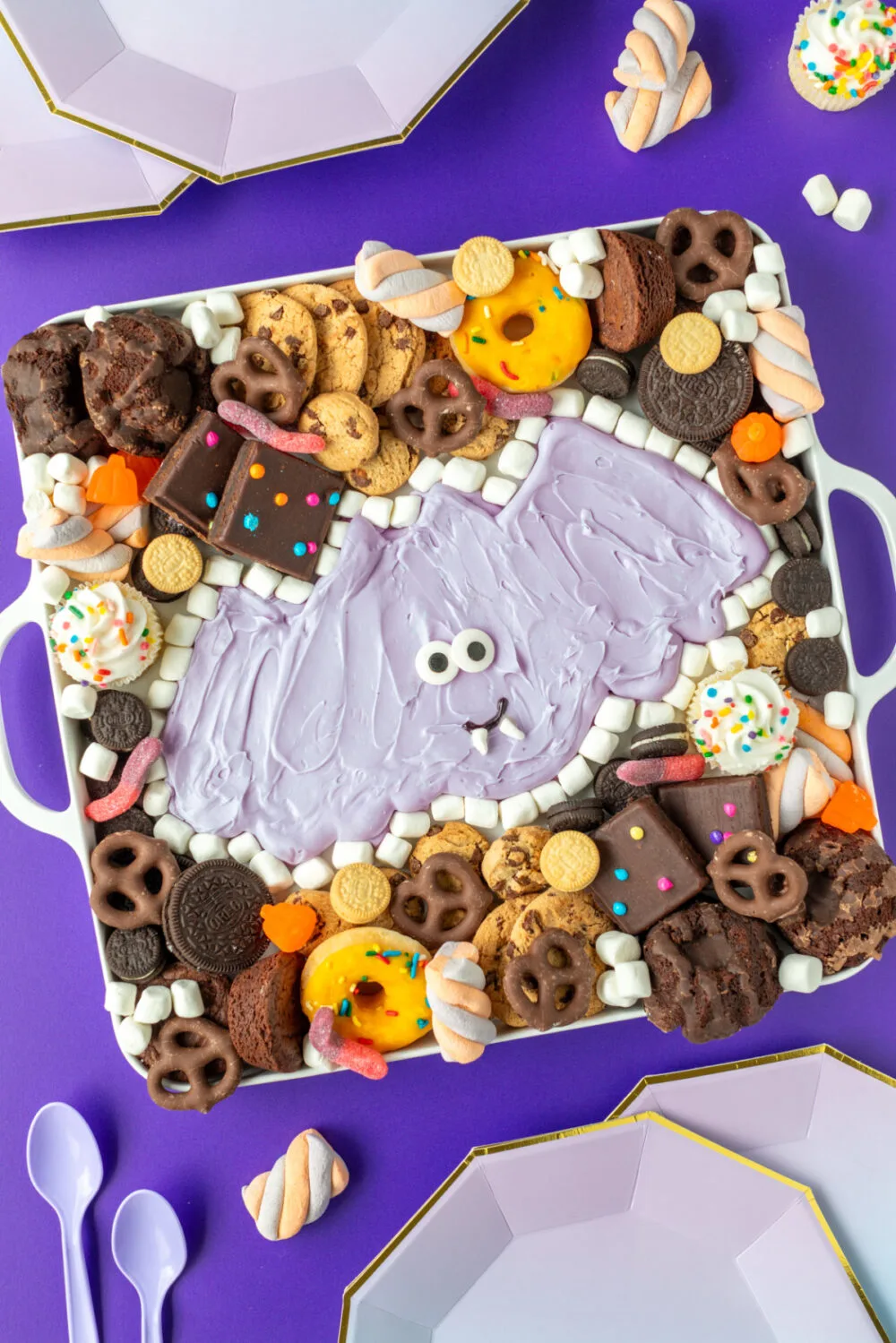 Storage
Store any leftover treats in a food-safe container. However, this board is best enjoyed fresh. Ideally, you want the cookies and other dipping treats to be room temperature and the frosting to be chilled from the refrigerator.
Yield: 14 Servings
Purple Bat Buttercream Board
Halloween vibes swooping in with this Bat Frosting Board! Packed with sweet goodies with a purple bat-shaped icing base, it's the fun, spooky dessert board everyone will rave about at your next party.
Materials
2 cups Wilton Creamy Decorator Icing, Medium, 16 oz tub
Purple Food Coloring
2 Large Candy Eyes
Black Wilton Sparkle Gel
3/4 cup Mini Marshmallows
4 Hostess Bundt Cakes
4 Brownie Bites
2 Mini Cupcakes
2 Mini Donuts
8 Chocolate Chip Cookies
2 Little Debbie Cosmic Brownies
4 OREO Cookies
12 Mini OREO Cookies
6 Mini Golden OREO Cookies
6 Mini Chocolate Chip Cookies
10 Mini Chocolate Pretzels
1/2 Cup Gummy Pumpkins
8 Purple & Orange Striped Marshmallows
6 Sour Worms
Tools
Square Serving Tray
Round Piping Tip
Disposable Decorating Bags, Celebrate It
Parchment Paper Sheet
Offset Spatula
Instructions
Combine purple food coloring with the decorator icing, stirring until the desired shade is reached.
Prepare a pastry bag by attaching a round piping tip and then loading it with the purple icing.
Download, print, and cut the bat template. Optionally, outline it onto parchment paper and set it at the middle of your presentation board.
Use the icing to sketch the bat's outline, either guided by the template or by freehand. Proceed to fill in the bat silhouette completely.
Level out the iced bat using an offset spatula, making any necessary shape corrections.
Position the candy eyes on the bat, sketch a small mouth, and fashion two fangs from a mini marshmallow, situating them beneath the mouth.
Encircle the bat silhouette with mini marshmallows for added definition.
Situate brownie bites at the upper right and lower left board corners.
Position mini bundt cakes at the upper left and lower right board corners.
Fill in the remaining board areas with a mix of cookies, mini cupcakes, and brownies.
Fill any lingering gaps with mini cookies, gummy pumpkins, various marshmallows, and sour worms.
Present the Bat Frosting Board, complemented by spoons and plates for serving.
Recommended Products
As an Amazon Associate and member of other affiliate programs, I earn from qualifying purchases.
This fun buttercream frosting board is also a great option for a Halloween movie night treat!
Pin this image to your Halloween board to save and share.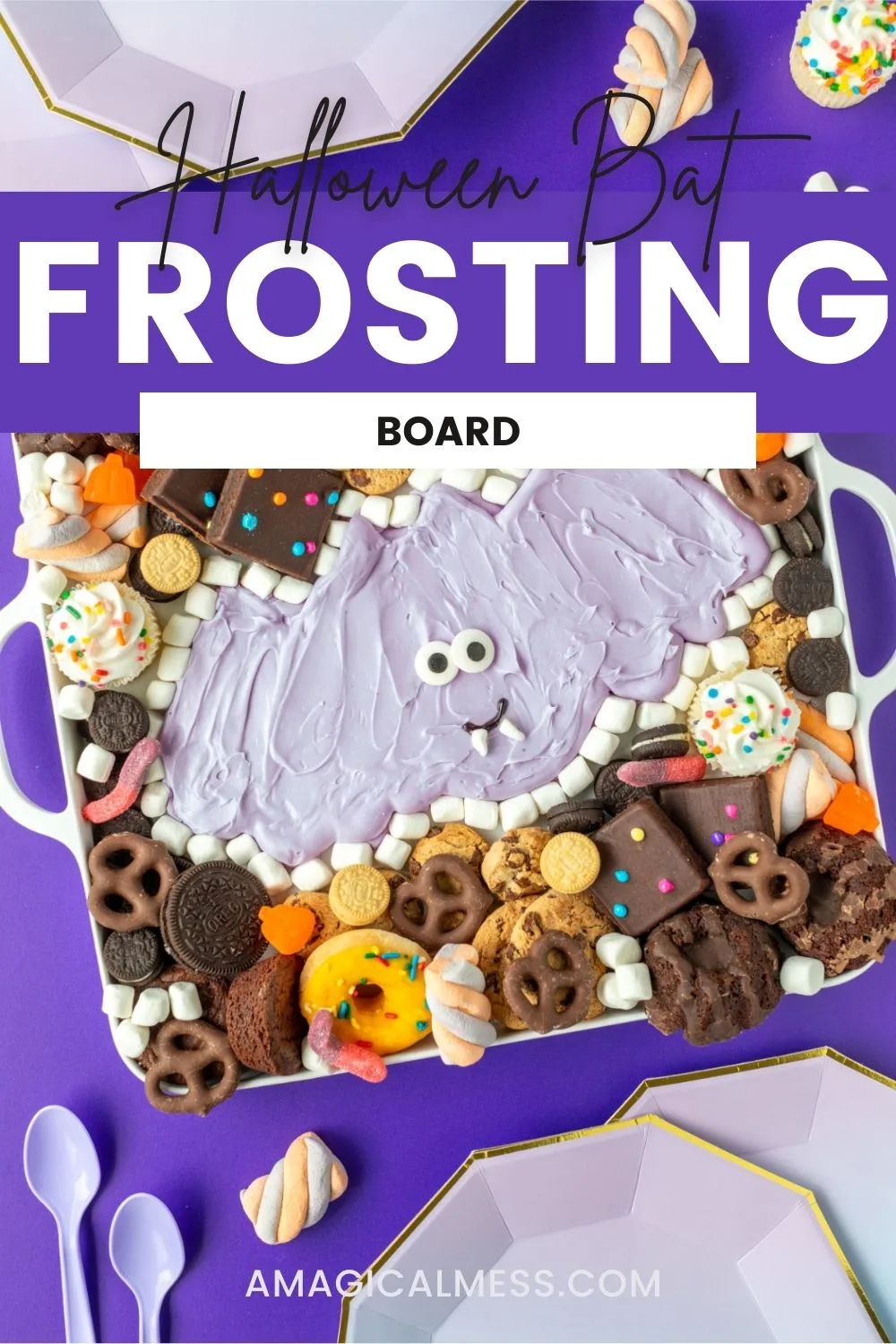 Did you go batty over this Halloween frosting board? Be sure to subscribe to the blog for more tasty dessert recipes.
If you make this bat frosting board, please show me! Tag me @jensoltys on Instagram so I can share it.