Ice cream is at the top of my guilty pleasure list. Making an ice cream recipe at home is even better.
This post is sponsored by DairyPure, but all opinions are my own.
It's fun to experiment with ingredients, you know exactly what's in it, and there's just something extra delicious about eating a dessert you make yourself.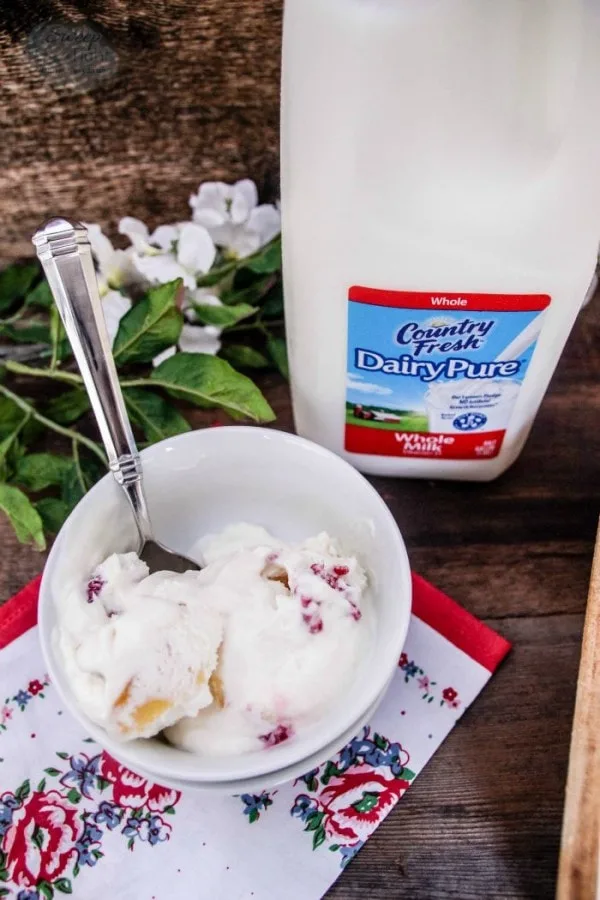 Milk is a staple in most homes. A consumer *survey even showed that a whopping 82% of American parents say that they make a separate trip to the store if they run out of milk.
*Wakefield Research for DairyPure survey of 1,000 nationally representative U.S. adults ages 18+.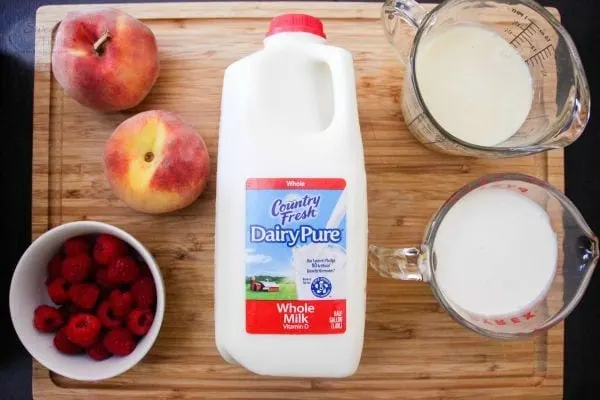 When choosing a milk for your household, keep in mind that not all milks are created equally.
Make it easy on yourself and reach for the new DairyPure, that is now available nationwide.
It's the only milk backed by the Five-Point Purity Promise.
That promise ensures the following about DairyPure milk:
Contains no artificial growth hormones
Is tested for antibiotics
Is continually quality tested to ensure purity
Only comes from cows fed a healthy diet
Is cold shipped fresh from your local dairy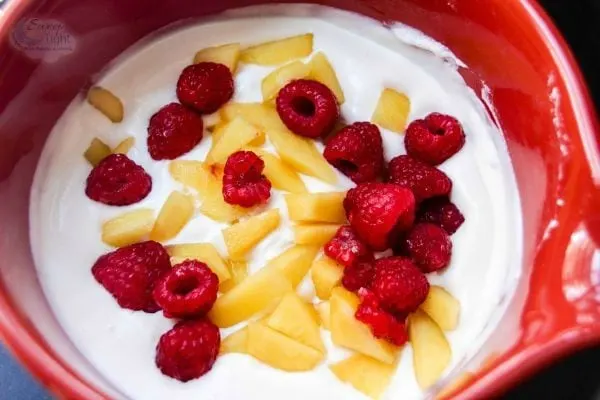 I have been using DairyPure milk exclusively for weeks now.
But, let's get down to the really important stuff, shall we? Ice cream!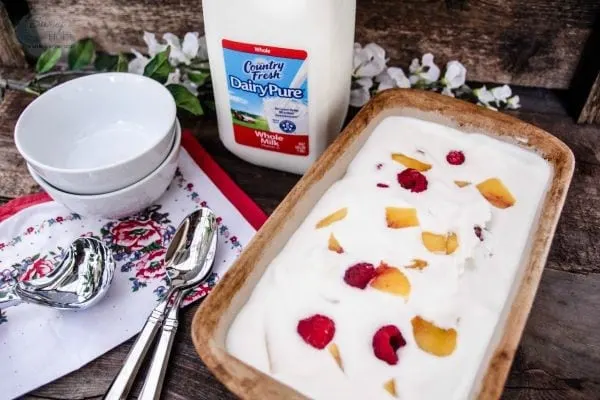 Raspberry and Peach No Churn Ice Cream Recipe
This recipe was adapted from The Kitchn
Here is what you will need to make your own.
Ingredients:
2 cups heavy cream
1/2 cup fresh peaches, chunks
1/2 cup whole raspberries
1 can (14 ounces) sweetened condensed milk
1/4 cup DairyPure milk (whole milk)
1 teaspoon pure vanilla extract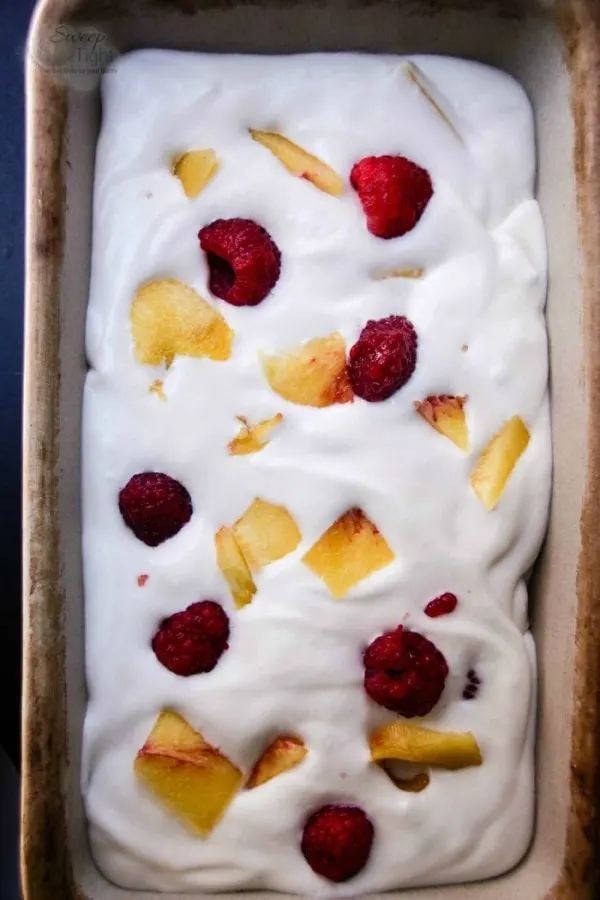 Equipment:
5″ x 10″ Bread Loaf Pan
Directions:
Pour the sweetened condensed milk into a large bowl and add pure vanilla extract.
In the bowl of a stand mixer fitted with the whisk attachment, add the heavy cream and whip until heavy cream holds stiff, billowy peaks, about 3 – 5 minutes.
Add 1/4 cup of DairyPure whole milk and whisk for another minute.
Transfer the whipped cream to the bowl with the condensed milk.
Gently fold the whipped cream into the condensed milk.
Gently fold in raspberries and peaches — be careful not to deflate the mixture too much or over-mix.
Use a spatula to scrape all the ice cream base into your freezer container.
Smooth the top, then press a piece of wax paper against the surface to prevent ice crystals from forming.
Freeze for at least six hours, or overnight.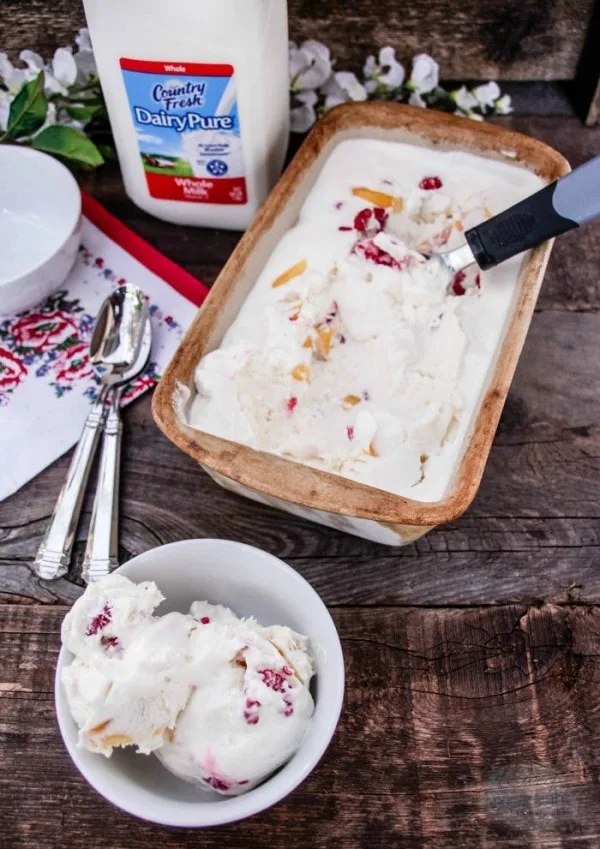 Be sure to visit DairyPure to find the milk at a store near you.
Don't miss their recipe section while you are on the site.
There are tons of delicious goodies to explore.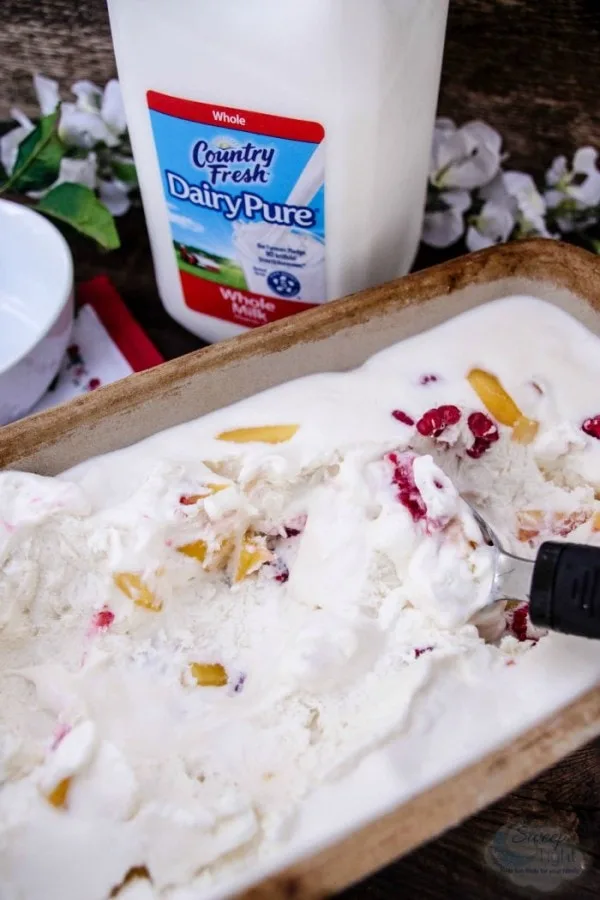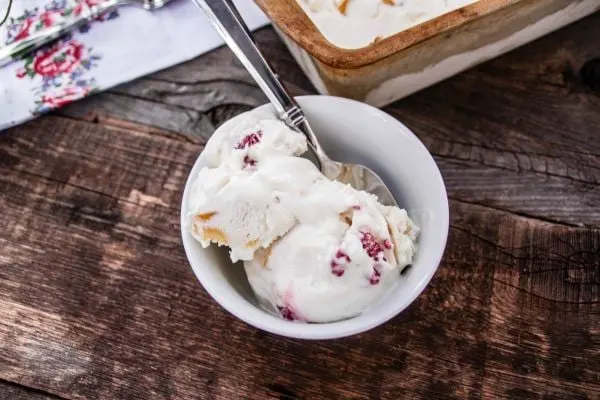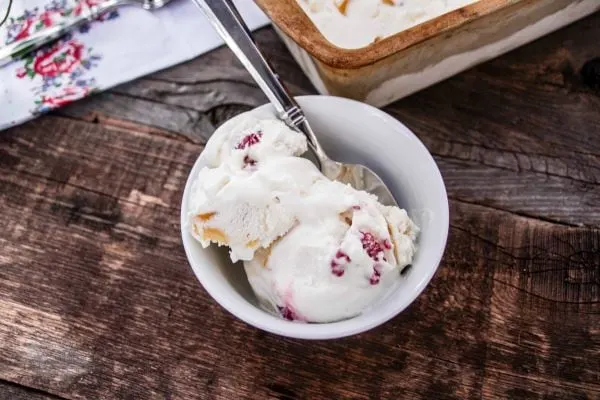 Ice cream recipes
What's most important to you when choosing a milk?
Have you ever made a homemade ice cream recipe?