Okay green tea fans, we have a Matcha ice cream recipe for you. No ice cream maker required.
I can't tell you how happy I was that this worked out since I love Matcha so much.
Shelley and I had another batch baking day at my Gram's. This time, it was all about the Matcha.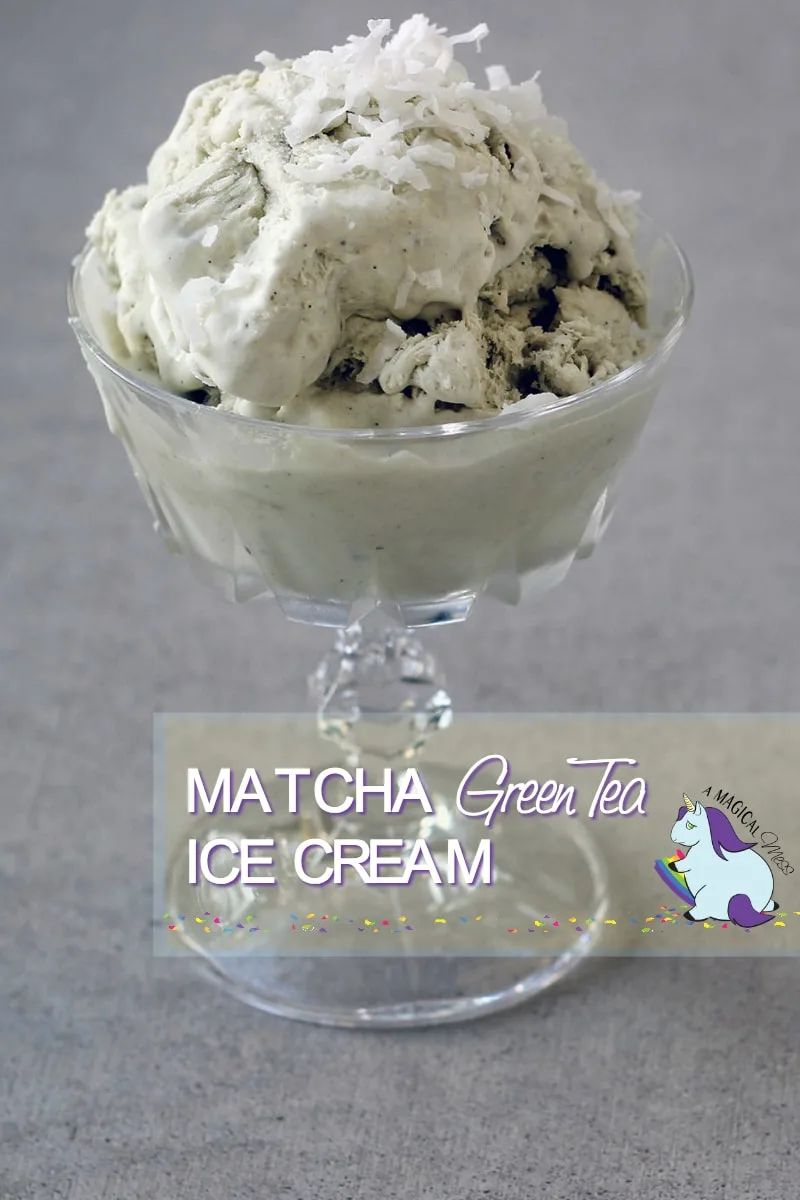 Ever since I had my first Starbucks Green Tea Frappuccino, I have loved Matcha.
I drink my copycat version of the green tea frappe all the time. I thought it would be great to experiment with other green tea recipes.
Turns out, Matcha is not a flavor that everyone loves. Apparently, it's an acquired taste?
It also contains caffeine, so that's another thing to keep in mind when snacking on these treats.
Ice cream is usually a late dessert for me, but this one will keep me up all night if I am not careful.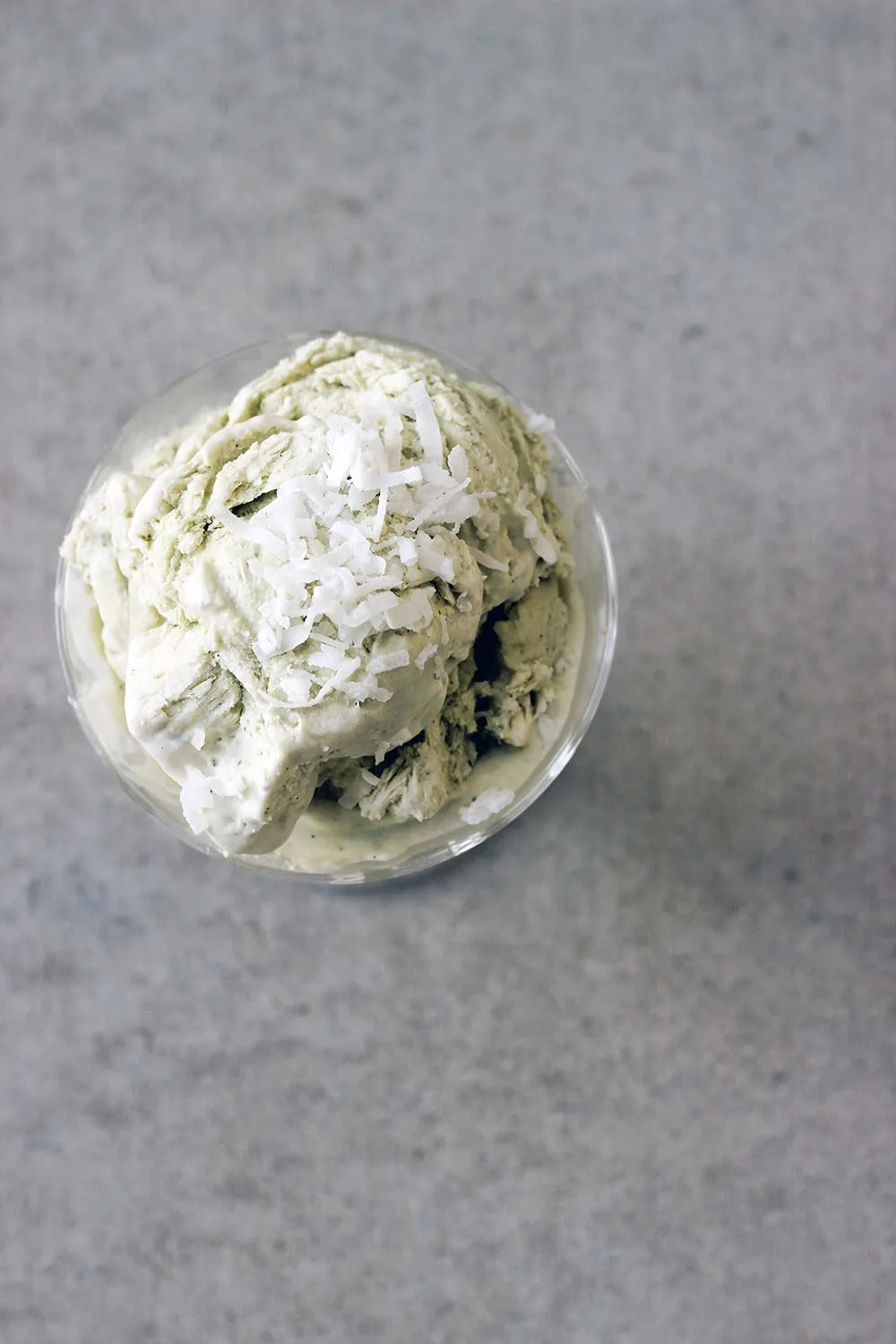 A few things worth mentioning before the recipe – I don't know who started the trend of putting down waxed paper in the loaf pan, but don't.
It's not necessary and actually a huge pain. There's a chance we screwed up parchment paper vs. waxed paper, but either way – the loaf pan doesn't need it.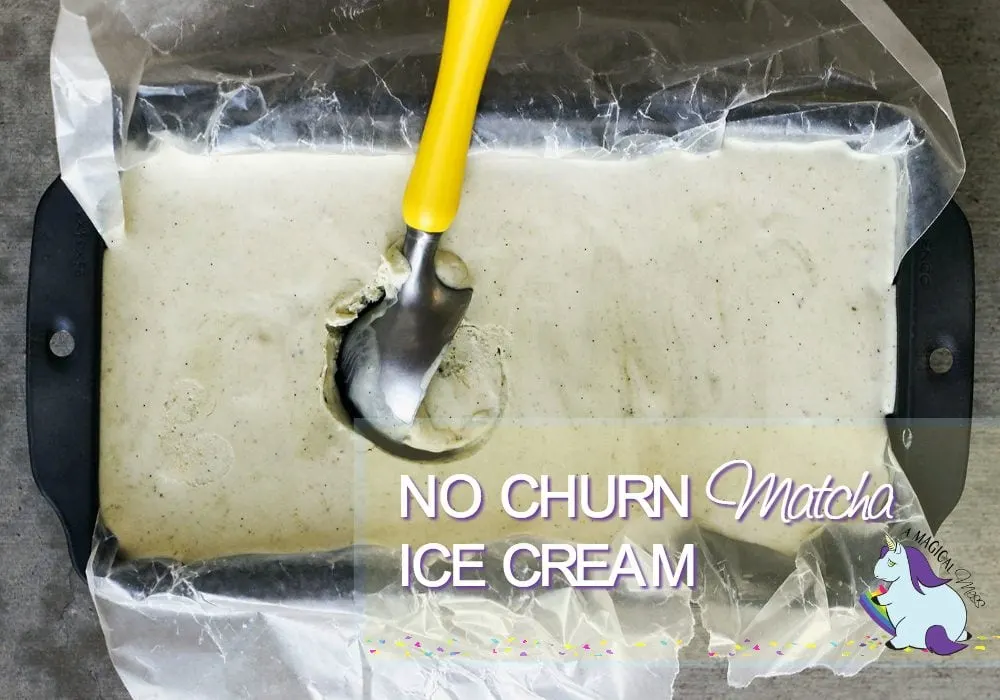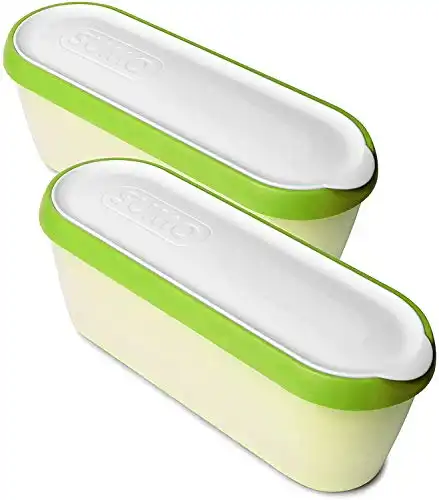 Homemade Ice Cream Containers
If you make homemade ice cream often, these containers are awesome! They stack nicely in the freezer if you make more than one batch, too.
Buy Now from Amazon
We earn a commission if you make a purchase, at no additional cost to you.
09/12/2023 05:11 pm GMT
Put your loaf pan and mixing bowl in the freezer for a few hours before you start.
The colder everything is, the faster the cream will whip.
Personally, I think this recipe could use more Matcha powder. Shelley disagreed with me. Adjust to your taste.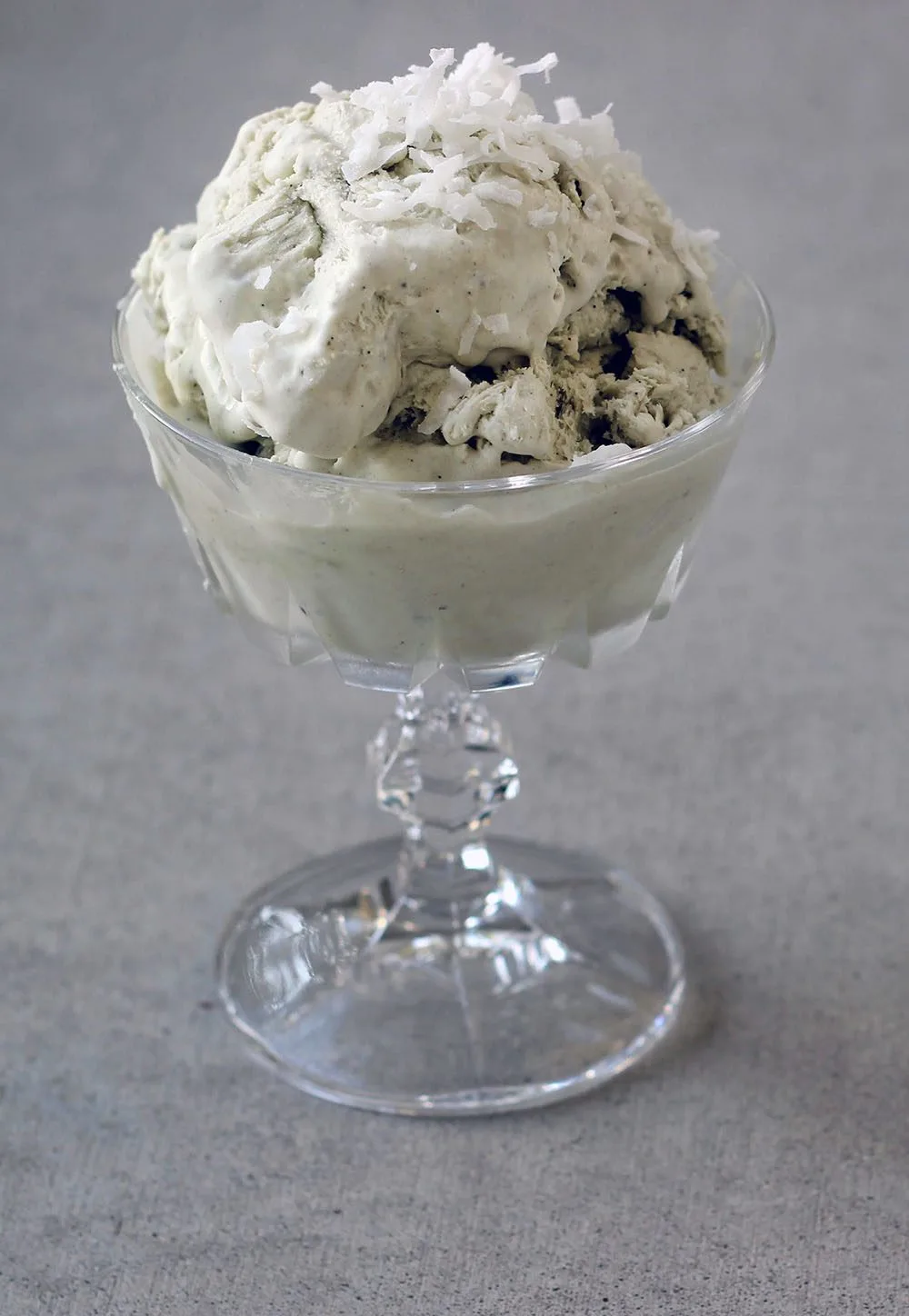 Both Shelley and I are in agreement that the sweetened condensed milk is way too sweet.
It's rich and delicious and creates an amazing texture for no churn ice cream, but boy, it's sweet.
If anyone knows a good alternative, please let us know.
The plus side to the sweetness is that I actually maintain some self-control.
That's rare when it comes to ice cream. I only need a few bites, and I am good.
We used a real vanilla bean instead of vanilla extract, too, which may add to the extra sweet flavor.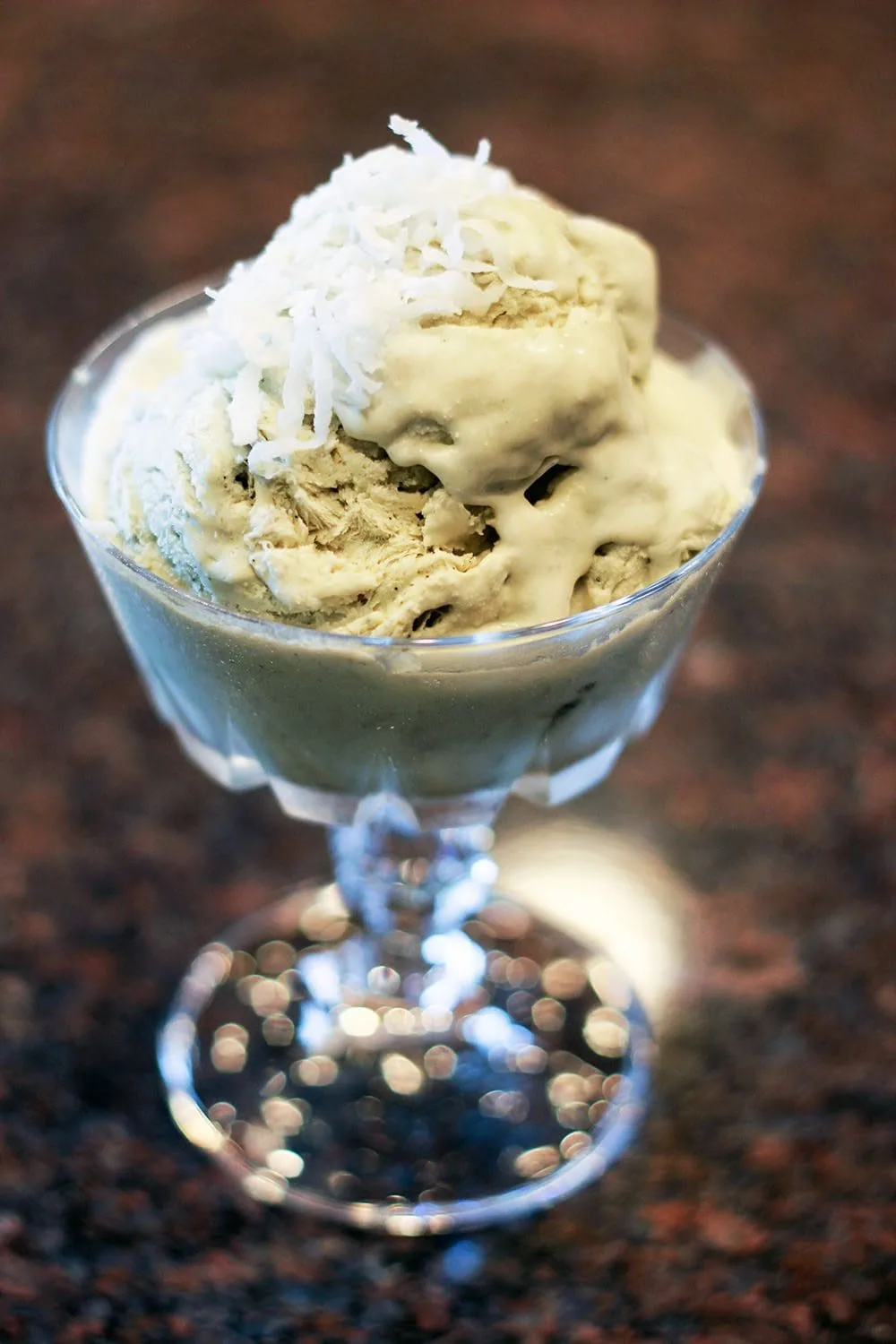 Green Tea Matcha Ice Cream Recipe – No Ice Cream Maker Needed
Ingredients
14 oz sweetened condensed milk
2 cups heavy whipping cream
1 tablespoon Matcha green tea powder
Coconut flakes (optional topping)
Instructions
Whip the heavy whipping cream until stiff peaks form.
Scrape out the vanilla bean and add to a separate bowl.
Mix the condensed milk and Matcha in with the vanilla bean.
Fold the mixture into the whipped cream. Don't stir.
Add to a loaf pan.
Freeze for at least 6 hours.
Top with coconut flakes if desired.
This Matcha ice cream recipe is delicious. As I said, it's very rich, but darn good.
I think a drizzle of dark chocolate would be an excellent way to balance the flavor a bit.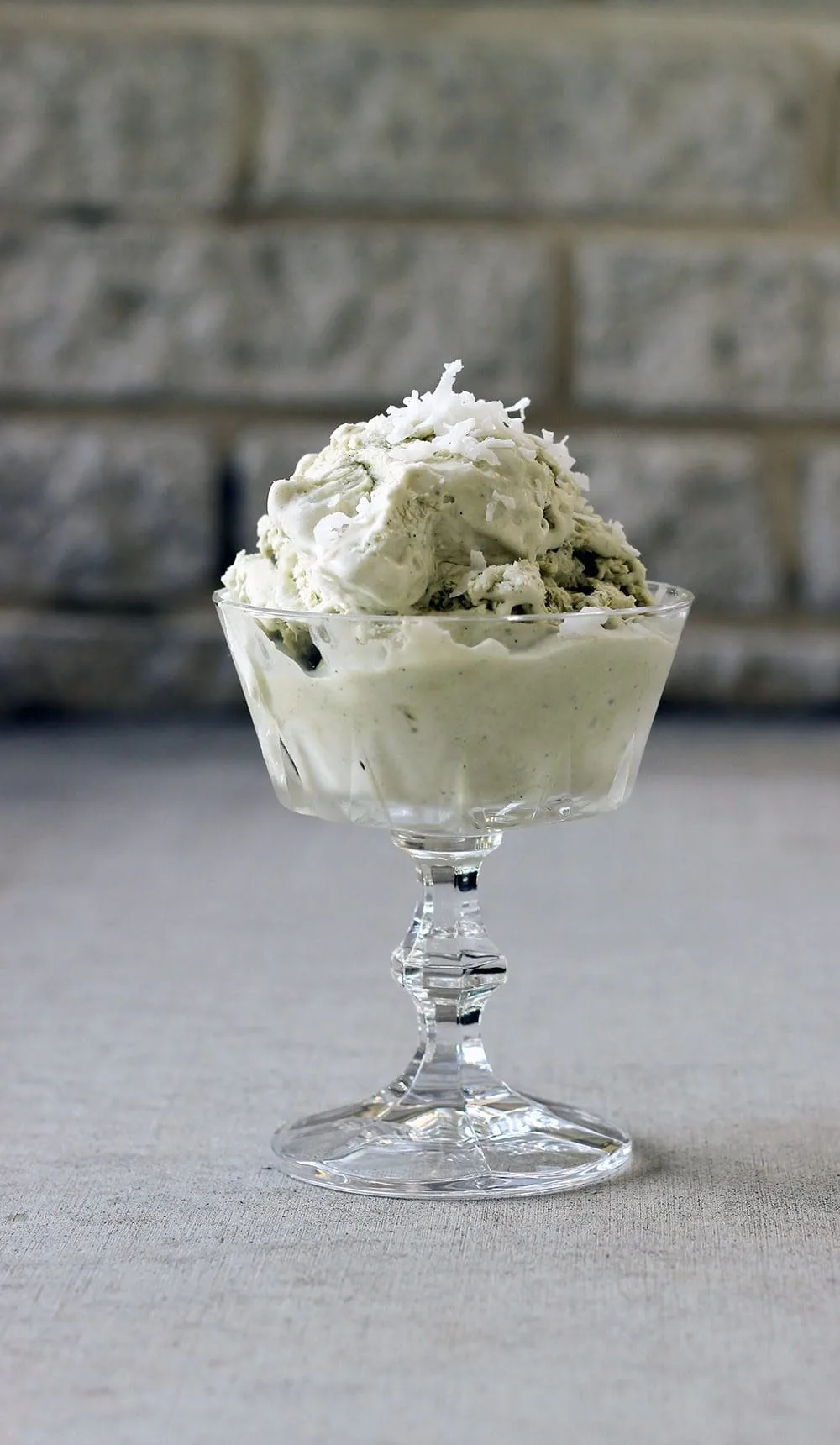 Stay tuned for more Matcha recipes coming soon.
More No Churn Ice Cream Recipes
Do you think you would like this Matcha ice cream recipe?