A green tea pancakes recipe is a super treat for Matcha fans. We used the batter from our Matcha cupcakes to make pancakes.
Since Matcha green tea powder contains caffeine, you may even consider this an energizing breakfast. You might want to adjust your coffee intact accordingly.
Green Tea Pancakes
Pancakes are a rare treat in this house. Mike isn't a big fan of breakfast, while I would eat it for dinner if I had my way. That's one reason why making a huge batch to freeze them appeals to me greatly.
When Shelley and I made these green tea pancakes at my Gram's house, there were enough for all of us to freeze and take home for later.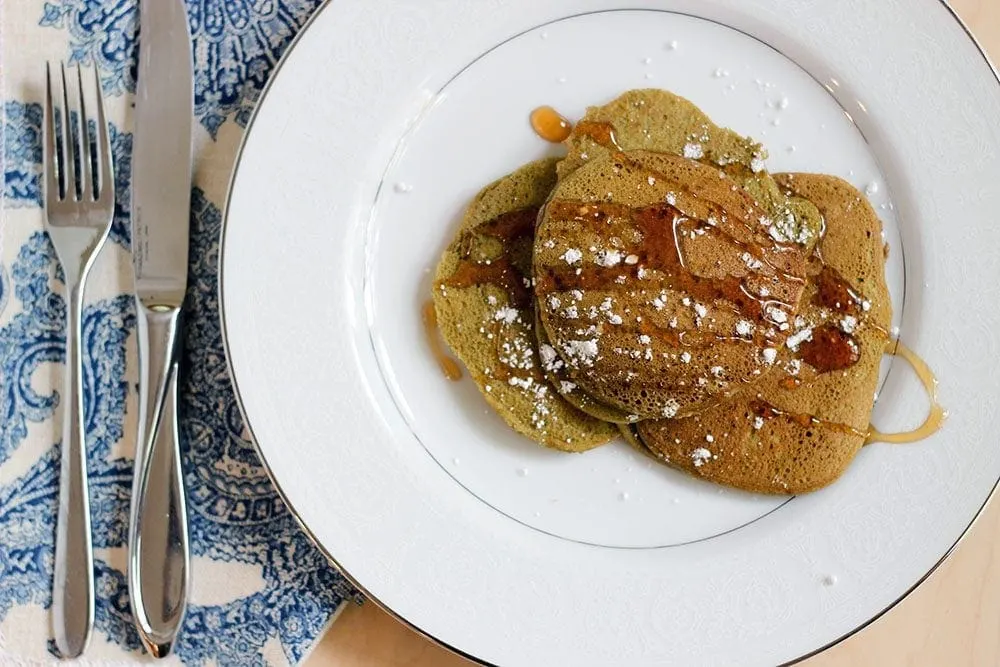 To me, the pancakes do not have an overwhelming tea flavor. If you like Matcha, you probably will think it's just right. However, if you don't like the flavor of green tea, that's all you'll taste. Kind of like me with onions.
People who like onions say "Oh, you won't even taste them!" When in reality that's all I will taste. Trust me, I know the rules of the Picky Eaters Club.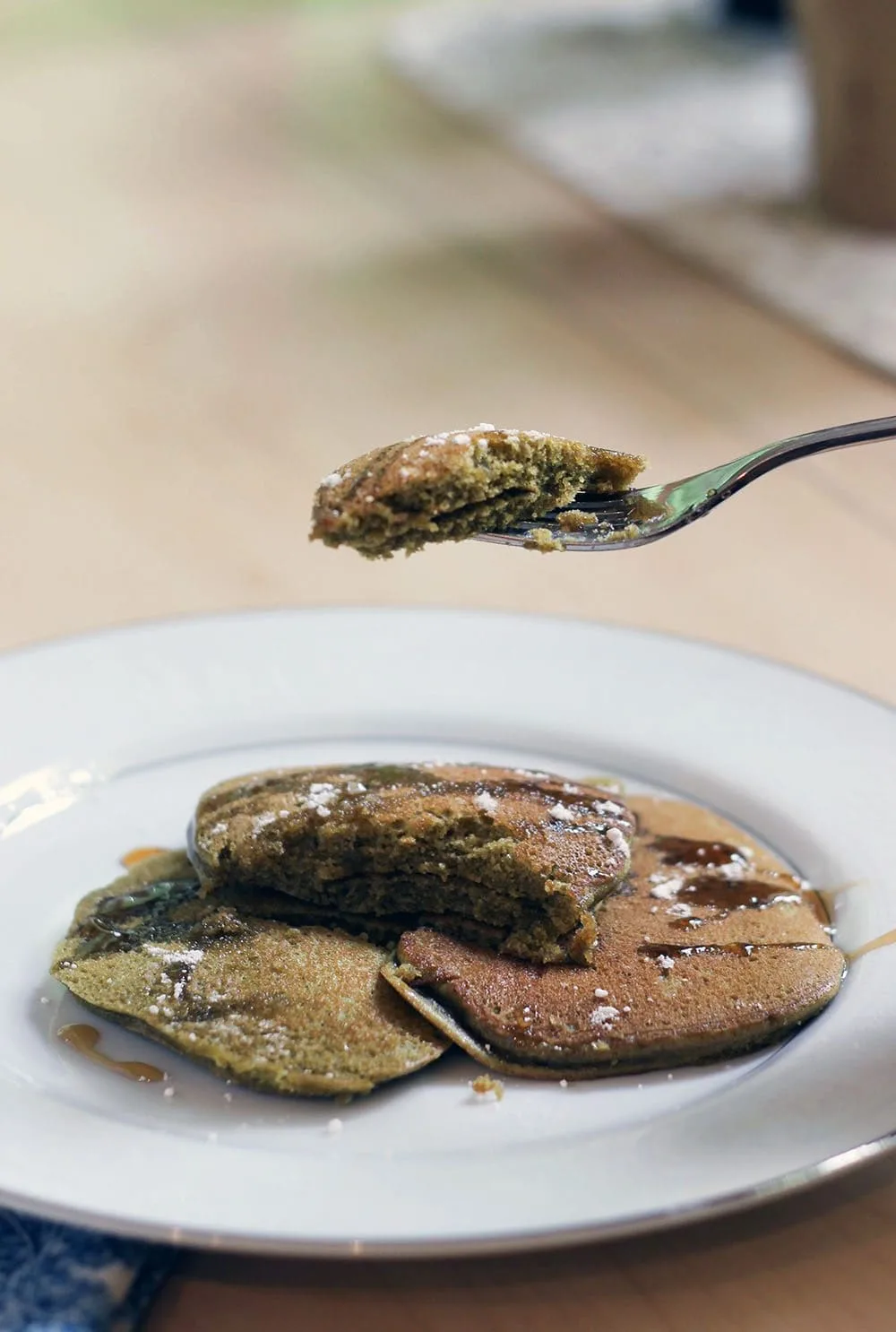 The texture of the pancakes is light and fluffy. Overall, as a Matcha fan, I love these pancakes. Shelley prefers them with powdered sugar.
I like them with butter and syrup. They are also tasty enough just to heat and eat.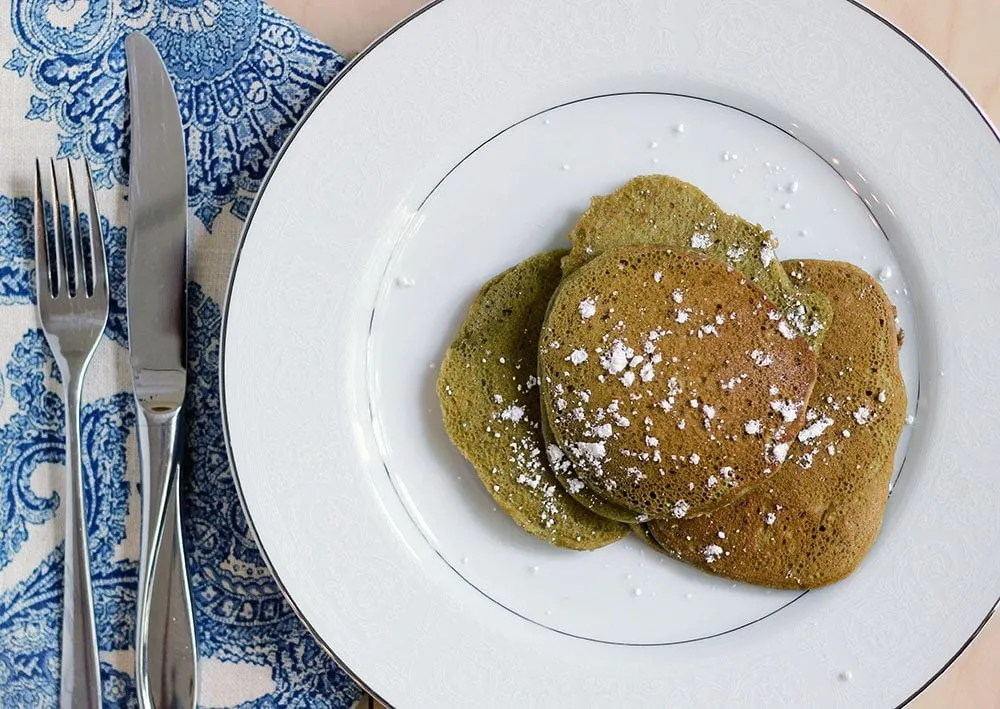 If you are looking for another way to use Matcha green tea powder, give this recipe a try and let us know how you like it. Be sure to visit our other Matcha recipes, as well.
Yield: 20 pancakes
Matcha Green Tea Pancakes Recipe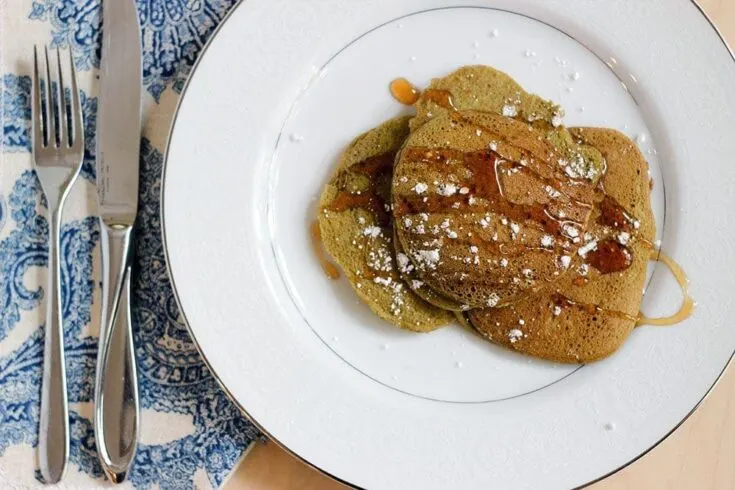 Energize your morning with matcha pancakes.
Ingredients
1 cup sugar
1 vanilla bean
1 1/2 cups cake flour
1 1/2 teaspoon baking powder
1/2 teaspoon baking soda
1/2 teaspoon salt
1/4 cup butter
2 large eggs
1/3 cup plain Greek yogurt
1/4 cup oil
1 tablespoon pure vanilla
2/3 cup whole milk
2 tablespoons Matcha green tea powder
Instructions
Scrape the vanilla bean to get the seeds out and add to a small bowl.
Add sugar to the vanilla bean seeds and stir. Press the back of a spoon against the beans to break them up a bit.
In another bowl, mix together the cake flour, baking powder, baking soda, salt, and Matcha powder
Add the sugar and vanilla bean mixture and combine well.
Add in the rest of the ingredients in the order they are listed above. Mix on medium speed.
Heat a pan on the stove over medium-high heat.
Add a little butter to the pan before pouring batter.
Pour batter into the size you like for pancakes.
Heat each side for about a minute before flipping.
Serve with powdered sugar or syrup.
Freeze leftovers in a freezer bag with wax paper separating each pancake.
Nutrition Information:
Yield:
20
Serving Size:
1 pancake
Amount Per Serving:
Calories:

137
Total Fat:

6g
Saturated Fat:

2g
Trans Fat:

0g
Unsaturated Fat:

4g
Cholesterol:

26mg
Sodium:

151mg
Carbohydrates:

19g
Fiber:

0g
Sugar:

11g
Protein:

2g
Nutrition facts are an estimate only.
More pancake recipes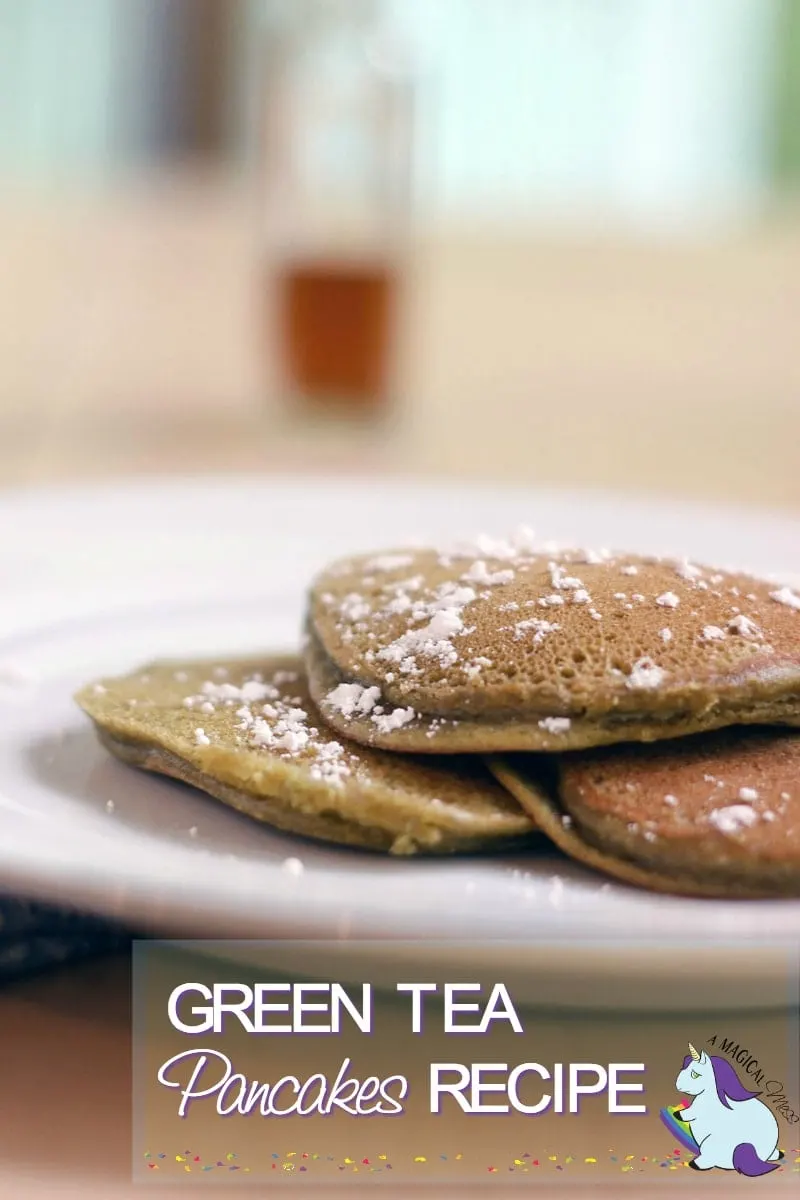 Green pancakes can be a fun holiday treat. We explain why the batter isn't all that green in the Matcha cupcakes post. If you want to make true green pancakes, try using egg whites.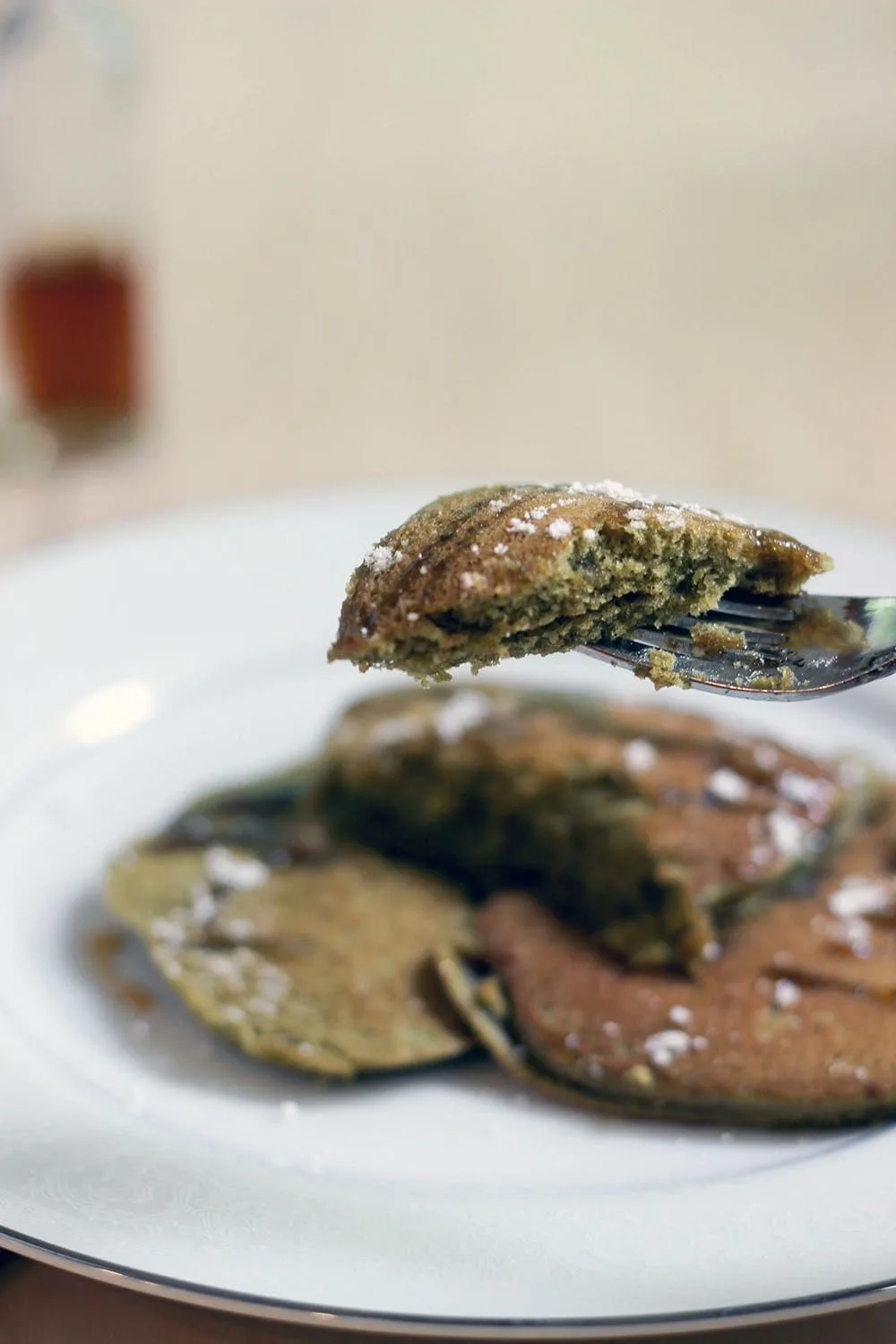 Subscribe to the blog to get a free ebook with protein pancake recipes!
Do you think you would like this Matcha green tea pancakes recipe?