There are many reasons to make a homemade pancake mix. Whether the dry mix helps you meal plan, stock your pantry, or create homemade food gifts, it's easy and fun to make.
I'm all about shortcuts and meal prepping lately. Even if this dry pancake mix only shaves minutes off breakfast prep, I'm for it.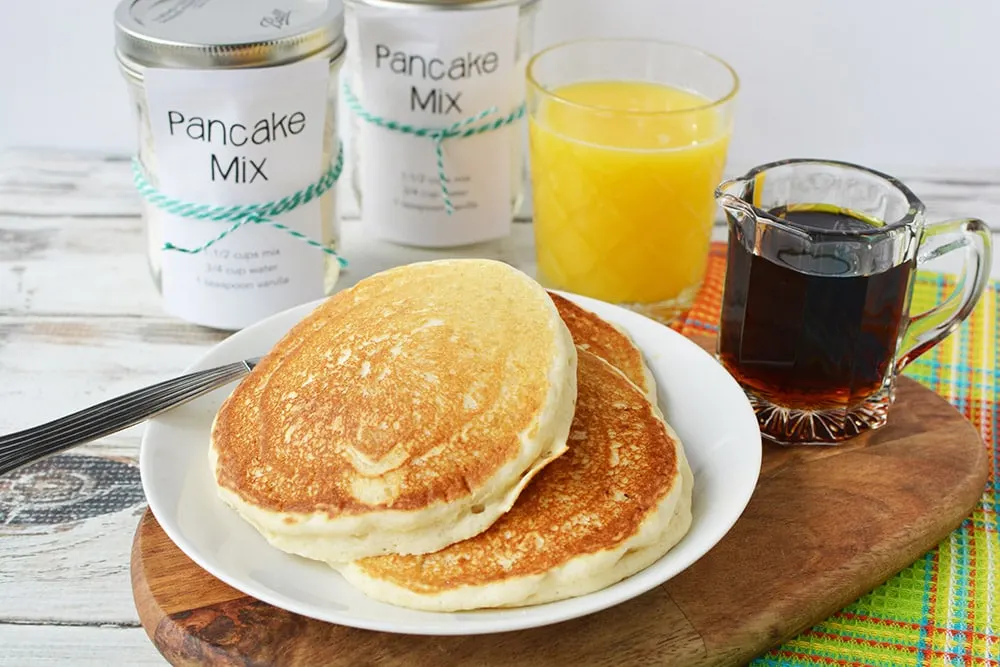 Homemade pancake mix to stock the pantry
If you're like me and easily overwhelmed, stocking dry pancake mix in your cabinet may soothe your anxious soul as it does mine. Maybe part of adulthood is finding joy in dry mixes when you open your cabinet?
This recipe is for a basic pancake mix. The pancakes turn out pretty sweet, so you may want to adjust the sugar to your taste.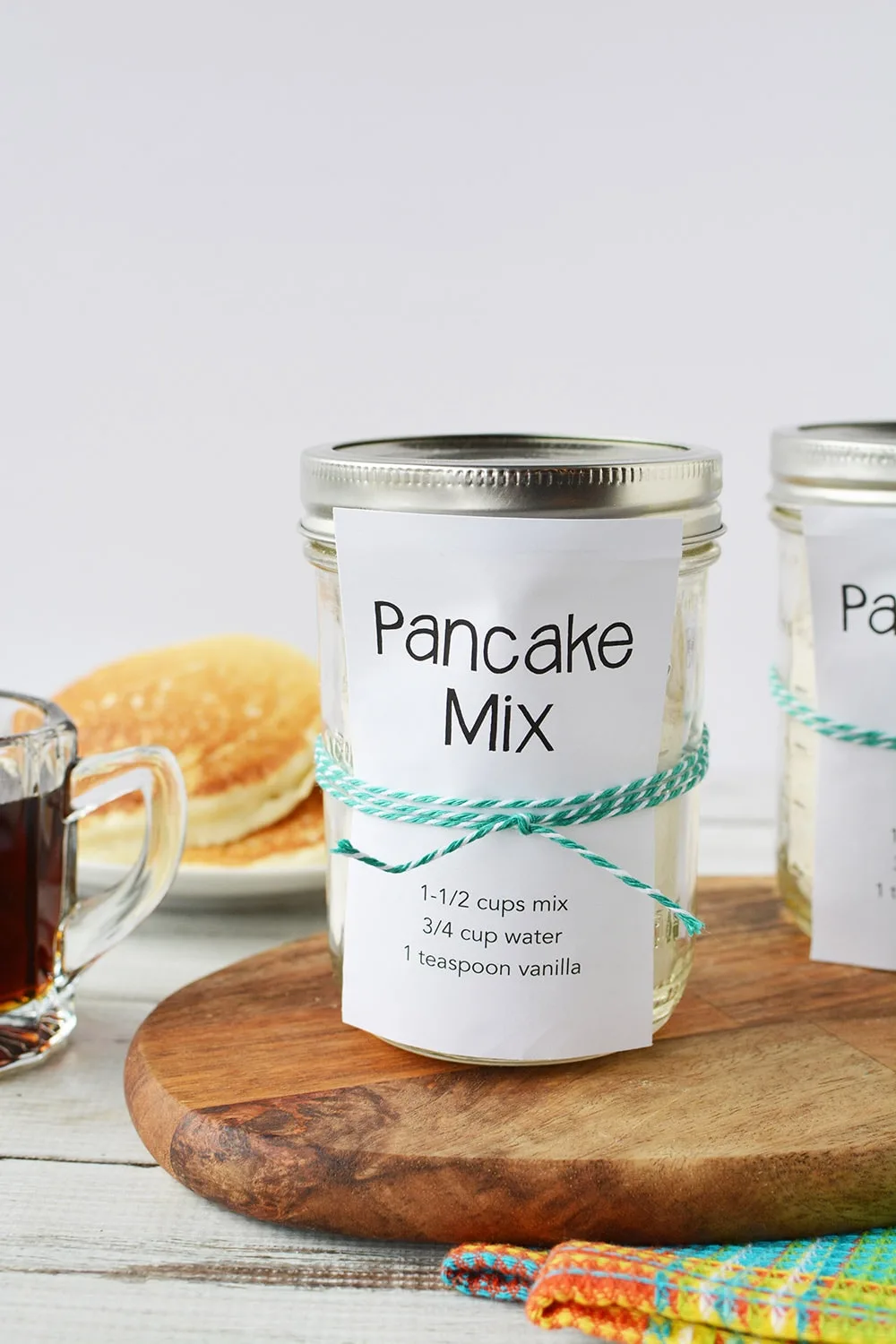 Of course, feel free to add in other ingredients like chips, nuts, protein powder, or anything else that's shelf-stable that you like in your pancakes.
If you choose to divide the mix into 8 jars, use the free printable below to add the instructions to the jars.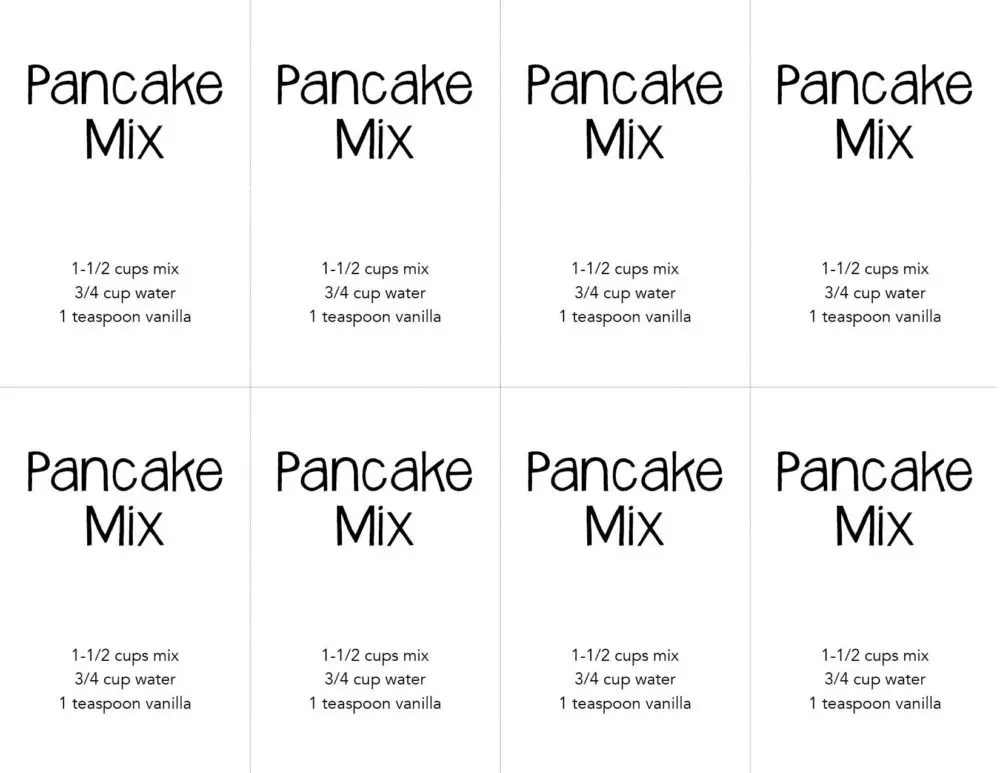 Click for the printable pancake mix instructions.
Use a big container if you're making the mix for your own home. Otherwise, each of the jars contains 1.5 cups of mix. Each batch will make 5 pancakes.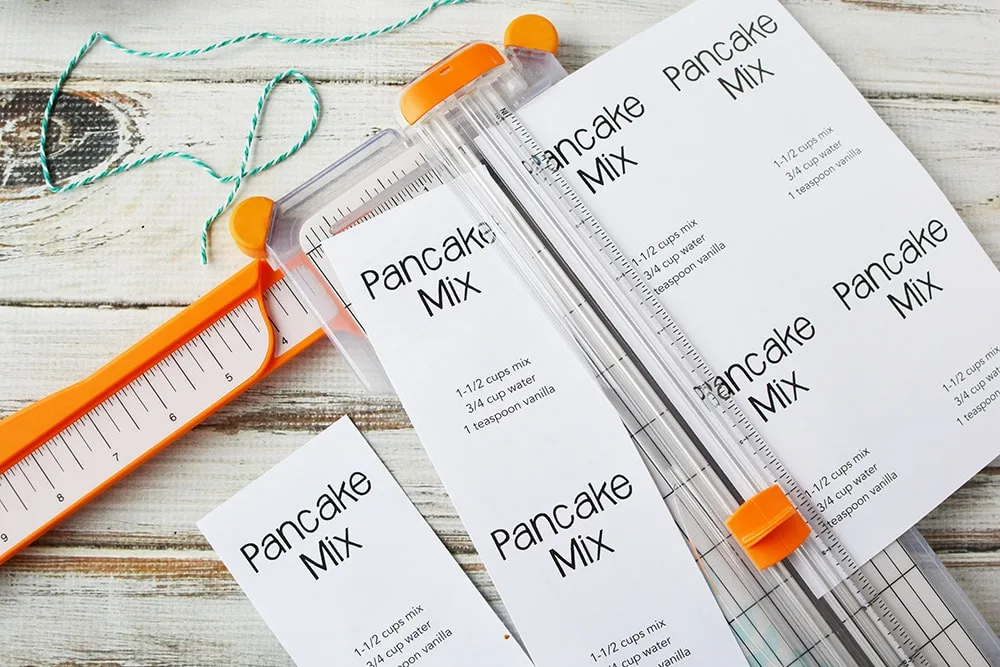 The printable doesn't fit perfectly on the jar, but it's nice to have the instructions attached when you add them to the pantry. You can attach them with pretty string and make them look cute.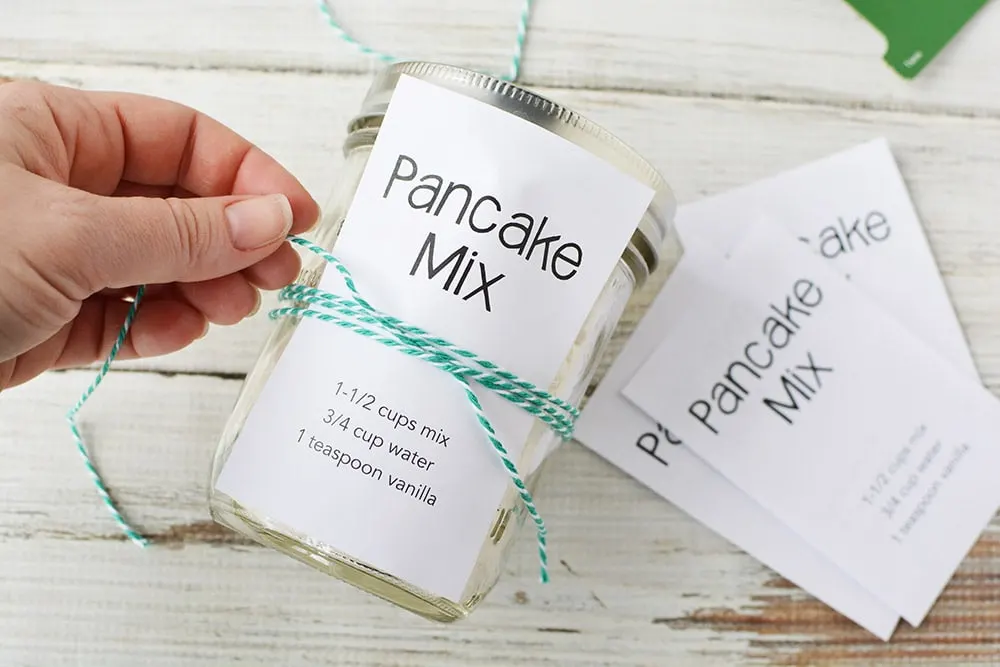 What you need to make homemade pancake mix
(Exact measurements in the recipe card below.)
Flour
White sugar
Nonfat dry milk
Baking powder
Salt
8 16 oz jars or one large container if you are not diving the mix
Pretty string or other decorations if you plan to gift the jars (optional)
How to make pancake mix
Mix all of the ingredients together in a bowl.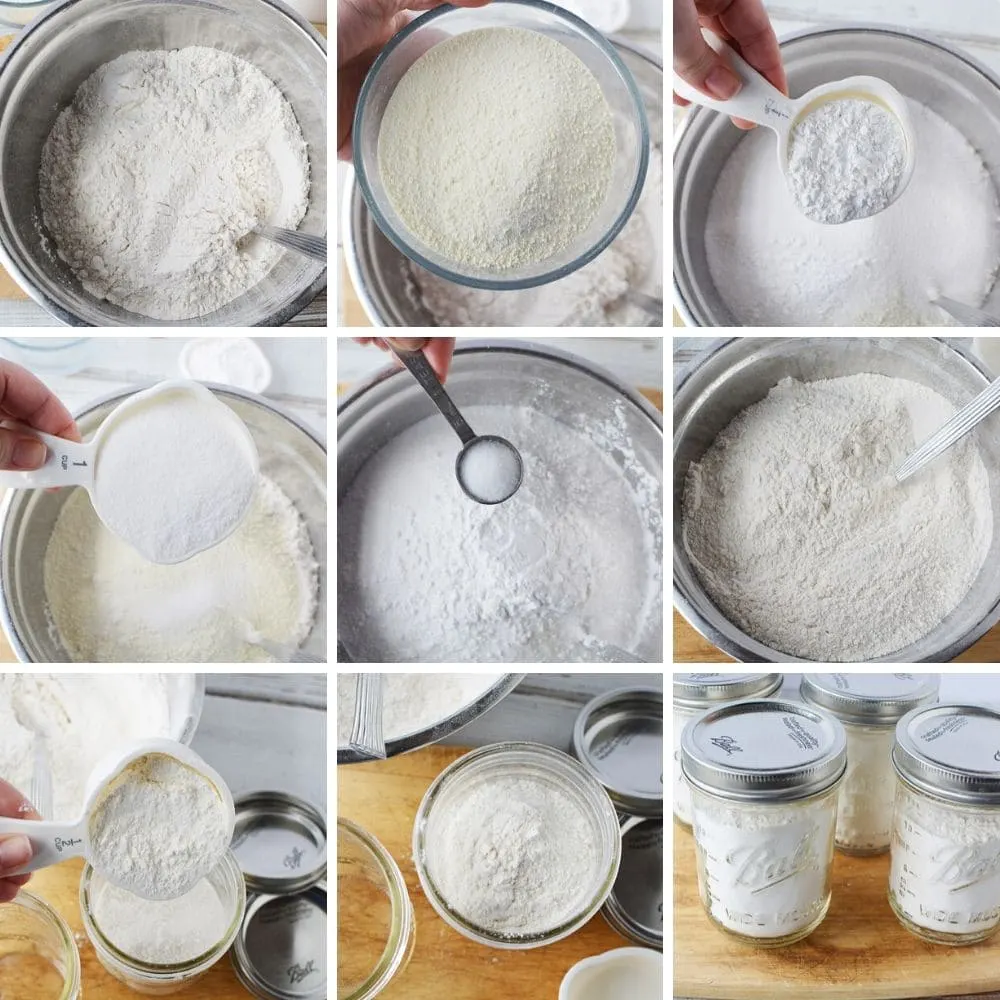 Store the dry mixture in an airtight container in your pantry.
You can store all of the pancake mixes together. Or, divide into smaller containers to keep separate or give as gifts.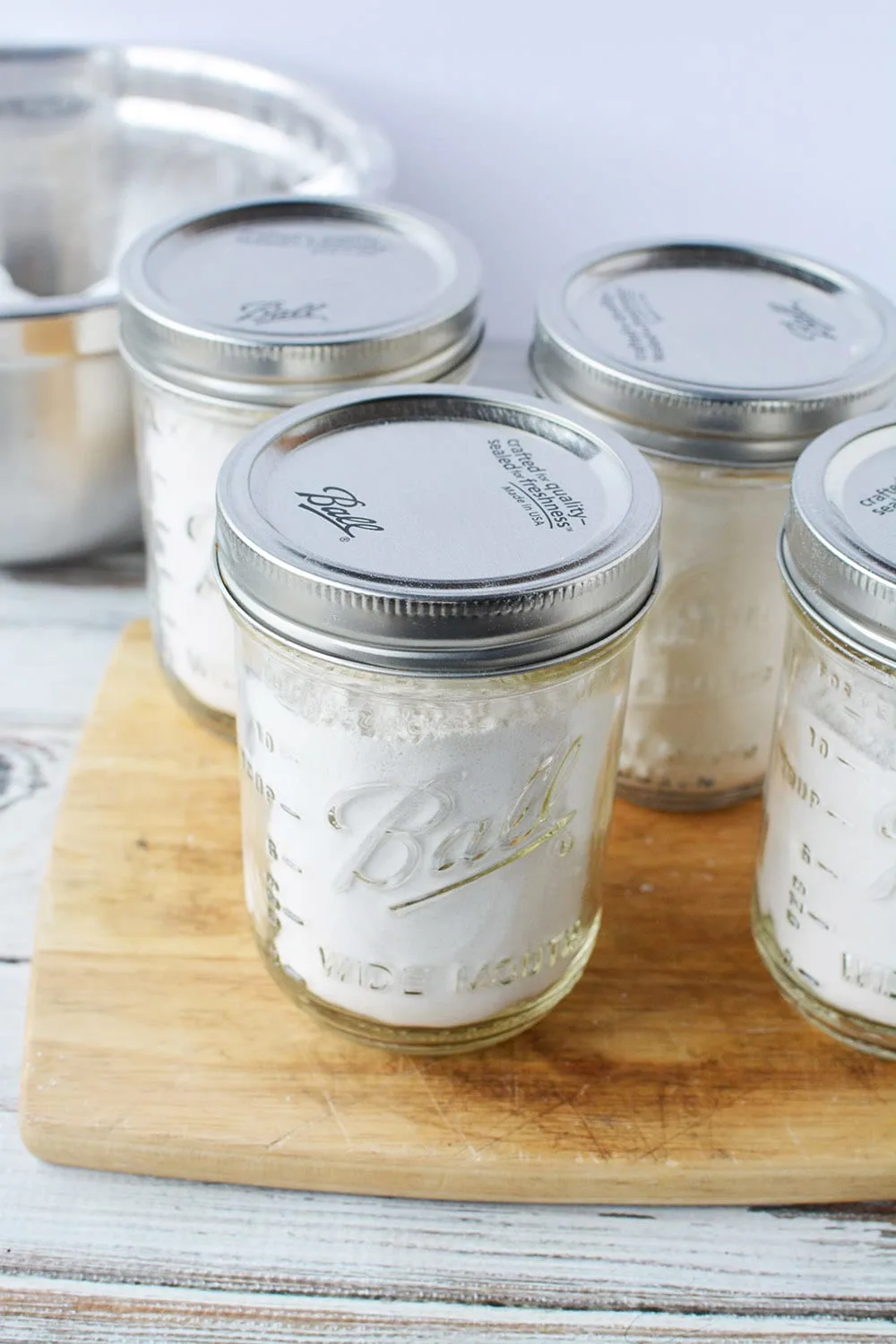 How to make pancakes using the homemade mix
Combine 1 1/2 cups dry pancake mix with 3/4 cups of water and a teaspoon of vanilla.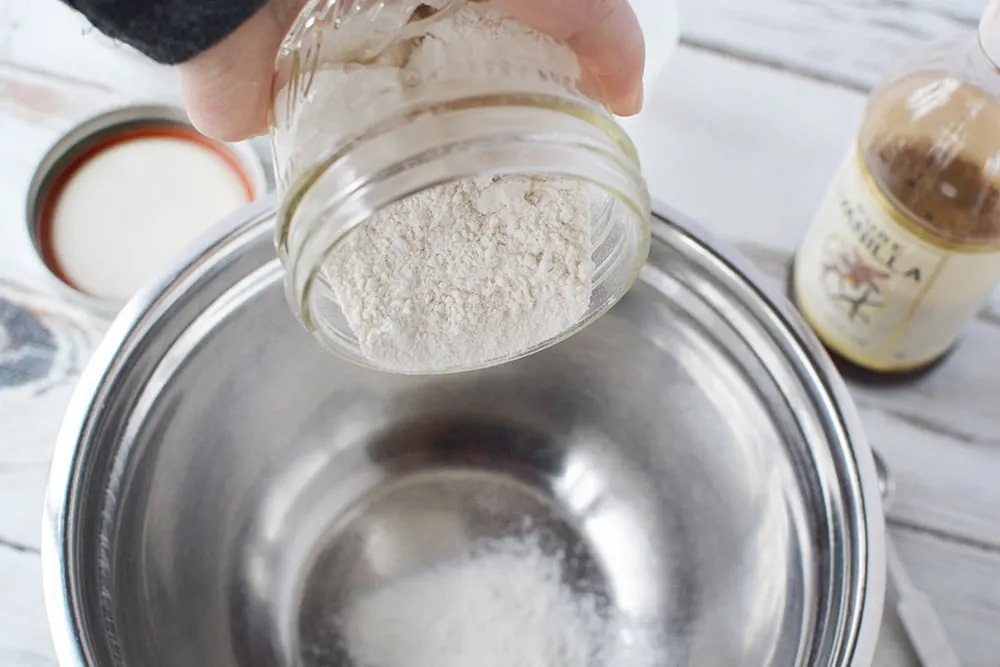 Mix until just combined.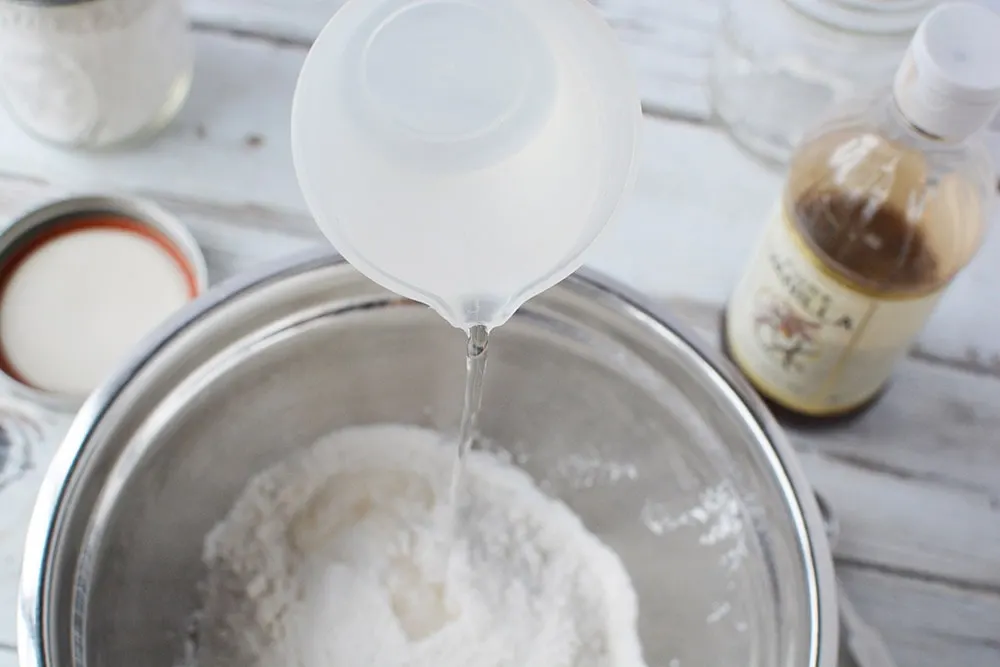 Pour 1/4 cup of batter onto a hot skillet.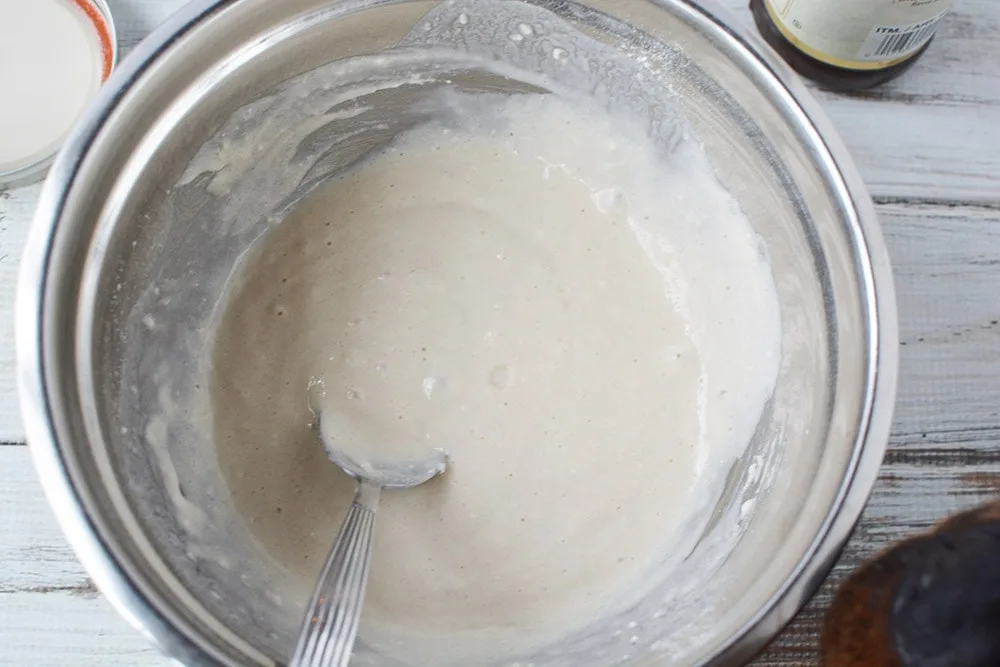 Cook 2-3 minutes on each side and serve with maple syrup, butter, powdered sugar, or whatever you like on your pancakes.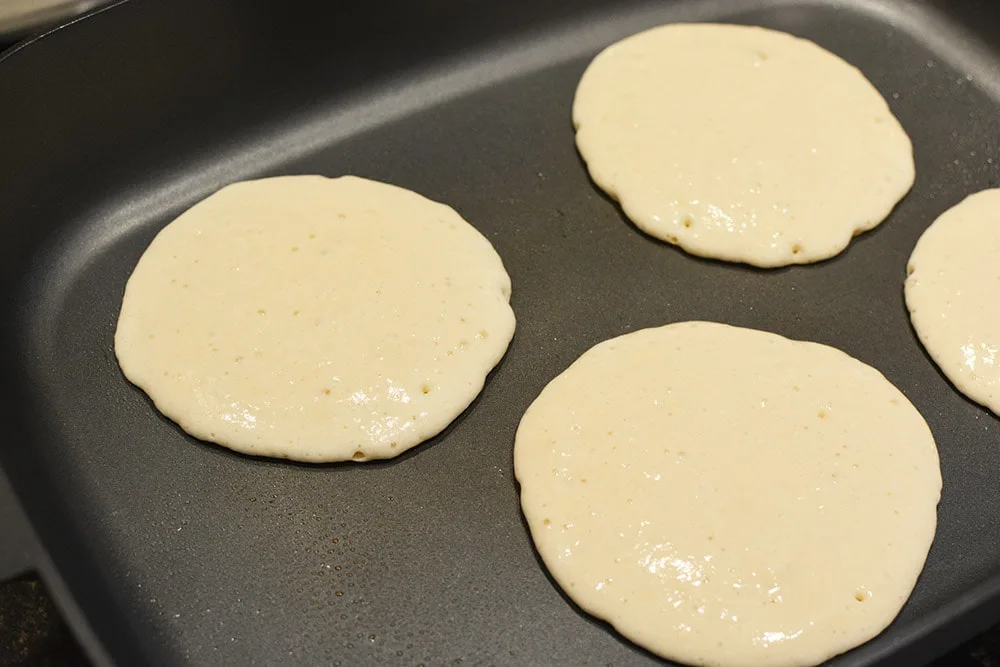 Each jar makes 5 pancakes.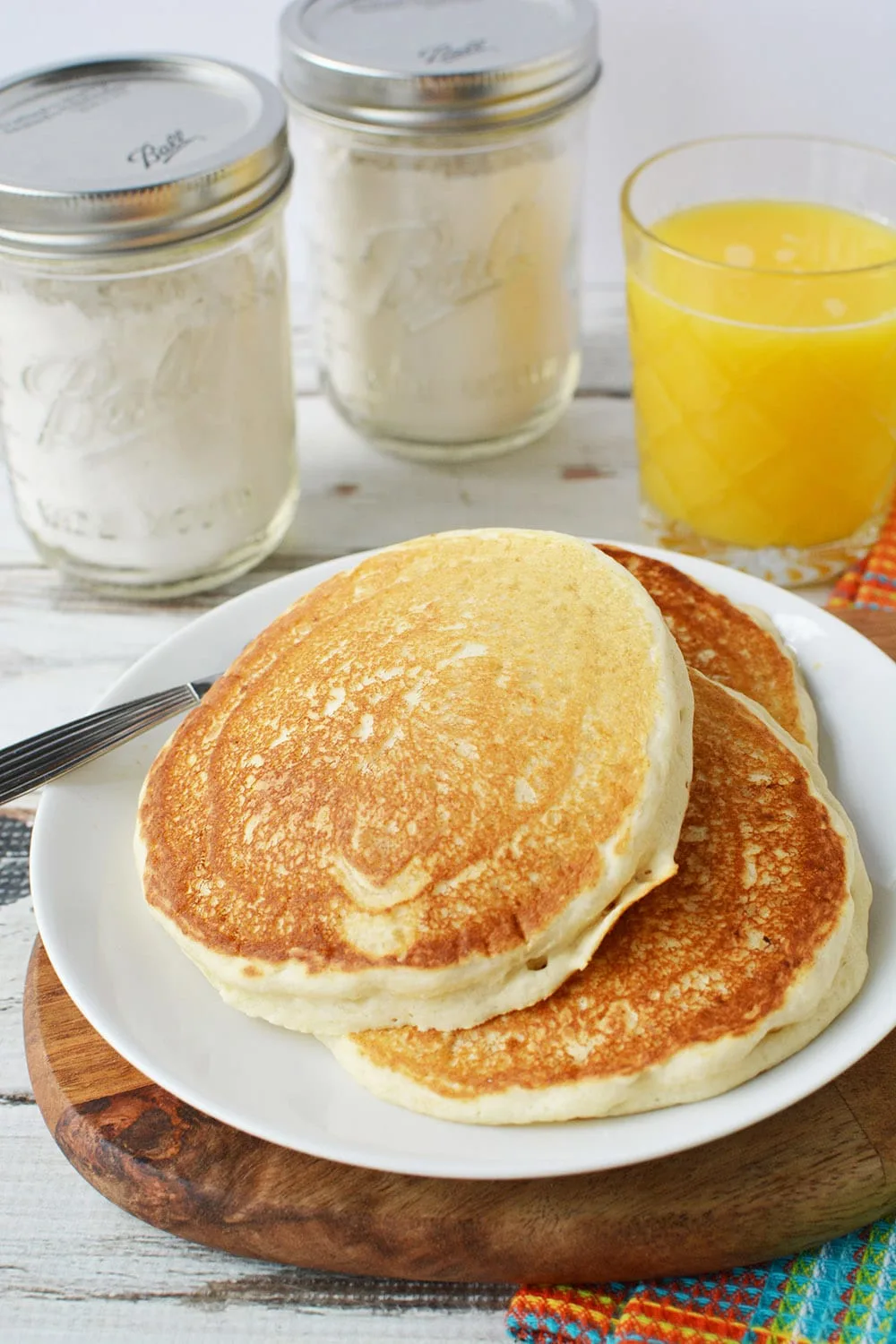 I know it's currently a bit difficult to find flour in stores. At least around here, it is. I apologize for my timing if that is the case. Pin this recipe for the future if you can't find flour right away.
Another option is to consider using almond flour or coconut flour. I use coconut flour quite often on the keto diet and it's really good.
Check a flour conversion chart like this one if you choose an alternative to all-purpose flour.
Recipe Notes and FAQ
Why aren't my pancakes fluffy?
If your pancakes aren't fluffy, you're probably over-mixing the batter. If you over-mix pancake batter it will develop too much gluten, making the pancakes chewy instead of fluffy.
Can I use milk instead of water with this pancake mix?
Yes! Use the same amount of milk as you would water for the recipe. It makes for a richer pancake.
Can pancake batter sit overnight?
This pancake batter uses baking powder, so you can mix it and use it the next morning. Pancake mixes with baking soda have to be cooked immediately because the leaving starts working immediately.
Can I make these pancakes even fluffier?
If you like your pancakes extra fluffy, you can make it happen, but it takes some work. Put the egg yolks into the wet ingredients. After you combine the wet and dry ingredients, let them rest. While they're resting whip the egg whites into stiff peaks. Right before cooking fold the egg whites into the batter and then cook. It's extra work, but you'll have your ultra-fluffy pancakes!
How long does pancake mix last?
Stored in an airtight container at room temperature, this dry pancake mix is best to use by 3-6 months.
Yield: 8 jars
Pantry Pancake Mix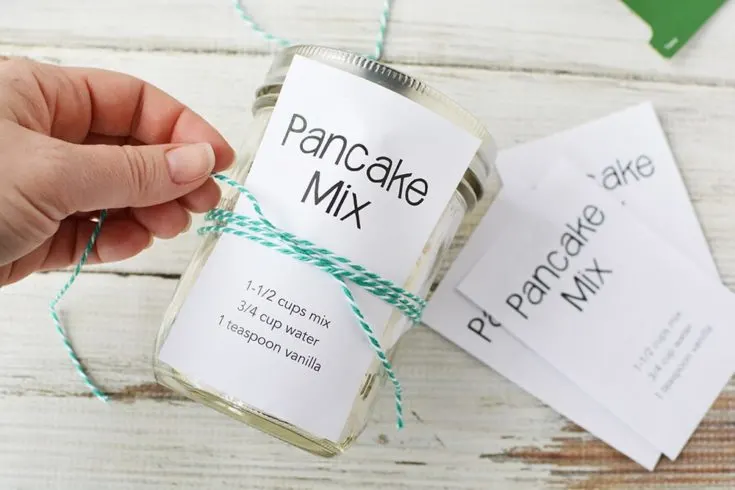 A recipe for basic pancake mix to store in your pantry. Store in a large container or divide into 8 16 oz jars.
Ingredients
8 cups flour
2 cups white sugar
2 cups nonfat dry milk
1/2 cup baking powder
2 teaspoons salt
Instructions
Mix all ingredients together and store in an airtight container in your pantry. Store all of the mixes together or divide them into individual servings.
How to make pancakes using the mix:
Combine 1 1/2 cups mix with 3/4 cup water and a teaspoon of vanilla.
Mix until just combined and pour 1/4 cup of batter onto a hot skillet.
Cook 2-3 minutes on each side and serve with maple syrup.
Notes
The nutrition facts are for one entire jar of the dry mix - not the completed pancakes.
Each jar of pancake mix makes 5 pancakes.
Recommended Products
As an Amazon Associate and member of other affiliate programs, I earn from qualifying purchases.
Nutrition Information:
Yield:
8
Serving Size:
1
Amount Per Serving:
Calories:

717
Total Fat:

1g
Saturated Fat:

0g
Trans Fat:

0g
Unsaturated Fat:

1g
Cholesterol:

3mg
Sodium:

2089mg
Carbohydrates:

158g
Fiber:

3g
Sugar:

59g
Protein:

19g
Nutrition facts are an estimate only.
Please pin this image to your breakfast board to save and share!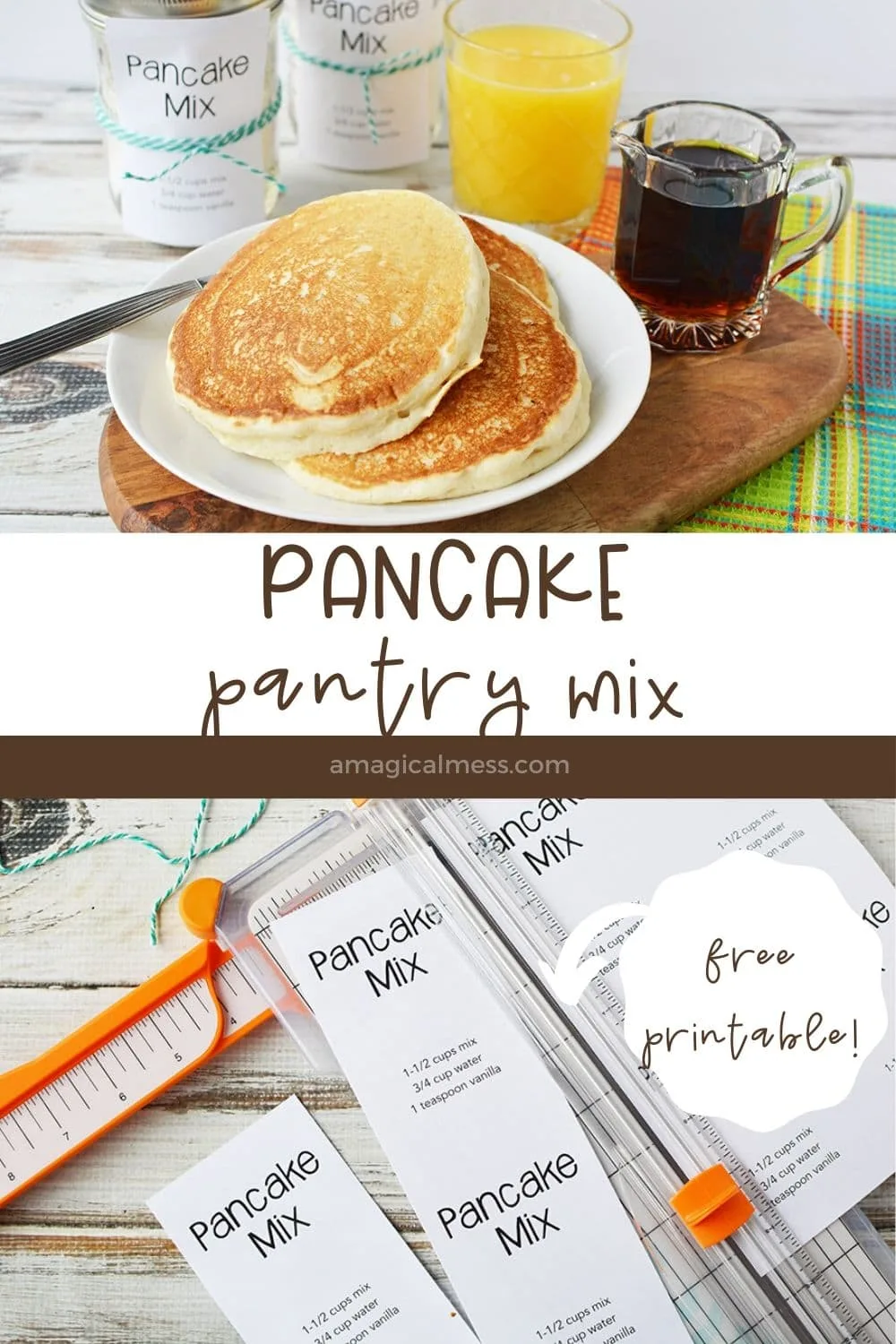 Save these recipes for pancakes
Stay tuned for more dry mixes to add to your pantry.
Be sure to subscribe to the blog for recipes in your inbox. You'll also receive a free e-book with recipes for protein pancakes.
Let me know if you try this homemade pancake mix!