Any well-balanced breakfast that tastes like dessert probably sounds too good to be true. Well, thanks to my bodybuilding buddy from college, we have another protein pancake recipe to add to the books.
These might be the best protein powder pancakes of the bunch. But, I'm biased because lemon anything always jumps to the top of the list.
When I was little, I used to shove as many mini lemon poppyseed muffins as possible into my cheeks. Lemon scones never stood a chance in my presence, and don't even get me started on anything with lemon icing.
The Best Protein Powder Pancakes
As an adult, I'm far more sensitive to sweets when it comes to how I feel and look. If I start the day with too much sugar, I'm lethargic within just a couple of hours. If I consume too much sugar in general, it shows in my skin and in my body composition.
The trick?
To keep my energy going for the entire day, my breakfast must contain well-balanced macronutrients. This is fairly easy to achieve with eggs, fresh fruit, and a small bowl of bran cereal.
However, I rarely have all these on hand and the time to prepare eggs the way I like them. My solution: protein pancakes.
I make a whole bunch when I have time and freeze them for busy mornings. They reheat perfectly in the microwave or toaster oven.
These protein pancakes are also great as a snack or any other meal of the day. The fact that they taste like a dessert just makes life more fun.
With a nutrient balance like this, these really can be eaten any time of day. Note: The label above lists a serving as one half of the batter that this recipe yields.
Yield: 4 pancakes
Lemon Blueberry Protein Pancakes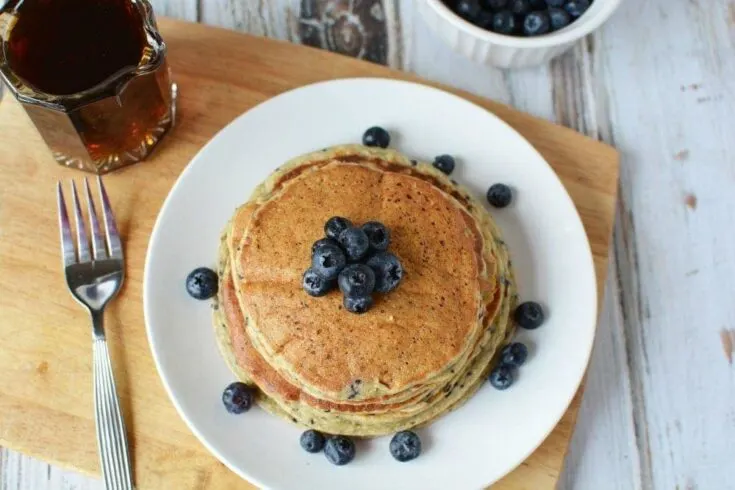 Fill up on these scrumptious protein pancakes to start your day.
Ingredients
1/2 cup oats
1 tablespoon coconut flour
1/4 cup fat free Greek yogurt
1/4 cup unsweetened almond milk
1 small banana
1 teaspoon lemon extract
1 teaspoon baking powder
2 egg whites
1 scoop vanilla protein powder
1 small package sugar-free instant vanilla pudding
1 tablespoon Stevia
1/2 cup fresh blueberries, divided
sugar free syrup and whipped topping, optional
Instructions
Place oats in a food processor and process until finely ground.
Add coconut flour, yogurt, milk, banana, baking powder, egg whites, protein powder, instant pudding, Stevia, and 1/4 cup blueberries.
Process until mixed well, scraping down the sides of the bowl if necessary.
Preheat a skillet and spray with nonstick cooking spray.
Pour 1/3 cup of batter onto hot griddle and cook on medium heat for 2-3 minutes on each side.
Serve with remaining blueberries, and syrup and whipped topping if desired.
Notes
TIP: You need to cook these a bit longer than standard pancakes. It's best to wait until the edges look "dry" or no longer glossy. These recipes are for a single serving so making smaller pancakes will also make flipping easier.
Recommended Products
As an Amazon Associate and member of other affiliate programs, I earn from qualifying purchases.
Nutrition Information:
Yield:
4
Serving Size:
1 pancake
Amount Per Serving:
Calories:

186
Total Fat:

3g
Saturated Fat:

1g
Trans Fat:

0g
Unsaturated Fat:

1g
Cholesterol:

2mg
Sodium:

240mg
Carbohydrates:

32g
Fiber:

3g
Sugar:

13g
Protein:

12g
Nutrition facts are an estimate only.
Whatever your dietary preferences may be, this recipe is easily tweaked. I use coconut milk instead of almond milk because almonds wreak havoc inside my body, and Jen's–she even went through months of testing to try to figure out what was wrong!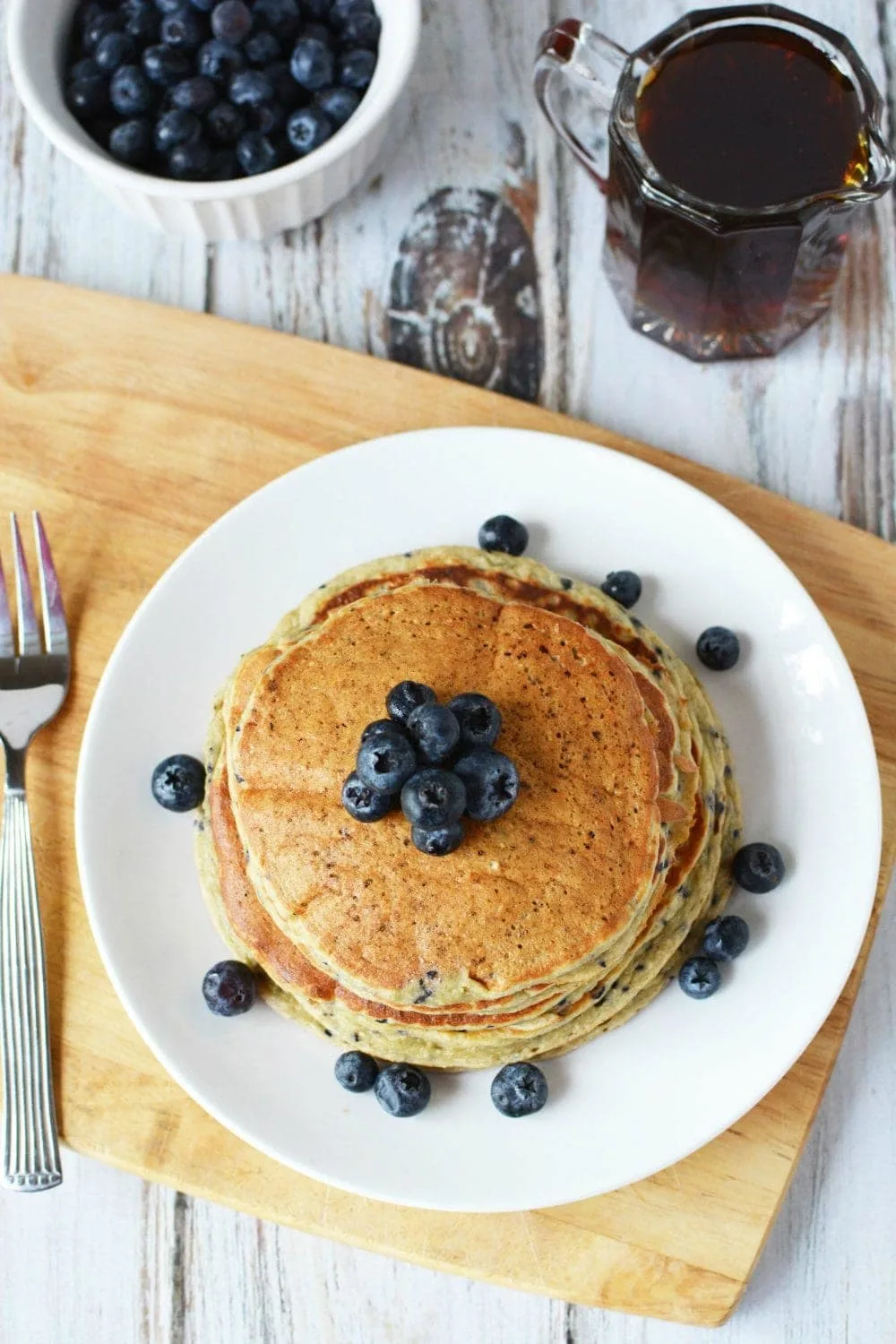 Check out all our other protein pancake recipes:
Best Tasting Protein Pancakes – Strawberry Cheesecake
Super Delicious Maple Bacon Whey Protein Pancakes
Best Protein Pancakes – 90 Calorie Chocolate Cherry Goodness
Mouth Watering Caramel Banana Protein Pancake Recipe
Pin this image to your breakfast board to save and share!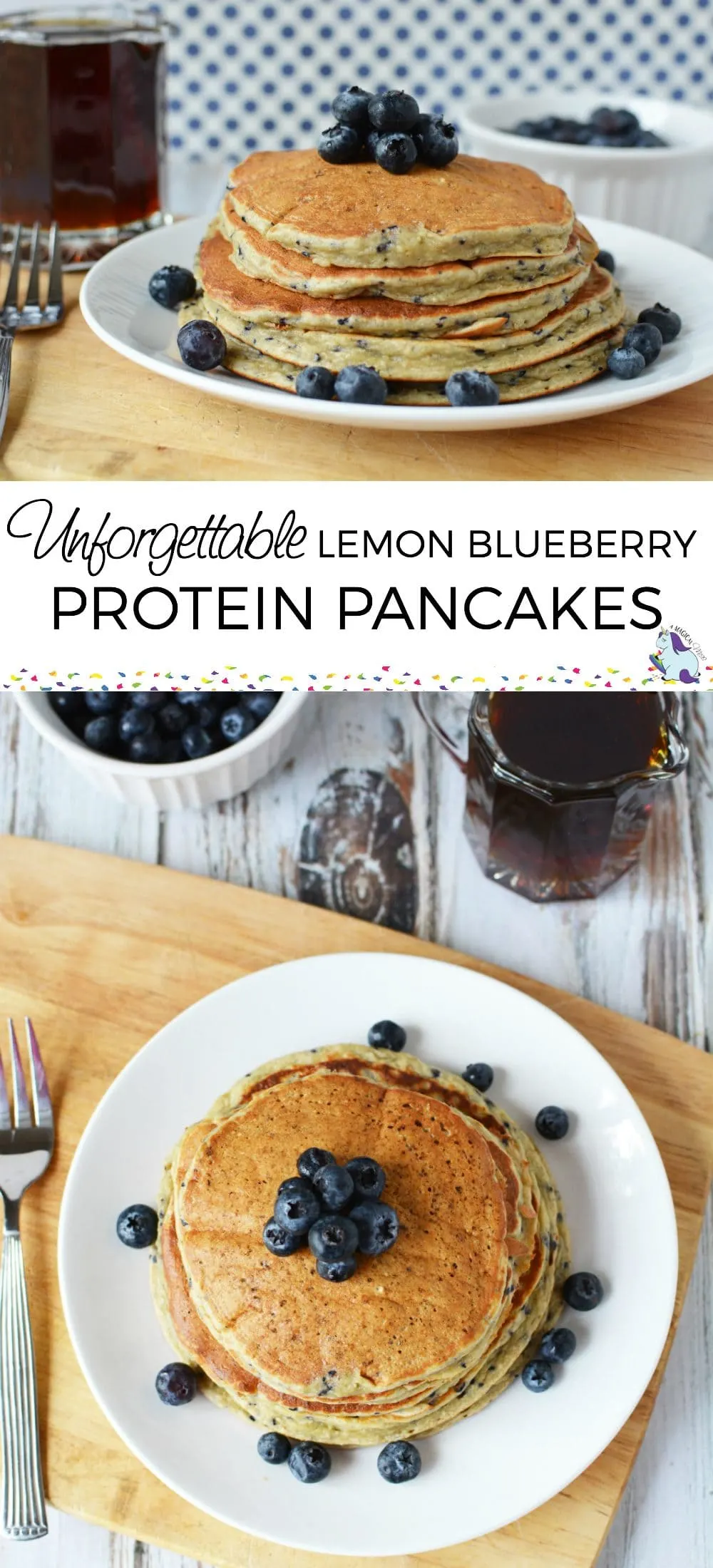 Have you tried the best protein powder pancakes yet?