As some of you may know, I have a bachelors degree in nutrition science. Thanks to that educational adventure I'm able to do all sort of glorious food math.
More importantly, I made some incredible friendships, and one was with a badass bodybuilder who loves a high protein breakfast.
This recipe has been adapted from one of his, and there are more to come. These are some of the best protein pancakes, and I'm so excited to share them.
This chocolate cherry version is perfect for after a heavy workout or for a recovery day where you just want something indulgent–but don't want to completely screw up your macros.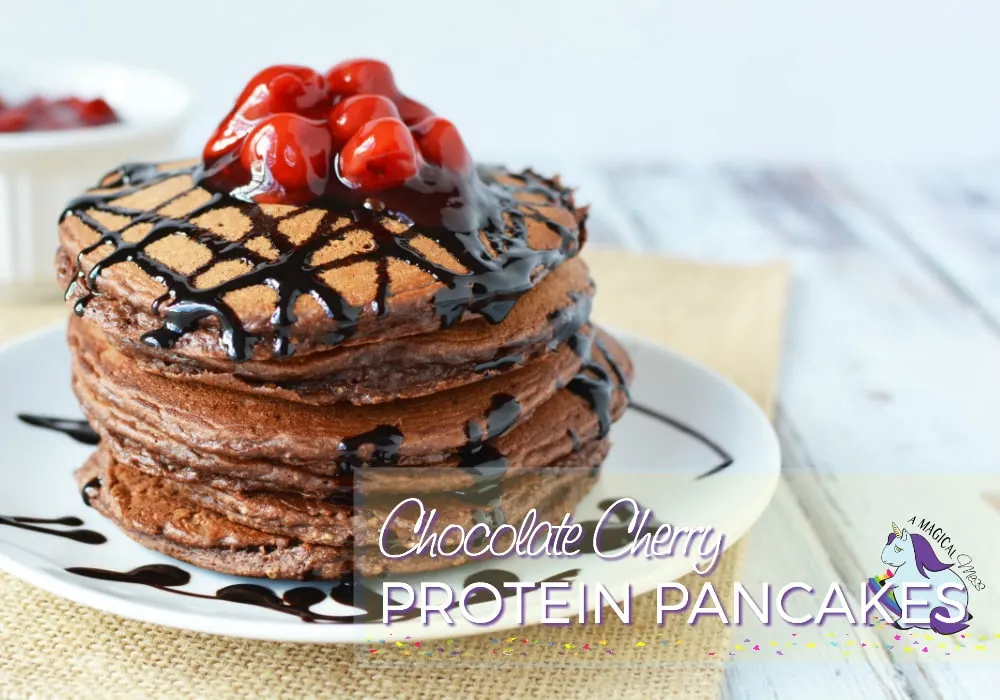 Best Protein Pancakes – Chocolate Cherry
I try to workout as often as possible, but I'm nowhere near bodybuilder status. That doesn't mean I don't like eating well.
In fact, because my chaotic schedule thwarts even my best exercise plans, my diet is even more important to hold on to those hard-earned results.
Adding protein to something typically loaded with simple sugars and fat is a good way to round out what would normally be considered a cheat meal.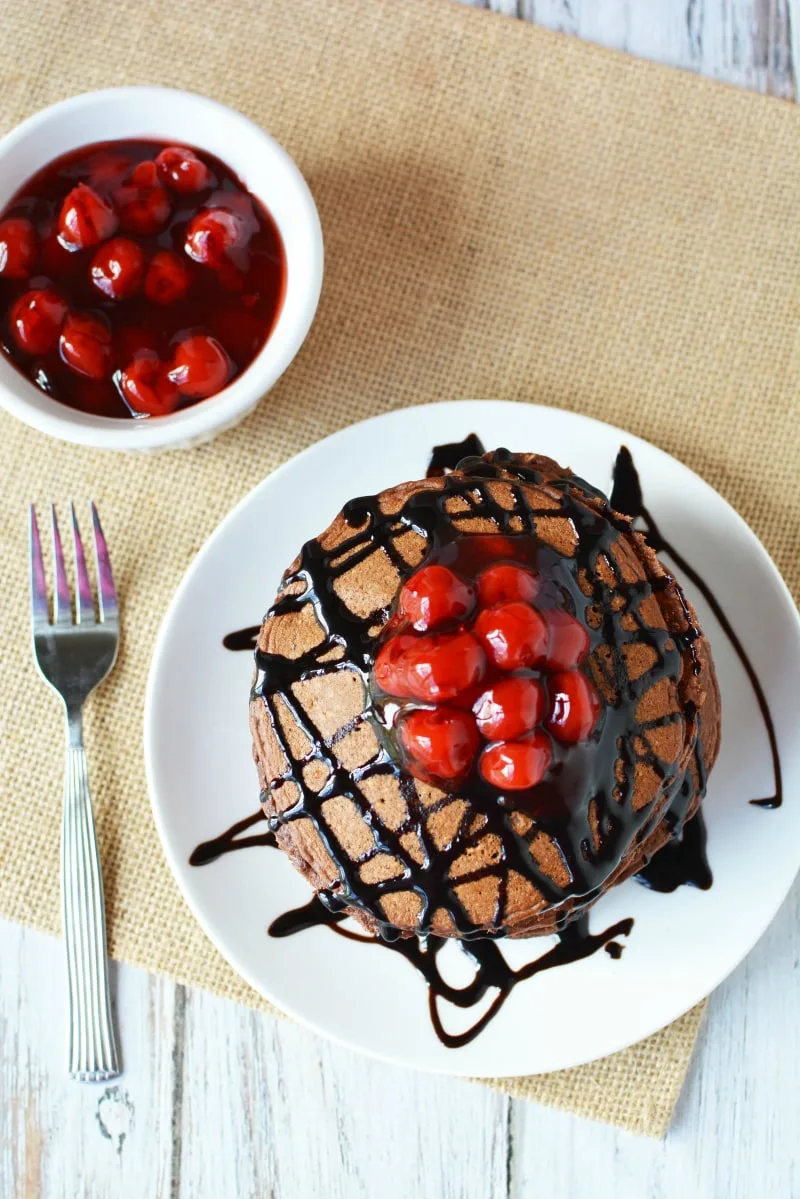 These protein pancakes are something we can all enjoy, and I'm even considering making a bunch of the dry ingredients to keep on hand as a pancake mix.
Oh, and if you use all certified ingredients, these are gluten free pancakes!
Yield: 6 pancakes
90 Calorie Chocolate Cherry Protein Pancakes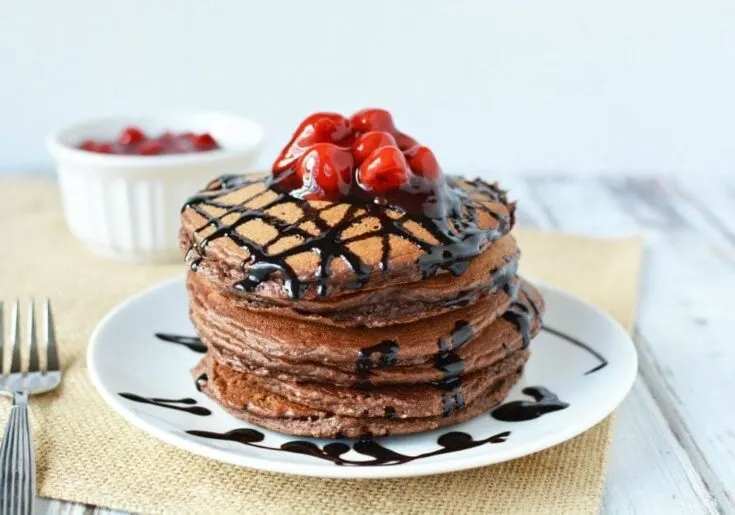 When you want delicious pancakes, but don't want to ruin your hard work at the gym, choose protein pancakes.
Ingredients
1/2 cup oats
1 tablespoon coconut flour
1/4 cup chocolate protein powder
1 teaspoon unsweetened cocoa powder
1/4 cup fat-free Greek yogurt
1/4 cup unsweetened almond milk
2 egg whites
1 teaspoon baking powder
1 tablespoon stevia
1/4 cup cherry pie filling, or try sugar free for even less sugar
sugar-free chocolate syrup
Instructions
Place oats in a food processor and process until finely ground. Add coconut flour, protein powder, cocoa powder, yogurt, milk, egg whites, baking powder, and stevia. Process until mixed well, scraping down the sides of the bowl if necessary.
Preheat a skillet and spray with nonstick cooking spray. Pour 1/3 cup of batter onto hot griddle and cook on medium heat for 2-3 minutes on each side.
Serve with pancakes topped with cherry pie filling and chocolate syrup.
Nutrition Information:
Yield:
6
Serving Size:
1 pancake
Amount Per Serving:
Calories:

81
Total Fat:

1g
Saturated Fat:

0g
Trans Fat:

0g
Unsaturated Fat:

1g
Cholesterol:

1mg
Sodium:

132mg
Carbohydrates:

14g
Fiber:

1g
Sugar:

3g
Protein:

7g
Nutrition facts are an estimate only.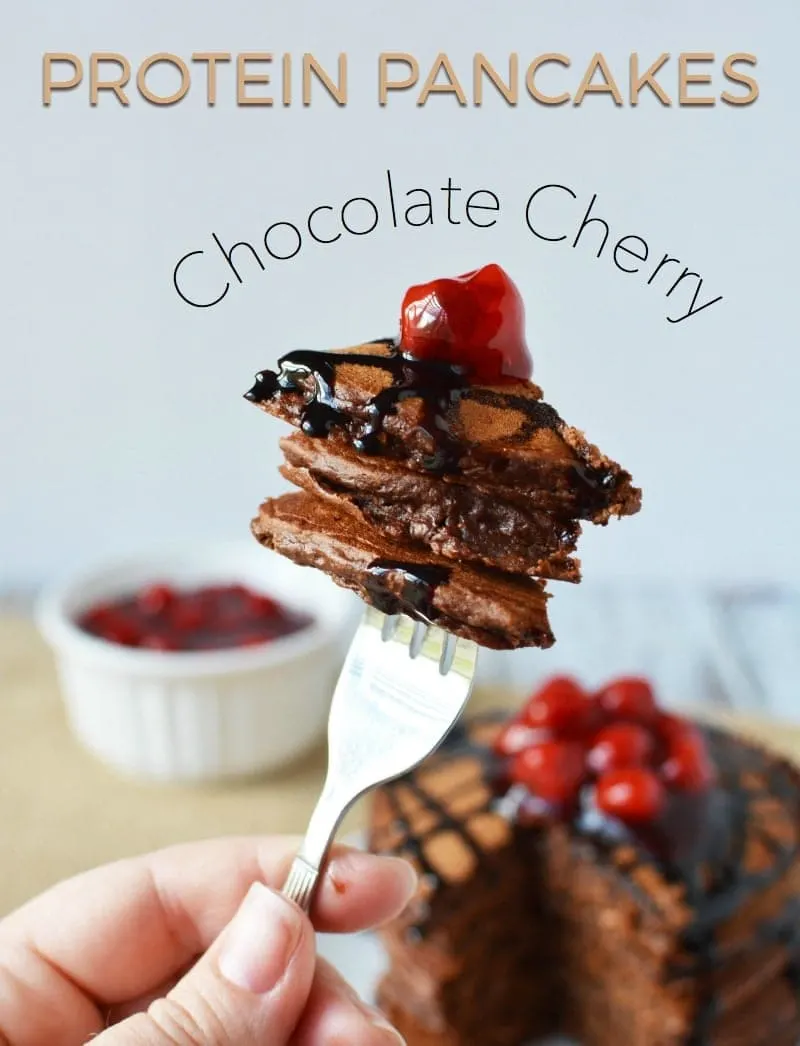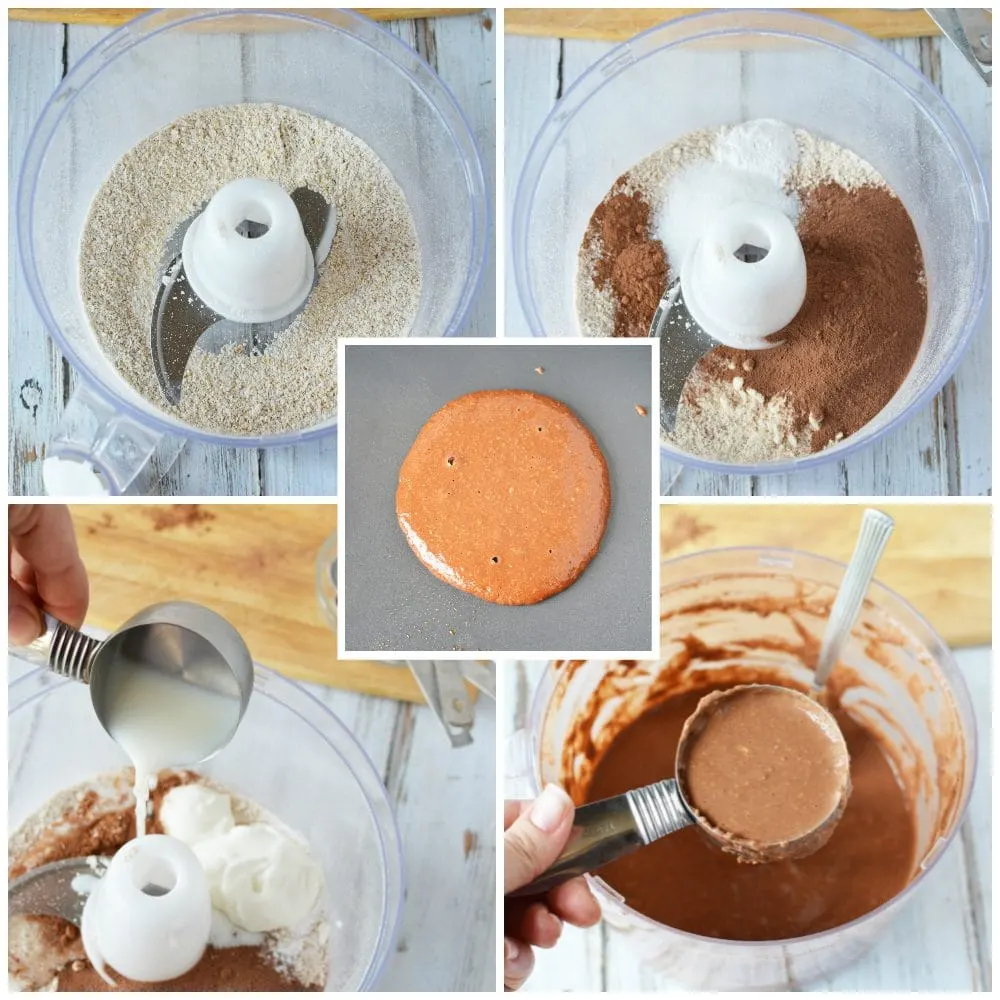 NOTE: The cocoa kind of overpowers the cherry flavor. It might be best to replace the cocoa powder with chocolate PB2. This will probably give the pancakes a less bitter taste.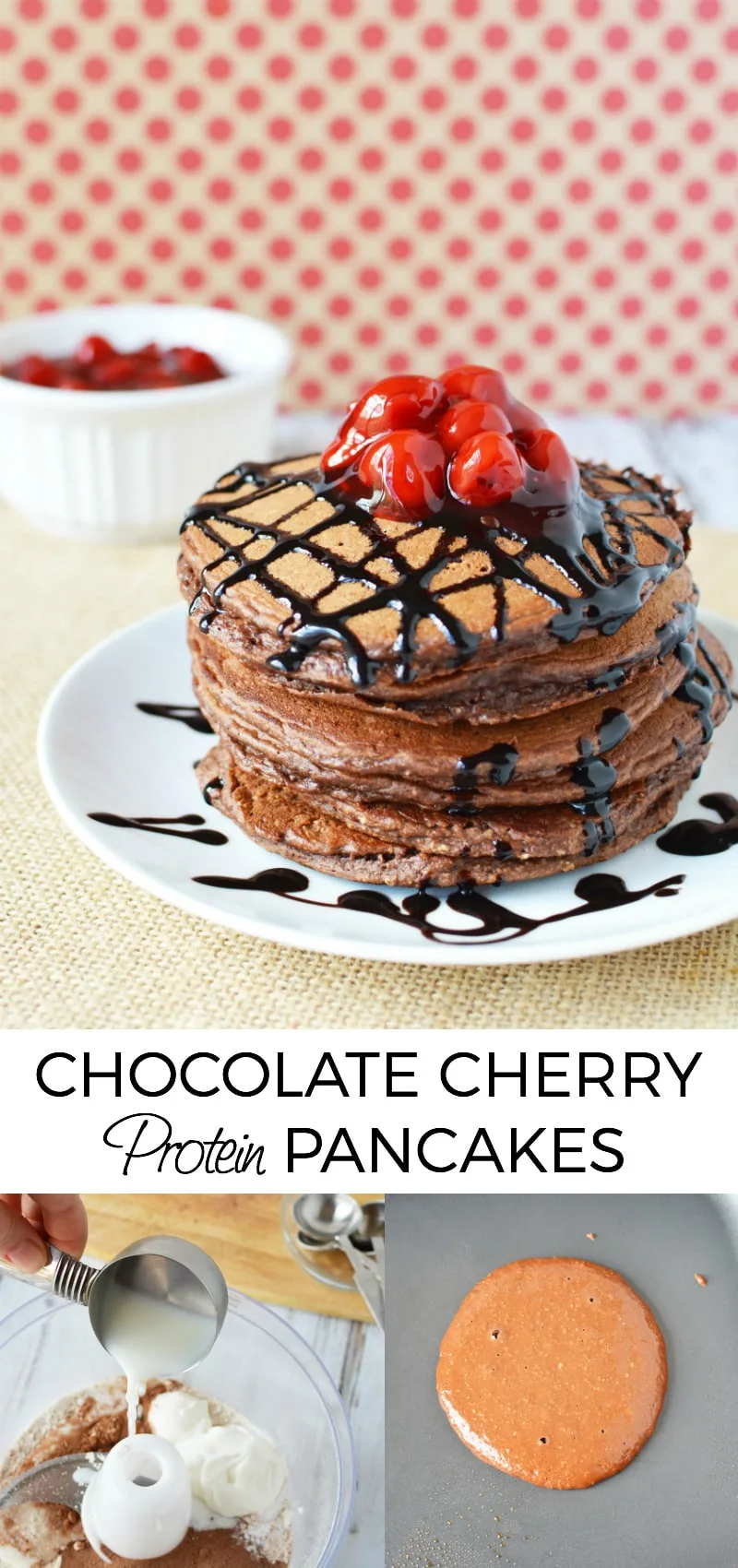 Nutrition Information
This nutrition information is for the entire recipe. So, depending on the size of your pancakes, you may have more or less. Divide each nutrient value by the total number you make, and that will give you the nutrient info for each pancake. (Or, just put "1/6" into the serving size in the widget below.) For example, if you made 6 total pancakes, 1 would have 90 calories, 1.4 g fat, 13.7 g carbohydrate, and 6.9 g protein. Try to keep your pancakes as uniformly sized as possible for accurate nutrition information.
If you prefer strawberry, try these best tasting protein pancakes.
Love chocolate cherry? Try these chocolate chip cherry granola bars.
The search for the best protein pancakes recipes is over. Pin this page for later and come back soon for more!