Naked Nutrition sponsored this post and I am using affiliate links. All opinions are my own.
I am creeping up on 550 days of living a low-carb lifestyle. Cutting sugar has tamed my sweet tooth quite a bit, but it is still there. Dessert remains one of my favorite times of the day.
Having quick and easy dessert recipes for one, like keto chocolate mug cake, keeps me on track and satisfied. I never feel deprived on the keto diet when I make delicious replacements for treats like cake.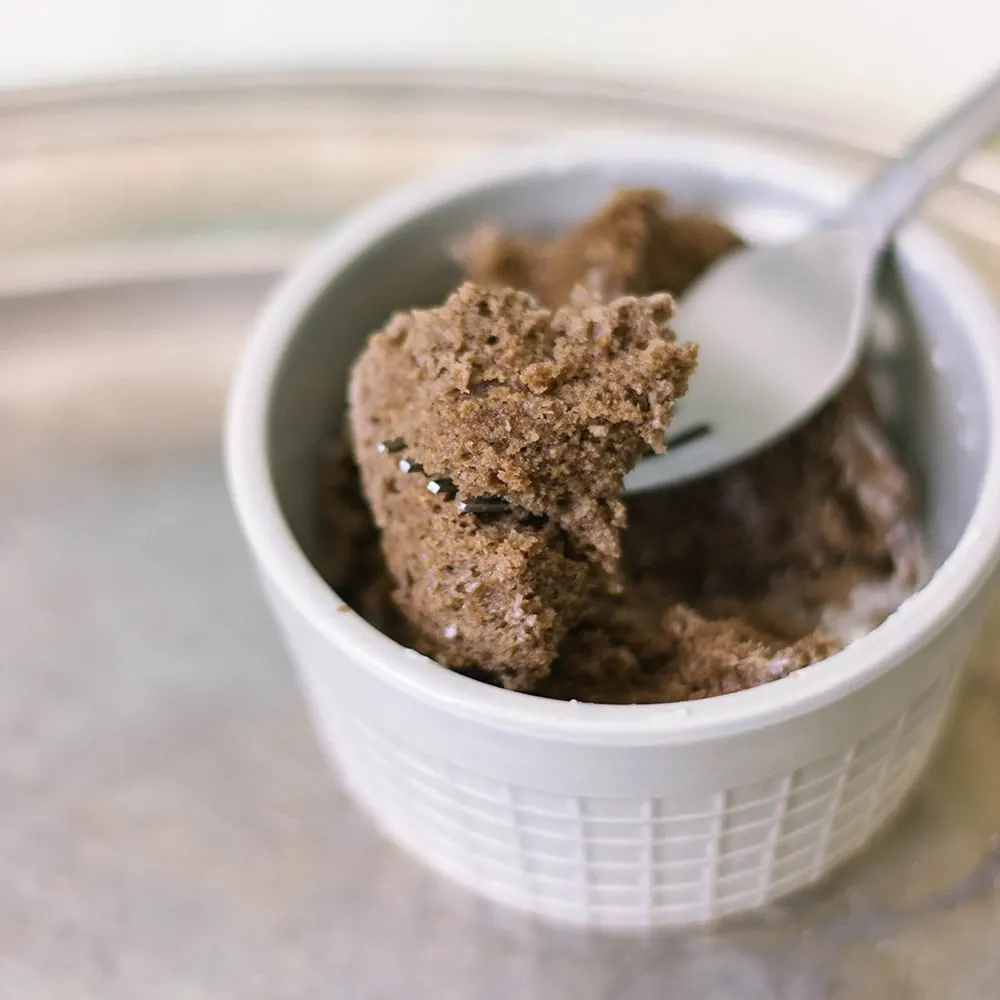 The Best Keto Dessert Option
Keto mug cake is the best low-carb dessert for so many reasons. It's portion-controlled, quick and easy to make, and relatively hard to mess up.
This chocolate keto mug cake recipe uses even fewer ingredients than typical mug cake thanks to Naked Keto Fat Bomb powder (affiliate link). It's also the best tasting mug cake I've tried to date. The flavor and texture of the cake are on point!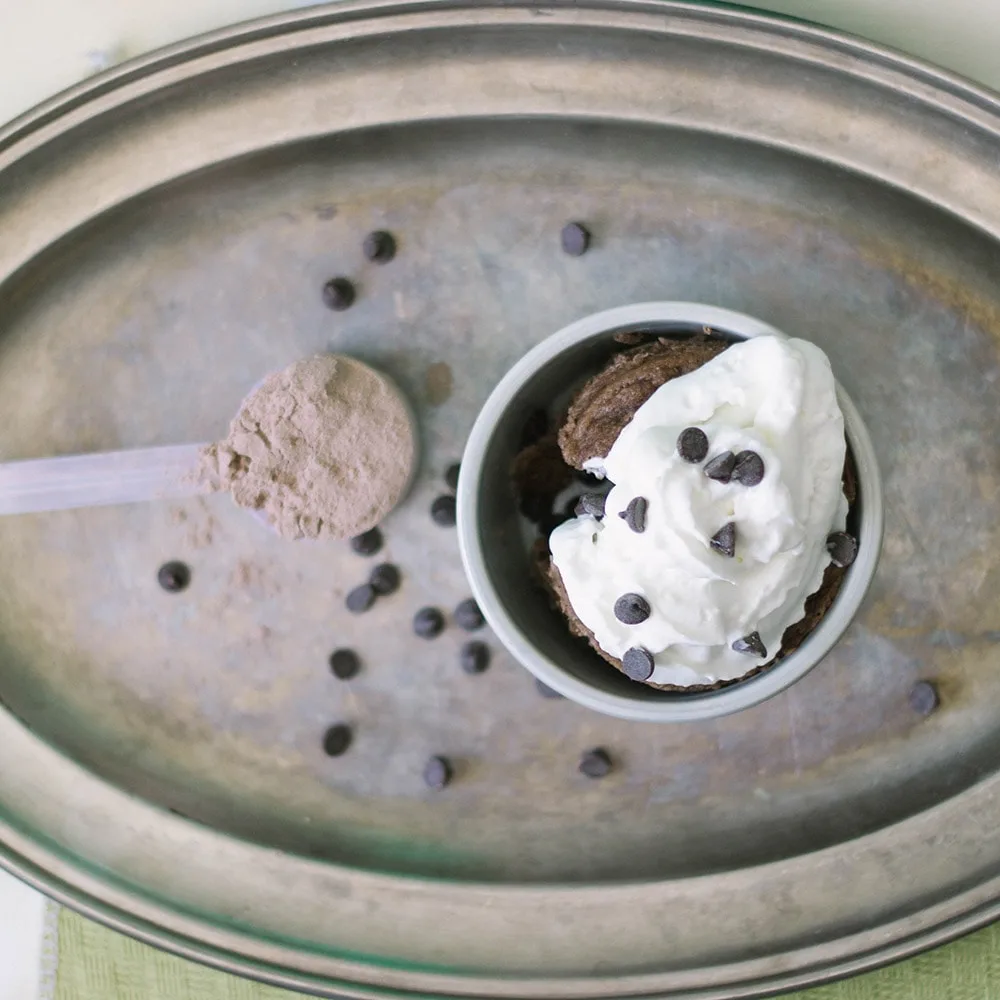 Keto During Chaos
I'll be honest, I questioned if I should post this keto mug cake recipe during these strange times. Right now, there are a million reasons to throw any type of diet out the window.
In fact, we cheated a couple of times with some heavy carb meals. The consequences were pretty immediate and I was reminded why I chose to cut carbs in the first place.
The bottom line is that I, personally, feel best when I avoid sugar. Mentally and physically I can handle stressful situations better when I eat healthy fats, a moderate amount of protein, and low carbs.
I was chatting with another person on the keto diet about staying low-carb during the chaos. She said, "My food choices are about the only thing I can control right now," and that made so much sense to me.
Having said that, it's also the time for comfort foods, like cake! Using one of the many shelf-stable keto products, like Naked Keto Fat Bomb powder, you can whip up a tasty chocolate dessert in minutes.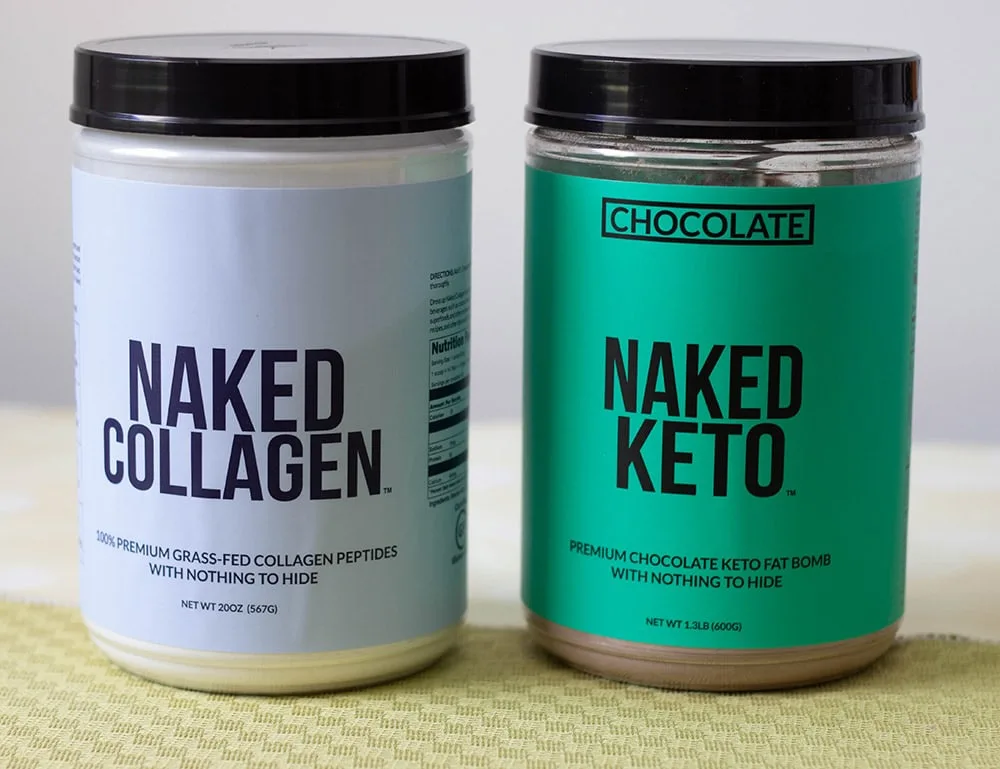 Naked Nutrition Chocolate Fat Bomb
Extremely versatile keto supplement. Add this powder to smoothies, coffee, and even mug cakes. A creamy chocolate flavor that's filling and satisfying if you're missing sweets!
Use code NAKED10 to save 10% off your order on Naked Nutrition.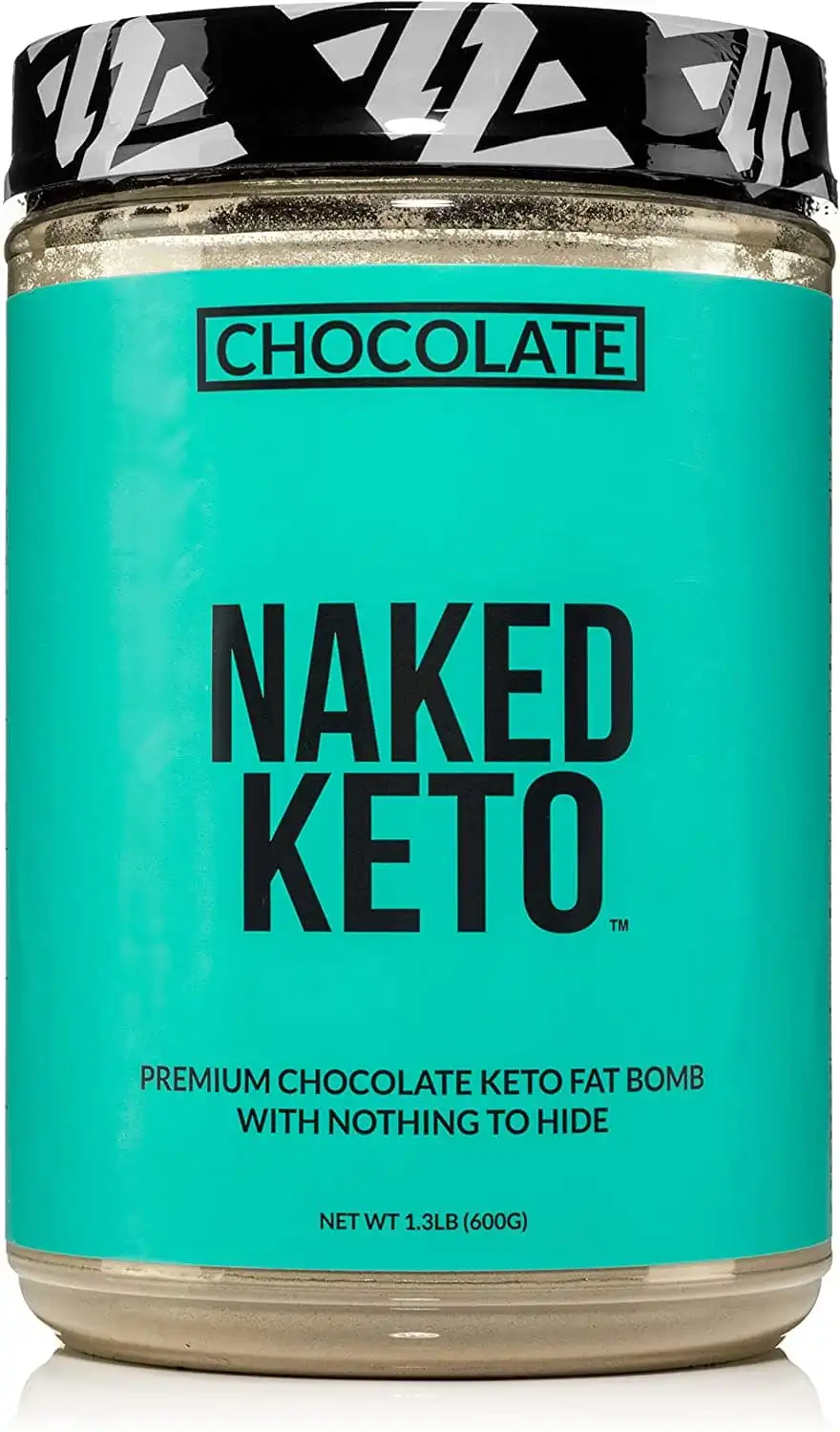 We earn a commission if you make a purchase, at no additional cost to you.
Naked Keto Fat Bomb Powder
As the name suggests, Naked Nutrition, is eager to bare it all. No fancy packaging or crazy ingredients to confuse you. The company's mission is to shorten the steps between their farms and you.
Chocolate Naked Keto has seven ingredients clearly labeled on the tub. It contains powdered sunflower oil, powdered MCT oil, cacao, sea salt, vanilla extract, stevia, and monk fruit.
The one ingredient I questioned was powdered sunflower oil. Naked Nutrition anticipated this concern and wrote all about it here. If you want to know the benefits of MCT oil, there's also a helpful article here.
Find many more helpful articles and even keto fat bomb recipes on the Naked Nutrition website. Okay, on to this moist and tasty mug cake (sorry, the "M" word is necessary here.)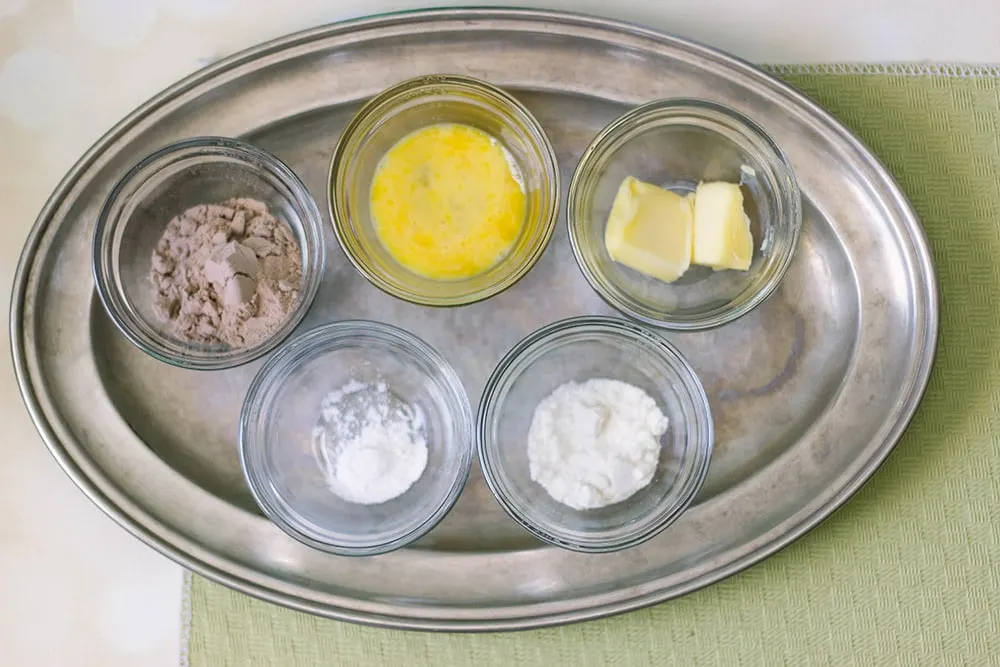 What you need to make this keto chocolate mug cake
(Exact measurements are in the recipe card below)
Chocolate Keto Fat Bomb
Melted butter
Coconut flour
Baking powder
Egg
Optional: vanilla extract and choice of toppings
Microwave-safe mug
How to make the low-carb mug cake
Melt the butter for about 10 seconds in your microwave-safe mug.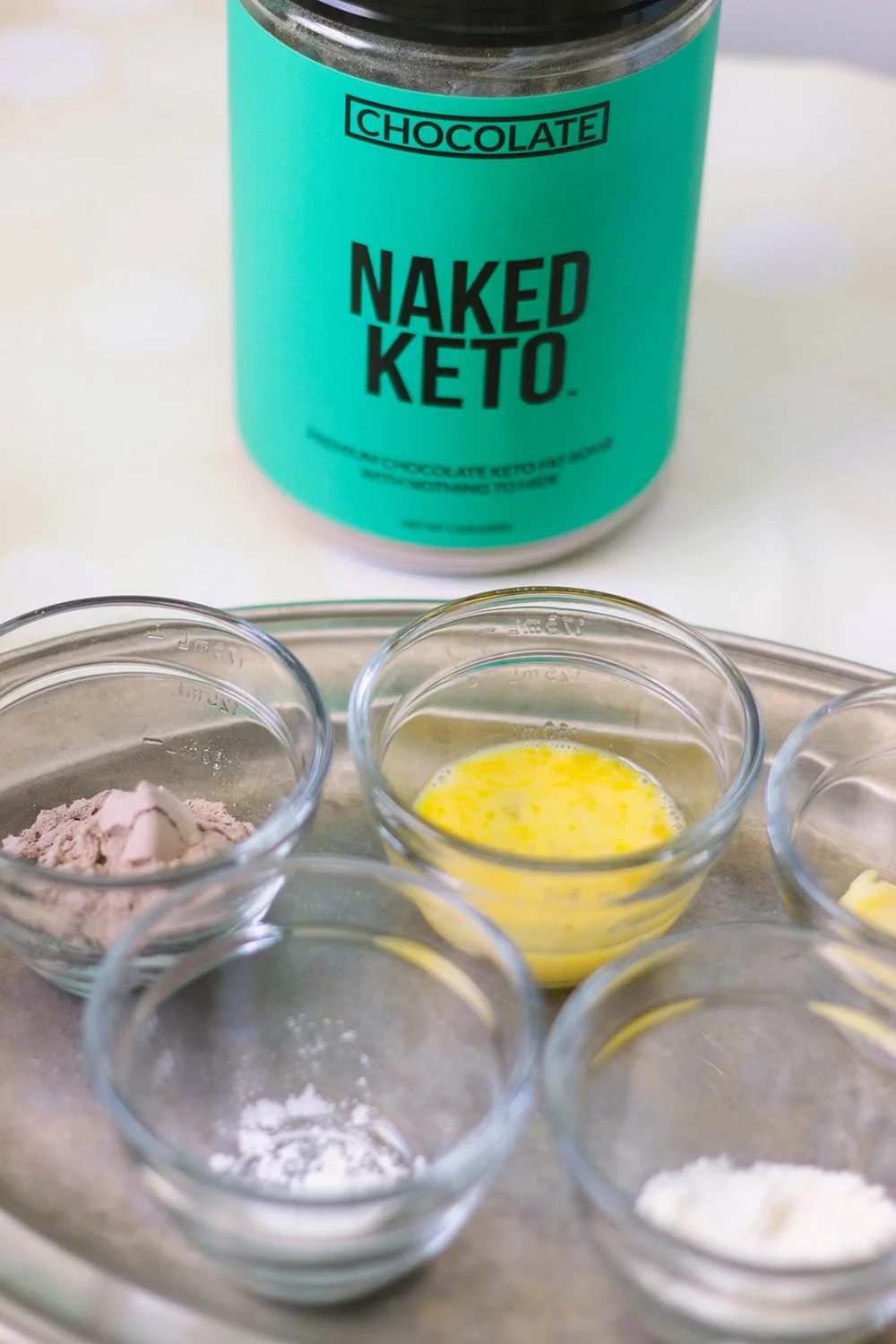 Add all the additional ingredients to the mug and mix well.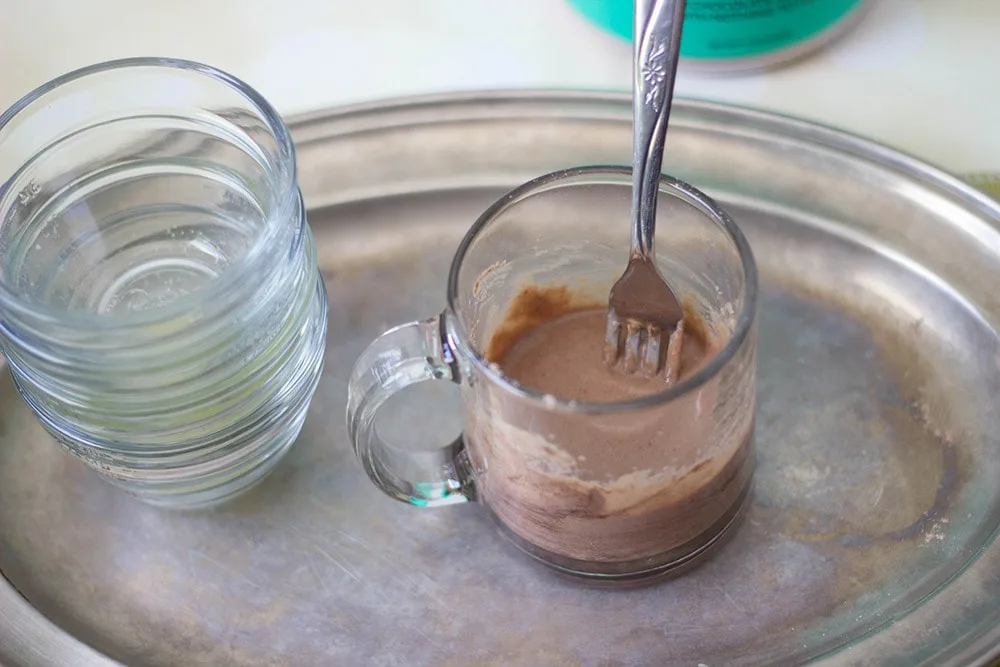 Microwave for 60 seconds. Do not overcook.
Let cool a bit and top with your choice of toppings. The cake is delicious enough plain.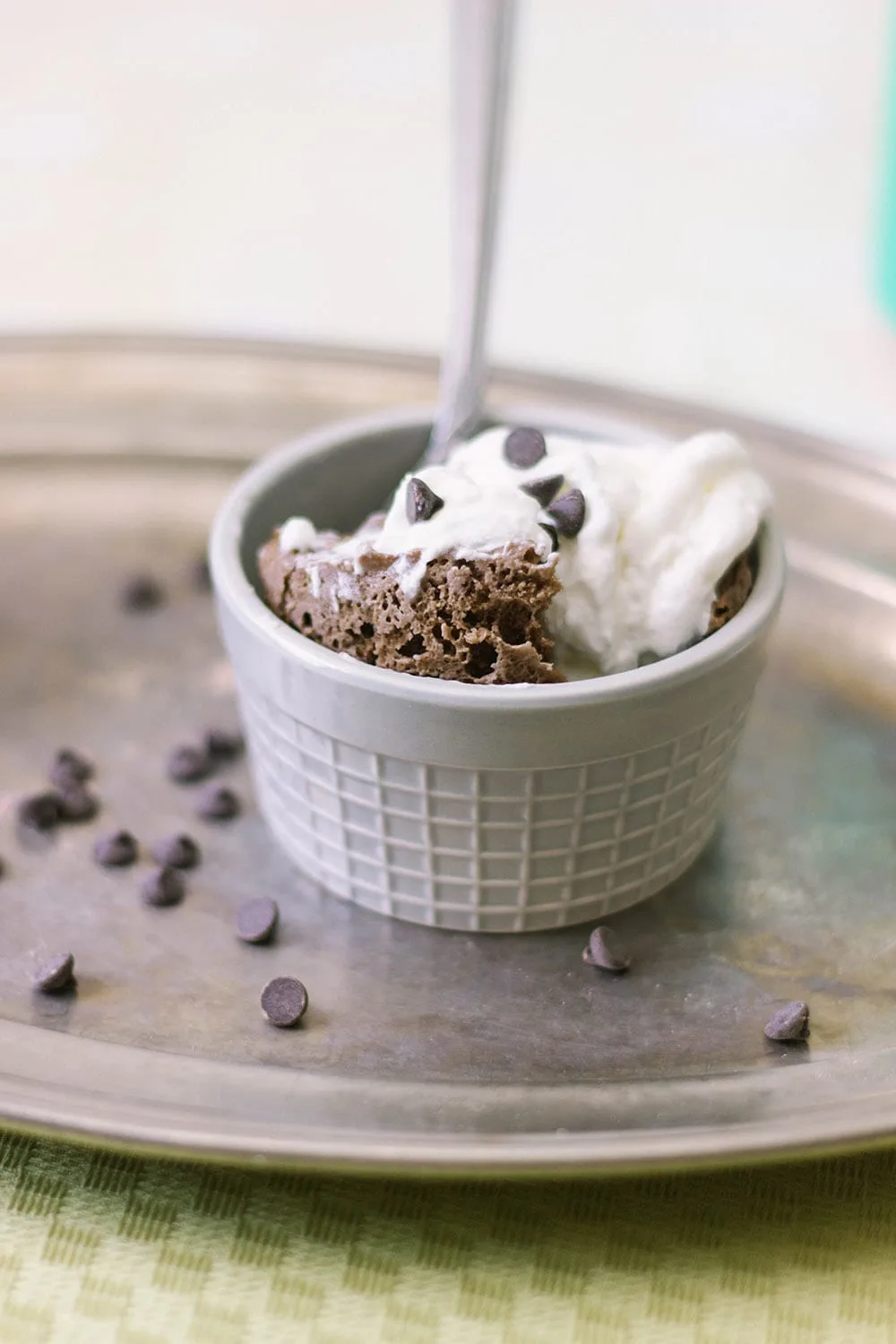 Enjoy!
One mug cake is 3.3 net carbs.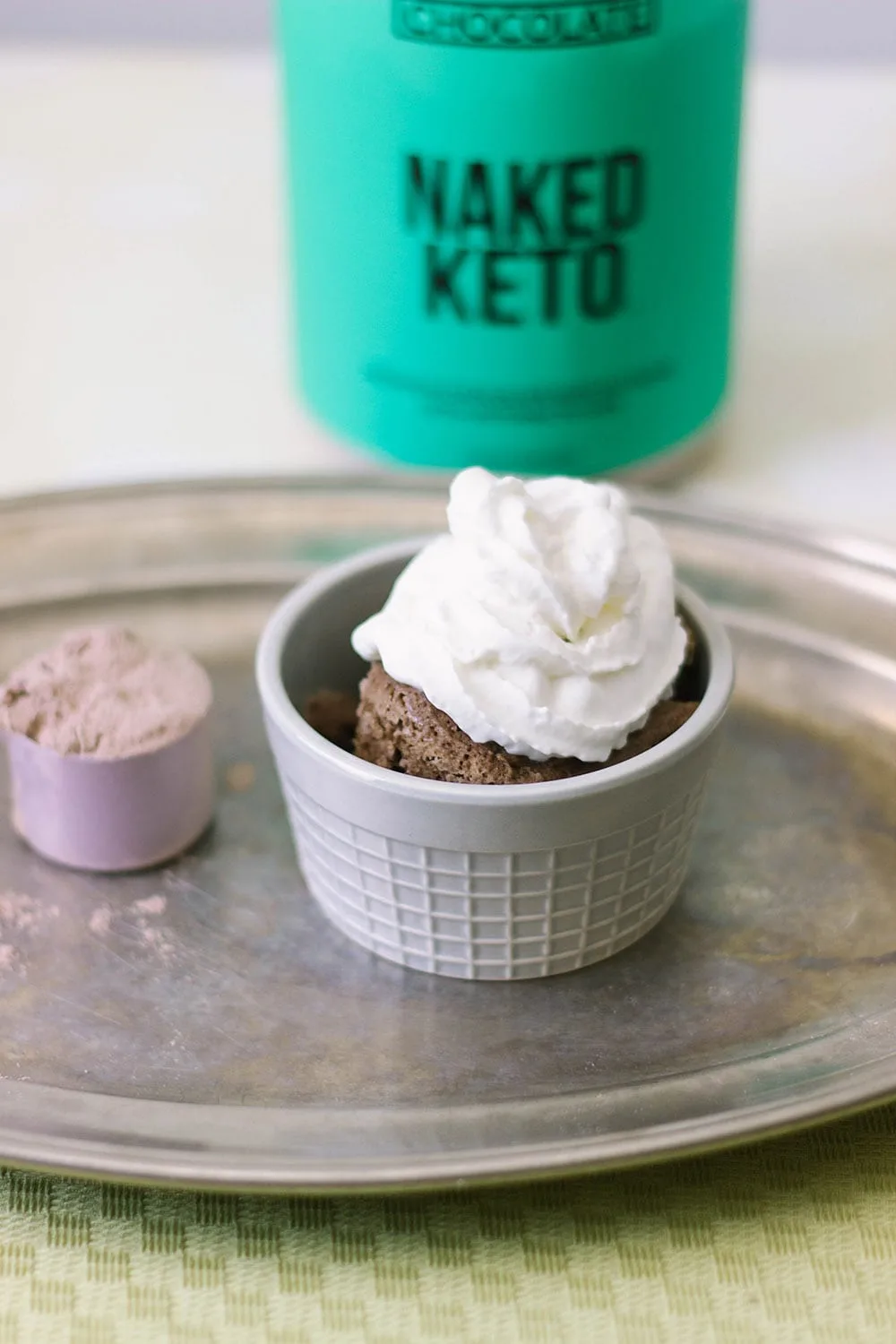 Notes:
If you'd rather use almond flour, see the recipe card.
The fat bomb powder provides enough sweetness and flavor that no additional sweeteners are needed and the vanilla extract is optional.
Mug cakes are meant to be incredibly quick and easy. The little bowls of ingredients you see here are strictly for this post. On a normal day, I toss the ingredients in to dirty as few dishes as possible! Keep it simple unless you are tracking your macros heavily.
Random, but do not let your fork sit in the mug cake while it's cooling. It's like a hot poker to the mouth if you do so!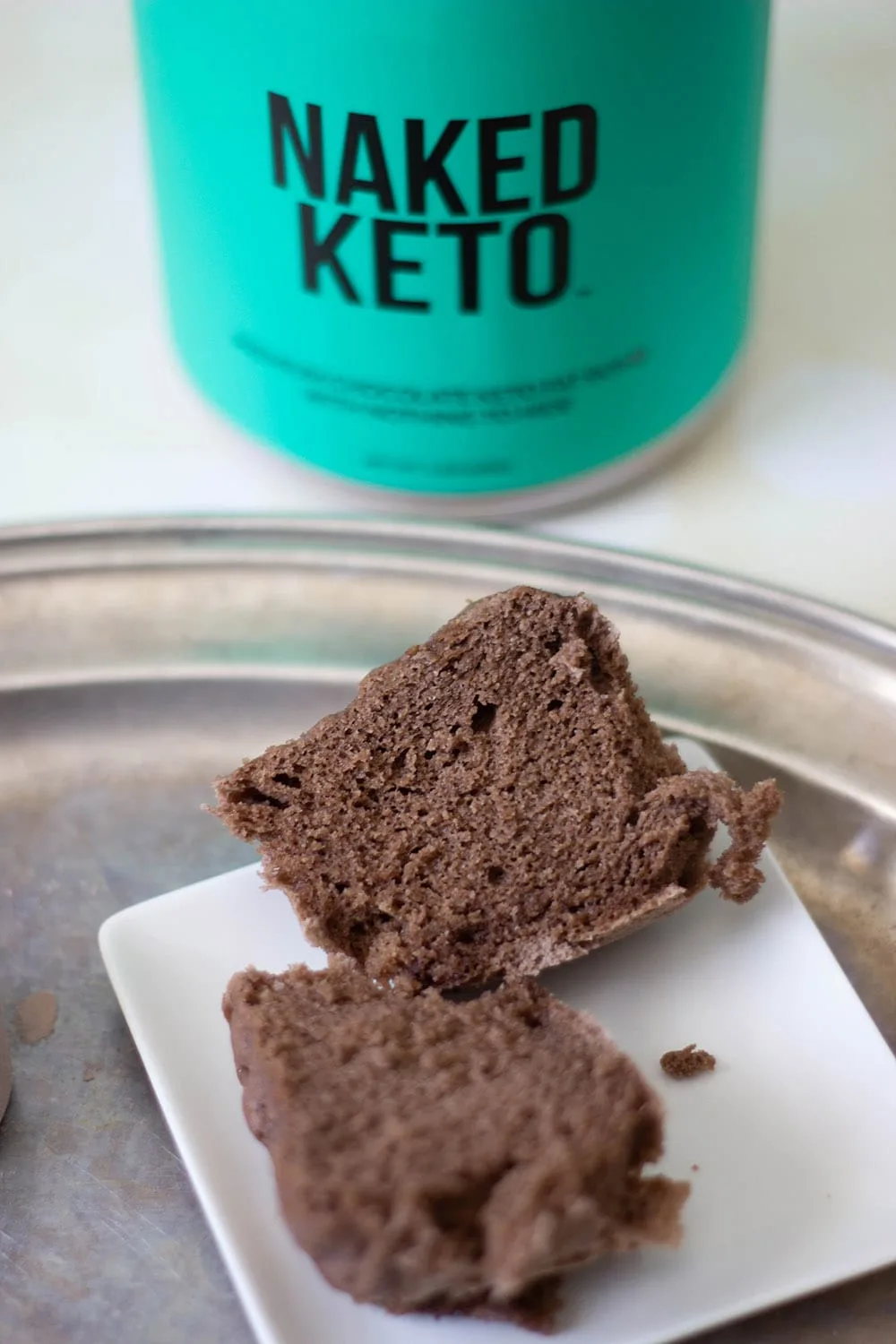 Naked Chocolate Keto Fat Bomb is also delicious blended with macadamia nut milk and ice. It tastes like chocolate milk!
Yield: 1 mug cake
Keto Chocolate Mug Cake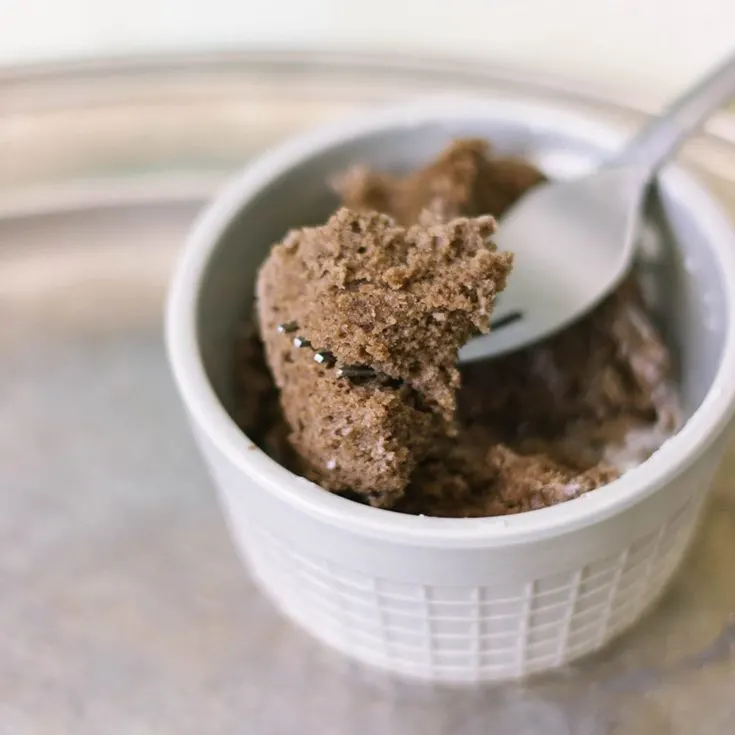 Craving cake on keto? Here is a crazy easy chocolate mug cake for one.
Ingredients
1 scoop Naked Keto Fat Bomb powder
1 tablespoon butter
1 tablespoon coconut flour
1/2 teaspoon baking powder
1 egg, beaten
1/4 teaspoon vanilla
Instructions
Add butter to a microwave-safe mug and heat for about 10 seconds.
Add the rest of the ingredients to the mug and mix well.
Microwave for 60 seconds. Do not overcook.
Let cool and top with keto whipped cream and sugar-free chocolate chips. (optional)
Notes
If you'd like to use almond flour instead of coconut, use 3 tablespoons.
Recommended Products
As an Amazon Associate and member of other affiliate programs, I earn from qualifying purchases.
Nutrition Information:
Yield:
1
Serving Size:
1
Amount Per Serving:
Calories:

338.6
Total Fat:

24.3g
Saturated Fat:

0g
Trans Fat:

0g
Unsaturated Fat:

18g
Cholesterol:

217mg
Sodium:

413mg
Carbohydrates:

9.3g
Net Carbohydrates:

3.3g
Fiber:

6g
Sugar:

1.2g
Protein:

8.9g
Nutrition facts are an estimate only.
Feel free to play around with the ingredients. Add peanut butter, keto-friendly chocolate chips, keto whipped cream, nuts, or anything else you can think of.
More Keto Recipes to try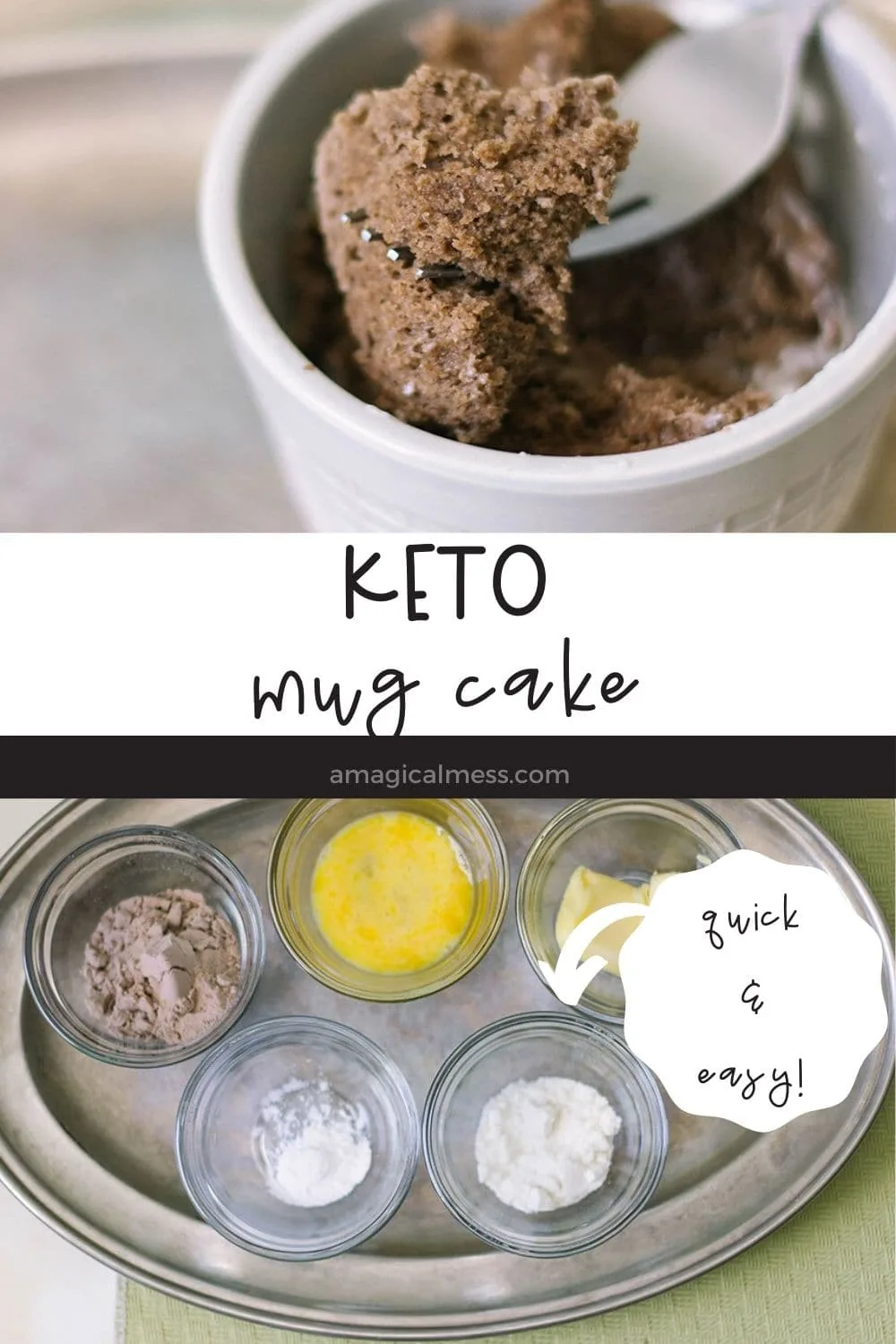 Naked Nutrition Giveaway
One lucky winner will receive a tub of Naked Keto Fat Bomb and a tub of Naked Keto Collagen.
Open to US and Canadian residents.
Giveaway ends on May 26, 2020.
Giveaway ended — lucky winner: Rachel G.
Have you tried a keto mug cake yet?
Let me know what delicious low-carb creations you make with Naked Keto Fat Bomb Powder.