Hasselback chicken is one of my favorite dinners to make. It's at the top of my go-to chicken dinners and has been even before we started the keto diet.
I received a free ButcherBox to facilitate this recipe. This post also includes affiliate links. I receive a commission if you purchase through my links at no extra cost to you.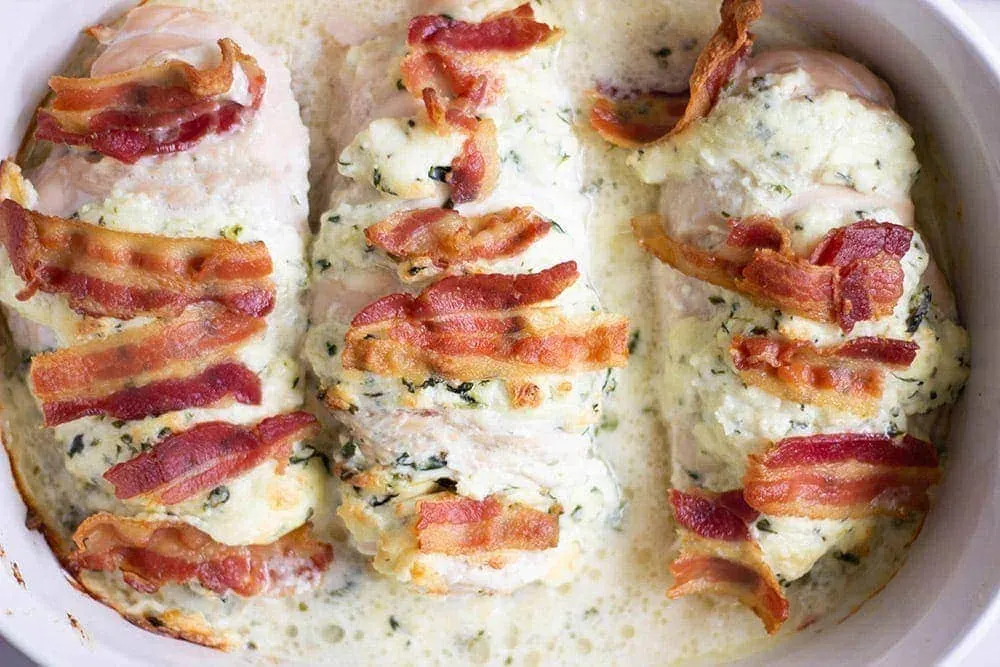 ButcherBox Mixed Meats Box
ButcherBox sent me their mixed box of meats to try out. The box contains chicken breasts, rib eye steaks, ground beef, a shoulder roast, and pork chops. The meats change monthly and vary depending on location.
On our keto lifestyle journey, Mike and I both read quite a bit about the importance of choosing grass-fed beef, organic products, and free-range chicken. We are making baby steps towards change as often as we can.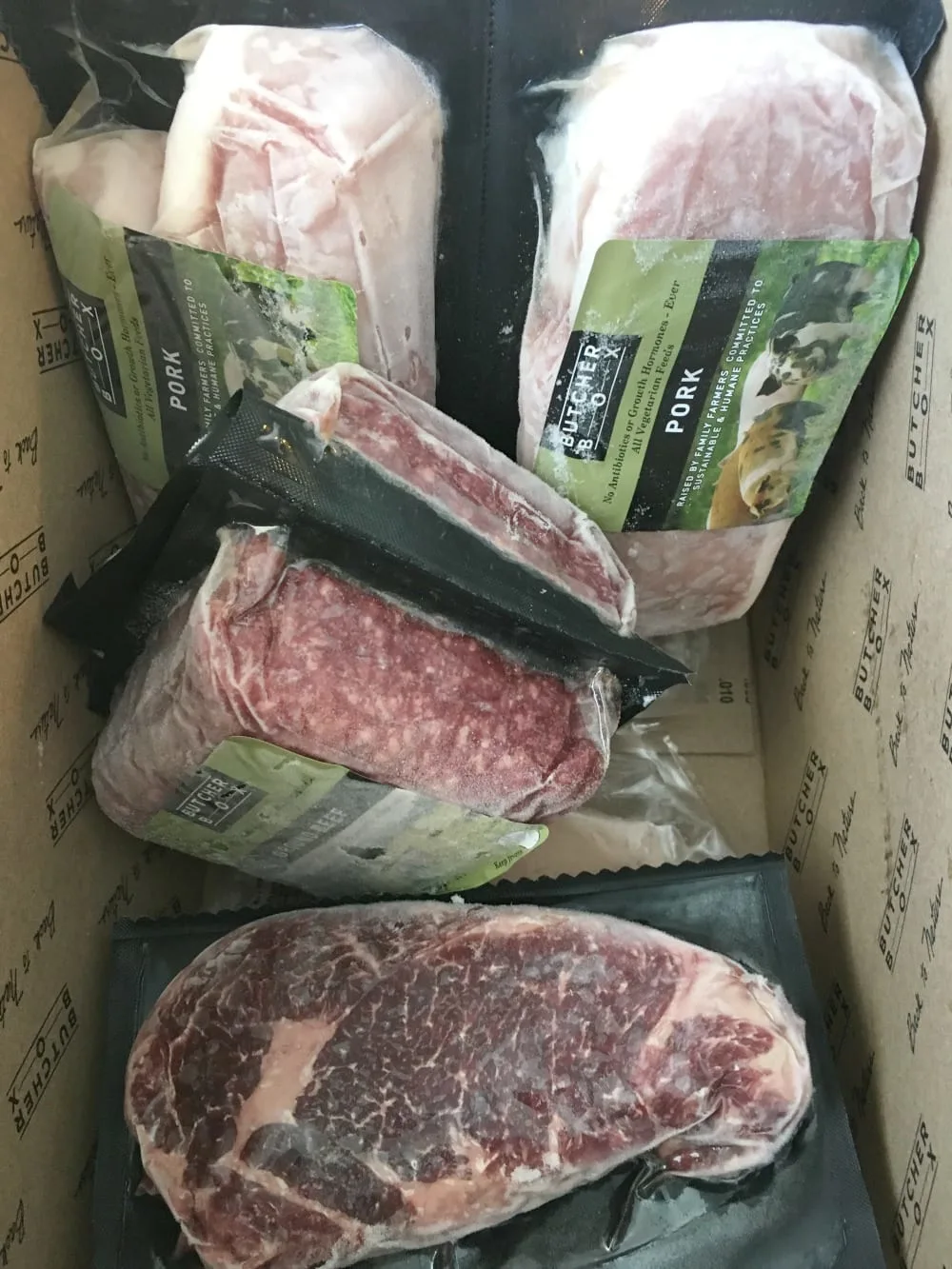 If you're not on or near a farm, ButcherBox is an excellent way to receive high-quality and humanely-raised meats at your doorstep.
For us, ButcherBox is convenience, variety, and the chance to support family farms who practice ethical farming and hold animal welfare as a core value.
ButcherBox
Get grass-fed and humanely sourced meat delivered to your doorstep! High-quality meats that you can feel good about.
ButcherBox always rewards new customers with freebies! Right now, new customers get wings, ground beef, and ribs for free in their first box.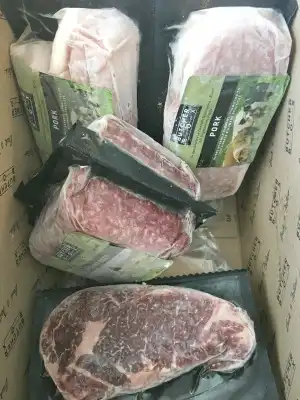 We earn a commission if you make a purchase, at no additional cost to you.
Use this free Keto Calculator (affiliate link) to find out the best macros for your body, lifestyle, and goals!
Hasselback Chicken with Bacon and Spinach
So, what shall I do with all of these tasty cuts? First up, I decided to make Hasselback chicken with the chicken breasts. The breasts are the perfect size for slitting and stuffing.
I frequently make Hasselback chicken with tomato, mozzarella, and basil. However, I quickly overdid that one and bored Mike into exercising his veto rights against it.
After talking with my Aunt, she told me she uses bacon, cream cheese, and spinach in her Hasselback chicken. After all, Hasselback is just the name of the stuffing method and has nothing to do with the ingredients.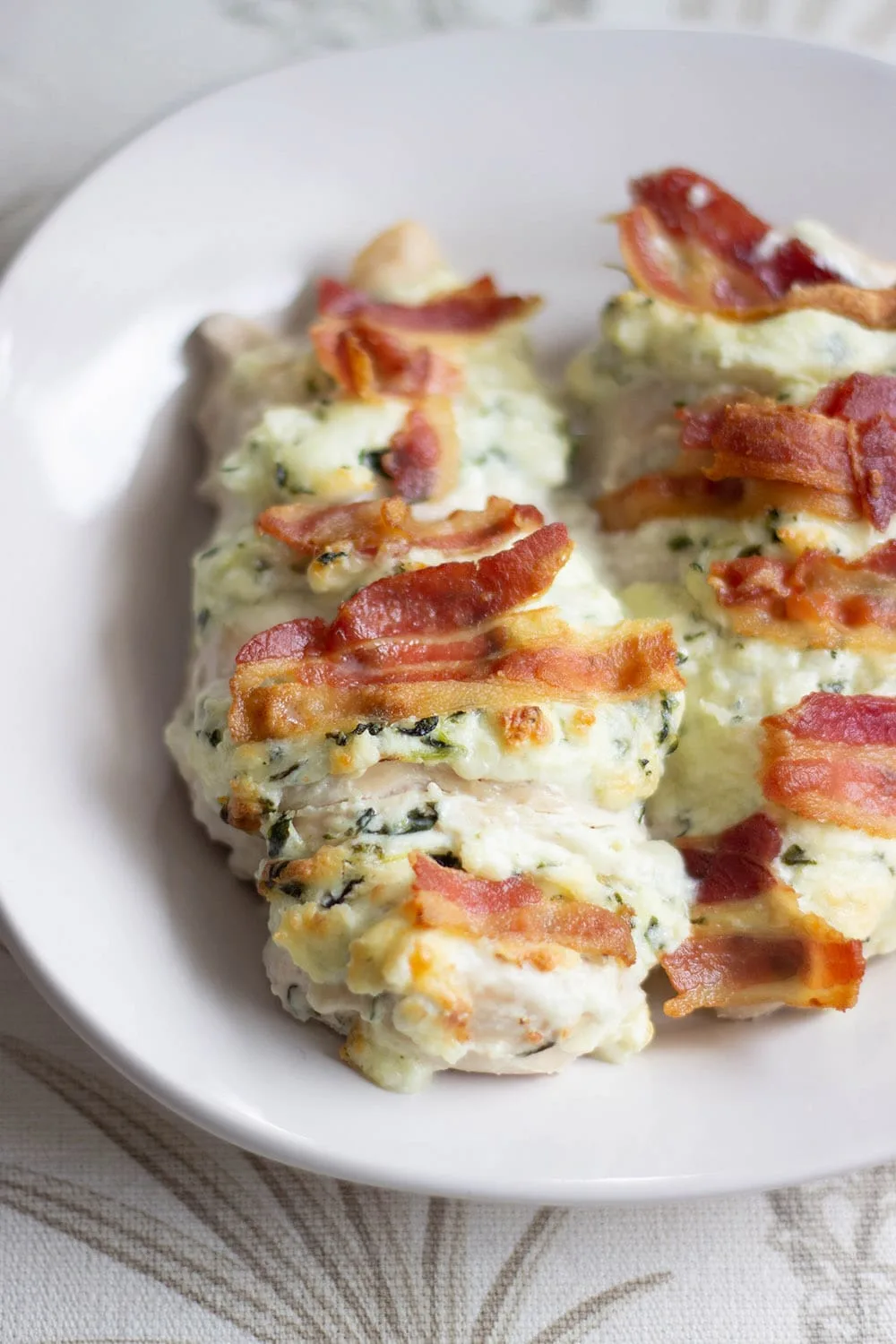 Larger chicken breasts work best for Hasselback chicken. You want enough thickness so you can slice good slits into the chicken without cutting through. The more room for stuffing, the better.
Keto Chicken Dinner, but Delicious for All!
Let me be crystal clear that you do not have to be on a low-carb diet to enjoy this dinner. But, if you are on a keto diet, get ready for yumminess.
Another reason this chicken dinner is delicious – BACON. And how did I forget to mention that when you join ButcherBox, you get free bacon for life? Bonus city.
Spinach is another tasty ingredient in this recipe. We don't eat enough spinach at all, so this is a great way to get some into our diet.
Please know that I am a very picky eater. I find this dish quite flavorful, but others may miss the kick of spices and seasonings. Add your favorites to fit your taste.
If you're not avoiding carbs, possibly serve this Hasselback chicken with pasta and some garlic bread. Yum!
But, if you are doing keto or a low carb diet, know that we found each piece of chicken quite filling and satisfying. No carbs were missed during this meal. 😉
Bacon and spinach are definitely my new favorite way to make Hasselback chicken.
Stay tuned for more recipes using my ButcherBox meats. Let me know if you have any suggestions!
Read my low-carb gift guide for more product suggestions.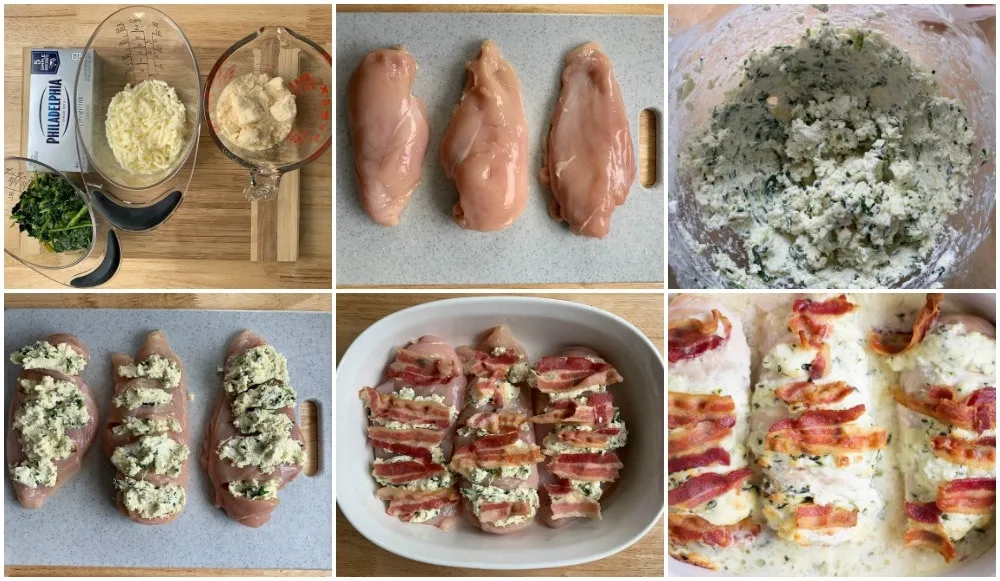 Yield: 3 pieces
Spinach & Bacon Hasselback Chicken Recipe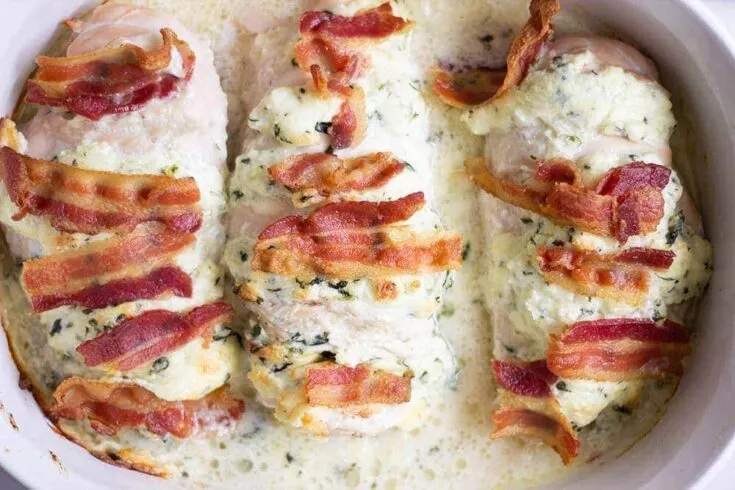 Hasselback chicken is a delicious way to stuff chicken breasts. This low carb and keto friendly chicken recipe is loaded with spinach, cream cheese, and bacon. No need to be on the keto diet to enjoy this chicken dinner - it's delicious for anyone!
Total Time
1 hour
5 minutes
Ingredients
1.5 lbs chicken breasts, 3 pieces
4 strips bacon, cooked
6 oz cream cheese, softened
1/3 cup mozzarella cheese, shredded
1/3 cup parmesan cheese, grated
4 oz spinach, chopped
1/4 tsp salt
Instructions
Preheat oven to 375 degrees.
Prepare bacon slices ahead of time.
Mix cream cheese, mozzarella cheese, parmesan cheese, salt, and spinach together.
Slice pockets into chicken breast. Create about 5 slices depending on the size of your pieces of chicken. Make sure to not cut all the way through the chicken.
Stuff the spinach and cheese mix into the chicken slices.
Grease casserole dish. (I used avocado oil spray)
Place chicken into casserole. (You could also do this before stuffing)
Tear bacon slices to fit over each sliced pocket. Press bacon over the stuffing.
Bake at 375 degrees for 30-45 minutes or until chicken is fully cooked. Mine took 45 minutes.
Notes
Nutrition facts include all of the ingredients.
Most likely, you will not use all of the filling.
If you use everything, it works out to be 6 net carbs per piece of chicken.
Nutrition Information:
Yield:
3
Serving Size:
1 piece
Amount Per Serving:
Calories:

736
Total Fat:

39g
Saturated Fat:

19g
Trans Fat:

0g
Unsaturated Fat:

16g
Cholesterol:

284mg
Sodium:

1100mg
Carbohydrates:

7g
Net Carbohydrates:

6g
Fiber:

1g
Sugar:

2g
Protein:

86g
Nutrition facts are an estimate only.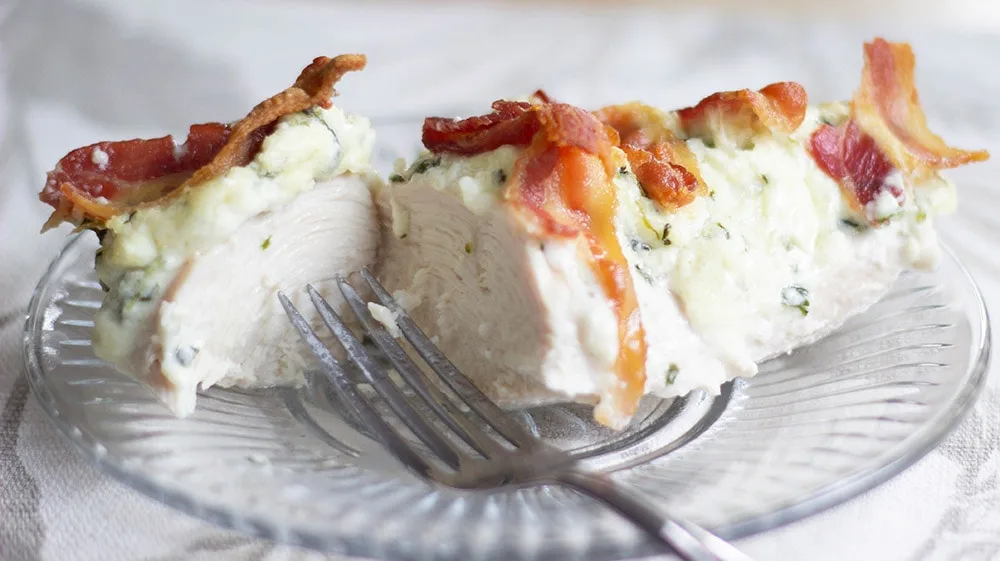 Pin to save and share with other low-carb peeps!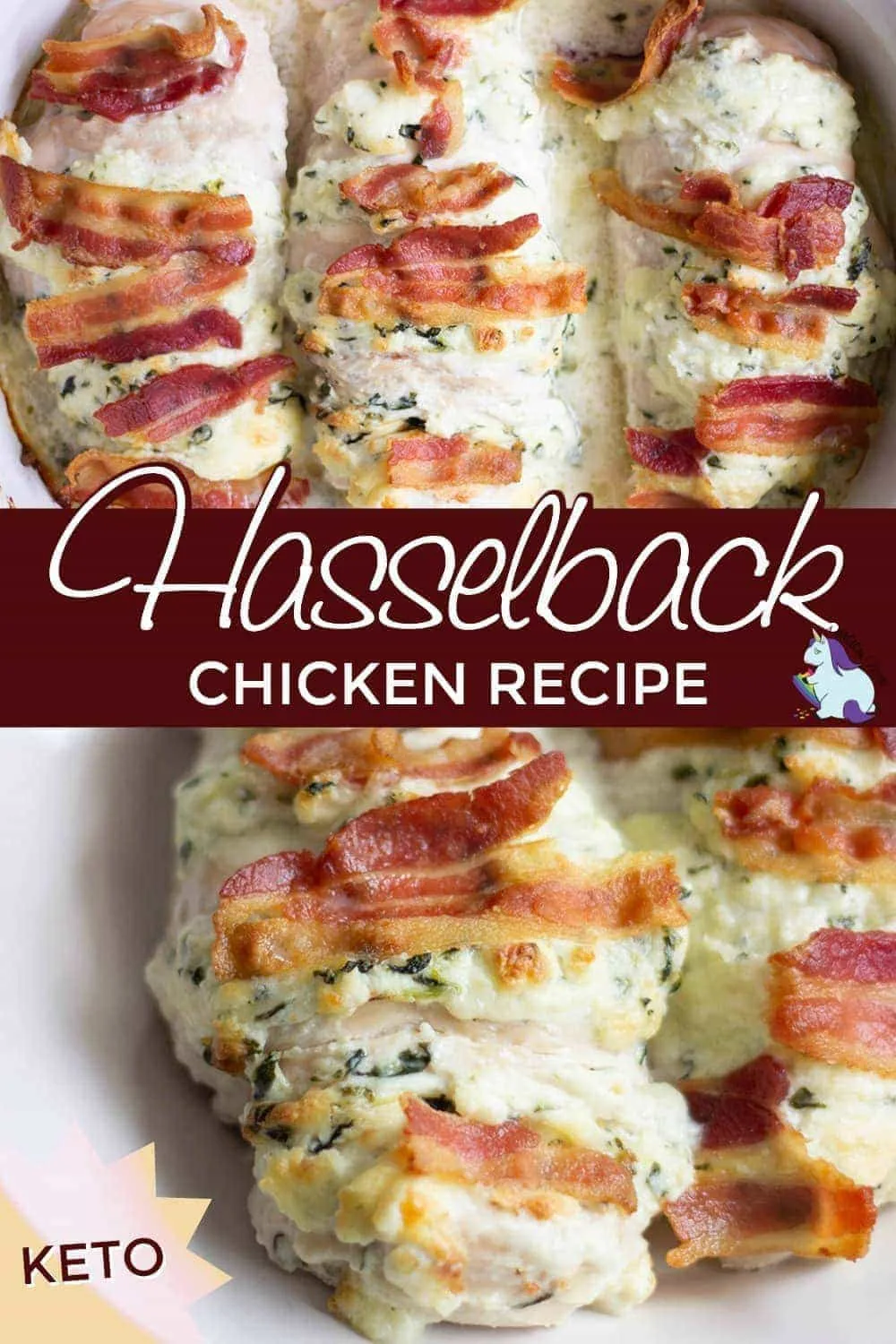 Join ButcherBox today and get the latest freebies!!!
For dessert make some low carb hot chocolate!
Ready for dessert? Check out my site loaded with keto mug cakes.
More Low-Carb Foods to Make
Do you make Hasselback chicken? What do you use for stuffing?