Keto gift ideas are what it's all about today. If you've been following my journey, you know I've jumped headfirst into the deep end of the keto pool, and I've never felt better in my life.
For me and most other people living the keto life, it becomes a lifestyle as much as it is a way of eating. We feel so much drastically better than before we started following a keto eating plan that we sort of become obsessed with it a little bit.
This post contains affiliate links. Although some products were sent for consideration, I only included the ones I personally use.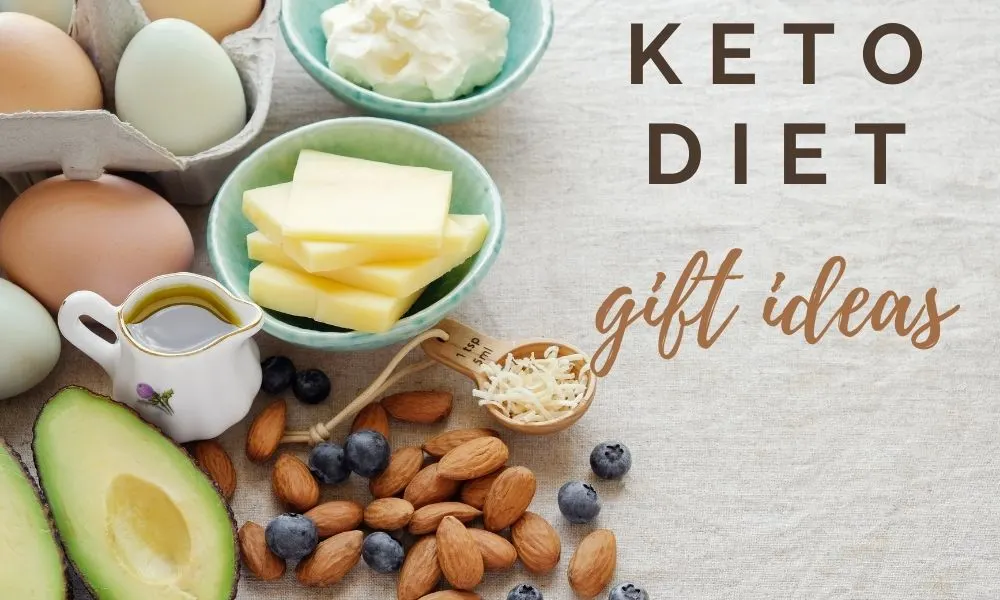 Making Keto Gift Ideas Easy
If you're not a member of the Church of Keto (registered trademark pending), you might be thinking, What the heck am I going to get for my keto friend? Luckily, I'm here to help.
Today we're talking about keto gift ideas that are perfect for anyone following a ketogenic lifestyle. You'll find great keto friendly gifts ranging from snacks to workout gear, nutrition, and more.
These ideas should work for keto Christmas gifts and beyond. No matter when you're shopping for your low-carb loved one, use this list for inspiration.
Low-Carb Snacks
First up are snacks! Keto snacks tend to be on the pricier side, so they are great to give as a gift.
There are many ways to do a keto diet, and not everyone is all about the snacking, but I think they are still great to have on hand.
Although I also do intermittent fasting along with low-carb most of the time, I still love having snack options. On movie nights or when a craving strikes, a snack attack is possible without blowing my diet.
Keto-Friendly Food
Closely related, but not the same, to snacks is food. Food items are one of the best keto gifts because food is expensive! You have a lot of options here.
From a box of meat (yes, it's a thing) to gift-wrapped keto gift baskets (also a thing), there are more food item gift choices out there than you'd think for the keto follower in your life.
Ketone Testers
Not necessary, but can be interesting and motivating for keto dieters, are ketone testers. Ketone testers let a person know when they are in ketosis – a state where your body converts fat to ketones to use for energy.
There are a few ways to test for ketones through the urine, breath, or blood. Urine test strips are the most affordable but keto blood testers are the most accurate.
Anyone looking to fine tune their keto diet would love to receive a ketone tester as a gift.
Keto Life Clothes
There are tons of clothing options for people who follow the keto lifestyle. You can find funny shirts with quotes or graphics on them, and of course, workout clothes are always a great choice. It's a lot of fun to receive clothing as gifts when you've dropped a few sizes!
Useful Mugs
Microwave-safe mugs are great keto gift ideas, too. A lot of people on the keto diet start the day with bulletproof coffee.
There are also a lot of great keto friendly mug cake recipes out there. With just a few ingredients and a mug, you've got a cake or brownies.
You can find mugs with all sorts of fun graphics on them that are perfect for people living the keto lifestyle.
Keto Diet Supplements
Supplements are excellent keto friendly gifts, as well. Because the keto diet is ultra-low-carb, those of us who follow it have a more limited range of foods that we eat.
Electrolytes are one of the most important supplements to help stave off the keto flu. Since your body drops a lot of water when you start cutting carbs, it's important to get those electrolytes in.
Once someone starts researching a low-carb diet it's easy to become health conscious all around. You might find yourself down the rabbit hole of nootropics and biohacking. It's all fascinating, but does get expensive, so supplements are amazing to receive as a gift.
Macro Tracker
Macros are important for people eating a keto diet. To get into ketosis, we need the right amount of fats, protein, and carbs. It's not as simple as just eating a ton of fat or meat.
A nutrition log book helps people track their intake of fat, protein, and carbs every day, and it makes it so much easier to stay on track.
There are apps for tracking macros, but plenty of people still prefer pen and paper.
Food Journal
A food journal is another great gift idea. One of the keys to any eating plan, no matter what kind it is, is keeping a food journal.
Food journals help keep you honest about what you're eating and how much of it you're eating. Without one, it's really easy to cheat on your diet and cheat yourself in the process.
This can be in the same notebook as the macro tracker or a journal on its own. If the app for tracking macros is preferred, I recommend a journal to track how you feel after your food choices.
Cookbooks for Ketogenic Recipes
Cookbooks make excellent gifts for a keto friend. These days, people have gotten very creative with living the keto life. There are so many low-carb recipes out there ranging from meals like breakfast, lunch, and dinner to snacks and even desserts.
If you have a friend doing keto, they'll love getting a cookbook or two devoted to exclusively keto recipes.
Small Appliances
Of course, there are no special appliances needed for this diet, but there are a few fun options. A few of the small kitchen gadgets I use most often are a mini waffle maker to make Chaffles, an air fryer, an indoor grill, and a frother to mix MCT oil powder and collagen powder into my coffee.
A few of these items I only have because they were gifts. I never would have purchased them myself, but I now use them all the time.
Subscription Boxes
These days, there are subscription boxes for everything, including keto. A keto subscription box is a super fun keto friendly gift because every month, your giftee gets a box full of fun surprises that will help keep them on track.
Subscription boxes are an excellent way to discover new snacks and foods, too. Receiving samples each month is ideal for trying new keto products before committing to a full-size purchase.
Wrap it up!
No matter which gifts you choose to give, wow them with the presentation. Use bacon-scented wrapping paper to make the keto gift giving more fun.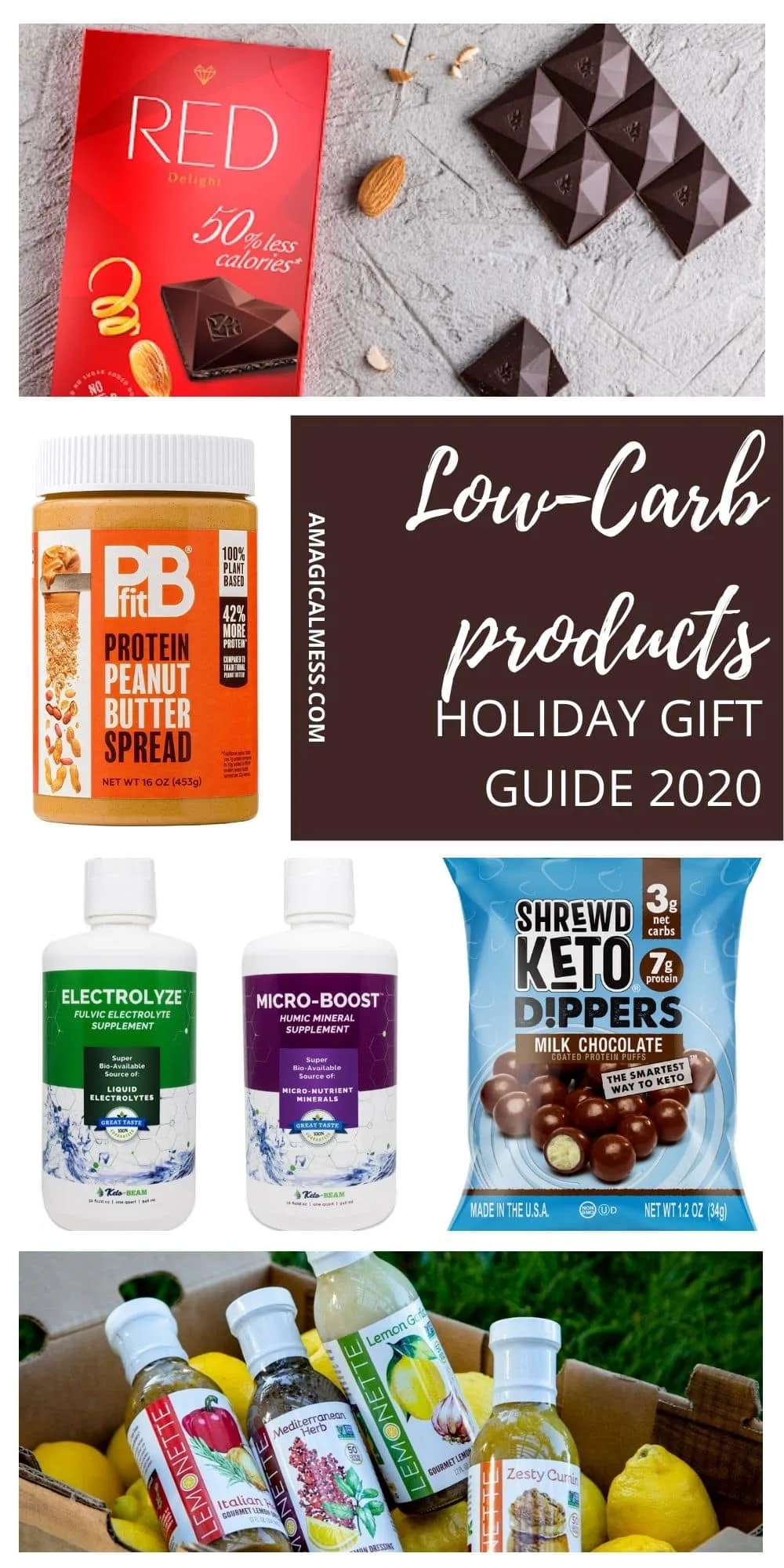 Anyone Will Love Any of These Keto Gift Ideas
Whether you get a cookbook, food, clothes, or any of the other great keto gift ideas above, the keto-loving people on your holiday shopping list will be super happy.
With so many great keto friendly gifts out there, this guide will help you find the perfect one for the loved one in your life who's living the keto life.