Pokemon GO has literally changed the way our family does everything in a day. We walk more. Talk more. Get out more. Laugh more. Manage our time better–or are at least getting there. This simply brilliant FREE phone game has opened a whole new world of family bonding. Here are some great gift ideas for people who love Pokemon GO.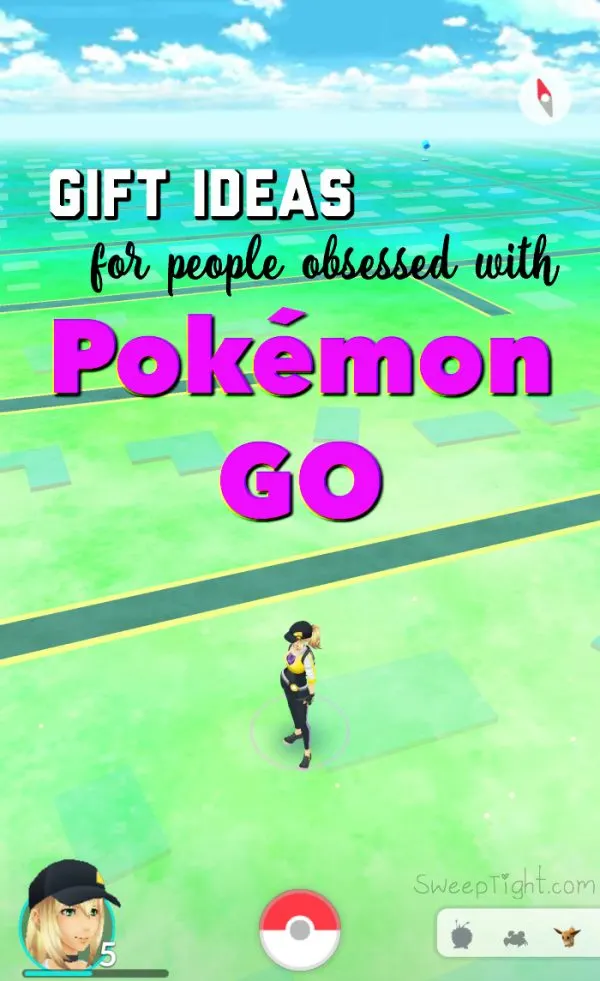 Pokemon GO – Why we love it so much
As parents in our 30's, we grew up in the Pokemon era. While the franchise never died, it didn't become as 'cool' for our kids as it did for us when we were younger… until the Pokemon GO release date of July 6, 2016. (Yes, I am writing this just 4 days later, and it's already made a huge impact.)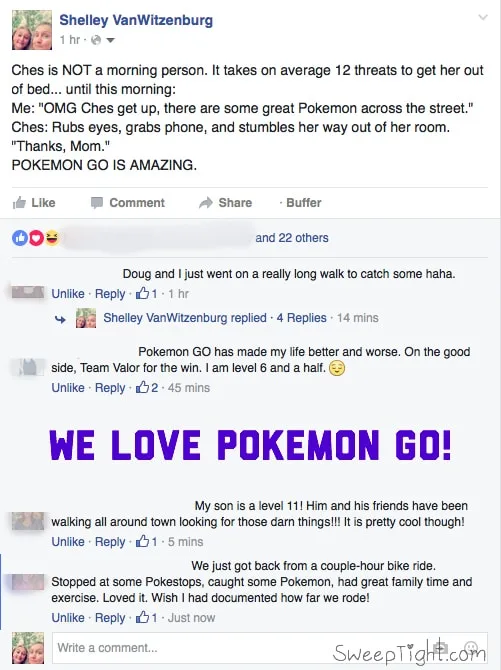 Now, people of all ages are completely geeked out and wandering the sidewalks searching for beloved Pokemon. It's bringing generations together. I have something to talk about with my kids–that we are all wholeheartedly interested in. It's whimsical and fun and is motivating all of us to explore the world around us. My Facebook feed has exploded with my friends and my kids and their friends announcing their great finds and accomplishments.
How the game works
If you're not familiar with how Pokemon GO works, once you download the free app onto your phone, it uses your GPS to put your customizable character into the map. Pokemon can then be spotted and caught in a Poke Ball. You earn achievements by catching as many as you can. You've got to catch them all.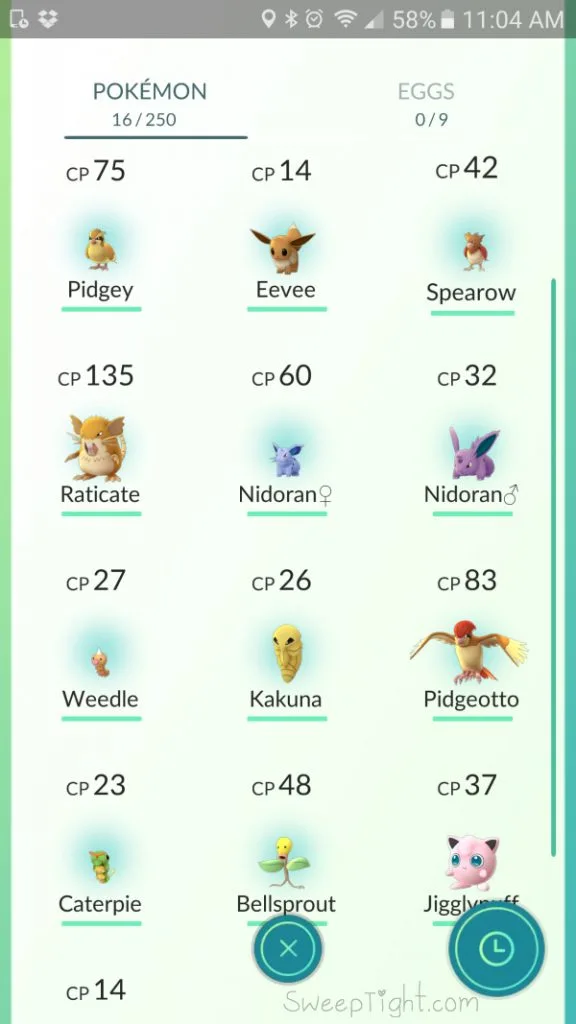 The genius of it all: you cannot move your character unless you physically change your location. This means you have to get up, get outside and go places. There are Pokestops and Gyms all over the place. Most parks, churches, and public libraries are designated as such and are hot spots for collecting special items and joining teams with other players. At Gyms you can battle your Pokemon to take control of that area and train your Pokemon.
The map is surprisingly accurate. It even changes scenery corresponding to the time of day. Icons on the map highlight the locations of Pokestops, Gyms, and in the lower right corner, you can see Pokemon that are nearby.
AND IT'S FREE. There are options to buy items within the app, but it's absolutely not necessary. All of the things you need can be obtained by simply getting out there and finding it all.
The result
My kids want to come with me everywhere. They want to go for hikes. They are excited to show me all the creatures they've found. We've all been walking exponentially more every day in hopes of hatching eggs, finding rare Pokemon and useful items. The kids are springing out of bed in the morning, excited for what they might find in the day.
And it's kids of all ages–people of all ages–sharing this excitement. My son is in high school, and they're all waving their nerd flags with pride. My 11-year-old daughter is thrilled to share her finds with her older brother. For us adults, we make plans for a "bar crawl" when really we just want to walk around at night and scope out Pokemon.
When you collect an egg it must be incubated. Guess what runs the incubator? Your feet! That's right, you have to walk to hatch your Pokemon egg. I can't wait to see what that egg requiring a 5k hatches!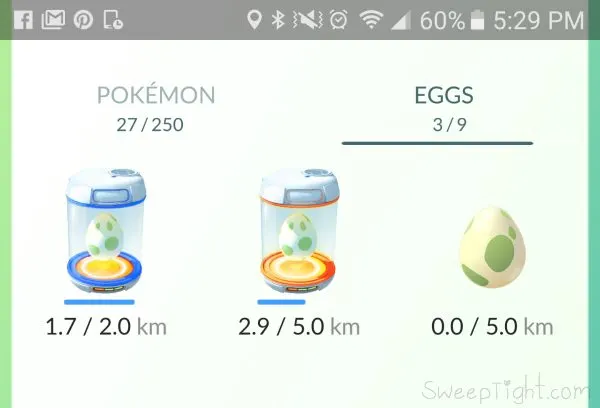 I cannot express how much I love the positivity and whimsy this game is bringing to the world. It's just what the planet needed. Wholesome, light-hearted fun.
All that said, there are some things that Pokemon GO lovers will want.
Gift Ideas for People Who Love Pokemon GO
Portable Chargers – using the location service on your phone all day drains the battery really fast. Portable chargers and extra batteries are a necessity.
Wifi Hotspots – The game will suck your data dry, so Wifi is the way to go. For kids without a data plan, having a hotspot of their own would be like having the keys to a Ferrari.
Smartphone Bike Mount – See safety concerns below. A smartphone bike mount is something that would make a great gift, but it's super important to make sure the user knows to focus on their surroundings at all times.
Smartphone – You can't play without a wifi compatible device. For youngsters, they're probably fine using your phone, but for the tweens and teens that are already in need, I'm obsessed with this because it's the best smartphone for kids and won't break the bank. Plus, with a no-contract plan, it's a great incentive to use for good behavior and grades.
Good quality phone case – With all this outdoor exploration, it's vital to keep your device safe from the elements. You'll want waterproof and shatter resistance to allow for an unhindered experience.
Pokemon GO inspired outfits – We are totally dressing as our characters for Halloween, and you better believe trick-or-treating is going to be more about finding Pokemon than getting candy.
Pokemon Cards – Once you're totally hooked on the online Pokemon game for your phone, you might just find yourself buying Pokemon cards. Buying Pokemon cards online is easy.
Pokemon toys – For the littles especially, a cute plush or action figure will make their day.
SAFETY
It's imperative to mention a few safety concerns. DO NOT search for Pokemon if you're driving. Let a passenger take over, or just pull over and wait to check your phone for what is nearby. This applies to people on bikes or just walking too. Always remain aware of your surroundings! Don't let kids go too far alone. I'd hate to see accidents taint the positivity and happiness Pokemon GO is bringing to the world–and more specifically, my house.
Are you playing Pokemon GO yet?