A homemade gummy bear recipe is not too hard to make at all.
It's a great way to make yummy gummies that everyone loves, yet remain in control of the ingredients.
This post contains affiliate links.
This is a hidden vegetable opportunity.
Sneak in all sorts of goodies in this homemade gummy bear recipe.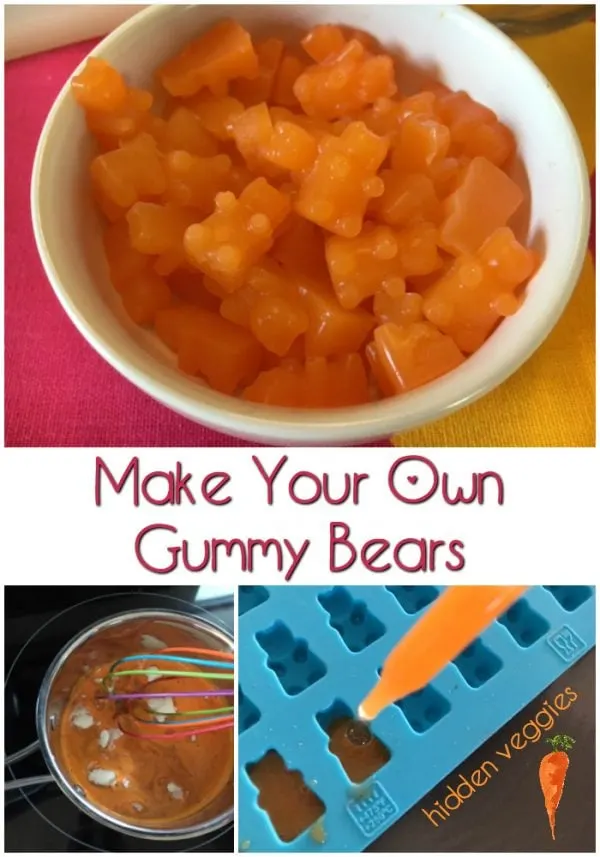 If you have a loved one with an aversion to vegetables, now is your chance to sneak in some.
This gummy recipe just has carrot juice in it.
It might not be much, but if you have a child or husband – ahem, Mike – that wouldn't look twice at a carrot, this is a way to lovingly change that.
Homemade Gummy Bear Recipe
Ingredients
Directions
Combine juices together in a small saucepan over low/medium heat. Stir with a whisk.
Gradually whisk small amounts of gelatin into the juice mixture, stirring continuously.
Continue stirring over low/medium heat until the ingredients are well combined, and the gelatin has melted into the mixture.
Place the gummy bear mold onto a baking sheet. The baking sheet keeps the mold stable as you put it into the refrigerator.
Use an eyedropper to fill bears in mold making sure to fill each bear up to the top. Use the dropper to pop any bubbles that may appear in the bears.
Place mold in the refrigerator for one hour.
Pop gummy bears out of the mold and store in an airtight container. The gummies need to be refrigerated.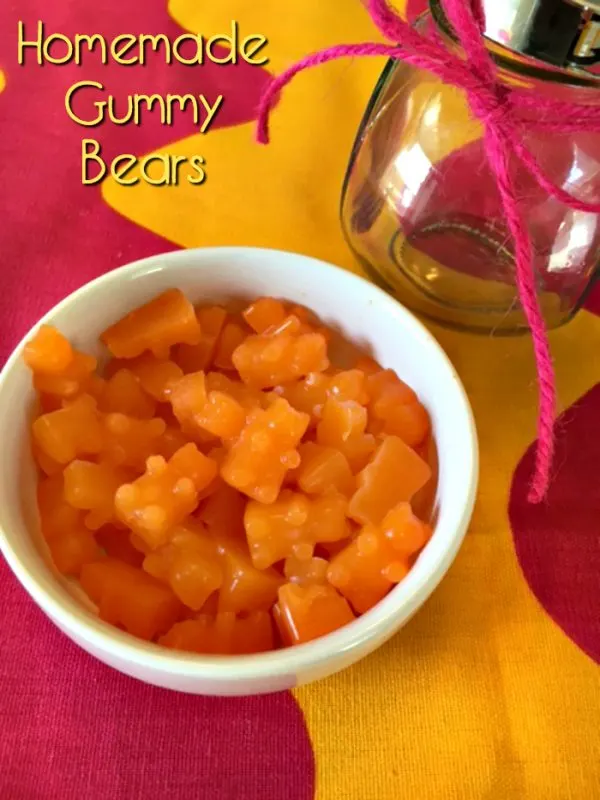 It's not just the vegetable juice; making your own gummy bears is always a healthier option for many reasons.
There are no preservatives or funky chemicals in the gummies, and all sorts of room to play around with natural ingredients. Get creative!
Once you know how to make homemade gummy bears, you can whip up all sorts of flavor concoctions.
If you are an adult who already eats their veggies, perhaps I can interest you in some wine gummies.
Here is a recipe for cranberry juice gummy bears.
Have you ever made a homemade gummy bear recipe?