This post is sponsored by Ocean Spray® as part of an Influencer Activation for Influence Central. All opinions expressed in my post are my own.
After sticking to a strict version of the keto diet for a full year, I am now incorporating a small amount of fruit back into my diet.
I still plan to keep my sugar intake low due to the mental benefits I notice.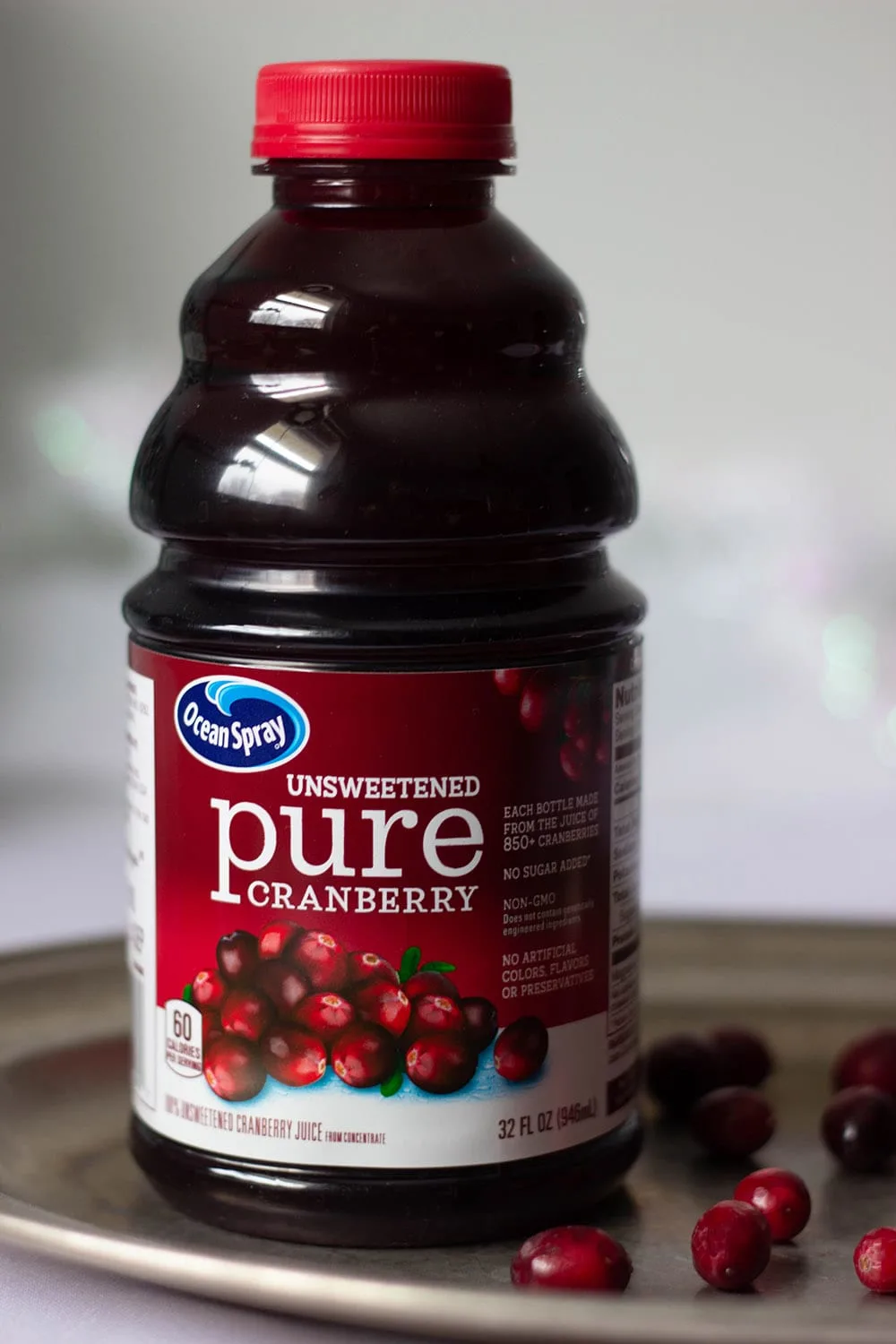 Unsweetened Cranberry Juice
That's why I was thrilled to see Ocean Spray Pure® Cranberry Juice. It's the brand I grew up with but with no sugar added.
In the new year, we both plan to continue our healthy lifestyle journey, but with a little more variety.
A huge goal of mine is to make more of the things we eat and drink from home.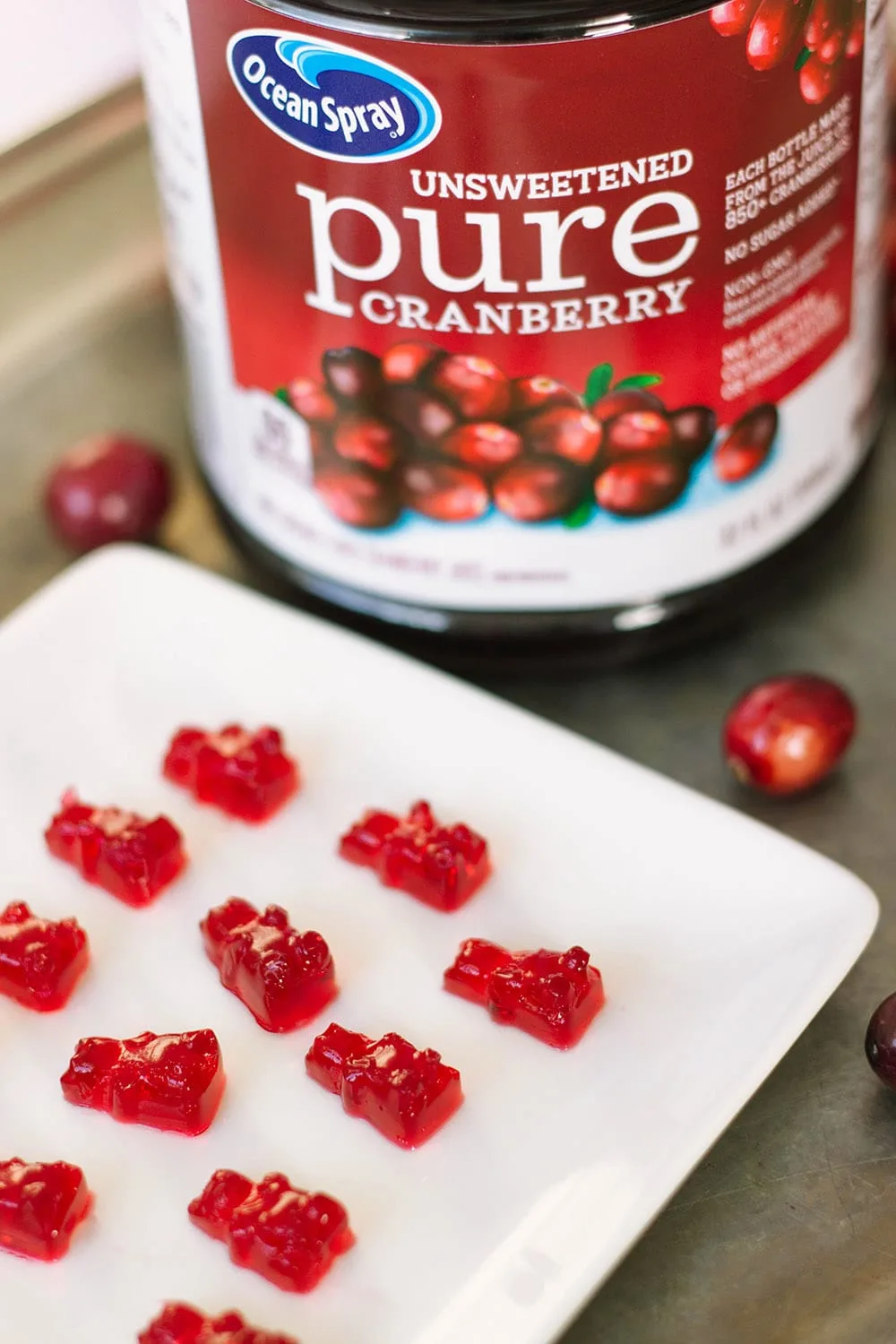 From dinner and drinks to snacks and desserts, I want to have easy-to-grab choices within our reach at all times.
Two things at the top of my list to make with Ocean Spray Pure® Cranberry Juice are slushies and gummies.
Since my taste buds are used to no sugar, I enjoy this juice simply blended with ice.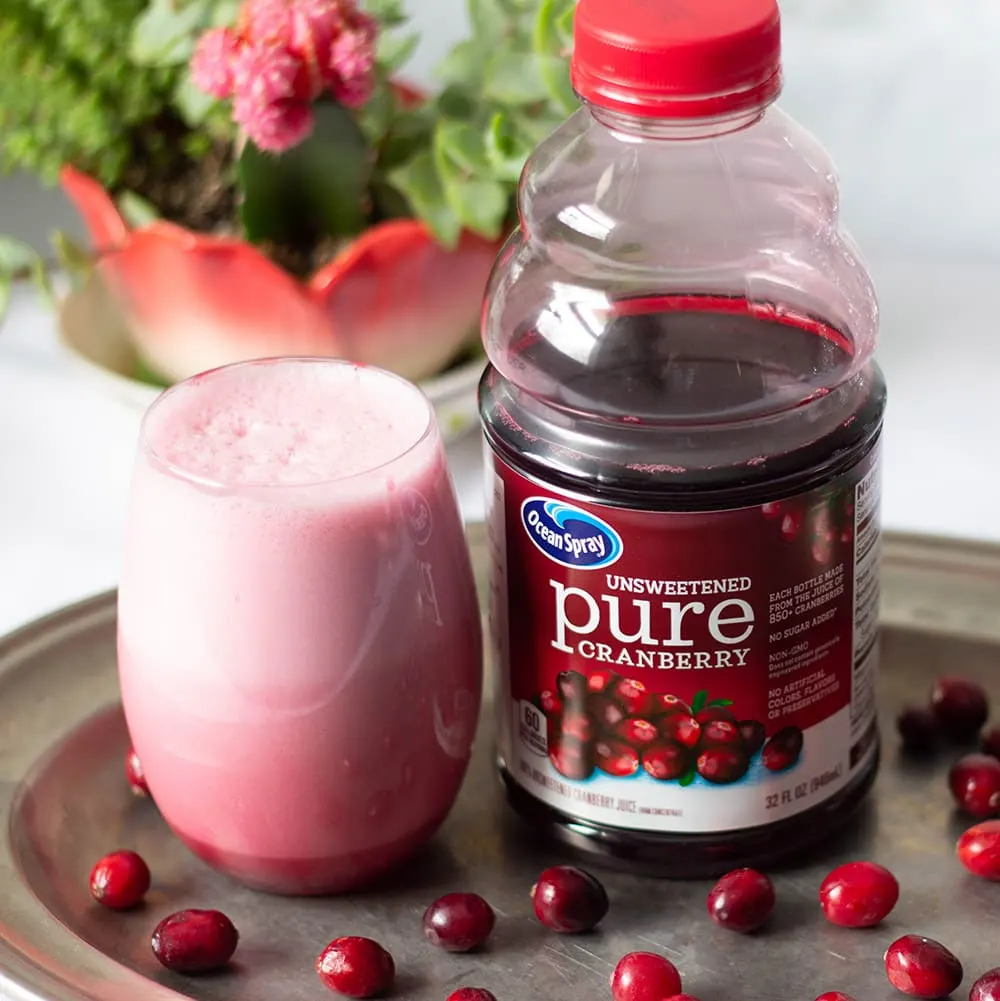 An icy slushy is a tasty treat to enjoy after a workout or a snack. Add frozen fruits to create a delicious smoothie.
If you find the Ocean Spray Pure® Cranberry Juice tart, add a little sweetener to your liking.
A slushy isn't something I can make ahead, but it's quick and easy to blend the juice with ice.
Something I can make in bulk is Cranberry Gummy Bears.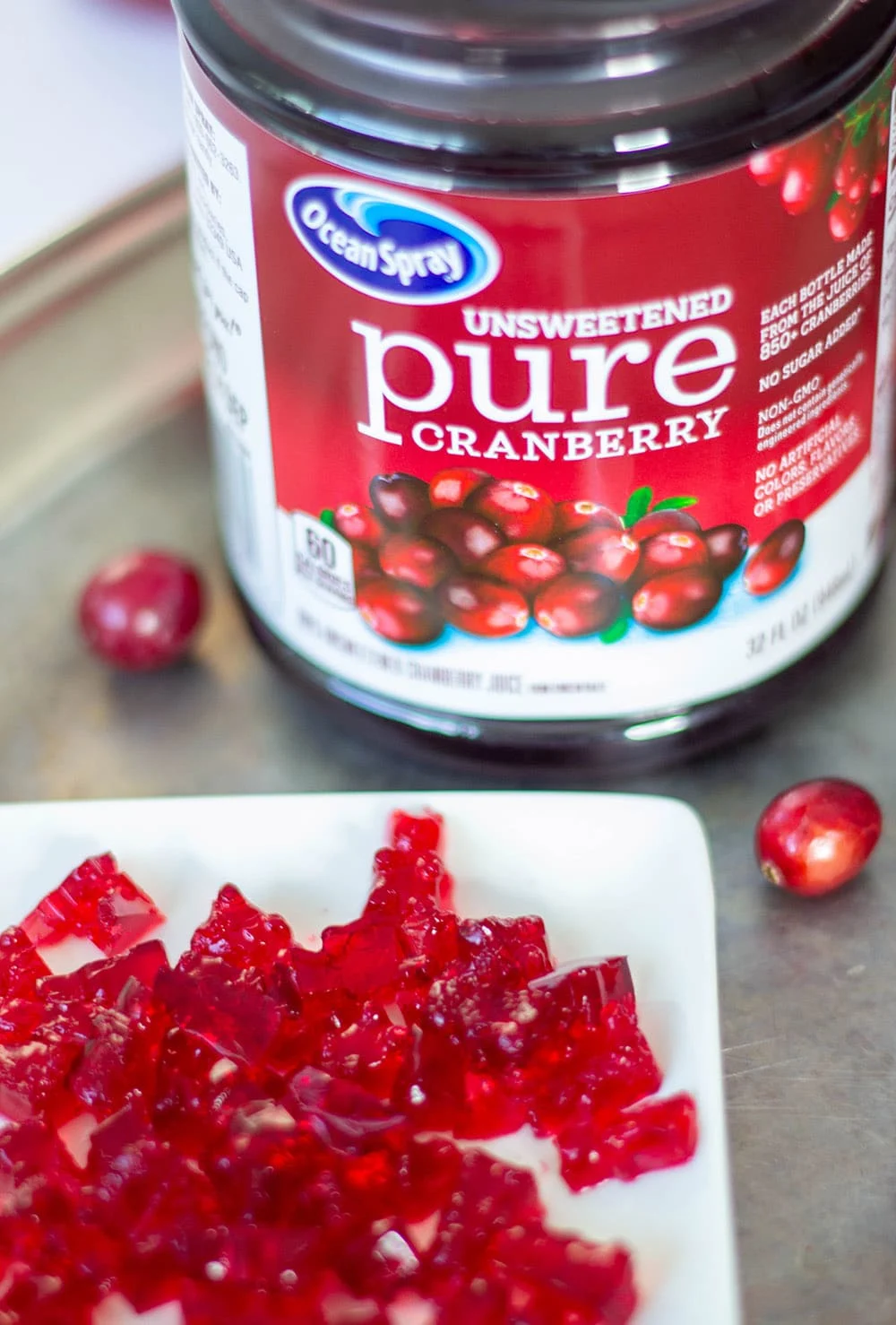 Mike loves gummy snacks. I would much prefer to make them instead of him buying sugar-filled bags at the store.
With only a few ingredients, it's easy to make a ton of Cranberry Gummy Bears.
Seriously, I made way too many. I'm cutting the ingredients down in the recipe below because I now have a serious army of gummy bears!
Ocean Spray® Pure Cranberry Juice
Ocean Spray® Pure Cranberry Juice is made from the juice of over 850 cranberries and contains 100% cranberry juice.
The juice is the closest you can get to the whole fruit unless you're munching on whole cranberries. Do people do that? I've never seen someone pop a cranberry into their mouth.
If you're looking to get some Vitamin C into your diet without added sugar, Ocean Spray® Pure Cranberry Juice is a great way to do so.
The juice has no sugar added, no artificial colors, flavors or preservatives, is non-GMO, and has only 60 calories per serving.
To make Cranberry Gummies, you need Ocean Spray® Pure Cranberry Juice, plain gelatin, and an optional sweetener.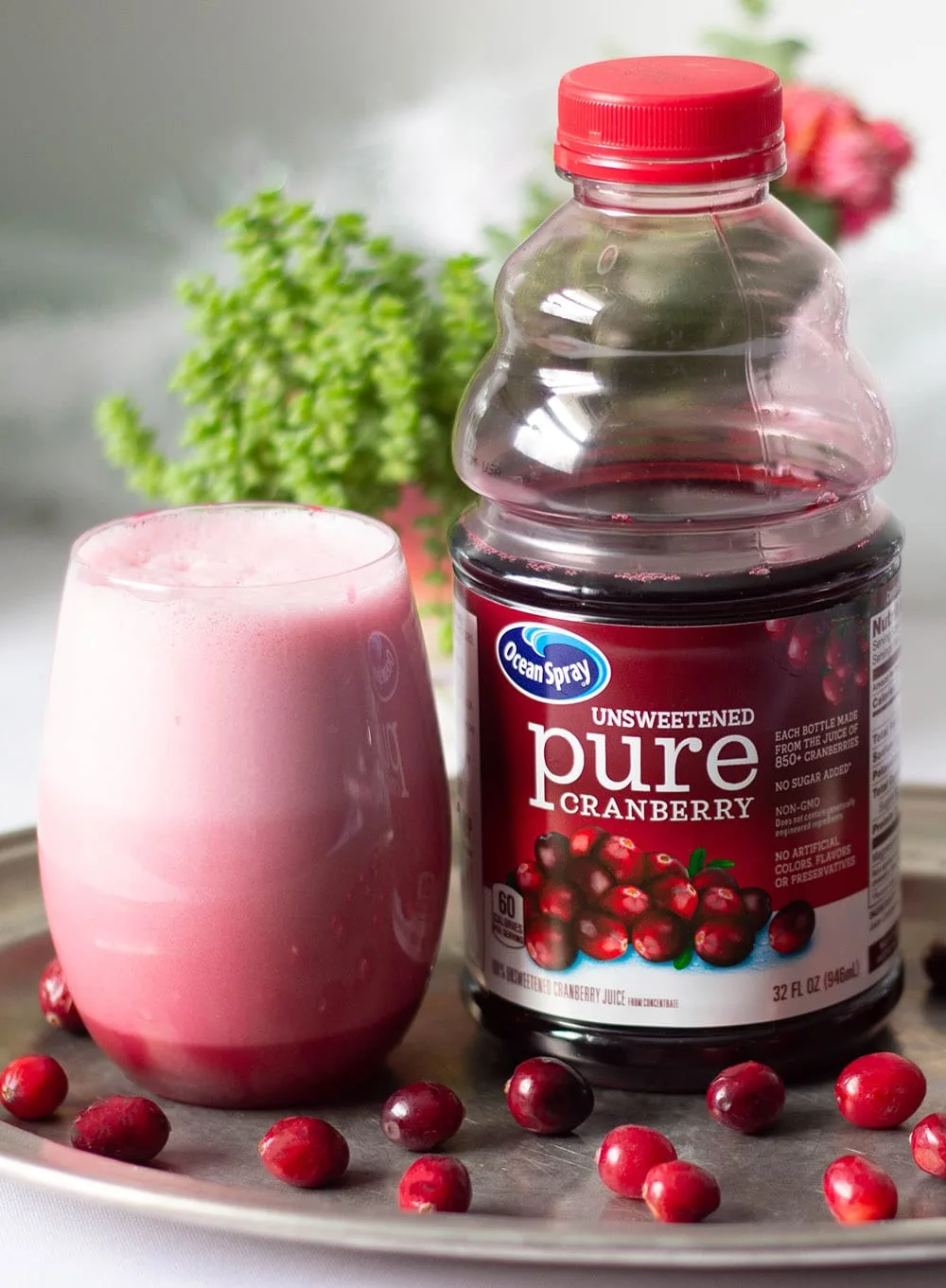 Other tasty ways to enjoy Ocean Spray® Pure Cranberry Juice are to blend into a smoothie, add to sparkling water, or enjoy a glass over ice.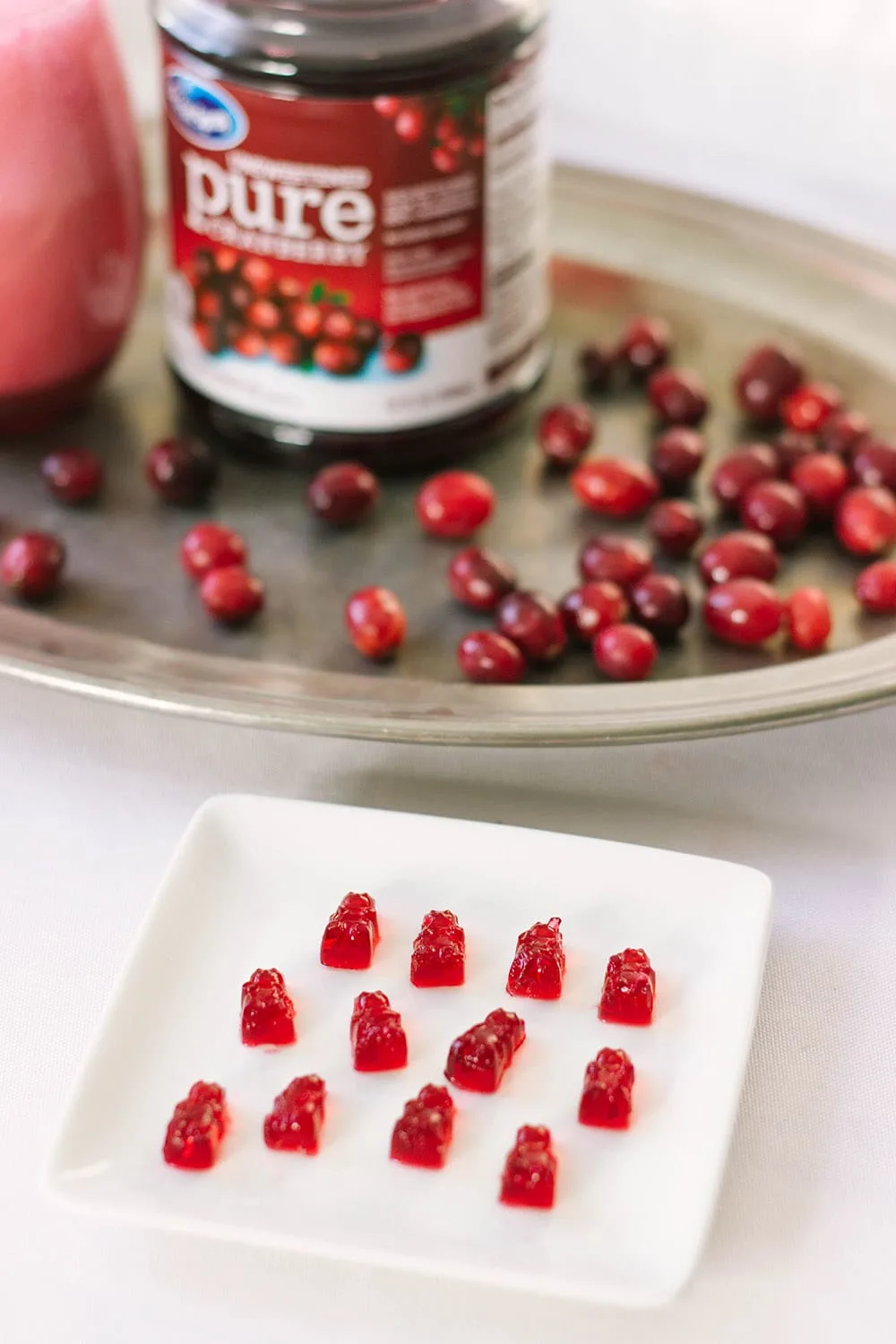 Homemade Gummy Bear Recipe Notes and FAQ's
Are gummy bears made from hooves?
Sort of. Gelatin is what makes gummy bears… gummy. Gelatin is made from the hooves and skin of pigs or cows.
Can you freeze homemade gummy bears?
Yes. You can freeze homemade gummy bears for about 3 to 6 months. Put them in an airtight container or a heavy-duty freezer bag and toss them in the freezer.
How do you make gummy bears not sticky?
To keep your gummy bears from being sticky, add two or three tablespoons of cornstarch and your gummies in a container with a tight-fitting lid. Shake them until they are evenly coated.
Do homemade gummies need to be refrigerated?
If you're going to eat them all in a day or two, you don't need to refrigerate the gummy bears. If you'll have them for longer than that, then you should refrigerate them. Remember, they're made with gelatin, and gelatin is an animal product.
Yield: 10 servings
Cranberry Gummy Bears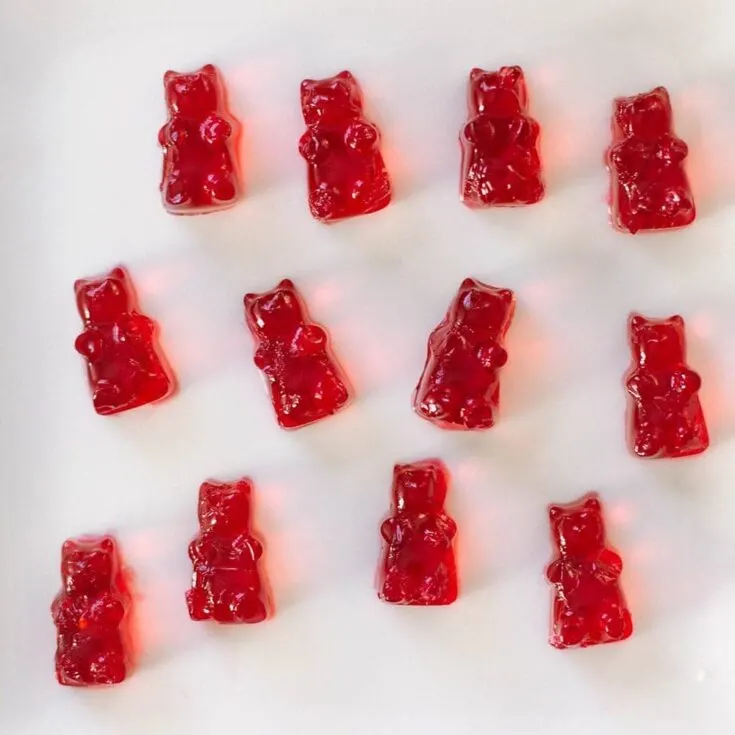 Make cranberry gummies using just a few ingredients.
Total Time
3 hours
5 minutes
Ingredients
1/4 cup water
3/4 cup Ocean Spray Pure® Cranberry Juice
4 tbs unflavored gelatin
3 grams stevia, 1 packet
Instructions
Add 1 tablespoon gelatin to 1/4 cup cold water and let sit for 1 minute.
Bring Ocean Spray Pure® Cranberry Juice to a boil and stir in sweetener and remaining gelatin.
Add juice mixture to the water and gelatin mixture and stir until combined.
Fill gummy bear molds and refrigerate for at least 3 hours.
Carefully remove bears from the molds and store in the refrigerator.
Notes
Taste the cooled liquid to test the sweetness. You may want to add more or less sweetener depending on your preference.
Recommended Products
As an Amazon Associate and member of other affiliate programs, I earn from qualifying purchases.
Nutrition Information:
Yield:
10
Serving Size:
10 gummies
Amount Per Serving:
Calories:

20
Total Fat:

0g
Saturated Fat:

0g
Trans Fat:

0g
Unsaturated Fat:

0g
Cholesterol:

0mg
Sodium:

7mg
Carbohydrates:

3g
Fiber:

0g
Sugar:

2g
Protein:

2g
Nutrition facts are an estimate only.
More Recipes with Cranberries
If you are also watching your sugar intake, here is a low-carb cranberry mug cake you can make for the holidays!
Pin to save this recipe!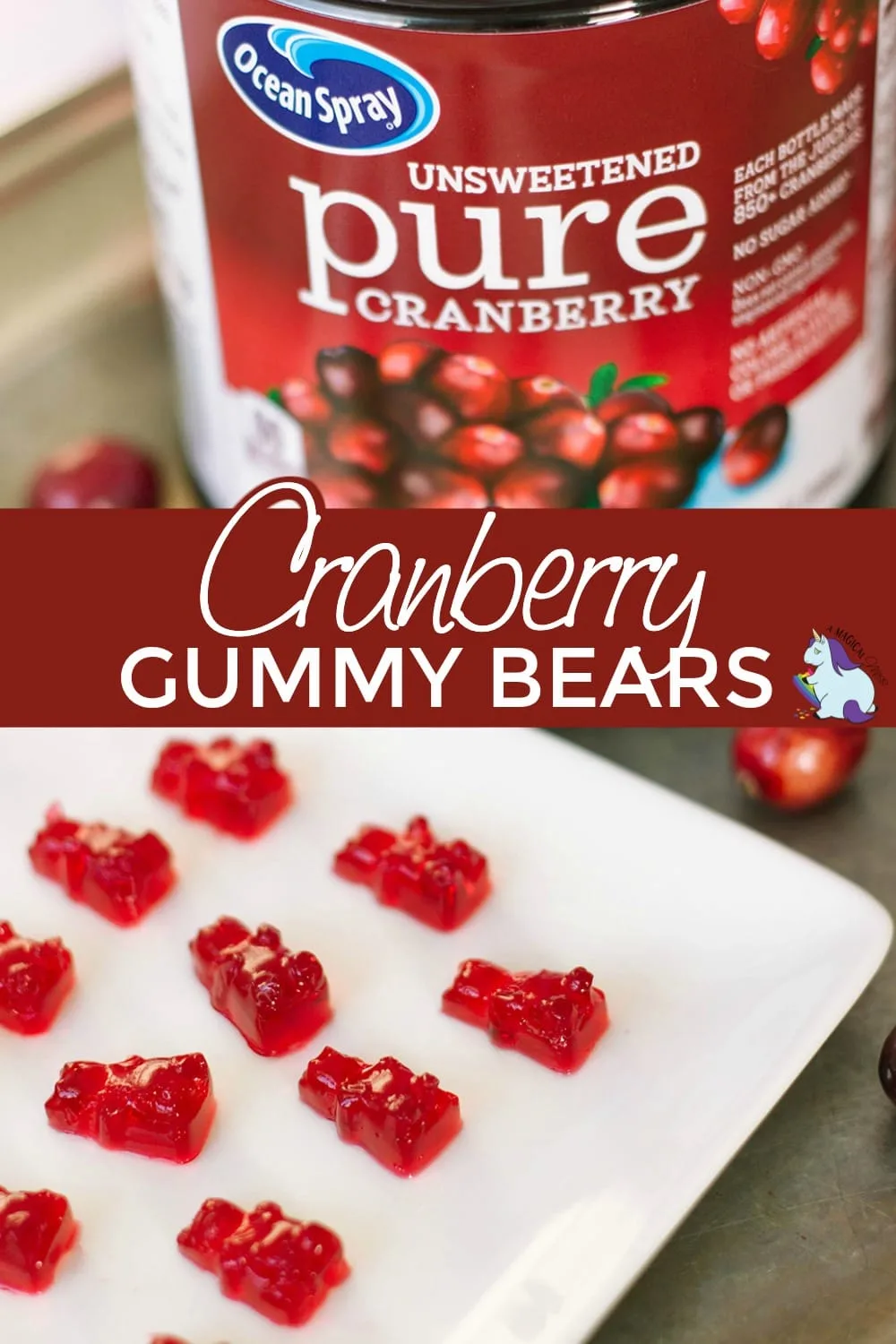 Find Ocean Spray Pure® Cranberry Juice at Target, Kroger, or Walmart.
What's your favorite way to enjoy Ocean Spray Pure® Cranberry Juice?