Collagen Protein. Unless you're extremely into fitness, you've probably never heard of it.. I'd certainly never heard of it when I picked it up, but after four weeks of using it, I'm glad I discovered it. This stuff is great. It's legit great. Not Home Shopping Network great.
Drink This for Strong Hair and Nails!
Collagen Protein – What is It?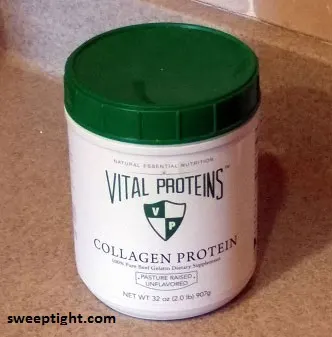 That's exactly what I said when I picked up that green and white container. What the heck is collagen protein? Besides being the best protein supplement I've ever used, it's beef hide gelatin. I know, I know. It sounds gross. But when you really think of all the things you've ever consumed in your life, is it really that gross? No, not really.
Aside from being powdered cow skin, collagen protein is also a one stop shop for your muscles, skin, hair, nails, and tendons. Collagen is found in almost every part of the human body, and this stuff strengthens all of it. It's a miracle in a green and white tub. For real.
What's so Great About Collagen Protein?
Again, another question I asked myself. With everything that's on the market, what makes collagen protein different than any other uber fantastic, ultra triple filtered peptide … whatever. For one thing, it's not a gimmick. It's not some new and improved partially digested whey protein something or other. It's powdered cow hide. That's it. No bells no whistles. In a world where everything's in a splashy package with yellow explosions behind catchy dark, bolded words, Vital Proteins Collagen Protein is just there. There for your consumption. There for your body. It's not about selling. It's about what it can do for your body.

Another great thing about this stuff is its amino acid profile. Amino acids are the building blocks of your body, and if you work out on any level, you need them. If you're a weight lifter, you absolutely need them. The amino acid profile of Vital Proteins Collagen Protein is quite impressive, especially the Arginine, Glutamic Acid, and Glycine concentrations. If you look at the back of any exercise supplement you'll see these three amino acids. In fact, there are a host of supplements devoted exclusively to these. They are the foundation that all supplements are built on. Here's a rundown of the good stuff.
Although I've been going on and on about the greatness of collagen protein, there is one thing I need to let you know right now. It tastes horrible. I mean, it's dreadful. It's like drinking a dog's rawhide. I tried mixing it with Kool-Aid, and it was somewhat better. It was like drinking a cherry flavored rawhide. I tried mixing it with other proteins, but that just tasted like vanilla or chocolate rawhides. I even tried making homemade Jell-O using it. That was the best tasting option, so I'm including the recipe.
Yield: 4 servings
Homemade Collagen Protein Jell-O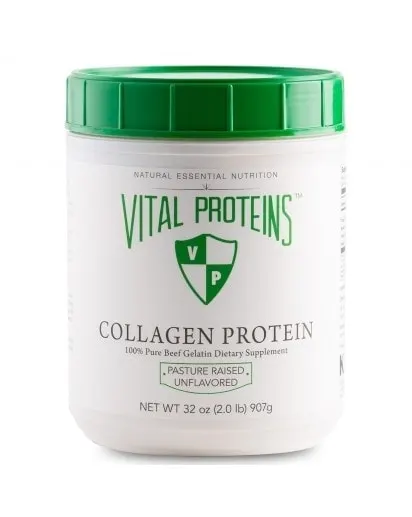 A great way to get collagen protein into your diet.
Ingredients
1 Tablespoon Vital Proteins Collagen Protein
½ cup cold liquid of your choice
1 ½ cups hot liquid of your choice
Instructions
Mix collagen protein in ½ cup cold liquid.
Dissolve thoroughly into 1 ½ cups very hot liquid with any flavorings and sweeteners desired (I used sugar-free Kool-Aid) included as part of the 1 ½ cup measurement.
Pour into a 2 cup mold and chill until firm.
Makes four servings.
Nutrition Information:
Yield:
4
Serving Size:
1 serving
Amount Per Serving:
Calories:

44
Total Fat:

0g
Saturated Fat:

0g
Trans Fat:

0g
Unsaturated Fat:

0g
Cholesterol:

2mg
Sodium:

20mg
Carbohydrates:

1g
Fiber:

0g
Sugar:

0g
Protein:

10g
Nutrition facts are an estimate only.
Eventually, for the sake of saving time, I decided it was easier to just hold my breath and chug.
I'm telling you this now, so you'll be prepared when you start using this stuff. Because I want you to use it. Its benefits far outweigh its less than wonderful taste. This is an absolutely incredible supplement, so just hold your breath and chug. You'll thank me later.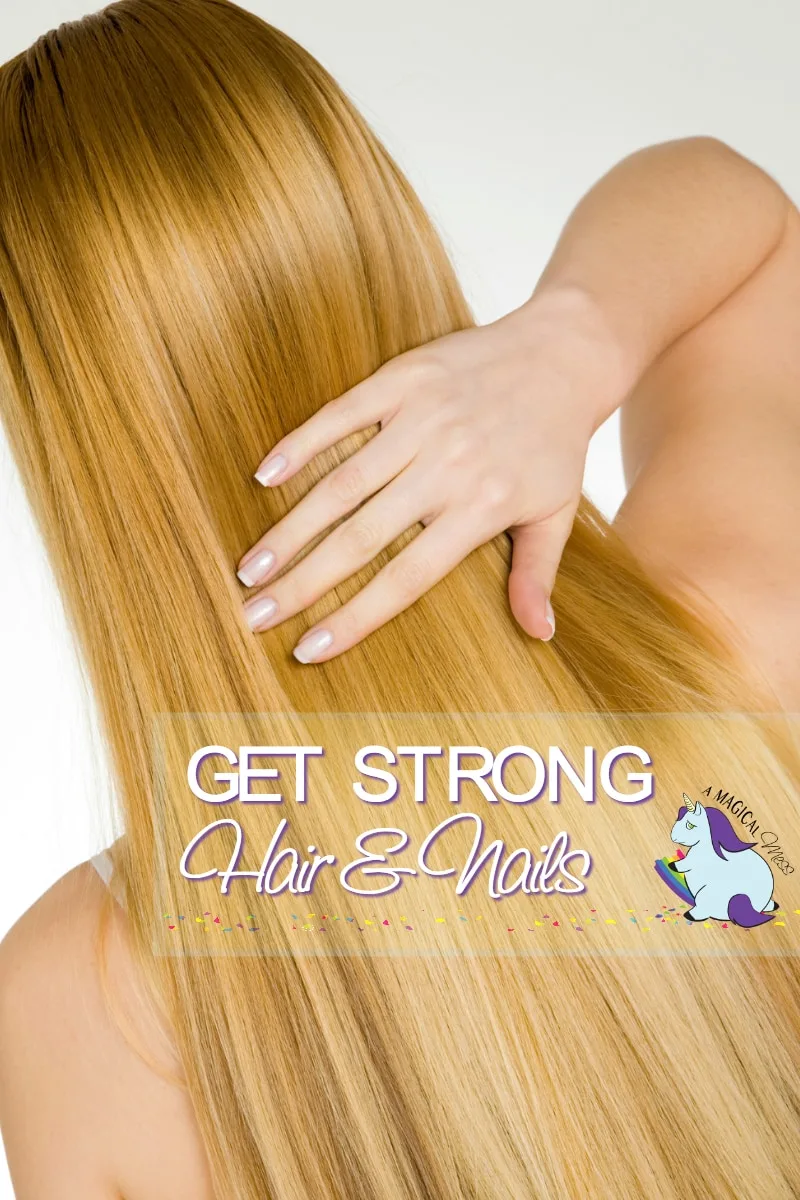 Amino Acid Profile of Collagen Protein
Alanine: 1,530 mg
Arginine: 1,587 mg
Aspartic Acid: 1,247 mg
Glutamic Acid: 2,342 mg
Glycine: 3,891 mg
Histidine: 151 mg
Hydroxylysine: 227 mg
Hydroxyproline: 2,153 mg
Isoleucine: 283 mg
Leucine: 548 mg
Lysine: 643 mg
Methionine: 113 mg
Phenylalanine: 397 mg
Proline: 2,172 mg
Serine: 642 mg
Threonine: 359 mg
Tyrosine: 94 mg
Valine: 453 mg
What Collagen Protein Did for Me
Like I said before, collagen is found all over the human body. In our hair, nails, skin, tendons, and joints. For four weeks, I took two scoops every day as a between meal snack. The first thing I noticed was what a great appetite suppressant collagen protein powder can be. That's not something I'd expect from a powder, but it's true. It's collagen, so when you drink it, it forms a "ball" in your stomach. I felt really full for a long time. It was great. After about a week, I noticed that my knees were hurting less and less. They don't hurt at all now. After two weeks, I noticed that I was trimming my nails about twice a week. They were growing like hard, shiny, weeds. For us guys, that's no big deal, but I'm assuming from the plethora of nail treatment commercials out there that it's quite important to the ladies. It's been four weeks now, and although I haven't been working out regularly, I'm noticing a change in my body as well. I'm stronger. I'm a touch leaner, and a little stronger. Like the title says. It's Awesome in a Can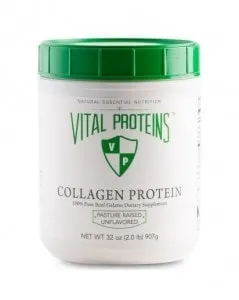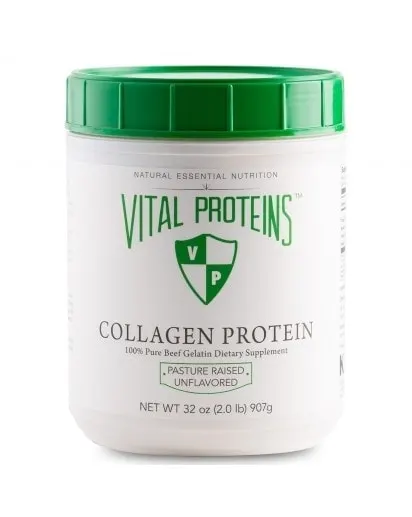 Collagen Protein – The Brass Tacks
Okay. Now that everybody knows I love this stuff, let's get down to it. What are the pros and cons of collagen protein?
Pros:
It's a pretty darn good appetite suppressant.
It's got a robust amino acid profile.
It supports joint, skin, nail, tendon, hair, and muscle health.
It naturally supports strength and muscle mass.
Cons:
It tastes exactly like what it is: powdered beef hide. But that's the point, isn't it? It's 100% of what I want for my body and 0% of what I don't. If I want a sugar filled strawberry shake, I'll go to McDonald's.
And there you have it. The low-down on collagen protein. Sure, it tastes terrible, but the health benefits are immense. Twenty seconds of a bad taste in your mouth is a small price to pay for everything that collagen protein will do for you. So pick some up, choke it down, and watch the magic happen.
Find out more about Vital Proteins on their Facebook page.
Have you tried Collagen Protein before? What are some ways you use it?