Hair Chalk is just so much fun. It is a quick and fun way to get really vibrant temporary color on your hair. It's simple to do, inexpensive and washes out! Product received for review.
Hair Chalk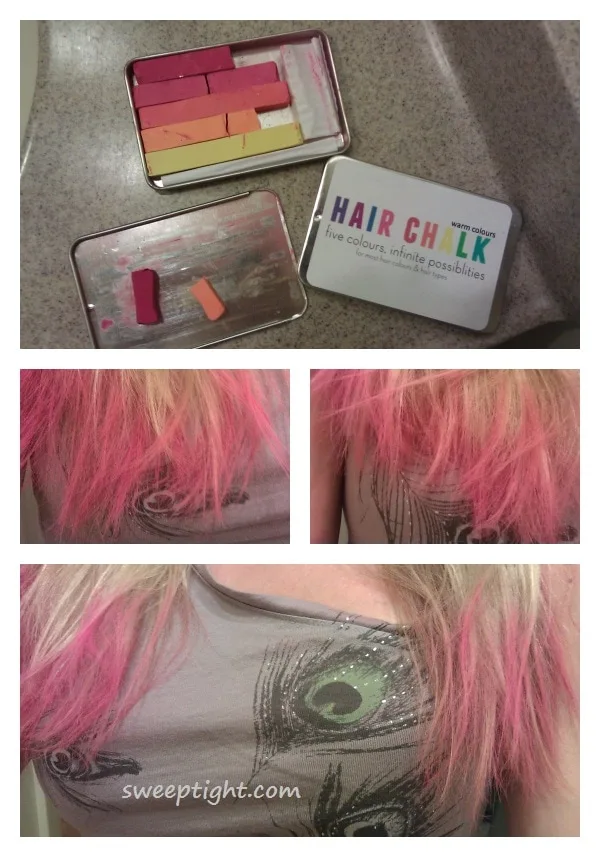 The application is super easy. You just wet the chalk, rub on sections of hair, and then lightly comb and style. Beware, though, if you get the hair wet, the color will run onto whatever you are wearing. So plan on staying out of the rain!
These chalks now come in a nifty little tin with a sliding lid so you can keep them anywhere without worrying about them getting anything dusty or cracking. Although, I crack mine on purpose. You don't have to, I just like using a small amount at a time.
My daughter also loves getting chalked… pics to follow 🙂
Fun colors are really in right now, but why mess with permanent dyes? This is a great way to have some fun, but come home and wash it right out. That way when the trend is over, you won't have lasting damage to your hair, either. Play around and experiment with different chalks and colors.
My cousin and I played with hair chalk here.
Have you tried hair chalk? What are your thoughts?