Finding a travel tote for all my gadgets has been a goal of mine. When asked to review a bag from Ju-Ju-Be, I jumped all over it. The B.F.F. bag is, well, my new BFF! It's a stylish way for me to carry everything in an extremely organized way.
5 Things I Love About This Travel Tote
Let me summarize everything I love about this bag. It's made my life easier in so many ways, and it will be a savior during BlogHer!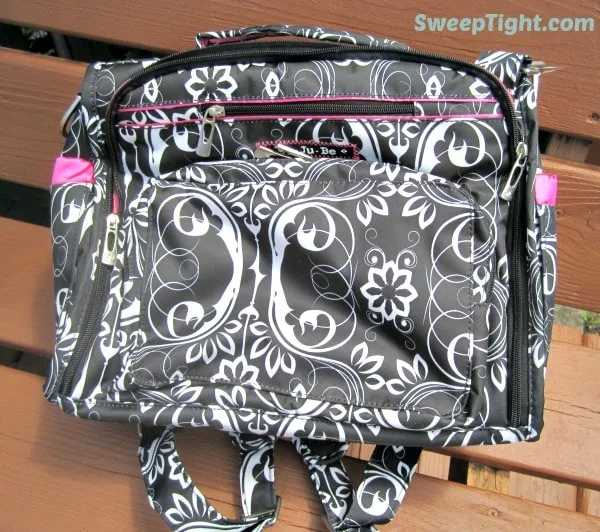 1.) Design – There's no sacrificing fashion for function with this bag. The design that I chose has gotten me a ton of compliments. They have a wide variety of colors and designs to choose from to match your personal style.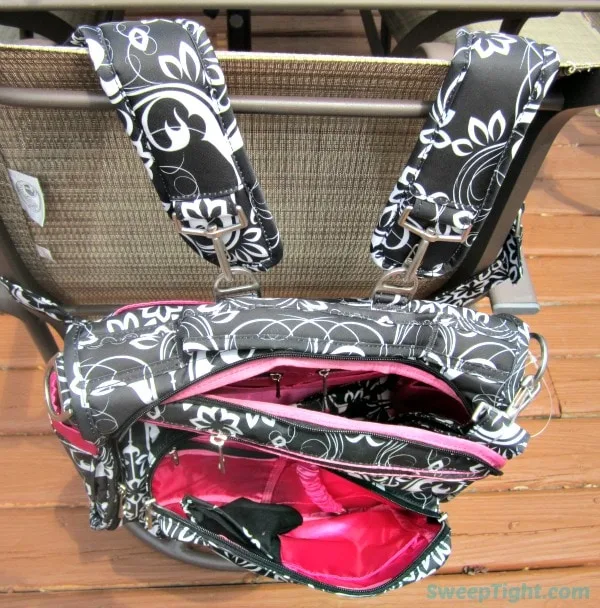 2.) Backpack Option – When carrying a lot of items, all the weight on one shoulder can cause a lot of pain. It's best to evenly distribute the weight by using the tote as a backpack. This is especially ideal during trips to the zoo, hiking, BlogHer, or any times where long days of walking and/or standing are involved. The Ju-Ju-Be B.F.F. bag has removable backpack straps that are easily attached for this option.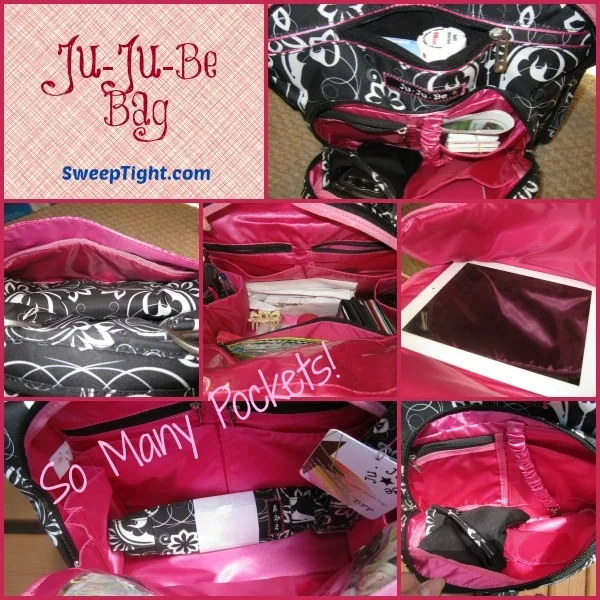 3.) Pockets Galore – Seriously, the organizational options are endless with all of the pockets in this bag. The front pocket has a spot for your cell phone, a clip for your keys, a zippered pocket, and two other side pockets. There's another zippered section above this area where I chose to put medicine and a few other personal items. There are more pockets in the main section, including clear ones for pictures! There are two insulated pockets on the sides — keep bottles warm or cold. The back contains a changing pad, which I used to wrap my iPad in since I don't have babies. This can also act as a cushioned separator for my iPod, iPad and Kindle. (Yes, I am a gadget-hoarder.)
4.) Light Interior – Have you ever referred to your bag as "the black hole"? I have on many occasions. Well, this bag has a light-colored interior so it's easy to find everything. That's something I never really thought about before, but appreciate it now that I have it!
5.) Machine Washable – Need I say more? There are so many ways travel totes or bags in general can get nasty. It's great to know this one can be tossed in the washing machine when needed.
As you can see, this bag would make an excellent diaper bag, but doesn't have to be. I would suggest it for anyone who carries a lot of devices, gadgets, or "stuff" in general. It's a great way to stay organized, protect your items, and stay in style.
Get your Ju Ju Be BFF bag HERE.
Shop for this tote bag, or any other of their awesome styles on the Ju-Ju-Be website. Stay social with them on Facebook, Twitter, and Instagram.
More Purse and Fashion Posts to Read Next
>>> What do you look for in a travel tote?