These high fiber pumpkin spice energy bites were inspired by a pin Evan found on Pinterest.
He actually made these a year ago for one of our nutrition club meetings at school.
He recently confessed that he did it to impress me. Obviously, it worked!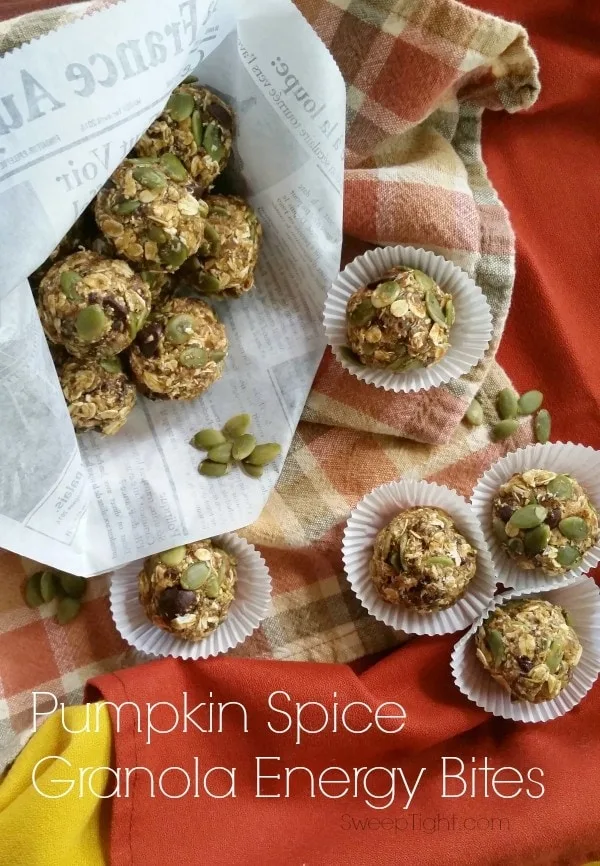 Pumpkin Spice Granola Energy Bites Recipe
These little balls of deliciousness are packed full of nutrients and will give you plenty of energy to tackle your day. The boys love them and thank goodness.
They're in dire need of a nutrient dense, energizing snack that they can take to school and to all their sports events. I think my son eats about 4000 or more calories a day!
This recipe is really forgiving and you can make it your own by changing up the ingredients easily.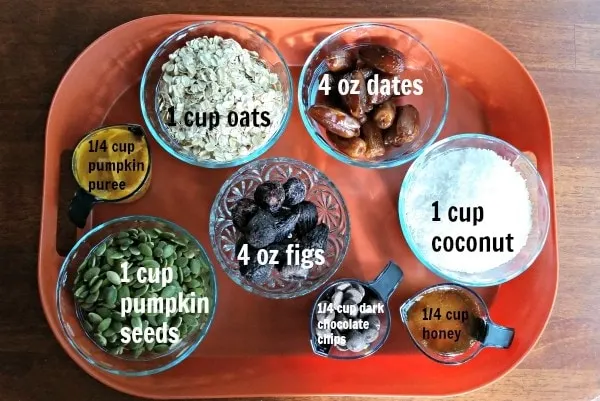 This recipe makes about 30-32 energy bites depending on how uniform you roll the balls.
You'll need:
4 oz dates
4 oz figs
1/4 cup honey (we use local honey to help with seasonal allergies)
1/4 cup pumpkin puree
1 tbsp chia seeds
1 tsp ground cinnamon
1/2 tsp ground ginger
1/4 tsp ground nutmeg
pinch of salt
1 cup old fashioned oats
1 cup toasted coconut flakes
1 cup toasted, unsalted, pumpkin seeds
1/4 cup dark chocolate chips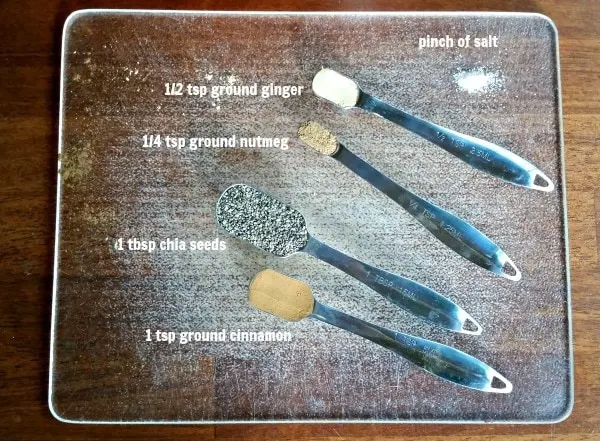 After measuring out all your ingredients, (I'm obsessed with these measuring spoons and glass bowls) follow these steps to complete the recipe:
Hand chop half of the dark chocolate chips and set aside.
In a blender or food processor, combine the pitted dates and figs, honey, pumpkin puree, chia seeds, cinnamon, ginger, nutmeg, salt and the other half of the whole chocolate chips.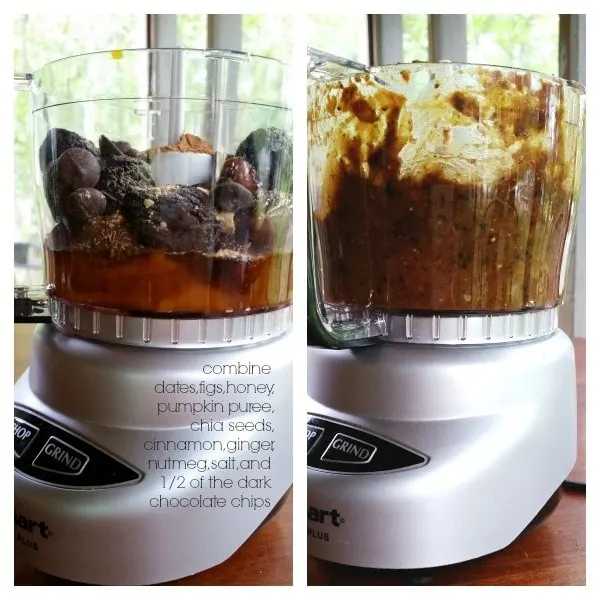 In a separate dish, combine the chopped chocolate chips, all the remaining dry ingredients (oats, coconut flakes, pumpkin seeds) and the blended mixture. Fold together with a spatula or use your hands to get it all mixed together evenly.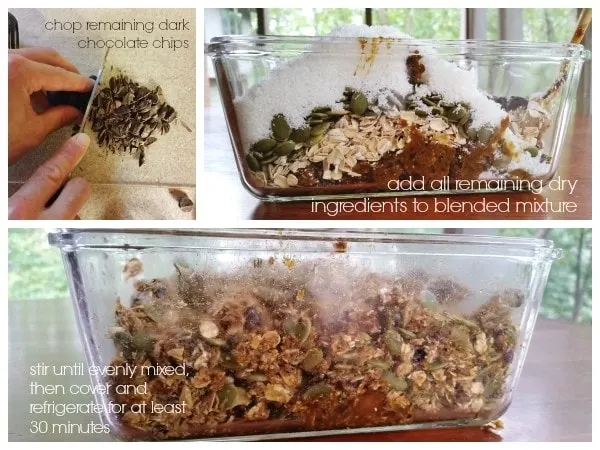 Cover and refrigerate for at least 30 minutes.
With clean hands, take heaping tablespoon sized scoops and form balls out of the mixture. Don't be afraid to get messy.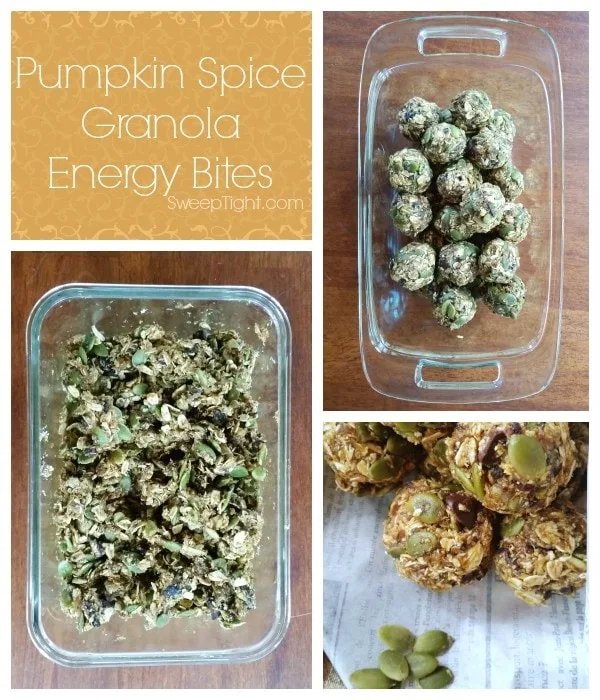 Once all the balls are formed, store in a covered container in the fridge for up to 2 weeks.
We like packaging them in cute to-go containers for the kids' lunches and snacks to throw in their gym bags. For me, these are the best pre-run snack.
And the pumpkin spice flavor just makes me want to go on a fall run through the pretty trees.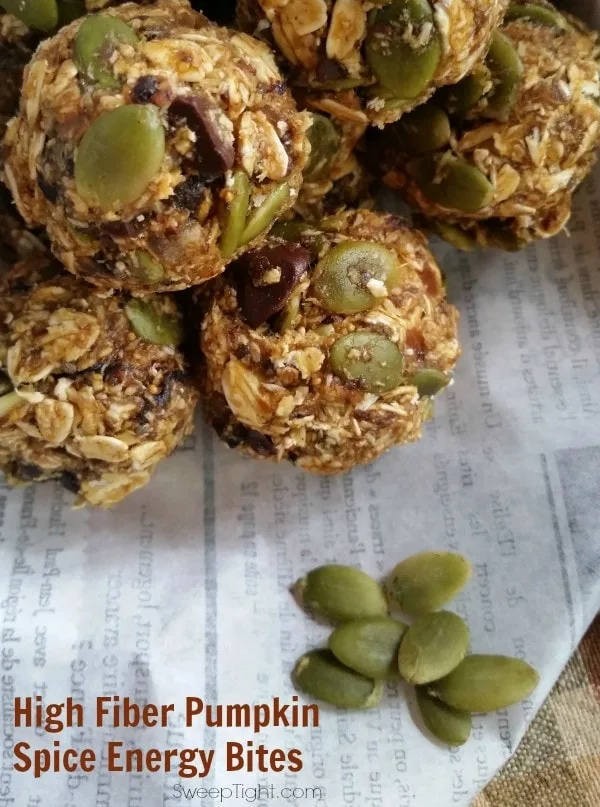 As for the nutrient content, these have a lot to offer per bite. They've got a great amount of fiber, iron, calcium and manganese–which is awesome for bone health and preventing osteoporosis–super bonus as a running snack. Manganese may also help with balancing blood sugar.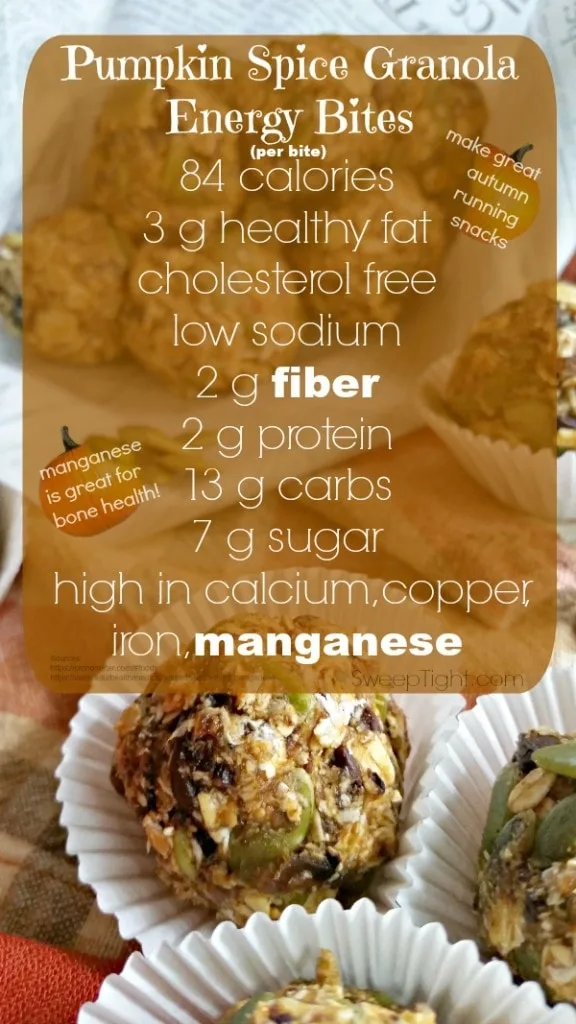 With 84 calories per bite, they are calorie dense, but that's what makes them so great for activity snacks. Growing, active kids need a lot of calories and should get them from healthy sources.
These are also excellent for active adults. If you're not very active, these are great for just one or two bites–but because they are high in calories, I wouldn't over do it.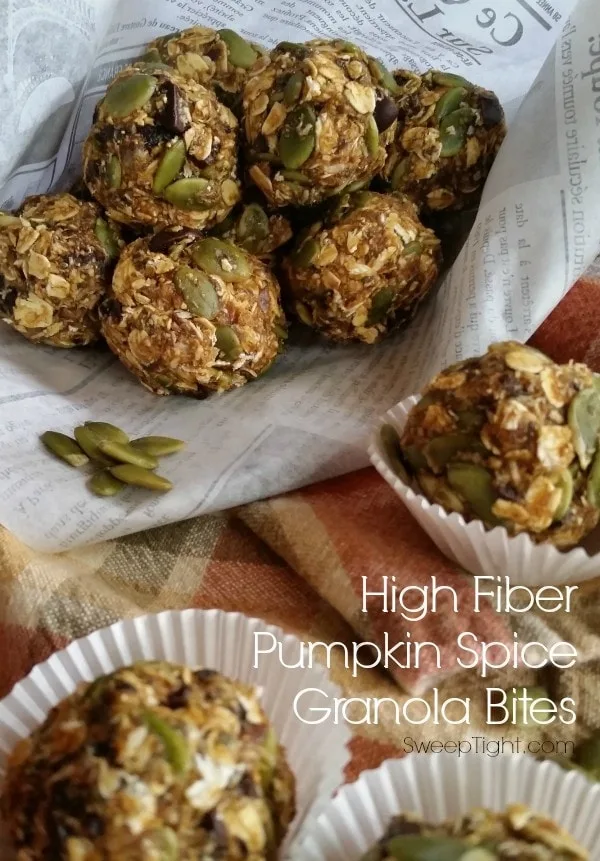 These are vegetarian as is, but if you're wanting a vegan option, simple swap the honey for agave.
Want different flavors? Here is a roundup of several recipes for energy bites.
If you prefer bars, try these cherry chocolate granola bars.
What are your favorite types of fall pre-workout snacks?