This is a sponsored post written by me on behalf of Tyson Foods, Inc. All opinions are entirely my own.
An Easy Chicken Sliders recipe is perfect this time of year. With game days, after-school snacks, holiday gatherings, and so many other occasions, chicken sliders make the perfect little bite for anyone.
The best news is that all specially marked Tyson® chicken products are raised with no antibiotics ever. Look for the packages where it is clearly marked on fresh, refrigerated, and frozen packages of chicken.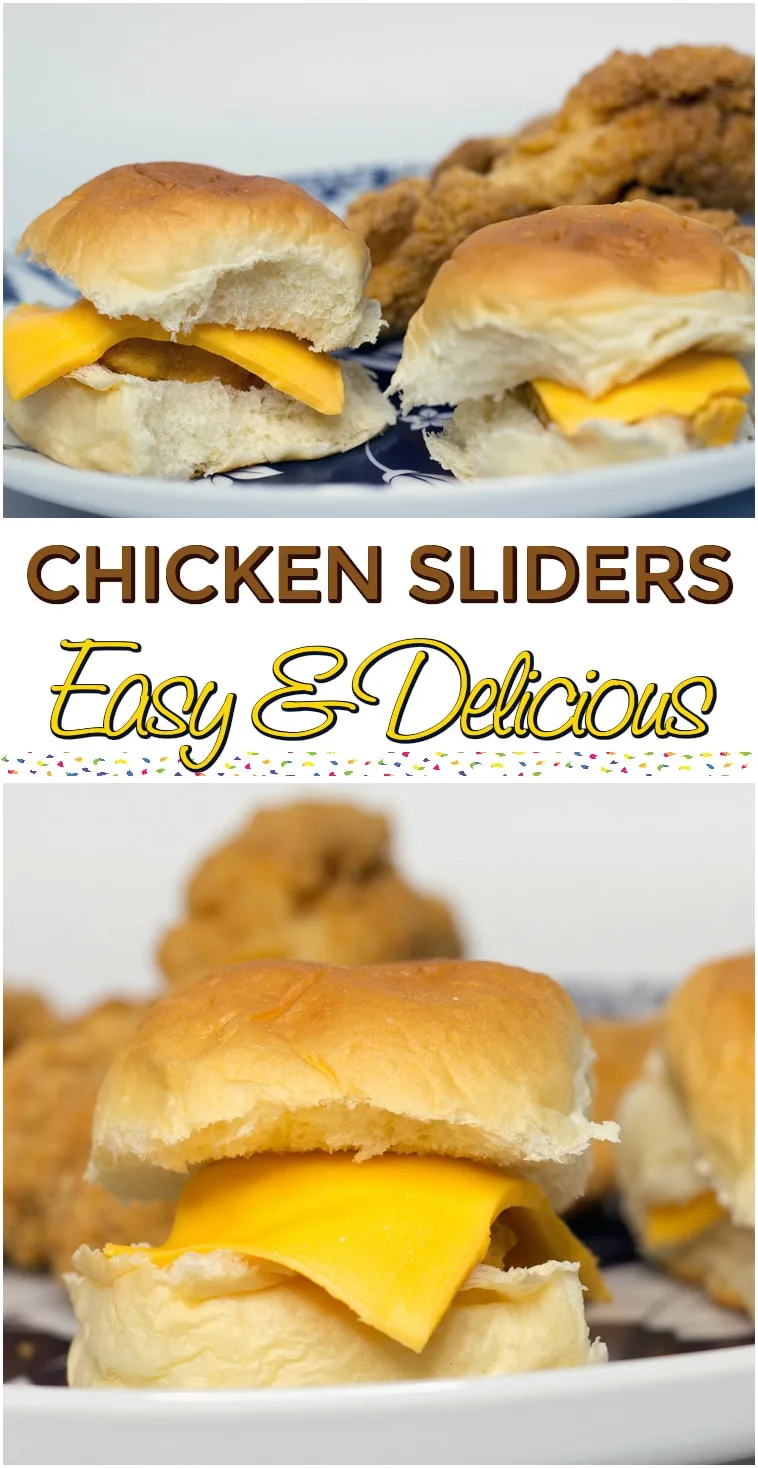 If the saying "you are what you eat" were true, I would most definitely be a chicken nugget. I grew up the pickiest eater on planet Earth.
One of the only things I would eat without a fight was chicken nuggets. My palate has not evolved all that much as I age. When given a choice, I will still choose any sort of chicken strip or nugget.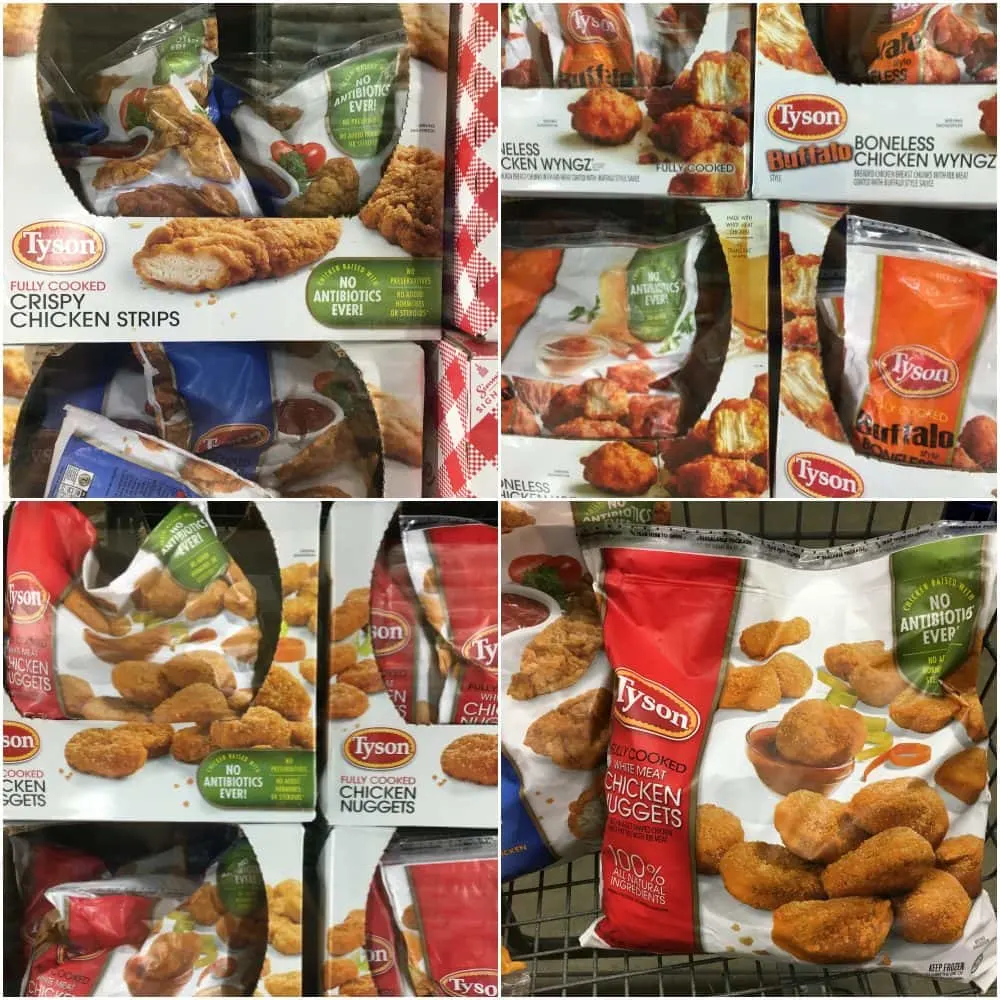 Cruising down the aisle of my local Sam's Club, I was thrilled to see the specially marked packages of Tyson chicken products stating that the chicken is raised with no antibiotics ever. I grabbed a package of Tyson chicken nuggets and Tyson crispy chicken strips.
I love to have bags in our freezer for easy go-to snacks or even meals. Chicken strips are a big request from Mike during Sunday football games.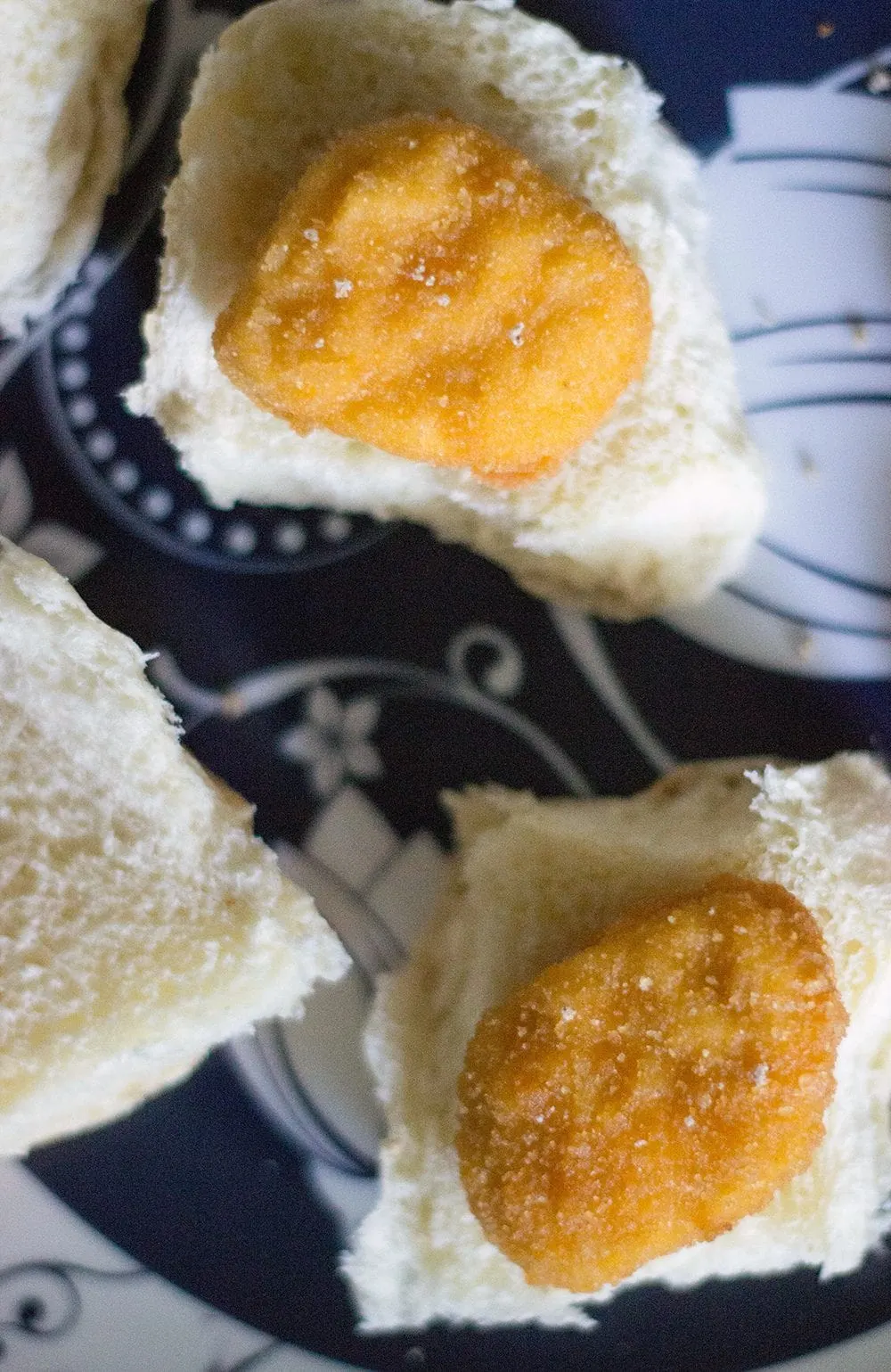 I found a recipe for easy chicken sliders on the Tyson chicken website. Chicken and Mac Sliders are what they are actually called. They added mac & cheese to the sliders. As delicious as that sounds to me, Mike vetoed it. So, I made Easy Chicken Sliders without the pasta for a tasty Sunday snack.
Honestly, I can't believe I never thought to use chicken nuggets for tiny sandwiches. I would take sliders with chicken over burgers any day! Tyson chicken is made with 100% all natural* ingredients (*no artificial ingredients, minimally processed).
Easy Chicken Sliders using Chicken Nuggets
I feel weird even calling this a recipe; it's so easy.
Just bake Tyson chicken nuggets as directed.
Place a cooked nugget on a Hawaiian-style roll.
Top with a little seasoning salt and a half slice of cheese.
That's all! Serve as super tasty little chicken sliders.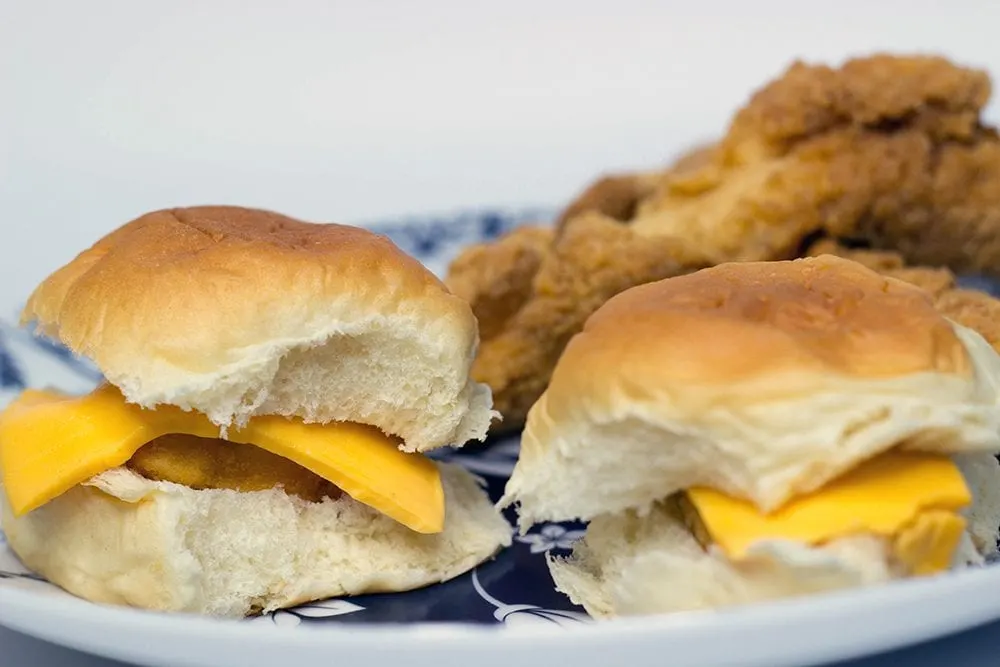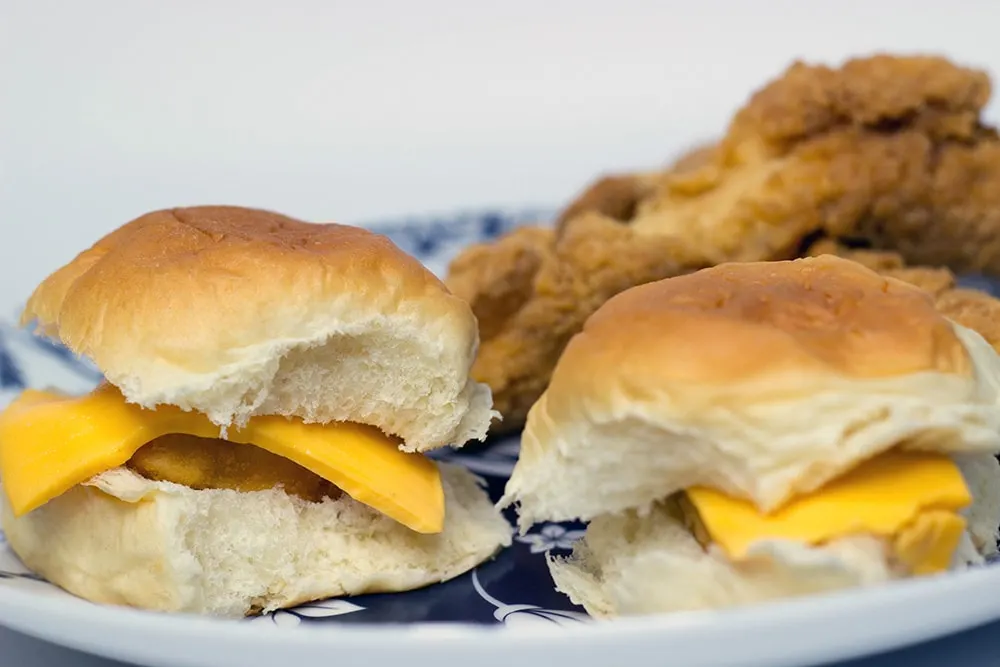 Check the Tyson chicken website for all sorts of delicious recipe ideas. Make the above with mac & cheese as the website suggested – kids will love it! Moms can feel good about serving all Tyson chicken no antibiotics ever products to their families.
The people who make Tyson chicken products have a strong heritage of raising chickens since 1935. Check out the video below to learn more!
I won't even pretend this Easy Chicken Sliders recipe is just for kids as I just inhaled four of them. With the sweet Hawaiian roll and salty nugget and cheese, it's the perfect flavor combo that I am officially obsessed with.
I am already envisioning a DIY slider bar for gatherings. Make a little area with nuggets, rolls, and all sorts of toppings for people to assemble their own sliders.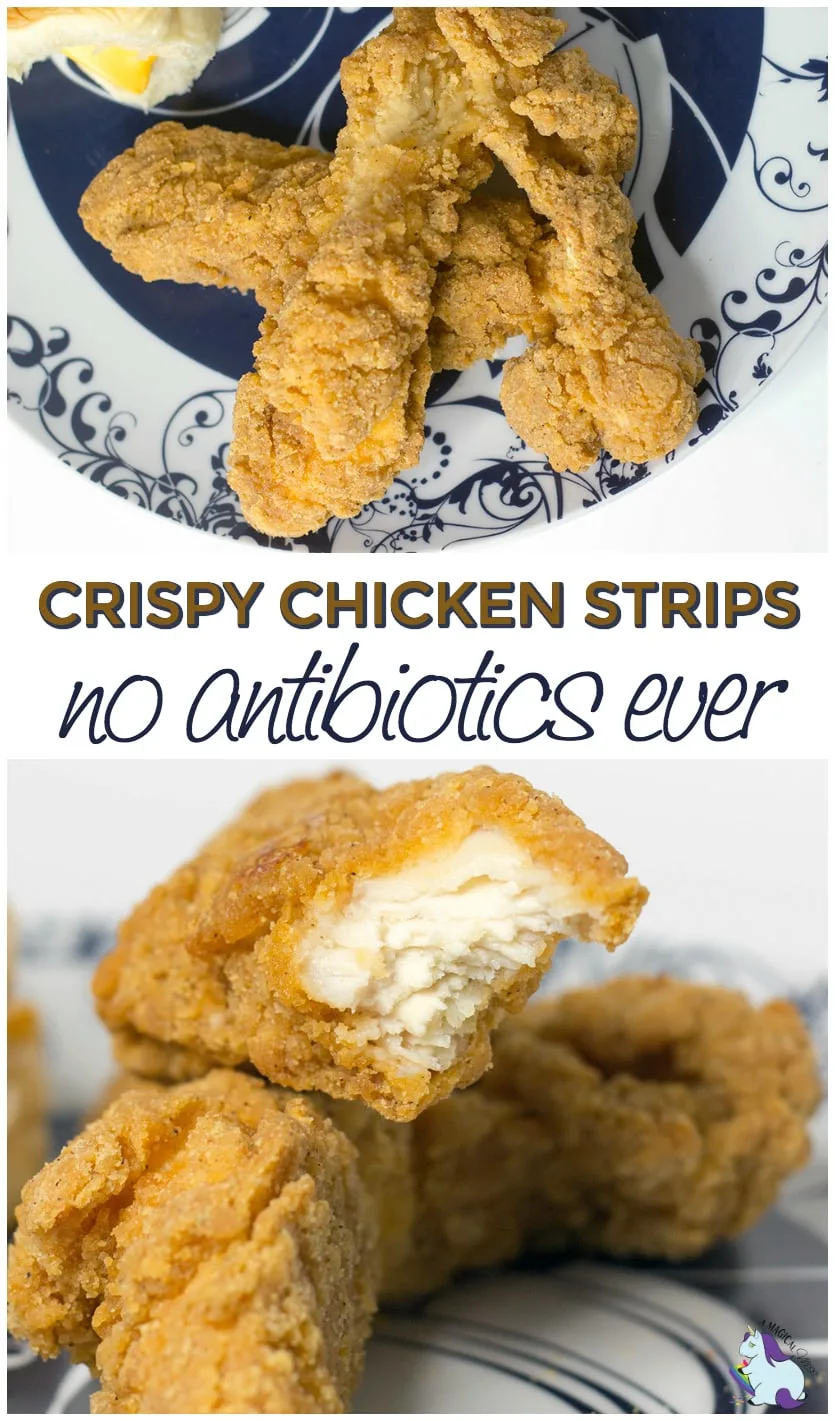 Can we talk about the size of these Tyson crispy chicken strips for a moment? They are massive and packed with tender and juicy white meat chicken. Choose your favorite dipping sauce, and you can seriously make a meal out of them. They are even delicious with no sauce at all.
Next time you're trolling the aisle of Sam's Club, check for the green label on your Tyson chicken bags. Stock up on game day appetizers, after school snacks, picky eater delights (ahem), and start thinking about holiday serving options, too. Give the Easy Chicken Sliders a try – they are scrumptious.
Have you seen the No Antibiotics Ever labels? Have you ever tried a chicken sliders recipe?