Sunday is usually pizza night for us. This collection of pizza recipes is sponsored by Foodie. All opinions are my own. Pizza comes in so many varieties these days. Looking at all the mouth watering photos on Foodie makes me want to be more adventurous in the kitchen. Who would have thought that pizza could be so interesting?
12 Recipes for Sunday Pizza Night
Check out the collection that I made on Foodie. You can make your own, as well. Just search for whatever you are looking for. Get ready to drool over some seriously impressive photos.
Pizza night is a treat on any day of the week, but Sundays tend to be lazier. Declaring pizza on Sundays is my not-so-subtle way of making dinner easier on myself! Pizza is Mike's ultimate favorite food, so he will never complain. Of course, ordering a pizza would be the easiest, but that's not ideal on the budget. Plus, there are so many quick and easy pizza recipes out there, it's quite possible to whip something scrumptious up in no time.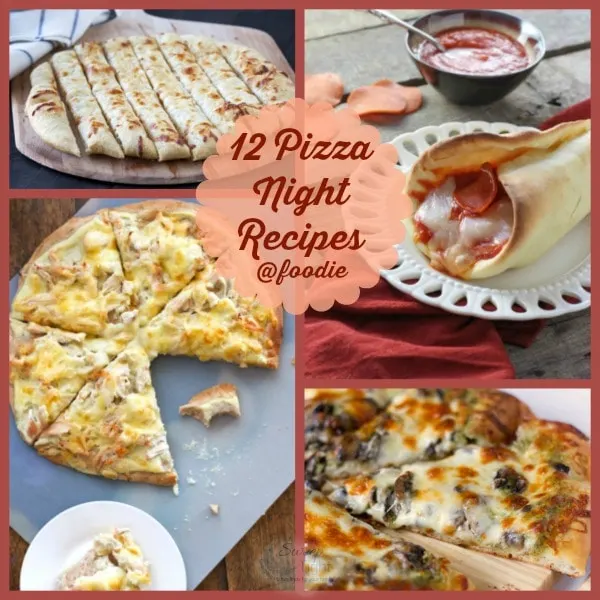 While browsing Foodie, I came across several delicious pizza recipes that I cannot wait to try. The creative ideas are endless. From dips, to appetizers, to dinners, to desserts, there's recipes to make a full-on pizza feast!
[pt_view id="22d8f72ryz"]
I am a notoriously picky eater and have only ever liked plain cheese pizza. I am trying to explore different flavor combinations as I get older. Turns out that I like some mushrooms, and/or a small amount of sausage sometimes. I am slowly forcing my palate to grow up and be more adventurous. Making my own at home gives me the control that I need to be braver. Adding the ingredients myself is key. Then I know there won't be a stray onion or another non-negotiable item in there!
Do you have a day of the week for pizza night? Do you get creative and make your own pizza recipes?