wine gummies caught my eye on Pinterest. I traced them back to this fabulous blog, ThriveStyle, where she not only lists the recipe but also explains the health benefits of gelatin.
I knew I had to make some gummies immediately. Someone creates an adult gummy; you recreate it swiftly, am I right? This post contains affiliate links.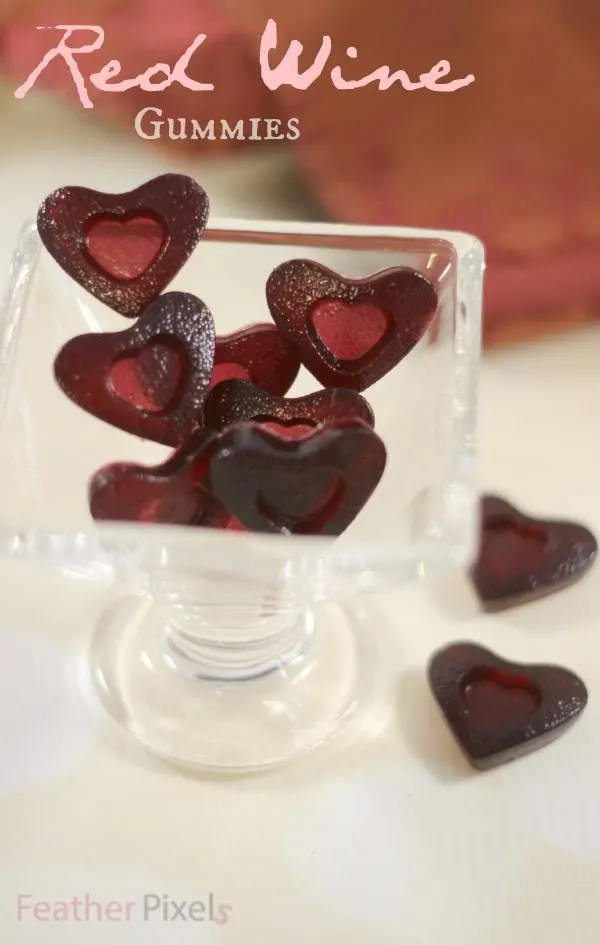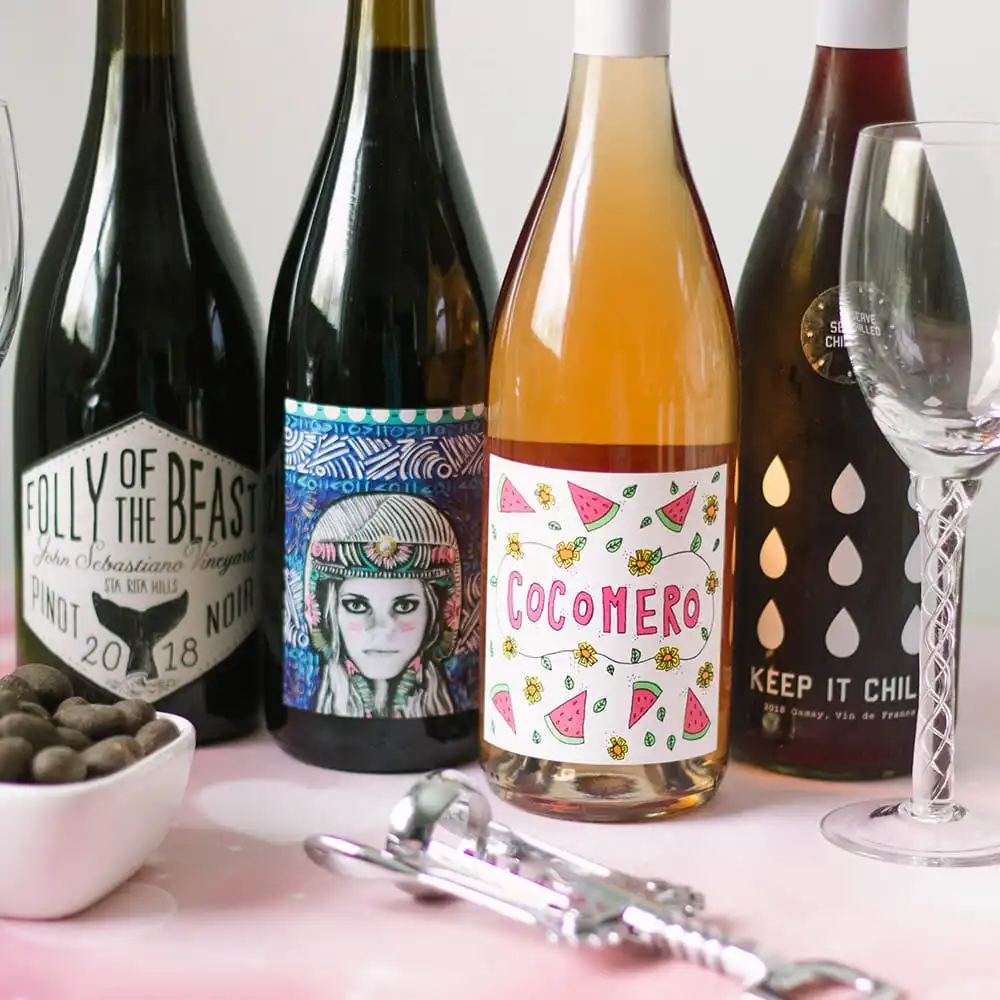 Winc
Click to get $22 off. That's 4 bottles for $39! Shipping is included.
Take the Quiz
We earn a commission if you make a purchase, at no additional cost to you.
How to Make Red wine Gummies for Adults
Since I am impatient and didn't have the exact ingredients, I modified the recipe a bit.
With only three ingredients, I was still able to whip up some super tasty red wine gummies in minutes.
I used the raw honey that I had just received from the Savannah Bee Company.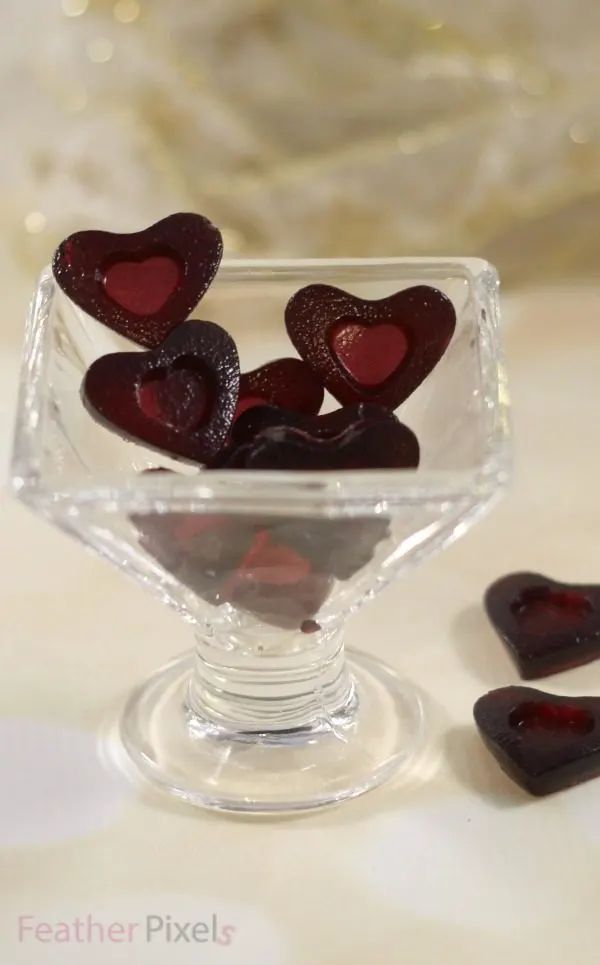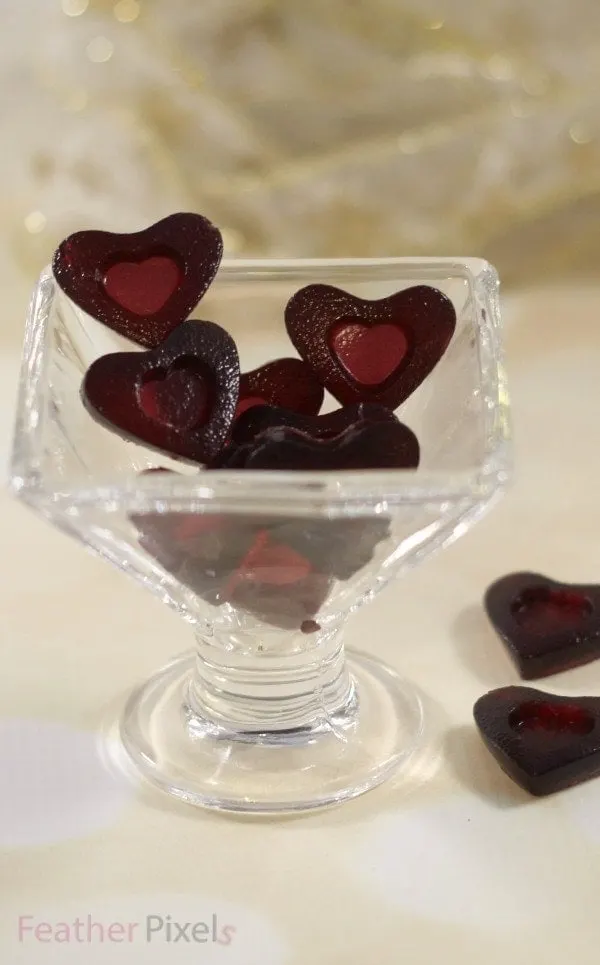 Tiny serving set is from LTD Commodities.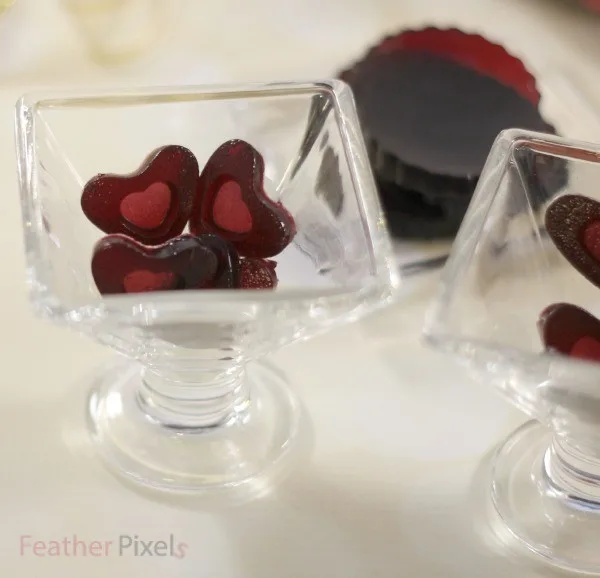 I suggest ordering mini cookie cutters. I ordered a massive tub of assorted cookie cutters, and they are the size of my palm.
You definitely don't want your gummies that large.
They are adult fruit snacks with real booze and should be eaten responsibly.
In these pictures, I used a mini heart mold, but they were quite tricky to remove without tearing the gummies.
The wine that I used was pretty dry, and I probably could have added a bit of sweetener.
But, they taste like wine, and that's what you want, right? This isn't like eating gummy bears.
Yield: 30 gummies
Red Wine Gummies Recipe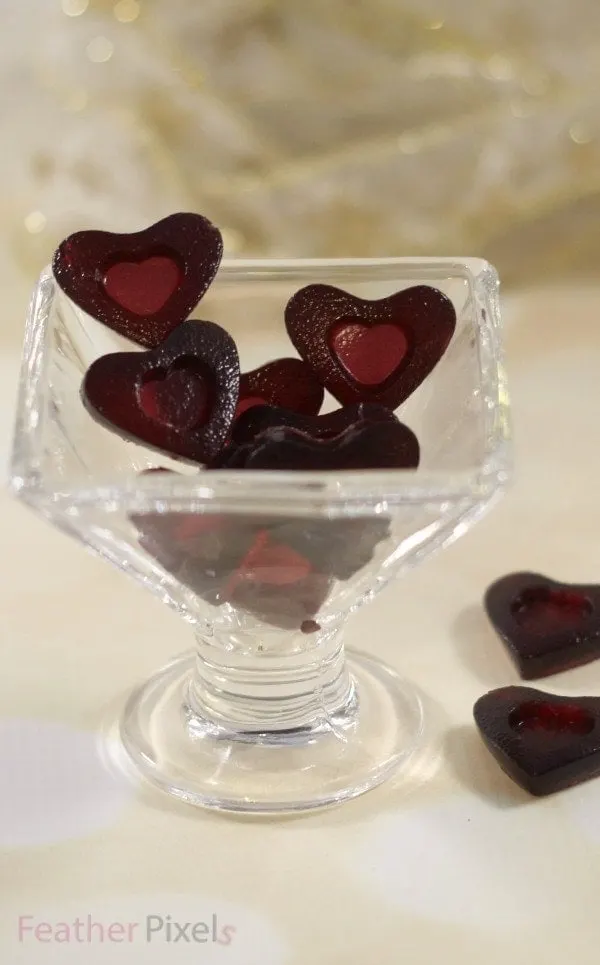 Easy red wine gummies made with only 3 ingredients!
Ingredients
1 cup dark red wine
4 Tbsp unflavored gelatin
2 1/2 Tbsp raw honey
Instructions
Add wine and honey to a pan and heat on low.
Whisk the wine and honey together.
Add the gelatin in one Tbsp at a time, making sure it's dissolved before adding more.
Keep the heat on low the whole time. You don't want the wine to boil. The heat is solely to dissolve and properly mix all the ingredients.
Pour mixture into a shallow pan and chill in the refrigerator. It doesn't take long to set into a gummy-like texture. You can then cut into squares, or use a cookie cutter to create shapes.
Nutrition Information:
Yield:
30
Serving Size:
1 gummy
Amount Per Serving:
Calories:

15
Total Fat:

0g
Saturated Fat:

0g
Trans Fat:

0g
Unsaturated Fat:

0g
Cholesterol:

0mg
Sodium:

2mg
Carbohydrates:

2g
Fiber:

0g
Sugar:

1g
Protein:

1g
Nutrition facts are an estimate only.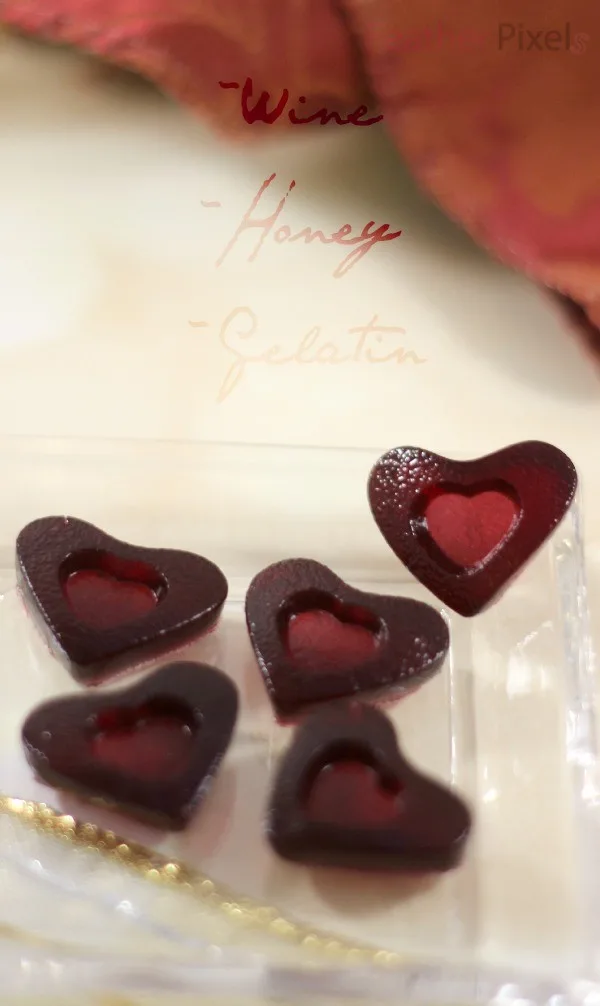 Red wine is good for you in moderation. So are the honey and gelatin. Guess that means these snacks are actually quite good for you!
Visit ThriveStyle to see how she originally did this recipe. She also has a video that explains some of the benefits of gelatin. Oh, and she has a recipe for margarita gummies. What?!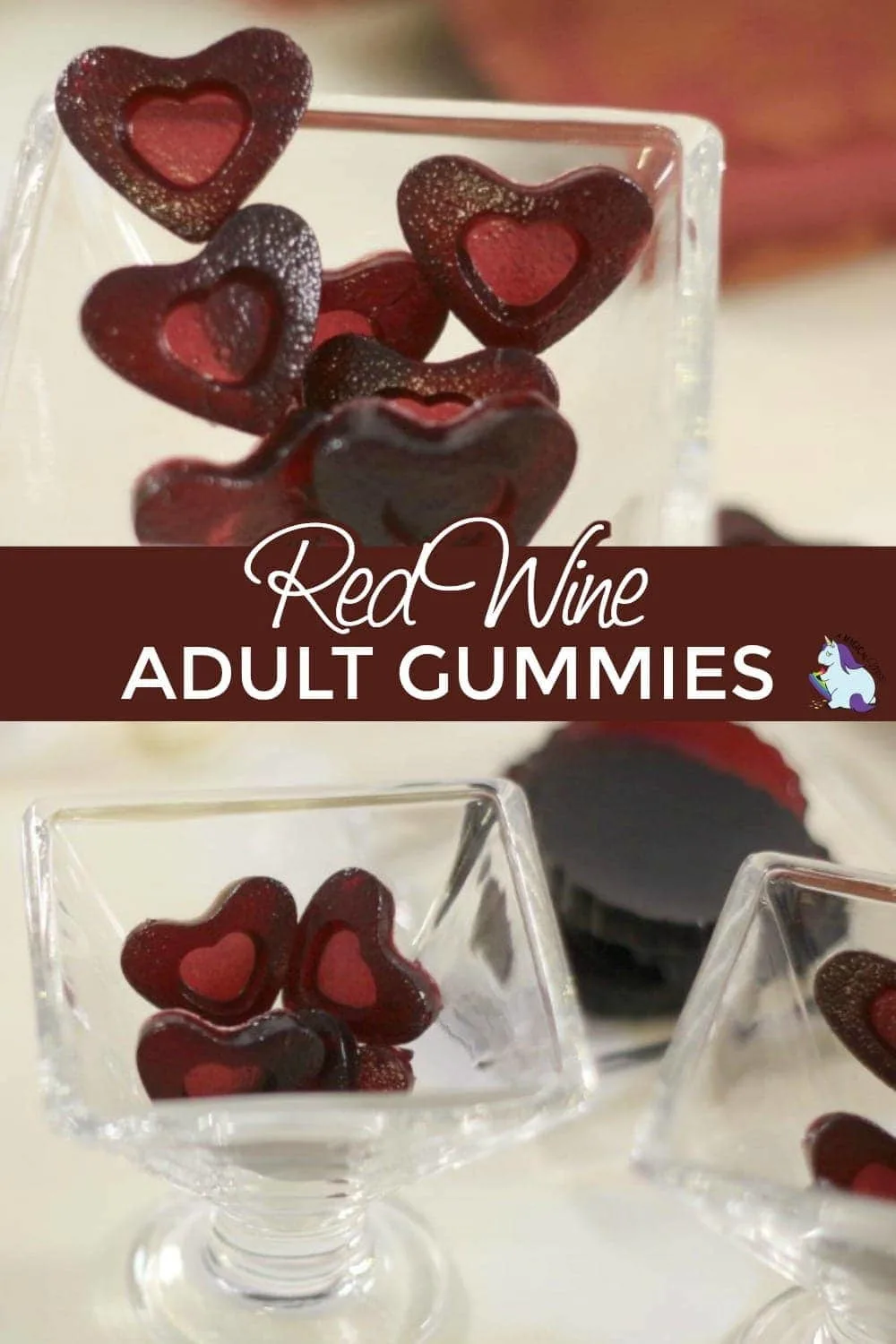 A lot of people have asked or told me that the alcohol burns off during the heating process.
Since you don't boil the water and only heat enough for everything to dissolve, I don't believe it does burn off the alcohol.
I don't have a clear answer for this, but I will tell you — I am a lightweight and I swear I caught a little buzz after eating a few.
You'll have to see for yourself. Let me know!
For a gummy bear recipe with no alcohol, check out these cranberry gummies.
You can make wine gummies with any flavor of wine.
Which wine would you use?