A Bomb Pop cocktail is like the adult equivalent of hearing the ice cream truck as a child. Pure happiness. The popsicle goodness mixed into a slushy cocktail is a win for summer. Ideal for the fourth of July, but still spectacular all summer long, this mixed drink will be a crowd-pleaser at gatherings. This post is intended for adults ages 21+ who know how to drink responsibly.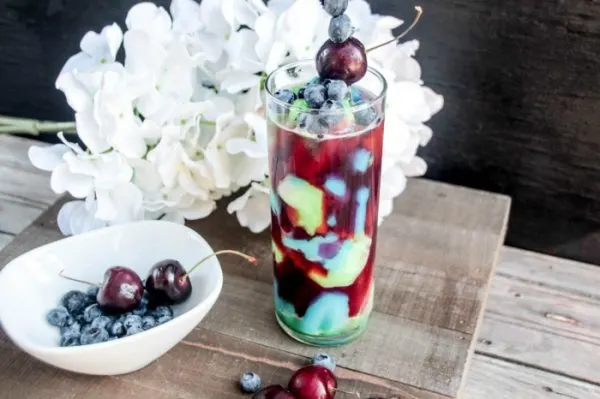 Slushy mixed drinks have the way to transform your backyard into a tropical getaway. At least for us, I know a Bomb Pop cocktail by the pool makes me one happy gal. The drink recipe is easy enough to make on any weekend but looks pretty enough to impress guests on special occasions.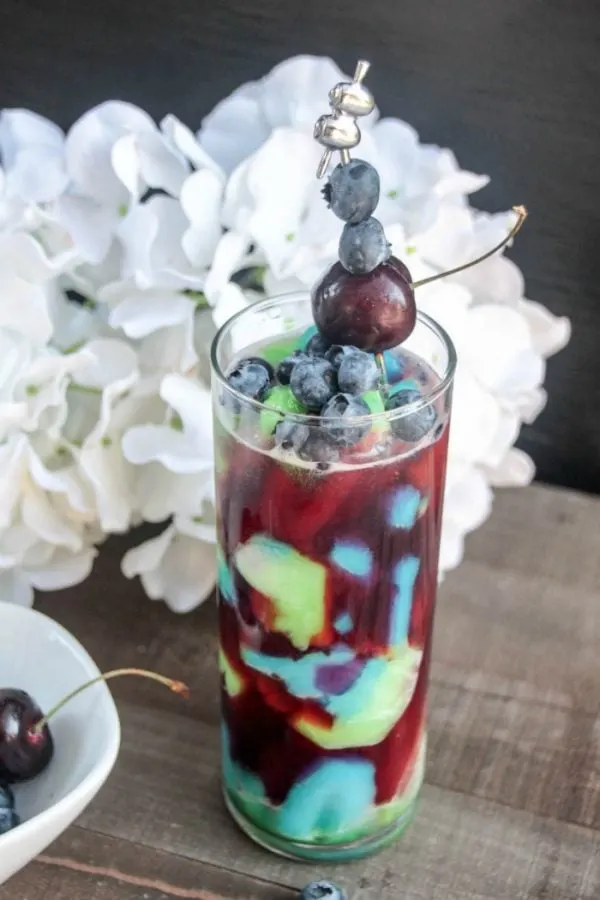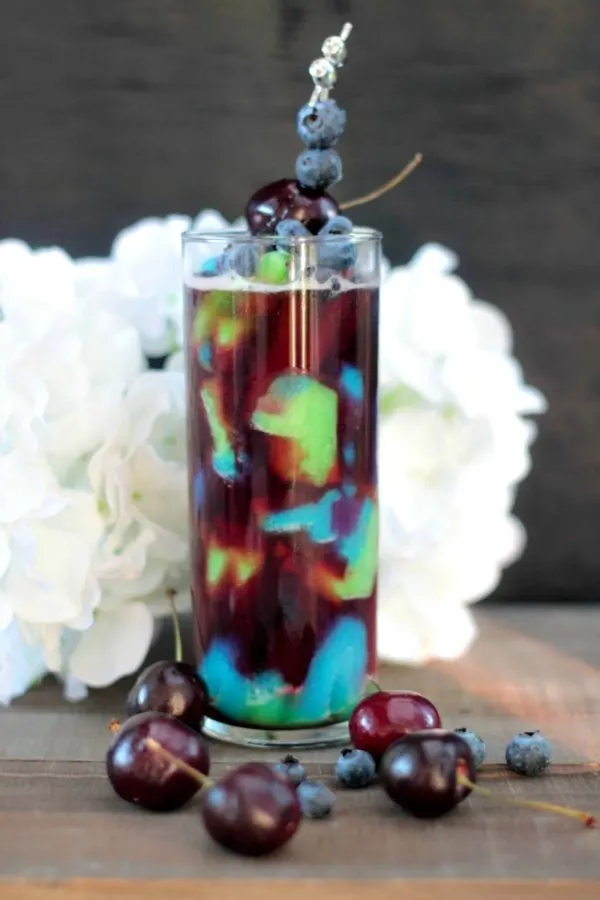 Iced Cake Bomb Slushy – Bomb Pop Cocktail Recipe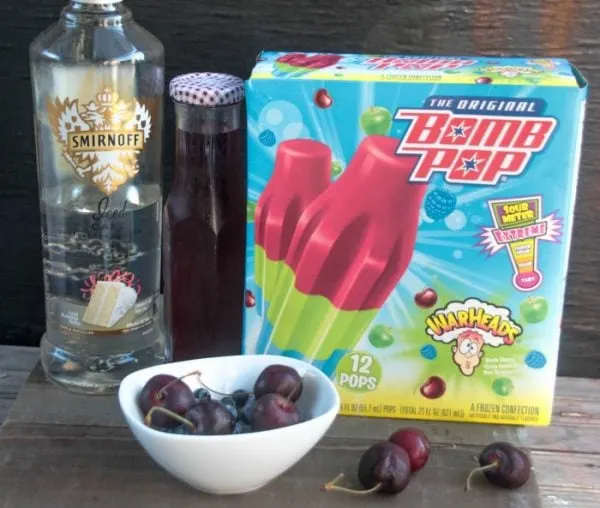 Ingredients:
5 Bomb Pops
1 1/2 ounces Smirnoff Iced Cake Vodka
2 ounces Cherry Simple Syrup – linked, or make your own below
8 Blueberries picked over and washed
3 Fresh Cherries, washed with the pit removed
Glass: Mojito Style Glass (12 oz)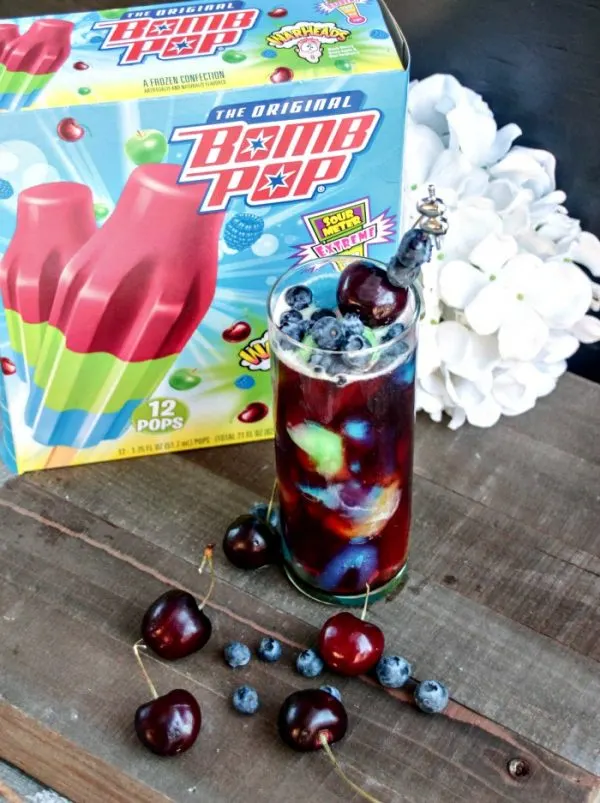 Directions:
Into a Mojito glass combine, Iced Cake vodka, and cherry simple syrup.
Allow Bomb Pops to sit at room temperature then using a small knife, scrape 5 Bomb Pops from the wood sticks and into the glass.
Add blueberries and cherries.
Garnish with a cocktail stick with a few blueberries and a cherry.
Serve.
Drink responsibly, and never drink and drive. Also, never ever drink and firework!


How to make Cherry Simple Syrup
Directions:
Make a cherry simple syrup by adding 2 cups of water and 2 cups of sugar in a sauce pot, bring the mixture to a boil over medium-high heat.
Add ten (10) fresh and pitted cherries.
Use a muddler or a fork to smash the fruit to release the juice.
Let the mixture cook for another 5 minutes then remove from heat.
Cover the pot with a lid and allow the cherry simple syrup to steep for 12 – 15 minutes.
Strain the mixture through fine mesh sieve into a Mason jar and refrigerate until ready to use.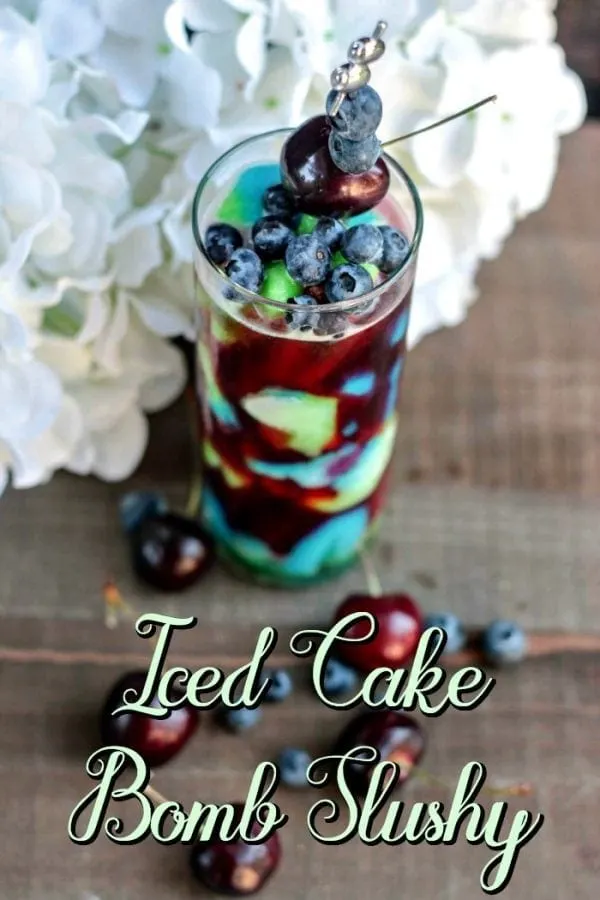 Another icy summer drink to make is this mermaid slushy!
Have you had a Bomb Pop cocktail yet? If so, how did you make it?