Fitness is a lifestyle. It requires eating healthy AND staying active every day–none of us can get away with yo-yo dieting for long.
Creating good habits requires repetition and long-term consistency.
From my experience with fad diets and everything I learned while earning my degree in nutrition science, my educated opinion is this: you have to satisfy certain food cravings.
Over time, deprivation of those cravings messes with you psychologically, and you're more likely to break down and binge.
To prevent this detrimental effect, make yummy food choices that are more nutritionally balanced, like these high protein pancakes.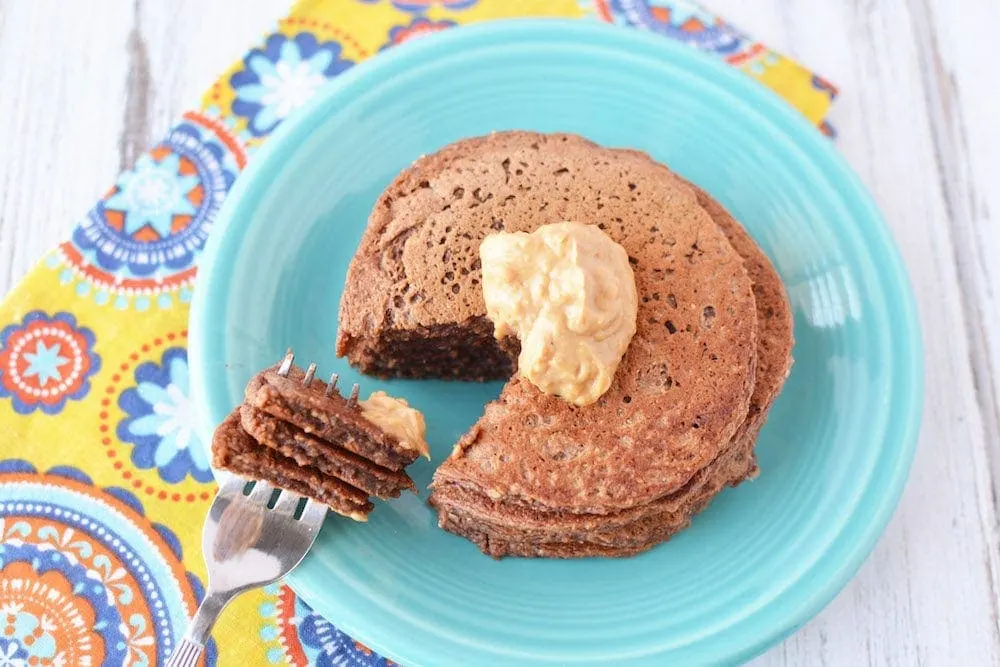 High Protein Pancakes
By increasing the protein content of this breakfast favorite, they become an excellent blend of proteins, carbs, and fats. If you're active, they're great for feeding muscle growth and curbing hunger.
Also, the fact that the lovely plate of flapjacks are utterly delicious isn't just a bonus for your tastebuds–it means you'll be more satisfied and not left fixating on other sweets and unhealthy treats.
There's nothing worse than omitting sugar, then scrolling on Pinterest to have every last bit of your willpower tested to the max.
In reality, not many people are strong enough to resist sweet temptation for long. Okay, maybe some people have mastered this amazing feat, but I'm, admittedly, not one of them. I love food!
I've explored and researched many of the yummiest ways to include protein supplements in your diet. My favorites include high protein pancakes, protein cake bites, and smoothies.
For now, check out this recipe inspired by the classic combo of chocolate and peanut butter–no sugary syrup needed!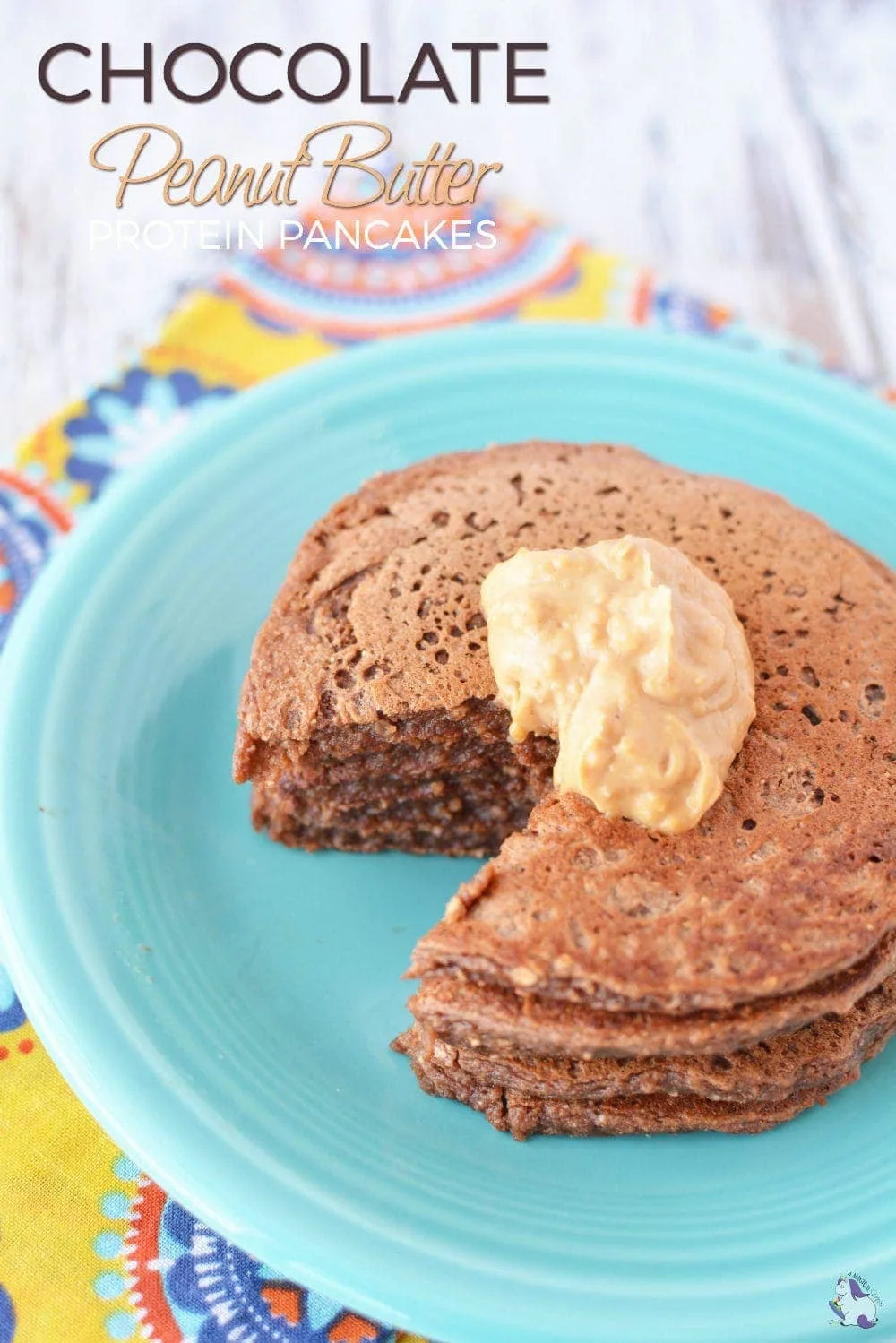 Chocolate Peanut Butter Protein Pancakes
These are going to be much denser than your typical fluffy pancake. However, it's a small price to pay for the following nutrient breakdown.
If you make five total pancakes with this recipe, you'll get 7 grams of protein, 10 grams of carbs (7.5 NET grams), and 1.5 grams of fat per pancake.
I encourage you to try it and, if you like it, triple or even quadruple the ingredients the next time. That'll provide plenty of pancakes to freeze for later.
Just layer the pancakes with wax paper in between before putting in a freezer bag. You can reheat them in a microwave or toaster oven for a quick, nutrient-rich snack or meal.
My bodybuilding teenager is hooked. He loves to have our freezer stocked with a variety of protein pancakes for his mornings or after a good lift.
Yield: 5 pancakes
Chocolate Peanut Butter High Protein Pancakes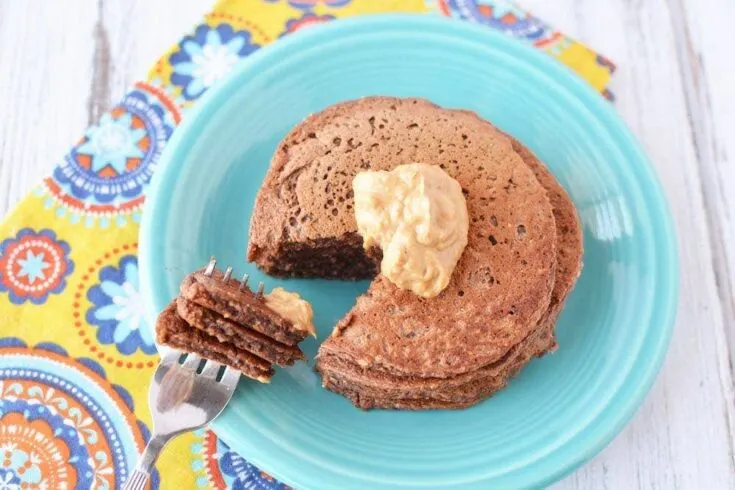 Chocolate for breakfast? Yes, indeed with these tasty chocolate peanut butter protein pancakes.
Ingredients
1/2 cup oats
1 tablespoon coconut flour
1 scoop vanilla protein powder
1/4 cup Greek yogurt
1 egg white
1/4 cup milk
1 tablespoon cocoa powder
3 tablespoon PB2 powdered peanut butter
1 teaspoon baking powder
1 teaspoon Stevia
1 tsp water
Instructions
For Topping:
Mix 2 tablespoons PB2 powdered peanut butter with 1 teaspoon water
Pancake Directions:
Add oats to a food processor and process for 30 seconds until you have a fine powder.
Add flour, protein powder, yogurt, egg, milk, cocoa powder, peanut butter, baking powder, and Stevia.
Process for about 20 seconds until mixed well.
Use a 3 tablespoon portion scoop to spoon batter onto a pre-heated, greased skillet.
Heat 2-3 minutes per side.
When finished, top pancakes with peanut butter and serve.
Recommended Products
As an Amazon Associate and member of other affiliate programs, I earn from qualifying purchases.
Nutrition Information:
Yield:
5
Serving Size:
1 pancake
Amount Per Serving:
Calories:

96
Total Fat:

2g
Saturated Fat:

1g
Trans Fat:

0g
Unsaturated Fat:

1g
Cholesterol:

3mg
Sodium:

138mg
Carbohydrates:

10g
Fiber:

2g
Sugar:

1g
Protein:

11g
Nutrition facts are an estimate only.
Subscribe to the blog to receive a free printable protein pancake ebook!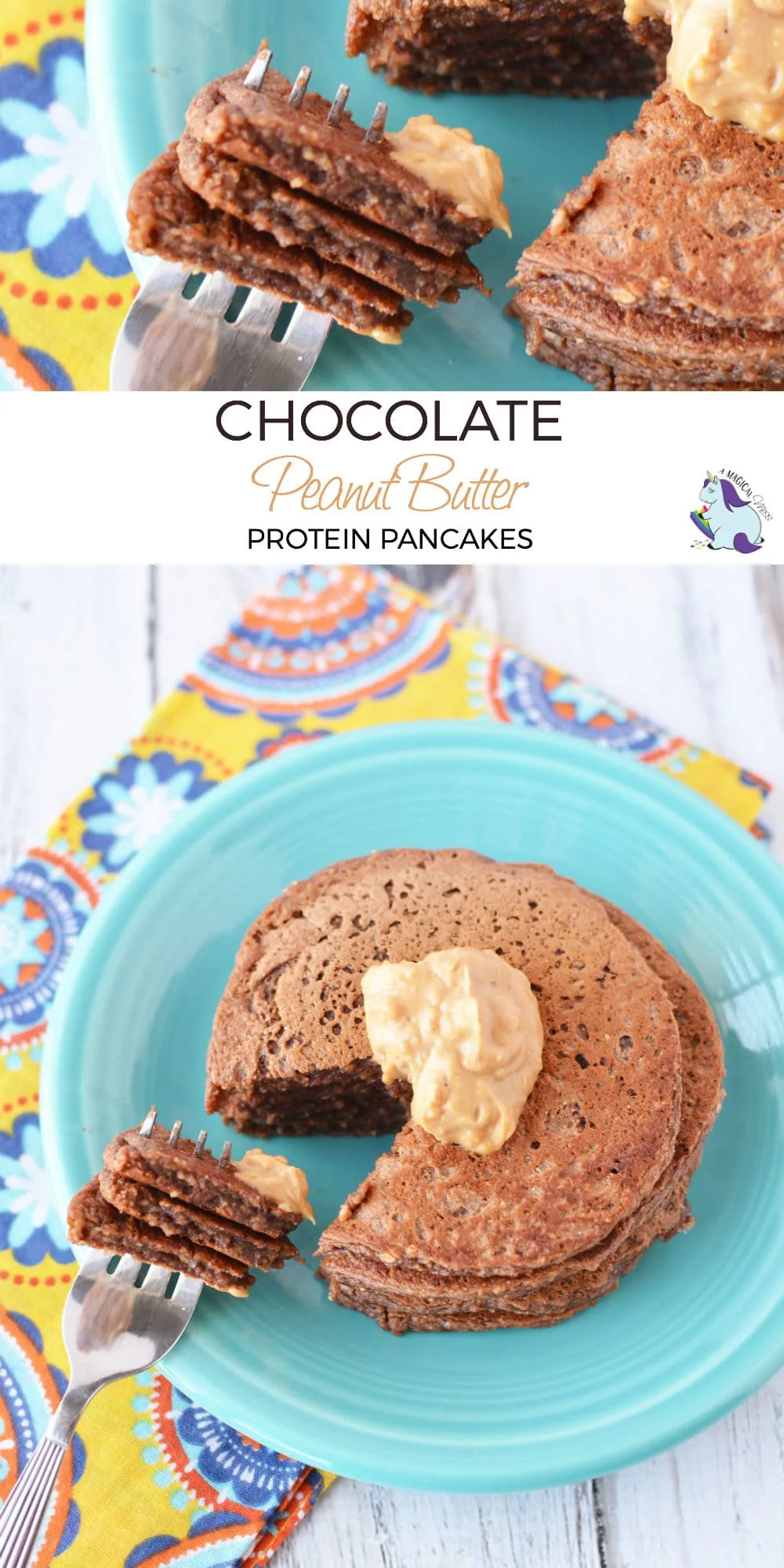 Have you ever tried making high protein pancakes?