After a summer of ongoing sleepover parties, we got pretty good at breakfast and brunch. The kids loved sleeping in and waking up to the scent of pancakes and sausage. Now that school is in session, this slow cooker French toast recipe is a yummy way to bring that breakfast fun into the weekend or have ready before school starts. Our brilliant friend Kari, at Craft Create Cook, came up with this recipe for us and we couldn't be more excited to share it with you. Let the sleepovers continue!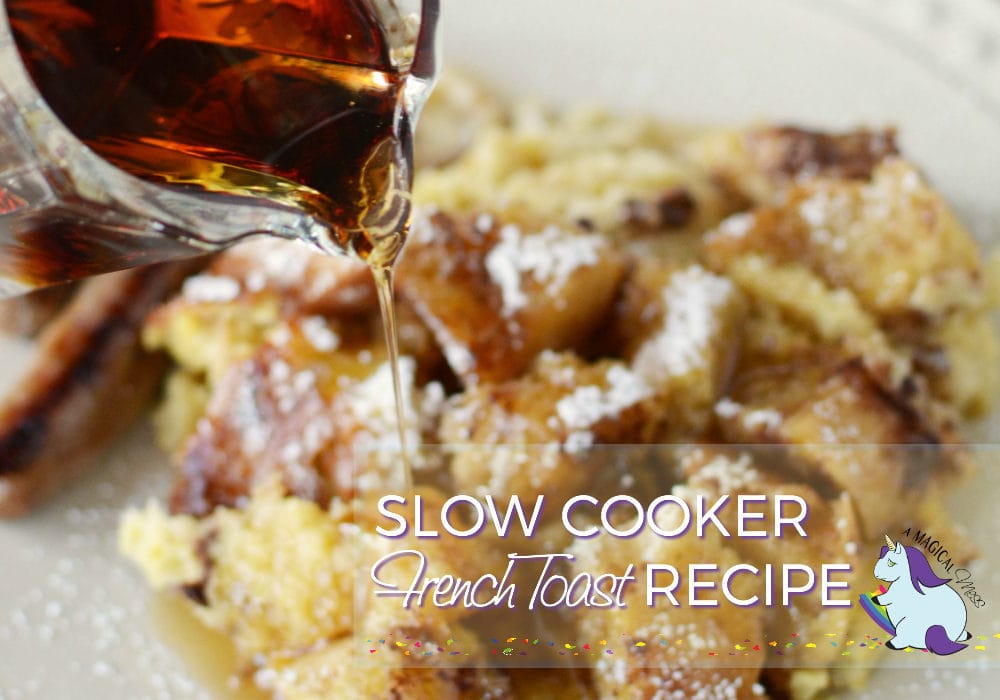 Slow Cooker French Toast Recipe
This is the kind of breakfast recipe I'm going to use for holidays too. When the house is full of guests, and the stove and oven are monopolized for other reasons, this is a great way to serve a delicious breakfast without a ton of effort. Plus, everyone will love the way it fills the house with that cozy French toast aroma.
Paired with a protein like sausage or bacon, and some fresh orange juice and coffee, this is a dreamy way to start the day.
Ingredients:
8 cups of bread, sliced into 1/2″-3/4″ pieces
6 eggs, beaten
2 cups half and half
1 teaspoon vanilla
1/3 cup brown sugar
2 teaspoons ground cinnamon
Syrup
Breakfast Sausage
Crock-Pot
Vanilla Extract
Maple Syrup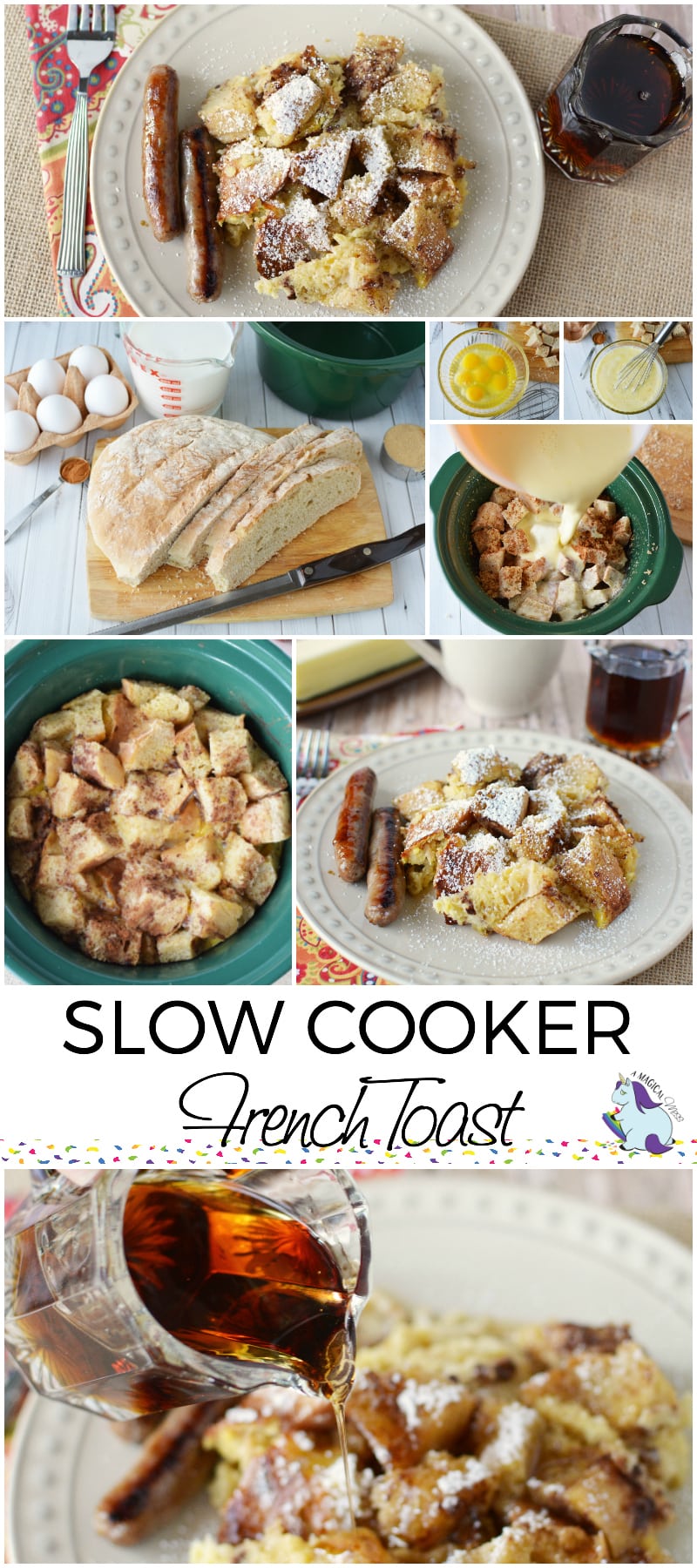 Directions:
Mix eggs, half and half, and vanilla in a bowl. Set aside.
Spray a slow cooker crock with nonstick cooking spray.

Place half of the bread cubes into the bottom of the slow cooker. Sprinkle with half of the brown sugar and half of the cinnamon. Repeat with another layer of bread cubes, brown sugar, and cinnamon.
Pour egg mixture onto the bread in the crock. Gently press bread into the crock so that the bread makes contact with the liquid. Place the lid on the crock and refrigerate overnight.

The following day, heat the french toast for 2-3 hours on low. If the condensation on the lid begins to drip, crack the lid halfway to allow steam to escape and the french toast to get a bit crispy on top.
Serve with syrup, powdered sugar, and breakfast sausage.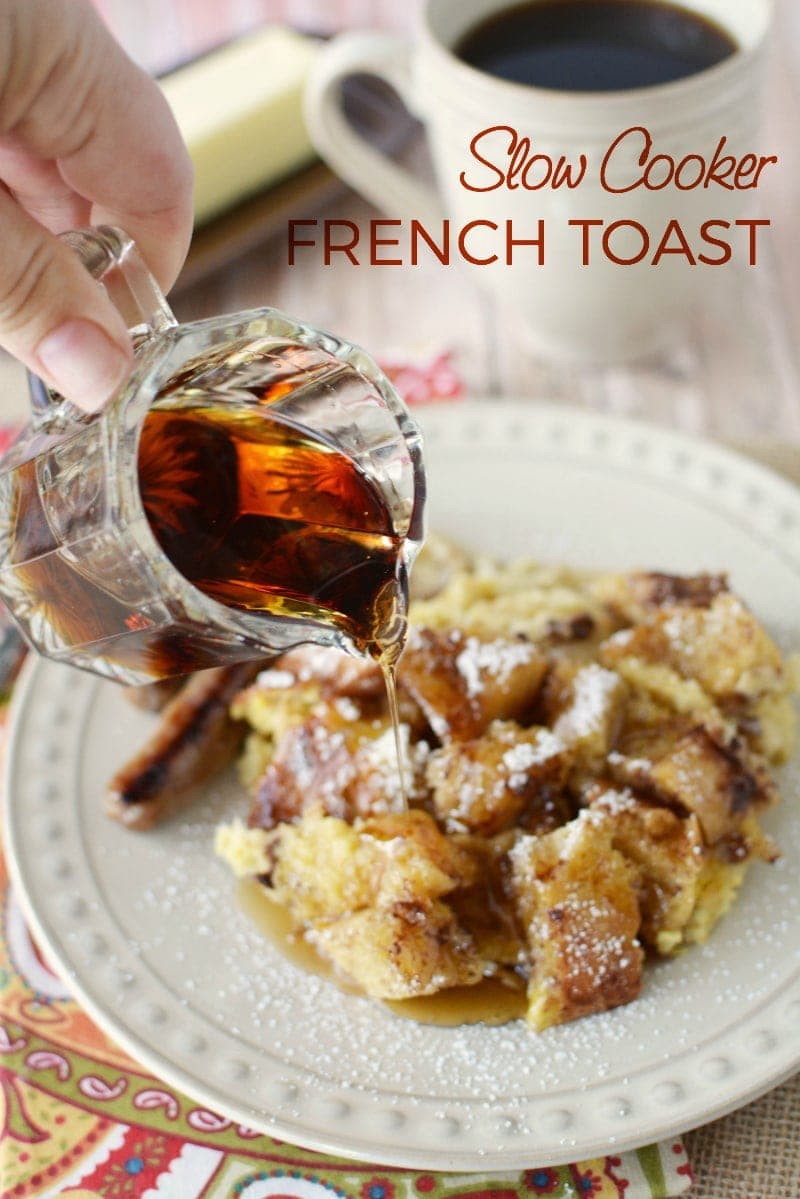 If you're interested in switching this recipe up a bit, I am thinking of adding some fresh seasonal fruits and pecans. I bet this would be good with a little pumpkin and nutmeg too for the highly anticipated pumpkin spice season, a.k.a. fall.
Will you be preparing this slow cooker french toast recipe for anyone special?
Click here for more breakfast ideas!
Rainbow Crumbs for You
Weekly newsletter with our latest posts and shenanigans.