Doesn't a bacon, egg, and cheese calzone recipe sound delicious?
The weather cooling down even a smidge has me craving a hearty and warm breakfast in place of summer smoothies.
This tasty breakfast calzone is exactly what I'd like to wake up to on fall mornings.
Let's alternate between calzones and slow cooker French toast, shall we? 😉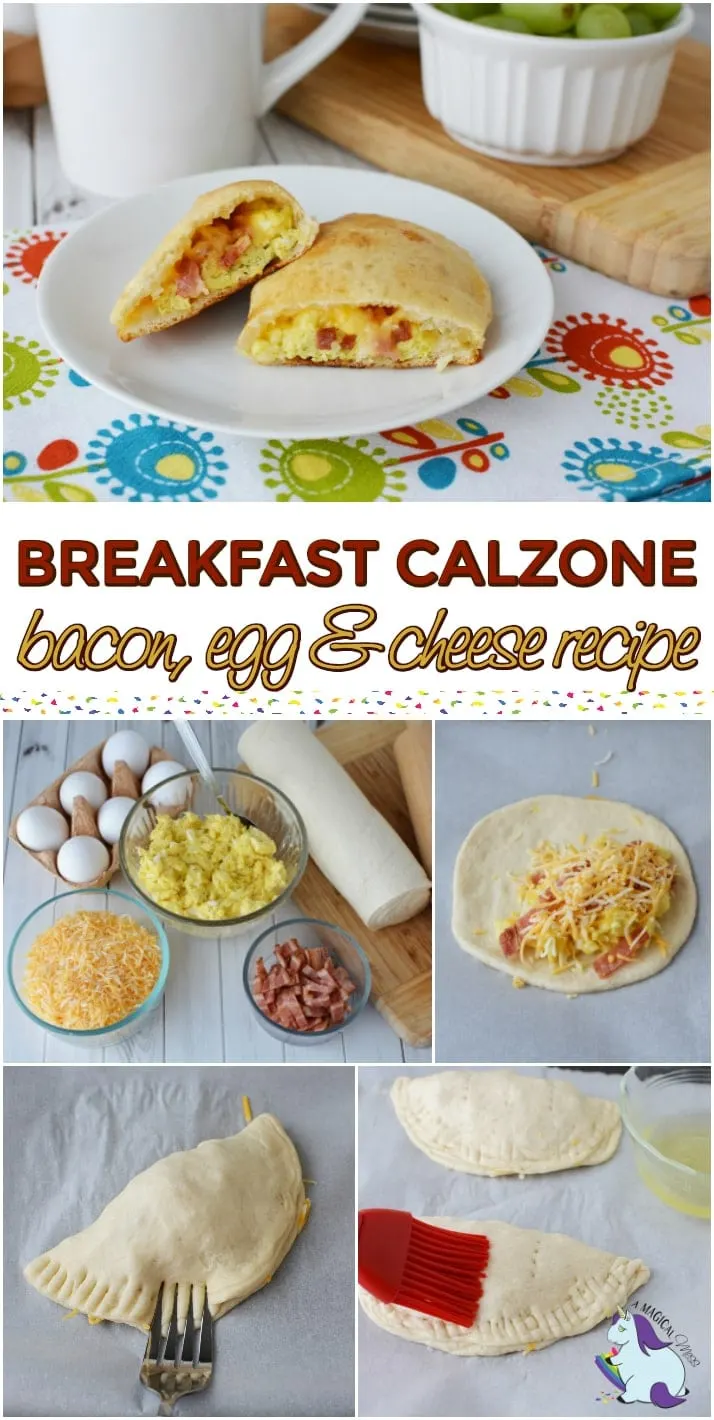 Breakfast on Busy Mornings
Breakfast is the most important meal of the day. It also seems to be the most rushed meal of the day.
With back-to-school chaos, busy morning schedules, and struggling to get enough sleep at night, spending a ton of time on breakfast is usually not in the cards.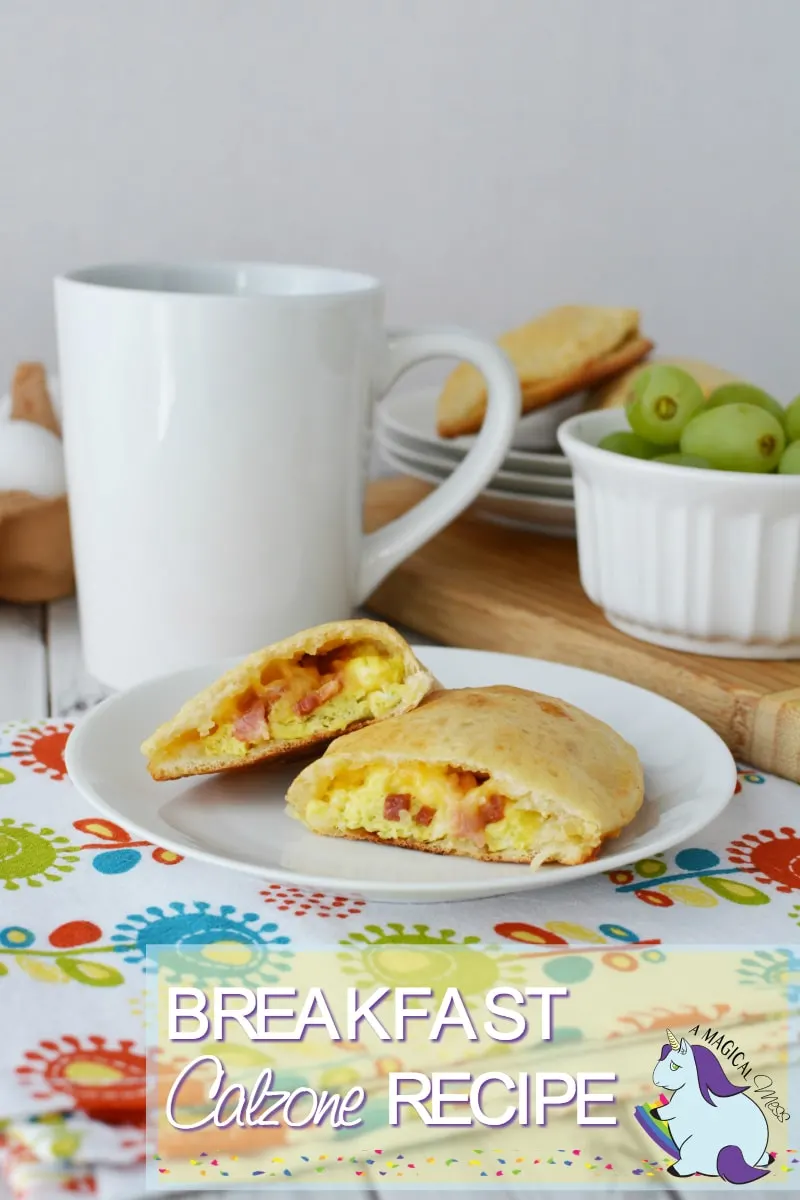 The beauty of this cheese calzone recipe is that you can get it ready at night. Have the family add their choice of ingredients to each calzone.
Put the whole baking sheet of prepared breakfast calzones in the refrigerator, so they are oven-ready for the morning.
Of course, fresh is better, but prepping ahead is super convenient.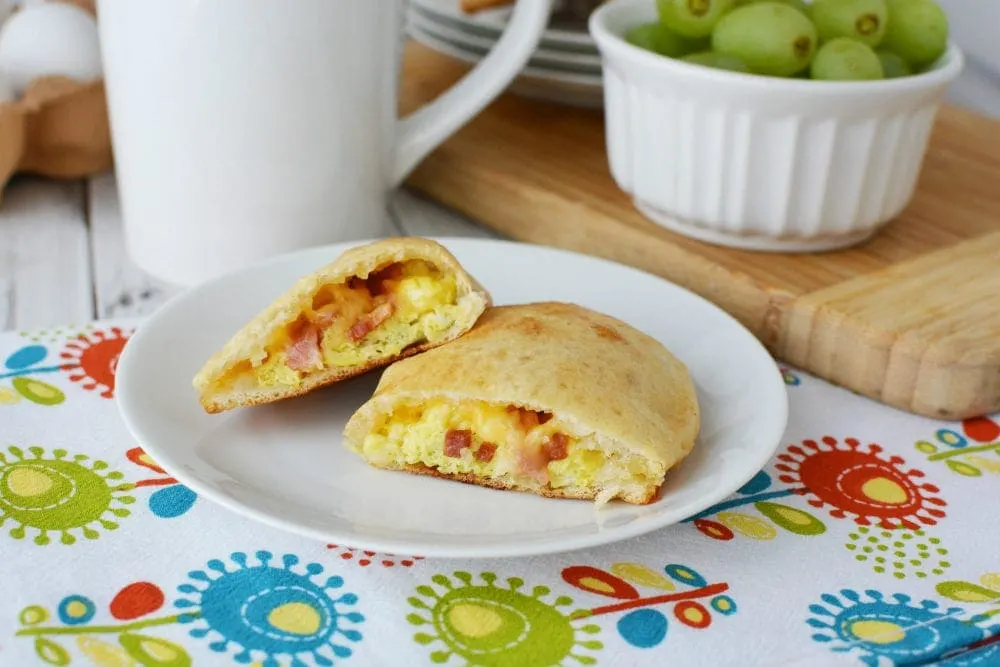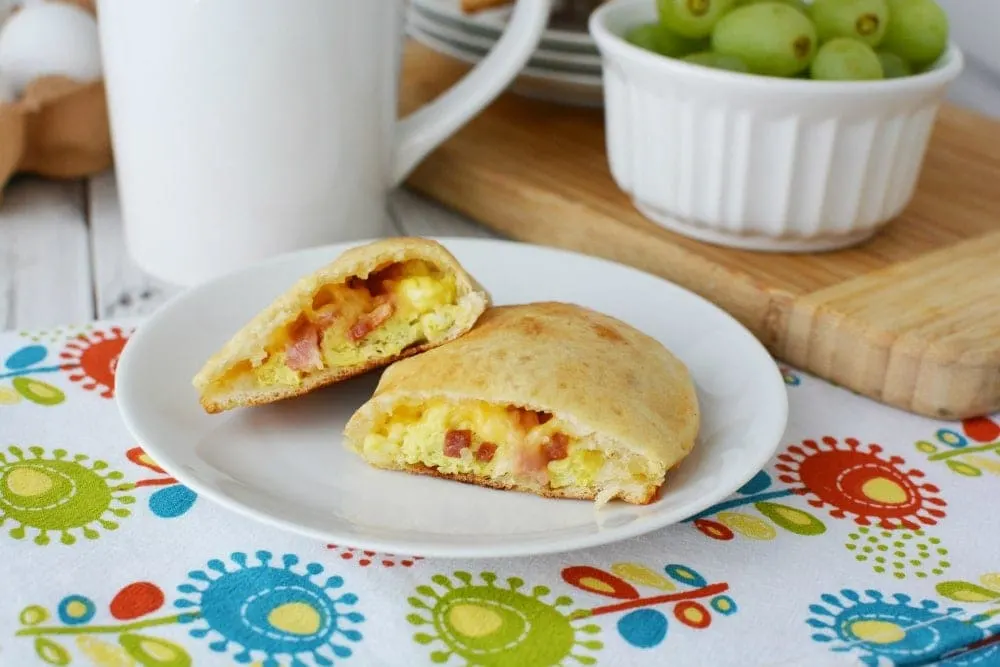 Ideally, the family can sit down around the table for breakfast. Realistically, that's not what a typical morning looks like for most households.
From too many snooze button hits to early morning appointments, it's rare everyone is able to share breakfast together.
Once cooled, this bacon, egg, and cheese calzone recipe is a handheld food like our easy pizza roll-ups.
Yield: 8 calzones
Breakfast Bacon and Cheese Calzone Recipe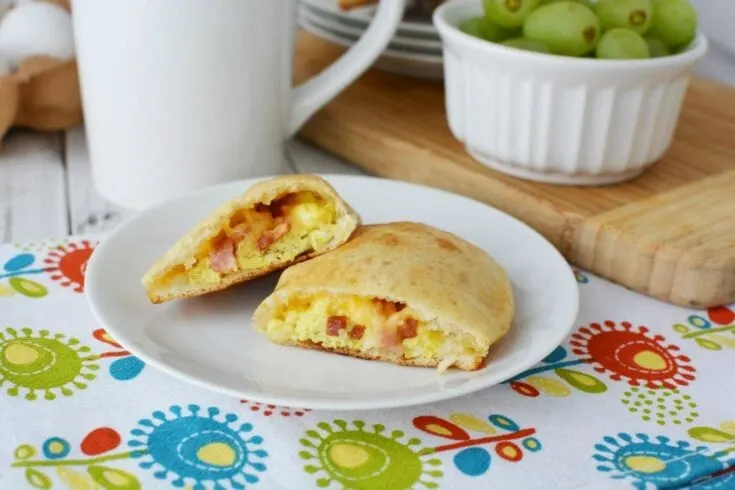 Make the calzones the night before so they are oven-ready for busy mornings. Bacon, egg, and cheese calzones can be a hand-held breakfast once they cool down.
Ingredients
13.8 oz pizza dough, 1 tube of prepared dough
6 eggs
1/4 cup milk
1/2 cup shredded cheese
6 slices bacon, chopped
salt and pepper
Instructions
Preheat oven to 350 degrees and line a baking sheet with parchment paper. Set aside.
Place the egg white of one egg into a small bowl and set aside. Place the yolk, with the remaining 5 eggs into a mixing bowl. Add milk, salt, and pepper and beat well. Heat in a nonstick skillet over medium heat, stirring constantly until eggs are cooked. Remove from heat and set aside.
Unroll the pizza dough and spread it out with your fingers. Place a 4" round cookie cutter onto the dough and make sure you can cut 8 circles out of the dough. If not, spread the dough out a big more, so 8 circles will fit. Cut out dough and fill each half with eggs, bacon, and cheese, dividing evenly among the 8 rounds.
Fold the dough over to create a half moon and secure the edges with a fork. Place onto a baking sheet. Whisk the egg white and use a pastry brush to brush the tops of the dough. Poke holes into the center.
Bake for 16-18 minutes or until bottoms begin to brown. Let set for a minute or two, because the filling inside will be hot, before serving.
Nutrition Information:
Yield:
8
Serving Size:
1 calzone
Amount Per Serving:
Calories:

377
Total Fat:

19g
Saturated Fat:

7g
Trans Fat:

0g
Unsaturated Fat:

11g
Cholesterol:

156mg
Sodium:

578mg
Carbohydrates:

38g
Fiber:

1g
Sugar:

1g
Protein:

13g
Nutrition facts are an estimate only.
Read Next: Add This Sandwich to Your Healthy Breakfast Recipes!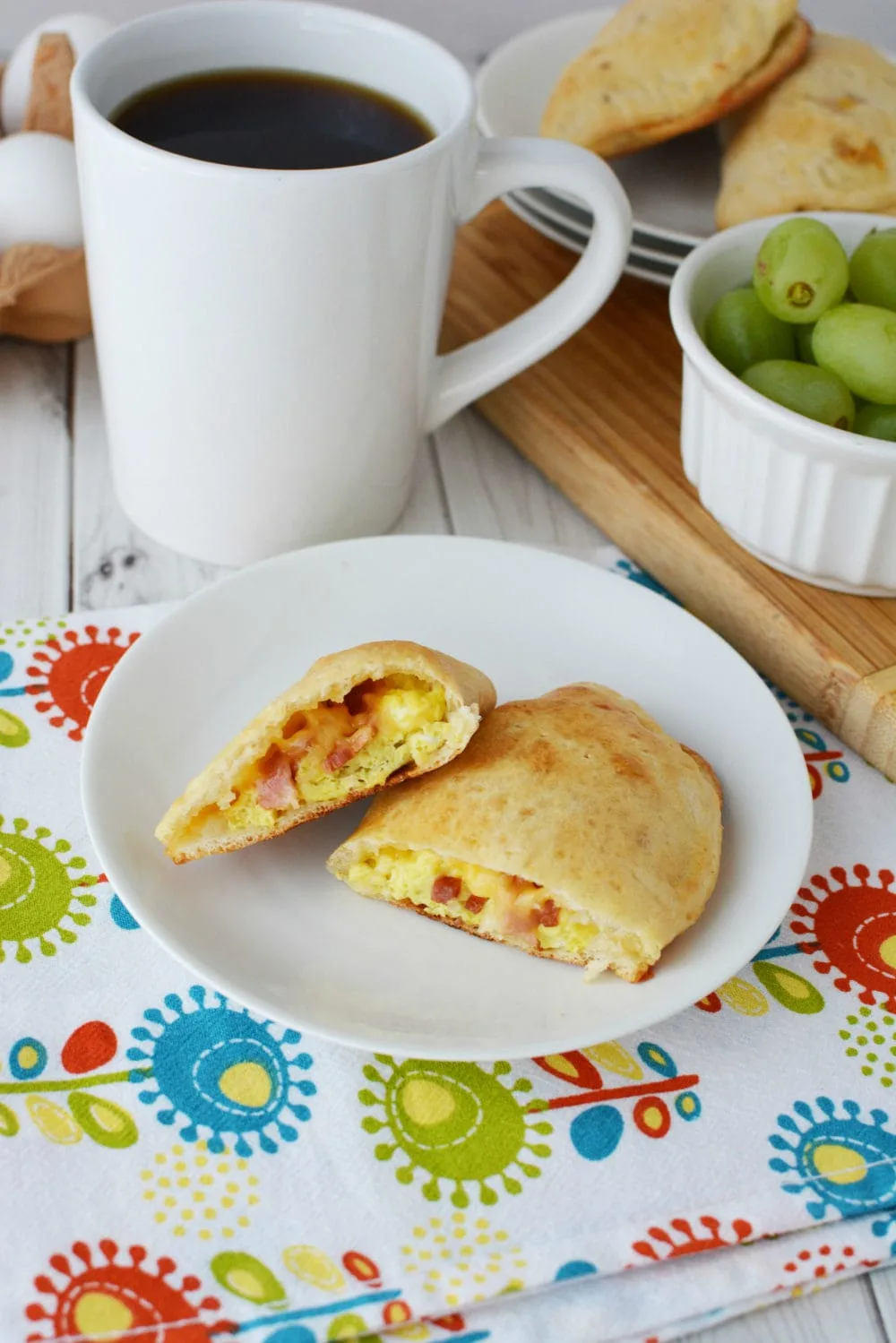 Play around with ingredients for your breakfast calzones.
Replace the bacon with sausage, add some veggies, or make them picky-eater-style with egg and cheese only.
Let us know what you come up with by leaving a comment below.