Smoothie bowl, anyone? Here we have a delicious cinnamon roll smoothie bowl for you to add to your list of breakfast ideas. This bowl of goodness is the last of our cinnamon roll inspired recipes for a while.
Hopefully, we've given all lovers of cinnamon rolls some new ways to enjoy the delicious flavor of the legendary baked good.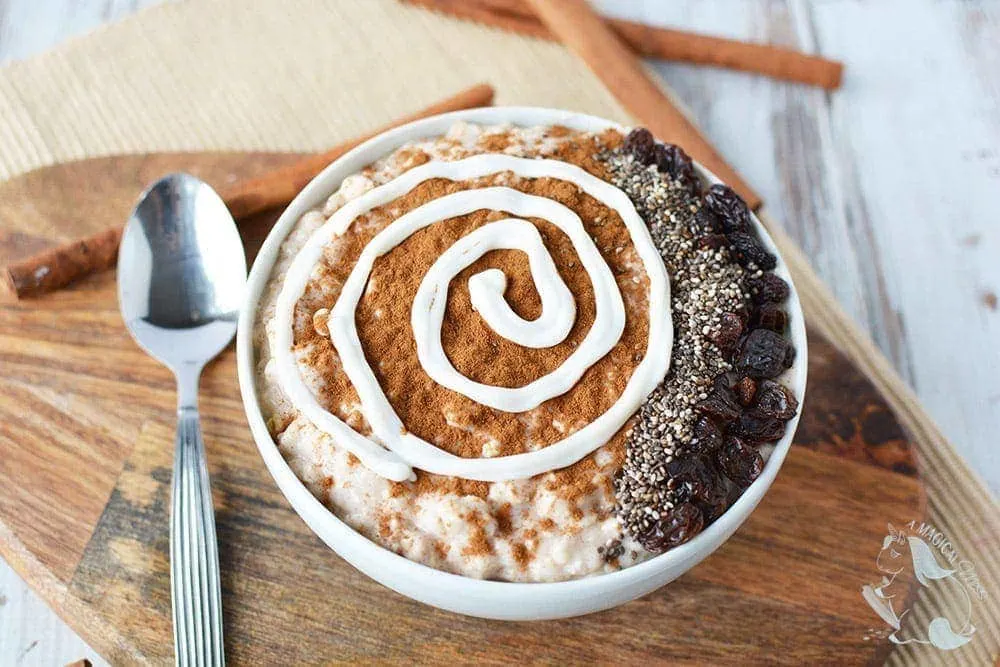 Slow Down with a Smoothie Bowl
I absolutely love to drink smoothies. However, I usually end up hungry shortly after drinking one. Smoothie bowls are heartier and more filling.
In an effort to cut down on snacking and stop grazing all day, I look for more filling meals. Breakfasts that leave me satisfied without counting down the minutes until lunch are winners for me.
Sitting down with a spoon and a smoothie bowl also encourages more mindful eating. It's so easy to aggressively slurp down a smoothie while multi-tasking or on-the-go.
With a smoothie bowl, you have to focus and be a lot more present while eating. Instead of racing out the door with a cup in hand, take a moment to sit at the table to savor the goodness.
As with our other cinnamon roll inspired goodies, the swirl is what makes it so visually appealing.
Smoothie bowls are typically quite gorgeous, but the swirly yogurt topping levels it up to irresistible. One can definitely consider this an Instagram-worthy breakfast shot.
For another filling option, try this sweet potato breakfast bowl. It's gluten-free, vegan, and packed with flavor and nutrients!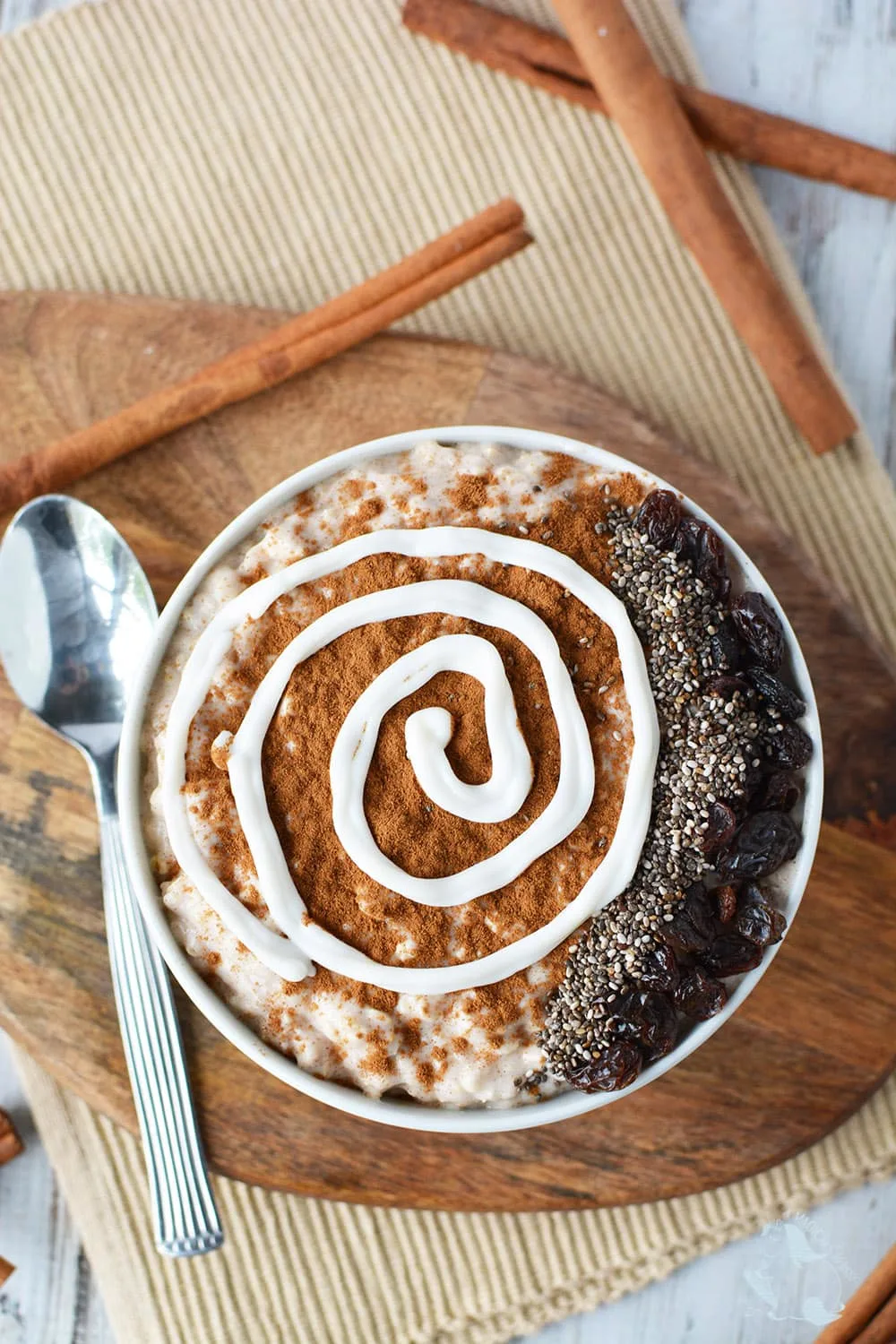 Don't Skip the Chia Seeds
The topping of this smoothie bowl contains chia seeds, and that's not just because they look cool. Tiny chia seeds pack a big nutritional punch.
Chia seeds are an excellent source of omega-3 fatty acids, rich in antioxidants, and they provide fiber, iron, and calcium.
Read more about the benefits of chia seeds here.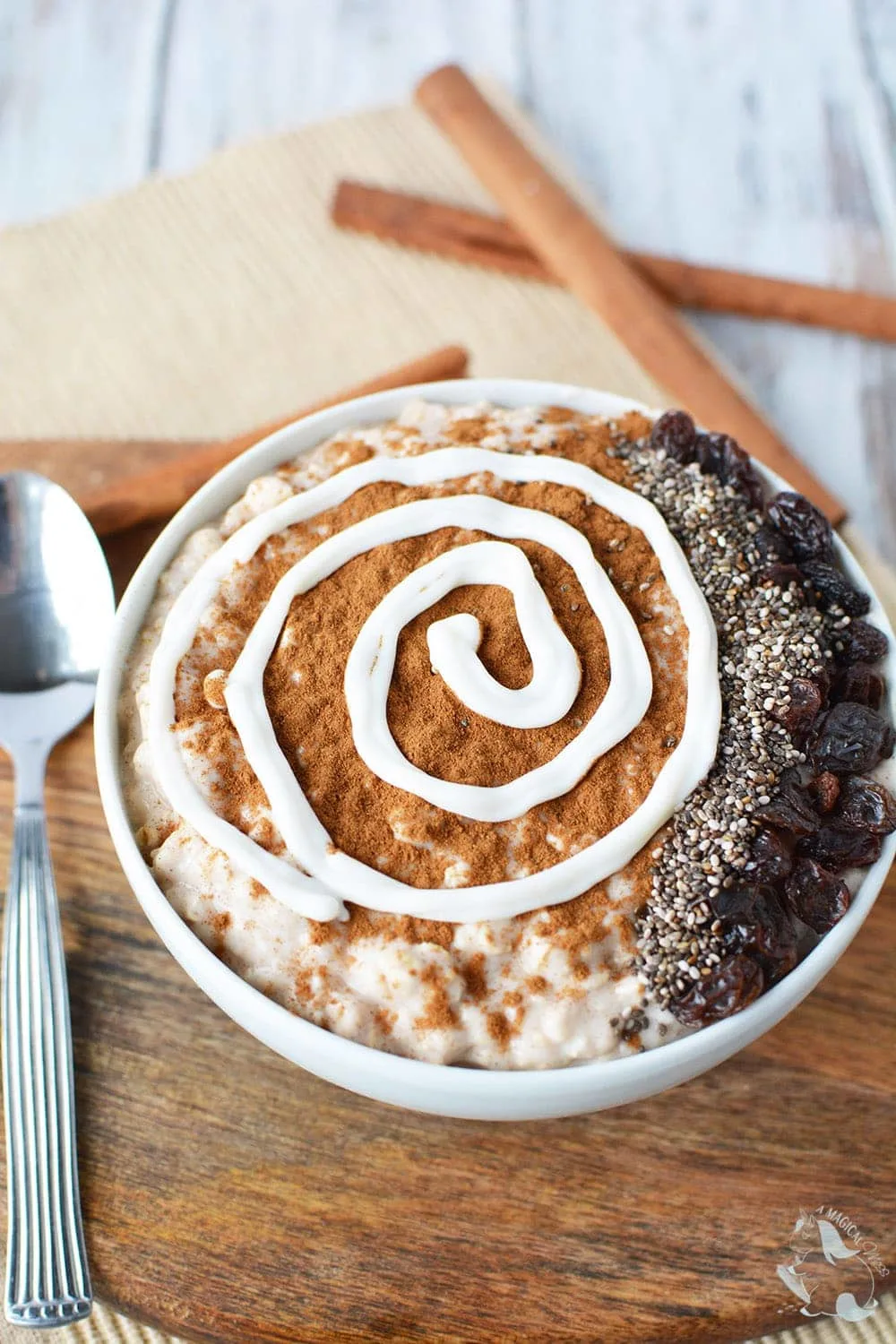 More Recipes if you Love Cinnamon Rolls: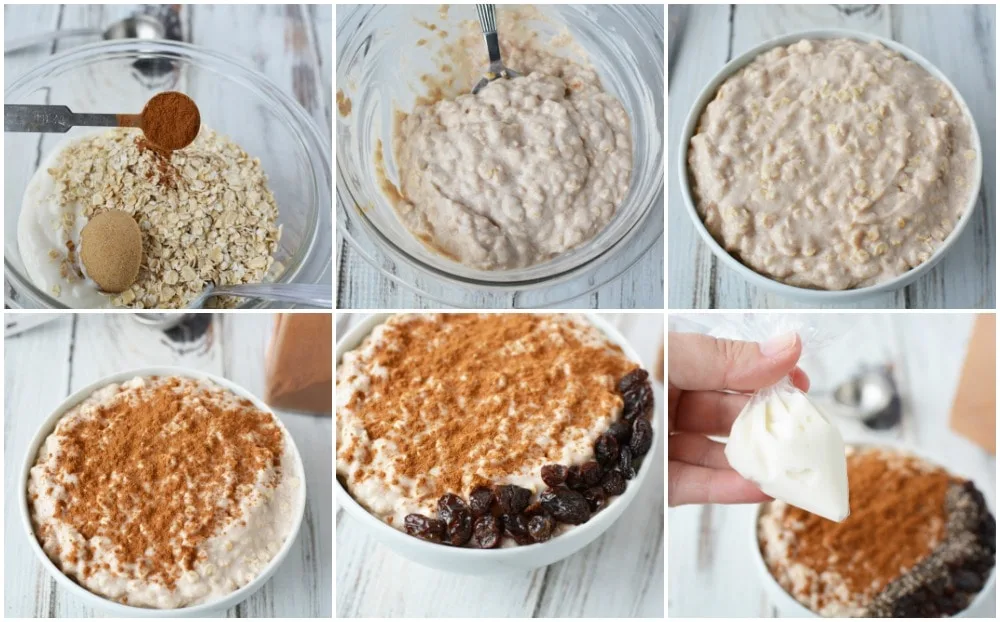 Yield: 1 bowl
Cinnamon Roll Smoothie Bowl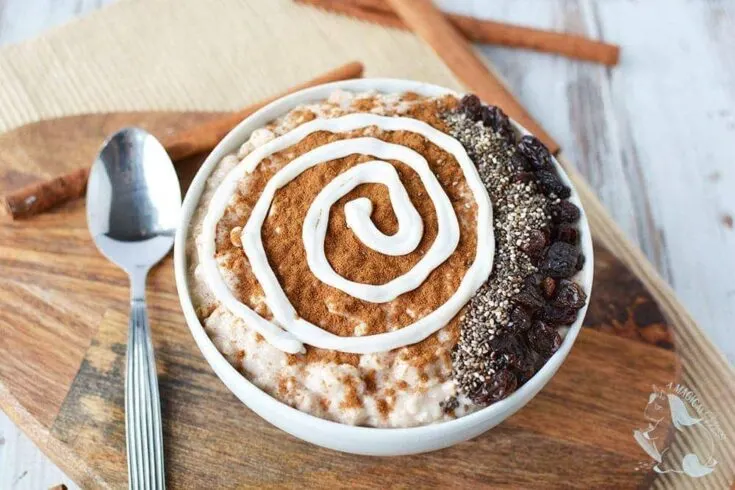 A hearty and filling cinnamon roll smoothie bowl breakfast recipe.
Ingredients
1 cup vanilla Greek yogurt, plus 1 tablespoon for topping
1/2 cup quick cooking oats
1 tablespoon brown sugar
1/2 teaspoon ground cinnamon, plus extra for dusting
1 teaspoon chia seeds
20 raisins, or however many you want
Instructions
Mix yogurt, oatmeal, brown sugar, and 1/2 teaspoon cinnamon together. Spoon into a bowl. Dust with additional ground cinnamon. Line the edge of the bowl with raisins and chia seeds.
Place 1 tablespoon yogurt into a resealable bag and snip the corner with scissors. Drizzle a swirl onto the top.
Recommended Products
As an Amazon Associate and member of other affiliate programs, I earn from qualifying purchases.
Nutrition Information:
Yield:
1
Serving Size:
1 bowl
Amount Per Serving:
Calories:

2967
Total Fat:

8g
Saturated Fat:

1g
Trans Fat:

0g
Unsaturated Fat:

4g
Cholesterol:

7mg
Sodium:

178mg
Carbohydrates:

746g
Fiber:

39g
Sugar:

542g
Protein:

52g
Nutrition facts are an estimate only.
Be sure to share this recipe with your friends and family. Please let us know if you try this smoothie bowl and feel free to tag us in any recreations.
Pin to save and share!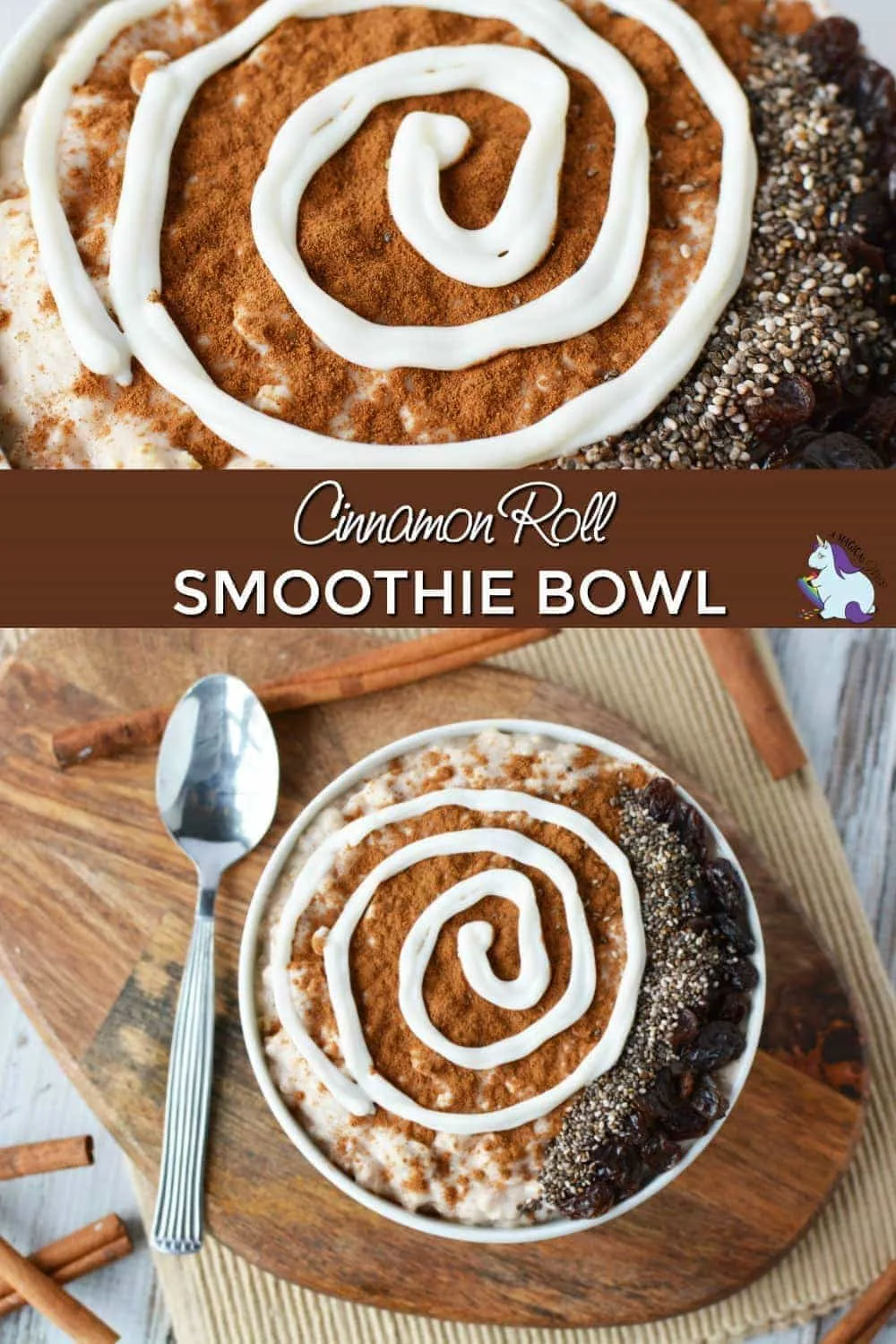 What else should we make with a cinnamon roll swirl? We pretty much ran out of ideas, but will surely try more if you give us some suggestions!
Have you ever had a smoothie bowl? What are your favorite ingredients?