New year, new no-bake cookie dough recipe. This one is for the M&M lovers out there. This cookie dough dip is packed with colorful candies sure to brighten up any party or gathering.
In fact, the dough is so flavorful, it doesn't even require dippers. Get your tiny spoon and dig in.
For the Love of No-Bake Cookie Dough
Nothing pleases my inner eight-year-old more than edible cookie dough. It's strange how little my palate has evolved since childhood.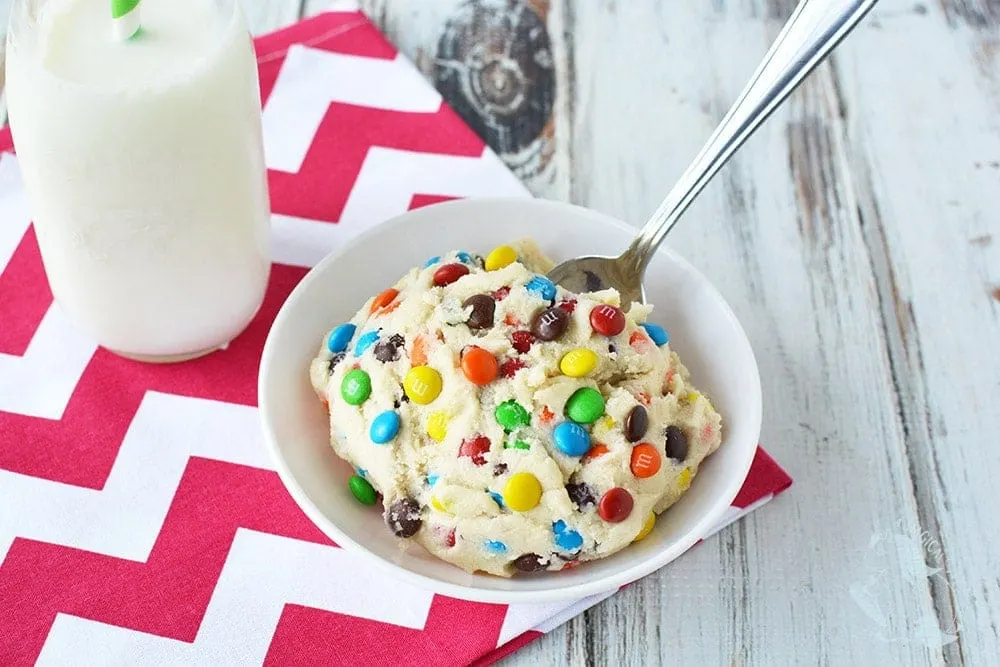 While most adults can't wait to try exotic cuisines, I'm over here making sure my food doesn't touch and trying to eat all the dough I was denied during my youth.
There are several reasons why we love cookie dough dips. One of which is that they are no-bake desserts.
When you want to whip up a dessert to serve or bring to a party, sometimes it's a game changer when the oven isn't required.
No-bake cookie dough is also something you don't often see at parties. It's usually a conversation starter because people are used to baked goods.
You can tell who else wasn't allowed to lick the spoon by how excited they get over the cookie dough goodness. The green light to eat raw cookie dough without fear is enough to bring extra joy to any get-together.
If the M&Ms make this recipe too sweet for you, give this edible sugar cookie dough a try. Any mix-ins are totally optional on that one.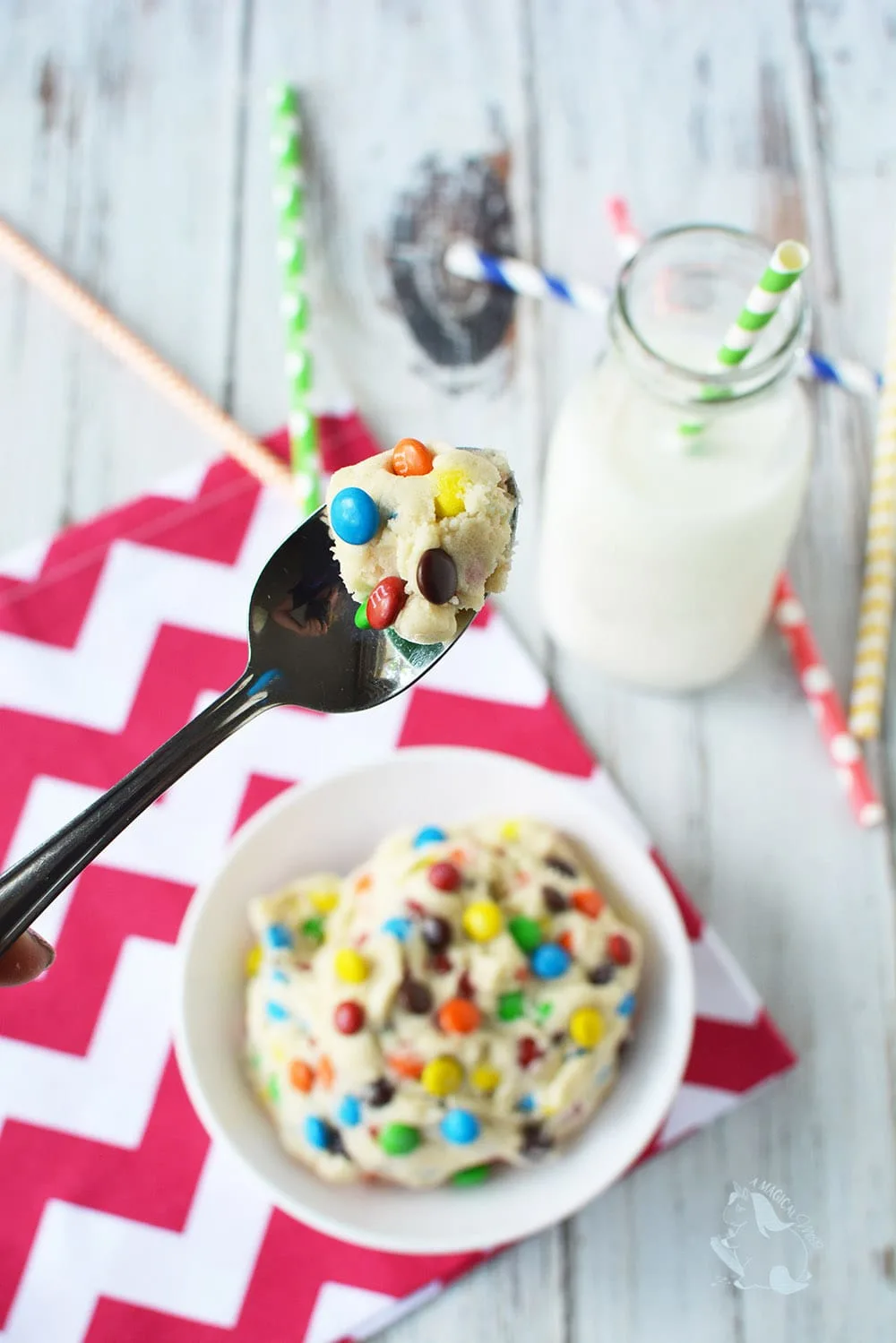 There's a small chance this recipe might contain too many M&M's, but you be the judge. We may have gotten a bit carried away when adding the candies.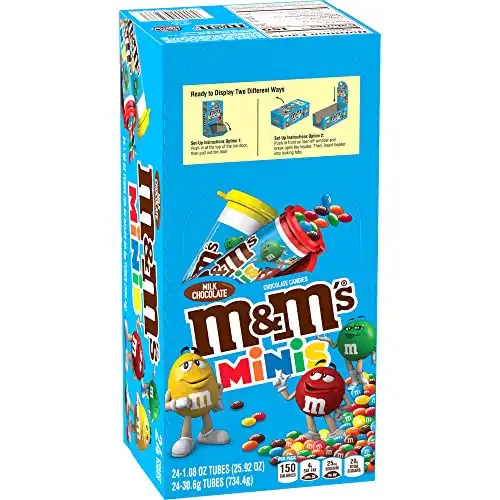 We earn a commission if you make a purchase, at no additional cost to you.
A possible option is to use a tube of mini M&M's. If you want to taste more dough than candy, we recommend using about 1/4 cup.
Again, using a tasting spoon is enough for this indulgent cookie dough. Possible dippers to serve as an option include graham crackers, animal crackers, butter cookies, or even pretzels for the salty-sweet combo.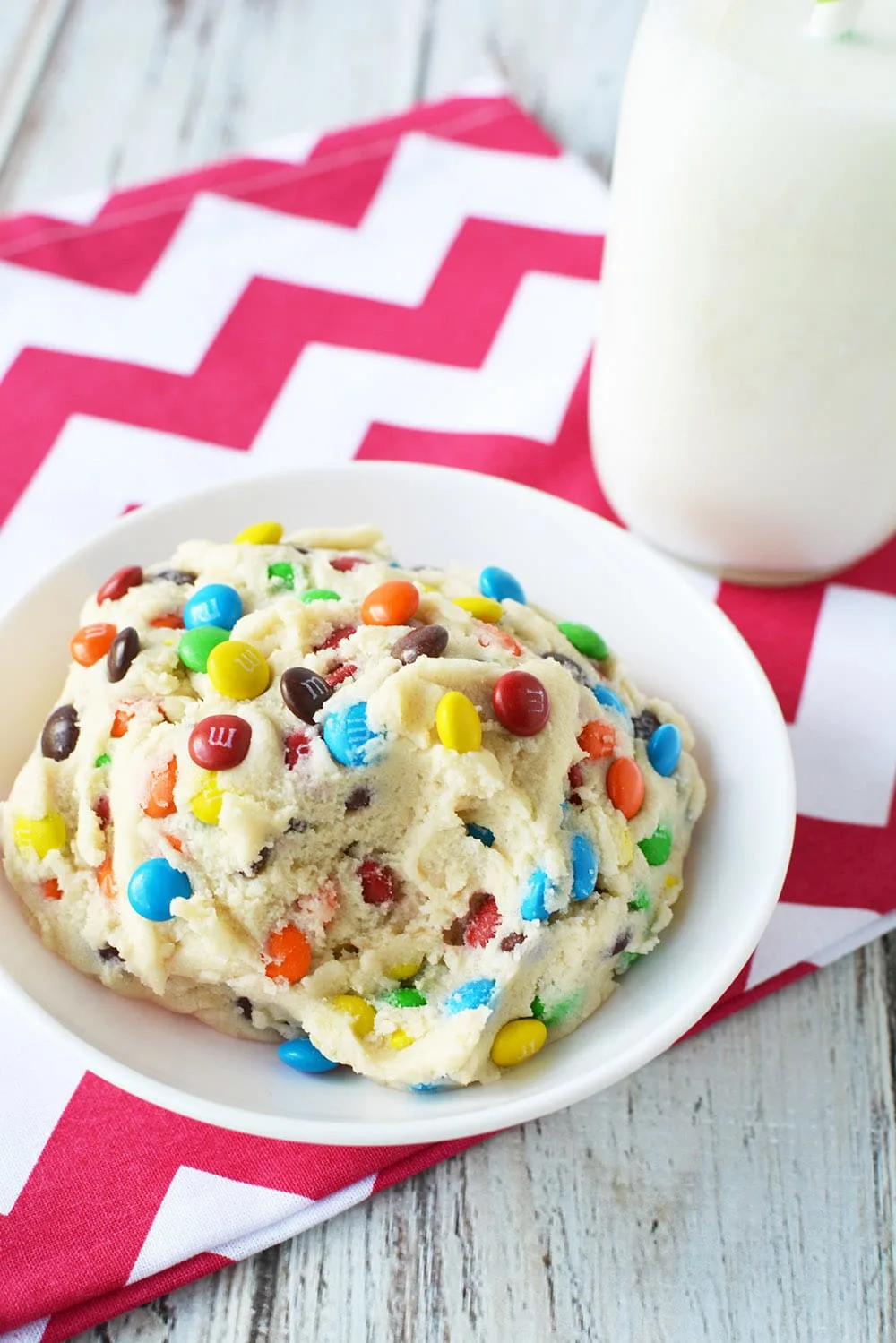 No Bake Cookie Dough Recipes: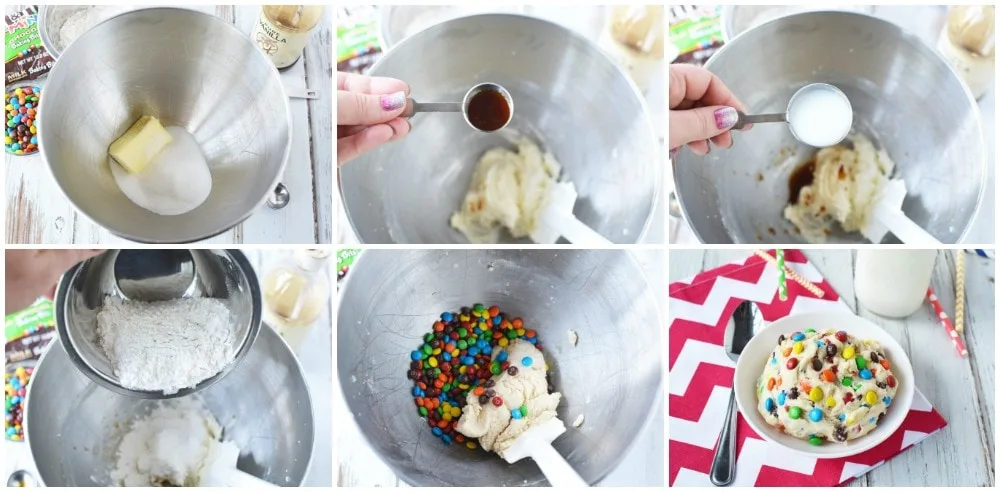 Yield: 6 people
M&M's No Bake Cookie Dough Dip Recipe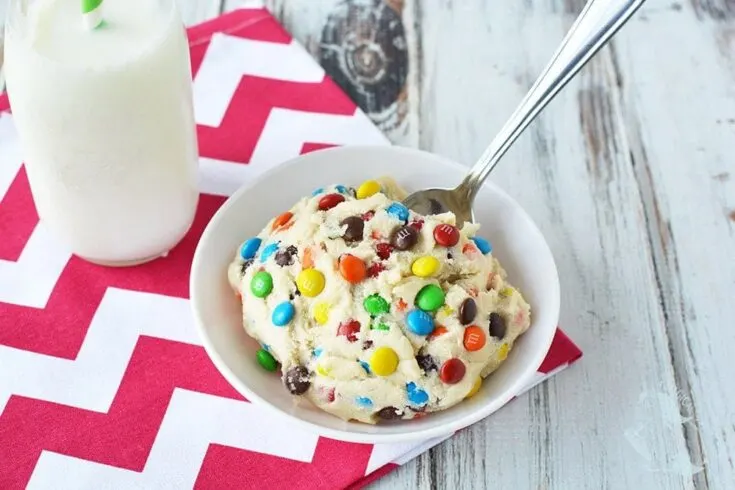 No bake cookie dough that's safe to eat raw. Serve as a dip or eat with a tiny spoon.
Ingredients
4 tablespoons butter, softened
1/4 cup sugar, white
1 teaspoon vanilla
1 tablespoon milk
1/2 cup flour
1/4 teaspoon salt
1/2 cup mini M&M baking bits
Instructions
Beat butter and sugar in a mixing bowl for 3 minutes, scraping down sides as necessary. Add vanilla and milk and beat well.
Spread flour on a baking sheet. Bake at 350 degrees for 5 mins to kill off any harmful bacteria. Let cool before adding to the ingredients.
Add toasted flour (see above - important for safety) and salt in a small bowl and mix well. Add flour mixture to the dough and beat until mixed well. Fold in M&M candies.
Eat by the spoonful.
Notes
Quite possibly too many M&M's were used in this recipe. Decrease to 1/4 cup of candies if you like to taste more dough.
Doesn't need more than a spoon, but feel free to serve with your choice of dippers.
Decreased the salt from 1/2 tsp to 1/4 because many people said it was too salty. Add more if you need to.
Recommended Products
As an Amazon Associate and member of other affiliate programs, I earn from qualifying purchases.
Nutrition Information:
Yield:
6
Serving Size:
1 person
Amount Per Serving:
Calories:

227
Total Fat:

11g
Saturated Fat:

7g
Trans Fat:

0g
Unsaturated Fat:

3g
Cholesterol:

23mg
Sodium:

161mg
Carbohydrates:

29g
Fiber:

1g
Sugar:

20g
Protein:

2g
Nutrition facts are an estimate only.
M&M Raw Dough Recipe Notes and FAQ
Can I bake this into M&M cookies?
No, this recipe does not contain the necessary ingredients to bake cookies. If you want baked M&M Cookies, here is a delicious recipe.
Can I use regular sized M&M candies?
Mini M&M's are ideal for this recipe. Regular sized M&Ms will be too big and bulky for each bite, in my opinion.
Do I have to heat-treat the flour?
Yes, you have to heat-treat the flour to kill any bacteria that may be present. Since this is a no-bake recipe, the flour must be heat-treated before use. Do not skip this step.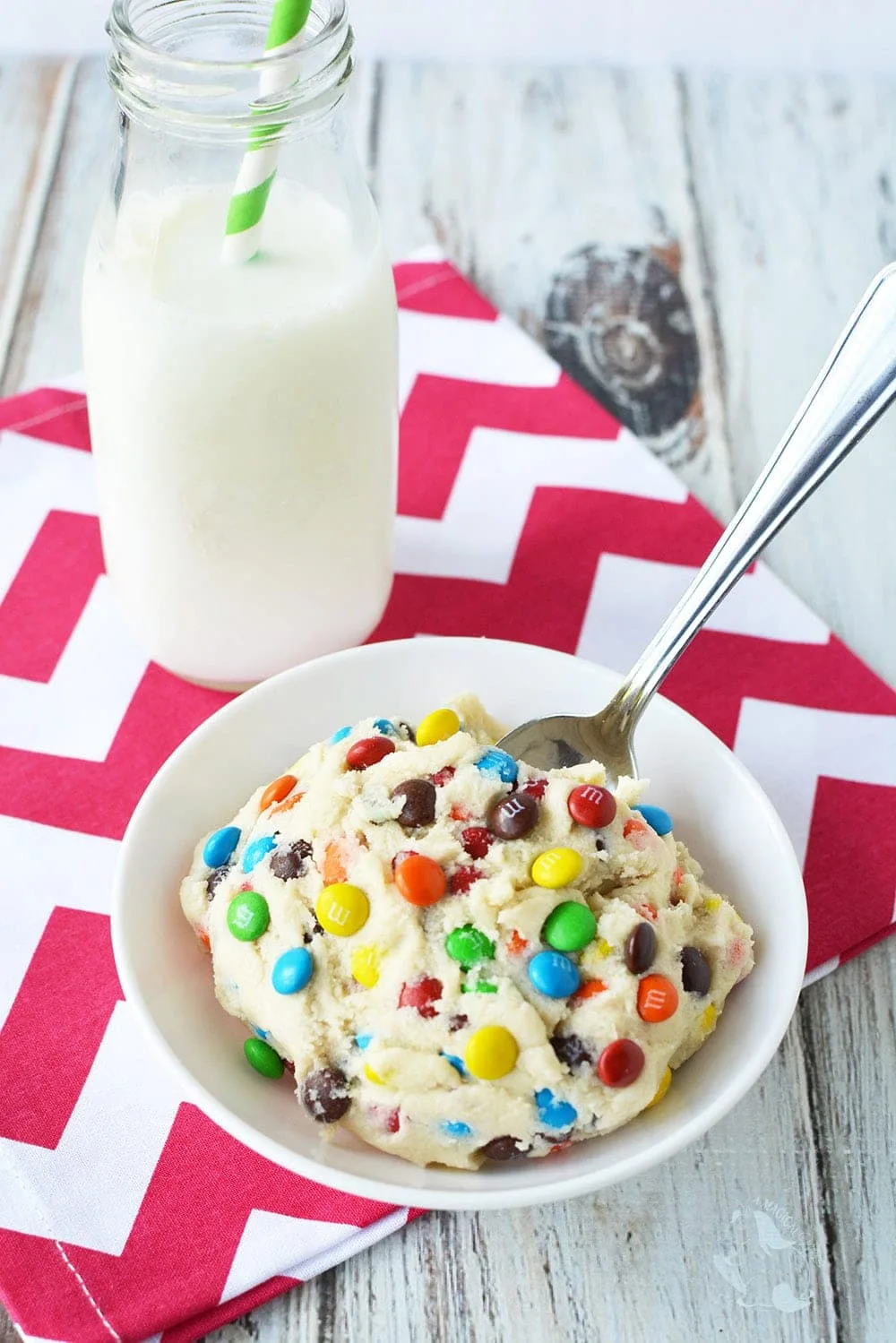 Share this recipe with your M&M loving friends and family.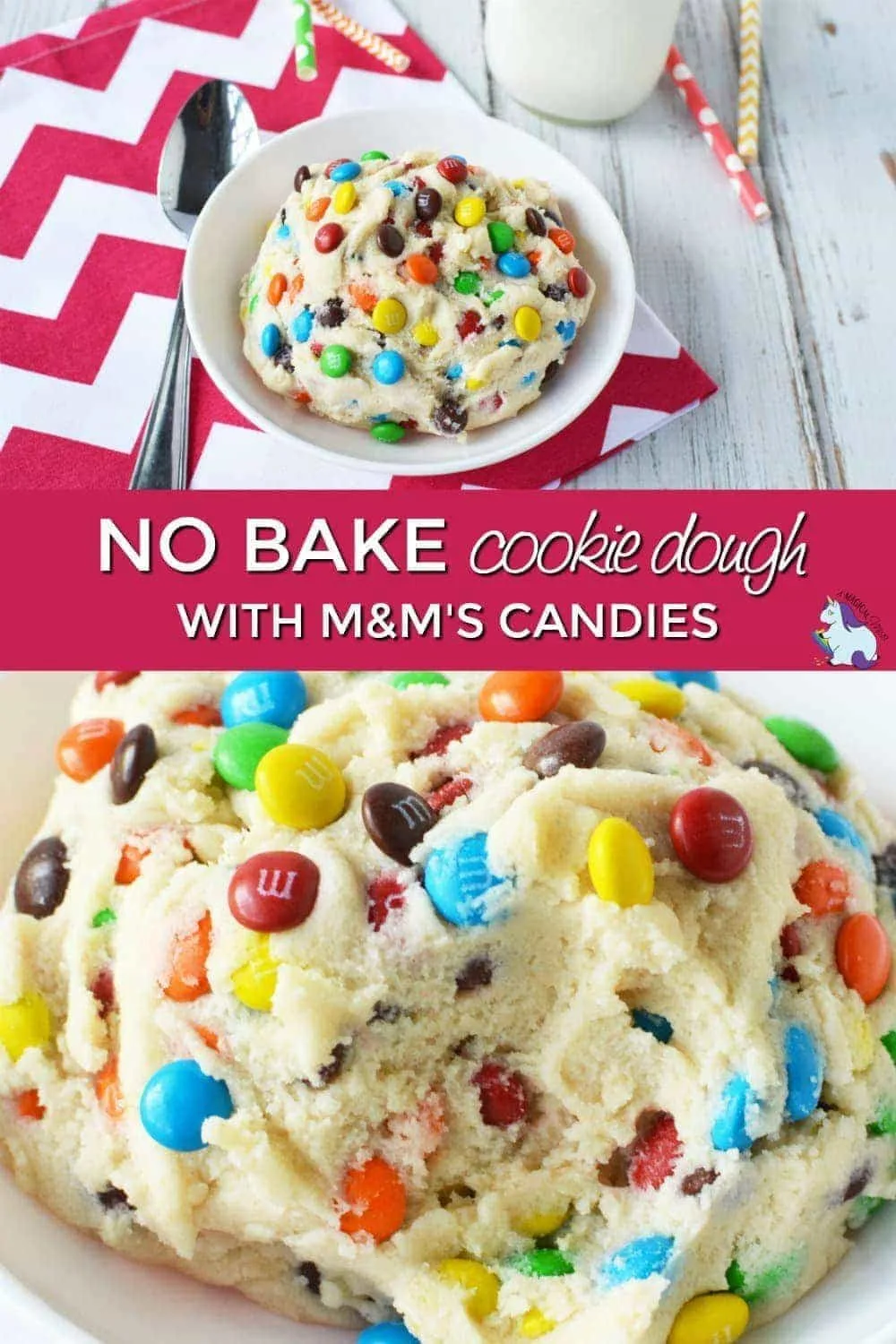 Be sure to subscribe to the blog for more recipes like this.
Tag us in your creations and comment to let us know if you try this no-bake cookie dough recipe!