This addicting cinnamon roll French toast recipe is one we use for almost every sleepover party breakfast. It's easy to keep the ingredients on hand, and this morning treat is always a crowd pleaser. No matter who spends the night, the request from my both my son's and daughter's friends is the same: Can we pleeease have the cinnamon roll French toast again?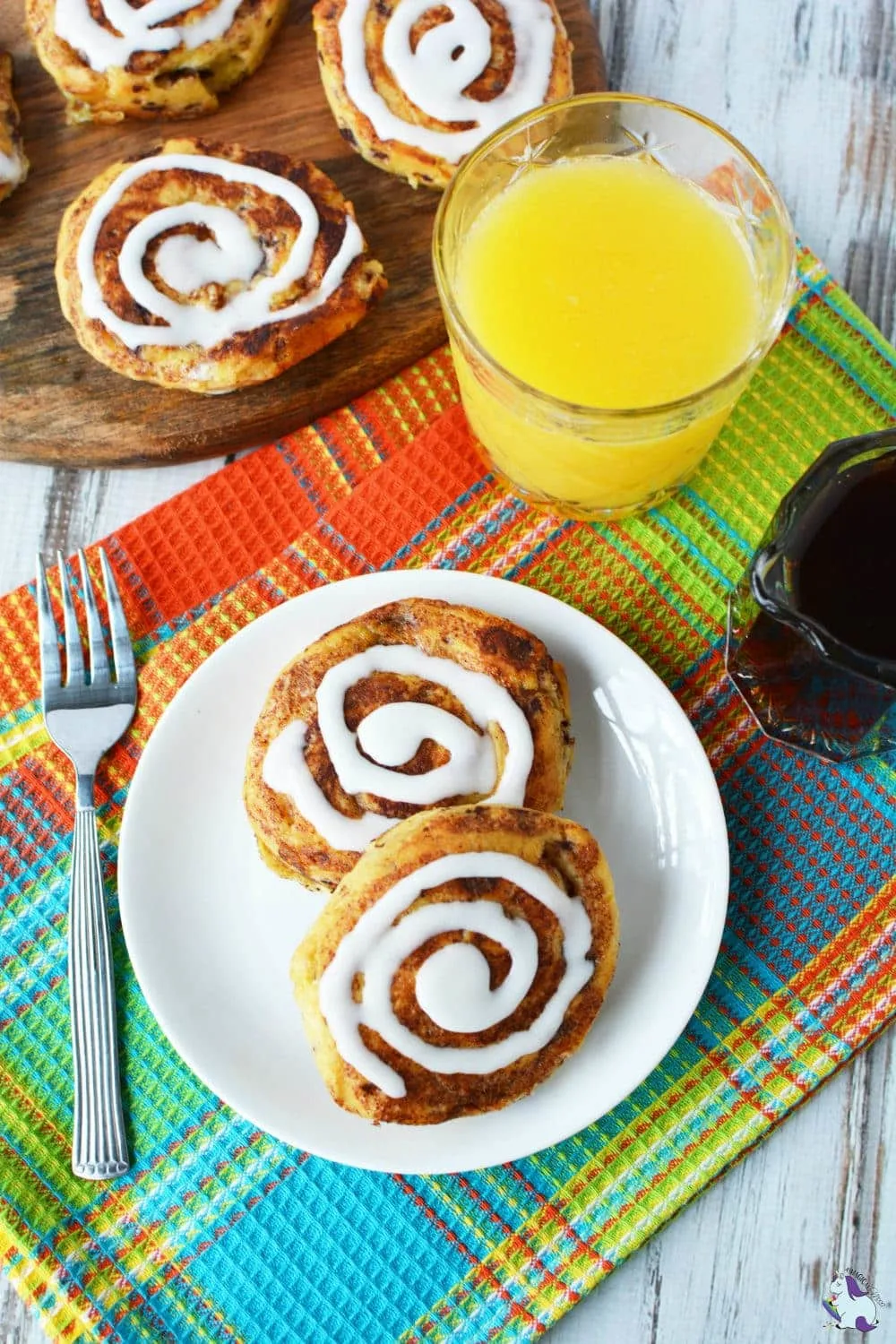 Love French Toast? Try these recipes, too:
Super Easy Cinnamon Roll French Toast
Cinnamon rolls on their own are a classic treat, but when you're looking to dress them up for breakfast, the transformation is simple. This hybrid of two epically awesome foods is pretty much impossible to mess up.
The origin of cinnamon rolls is thought to be in Sweden, where the name for them kanelbulle literally translates to "cinnamon bun." Whereas, French toast has been traced back to the Roman empire. The commonly used French name is pain perdu meaning "lost bread."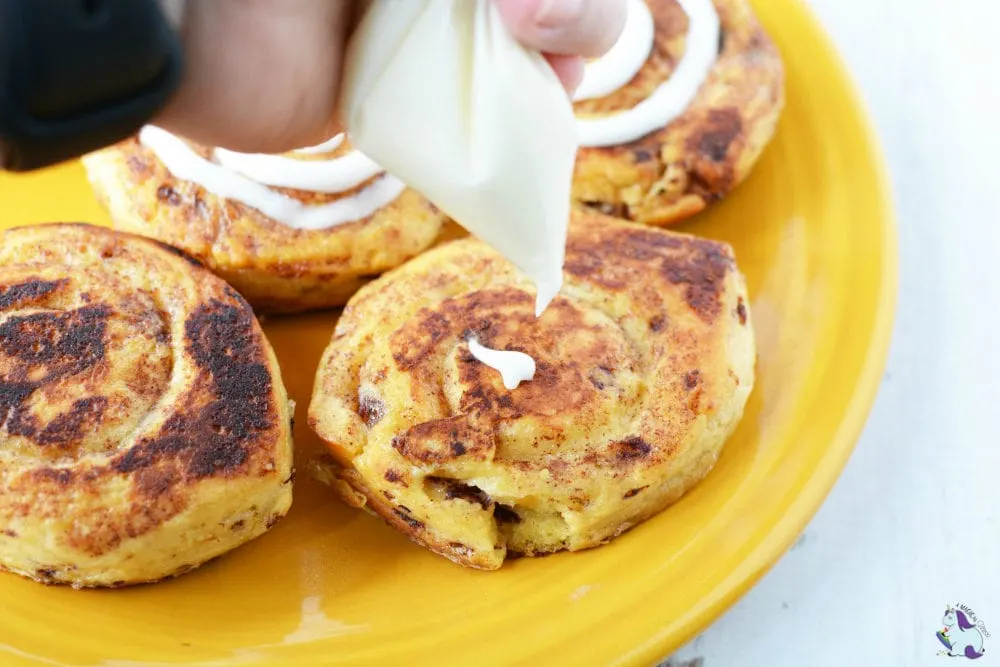 In France, this dish is typically considered a dessert and rarely eaten for breakfast. To be honest, I kind of feel the same way about eating it as a dessert. I usually make a breakfast meat to pair with the sticky goodness of the rolls, otherwise it's just too much sugar to start the day.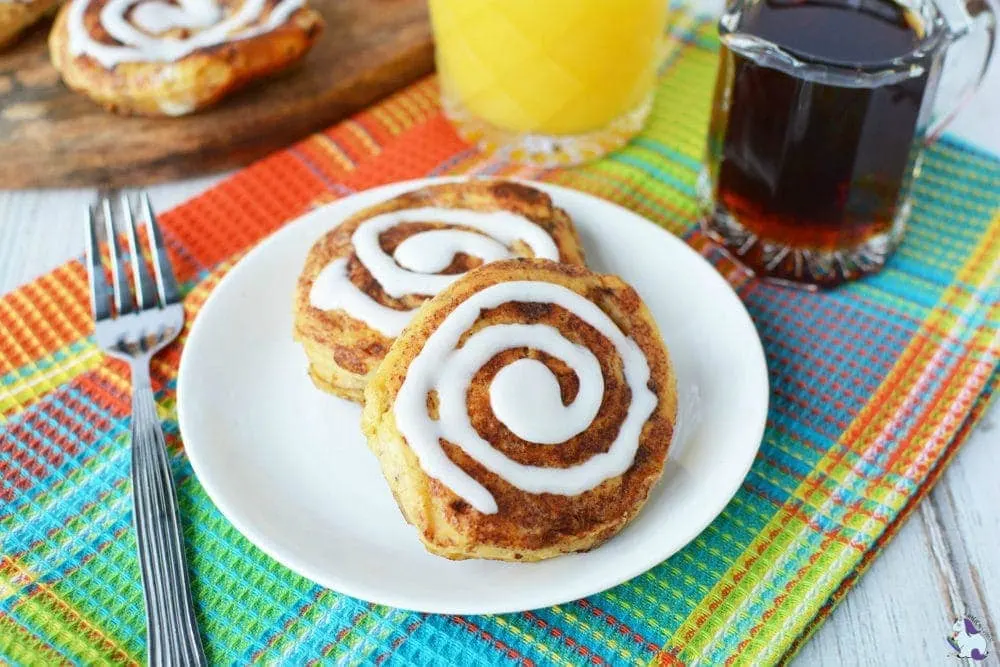 Other Variation Ideas
After thinking about it being too heavy on sugar for breakfast, an idea hit me: If you cut the cinnamon rolls in half along their equator (like a hamburger bun), and prepare them as directed, they can be used to make a sweet and savory breakfast sandwich. Just add egg, cheese, and your favorite breakfast meat–sausage, bacon, or ham would be delicious!
If you're looking for other ways to increase the protein content of your breakfast, try our cinnamon roll pancakes!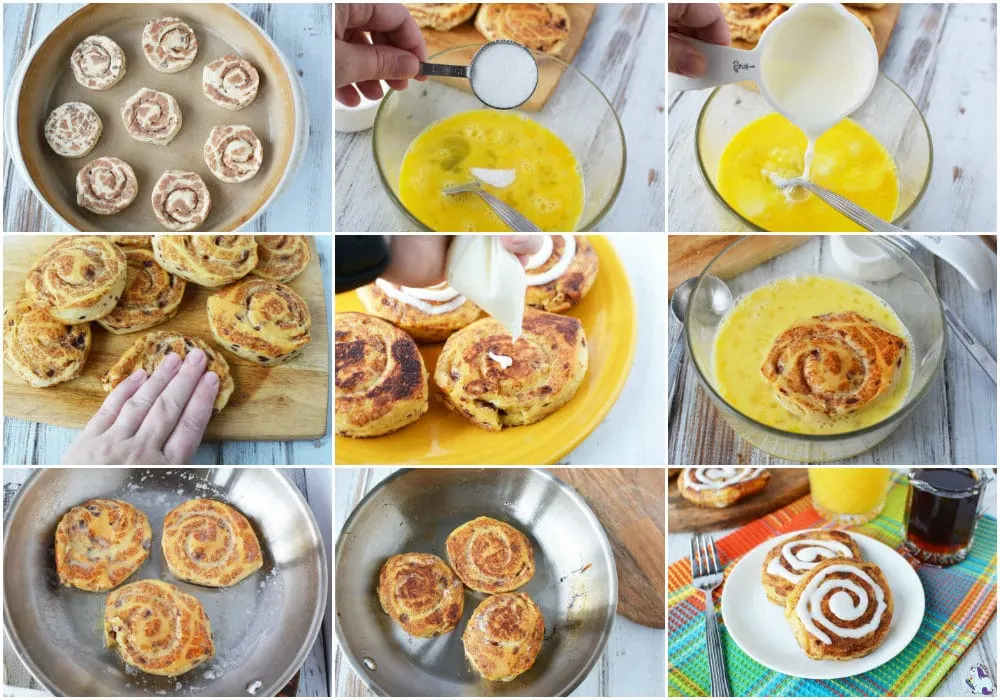 Yield: 8 people
Cinnamon Roll French Toast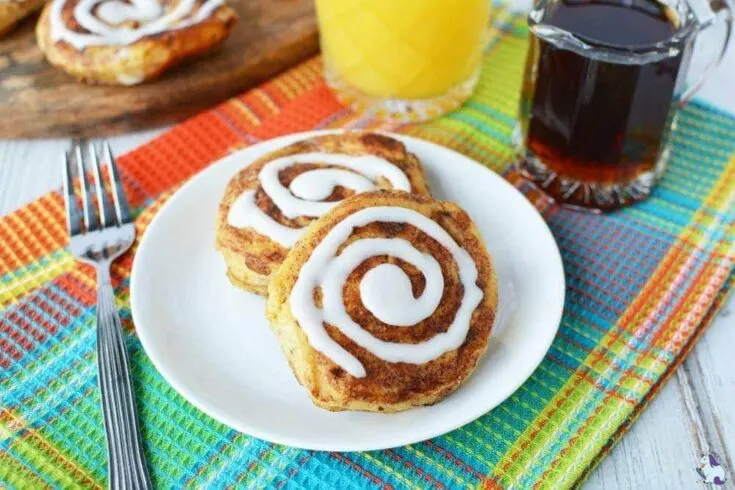 These are super easy to make but if you want them to look like the photos, you'll have to wait for them to cool before adding the swirl of icing. Otherwise, they're still delicious--just not as pretty.
Ingredients
12.4 oz Pillsbury Cinnamon Rolls, 1 tube, original, with icing
1 large egg, beaten
1/4 cup milk
1 tbsp sugar
1 tsp vanilla
Instructions
Bake cinnamon rolls according to package directions. Set aside and let cool. Do not frost.
Once slightly cooled, flatten slightly with hand.
Mix egg, milk, sugar, and vanilla into a shallow bowl.
Grease skillet or griddle with butter or nonstick spray.
Dip cinnamon roll into egg mixture, coating both sides and place onto greased skillet.
Heat on both sides, about 2-3 minutes each, until golden brown.
Place icing into a reusable plastic bag and drizzle in a swirl shape on top of the French toast. (NOTE: If you want pretty swirls, let the cinnamon rolls fully cool before adding the icing.)
Serve with syrup if desired.
Nutrition Information:
Yield:
8
Serving Size:
1 piece
Amount Per Serving:
Calories:

186
Total Fat:

7g
Saturated Fat:

2g
Trans Fat:

2g
Unsaturated Fat:

1g
Cholesterol:

24mg
Sodium:

365mg
Carbohydrates:

29g
Fiber:

1g
Sugar:

14g
Protein:

3g
Nutrition facts are an estimate only.
Read Next: Bodybuilding Breakfast – Apple Cinnamon Protein Pancakes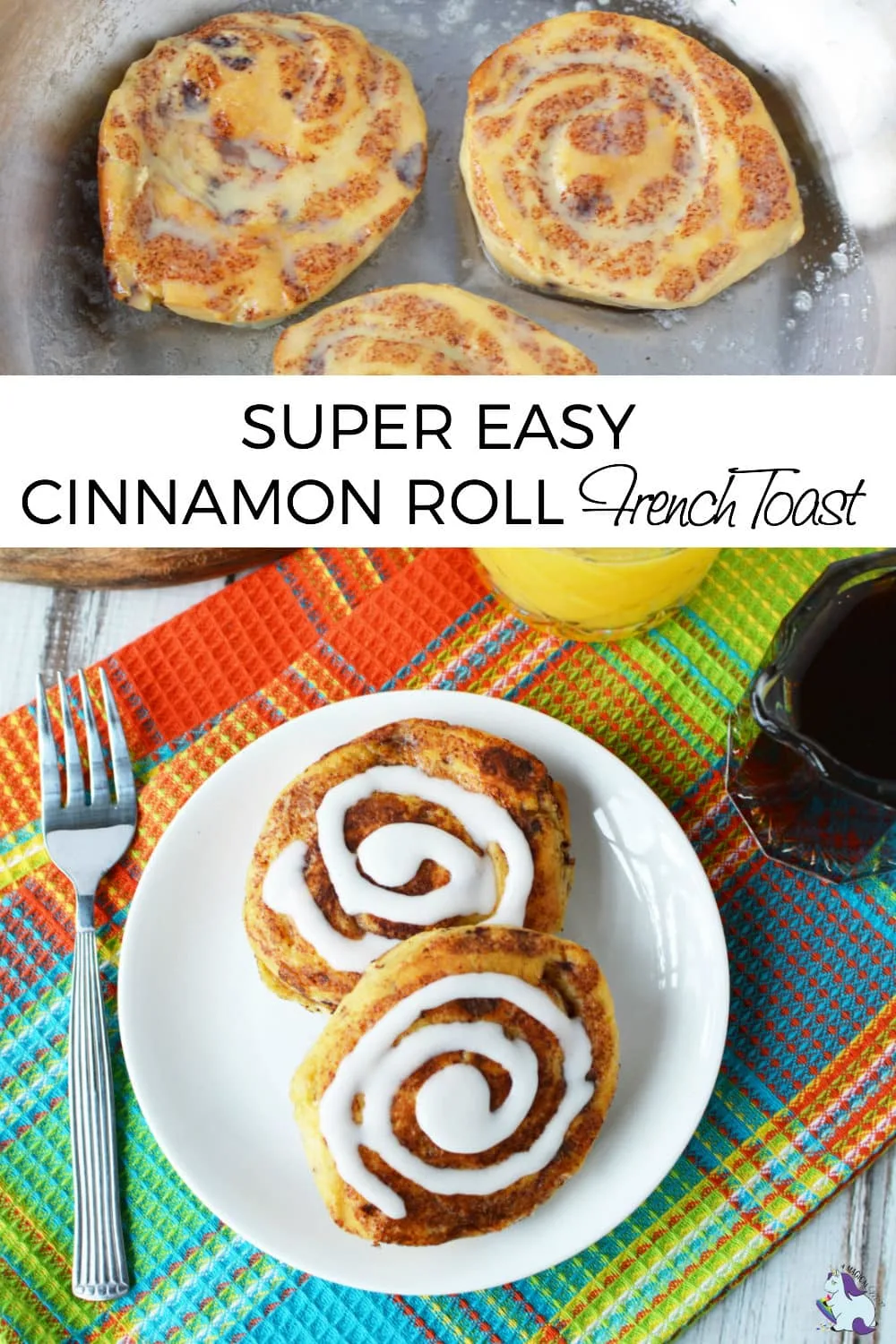 Do you think your family will enjoy cinnamon roll French toast?