If you're a fan of sweet and boozy treats, you will love this recipe for Biscoff cookie RumChata pudding shots! This recipe is a unique and delicious way to enjoy creamy RumChata, with the added bonus of crunchy Biscoff cookie bits.
Whether you're hosting a party or simply want to treat yourself to a tasty dessert cocktail, these pudding shots need to be on your radar. This recipe includes alcohol and should only be consumed by those of legal drinking age.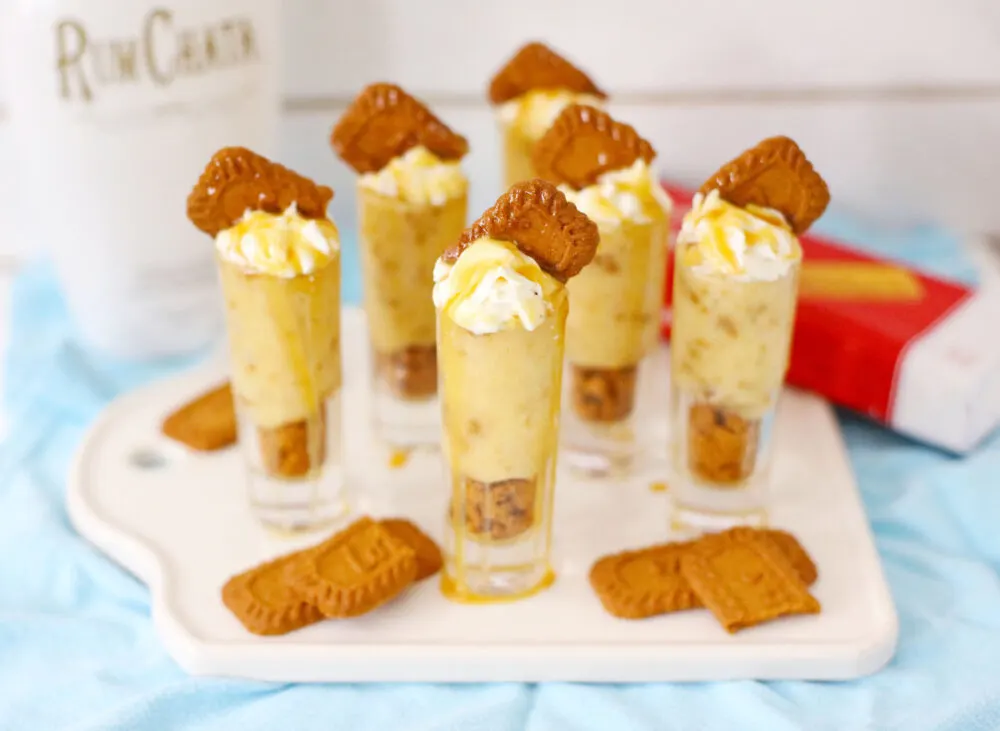 Creamy and Crunchy RumChata Pudding Shots
Just in case you're not familiar with RumChata liqueur, it's a creamy and delicious blend of Caribbean rum and real dairy cream, with a hint of cinnamon and vanilla. It's perfect for mixing into cocktails or enjoying on its own as a dessert drink.
Since this Snickerdoodle RumChata Martini recipe I created years ago is still going strong, I'll assume there's no shortage of RumChata fans! Add in the unique flavor of Biscoff cookies and you've got yourself a real treat.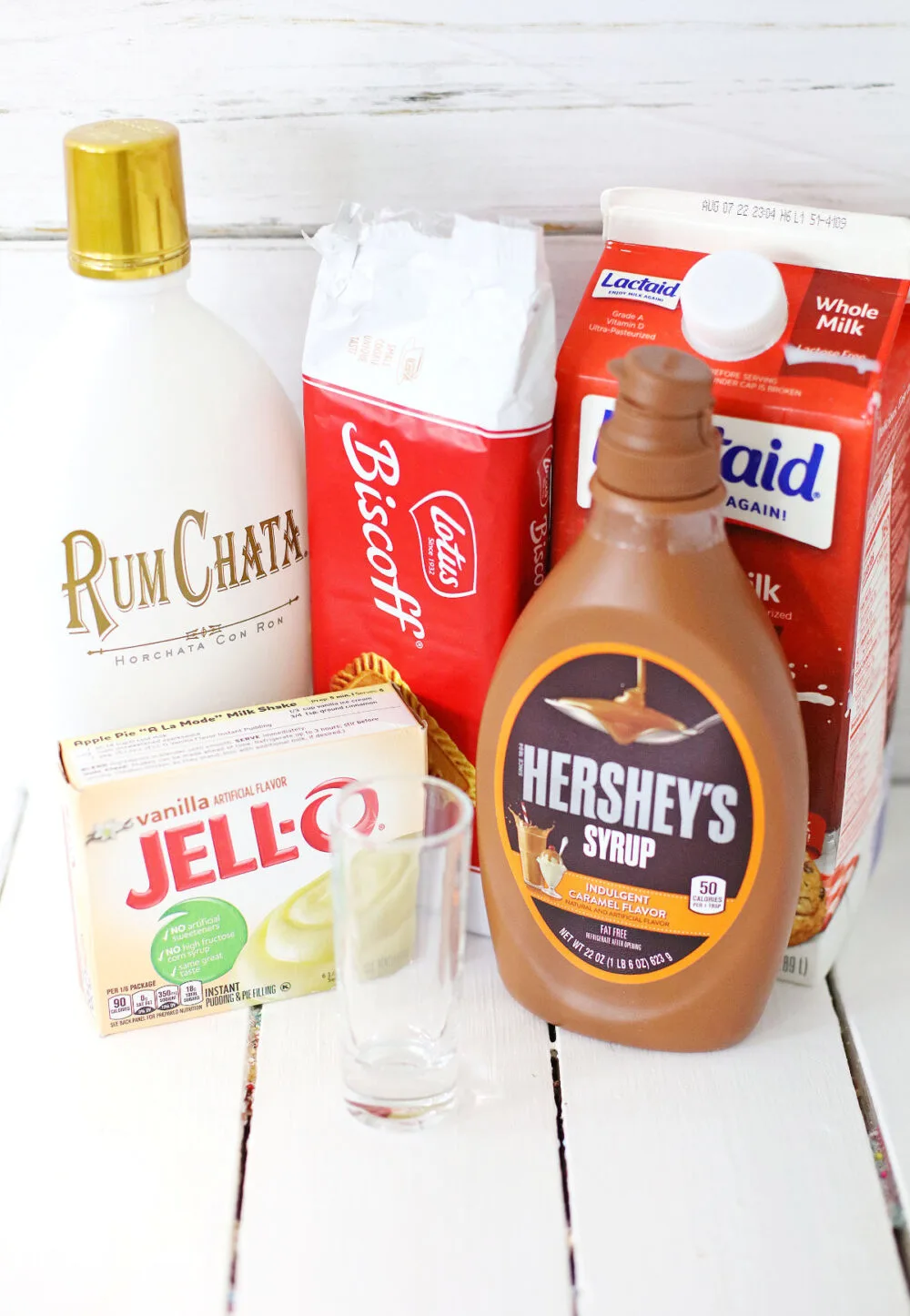 Biscoff Cookie Shots Ingredients
Here's what you need to make this RumChata pudding shots recipe. The measurements are in the recipe card below.
Vanilla Instant Pudding
Milk
RumChata
Biscoff Cookies
Whipped Cream
Caramel Topping
RumChata Cookie Shots Directions
First make the pudding mixture. In the mixing bowl of a stand mixer, combine the vanilla instant pudding, milk, and RumChata.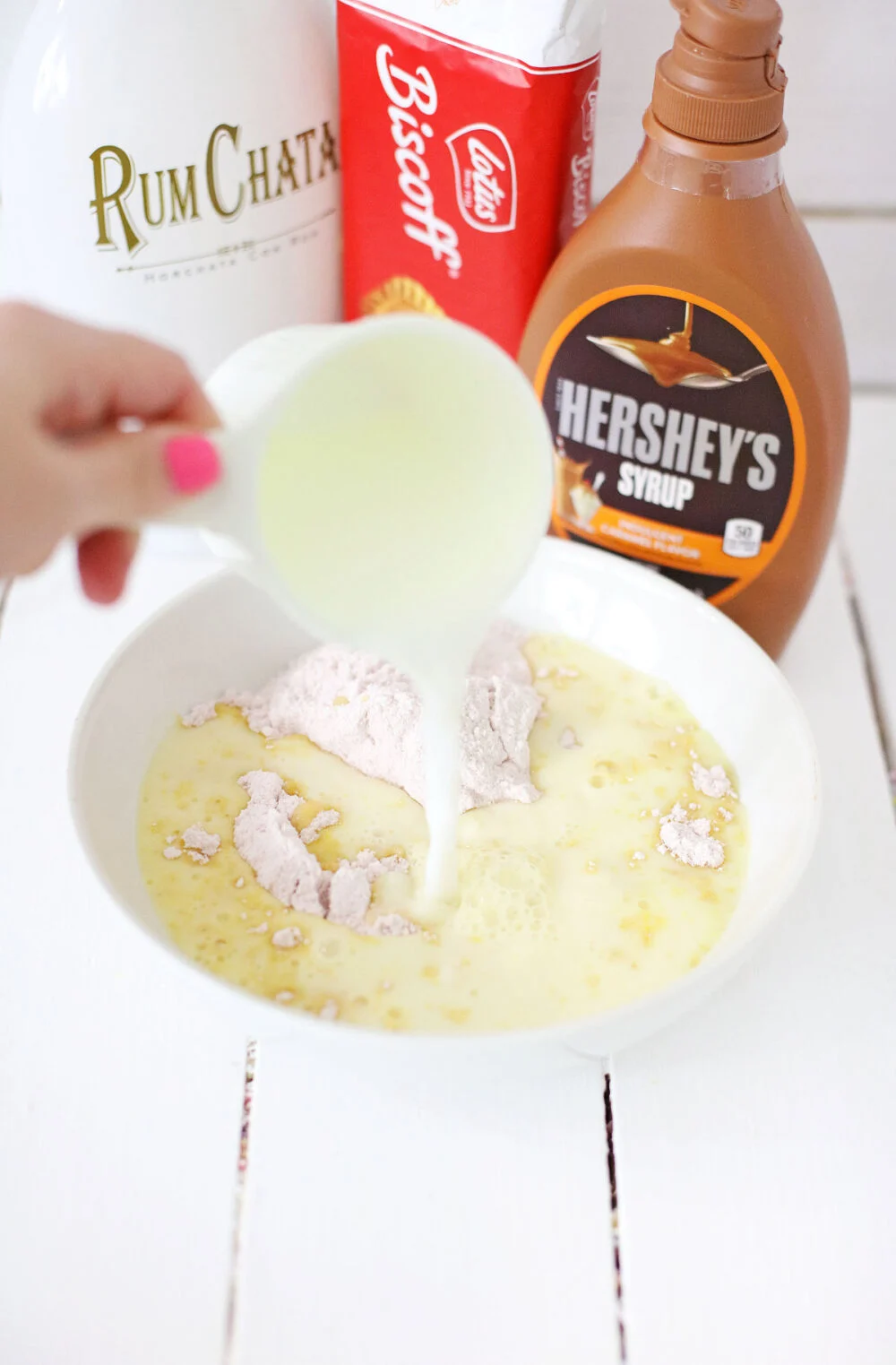 Blend on low speed until the ingredients are mixed together, then turn the mixer to medium-high and continue blending for 1 minute, or until the pudding has thickened to the desired consistency.
Next, make the Biscoff cookie crumbs. In a blender or food processor, pulse one package of Biscoff cookies until they are finely ground and resemble crumbs.
Add half of the cookie crumbs to the pudding mixture in the mixer and blend until they are fully incorporated.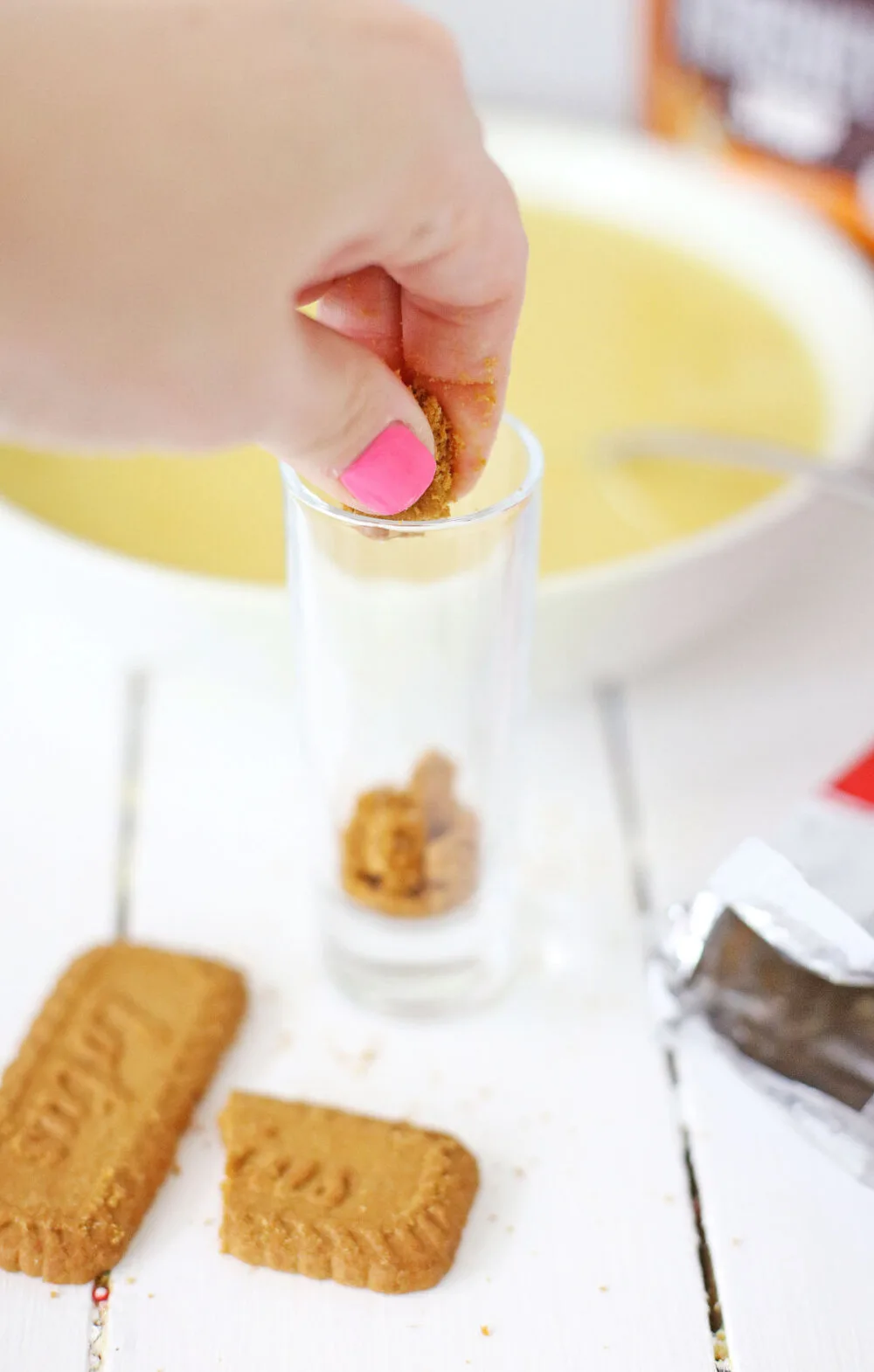 Layer the cookie crumbs and pudding mixture in the shot glasses. To assemble the Biscoff Cookie RumChata Pudding Shots, place a heaping teaspoon of the remaining cookie crumbs in the bottom of each tall shot glass.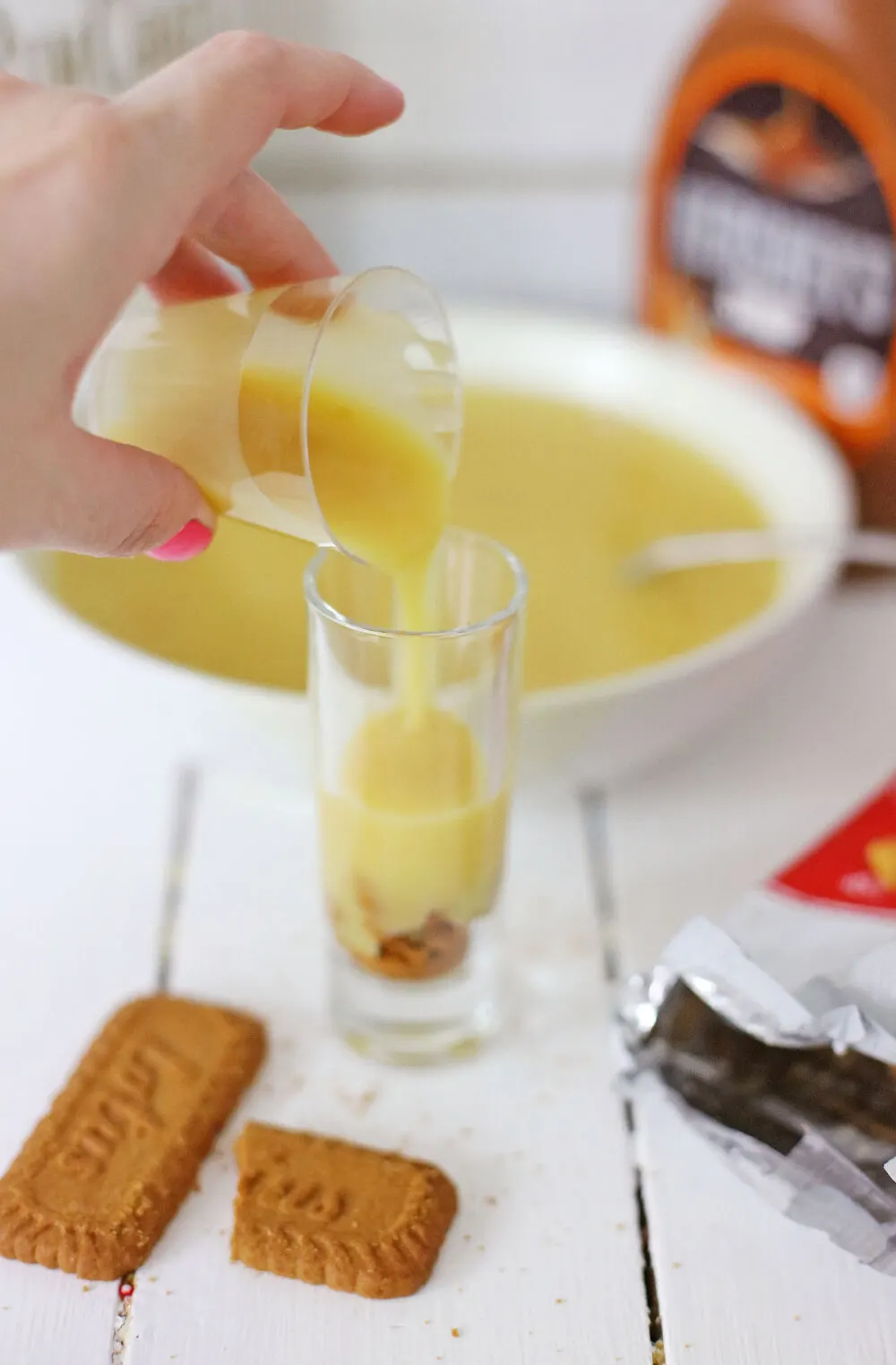 Pour the pudding mixture over the cookie crumbs, filling each glass until it's close to the top.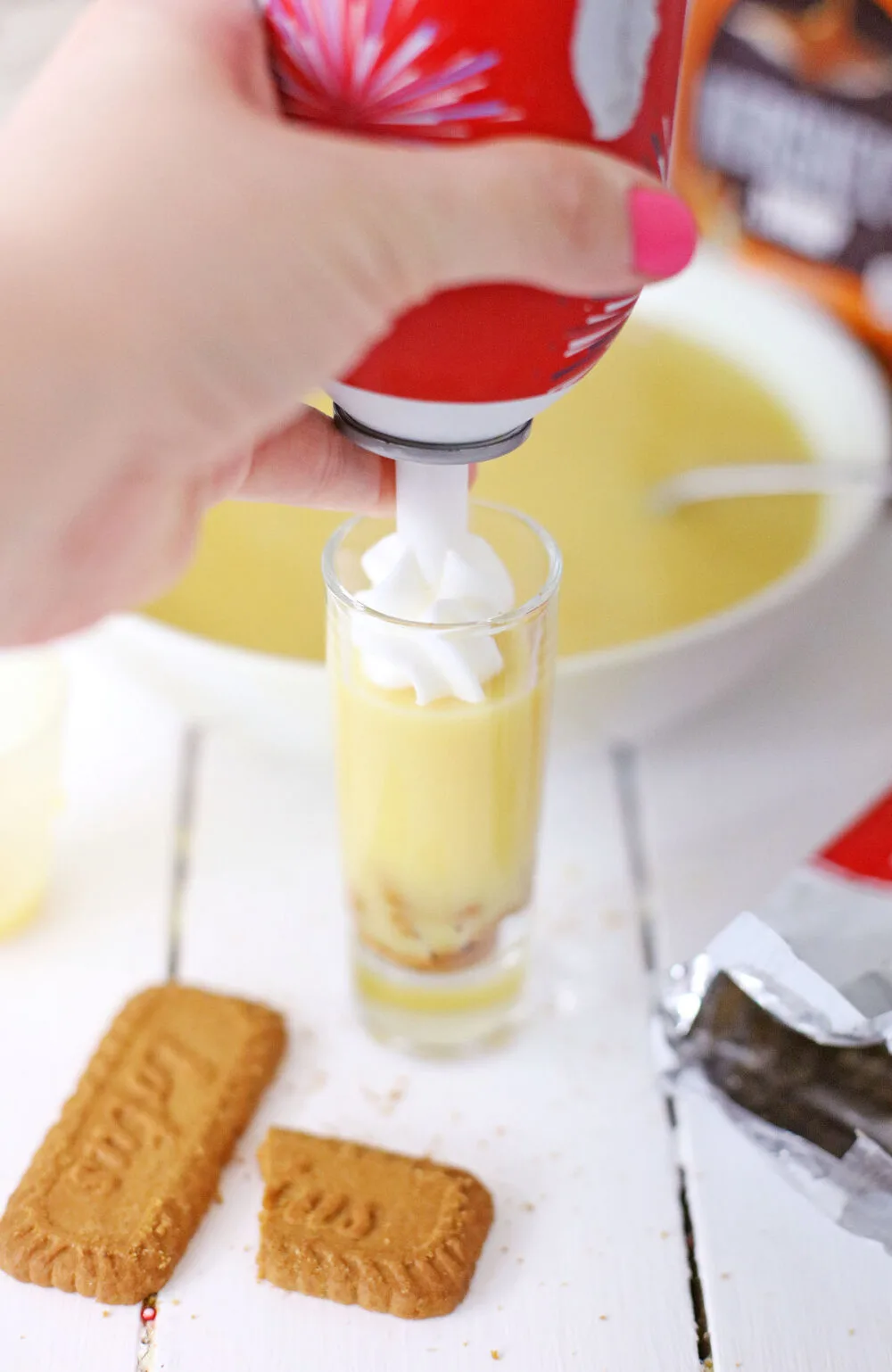 Chill the pudding shots in the refrigerator. Once the pudding shots are assembled, place them in the refrigerator to chill until it's time to serve.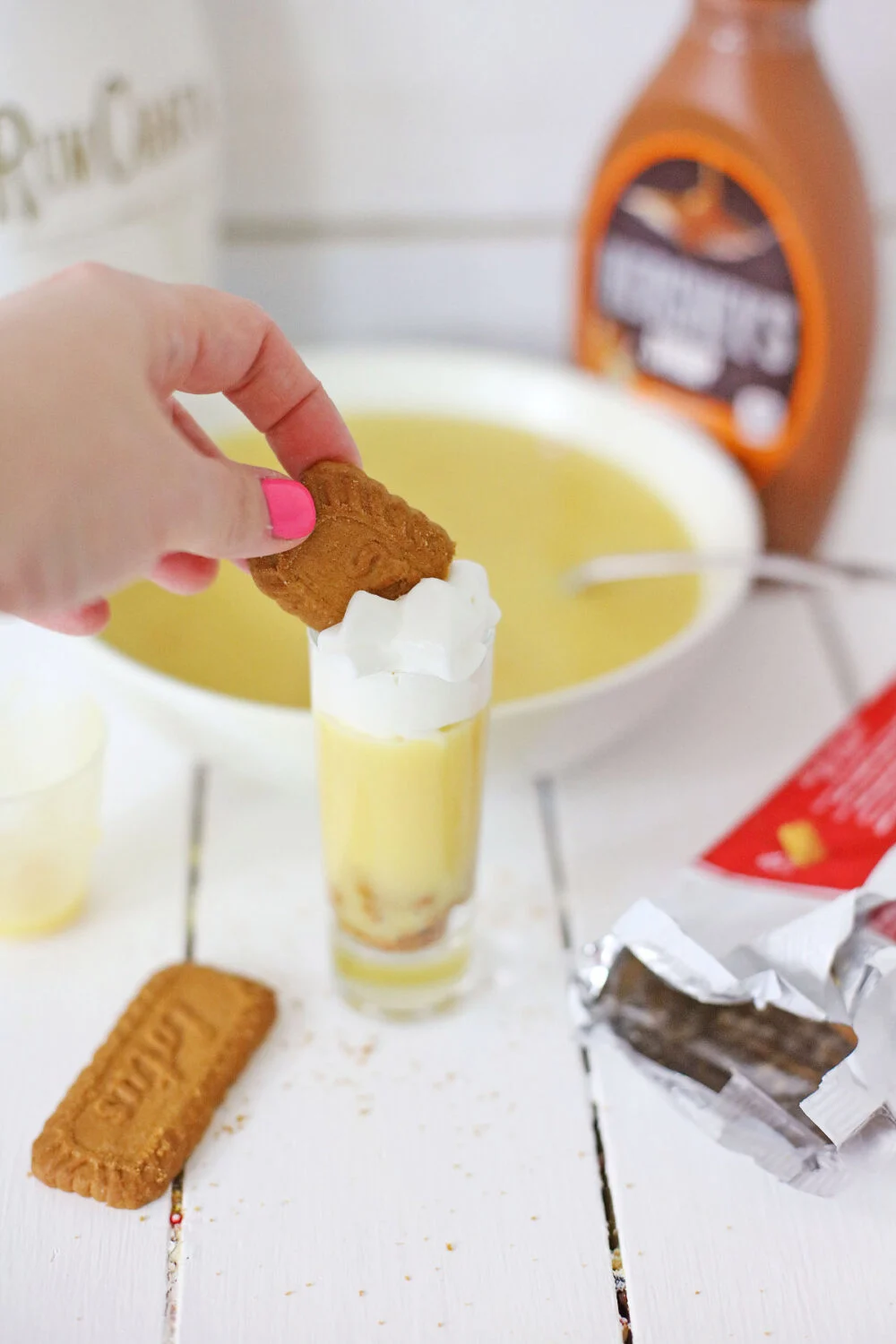 Add whipped cream and caramel topping. Just before serving, remove the pudding shots from the refrigerator and top each glass with a generous amount of whipped cream.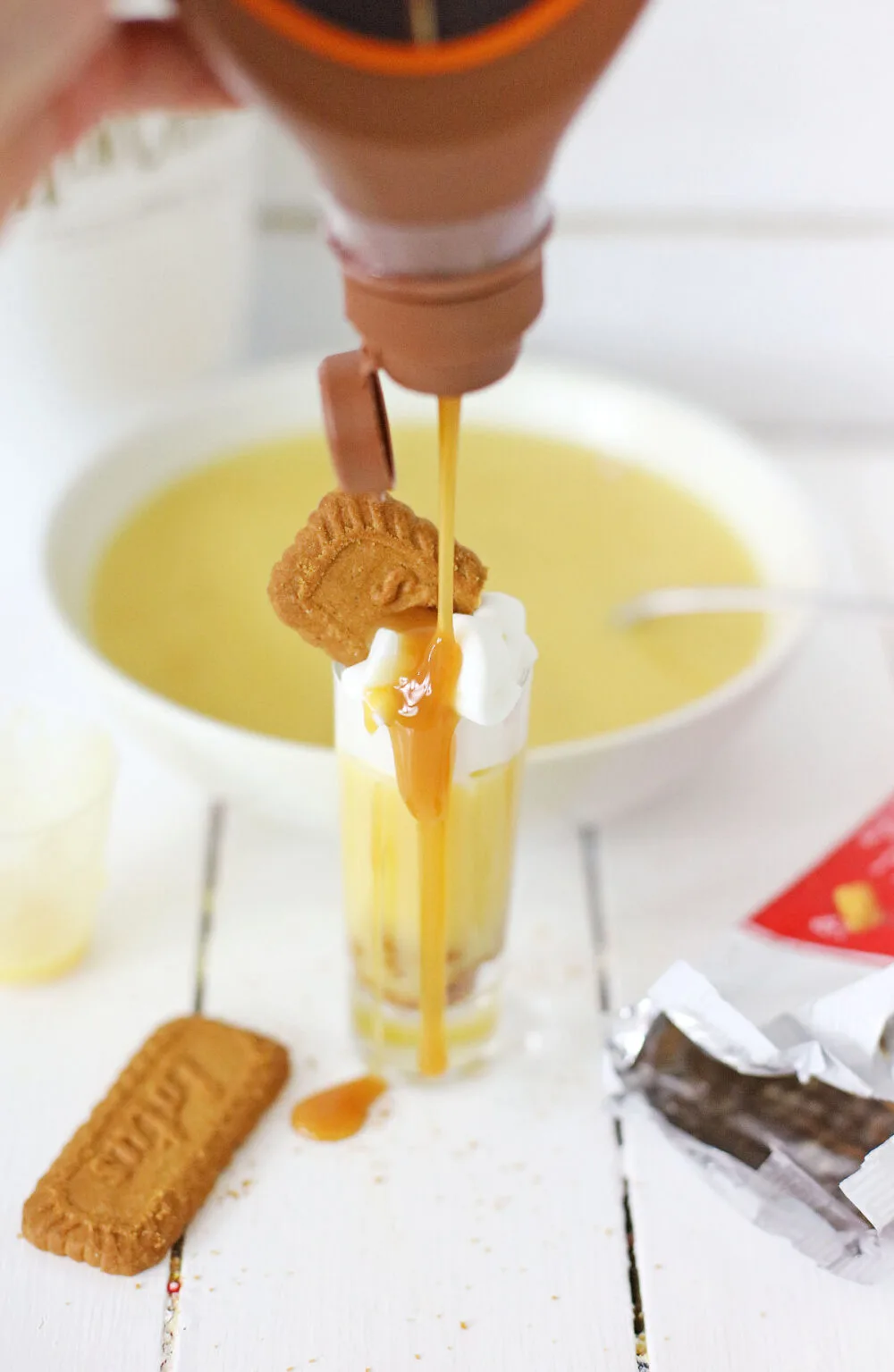 Drizzle caramel topping over the whipped cream, allowing it to run down the sides of the glass if you choose.
Garnish with cookie halves and serve. To finish off the presentation of your Biscoff Cookie RumChata Pudding Shots, break some cookies in half and place half of a cookie in each shot glass.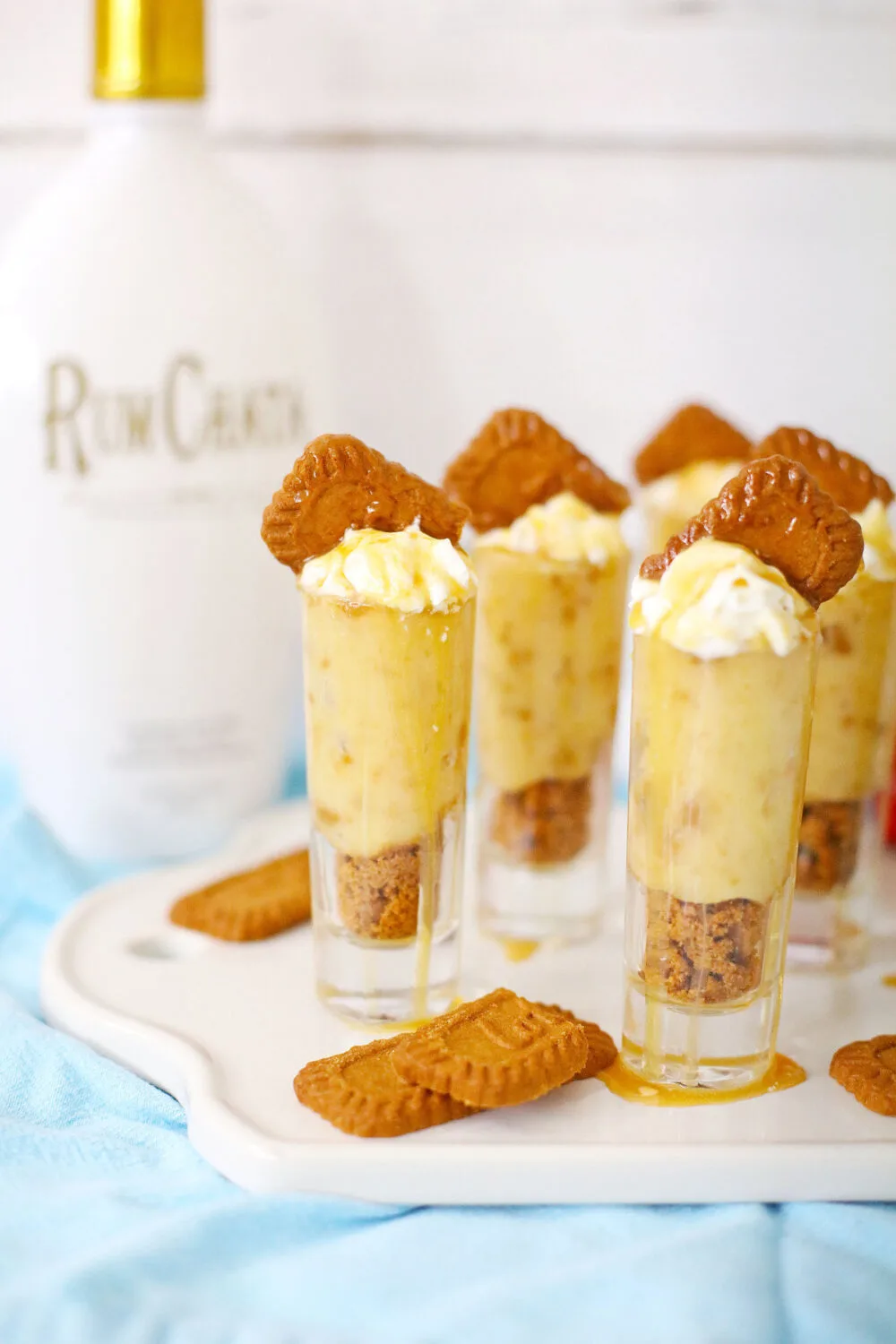 Serve the pudding shots with additional cookies for dipping and enjoy!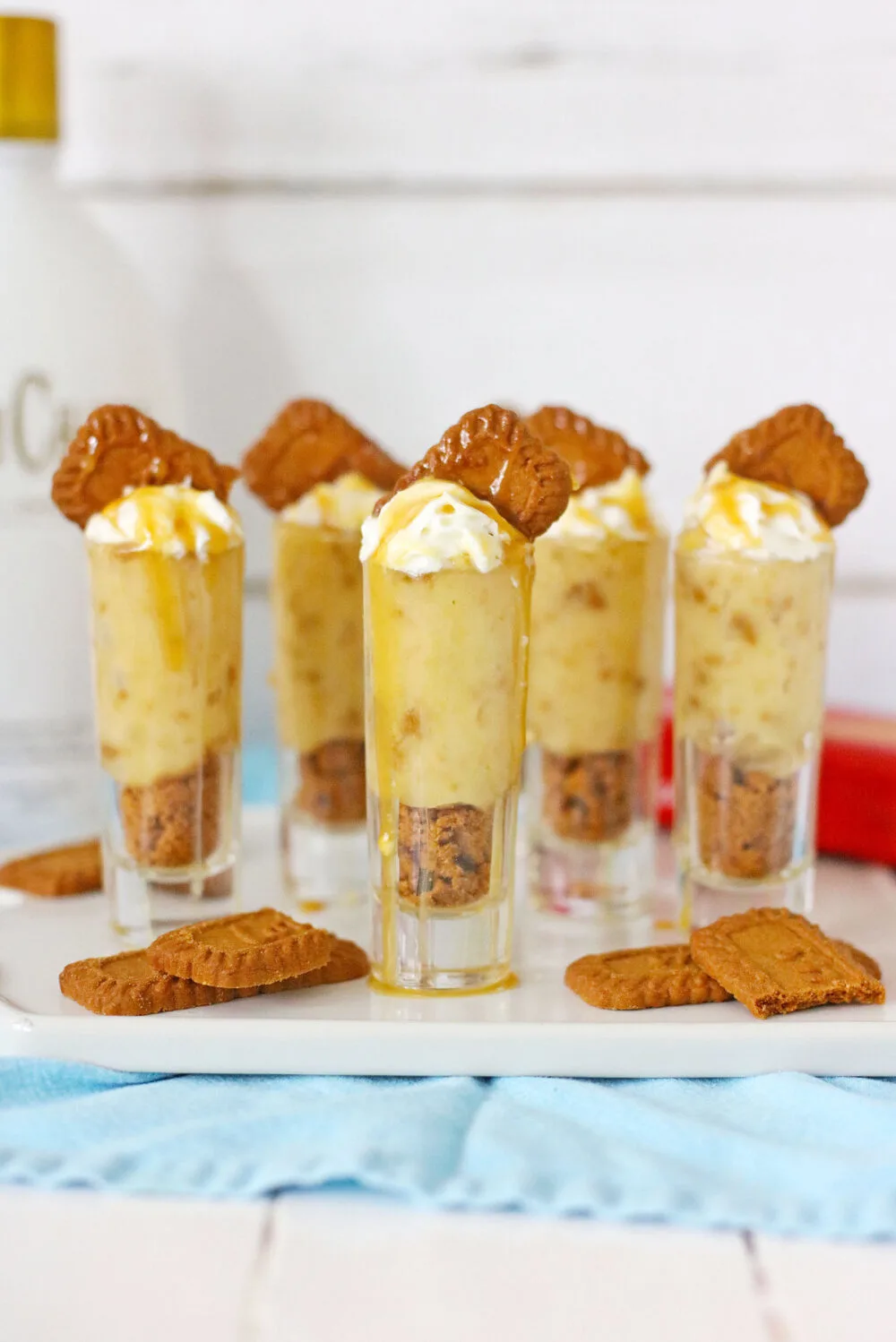 Recipe Variations and Swaps
Cookies: While Biscoff cookies provide a unique and delicious flavor, you can use other types of cookies if you want. Try using gingersnaps, Oreos, or shortbread cookies instead.

Booze: If you don't have RumChata on hand, you can substitute with another creamy liqueur, such as Bailey's Irish Cream or Kahlua.

Make it vegan: To make this recipe vegan-friendly, use a plant-based milk and pudding mix. You can also swap the Reddi-wip whipped cream for a vegan alternative, such as coconut whipped cream.

Flavors: Feel free to play around with the flavors in this recipe. Try adding a pinch of cinnamon or nutmeg to the pudding mixture, or swap the caramel topping for hot fudge.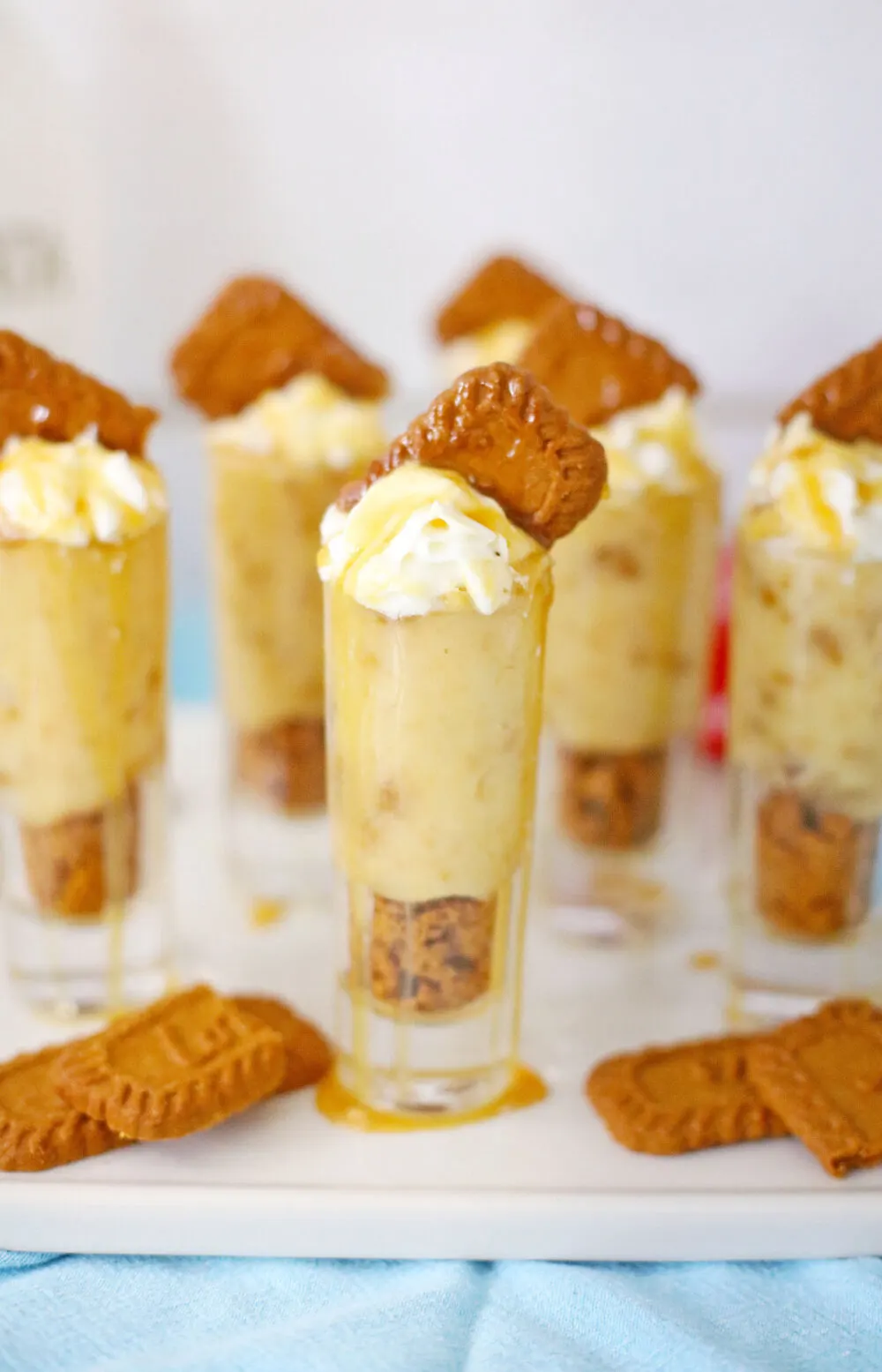 Kitchen Tools Needed
Stand mixer or handheld mixer
Mixing bowl
Blender or food processor
Tall shot glasses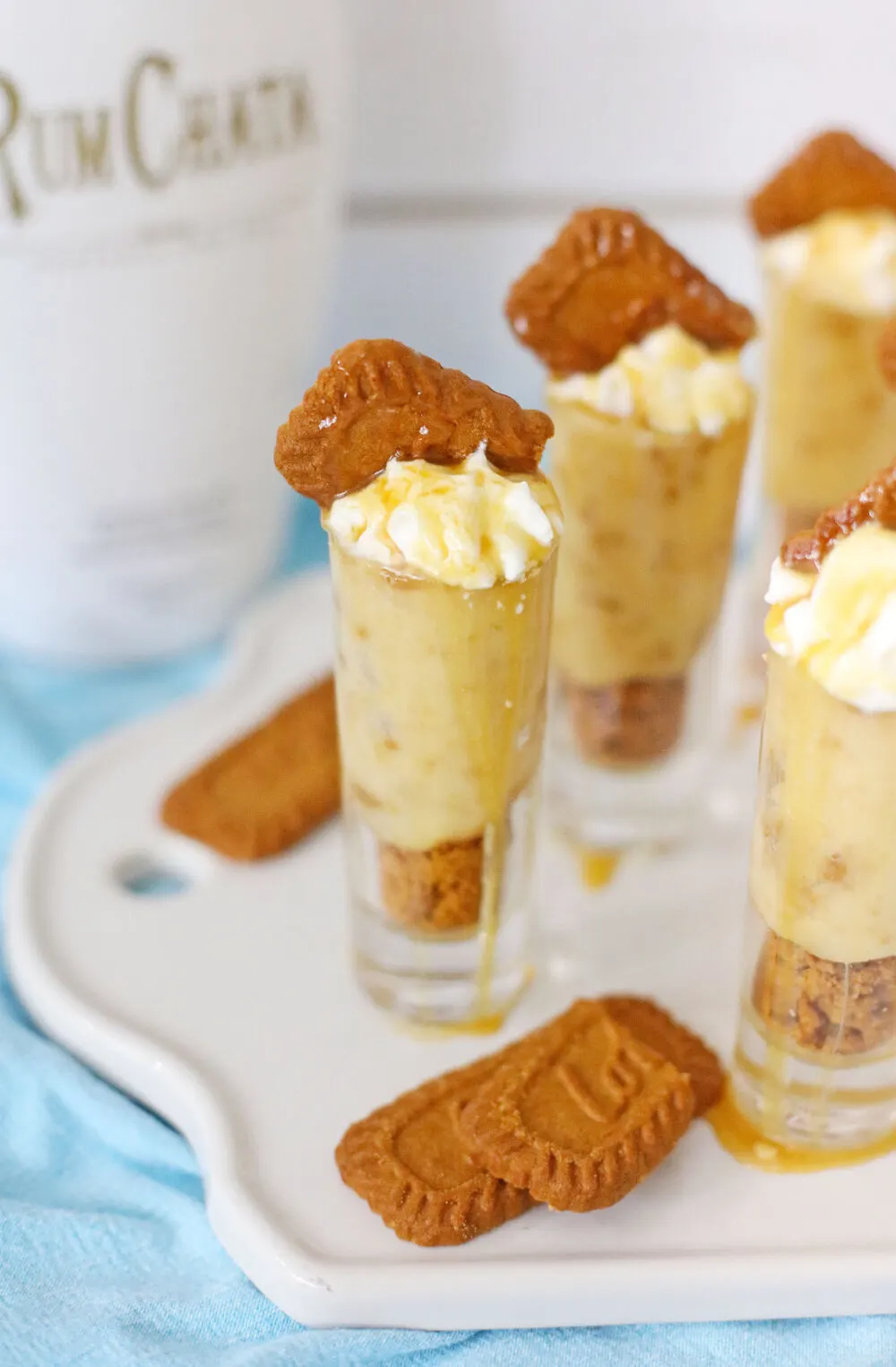 Serving Suggestions
If you're making these pudding shots for an event, you might want to get creative with the presentation. Here are some ideas to get you started:
Add a sprinkle of cinnamon: To give your shots an extra burst of flavor, try adding a sprinkle of cinnamon on top of the whipped cream. It's an easy way to add flavor and a dash of fancy vibes in an instant.

Serve with coffee: If you're hosting a brunch or breakfast gathering, consider serving these shots with coffee. The creamy and sweet flavor of the pudding shots pairs well with a hot cup of coffee.

Pair with dessert: These pudding shots make the perfect dessert pairing for a sweet treat like apple pie, pumpkin pie, or chocolate cake. These pudding shots are actually a dessert themselves, so it makes sense to add them to a dessert table!

Make it a DIY station: Set up a DIY Shot station at your next party. Set out the shot glasses, pudding mixture, whipped cream, and syrup toppings, and let your guests create their own dessert shots.

Serve in mini mason jars: For a rustic and charming look, consider serving your pudding shots in mini mason jars.

Make chocolate shot glasses: For even more sweetness, you can make edible chocolate shot glasses to serve the pudding shots in.
How to Store
If you have leftover Biscoff cookie RumChata pudding shots, you can store them in an airtight container in the fridge for 2-3 days. It's best to store the shots without the whipped cream and caramel toppings, so they don't get runny.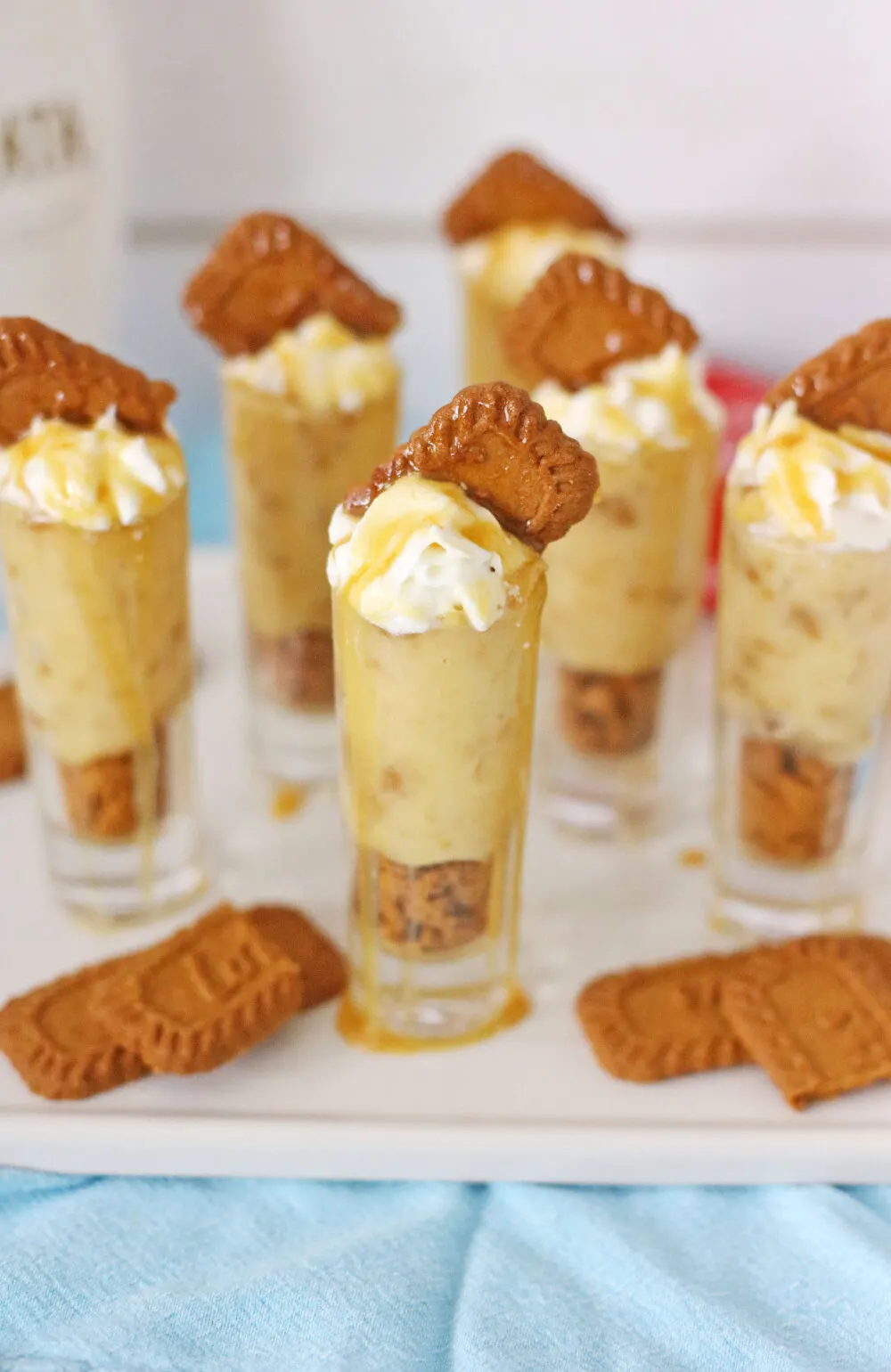 Recipe Notes and FAQ
Use instant pudding mix instead of cook-and-serve pudding for better results.
Chill your RumChata and milk before starting the recipe for quicker pudding setting.
If Biscoff cookies are not available, substitute with gingersnaps or another cookie that pairs well with cinnamon and vanilla.
Can I make this recipe without alcohol?
Yes, you can simply omit the RumChata and replace it with additional milk to make non-alcoholic Biscoff Cookie Pudding Shots.
Can I use a different type of cookie for this recipe?
Yes, you can swap the Biscoff cookies for any other type of cookie you prefer. Gingersnaps, shortbread cookies, and Oreos all make great alternatives.
Can I make this recipe ahead of time?
Yes, you can make the pudding mixture and cookie crumbs ahead of time and store them separately in the refrigerator. When you're ready to serve, simply assemble the shots and add the whipped cream and caramel topping.
Can I use a different type of alcohol for this recipe?
Yes, you can substitute the RumChata with another creamy liqueur, such as Bailey's Irish Cream or Kahlua.
Yield: 12-14 shots
Biscoff Cookie RumChata Pudding Shots Recipe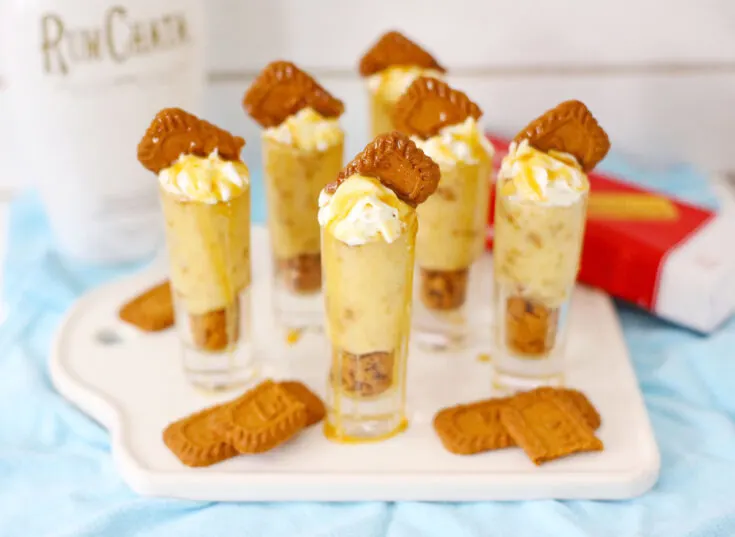 Need some fun party shots? Try this Biscoff Cookie RumChata Pudding Shots recipe! Made with creamy vanilla pudding, RumChata, and crushed Biscoff Cookies, these shots are the perfect dessert or party treat. Top them off with whipped cream and a drizzle of caramel sauce for an extra decadent touch.
Ingredients
1 6oz package of Vanilla instant pudding mix
1 cup Milk
1 cup RumChata
2 packages Biscoff Cookies
Whipped topping
Caramel syrup
Instructions
Mix Vanilla Pudding, milk, and RumChata in a bowl until well blended.
Add one package of Biscoff Cookies to a blender or food processor and pulse until they become crumbs.
Add half of the cookie crumbs to the pudding mixture and blend until well mixed.
Spoon the other half of the cookie crumbs into the bottom of each shot glass.
Pour the pudding mixture into each shot glass, filling them up.
Chill the glasses in the refrigerator until ready to serve.
Before serving, add whipped cream to each glass and drizzle with caramel sauce.
Add half of a Biscoff Cookie to each shot glass and serve with additional cookies on the side. Enjoy!
Notes
Shots can be made one day in advance and stored in the refrigerator until ready to serve.
Please drink responsibly and only share with those who are of legal drinking age in your area.
Whipped cream and caramel topping should be added just before serving.
Shot glasses should be tall to allow for layering of cookie crumbs and pudding mixture.
Crushed Biscoff cookies are used both in the pudding mixture and as a garnish on top of each shot.
Recommended Products
As an Amazon Associate and member of other affiliate programs, I earn from qualifying purchases.
Nutrition Information:
Yield:
14
Serving Size:
1
Amount Per Serving:
Calories:

135
Total Fat:

3g
Saturated Fat:

2g
Trans Fat:

0g
Unsaturated Fat:

1g
Cholesterol:

7mg
Sodium:

63mg
Carbohydrates:

9g
Fiber:

0g
Sugar:

6g
Protein:

1g
Nutrition facts are an estimate only.
Fun Party Drinks
Pin this image to your cocktail board to save and share.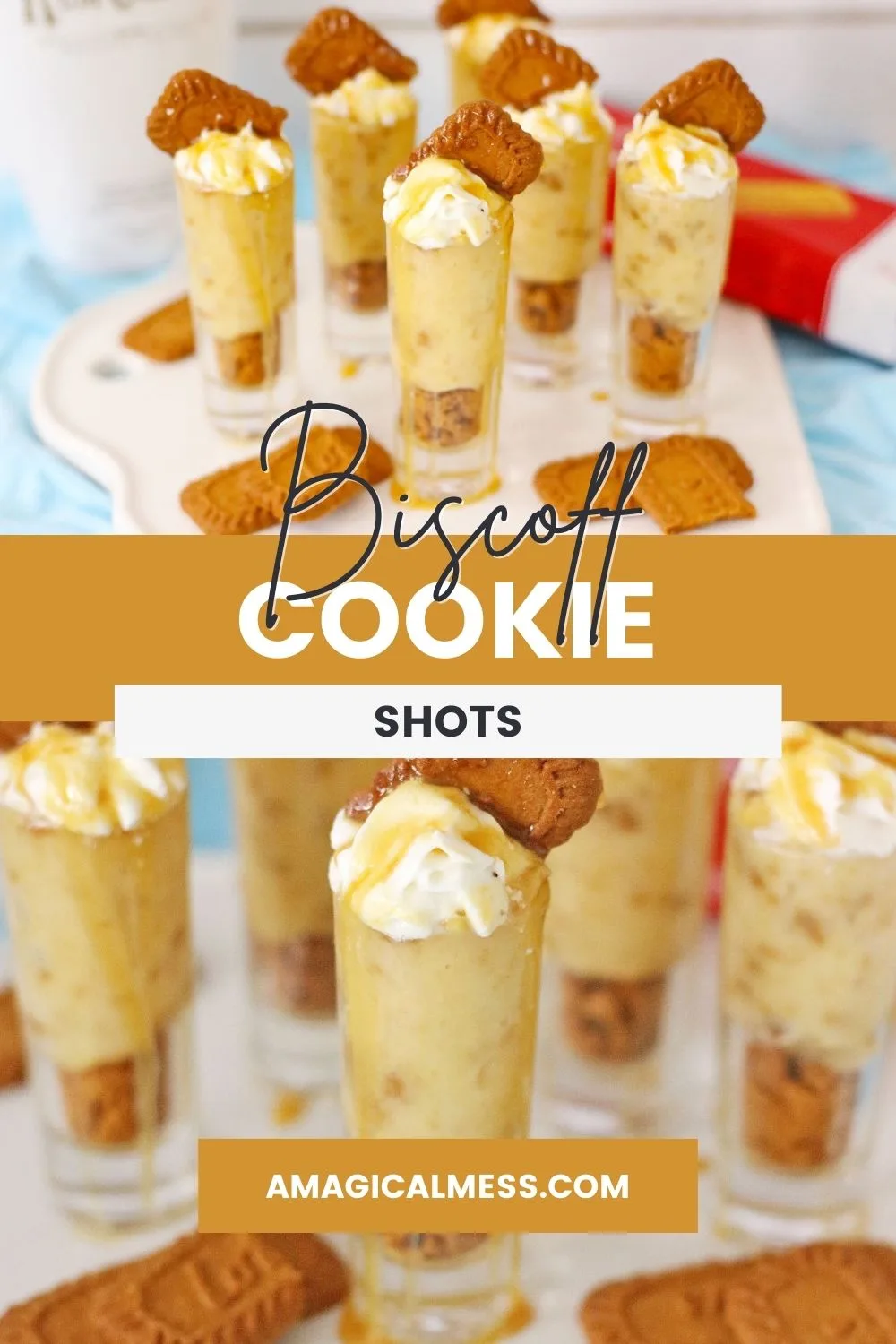 Don't forget to subscribe to the blog for more fun recipes, and share this post with your family and friends who might also like making these pudding shots.
I can't wait to hear how your Biscoff Cookie RumChata Pudding Shots turn out! Please come back and comment if you make them.