I have a breakfast shake or smoothie almost every morning. We all know that breakfast is supposed to be the most important meal of the day. For me it's also my most sensitive meal of the day. What I have for breakfast can seriously make or break the rest of my day. If I have anything too sugary or carb-loaded I am left with zero energy.
Lately I have been so tired all day. It's really been taking a toll on me. Not sure what my problem is, but definitely trying to combat it with a healthier lifestyle. A friend introduced me to this breakfast shake and it's been helping quite a bit.
Energizing Peanut Butter Banana Breakfast Shake Recipe
I created a delicious breakfast shake recipe. Here's what you need:
5 Ice Cubes
1 Packet Protein Powder
1 Cup Coconut Milk
1 tbs Peanut Butter Chocolate PB2 (powdered peanut butter that contains less fat & calories)
1/2 Large Banana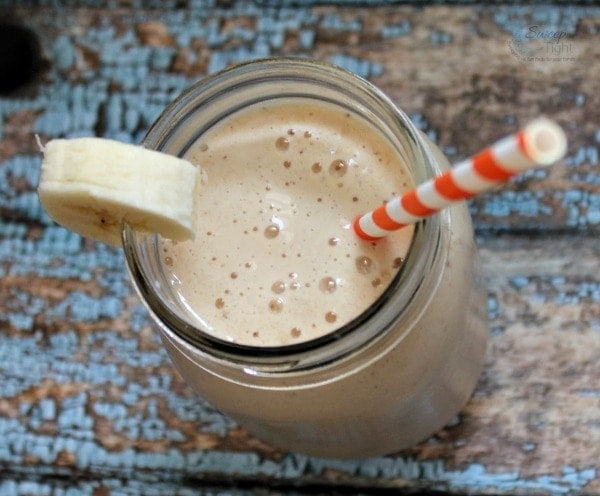 Adding the banana to this mix makes it even more filling. I am kept satisfied all morning and even well into a normal lunch time. When I drink this I don't crave my normal mid-morning snack. I find myself more focused and filled with non-jittery energy. Super bonus!
Since I've been drinking this shake I have the steady energy to be productive throughout the day instead of in spurts. I don't feel the overwhelming urge to take a nap, nor do I feel the need for afternoon coffee as often.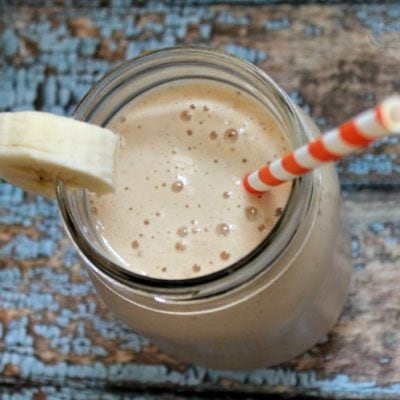 Print Recipe
Peanut Butter Banana Breakfast Shake Recipe
An easy breakfast shake that's filling and gives steady energy.
Instructions
Add all ingredients to a blender and blend well
Nutrition
Calories:
364
kcal
|
Carbohydrates:
28
g
|
Protein:
16
g
|
Fat:
19
g
|
Saturated Fat:
13
g
|
Cholesterol:
6
mg
|
Sodium:
316
mg
|
Potassium:
549
mg
|
Fiber:
4
g
|
Sugar:
9
g
|
Vitamin A:
750
IU
|
Vitamin C:
14.1
mg
|
Calcium:
150
mg
|
Iron:
2.6
mg
More Good Breakfast Ideas for Steady Energy:
What do you like in a breakfast shake?