Growing up, we went on several vacations and it's only now that I'm an adult with my own family that I realize how fortunate we were. With a blended family consisting of 8 of us, I cannot believe my parents were able and brave enough to take us anywhere!
While on the #RockYourVacation trip, I learned several ways big families can make traveling easier, more fun and affordable. I went on this trip for free, but all thoughts and opinions are my own.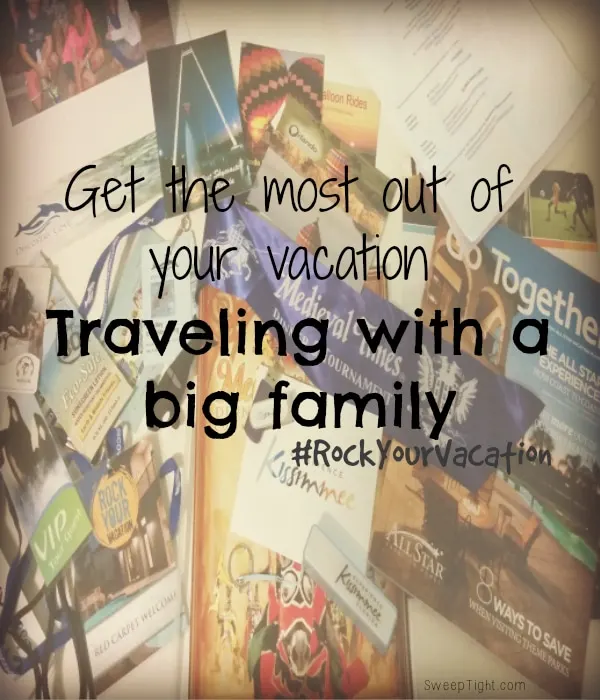 Traveling to Central Florida, Kissimmee, Orlando?
Naturally I am going to focus on these great destinations since that's where I went. However, these tips apply to any location! It just takes a little pre-planning to hunt down deals and businesses/services near your vacation spot.
Once you get there… getting around
So, you've arrived after traveling from your home and now want to get around this new town with your family. Do you rent a car? Take a cab—or 2? Depending on the size of your family this can get really pricey and limit your overall experience if you're stuck in one spot.
Well, you should really look into using a limo service like Southern Elegance Limousines. They offer great prices and fit large groups or families comfortably and in STYLE! Nothing adds to the fun of being on vacation than feeling like a celebrity! Plus, the drivers are super friendly, courteous and knowledgeable.
Another option is to use Limo Find to get a free quote on limos, party buses, or charter buses to cart your family around in comfort and style.
Haha… you know you're traveling with bloggers when we're all sitting right next to each other tweeting each other from our phones!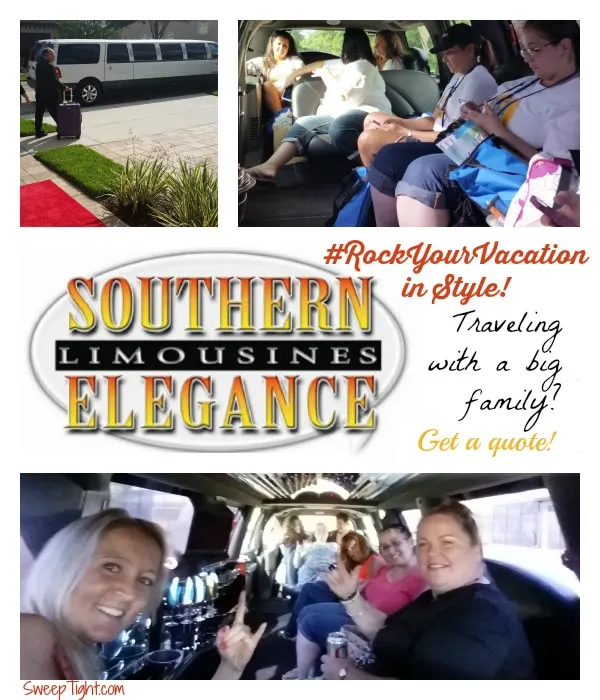 Where to Stay
Two words. Vacation Homes.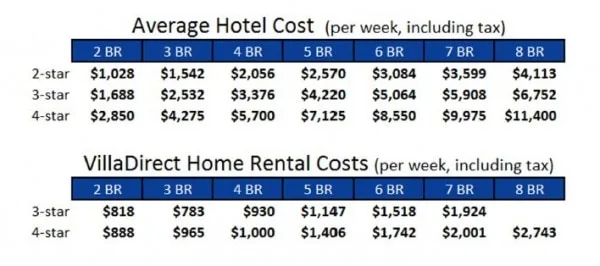 After staying in some of the most beautiful homes I have ever seen and finding out how affordable they are for your vacation, I will always consider this option for my family!
Everyone got their own room and bathroom, you can do your laundry—and therefore pack less and come home to less work—and with a full kitchen, you don't have to eat out as often which saves even more money!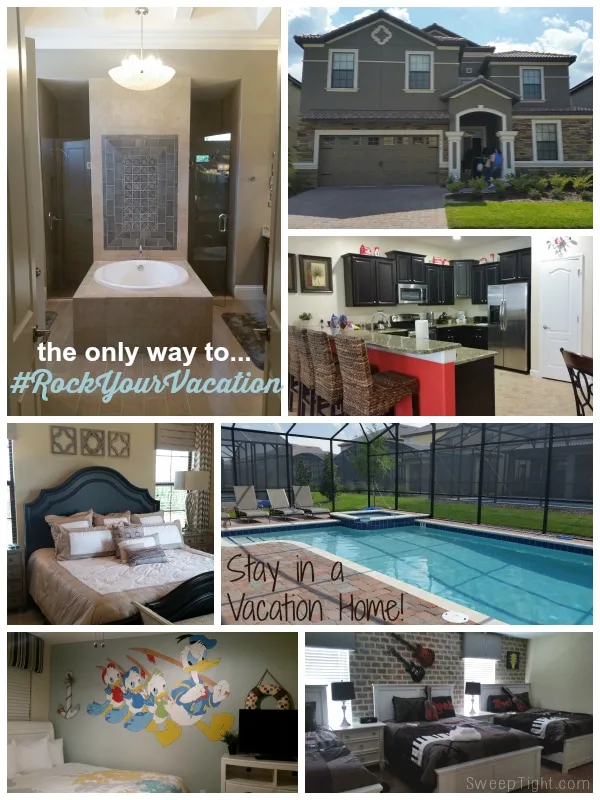 I don't know about your family vacation habits, but we tend to completely exhaust ourselves with activities. Well, if you're staying in a vacation home like this one, you and your family can settle in for a movie night to recover from a fun-filled day of events… in a tricked out theater with actual shooting stars on the ceiling!!!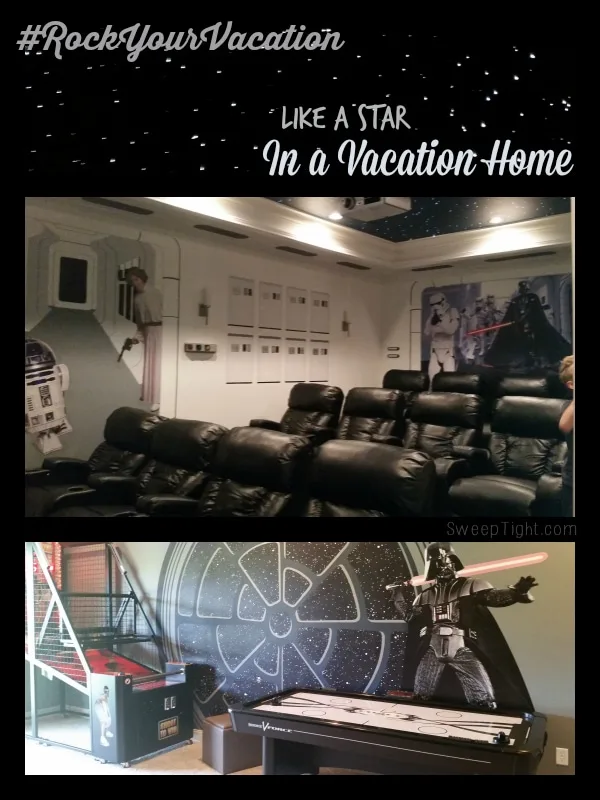 Grocery Service
This has got to be the best idea ever. You can hire someone like Chef Linda (who is unbelievably awesome, by the way) to do your grocery shopping and prepare your meals in your vacation home! As soon as you arrive, you can walk into a fully stocked kitchen with dinner in the oven.
I was shocked at how affordable this is and the food Chef Linda prepared was better than any restaurant! This is ideal for any families with special diets or food allergies.
Simply submit your grocery list before you leave and don't think twice about it for the rest of your trip! The savings is incredible when you're not eating out for every meal! Check with the vacation home company to see if they offer this service too.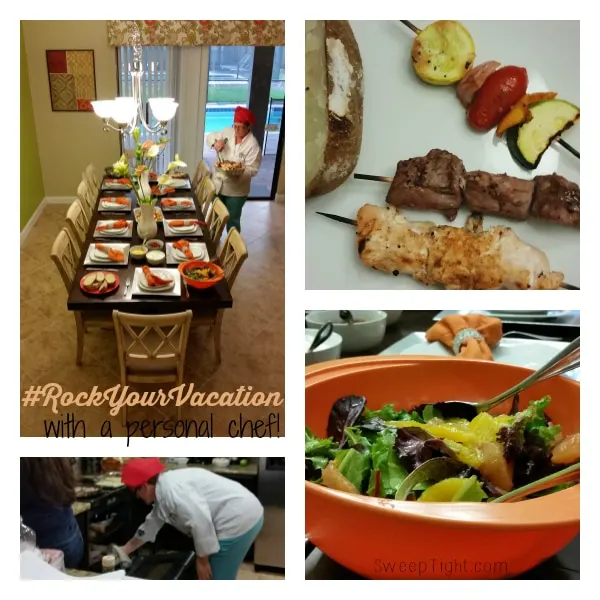 Other Ways to Save
To recap, here's a list of tips to save and make the most out traveling with your big family or group:
Consider Limo service – it's usually cheaper than cabs and rental cars
Vacation Homes – affordable luxury for the best vacation ever

Pack less and do a load of laundry while your there

Personal Chef/Grocery Service – look into the services offered at your destination
Go to Discovery Cove! Then get free entry to other SeaWorld parks for the duration of your stay!
Check out FunSpot (free parking and admission-just pay for bracelets for what you'll actually do and then set the kids free!)