Going to Kissimmee, Florida on the #RockYourVacation trip was seriously the best vacation of my life. The only thing that would have made it better, was to have my family there too.
But, I got to hang with some of the coolest bloggers I have ever met! I was able to go on this trip free of charge, but all thoughts and opinions are completely my own.
If You're In Kissimmee…
If you're in, near or remotely close to Kissimmee, you have to check out FunSpot America. They have two locations, one in Kissimmee and one in Orlando. I'm sure the one in Orlando is awesome as well, but I really don't know how anything could ever top my experience at the Kissimmee location. Seriously. 300 feet is hard to top!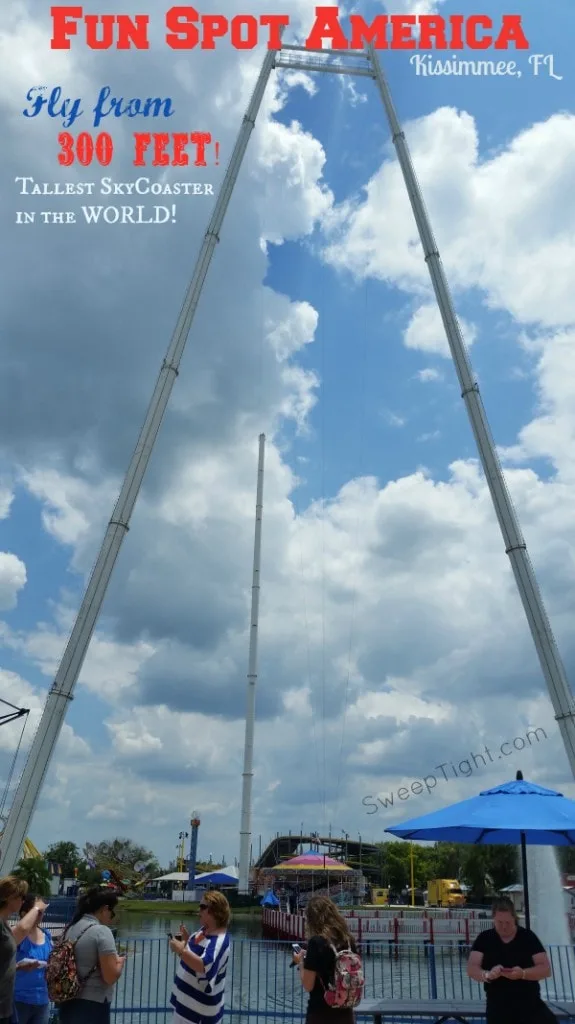 Our lovely hosts, Rochelle and Nori, had told me about the SkyCoaster the night before and I didn't think anything of it. I'm a pretty daring, adventurous, bada$% if I do say so myself. When we entered Fun Spot through the arcade, I was asked "Oh, so you're going to ride the SkyCoaster?" I responded with, "Well, yeah…"
Then we walked outside.
It's like it's so big, I simply missed it on the way in. After this actually registered in my mind as what I was signing myself up for, I almost passed out. Confession: I AM TERRIFIED OF HEIGHTS.
Yeah, I like to get my adrenaline pumping and challenge this every once in a while but this Sky Coaster is serious. I think my initial unedited reaction went something like "Are you bleeping kidding me?!" as I strained my neck to fit the entire size of this thing in my field of vision.
So, I had a little talk with myself…. Alright self. We can do this. We HAVE to do this because we know we will always regret it if we don't. Put on your big girl pants, and just do it.
Yeah, I might be a little crazy.
Despite my best efforts to be a good sport through it all, I just wasn't. I was shaking like a leaf and spewing foul language like an urban dictionary garbage disposal.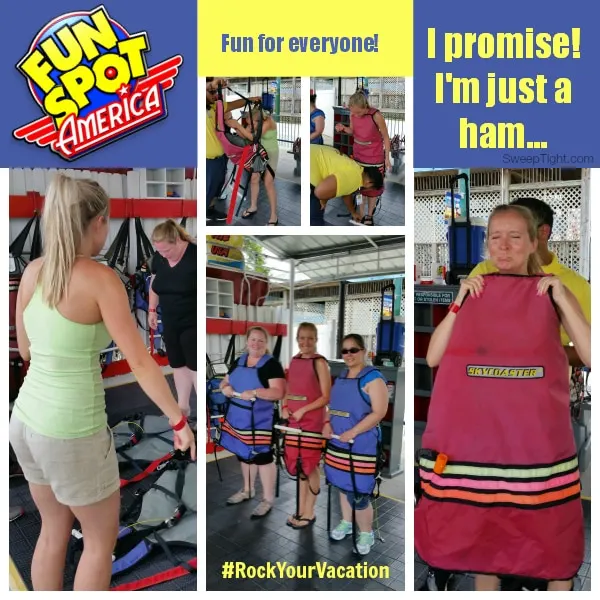 Thankfully, two blogger buddies, Stacie and Susan, went with me. If it weren't for them, I would probably have had a stroke. I was able to hang on to them and chatter incessantly about probably needing a diaper and of course, more swearing.
You see, after slowly being hoisted into oblivion (300 feet up) you have to PULL YOUR OWN RIP CORD to release yourself into plummeting terror. I really don't think I could have pulled the cord–Stacie did it like a champ! THANK YOU STACIE!!!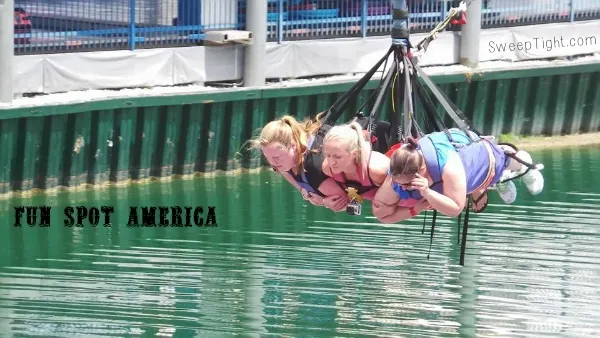 Here's a video from a bystander's perspective:
And, here is the UNEDITED footage of our experience. I apologize for the inappropriate language. Fear brings out the obnoxious…
GO THERE!
Fun Spot America is a blast for the whole family. I know I made a huge deal about the SkyCoaster, but it really was awesome!
But if that's not your thing, they have an incredible arcade, multilevel go karts and dozens of fun rides for all ages! Parking and admission are free daily. You simply purchase a bracelet that best fits your desired activities.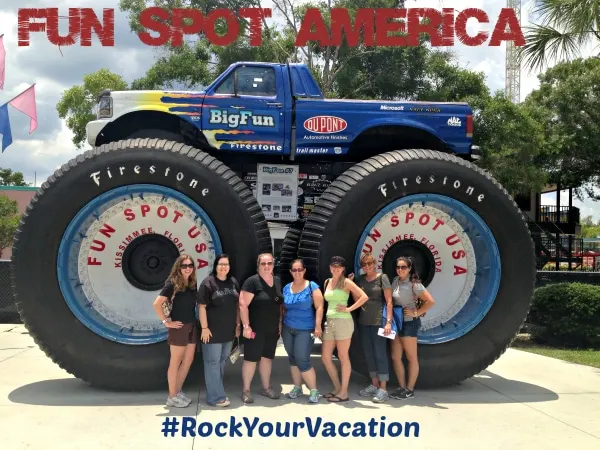 Here's a great place to stay in Kissimmee if you're traveling with a big group!
Visit Fun Spot America to plan your trip!