Okay, I don't even know how to begin to describe the awesomeness that is Discovery Cove. Spending half a day at this wonderful park in Orlando, was part of the #RockYourVacation FAM trip. While I received these opportunities for free, all thoughts and opinions are my own.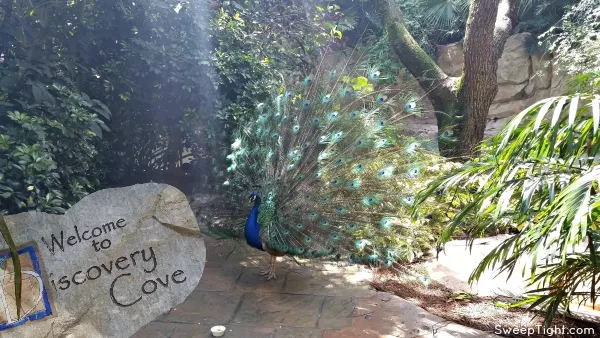 Discovery Cove Orlando – Dolphins
Perhaps I should first let you know that I have wanted to swim with dolphins since I was about 4 years old. I had a couple chances on various family vacations, but was never allowed to do so… thus fueling my desire, naturally. I am also a total animal/nature freak. So, Discovery Cove is pretty much my version of Heaven.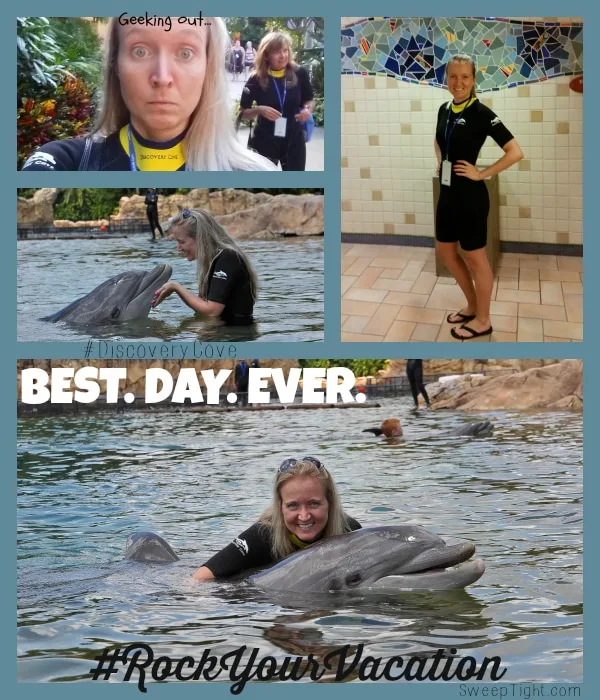 I was super excited to learn that Discovery Cove is home to 47 dolphins! Many of them were born on site and I was incredibly impressed with their habitat and how their trainers interact with them. You see, the dolphins really run the show. They have complete control over their decisions and only "perform" if they feel like it. At any time, they have access to a "time-out" area where they can go chill if they are getting over stimulated. Because they are naturally social creatures, they rarely utilize this area; but I thought it was so cool that they have that option. Plus, it made me feel even more special that these awesome creatures actually want to be spending time with us!
After speaking with the trainers we learned a lot about the dolphins' behaviors and personalities. They are so much like people! One of the alpha females is just like a career woman. She's never had any babies and spends her time running the pod and making sure all her pod mates are in check. While some of the other females are totally stay-at-home moms. They are watchful mothers and have very unique parenting strategies. Some moms are very laid back and keep an eye on baby from a distance, while others never leave baby's side. Again, the coolest part about Discovery Cove is that these dolphins have the freedom and space to behave as they please with minimal human persuasion.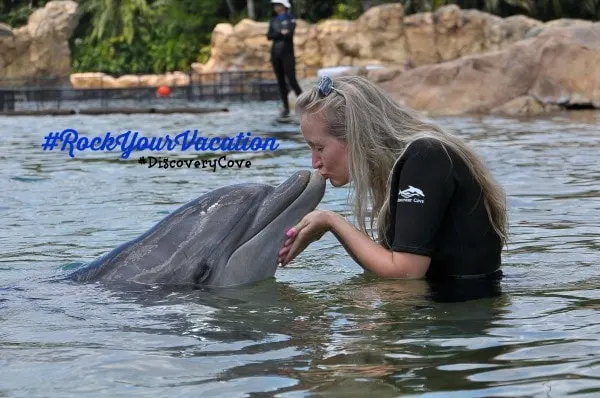 Why you should make Discovery Cove part of your family vacation…
Your ticket also includes unlimited admission to SeaWorld and Aquatica, SeaWorld's Waterpark for the duration of your trip

For an additional $25, you can add Busch Gardens Tampa to that list

The food is not only outstanding, but it's all you can eat, ALL DAY
Because reservations are required, there are never over-crowding issues
This is a place where your family can learn and have experiences of a lifetime–it's truly priceless.
Here's the full list of what's available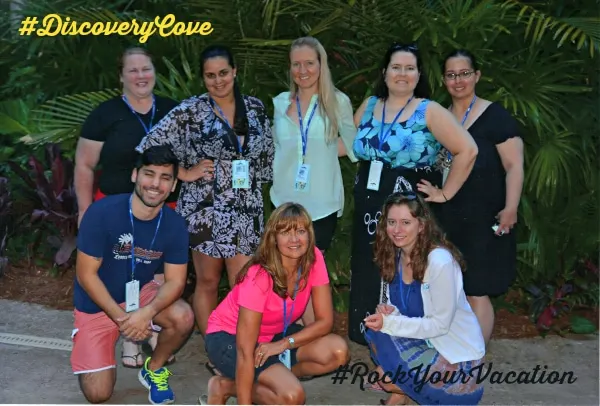 Oh, and did I mention, the food is all included? Because, seriously, wow. Just wow. It's freaking delicious and there are so many options! I opted for a lighter healthy meal, but totally went back for some epic desserts.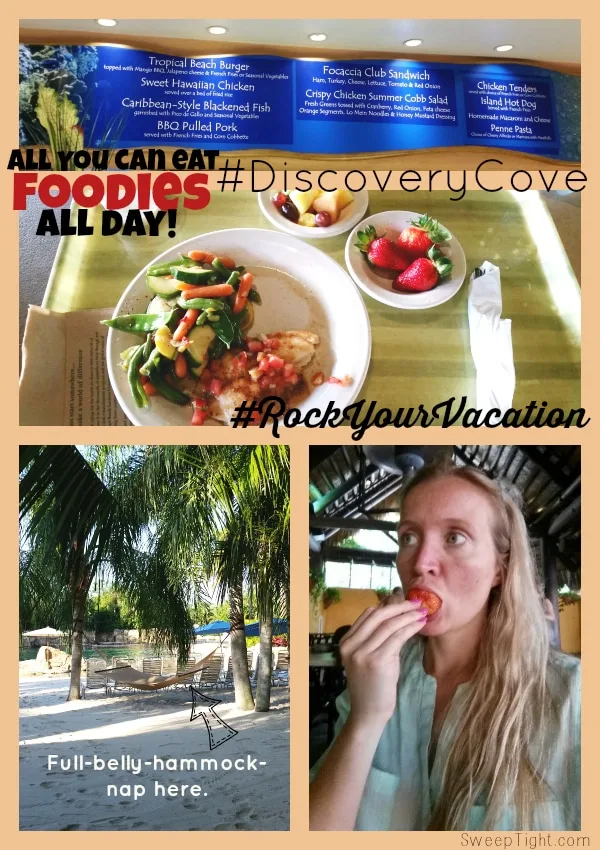 Discovery Cove – SeaVenture
The snorkeling is fantastic. You get to hang out with enormous sting rays and glide along with some really neat fish. But, if that's not cool enough, you can get a little deeper and try walking on the bottom with SeaVenture. After about a 15 minute information session, you are given a helmet that allows you to breathe naturally while walking underwater. I am slightly claustrophobic so I was a little weary, but found this to be totally awesome. I was completely comfortable the whole time. To get the real feeling and to see some fun animations from the trip, check out my Google+ Posts and all my videos on Instagram!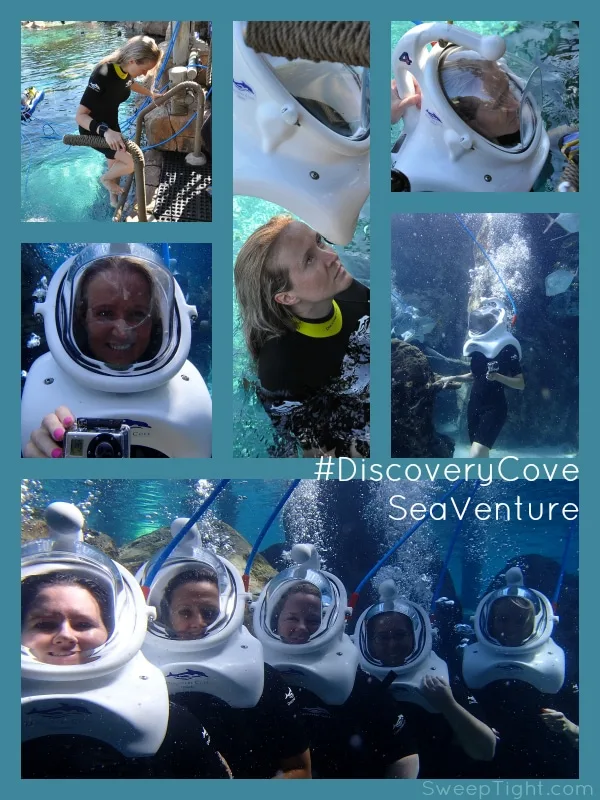 There are 19 sharks in the tank right next to you so you can safely get face-to-face with these gorgeous creatures! The diver that's underwater with you uses a magnetic message board to give you interesting facts about the animals while you're walking around down there.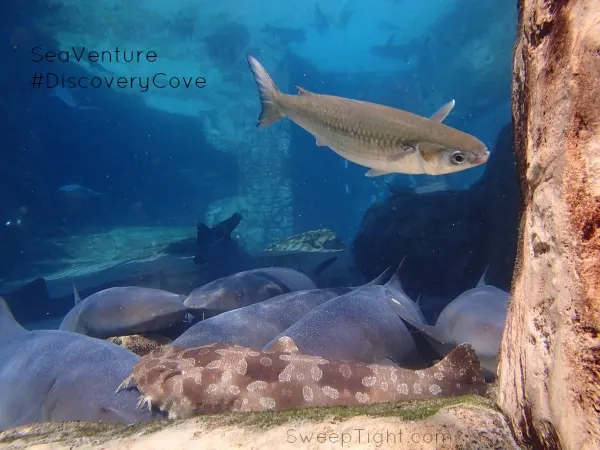 Fun.
From start to finish, everything about this experience is fun. You don't even realize how much you're learning along the way! I cannot wait to bring my kids to Discovery Cove! I think my daughter will probably make it her life's mission to work there! (Did you know they even offer internships there?!) 😀
Silly Kas… she is fun anywhere and everywhere!
Check out this awesome feeding frenzy! So many fish IN YOUR FACE! 😀