This is a sponsored post written by me on behalf of Quaker Oats. All opinions are 100% mine.
Making time for family fun can be difficult when everyone is so busy with all things life. But, we mustn't forget the importance of family fun for reducing stress, building memories, and strengthening relationships.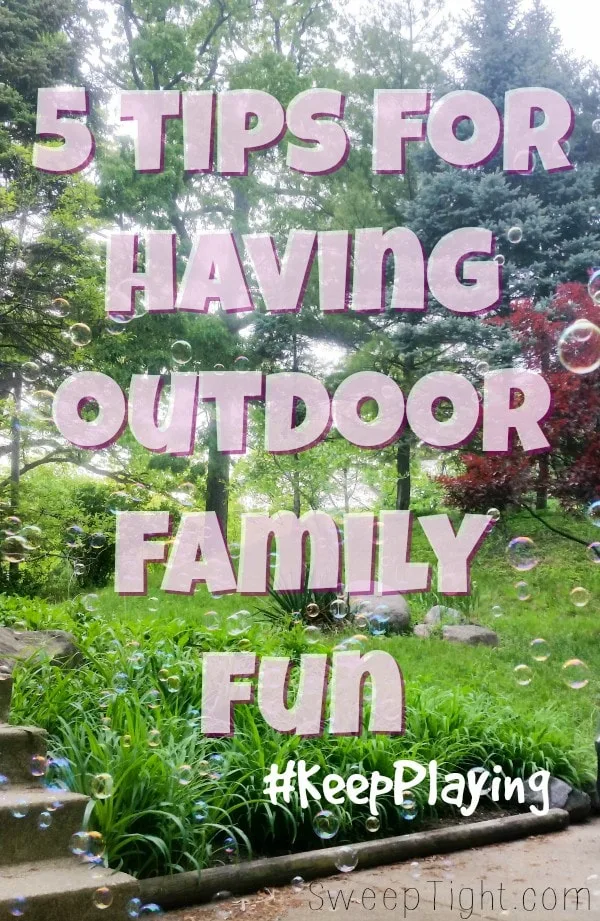 5 Tips for Family Fun
1. Make the time. You really do have to MAKE it. It's not just going to happen on it's own. Plan ahead and have everyone block out that time–and it doesn't have to be long, just a couple hours. Even better, if you can swing it, set aside a designated time each month, like the second Saturday afternoon of every month, for family fun.
2. Have the space ready. Backyards work perfectly, but in the event of inclement weather, make sure there is a basement or large enough space indoors to house all the family members. But have the grass cut and chairs available for everyone too.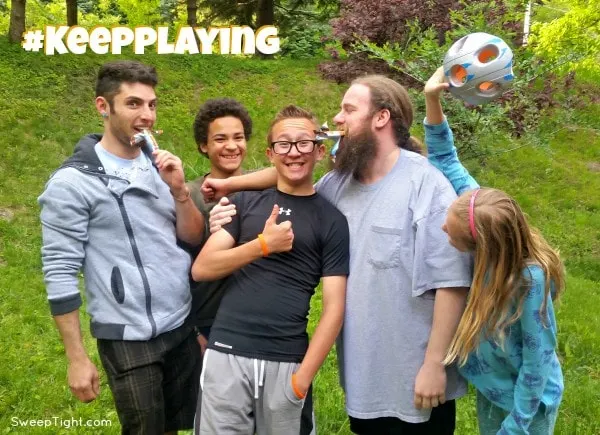 3. Snacks. If it's not economically possible to serve a full meal every time, then just have tasty snacks available to fuel all the fun. Quaker® Chewy® Granola Bars are a family favorite for all ages. They're hassle free and contain 8 grams of whole grains in every bar with a variety of flavors everyone can enjoy.
4. Plan fun activities. This doesn't mean you have to spend a fortune on expensive toys and games. There are a ton of fun things you can do for free or just a few dollars, like: relay races, blowing bubbles–LOTS of bubbles and then try to dodge them, coloring with sidewalk chalk, flying a kite, playing catch, Simon Says, jumping rope, tying the family into knots…
An even number of people create a circle. Everyone raises their right hand and holds the right hand of another person in the circle–but not anyone directly next to them. Then everyone raises their left hand and does the same. Now, without letting go, untangle the circle. We did this with 8 people and it was a riot! I was only able to capture the 4 guys–who look slightly like silly ballerinas getting out of the knots. LOL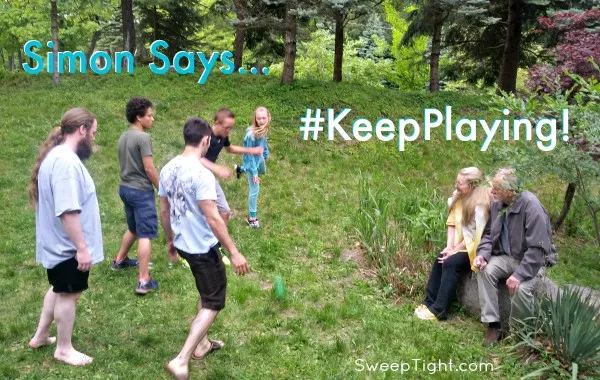 5. Take pictures and video! These will create lasting laughs and memories for the whole family. Create a Facebook group or other social sharing method, and have everyone upload their photos and videos of the family fun event.
Enter to win a $25,000 Play Space Makeover!
To help inspire families' playtime together and fuel fun, Quaker is inviting parents to participate in it's Keep Playing! With Chewy promotion for a chance to win $25,000 to make over their family's play space. To enter, visit www.ChewyKeepPlaying.com and submit a photo of your family's favorite play space along with how you would like to see that space made over and why. From now through June 13, 2015, you can enter to win the grand prize, plus weekly chances to win a $500 gift card!
Win a Playdate Kit!
Quaker is providing the prizes for this program at no cost to me. This program is not administered or sponsored by Quaker or its affiliates, but solely by Sweep Tight. One lucky winner (US only) will receive a giveaway bundle valuing approximately $100:
A Chewy Playdate invitation pack to plan your next playdate
A classic Bocce Ball set for endless hours of outdoor summer play
A Gazillion Bubble Monsoon bubble machine–awesome for "dodge bubble"
Sidewalk chalk
A puzzle perfect for indoor or outdoor play
A red storage bin for storing all your family's favorite toys
A NERF Bash Ball
A variety of Chewy Granola Bars to help fuel family play, including Big Chewy Sweet & Salty Bars, and Chewy Granola Bars Variety Pack