A Canine Cooler Thermoregulating Pet Bed provides a cool spot for your pet to lay in year round. This innovative product is soft, cool, and dry making it the ideal place to relax for your pet. Using patented technology, this water-filled memory foam is virtually maintenance free after the first time filling it. It's easily wiped clean and cannot be penetrated by fleas or ticks. Product received for review. Post contains affiliate links.
Canine Cooler Thermoregulating Pet Bed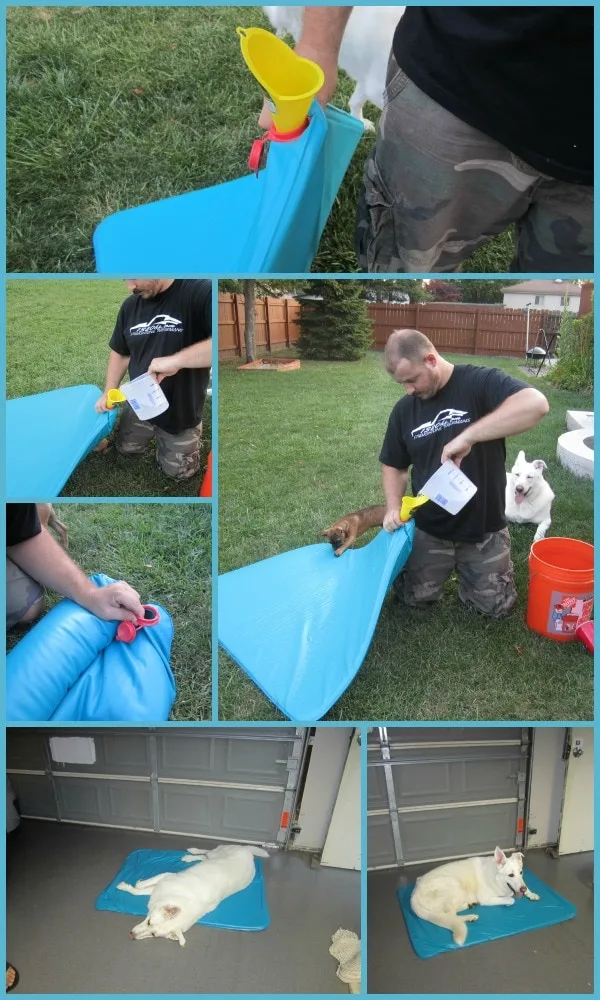 Our German Shepherd, Hilo, is 102 pounds and loaded with fur. He is NEVER left outside unattended, but really wants to be by us at all times. With this insanely hot weather we have been having lately, it's downright dangerous for him to be out for long periods of time. If Mike plans on working in the garage, or we are swimming, we have to eventually put Hilo in the house after a while. He hates that and barks like crazy. Now that we have the Canine Cooler it allows him to have some relief. Since the temperatures have been SO extreme, this is not the answer to everything, but it certainly helps him!
Filling the Canine Cooler is the first step. We received the large size so it required 4 1/2 gallons. Mike just under-filled a 5 gallon bucket to get this measurement – probably not the ideal way, but it worked! He used a funnel to make it easier to fill. Once it's filled, slowly squeeze all the air out. This should be done a few times to make sure that you get it all. For the bed to get the coolest and stay that way, there can be no air left inside.
After letting the bed cool down for a while, place it in a spot where your dog can find it on his own. It's best not to force the pet onto it. Letting him think it's his idea is the best. It didn't take Hilo long at all to find his! We placed it in the garage where Mike was doing whatever he does in there (his Garage-Mahal). Within minutes Hilo plopped right onto it. He usually doesn't lay like he is in that picture. You can tell he's super relaxed and just lounging! Sometimes the puppy will lay with him on there, too.
The Canine Cooler is perfect for indoor and outdoor use. Obviously, we still have to keep a very close eye on our pets during this extreme heat. They should never be outside for long periods when the weather is this hot. But, this cooling pet bed definitely allows for some relief. In addition to it's cooler temperature, it's also soft and squishy, which is perfect for Hilo's hips. Overall we are very thankful to have this product for our big guy!
Check out The Uncommon Dog for an amazing selection of pet products! This cooling mat comes in all sizes to fit your friend's needs. Stay up to date by liking The Uncommon Dog on Facebook and following @theuncommondog.